Canon EF-S 10-18mm f/4.5-5.6 IS STM
Estimated reading time: 06 minutes.
August/2014 - The EF-S 10-18mm f/4.5-5.6 IS STM is one of two new wide angle zooms that Canon announced in 2014. While this serves APS-C sensors and low cost kits, the other EF 16-35mm f/4L IS USM is a high end full frame lens; identical to the Nikon AF-S 16-35mm f/4G ED VR. But back to the 10-18mm, its headline is the price: US$299. Half of the other EF-S wide angle zoom, the 10-22mm f/3.5-4.5 USM (US$649), the new STM doesn't quite substitute it. The build is very different and the 10-22mm is 2/3 of a stop brighter. But optically the 10-18mm is impressive and found its way on my kit: it's tinny and light; and the IS is mandatory under low light. Is it for you? Let's see.
BUILD QUALITY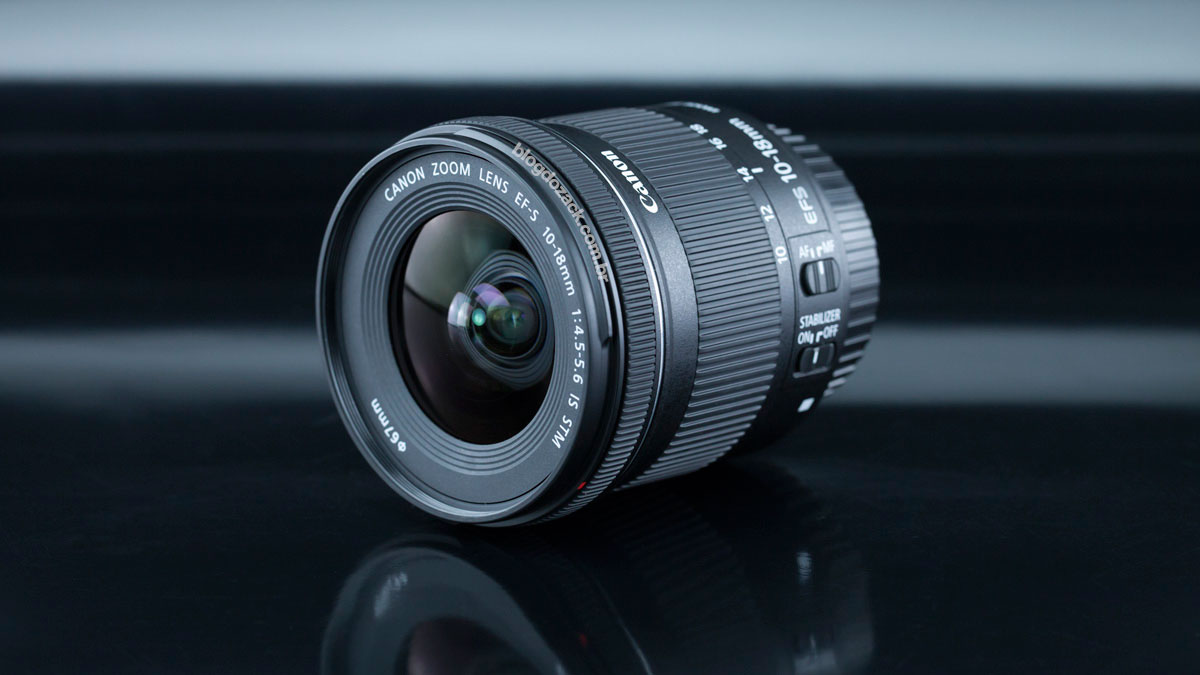 At 7.4 x 7.2cm of 240g the EF-S 10-18mm is the lightest ultra wide angle zoom on the market. "-est" that fits most of its qualities: shortest (74mm long), cheapest of its class (US$299) and easiest to use. That's because Canon left premium materials out and it's completely made of plastic. It's the same old story about "a modern build": welcome to 2014! It's hard to manufacturer something bad nowadays, and the new EF-S is the pinnacle of plastic strength, made to last if you're careful.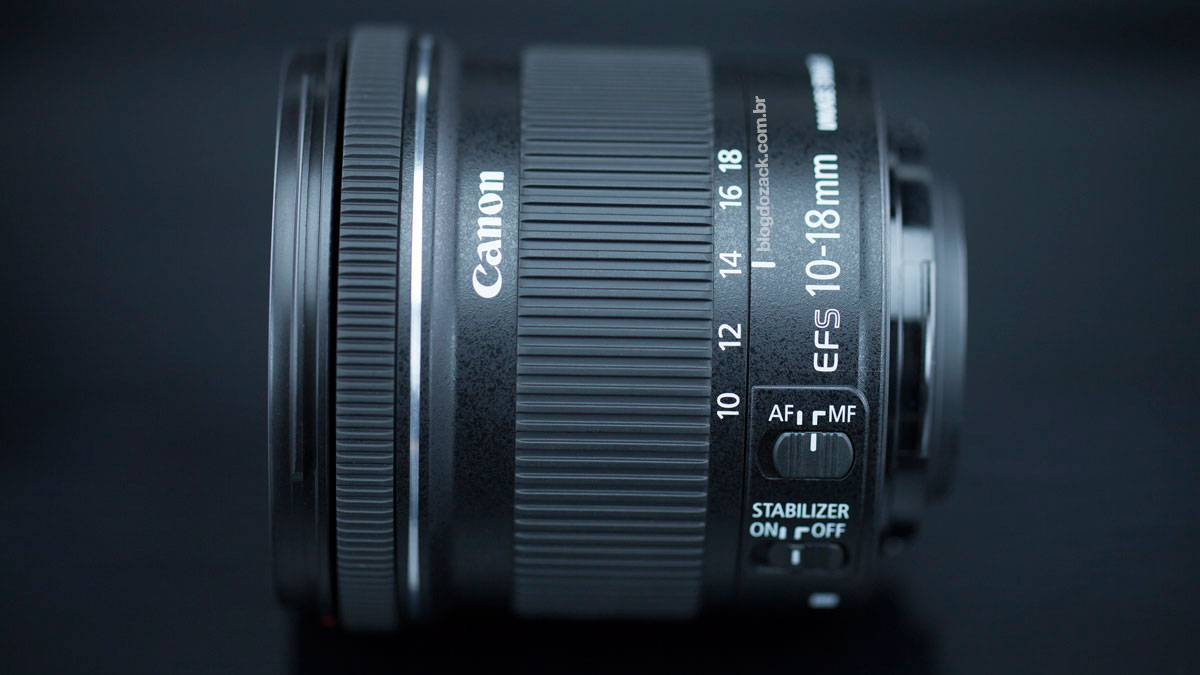 Its operation is simple with two rings and two switches. The larger ring controls the zoom that goes smoothly from 10mm to 18mm. The inner barrel expands on both directions, and the lens is at its shortest only at 14mm. But the front element doesn't rotate which is great for polarisers, with a ø67mm thread. At the front the manual focusing ring is just like every other STM lens: fly-by-wire. It is not mechanically coupled with the lens and requires power from the camera to work. At least it is absolutely silent and perfect for video recording. I did miss a distance window as it is hard to notice any change in focus at the wide angle focal length, one thing the 10-22mm features.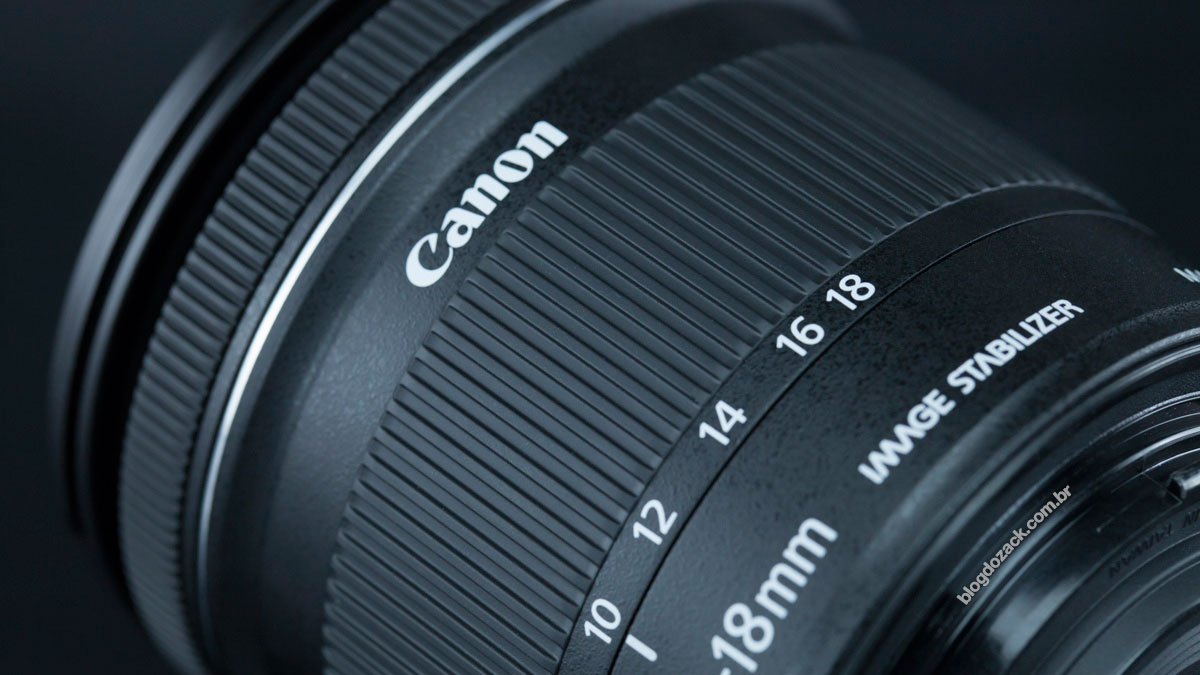 The auto focus performance was absolutely precise with the EOS M. From over 200 photos, just one was out of focus because of a camera error. It supports full time manual and we can compensate at any time. It won't win any awards for speed, being the main difference to the USM 10-22. The other lens might be more capable at shooting sports and journalism, as that motor is faster. But the STM is fine for most situations: try to anticipate your subject and be ready to shoot.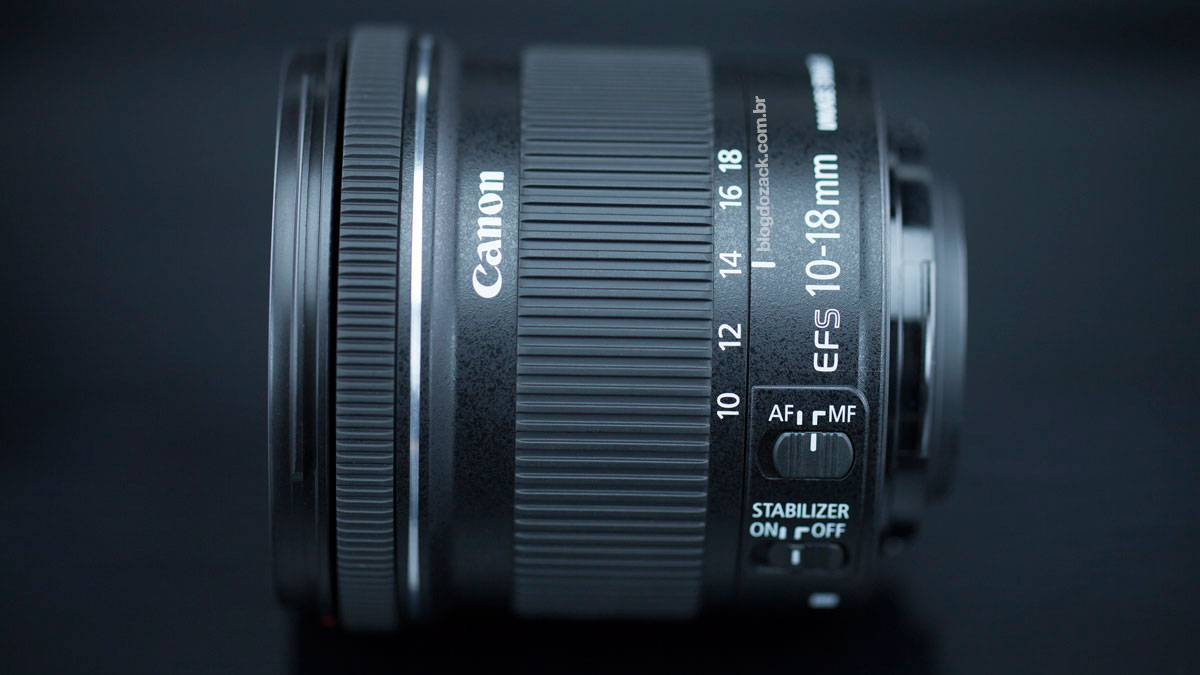 Last but not least the latest generation IS works for up to 4 stops! A few people find it ridiculous to have an UWA IS lens, but I couldn't disagree more. It's very handy under low light situations and in my opinion every modern lens should fit as IS motor, no matter its focal length. And considering the 10-18mm size and weight, there's really no way to argue that IS makes lenses clunkier. Canon recommends turning it off while using a tripod because it can't detect it.
Finally IMHO the EF-S 10-18mm f/4.5-5.6 IS STM is a superior product to the 10-22m. The new optical formula is better with visibly higher resolution edges and fewer aberrations. The operation is also much improved due to its size and lightness, plus smoother rings. And the IS is much more useful than the 2/3 of extra light. Sure, it won't freeze your subject, but the 2/3 of the 10-22 probably won't neither. But really, I don't think having a distance window is worth twice the price, nor that 22mm is that much longer than 18mm. If you plan on buying a Canon ultra wide angle zoom for your APS-C, there's no better option that the EF-S 10-18mm f/4.5-5.6 IS STM.
IMAGE QUALITY
You know I'm not a fan of Canon's wide angle lenses because their offerings are too expensive for the optical performance. That's why I'm all with "the cheaper the better" fanfare, like the EF 17-40mm f/4L USM over the EF 16-35mm f/2.8L II USM any time. They're both mediocre, so why pay more? But Canon's technology is finally advancing and the new EF 16-35mm f/4L IS USM, and EF-S 10-18mm f/4.5-5.6 IS STM are the new EOS standards for ultra wide angle image quality. With impressive 14 elements in 11 groups, it's a benchmark for stabilized UWA APS-C lenses.
Even wide open the edge to edge resolution is excellent. I won't say "absolutely impeccable" because we know better (like Nikon's AF-S 14-24mm f/2.8G and Canon's EF 14mm f/2.8L II USM). But for its price, the EF-S 10-18mm is definitely a winner. Most APS-C lenses get sharp as soon as f/5.6, as most modern 18MP+ sensors suffer from diffraction over f/6.3. So its files are always clear, sharp, great for large prints and require just a tad of software correction for lateral CAs.
Geometric distortion is well handled on this lens. I swear that my EOS M was applying some form of DIGIC correction on straight lines, but this camera firmware doesn't even support the EF-S 10-18mm yet! So the optical quality comes from the glass formula. Yes, we can see some barrel distortion from left to right, but not from top to bottom. It's good at 10mm, invisible at 14mm, and very low at 18mm; much better than UWA mirrorless offerings and their short flange distances.
The lateral chromatic aberration is exemplary of modern lenses. The manufacturers know it is easily fixed by software, so they're getting their attention to other types of optical flaws. So its sharpness is excellent overall although it shows some CA even in the middle. Anyway, it is WAY less noticeable than any other Canon zoom or prime lens I've used, and puts this EF-S as one of my favorite lenses on the lineup: low cost, high quality.
Vignetting is visible at the wider end and gives personality to wide open pictures. But it's not even -2EV and any software can correct it with minor noise added. And the bokeh… Well, you shouldn't buy a wide angle lens for its bokeh. But with a seven rounded blades aperture (up to f/8) and at MFD (22cm), it's possible to get some shallow depth of field at 18mm, putting your subject in context with the ambience. It's a unique look better suited for large aperture primes.
VERDICT
Finally a straight to the point article because there's not much to say about the EF-S 10-18mm f/4.5-5.6 IS STM: it is simply fantastic! Without a doubt it will stay on my kit because it is better than the older 10-22mm and its aperture works with the Blackmagic Cinema Cam; the 10-22 doesn't. It's a great companion for any 18-something entry level kit and I bet some professionals might love it too, as it delivers great photos on screen or print. Congrats, Canon. We don't need to switch to Nikon for great wide angle pictures anymore. And for just US$299, thank you very much!