Sony E 16-50mm f/3.5-5.6 PZ OSS
Estimated reading time: 10 minutes.
May/2016 - The Sony E 16-50mm f/3.5-5.6 PZ OSS is without a doubt the weirdest lens ever. A 24-75mm equivalent to the 135 full frame format, it fits the palm of your hands with a minuscule pancake design, unthinkable for a standard zoom. Its secret? A retractable internal barrel that closes when shut down. Seriously, what kind of sorcery fits a 3x zoom in such a tiny package? And there's more: it's "PZ", or Power zoom, with a built-in motor to move from 16mm to 50mm. Silent AF? It's there. Image stabilizer? Sure! The perfect lens to deliver the compact APS-C mirrorless promise, and for just US$149 when included on a camera kit (US$299 separately). But does it work?
BUILD QUALITY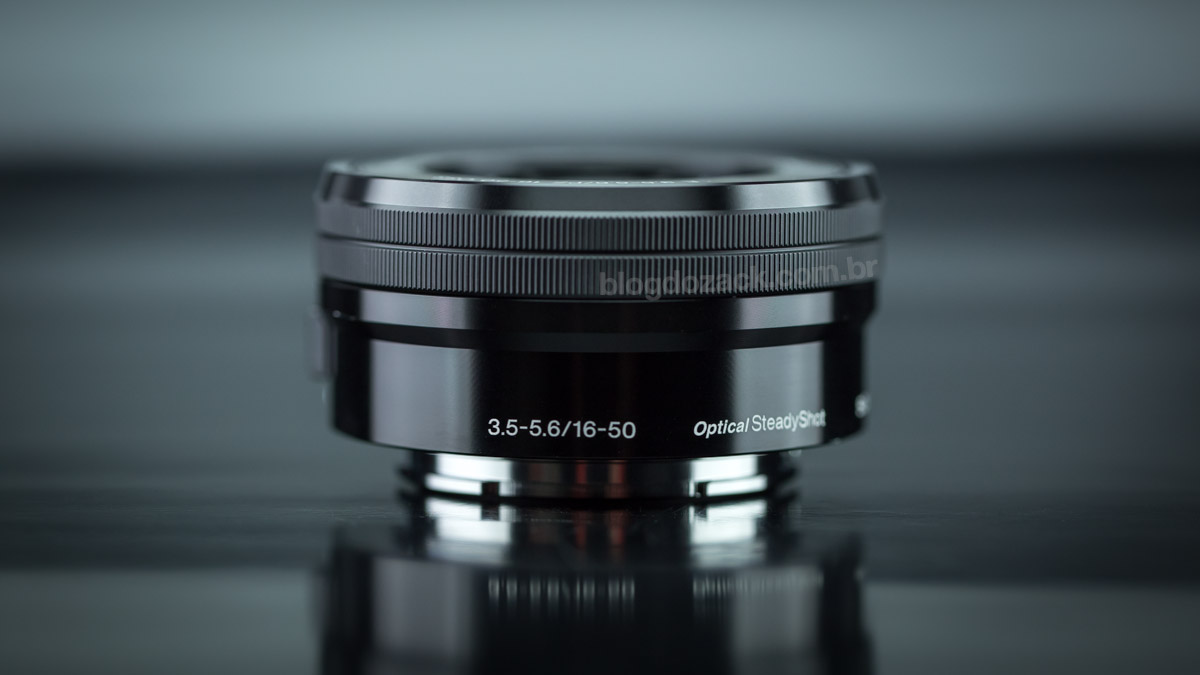 At just 3×6.4cm closed and 116g, I don't have to mention the E 16-50mm PZ is small. Made for APS-C cameras, it's by far the smallest zoom I've ever used, and impresses by the engineering applied to make it possible. Evidently, all the portability is over as soon as you turn ON the camera and the internal barrel moves 2.1cm at front, for a total of 5.1cm; still much smaller than most 18-55mm kit zooms. It's the perfect mirrorless realization for smaller cameras, although some DSLR lenses have similar collapsable zooms like the Nikon DX 18-55mm VR II. But the Sony is all electronic and extends the barrel automatically, whereas the Nikon requires the push of a button to expand.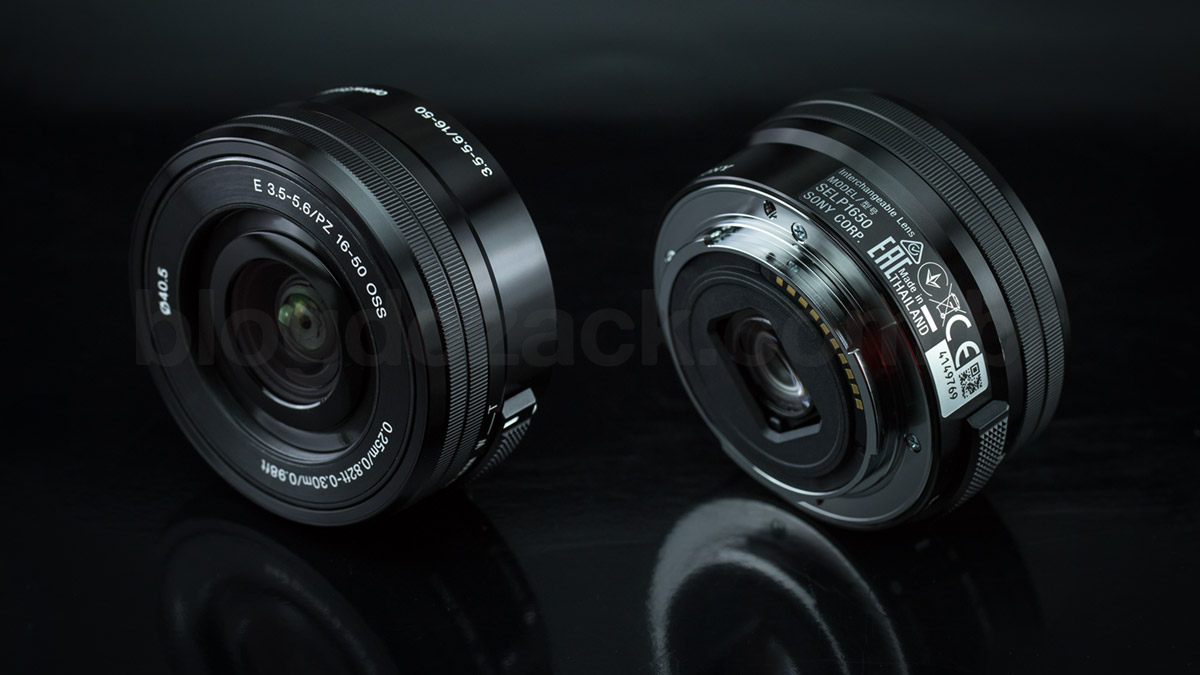 It's relatively well built with external metals, metal mount and internal plastic barrels. I'm sure the first two are merely cosmetic, as the 16-50mm doesn't sport the weight of an all-metal lens. And it's obviously plastic inside due the poor fitting of the tubes, that wobble when extended. You can even notice some wobbling from the zoom motor, that doesn't operates smoothly when zooming in. It's acceptable for a kit lens, but won't justify the US$299 price tag as a standalone purchase. I would be expecting more from such price, and maybe Sony should charge the same as the kit: US$149.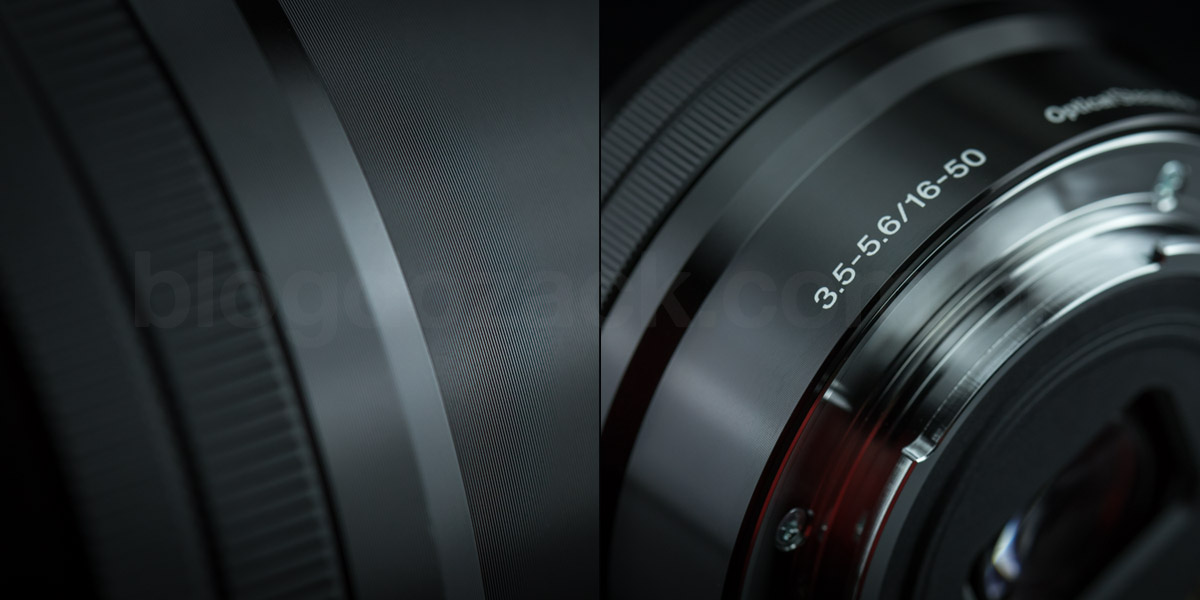 In your hands the ergonomics are obvious for such a small device. It doesn't weight the camera down and it's the best reason to keep it in your kit. While "advanced" large sensor cameras are much better than smartphones, their lenses tend to gather a lot of attention around the streets, especially in less "comfortable" cities like São Paulo. But the Sony E 16-50mm PZ + A6300 combo pass as simple, cheap point and shoot, besides the 24MP APS-C 4K shooter. It's the fulfillment of the mirrorless dream: discrete, small, light and very easy to use. If only they made it full frame… 

Both of its controls are within fingers reach. The most interesting is the W-T rocker that controls the E 16-50′s Power Zoom. It's like a 90's Handycam zoom. You slide your fingers to T (telephoto), and the lens goes from 16mm to 50mm on a motorized movement; and vice-versa. It's especially useful during video recording for zoom movements. Although it's not the smoothest (my copy wobbles around 35mm to 40mm, and it shows on video), it can work for sophisticated effects like dolly zoom. But you're limited to a single speed: besides being controlled by a rocker, it doesn't register different values other than T or W. It's no different than a click button, so why bother with a rocker?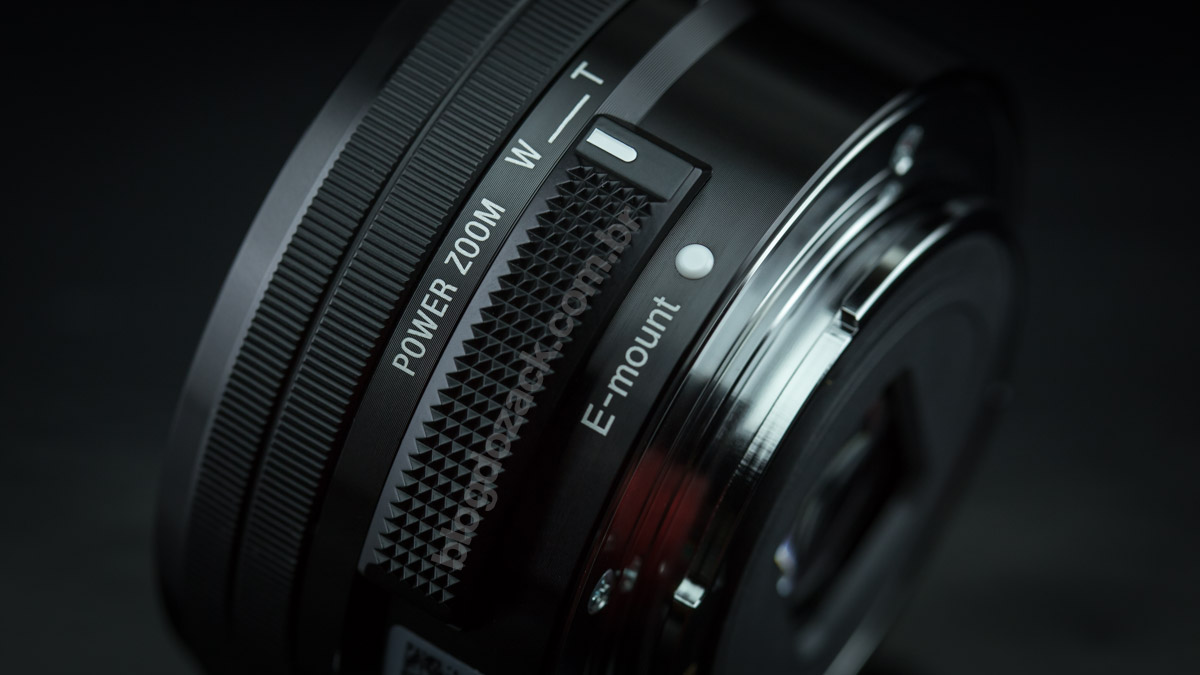 For shooting photos the rocker is especially bad because the Power Zoom is quite slow to go from 16mm to 50mm. It takes about 2.5 seconds and will delay your shots. And as the lens is retractible, every time you turn the camera ON it is set to 16mm, not the best for portraits. As you zoom in to 35mm or 50mm, the moment is gone. So Sony programmed the frontal ring to also double as a zoom ring, when the camera is set to auto focus. That's when the PZ is fast: with a sharp movement on the lens ring, it goes from 16mm to 50mm in less than half a second. So it's kind of dumb: it's too slow using the rocker, but not slow enough for special effects. But it can be fast using the ring…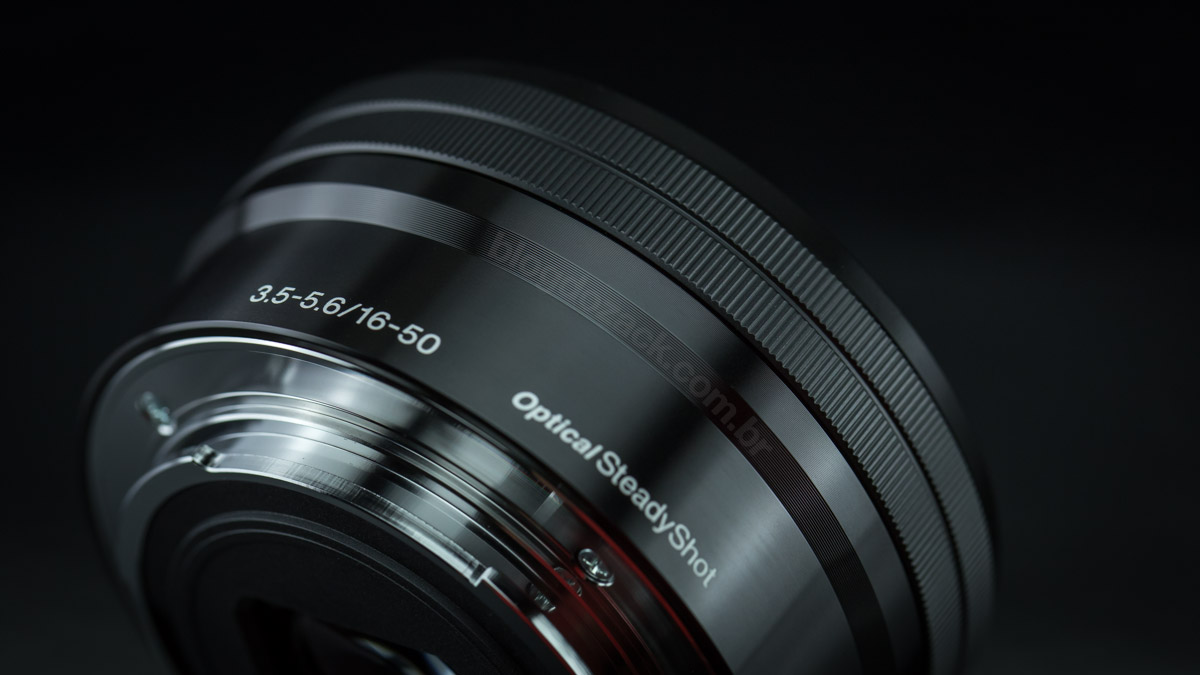 When it's time to manually focus, this ring is smooth and well damped, besides being fly-by-wire. It does feels a bit disconnected from the motor as there's noticeable lag between movements. But it works when the camera fails to understand you're shooting some close-ups (its MFD is 25cm). And its AF shines: dead silent and fast. Although it depends on your camera, at least with the A6300 the focusing rate is good and precise, reliable. I did have some out of focus landscapes when the camera set the focusing point too closer from where I wanted. But it was probably my fault selecting a too wide focusing area. For better results when in AF, pinpoint the area you want.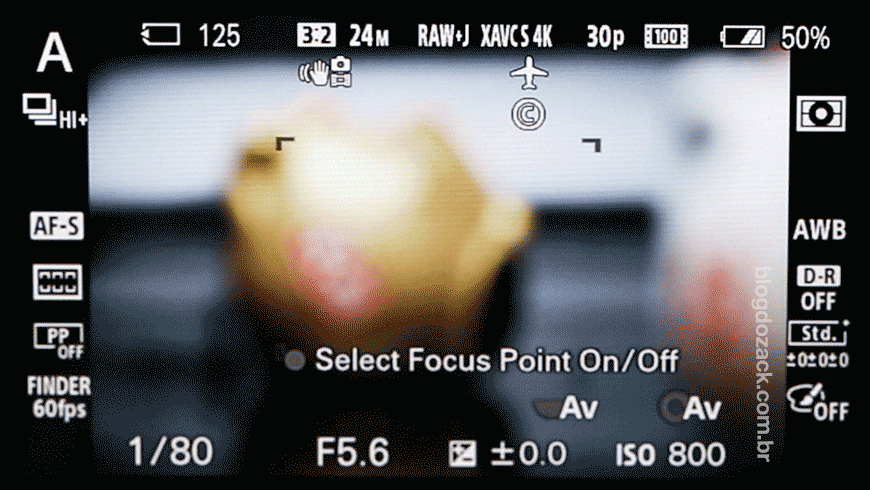 The Optical SteadyShot is rated up to 4 stops and does a good job, especially when shooting video. You notice the smooth handheld shots that would otherwise look wonky on non-OSS lenses. It's also useful to compensate for the f/3.5-5.6 aperture under low light, noticeable when shooting at telephoto distances; or the lack of built-in OSS on the A6300. With a 75mm equivalency, it's good to shoot natural light, half body portraits without a tripod. Again, it's the mirrorless realization of small interchangeable lenses cameras, doing better than smartphones on a smaller form.
Finally at the front the filter thread features a bizarre ø40.5mm size, widely incompatible on the market. There's no room for a lens hood neither, useful at wider angles. Even the lens cap is tiny and cumbersome to use. Actually it impresses me it's not an electronic lens shutter, as the Cyber-shots RX100. It's why I can't take some Sony products seriously: this lens is more cuter than practical. It's short, but has a stupid lens cap to lose inside your purse… There's a Power Zoom motor, but doesn't perform slower zoom pulls… It's curious because it's way more exotic than most 18-55mm kits, with a really wide angle end. And sold by itself, can be the only lens you'll ever need. But is it worth the US$299 price tag? Only its images can seal the deal. Let's take a look.
IMAGE QUALITY
With a 9 elements in 7 groups formula, four (!) aspherical and one ED, the E 16-50mm f/3.5-5.6 PZ OSS is a mechanical miracle to fit it all on such a tight space. Also, considering the E-mount flange distance, between the lens mount and the image plane, to design a 3x wide angle zoom is an optical miracle by itself. With every built-in feature possible (OSS, AF, PZ) without letting go of the short footprint (3cm closed); nor the price at just US$149 when included with a kit, something had to be left out of such daring project. And unfortunately that was the optical performance, that is borderline useless at the widest setting, without some kind of electronic compensation.
The biggest problem is at the 16mm wide angle focal length, that shows a huge geometrical distortion, almost like a fisheye lens. It's so serious that on BIONZ X capable cameras, like the A6300, the "Lens Comp.: Distortion" option can't be deactivated. So while the OOC JPEGS s and videos show almost flawless images, on raw conversions without the lens profile we can see the issue. It's so "fisheyed" that it looks shot from GoPro. But in reality such in-camera compensation is made to mitigate a much deeper issue: at 16mm, the E1650PZ doesn't even cover the whole APS-C image sensor, and frame corners are blackened due to the lack of light. Shame on you, Sony!
"NY Public Libray" at f/7.1 1/320 ISO100 @ 16mm; GoPro, is that you? Not, it's me, Sony's shameless electronic soul on the E-mount wide angle.
"Rotunda" at f/4 1/60 ISO2500 @ 16mm; the geometric distortion is obvious on symmetrical framings.
"Rotunda II" at f/4 1/60 ISO1600 @ 16mm; but it's almost unnoticeable on oblique framings.
"Better days" at f/5.6 1/640 ISO100 @ 16mm; it's a rounded planet, but the horizon is straight; that's deep, don't you think?
With all the pixel stretching to cover the frame edges, the worse happens: corner resolution is completely gone, especially at f/3.5. It's so useless that I beg you not to use it: I'm glad I double shot all my wide landscapes with another camera, as Sony's 16mm files are useless for my quality standards. It's smeared around the corners, taking away even the pleasure of using larger sensors. It kind of works on optimized apertures from f/5.6-7.1, so take your tripod to compensate for the slower shutter speeds. But it's still advisable to use software compensation: even at f/7.1 the 16mm edges are not really covered, and I question Sony's principles to declare such specification.
Outside the 16mm focal length and outside the maximum aperture, the E1650PZ is usable. Files show plenty of resolution to work with and look sharp, especially with the BIONZ X over-sharpening flavor. You can clearly see rock textures, leafs on trees, signs at a distance, most things erased from smartphone photos. The images contrast and colors are a bit dull, begging for healthy post-processing boosts. Depending on how you handle these files, it's a big advantage to carry a larger camera with you. So I wouldn't dismiss this lens overall. It's worth everyday snapshots, but consider investing in prime lenses if you're serious about photography.
Still talking about lens aberrations, I went looking for lateral chromatic ones, typical of zoom lenses, and found… None. How is that possible? Sony builts in the software compensation even on raw files, no matter the settings in camera. You can turn it off for JPEG processing, but it's built-in raw files? Fantastic! So OOC JPEGs do show some lateral aberrations, although it does look like some of it was corrected. But Adobe's Camera Raw shows none, together with a first-ever-seen "built-in profile" warning. Sony's cheecky software cheating at its best. Shameless… ¯\_(ツ)_/¯

100% crop, until you zoom in to see the OOC JPEGs fine CA lines, gone on raw files. Sorcery?
100% crop, but it's gone from the OOC JPEG, and I doubt it's this little; not even on the raw file it is perfect corrected. O_o
100% crop, but it's light on JPEGs (doubt it), and invisible on raw; notice the sharpening difference between the two.
Finally the bokeh is not expected from any zoom with variable aperture and focal range aimed at standard lengths. So only when you closely position your subject, with a farther away background, at 50mm and wide open, you can really defocus the backgound. It's reasonably smooth with plenty of light and organic matter, without stronger edges. It looks a little handycam-ish with bright bubbles surrounded by blue halos, different from most photographic lenses that show well defined light streaks and flares. And under low light, with strong background highlights, the bokeh balls are horrible, with "nervous" lines in concentric circles. It will look bad on screen and in prints.
VERDICT
The E 16-50mm f/3.5-5.6 PZ OSS is the most bizarre lens ever on vlog do zack. A standard zoom on the palm of your hands, it has so many qualities that's hard to complain about its cheeky optical performance, essentially dependable on software correction. We start on a really wide wide-angle, equivalent to 24mm, much wider than standard 18-55mm, for more dramatic photos. We continue to every conceivable feature possible like silent AF and Optical SteadyShot, with the added motorized zoom, nice for video recording. And it all fits in the same footprint as Canon's LP-E6, to be with you at all times. Okay, its files aren't the best, but who cares? In the name of flexibility, Sony made the impossible: a shameless 3x, 3cm zoom, unafraid to fail. Nice shooting!