Sony A6300
Estimated reading time: 23 minutes and a half.
April/2016 - There's little doubt that Sony is becoming one of the most important players on the photography market. A plural company invested in majors areas like music, cinema, games, smartphones and consumer electronics, no wonder one day it would be serious about the professional photography world. On a market dominated by two traditional japanese brands, Canon and Nikon, Sony has unique differentials the others can't follow: a design philosophy aimed at functionality over ergonomics, and, most importantly, technology as the driver.
It's success in the photography industry is a simple story of being at the right place at the right time. In times when smartphones are the most iconic Fashion item (Fashion = cycle updates), only a genuinely cutting edge brand would have the guts to deliver so many headliners. NEX, Alpha, full frame Alpha, three A7's every year, endless APS-Cs, for RX100 updates, RX10, RX1, a curved sensor, a back side illuminated one, 4K… A vast catalog of raw technologies unthinkable in heritage-minded brands, but that's reality: it the tech is available now, why not employ it ASAP?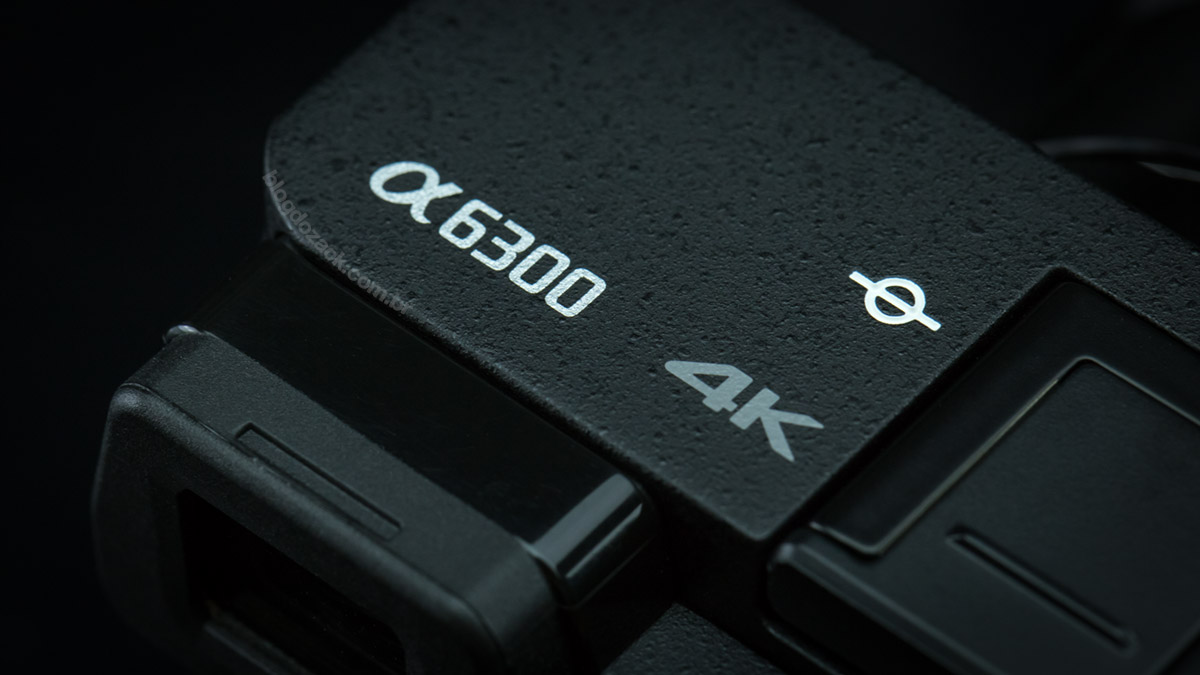 The A6300 seems the pinnacle of what's possible today. A minuscule camera with a large APS-C sensor, high-res 6000×4000 24MP files, up to 11 full resolution raw frames per second, incredible 425 phase detection AF points, internal 4K video recording at 3840×2160 pixels by 30fps at 100Mbits/s, 1080P120, retractable LCD screen and built-in 2.36M pixels 120fps OLED viewfinder, Wi-Fi, NFC, built-in flash, a 400 pictures battery duration… Wow, what else one might ask for?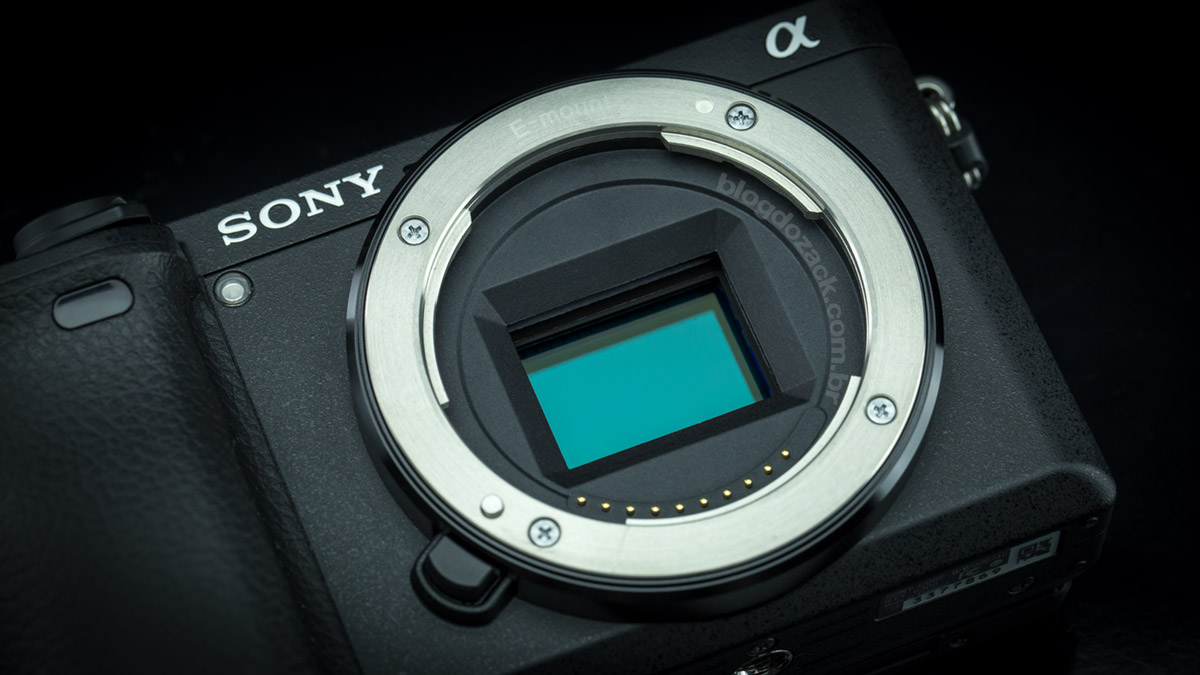 One of the most requested cameras ever on vlog do zack, it's clear why it's being considered the most important launch of 2016. Really, is there anything missing? A touchscreen LCD? Yup, it's not there. Raw video? Nop. A stabilized image sensor like the A7II's? Nada. But at US$1149 for the E16-50PZ kit, it's hard to ask for more. I think we're there. In the same sense your smartphone is a pocketable super computer that follows you anywhere, the A6300 is the super camera that goes where others don't. But does it work for everyone? Is there any flaws? Let's find out! Nice reading.
BUILD QUALITY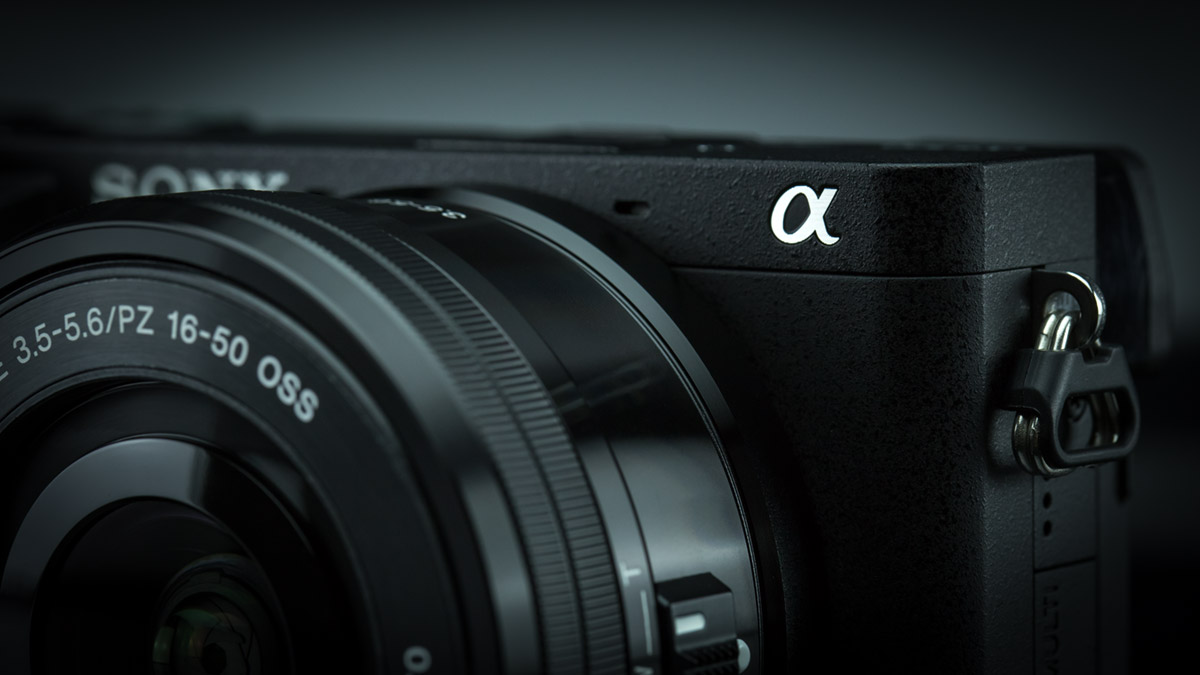 At 11.8 x 4.9 x 6.6cm of 400g with battery and SD card, here showed with the E PZ 16-50mm f/3.5-5.6 OSS lens (+100g and 3cm), the first thing I noticed on the A6300 was how large it is, BIGGER than I thought. That's right, it's a small camera overall, way smaller than any APS-C DSLR. But having used the NEX C3, one of the smallest APS-C ever, or the RX100 Cyber-shots, I thought the A6300 was in the same class as the A5100, smaller in every way. It easily fits most camera bags, taking much less space than a DSLR. But it's not pocketable, and to carry it must mean business.
What it is big it is solid and ergonomic; qualities I hardly experience on most Sony Alphas. On the A7II review, a magnesium body full frame camera (as the APS-C A6300), I didn't find it sturdy enough; not after you mounted big full frame lenses, that required your left hand to balance. But the A6300 is a different story. It's very solid and "heavy" at the right places, showing no impact points asides from the rounded edges, different from all the A7's squarish top viewfinder bump.
It feels fantastic in hands. The frontal right hand grip feels more appropriate than the A7II, that is small for a full frame camera. As the A6300 is petit, so you can actually hug it with your fingers, more than enough to keep it steady when in use. The hand grip is rubberized and the magnesium body sports a texture, with excellent grip for hotter days when your hands are sweating. While the Fuji X-Pro 2 slipped from my hands every time I tried taking it out of the camera bag, it never happened with the A6300. Overall it's the best Alpha I've used, and I finally feel confident to recommend it for working photographers. It's a solid tool, designed to behave like a good one.
At the top the A6300 shows great design decisions that, again, I'd never seen from Sony. The exposure PASM dial and the horizontal control, the built-in flash (absent from all A7), the intelligent hot shoe and the viewfinder (at the back) are all flushed with the top plate. It enhances the camera solid feel and actually behaves better than ANY camera I've used, that gather dust or get stuck at tight spaces in my backpack. On the other right the dials can be harder to use, as you can't really grasp the wheels to turn them, so you gotta hope the side finger friction to be enough.
At the back the A6300 is dominated by a 3" 16:9 LCD screen, the first panel at such ratio I've ever seen on a photo camera. It's an good experience: it's a long panel that makes the 3:2 photos look small, with settings overlaid at the sides. But it give us a hint at the A6300 hybrid nature: when shooting videos this LCD looks huge, much better than Canon's DSLR or even Sony's A7's. Again, it's something I loved. I don't mind the small photos at the center of the screen, and rather shoot it using the OLED viewfinder. The LCD chassi is also thick, contributing to the camera solid feel.
As this LCD screen is not touch sensitive, my first complaint about the A6300, all controls are within the right hand reach. There's a vertical jog dial, with built-in buttons at each direction; playback and trash at the bottom; a dedicated Fn button, that activates an overlay custom menu; and the new AF/MF switch, with a AEL button in the middle, borrowed from the A7's. At the top there's a MENU button and by its side is the flash release, that actually requires the index finger to deeply push it. Overall it's the same Sony layout, that can be a good or a bad thing altogether.
The good thing is that coming from the A7II and RX1R reviews, I feel right at home on the A6300. You press MENU for endless tabs of options that, miraculously, I'm getting used to most settings. But what worries me is the quality of such buttons, that feel relatively fragile and cheap, one of the reasons I'll stick to Canon's DSLR's for now. For instance the vertical jog dial, its built-in UP button is already failing on my two weeks old A6300. I must press it harder to engage control, the same problem I had with the 2011 NEX-C3; that camera whole back panel doesn't work anymore. So is the A6300 is a camera that will need replacement in two years? We'll have to wait and see.
On the right hand side… There's… Nothing! Great! It was on this unfortunate spot that Sony put the A7II SD card slot, with a door that just wouldn't stay shut. On the opposite side there are microphone, USB 2.0 and micro-HMDI ports; no headphones output, unforgivable for a camera they call "hybrid". The A6300 keeps the trend of internal USB battery charging, and can even be used whilst plugged in. It's still not like a regular smartphone (it won't charge the battery when turned ON), but it can handle longer video recording sessions. The W battery goes inside the right hand grip, so does the SD card that sits behind a very sturdy, seal-less plastic door. 
Overall the design and built quality of the Sony A6300 are, pun intended, the most solid ever on an Alpha camera. On the A7II review I couldn't get over the ergonomic madness like the pronounced viewfinder that kept banging against my hips when carrying the camera over my shoulders; nor the SD cover that kept opening itself. But the A6300 has lot of stuff with great logic and solid build. Yes, some absences are ridiculous like the lack of headphones out. However it's a camera with lots to like, and leave the bad Alpha stigma in the past. Let's hope for an A7III with borrowed ideas from the A6000 line, that seems the modern, mirrorless future I had hoped for.
THE QUESTIONABLES – LCD & EVF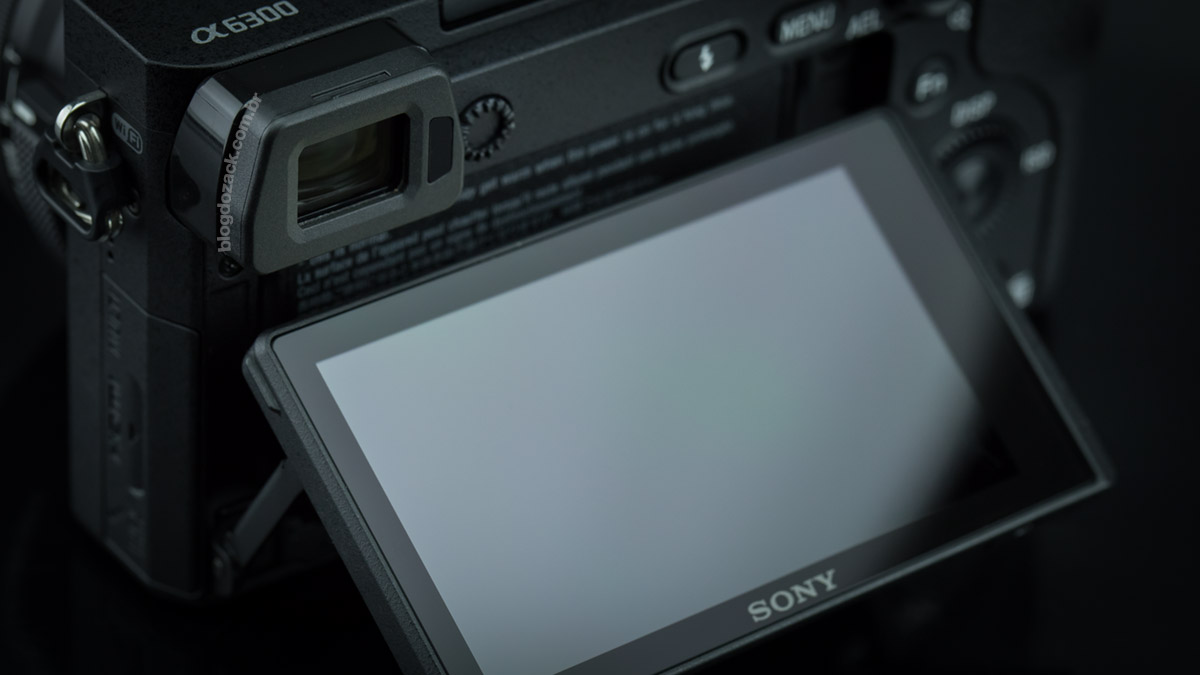 The rear LCD is where you'll spend most of the time with the A6300. As soon as you turn the camera on, the LCD boots like a "genuinely electronic" Sony I always complain about, much like a regular point and shoot compact. With its 3" 16:9 ratio, it's a small screen for photos. At just 3.8cm tall, the 3:2 aspect of the APS-C sensor becomes tiny on this panel. The resolution is also not the greatest with less than a million dots (921.600 to be exact), and you can clearly distinguish each pixel, weird in times of "retina" capable smartwatches. The colors are not very vibrant neither, and there's not even an Auto brightness mode, just for the EVF. It's no special panel and Sony knows it.
But its biggest problem is the lack of touch capabilities, again, unthinkable in todays smartphones ambience. There are no fluid finger controls, missed to operate the never ending Sony MENUs. During playback it's almost shameful to see picture by picture hard pressing a button; or zooming around with a joystick. And the worst comes to video recording: like the Canon EOS 7D Mark II, the lack of a LCD touchscreen greatly limits the auto focus capabilities, impossible to make creative, electronic focus pull touching the on-screen subject. Shame, shame, shame…
However a serious issue that I found out only after using the camera, is the LCD screen diminishes its brightness when in XAVC 4K or HFR video modes; maybe to send some power to the BIONZ X, maybe to avoid overheating. It's not a little dimmer, is all the way down! Impossible to shoot outside on a sunny day, for example. So there you are with your perfect little 4K camera in a perfect weather, but you can't really see what's in front of the lens. Great! And it's not just when you press record, like some RED cameras do. It's any time the A6300 is set to a special video mode. Really?
That's why I found myself shooting with the OLED EVF most of the time. It's a 2.36M dot screen that offers the same style of shooting of a DSLR, with your eyes against the camera. It's quite a good experience: the 1.07x magnification is bigger the most APS-C cameras, making the 0.39" native screen seems like a giant one. It's not the same as a full frame viewfinder (#missing6D), but it gets the job done. There's a fair amount of pixels and at the 120fps refresh rate, it is so fluid it feels like a whole through the camera, actually inducing some vertigo. It looks electronic but feels real.
But it still shows some rendering issues with aliasing and moiré on finely detailed subjects. And the colors are not great, far from reality and mimicking the selected Creative Style/Picture Profile. So once again, there you are on that beautiful landscape with deep blue skies and a faraway horizon, but the OLED EVF renders a subpar scene with bad contrast and tones; just like your files will be! That's where my "Sony = consumer electronic" argument comes from. We'll soon see on the Fuji X-Pro 2 review, tested together with the A6300, that that camera feels much more organic, besides the similar technology. Sony must fix these electronic issues on the Alpha series if they're serious about photography. Right now the Alphas feels like glorified Cyber-shots IMHO.
THE HEADLINER – SPEED
A highlight to the A600 series that brings it closer to most DSLR is the speed. Be it to turn the camera ON or OFF, or to shoot pictures, these cameras are fast. Whereas the A7II had a weird lag between turning the rocker ON and waiting for the built-in stabilizer to get in position, one thing the A6300 lacks, as soon as you turn this camera on, it's ready, even with the retractable E PZ 16-50mm f/3.5-5.6 OSS. It's faster than loading the app on your smartphone, making the A6300 perfect for snapshots. It's a camera you can trust and will want to take anywhere with you.
The AF and shooting speeds are similar to the best DSLRs, at least with Sony's native E-mount lenses. It's "point and shoot" under good light conditions, and "point, some hunting and shoot" at dim venues. Both AF schemes are quick, and the phase detection points plus contrast areas (more later) are adjusted for one single thing: seek and lock focus on contrast edges. If there are no obvious contrast points, the camera looks for a larger area with the BIONZ X, that is as beast by its own. It all works and there's not much to complain, which is good news for a mirrorless camera.
With such fast processors, Sony implemented some features otherwise destined for the professional market. First is the shooting speed that can reach up to 11 full resolution frames per second on Hi+ mode, with a buffer for up to 22 raw files, with continuos autofocusing. The last image is displayed on the viewfinder, making it possible to follow your subject; there's no blackout display like most mirrorless. It's not fluid nor elegant like an SLR mirror, but it works fairly well.
The 22 raw file buffer is flushed into the SD HC-I card in 15 seconds (there's no HC-II support from the USB2.0 bus yet), which is reasonable. It's not lightning quick like the EOS 7D Mark II and its USB3.0 bus and UDMA7 Compact Flash support, for up to 167MB/s limited at 30 raw files, that are written much faster. Some A6300 adjustments lock-up while the camera is busy, but not all of them; it's still fairly responsive after a few shots. So besides mirrorless and relatively cheap (less than US$1000 body-only), at 11 frames per second it's the fastest camera ever on vlog do zack.
THE INTERESTING - AUTO FOCUS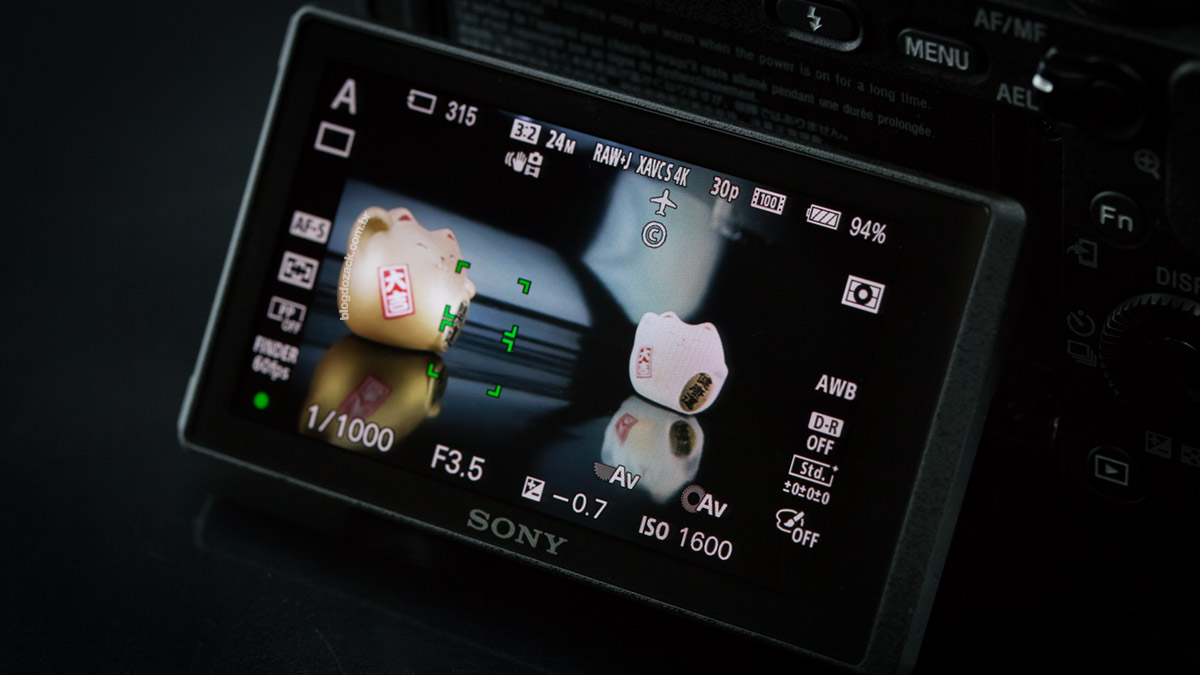 The AF system also leaped forward with a stunning 425 built-in sensor phase points; the most ever on a camera, that Sony is calling "4D Focus" (really…). Unfortunately we can't select each point and I couldn't figure out which frame area they actually cover. The LCD screen shows some phase points all the way to the limit of the frame, and it "flows" from point to point, not attaching to any grid; bizarre. Besides the 425 points, 169 extra areas of contrast are detected by the BIONZ X processor, for a really dense AF experience. But it's not perfect, and I had more out of focus shots than I wanted from the A6300. Mostly due to bad photographer's programming. :-)
On a daily basis, besides the lack of control (the camera chooses between phase or contrast), the A6300 AF has one mission: seek contrast and lock focus. It's vastly superior to any smartphone (today's most popular cameras) and identical to most entry level or advanced DSLR. Press the button and it locks. The problem is with such a large AF area, it also tends to lock on subjects closer to the camera, leaving the horizon out of focus. It's the same issues I saw with Canon's EOS 7D Mark II and T6i, and it's hard to notice on the tiny A6300 LCD screen. Beware photographing landscapes.
A solution would be setting one of the available AF areas: zone, flexible zone, center and Lock-On. It limits the camera seeking area, perfect for specific framings. Need to separate a runner from the marathon? Limit the AF area. Need sharp horizons? Prefer the center area. The precision goes up, besides trowing most of the 425 points out. Or use the Lock-On that tracks your subject, much like Nikon's 3D Tracking. And there's face detection mode, one thing most DSLR aren't capable of doing reliably. It's easy to get sharp pictures from this camera, as long as you use it the right way.
One of the most interesting modes, however, is hidden as a custom button function: it's the EyeAF. When it's assigned and in use, the A6300 actually looks for the subjects eyes, perfect for portraits. It works as described: the camera locks on the face, but goes one step further looking for its eyes. In twelve years shooting digital I've never seen such thing, and it starts to make sense embracing all the Sony technology. If it's AF module is that precise and that fast, why not? Genius!
The continuous auto focus also impresses for its speed and flexibility. The A6300 don't hesitate in following your designated subject, although it still loose track if anything passes in front of it. It's the issue with so many AF points: limit the area for greater precision and don't expect miracles. On AF-C you can select Zone, for larger subjects like cars; central, a tiny area trowing away most 425 points; and Lock-On, that also follows your subject around in AF-C. What really shines is the new "4D Focus", that effectively predicts the subject position, something new from Sony but standard on all EOS AI SERVO. It's very impressive for a mirrorless camera and matches the best Canon's, and gone is the SLR vs. mirrorless AF argument that haunted to smaller system forever.
THE SORT OF COOL - 4K

Sony has been heavily investing on processor and sensor readout speeds, essentially developing imagers made for high frame rates; that is, videos. With a need for speed and unafraid to canibalize its own products, it completely erased the boundaries between photo and video cameras; very different than traditional brands (cof, cof, Canon…) that completely ignore the "hybrid" camera market they invented theirselves (2008 – 5D Mark II). The A6300 is Sony's first 4K capable APS-C, outputting almost the same video specs as the US$35.000 F55; but here in a pocketable US$1000. Cutting the story shot: the A6300 4K video files are the most detailed ever on vlog do zack.
The video resolution supports impressive 3840×2160 pixels at 30 frames per second on a sensor crop; a 24P "4K S35mm" mode that makes a complete 6K APS-C readout and scales down to 4K via pixel binning, reducing noise; 1920×1080 up to 120 frames per second; using XAVCS 100Mbits/s (12MB/s). The ISO goes up to 25.600, although the noise is invisible just until ISO1600. And the Picture Profile supports S-Log2 and S-Log3 technologies, to preserve all 14 stops of dynamic range coming the native ISO800 Exmor sensor. Add a Gamma Display Assist that trows a LUT709 curve on the LCD screen while recording at a S-Log profile, and you have in your hands a FS7.
Be it everyday snapshots or professional output, the A6300 4K is impressive. It's so rich in details that ultra high definition screens look like an open window. It's every brick on building facades, every distant billboard, things most smartphone photos won't show. But the A6300 does it with videos. Depending on the Picture Profile, you will trow away most highlights and shadow data, like the above examples. That's why both S-Log 2 and S-Log 3 are available, besides being chaotic to grade and adding a lot of noise at ISO800. But if handled with care, the A6300 files are impressive.
The 1080P quality on the other hand greatly varies with the frame rate. At 24P, 30P and 60P, it's captured from the 6K full S35mm readout and reduced to 1080p via pixel binning, killing most details on the process. And at 120P it's actually a line skipped center sensor crop, filled with aliasing and moiré. The image is lifeless, mute, way different than the 4K output. So it's curious how the A6300 can perfectly handle 4K, but has no chance at dealing with 1080P. Avoid it at all cost.
During video recording the auto focus is also limited. You have two options: continuous or manual, with no "single shot" prior to rec. So the camera either changes it all the time, with the risk of hunting unexpectedly, or you do it manually with peaking assistance. With the E PZ 16-50mm f/3.5-5.6 OSS, it actually works nicely. It doesn't hunt during recording and when it needs to change position, it goes straight to the subject, meaning the phase detection is at use. Just one time during the night it refused to lock focus on my city landscape, made very obvious on the 4K screen I reviewed the footage in. So for better results, focus manually with the peaking assistance.
Besides major internet hype, the A6300 4K videos are far from perfect. The resolution got a healthy boost and the details are stunning, just as the complete lack of artifacts (no moiré nor aliasing), and usable images up to ISO1600. Those shooting with Canon's DSLRs (except 1D-XII, 5DIII, 1D-C) will notice a leap in image quality, hard not to recommend at such a low price. But it's far from the raw flexibility I get from my 2012 Blackmagic Cinema Camera, that runs at 90MB/S (or 720Mbits, 7x more than the A6300); nor it's a revolutionary camera with 425 phase detection points (no touch screen). So depending on your shooting style, beware: the 4K res alone won't make any wonders to your videos, so expect better results from human effort, not electronics.
IMAGE QUALITY
With the duo APS-C 24MP Exmor + BIONZ X, the A6300 offers the same 6000×4000 output of the prior A6000, and most 2016 APS-Cs like the EOS T6i and Fuji X-Pro2. It's not a recycled chip from the older camera, like the A7 – A7II. It's a new copper wired sensor that Sony promises faster readout speeds and less noise. It's not an BSI imager like the A7RII, so we'll wait for the next generation. But overall the raw files are class leading, for steep post-processing maintaining image quality; and well handled noise up to ISO3200, although not comparable to full frame. However it falls flat on straight out of the camera JPEGs, and files must be handled carefully for better results.
Resolution and sharpness are limited to the lens, and here tested with the E PZ 16-50mm f/3.5-5.6 OSS, it's clear the need for premium glasses to take the best out of these high density sensor. The 6000×4000 files are flexible: large prints, web output, or just to boost the photos that would be shot on a smartphone. The larger sensor colors are much denser than the smartphones, with less noise in the shadows nor clipped highlights on bright areas. It's the same result you would get from a DSLR, as it should be. But A6300 is a small camera, with internals as good as larger ones.
A highlight for those willing to heavily post process files is the incredible flexibility from Sony's Exmor raw files; and the quality it offers to change exposure after the shot. Coming from the Canon EOS T6i review, that also features a 24MP APS-C, the gap between files is ridiculous. Be it to recover clipped highlights on bright skies or to see details on underexposed shadows, Sony's APS-C offers the same performance as full frame cameras, with no colored pixels when we push shadows in post. On a city lit just by electronic billboards, you can "lit" the shadows up to +5 on Adobe's Camera Raw with no visible loss; or transform a lifeless dawn in a saturated, high quality show.
"Times Square" at f/3.5 1/60 ISO160 @ 16mm; notice the flawless, almost imperceptible recovery of shadows and highlights on this difficult exposure.
"Billboard" at f/5 1/60 ISO160 @ 33mm; the Exmor shadow recovery doesn't add color to grey tones, it's almost a single click HDR.
"8th" at f/7.1 1/250 ISO100 @ 50mm; otherwise "mute" files are brought back to life with some post processing.
"Garment District" at f/3.5 1/60 ISO100 @ 16mm; +5 shadow recovery on Adobe's Camera Raw, with flawless tones.
What the APS-C still can't match, though, is the full frame performance under low light, and how it handles noise up to ISO3200, much more visible on the A6300 than my 2012 EOS 6D. From ISO1600 we can notice larger "pixels" taking away details on ISO 2000, 4000 and 6400 when the files are covered by an electronic texture. It's once again my argument "Sony's are too electronic". While full frame Canon's show beautiful noise for printing, and even Fuji X-Trans built-in noise in JPEG files, the A6300 noise is repetitive, ugly, on a pattern. It can and will look bad on print if you look for it. But on today's mostly web outputs it's unnoticeable, so most people may not care.
Finally the straight out of the camera JPEGs are interesting because, a-g-a-i-n, gives us an example of how Sony opt for an electronic flavor on its images. Comparing side by side its contrast, saturation and the overall look, we can see how the SOOC A6300 doesn't "pop" like the ones from Canon and Fuji X, that are more saturated. Sony's standard Creative Style looks dull, begging for post processing embellishments, be it on raw or JPEG files. The same with standard video Picture Profiles other than the S-Log 2 or 3. So it's hard to recommend it for those looking for "better pictures", as the files are indeed flexible, but demand software knowledge to look good.
"Road" at f/7.1 1/800 ISO100 @ 16mm; BIONZ X boring files and the raw post processing, "advertisement life".
"Antelope Canyon III" at f/3.5 1/25 ISO1600 @ 16mm; even to enhance low light exposures, the raw files are mandatory for shadow recovery.
"Road II" at f/6.3 1/500 ISO100 @ 16mm; raw files "pop" after some post processing, looking dramatically better.
Also it is scary how Sony loves to over sharpen the JPEGs coming out of the BIONZ X, that show way more details than raw files rendered on Adobe's standard settings. With the Camera Raw normal sharpening values (A25+, R1.0, D25, M0), the detailing in trees, rocks, sand and asphalt practically disappear from raw files, giving the impression it's a lens issue. But once you sharpen it up to astonishing A70+, it looks like SOOC JPEGs. It's a very high value because on high ISO exposures the noise grain gain halos that, taa-daa!, are erased by the BIONZ X, costing major detailing that is absent from A6300 photos. Again, for better results, stick to raw shooting and post-processing.
100% crop, notice how the SOOC JPEG is much, much sharper than Adobe's standard camera raw processing.
100% crop, the BIONZ X erases noise, taking away fine details like fabric threads.
VERDICT
Sony has been flooding the photography market with technology and perfect-in-theory cameras, with plenty of buzz to generate internet hype. Not surprisingly, they're the biggest smartphone camera supplier in the world (you probably have one), and naturally they would tackle other markets developing its own cameras, disrupting the inertia of traditional brands that fail to understand the "selfie" generation. It's a fun game to watch, so tell M.J. to bring the popcorn.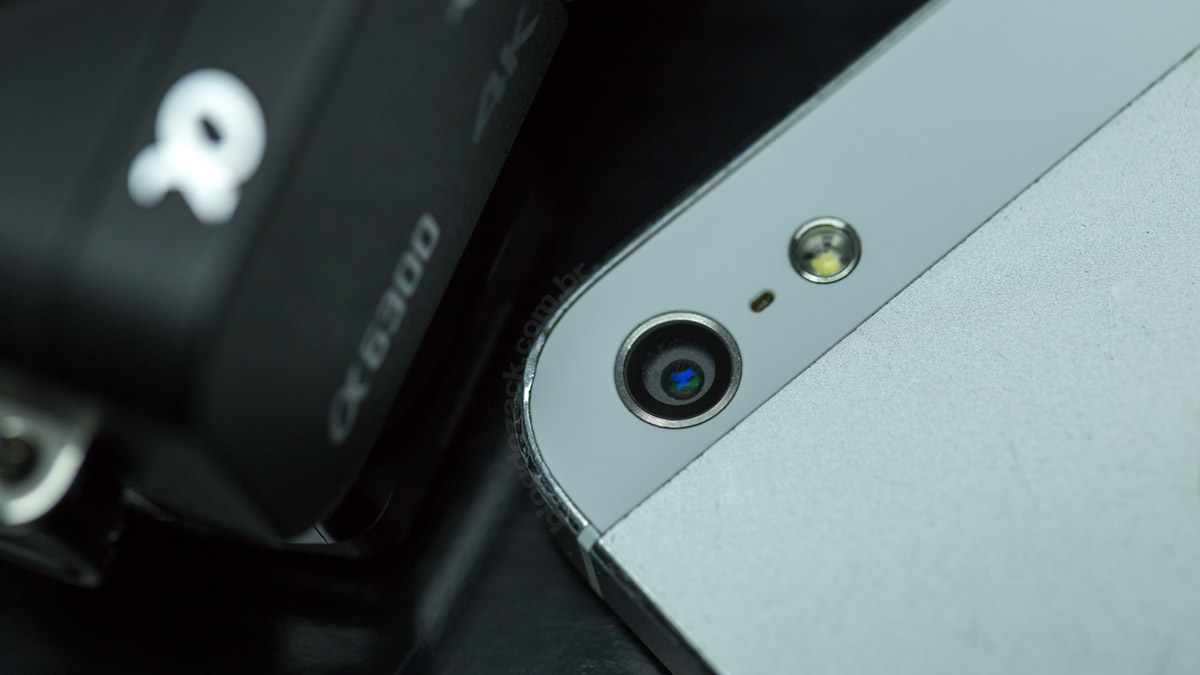 But in reality the A6300 is too "consumer electronic"-ish, and I refuse to accept it as a real camera. It's a nice design to handle, way smaller than a traditional SLR, and gladly free of the vintage trend that plagues most brands. But it's buttons are still fragile, like a product meant to be updated in two years time. The same with the smallish, sub-retina LCD, lacking finger input, effectively turning the AF usage in a button-clicking madness. The 2.36M dot OLED is sharp, but still lifeless and electronic: colors are boing, lines are aliased and it's no match for SLR optical viewfinders.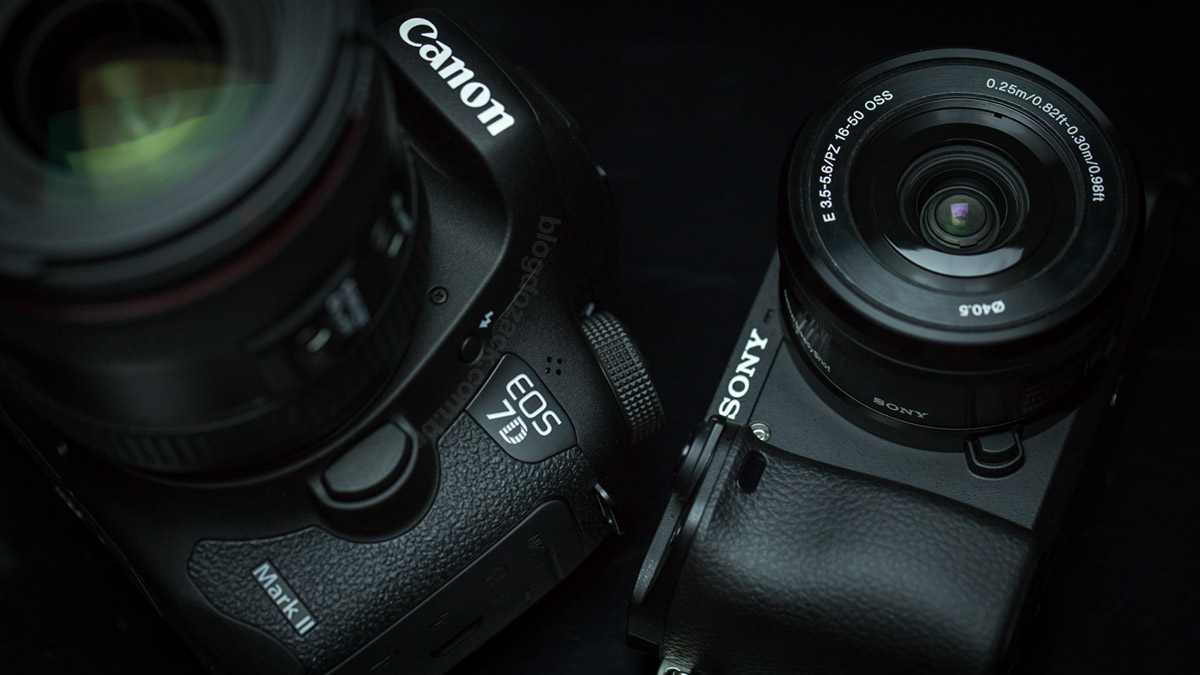 If on one hand I refuse to take it as a photography camera, I'm fine with it for video production. You asked for it and Sony did it: 2160P30 at 100Mbit/s with S-Log 3 for under US$1000, with internal SD recording, manual exposure and a "S35mm" sensor. The 4K image quality is great besides lagging in 1080P, so shoot it larger and export it as necessary. Try all color and exposure profiles prior to shoot and see what works best for you. For everyday snapshots, it's great to enhance details but lags with highlight clipping. Take advantage of S-Log to use the Exmor.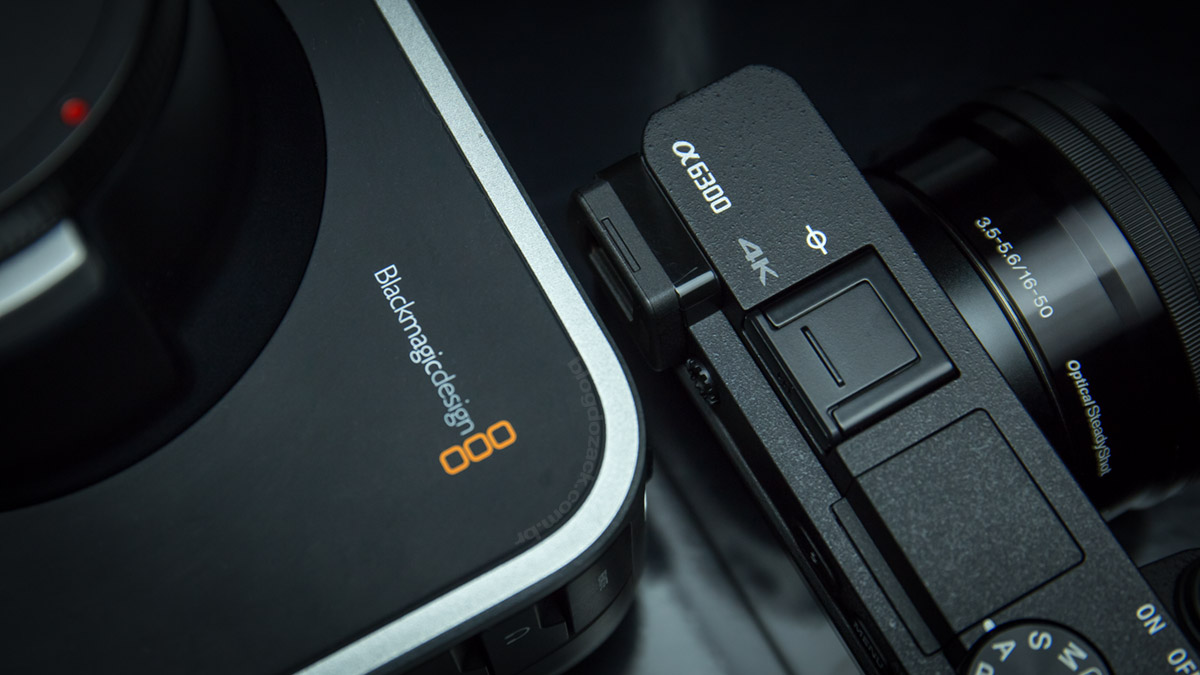 But the photo image quality seal the deal for a "consumer electronic". The 24MP APS-C is a market benchmark, way ahead of anything from Canon. Its raw output is flexible, with the same level of shadow/highlight recovery you find on full frame cameras. The noise is not as good as a larger sensor, but that is expected. However the poor SOOC JPEG are a reflex of Sony's electronic soul, so I would carefully recommend it to unexperienced photographers. Without heavy post processing the files will look dull, taking away the excitement of a larger sensor camera. But for those who know what they're doing, the A6300 delivers on the promises of flawless photos and videos. For the rest, keep your Sony sensor inside the smartphone. And happy instagramming!