Sony Cyber-shot RX1R
Estimated reading time: 08 minutes.
June/2014 - In a single sentence, the Sony RX1R is the world's first full frame compact. Few words, monumental feat. Never before such small body carried a large, full frame sensor. So it delivers virtually the same files as some DSLR, on a fraction of the size, on unique discretion. With a 135 full frame 24MP sensor, it technically delivers identical (sometimes better) results than most DSLRs. On the renowned DxO Mark site, the RX1 sensor is behind just Nikon's D800 and D600 sensors, both manufactured by Sony itself; and ahead of every mirrorless on the market, including the M Type 240 Leica. Let's see if we indeed have the best compact on the market, or if all these qualities work for a single type of photograph. This is vlog do zack's newest favourite. Nice reading!
SENSOR AND LENS

Before we begin our tour around the Sony Cyber-shot RX1R, let's talk about its two biggest photographic headlines: the 24MP OLPF-less full frame sensor and the fixed 35mm f/2 Zeiss Sonnar lens. Note: the RX1 twin is exactly the same camera but with the AA filter present. The "R" on "RX1R means" "resolution", as the lack of OLPF brings better sharpness under certain circumstances. Sony did put their best 24MP full frame to date with 14bits and 6000×4000 pixels, with fantastic colour depth 'till ISO10000, that won't blow highlights nor make shadows noisy.
If using such a large sensor wasn't hard enough, Sony managed to design with Zeiss a Sonnar lens with about 63º of view (35mm) and maximum f/2 aperture. It's an optical feat of engineering to cover such large sensor with an extremely short flange distance, with "ok" geometric distortions and good corner resolution. Both sensor and lens are tuned for the best image quality and it's felt on the unique looks of the images, again, for the first time on such small camera. The depth of field is short at f/2 and isolates the subject. Vignetting is so pronounced that colours get vibrant at base ISOs, bringing your attention to the center frame. It's the same as a 35mm DSLR, but pocketable!
BUILD QUALITY
On an all metal 482g (with battery and SD card), the RX1R is the lightest full frame on the market. It is also the smallest at 11cm x 6.5cm x 6.9cm and can easily be carried around, inside your car glove compartment or around your neck all day. At the front we have a prime, non-removable lens and an all metal mechanical cap. Sony didn't spare any high grade materials to make the RX1R feels premium. But this cap can be a pain in the ass: first, beware not to loose it, a new one costs €69; second, you have to manually remove it. Why not design an automatic cover like the RX100 series?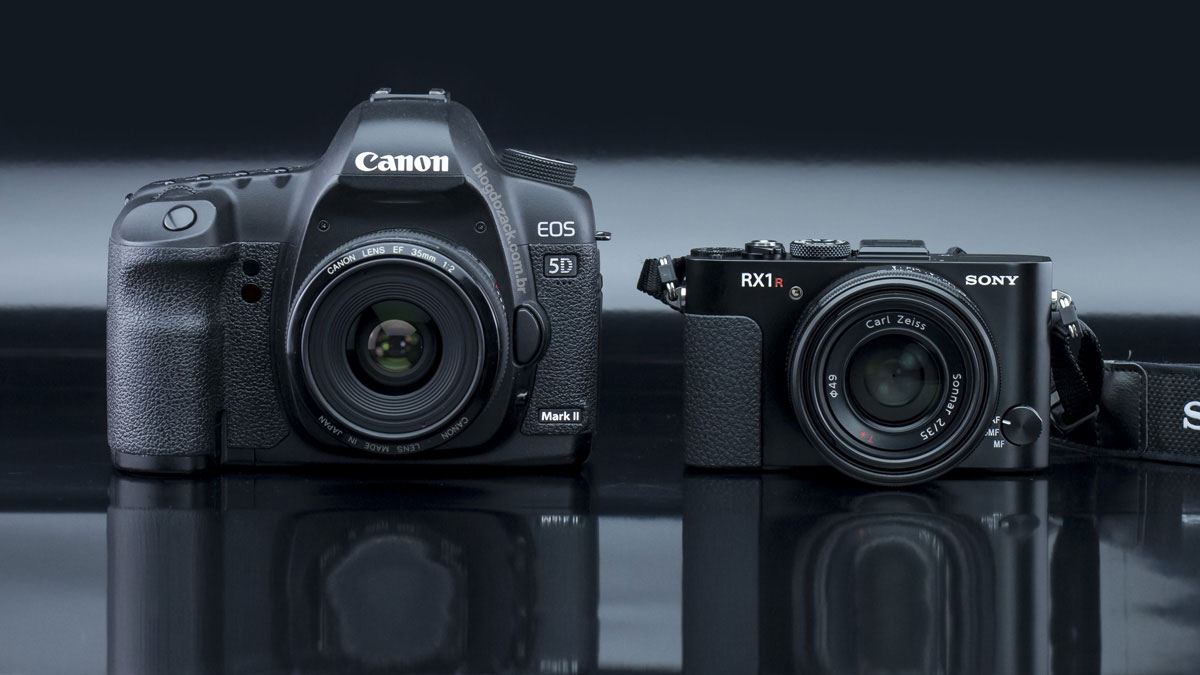 At the top, lets start by the lens. Yes, this ridiculous orange "35MM FULL FRAME CMOS IMAGE SENSOR" band remembers us of the Cyber-shot styling. Poor design choice. But the electronic aperture ring should be on every lens on the market. I'm a big fan of the Aperture Priority and I find a pain in the ass to set the values on a camera jog. Seeing which f/stop you're setting directly on the lens is much better. You can't really tell at the front, but this 0,2m-035m 0,3m-infinity band is actually a mechanical macro control ring. You have to turn it in order to move the lens farther from the sensor, increasing the MFD to just 14cm; and remember to put it back for normal shooting.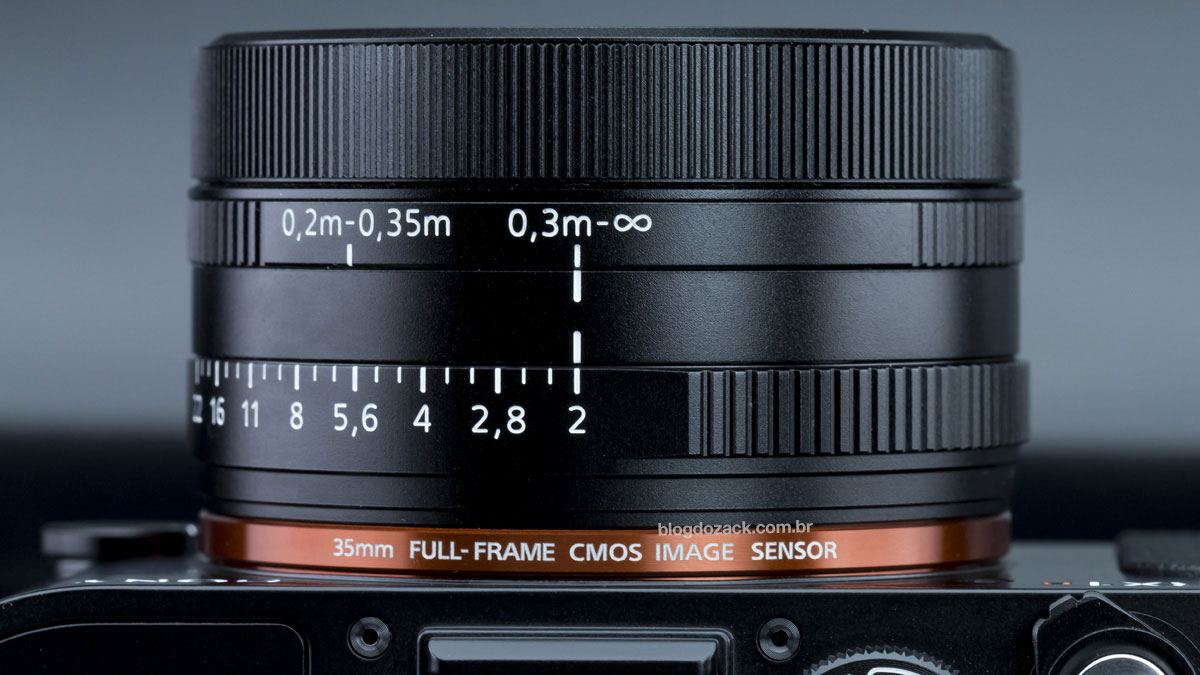 On the body we have a very useful dial for the exposure compensation. With ±3 and 2/3 steps, it's great to use with the semi-automatic exposure modes. Next there's a C (custom) button that comes out of the box set to the ISO; a nice touch. The ON/OFF switch lies around the shutter button and is a bit tough to turn, I miss the RX100 click ON/OFF button. And the shutter release is slippery; we'll see in a bit that I didn't care for them. Let's follow to the PASM dial, much more useful than some "vintage" design cameras with the shutter speed dial (Fuji X100, I'm talking to you), and a full featured, proprietary hot shoe. Sony actually calls it the Multi Interface Shoe, because it supports the OLED viewfinder (US$448) and some mics. On the left, off center, there's a retractable flash opened by a lever at the back. You can't point it upwards to bounce it of the ceiling.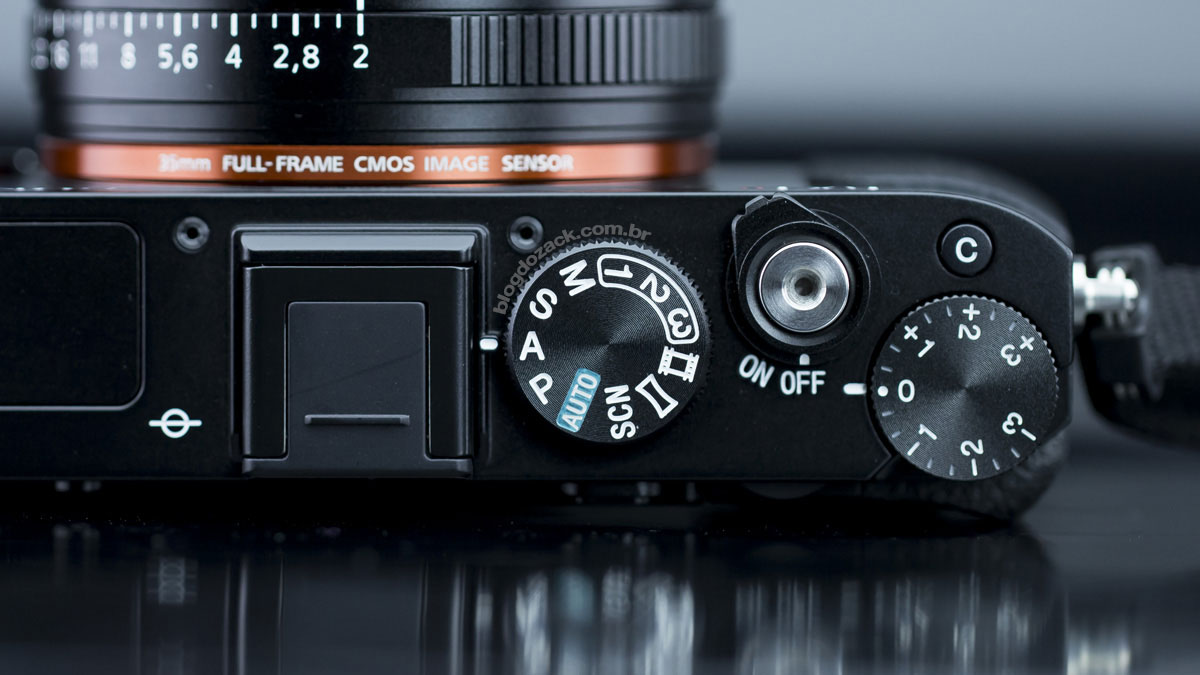 At the back the 3" LCD have two unforgivable omissions: it's not touch sensitive nor hinged. Not a problem for 1998, but a deal breaker for 2014. For sure the the RX2/RX2R will feature this "awesome improvement". At least it is Sony's high res Xtra Fine LCD™ (yeah…) and with WhiteMagic™ (yeah…) dots, brighter under direct sun light. Next to it is the main vertical dial that probably won't work in two or three years: the lateral clicks are too smooth and the whole camera operation depends on them. The rest is self-explanatory. Oh, I almost forgot! There's a black, hidden horizontal wheel used for the shutter priority mode, within thumbs reach.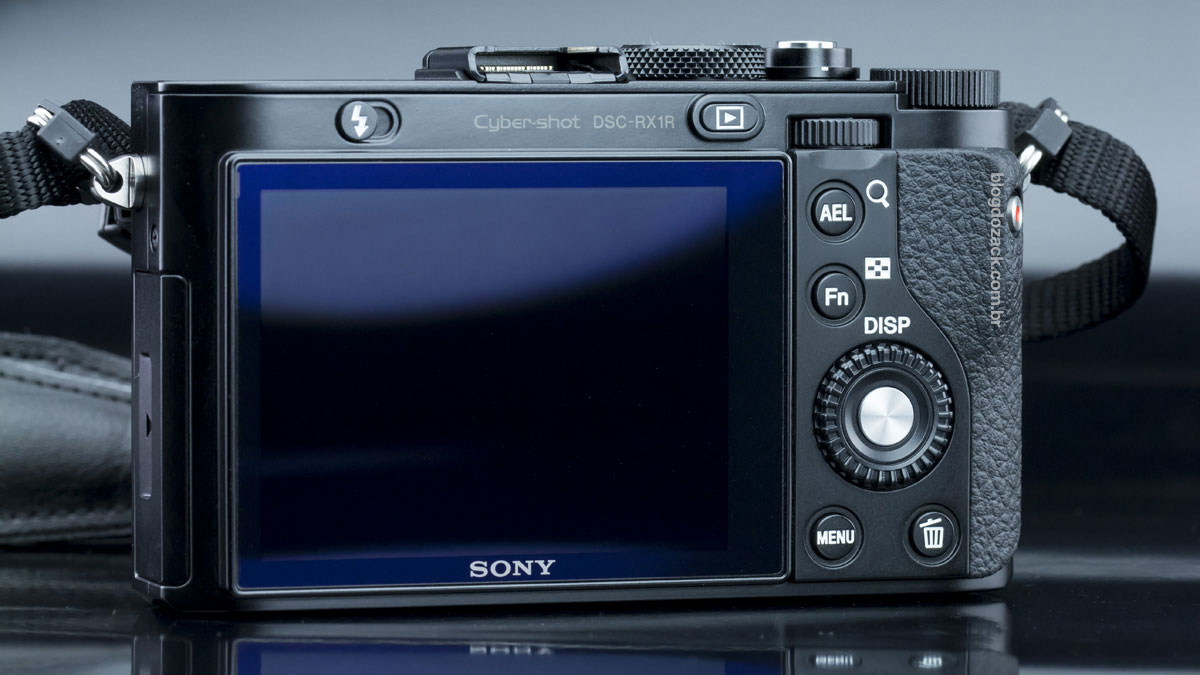 While some reviewers are crazy about the feedback from all these dials and buttons, I'm definitely not in love with Sony's quality from the latest years. The ON/OFF rocker for instance, is too tough; I leave it ON most of the time as the camera can turn itself off automatically. Half press the shutter button to turn it back on. The "manual" aperture ring around the lens is not mechanical and although it gets 2/3 clicks, they lack some precision; this ring should be harder like the ON/OFF rocker. The shutter release didn't get to my heart neither: the half press is too loose and sometimes I took a photo when I didn't want to. And at the back, the panel feels too "Cyber-shot-tsy" for my taste: it will probably stop working after a few years of use. I had a NEX-C3 that stopped working completely because of this back panel, and that is a 2011 camera. I miss things MADE IN JAPAN.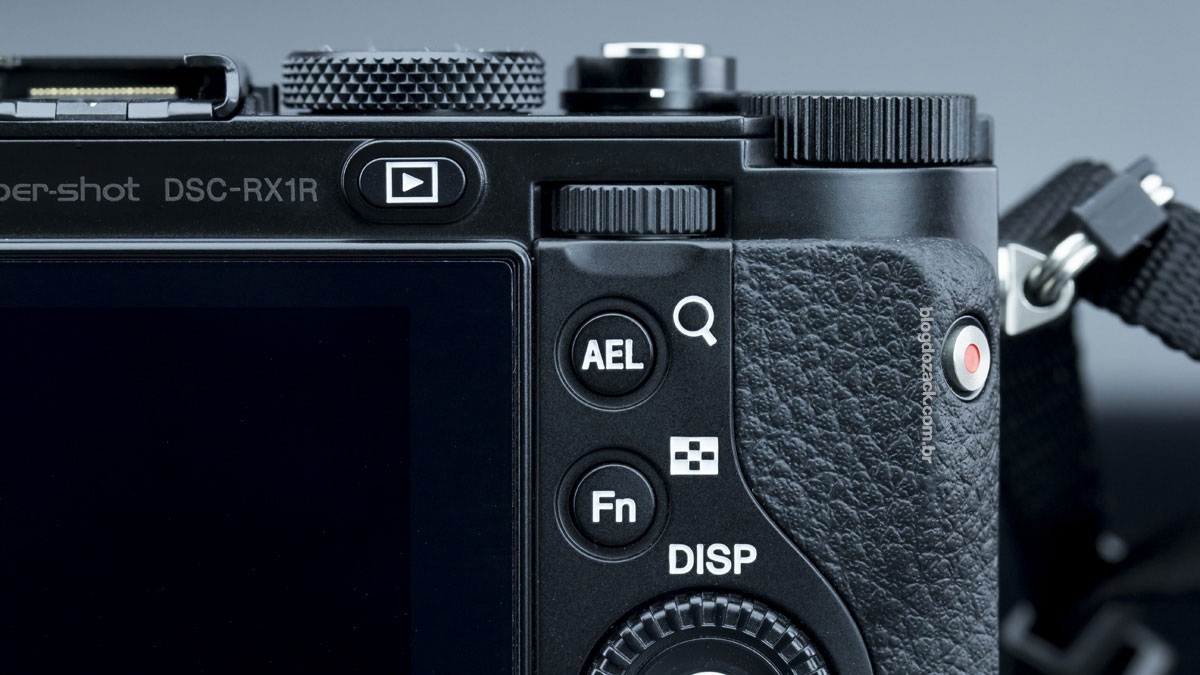 Last, every port lives behind a very well built door. There's HDMI, mic and USB. The RX1R doesn't come with a battery charger in the box and must be recharged in the camera, like the RX100 line. It's good because it will accept any USB power, even from portable external batteries. But it's bad because: 1) really, a US$2799 camera with no battery charger? And 2) you can't use the camera while charging. Newer Cyber-shots allow that, and it should be added via firmware.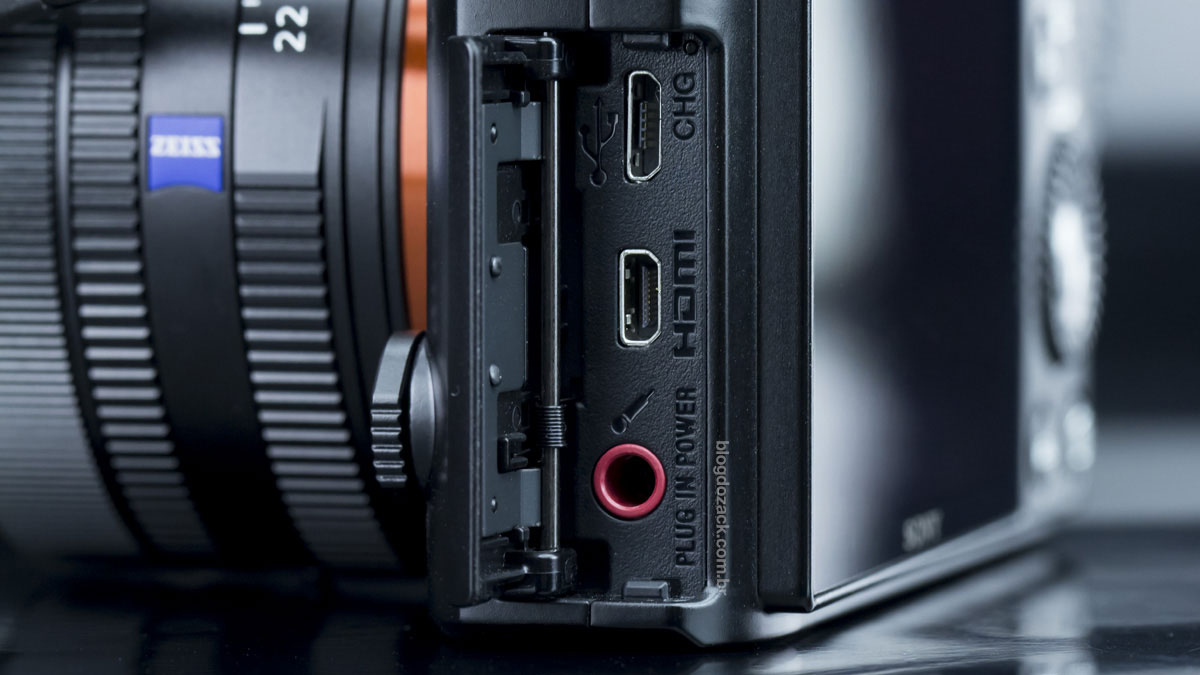 I won't bother you with its operation. It's very standard and easy to use. Turn it ON, point, focus, shoot. Press the buttons, set the MENUS, make it yours. I found the contrast detection focus on the same level of the Sigma DP2M, the Canon EOS M (with EF-M lenses), the Samsung Galaxy Camera, the iPhone 5 or RX100 models: slow but precise. It won't ever be as fast as a DSLR nor a high end compact. If you know what you're doing, it's okay. But no other camera will deliver the same results on such a small body, making the "Cyber-shot" moniker don't sound so bad after all.
IMAGE QUALITY
I can't decide if there's too much or nothing at all to say about the RX1R image quality. I was expecting great results from a full frame, fixed lens camera, and it just delivers. Its flaws are so tinny, actually giving personality to the pictures, that I can't really complain about it. The vignette is pronounced wide open… and that is it. I missed one of my catch phrases from vlog do zack: "absolutely impeccable". But the RX1R brought that back to my vocabulary. It's a modern classic that only Sony could put to market, and it's an expensive camera that captures special moments.
Some tinny optical shortcomings can be seemed on a few pictures. For instance the geometric distortion appear on straight lines. It can be corrected in camera by the BIONZ processor, but sometimes I rather leave it OFF. It's the same old story: great pictures are not made by flawless files, and I like the personality some defects add to the images. The RX1R is great, go shoot with it!.
Adobe RAW vs. Camera JPEG
After I started using Eye-Fi mobi SD cards, cameras raw+JPEG outputs made a lot of sense to keep a post-processing ready file (raw) and a instant sharing file (JPEG) with me at all times. So now I'm testing their in-camera processing and seeing if these modern processors are worth the hype. And the RX1R still impresses. The BIONZ unit makes a wonderful job keeping the colours intact on tiny 8MB files, with exceptional contrast and even some corrections applied. It is possible to adjust the Dynamic Range (DRO) on three levels; reduce noise (not really necessary); eliminate vignetting (also unnecessary); lateral CA and geometric distortions (it depends).
VERDICT
The Sony RX1R is the perfect tool if you know what you're doing, and that is not everybody. The fixed 35mm f/2 lens is not your everyday zoom and demands creativity. And sometimes "creativity" just won't let you near your subject. It's a classic street photography focal length and begs the photographer to participate in the scene. In short, a DSLR will be much more flexible, with any lens. But I'm a strong believer that we should see things for what they are, not what they are not. The Sony RX1R is everything we asked from the digital age. Light, compact, full frame. Filled with personality for those with deep pockets. Is it an one trick pony? Maybe. But it's one hell of a pony! Actually, more like an unicorn that poops rainbows. While getting laid. :-) Nice shooting!