Nikon AF-S Nikkor 14-24mm f/2.8G ED
Estimated reading time: 04 minutes and a half.
July/2014 - The Nikon AF-S Nikkor 14-24mm f/2.8G ED is an ultra wide angle, top of the line zoom lens made for the digital era. Launched in august 2007 alongside their first FX body, the D3, it quickly became the benchmark in UWA optical performance, even compared to prime lenses. It was such a success that buyers had get in line to purchase it together with the D3 on the first months! With a rectilinear 114º-84º projection, it is considered as specialty lens. It's not for everyday use and the best results demand technique. The constant f/2.8 aperture is mandatory for its "elite" class and that's why most elements are so big: the front, convex element is ø98mm in diameter. But it's all inside a fantastic build. If Nikon had a L series, the 14-24mm with the AF-S 24-70mm f/2.8G and AF-S 70-200mm f/2.8G ED VR II would certainly be at the top of it.
BUILD QUALITY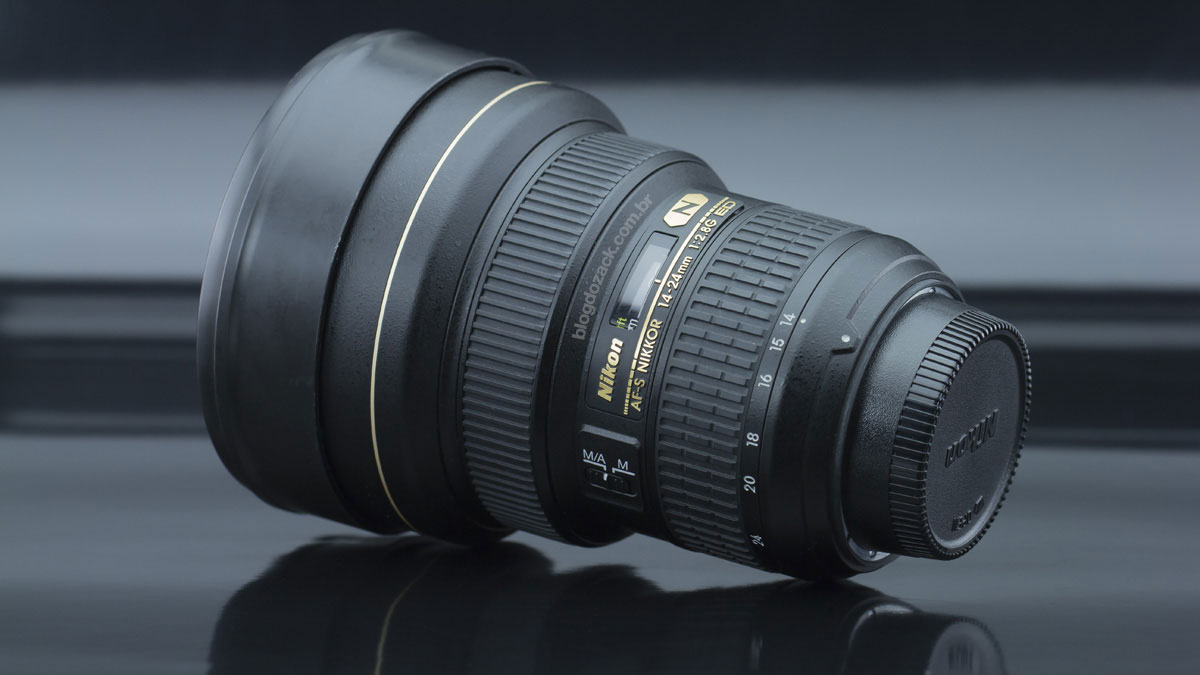 With 14 elements in 11 groups, the Nikon AF-S 14-24mm ED is an enormous optical project to answer the f/2.8G spec. The front convex element is huge and fragile, protected by a built-in, plastic lens hood. Try not to touch it. The hood is actually useless against flaring: we can easily see some glass elements above the lens hood coverage on the sides, requiring some "hand" work to cover it. Internally it's two ED glasses, three spherical, and the front one gets nano crystal coating inside.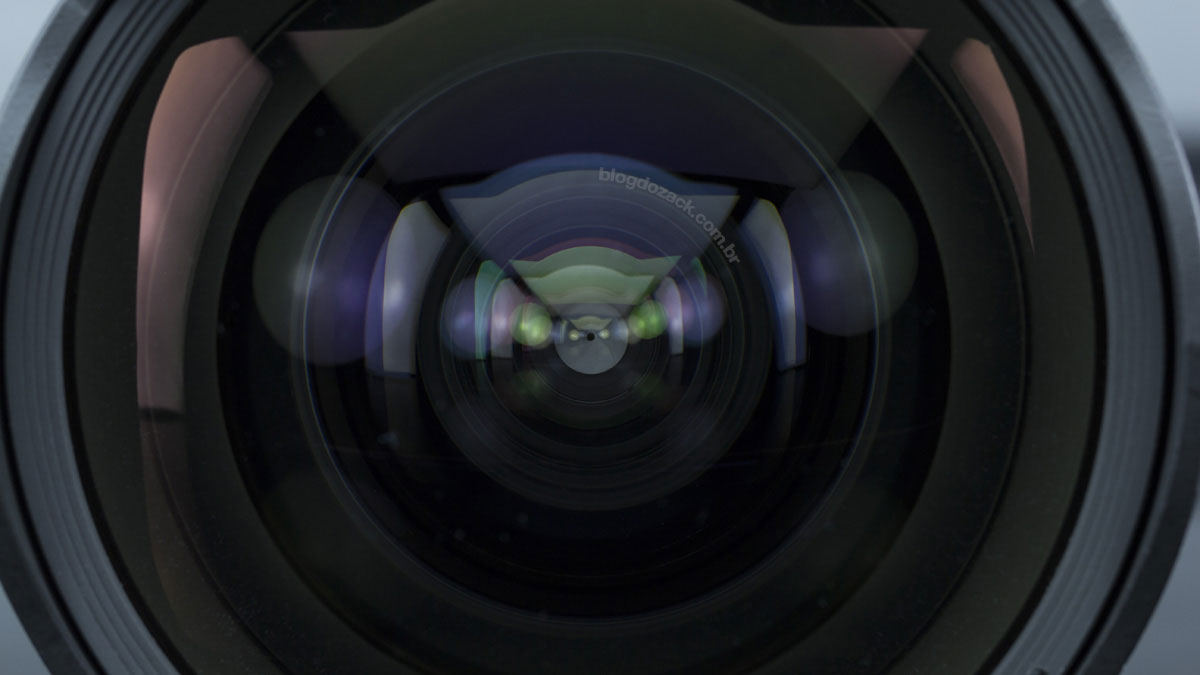 Both control rings are metal. Near the camera we have a zoom ring, with close 14mm, 15mm and 16mm markings; the space is three times larger till 24mm. At the front, right before the lens hood, is the very generous manual focusing ring, easy to use when the camera is at eye level. The distance window shows meters and feet markings, and around it we can see the name plate with Nikon's logo, model specs and the big "N" trademark. A single switch controls the M/A M SWM IF focus. It is extremely quick and quiet, definitely one step ahead of other Nikkor lenses. From 0.28m MFD to infinity, the movement happens in an instant and supports the full time manual.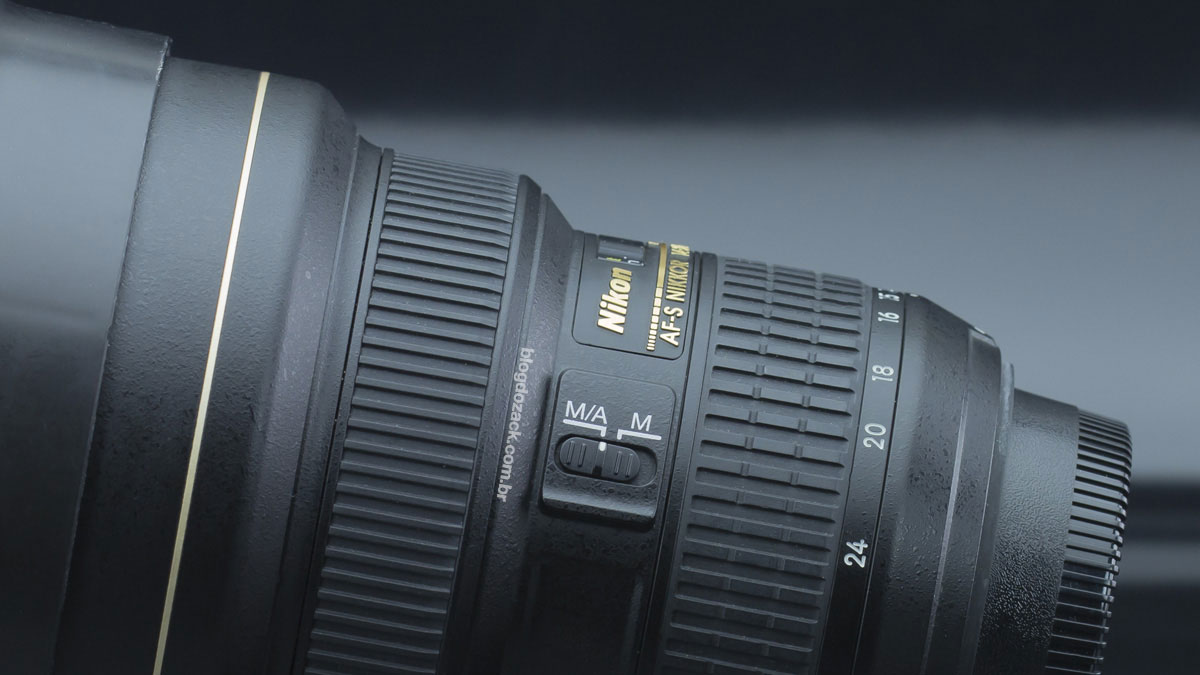 The metal mount finishes the very robust AF-S 14-24mm f/2.8G ED build. There's a rubber gasket against dust and water, as the rest of the rings. One thing I haven't mention is its filter compatibility. That's because there isn't any! At the front, the lens hood isn't threaded and can't hold a circular filter, AND there's no space at the back for gels. The only way to use them is improvising or investing in very expensive square adapters. It's a major complaint about its design.
IMAGE QUALITY
The optical performance of the Nikon AF-S Nikkor 14-24mm f/2.8G is superb: it by far exceeds all modern sensors; the contrast level is perfect (blacks are really black); colours are saturated; and the lateral CAs are well controlled. Vignetting and geometric distortions are there but collaborate with its personality. At f/2.8 the sharpness from center to corners are great, and most resolution differences are caused by depth of field difficulties. Pixel peepers will see some astigmatism around the edges and highlight points turn… "imprecise", to say the least. But it's a small problem, not something to worry about. It would be a crime to complain about it. It's that good.
Stopping down to f/5.6 we reach maximum image quality. Every single pixel on the 36MP D800E will be illuminated by a stream of light, unrivalled resolution on the UWA. The 14-24mm f/2.8G makes a difference for those who work with large prints because it renders more details. Colours and contrast are simply perfect. It took me a while to fall in love with Nikon's colour science but it was worth it. They're not as vibrant as Canon's, but that's why it feels more real, sharper, correct. Files can handle heavy post-processing with maximum quality if the idea is to seduce the viewer eyes.
VERDICT
The Nikon AF-S 14-24mm f/2.8G ED is at the top of the Nikkor line and serves FX photographers that need the best UWA zoom on the market, for maximum image quality. And this is a select group of people: interior design shooters, architects and some photo journalists. The build quality is impeccable and a real work horse. The optical design is bold and delivers spectacular performance. It's not a lens for anyone and doesn't have to be. If you can't see other lenses flaws, don't bother paying for such excellency here. But if you praise the best, this is the lens for you. In your face, EF!