Canon EF 28mm f/1.8 USM
Estimated reading time: 05 minutes and a half.
June/2014 – The EF 28mm f/1.8 USM ($449) is the last wide angle, large aperture Canon option before the three-times-more-expensive EF 24mm f/1.4L II USM (US$1749). The EF 20mm f/2.8 USM is wider, but certainly darker; and similar in aperture is the EF 35mm f/2 IS USM, but not with the same field of view. So we can say the 28mm f/1.8 USM is unique because it offers the best of both worlds: large aperture, wide angle, sort of on a budget. It's an old project from 1995 and it shows its limits on demanding APS-C sensors like the 18MP EOS M. Newer lenses made for digital beat it in terms of optical performance, noticeable on large prints. But will it work for you? Let's find out!
BUILD QUALITY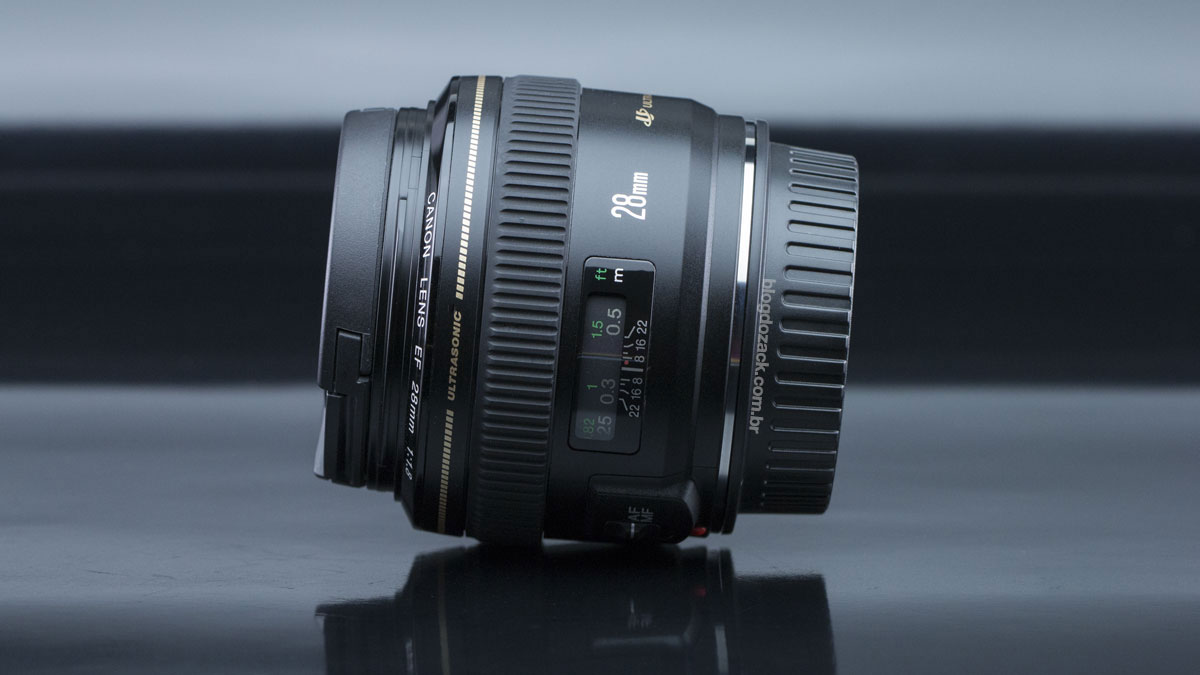 At 310g of 10 elements in 9 groups, the EF 28mm f/1.8 USM marries nicely with full frame or APS-C cameras. It is very compact in just 7.3mm and never bothers you on the streets. Just mount and forget about it. On the 5D Mark II it's actually too light, and being so short there's not much room left for your hands, that ends under the camera body. The design school is the same as both EF 50mm f/1.4 USM and EF 85mm f/1.8 USM, with a generous manual focusing ring featuring full time manual (you can use it even at "AF"), and the distance window; besides the USM gold ring at the front. My 28mm copy is more robust than the 50mm f/1.4 USM (that I didn't care about), with way less play and wobbling. It is all plastic with a metal mount and no weather sealing.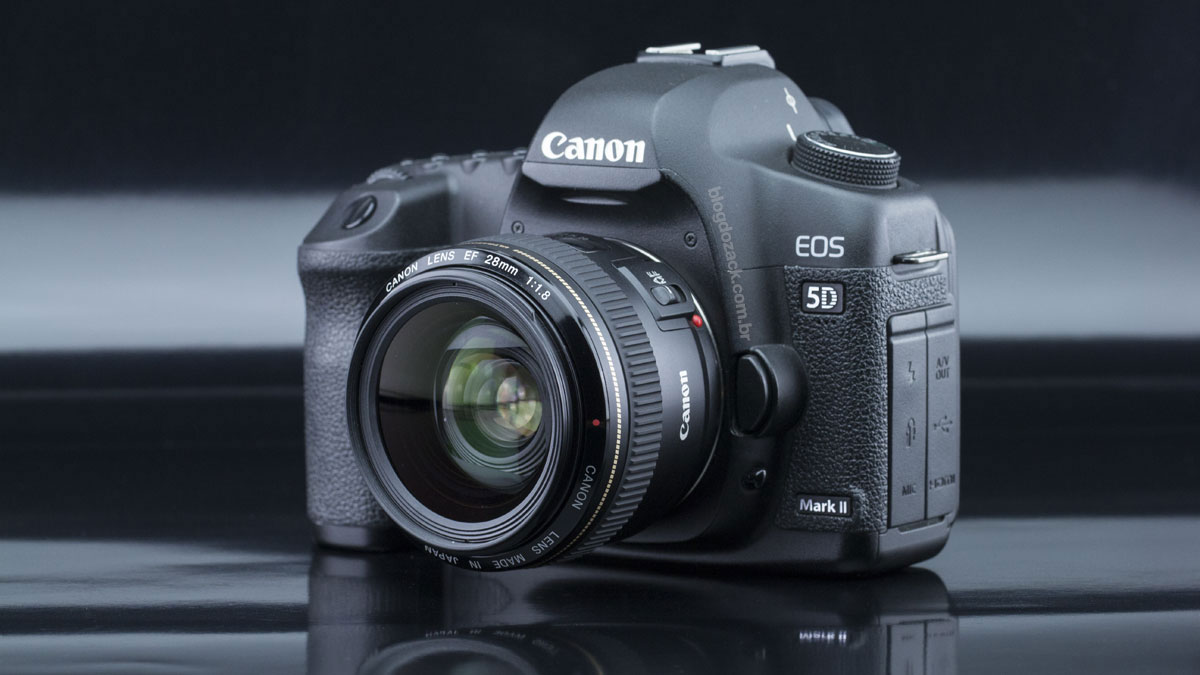 The USM AF focus is very quick and trademark of every Canon lens. Be it with the phase detection 5D Mark II, or the hybrid APS-C mirrorless EOS M, it was instantaneous under good light conditions, and not worse by the end of the day. The AF/MF switch have a tiny bump to make it easier to use, and didn't move by itself during my tests. I didn't really use the MF ring because most EOS M photos were perfectly focused: just touch the LCD screen to focus on any part of the frame. My only complaint is that sometimes it focuses on "sharp" bokeh highlights, giving you a hint of how weird the bokeh is. It may be a limitation of the hybrid system: should it take into consideration the distance or the contrast level? If anything happens, fix it with the ring.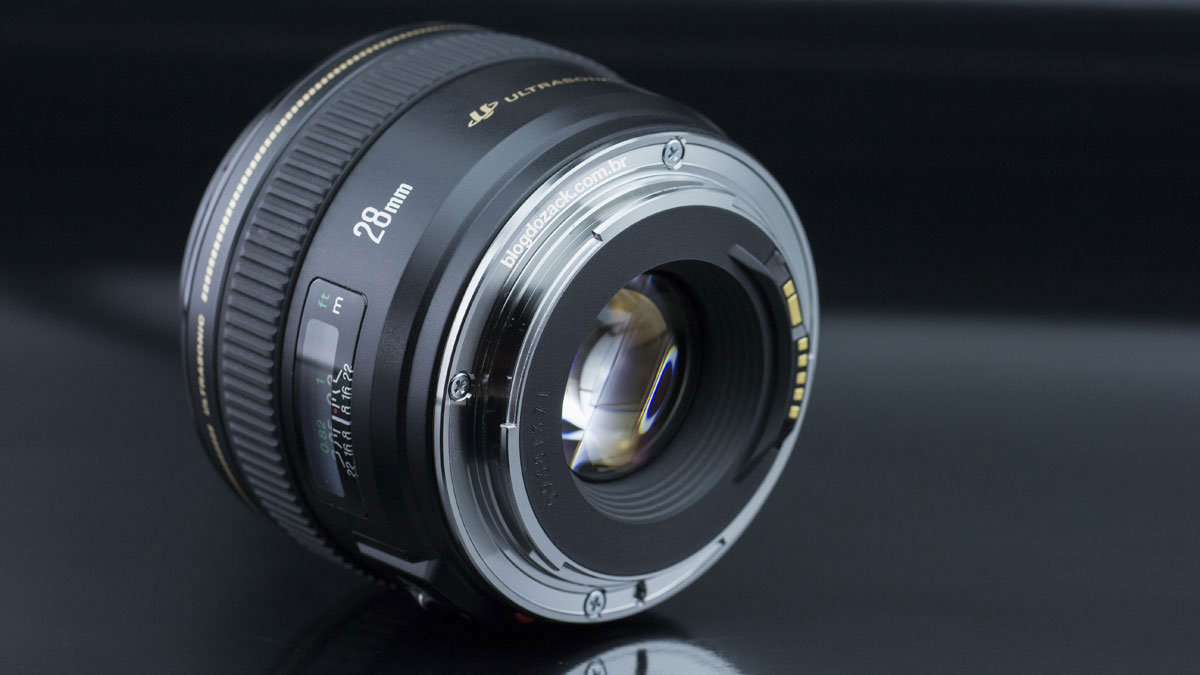 An interesting design touch is the almost built-in internal hood, that I had never seen before. It supports an external EW-63II lens hood, but it's not included in the box. The distance window is large and easy to read, and the frontal ø58mm filters don't rotate. So its operation is dead simple and the build quality is very standard. Nothing out of the ordinary for Canon's intermediary line. It's not a L series nor a plastic fantastic EF 50mm f/1.8 II. I could easily fall in love with this lens but its lifeless photographs set me off from its build qualities. Let's have a look.
IMAGE QUALITY
The EF 28mm f/1.8 USM comes from a time when digital sensors were not even dreamed to be commercially available, certainly not at the resolution they're produced today. So it was designed with film cameras in mind, that are less demanding on resolution and sharpness, naturally softer as you make larger prints. The 28mm f/1.8 USM is just not on the same league as newer Canon's 35mm f/2 IS USM nor Sigma's 18-35mm f/1.8 DC HSM, both made for the digital age.
That doesn't mean the photos are bad or the creative possibilities are limited. The colours are pleasing, as most of Canon's EF line, and for reasonable sized prints, its files are more than enough detailed. Animal fur, bricks, signs, leafs will all be there no matter the focusing distance. But even the aspherical design can't guarantee the corner resolution; my main complaint about the EF 28mm f/1.8 USM. It is not the tool for those who dare with the composition.
Axial CA was low and not a problem on my pictures. The OOF highlights don't gain weird colours and, to be honest, that happens mostly with boring backgrounds. Tip: fill the background with complementary colours and avoid competing lines with the subject. The lateral CA on the other hand is so heavy that must be corrected via DIGIC5 or post processing. It is as bad as Nikon's entry level AF-S Nikkor 24-85mm we saw a while ago, with over three pixels on 18MP APS-C sensors, specially around the corners. It's easily fixable with a single click in-post processing.
The bokeh could be smoother and sometimes it's hard to isolate the subject from the background. Here is what I say about the lack of "personality". The OOF background is not as smooth as more expensive primes (like the EF 24mm f/1.4L II USM) and makes the low cost design evident. And with the lack of more vignetting, the personality just suffers. Photos are uninteresting, without strong optical characteristics. Some might not be bothered by it, but I missed it. Last, the geometric distortion is well controlled and shows just on horizontal lines, near the edges. It is barrel type and noticeable on architectural elements. It's a good performance for a wide angle lens.
VERDICT
The EF 28mm f/1.8 USM completes Canon's large aperture line with the 50mm and 85mm f/1.8. As all of these lenses exceeded the fifteen years design, so it's hard to compare them to modern Nikon's or Sigma's. And I can't help but wonder if Canon is deliberately not trying hard enough just because it can hide behind its history. But you can't hide the photos. If it's worth your money? Yes, if you're faithful to the brand. Once again we have a model begging for an upgrade, this time on the optical formula, in respect to digital shooters. If found used for a nice price (someone ought have one to sell in the last 19 years), buy it. Have fun and nice shooting!