Canon EF 24mm f/1.4L II USM
Estimated reading time: 05 minutes.
August/2014 - The 24mm f/1.4L II USM is the second generation of Canon's widest large aperture prime. No other lens is so wide and so bright on the EF line. Presented in 2008 it is an update to the 1997 original, with brand new UD elements (two), aspherical elements (also two), and the SWC (Subwavelenght Structure Coating), all in a weather sealed body. It got beefier and fatter, better balanced on 1D cameras. The EF 24mm f/1.4L II USM got on vlog do zack on a mere business opportunity. I found it new on Mercado Livre (brazilian e-bay), but its images look and feel captivated me to keep it on my kit. It's one of few Canon lenses I can't substitute. Is it for you?
BUILD QUALITY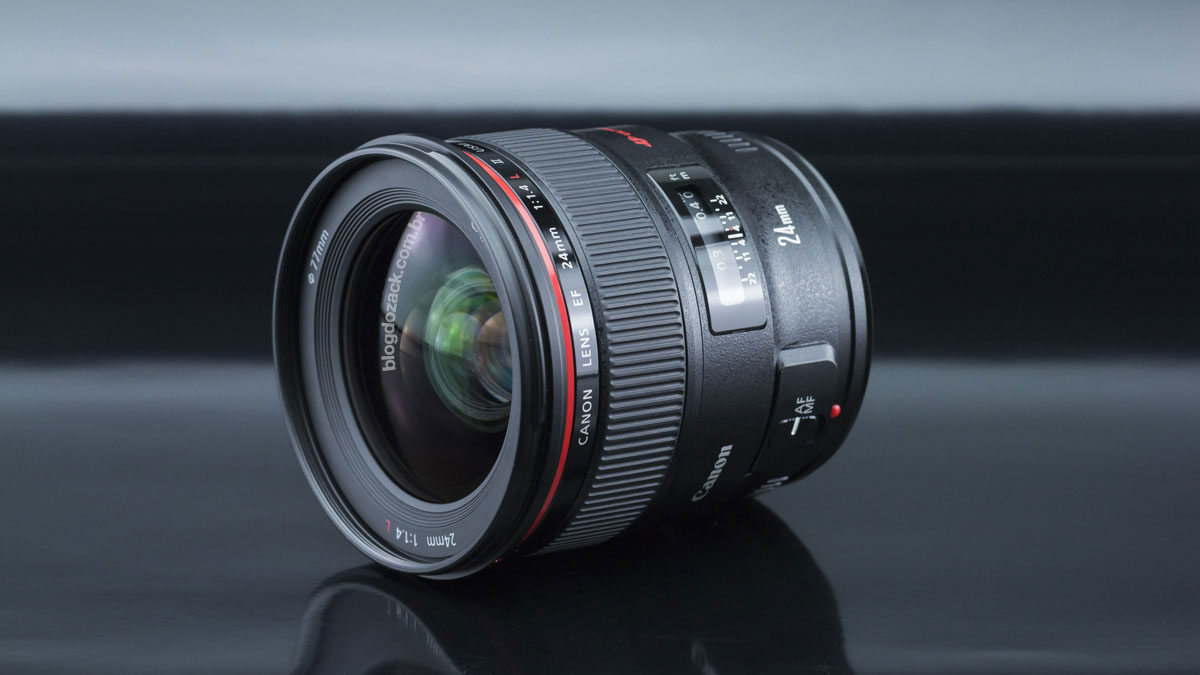 At 8.3 x 8.6 cm of 650g, the EF 24mm f/1.4L II USM is made of high quality materials. You can feel the internal tube is metal from the thread filters (ø77mm), which is colder than the rest of the body. On the outside the finish is a single plastic construction surrounding the mount, which is also metal. This create great structural strength, and resistance to dust/splash as the project gets very robust. It is modern without different plates or screws covering the outer body; it's one solid build, that will probably outlive photographer, made to be professionally used everyday.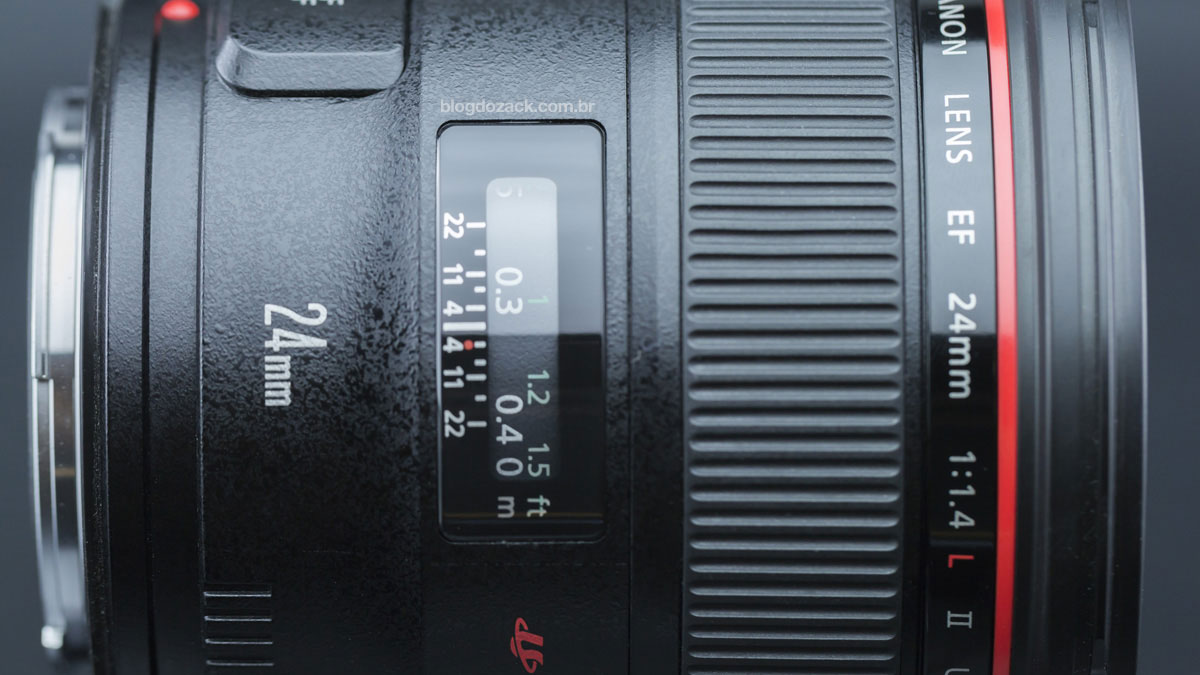 The operation is simple by a single manual focus ring, and one on/off USM switch. The first is rubberized and generous, extremely smooth with precise movements. There is no delay between moving the ring and inner elements, as we can see from the distance windows which features hyperfocal markings. And the second activates the AF motor, fast, quiet and with full time manual. You can leave it in "AF" and make focus compensations at any time. It is very simple to use and I never lost a picture because of focusing performance, that is instantly with most EOS.
At the front the ø77mm filter thread is metal, colder to the touch and a bit faster to screw in. Last but not least the supplied EW-83K lens hood is big and goes onto its own thread. The EF 24mm f/1.4L II USM then feels long and big, but balances well with most cameras. It's another professional tool from Canon's L series that can handle anything you trow at it, from everyday journalism to social/studio work. If matched to a PRO level EOS DSLR, it's the mechanical beast to beat at wide angle distances, no matter the weather. Try to do that with your Sigma "Art" series…
IMAGE QUALITY
The EF 24mm f/1.4L II USM really parachuted itself on vlog do zack and I did not know what to expect from the images. At the time of purchase I already had the 24mm distance on four other zooms and really never needed more light to justify the investment. But it wasn't long before I fell in love with this lens. With 13 elements in 10 groups, the results are unique and it has a very strong look, which can be recognised from afar. The saturation and the vignetting are very high, and these are great qualities for very unique photos. *All photos with the Canon EOS 5D Mark II.
From f/1.4 the headline is the very short depth of field even at reasonable distances between camera, subject, and background. It is unlike any other lens because we're used to the "all in focus"wide angle images. The vignette is very pronounced at -5ev (!) around the edges, and it feels we're looking through a peep hole on full frame cameras. You either love it or hate it: yes, it will annoy if perfectly exposed frames are required; but the look is different and much better than recreating the vignetting via software. It's an unique piece on most kits, made for special pictures.
Also it won't get any prizes for wide open resolution. The details are all there together with the high contrast, good for graphic edges. But the corners loose information due to astigmatism, and we need to stop it down to improve quality. It is actually very soon from f/2 to f/2.8, for peak performance at f/4. It's better than most zooms but unfortunately not by a great margin. The EF 24-70mm f/2.8L II USM at 24mm f/2.8 is better, showing how far we've come with zoom lenses.
Lateral and axial chromatic aberrations are all present. Axial CA (front and back of the focal plane) are relatively discreet because the wide angle can fit more subjects in one frame. But the lateral CAs are chaotic and aperture independent: there's no fix stopping down to f/8, f/11, f/13… Thank god for software correction, as they can easily be fixed with one click. Geometry distortion is invisible and another headline. While any 24-### zoom shows loads of barrel distortion, the prime lens is pertly corrected. It is very useful for architectural shots straight from the camera.
Optically one of the EF's 24mm f/1.4L II USM biggest triumphs are its colours and its capacity to blur the wide angle background. The SWC contrast also helps for the very unique look this lens generates. The software post processing actually requires "minus" settings for both contrast and colours. Most files pop on the screen and feels great straight from the camera. The bokeh is very smooth and colourful wide open, unique to most other wide angle lenses. It's hard to imagine how it feels because most top of the line f/2.8 zooms just render a longer depth of field.
VERDICT
The EF 24mm f/1.4L II USM is a wildcard on Canon's L line. You won't know what it's capable of until you try it. It can differentiate your shots wide open for unique photos that no other photographer will have. I mostly use it for street photography with its heavy look (saturated colours, contrast, vignetting and shallow depth of field) without recreating it by software. I don't really use it for architectural because the TS-E 24mm f/3.5L II fits the job better. But if you're curious for different photos and can afford it, it's without a doubt a great companion for any kit. Nice shooting!