Canon TS-E 24mm f/3.5 L II
Estimated reading time: 06 minutes and a half.
May/2015 - The TS-E 24mm f/3.5L II is one of four special tilt shift lenses on Canon's lineup. Made for architecture and product photography, these instruments can render the focal plane out of the image plane axis, distorting the lines to compensate for some perspective distortions the photographer can't always correct. And it can also change the focal plane angle, to render in-camera special effects, like longer or shallower depth of field without touching the aperture.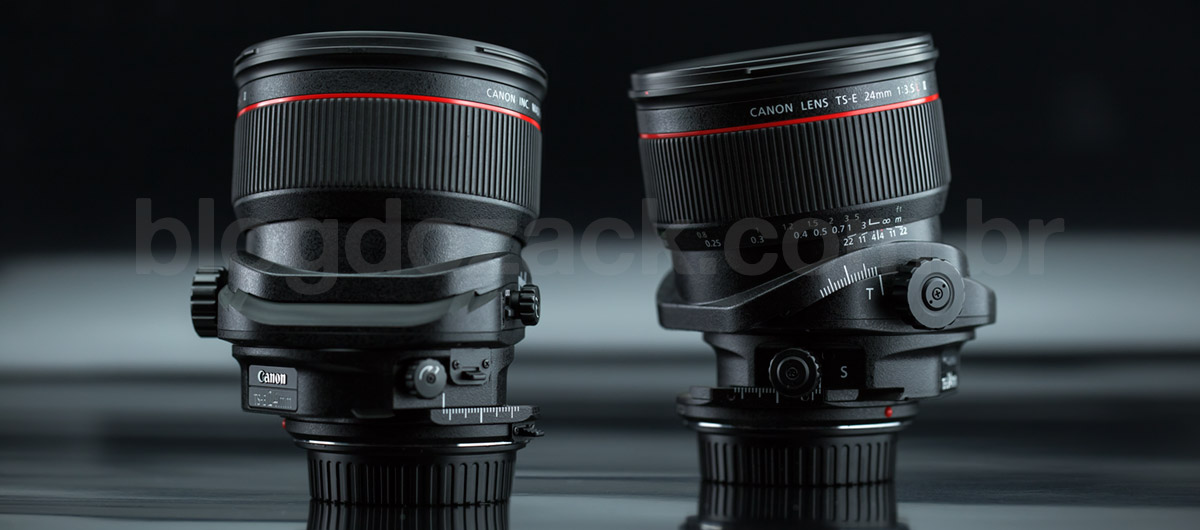 Let's say you want to shoot a 30 meters building from the street. With a regular lens, as soon as you point your camera up, to get the whole building in one frame, the straight lines seem to fall into the vanishing point, giving a triangular look to the building. One solution would be to photograph it straight at the front, but not everybody has a 15 meter dolly to do that, right?
Enters the shift movement. It allow you to decentralise the focal plane (lens) from the image plane (film or sensor), moving the frame without moving the camera. This way you can frame the whole building from the floor, not pointing up, nor making the lines "fall". The shift actually creates a new distortion to the image that look like "correcting the perspective", and it's the base for professional architecture shots, with straight columns perpendicular to the floor.
The tilt is a bit more complicated to understand. On a regular lens the focal plane (lens) is parallel to the imagem plane (film/sensor), so the image looks sharp from corner to corner. This way we can set different focusing distances, with tridimensional subjects looking out of focus the farther they are from the camera, due to the optical short depth of field.
With tilt, you can change the angle between them. As the focal plane "aligns" with a longer (or shorter) "plane" between the focus and the image, you can make the depth of fiel seems longer or shorter; without changing the aperture! It is made to shoot landscapes with deep DoF and optimised apertures, not suffering with diffraction; or to make the DoF look shorter even on smaller f/stops, like f/8 to control exposure (imagine long, night exposures, with light streaks).
It's excellent to shoot 'all in focus' products without touching the aperture and its consequences on exposure. Or to make distant scenes with shallow DoF, for the famous "miniature effect". Canon's TS-Es can perform both movements together, for infinite possibilities, and on this second generation, even their orientation is independent, for even more flexibility. It got on vlog do zack merely for testing purposes as I'm in favour of the distortion of wide angles. But let's see what this lens is all about and if the image quality works with so many movements. Nice reading!
BUILD QUALITY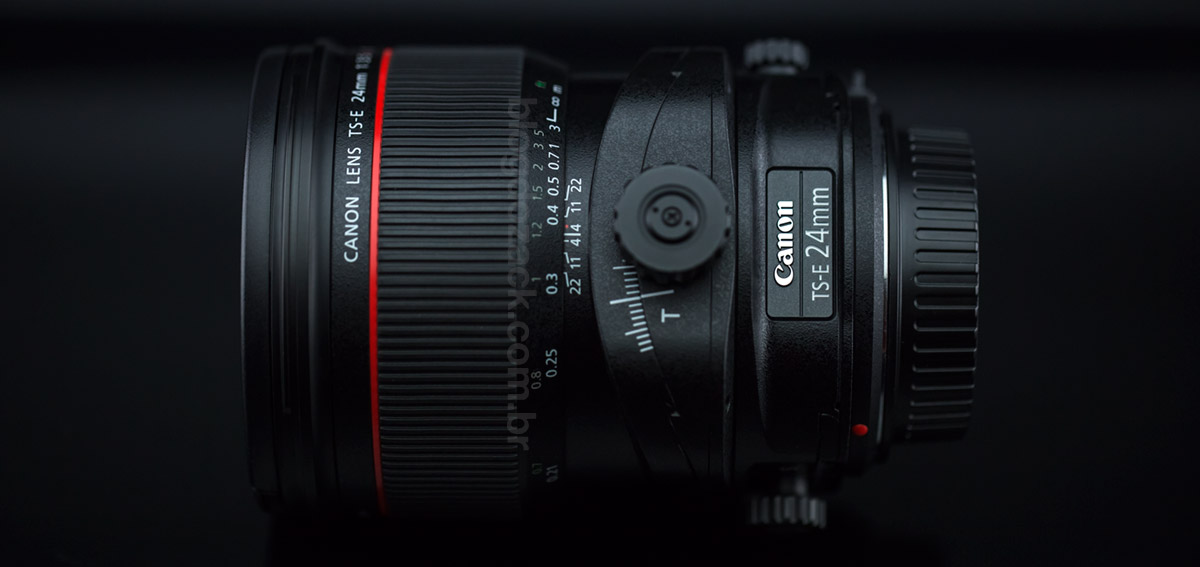 The first thing to understand about TS-E lenses is we are not talking about "EF" anymore. TS-E means tilt shift electronic, with tilt and shift movements, plus an electronic aperture, different from EF electronic focus. Yes, you got it right: the TS-E are not EF, and can't auto focus. Even with zero movement settings, their size and price, Canon (and no other manufacturer, for that matter), built an auto focus motor inside. But for the type of photography their meant to, it doesn't really matter; and it won't substitute regular EFs made for practicality and fast focusing.
Second, the TS-E can easily be recognised by the extra knobs and tabs. The large knobs control the movements, and the tabs release to orientation locks: up/down, left/right shift; and also up/down, left/right tilt. And the Mark II 24mm and 17mm f/4 can set the tilt shift orientation separately.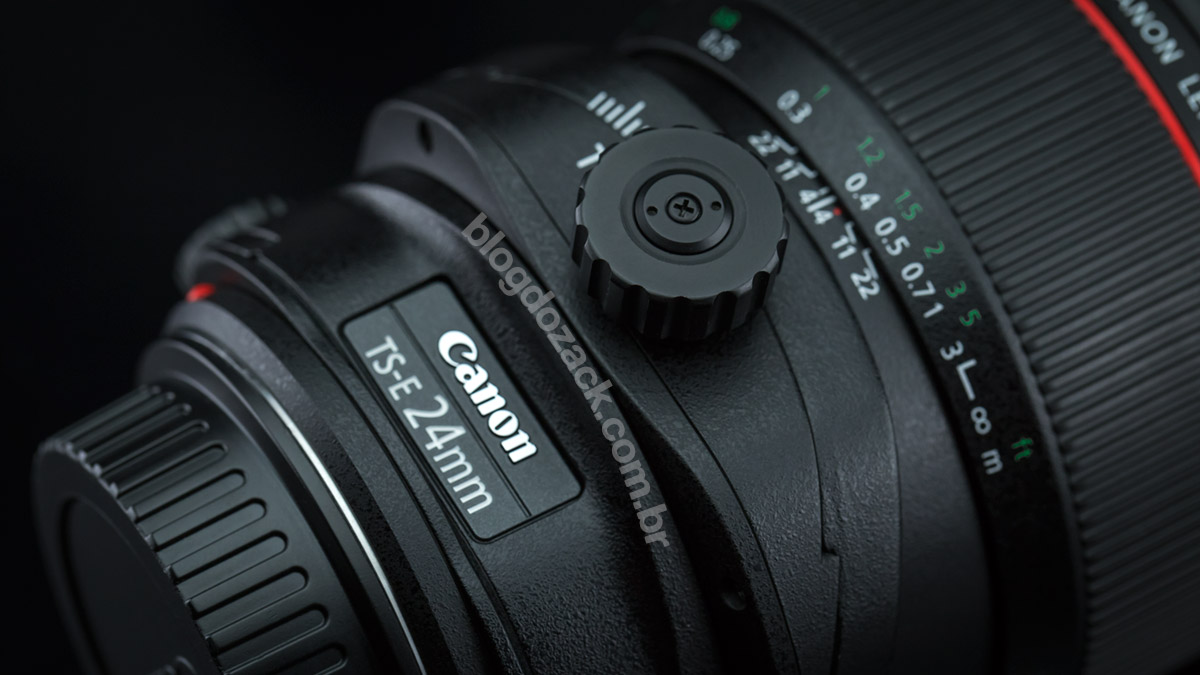 Because of the movements, the 780g of 88.5x107mm is purely metal except the knobs, for better tactile response. From the EF mount to the filter thread, it's all cold and solid, with no play or chance to jam the lens. The design is sober, robust, totally L series. But be careful not to trow it around as these knobs and tabs are fragile, and cost a fortune to fix.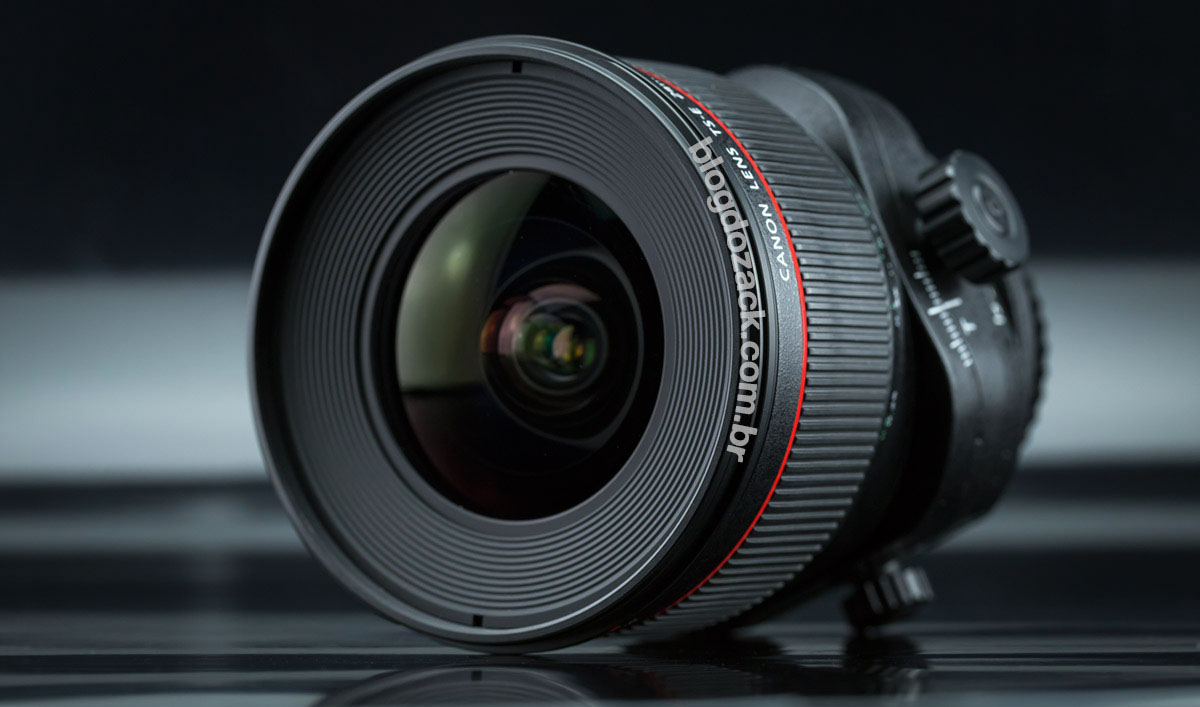 At the front the manual focusing ring is enormous and sports printed distances, from the 21cm minimum focusing distance to infinity, in meters and feet; there's no distance window. Nothing expands during focusing and the large front ø82mm filters won't rotate. These filters are large so there's less vignetting during shift and tilt movements, as the lens moves over four times the projected circle of standard 24mm lenses.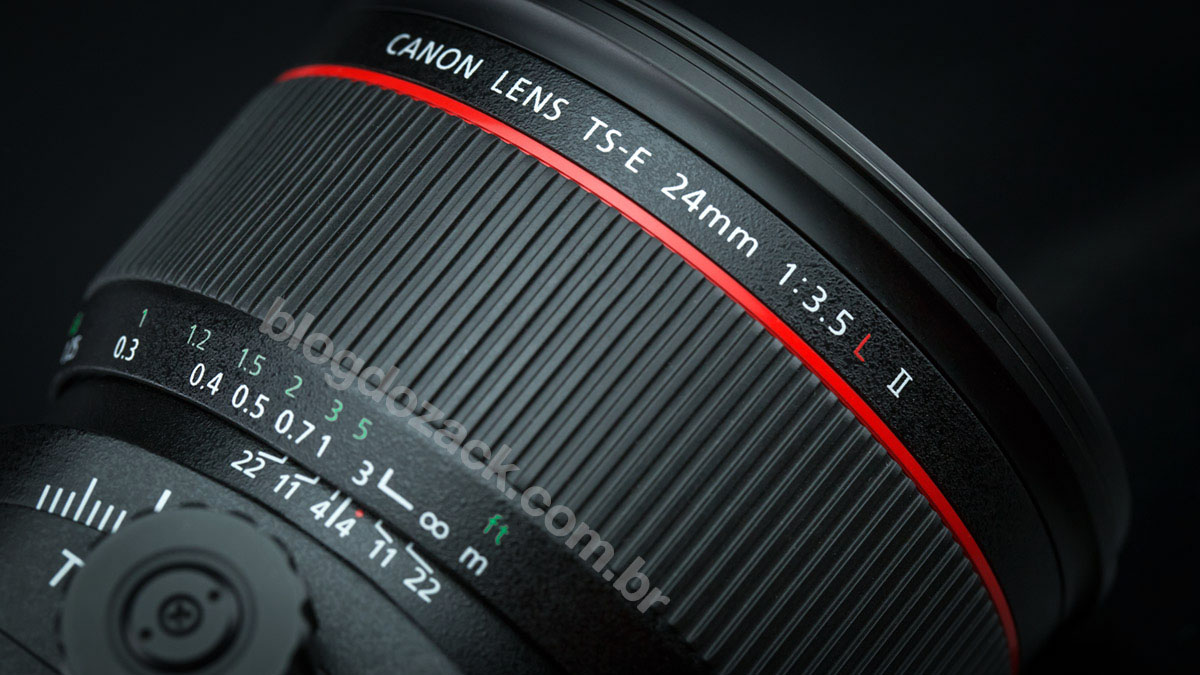 Overall its operation is simple after you get what the tilt and shift are all about. With both movements set to zero we can even lock their position and use as a regular 24mm, albeit manual focus. Be careful not to force the knobs if they're locked. It is very expensive to fix them. It's a state of the art Canon build that justify the cost. If you work with architecture, landscapes and product photography, the TS-E series are "the" lenses to feature in your kit.
IMAGE QUALITY
With 16 elements in 11 groups, one aspherical and three UDs, on the second generation, aperture f/3.5 and L status, we couldn't expect less than perfection from the TS-S 24mm f/3.5L II. Since its introduction it was gathered as the sharpest full frame 24mm from Canon, and perfect with no chromatic nor geometric distortions. Its resolution was surpassed only by the zoom EF 24-70mm f/2.8L II USM in 2012. We have another classic lens: high contrast photos, typically Canon colours, and the standard high resolution. * All photos with the EOS 5D Mark II.
I'm over the resolution/aperture tests and didn't notice any major flaws in my pictures. From edge to edge the details are all perfectly rendered. From tarmac to concrete textures, typical on architectural shots, it's all sharper than most large aperture primes or low cost zooms. The contrast is high, nice to play with light and shadow areas, no matter the light position.
Even with maximum tilt and shift movements I didn't notice any drop in optical performance. There are no spherical distortions, no chromatic aberrations, lack of sharpness, nothing. It's way ahead free lensing tilt and shift results, that usually end up low contrast and blurred. Not on TS-E lenses: the files are professional, ready to print, with intact image quality.
Even the bokeh is smooth when we use tilt movements to misalign the focus and image planes, shortening the depth of field. No matter the aperture, the defocus is smooth and colourful, with high contrast and no repetitive lines. It is interesting to focus on your subject, be it wedding rings, flowers, details, even at f/3.5. A look I rarely use, but you can try it yourself.
VERDICT
At US$1899 the TS-E 24mm f/3.5L II must be seen as an investment. It's not for everyday shots as it's large, heavy and manual focus only. But if you work with architecture and product photography, it will definitely make a difference on your kit. I don't even have to recommend it: those in need for a specialty tool, propably already have it. Nice shooting!