Canon EF 24-70mm f/2.8L II USM
Estimated reading time: 06 minutes.
November/2014 - The Canon EF 24-70mm f/2.8L II USM, announced in february 2012, is an update to the legendary ten years old f/2.8L from 2002. With a range from wide angle to short telephoto on the 135 full frame format, it's what we call a standard zoom, with a ratio under 3x; the magical number that manufacturers say is the limit for high optical performance. With a completely new optical formula, including two UD and one Super UD aspherical element, this design reaches high levels of resolution, aberration controls, contrast and colour rendering never seen before. It is simply the best zoom project on Canon's history, with a raw performance easily surpassing EVERY prime lens. Yes, we're finally here: zoom lenses are better than most primes. Let's how it works?
BUILD QUALITY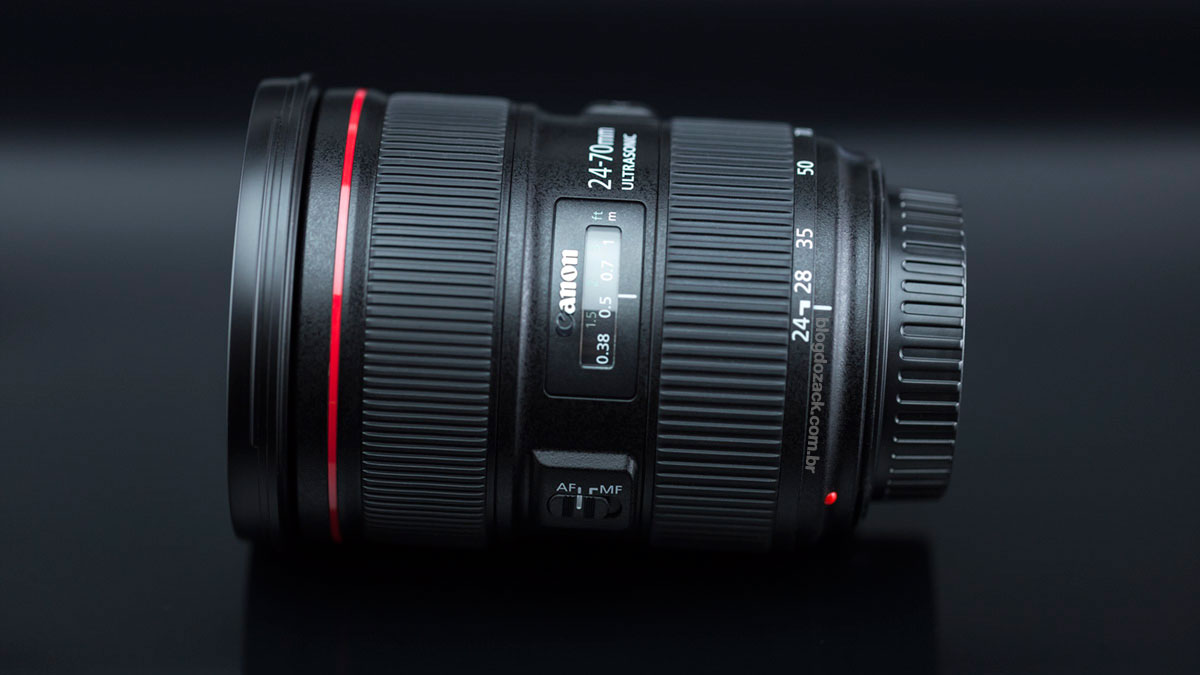 At 805g of a very complex 18 elements in 13 groups formula, it's impressive the EF 24-70mm f/2.8L II USM is 150g lighter (!) than the previous version, besides its two extra glass pieces. Thats due to a new 4 groups zoom mechanism against the older 6 groups; this time around with a standard design, shorter at the wide angle, longer at telephoto. Now it's 10mm shorter at 24mm, much easier to carry around and balance with light full frame cameras like the EOS 6D.
The reduce both lateral and axial CAs, a big problem on the first model, Canon put an UD element on the first zoom groups, and two UD elements on the second; completely eliminating those weird colours on out of focus areas. And with many aspherical elements distributed on various groups, the resolution raised around the edges at every focal length. It used to be visibly lower at 70mm, but now it's way better balanced between 24mm and 70mm. It's really a new era of precision and design for Canon, with a new cycle of high performance, fixed aperture lenses for the next decade.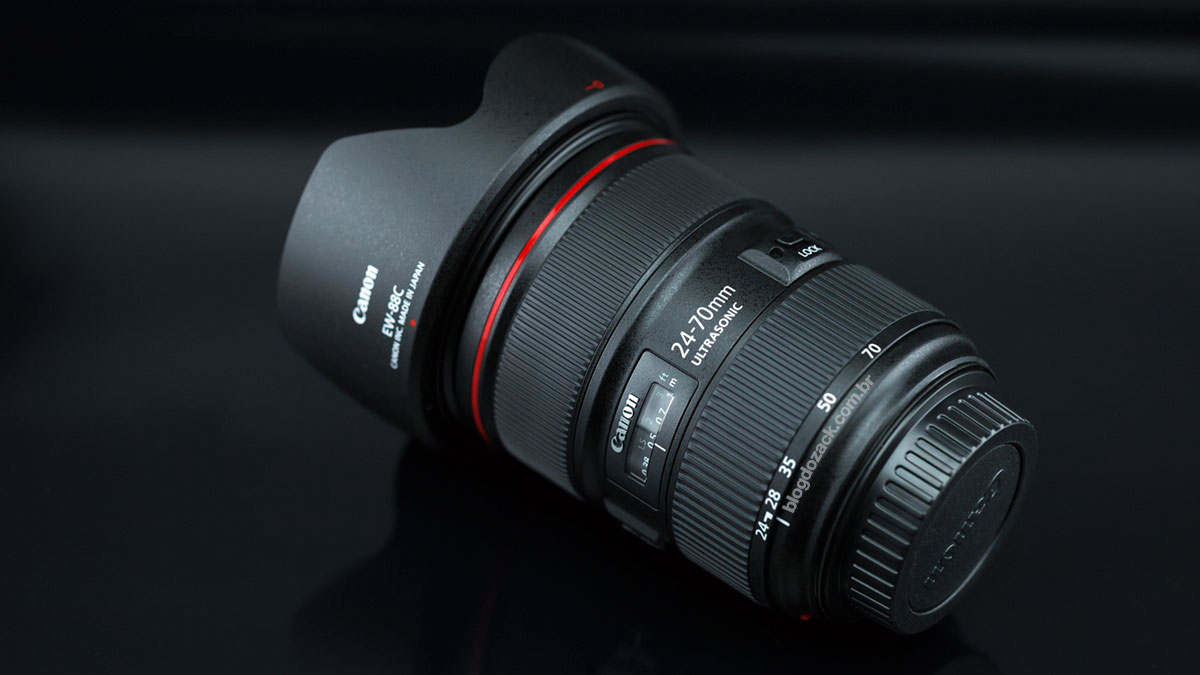 Its operation is dead simple with a zoom ring near the camera body and the focusing ring at the front. They're both rubberised and inside the zoom mechanism borrowed some telephoto design concepts: its shorter movements are less prone to wear over the years. So even under heavy everyday workloads, the optical elements should remain aligned for longer.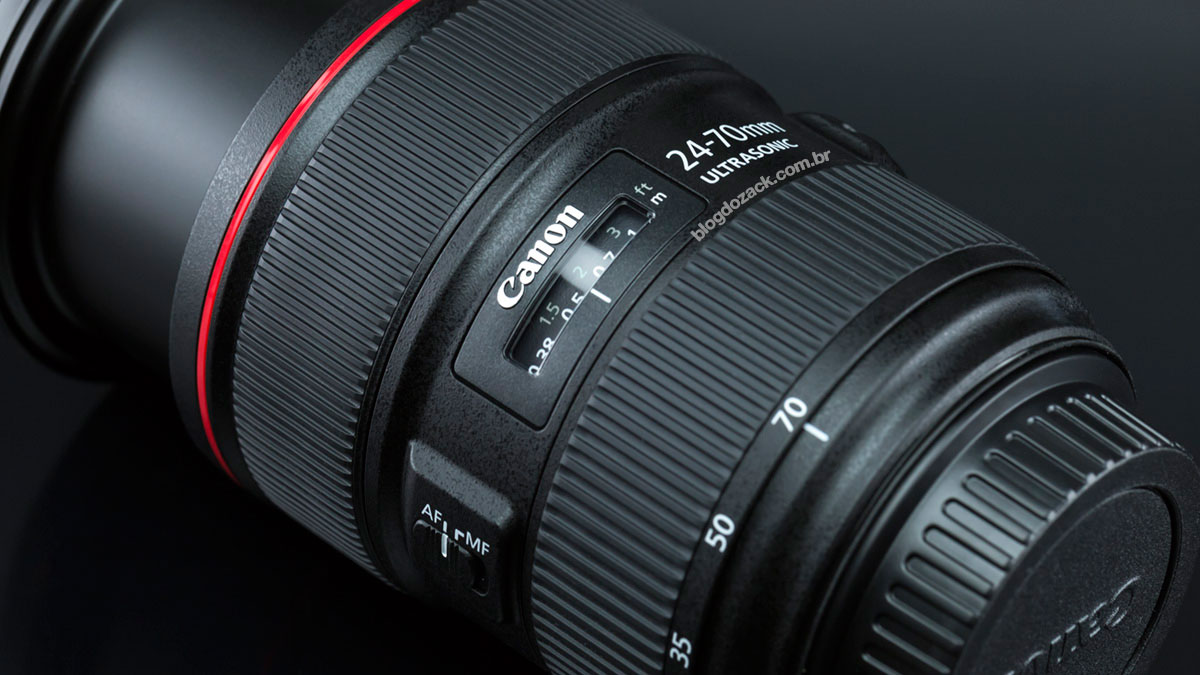 The zoom now expands the inner tube from 24mm to 70mm, like most Canon lenses. It is different from the reversed zoom design from the Mark I, with the optimised lens hood; much larger than necessary. Now the lens hood moves with the front element, exactly like the EF 24-105mm f/4L IS USM. There's a LOCK switch on the right side to avoid zoom creep, but my recently purchased copy doesn't need to use the lock yet. At the front the huge ø82mm filters won't rotate and are shared only with the 16-35mm f/2.8L II USM on the EF lineup.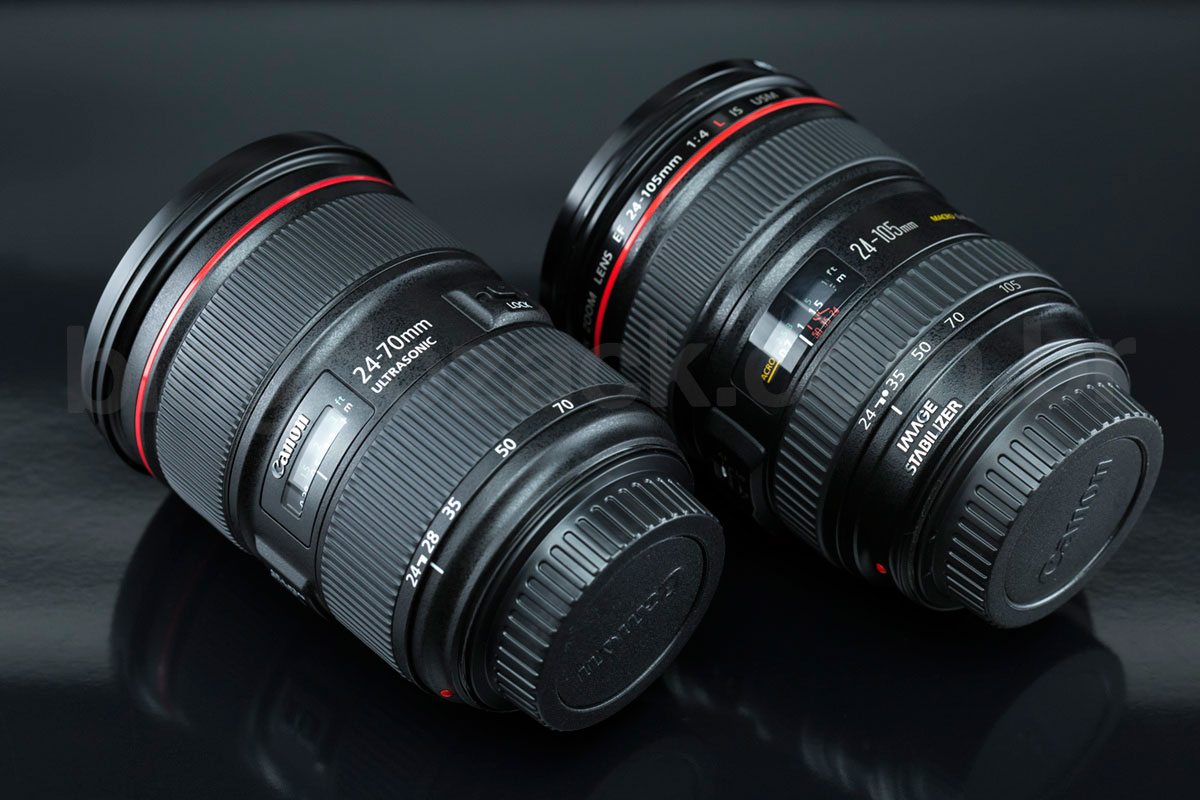 The USM auto focus features the full time manual operation. The ring type motor fits around the focusing group and is completely silent, with a smooth manual ring that can be used at any time. Even with the AF/MF switch set to AF the photographer can set some compensations using the ring. But its auto focus performance is stellar and I've never really used the manual focus. Its precise, very fast, simply perfect. And the distance window features printed markings in feet and in meters.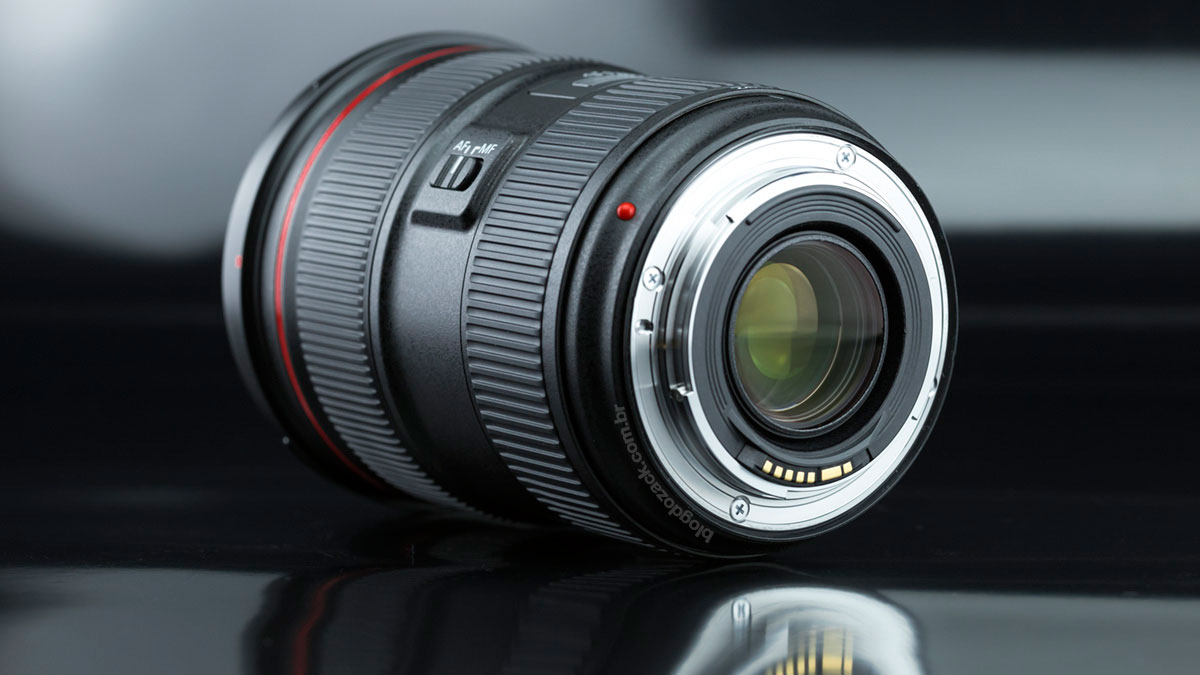 At last the plastic build received extensive testing to uphold the f/2.8 spec without many visits to Canon's service over the years, with up to eight sealing points, two per ring, one at the back, and two per switch. It's a strictly professional tool, meant for heavy duty work, where there's no place and time for too much TLC. The EF 24-70mm f/2.8L II USM is a one size fits all; all professionals!
IMAGE QUALITY
With so many mechanical qualities, it's expected the EF 24-70mm f/2.8L II USM delivers a high optical performance, also to match its price. But Canon really pushed the boundaries on this project delivering resolution, sharpness, contrast and colours that easily beats any equivalent prime. It was all well and swell on my kit until I tested this monster. Now I'm doomed with a big question: should I dump my large aperture primes and substitute them for a single, better zoom? All photos with the Canon EOS 6D, no lens aberration correction applied. REALLY…
Art galleries, that are a big client of mine, always with very complicated exhibitions (large installations with variable light conditions, tridimensional and flat objects) are a huge challenge to shoot in a single session. And I always have to carry a very, very extensive set of prime lenses to perfectly register the job; usually from f/2.8 and up. But the new EF 24-70mm f/2.8L II USM does it all with a single tool, probably even better than the primes. What strikes me the most is the perfect contrast and colour rendering wide open, something I had never seen before not even on the best prime lens. Around any contrast edge, be it under low lights, backlights, or light sources, the profiles are simply perfect. There's no chromatic aberration from corner to corner, and the files come perfect straight from the camera, requiring minimal post processing before publishing.
There's no room for improvement. Stopping down have the solely effect on the depth of field. There's no axial CA on the background, a very big issue for large aperture primes. Only the TS-E 24mm f/3.5L II shows this apochromatic performance on the bokeh, but that's not a large aperture lens at all. The 24-70mm f/2.8L II USM delivers better performance on a more complex project.
Another quality that large aperture lenses excel is their bokeh smoothness, as some optical pieces can optimise the out of focus areas. But with a superb 18 elements formula, this zoom lens can easily render smooth backgrounds, with great tone gradients and no harsh bands; just some rare repetitive lines. The blur effect is pronounced on shorter focusing distances or wide open at the telephoto end. It's a new paradigm for Canon that never really delivered both smooth bokeh and high resolution on a single lens. This 24-70mm f/2.8L II USM does it all, and does it well.
Saturated colours and vignetting are the last trademark of this model. They both work together for very unique looks, again, unusual for a zoom lens. At 24mm just the EF 24mm f/1.4L II USM delivered something similar, but the 24-70mm f/2.8L II USM is probably more charismatic. Its images are punchy, with high contrast and vignetting at f/2.8, that actually goes away as soon as f/4. It's excellent together with EOS bodies for absolute reds, greens and blue values, with vibrant prints and files that pop on screen, with very little post-processing required.
VERDICT
The EF 24-70mm f/2.8L II USM is a game changer. It is like Sigma and the Art series. It is like Nikon's AF-S 14-24mm f/2.8G. It is like the Zeiss Otus.  This Canon sets a new bar for future generations; at least what we should expect from the next L series. I decided to keep all my primes because I indeed need their f/1.4 or f/1.2 apertures, especially for video work. But if you're looking for the ultimate zoom lens, look no further: the 24-70mm f/2.8L II USM is the best. Nice shooting!