Canon EF 24-105mm f/4L IS USM
Estimated reading time: 06 minutes.
February/2014 - The EF 24-105mm f/4L IS USM seems to be developed on a time Canon was in love. Launched in october 2005, it was the same time when they announced the world's first low cost full frame camera, the classic EOS 5D. And also it dates the beginning of major technology development cycles, like the Live View (introduced on the EOS 40D, 2007); and the DIGIC4 processor, used on the revolutionary EOS 5D Mark II with its full 1080P30 video capabilities.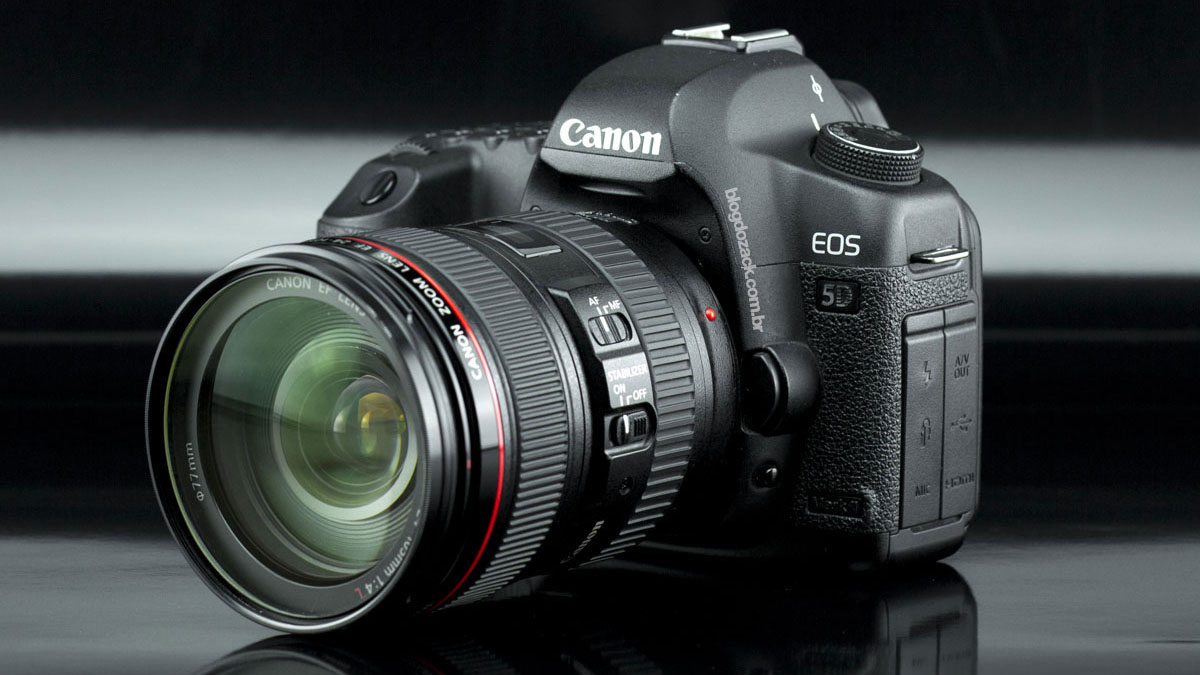 Completing the f/4 zoom lineup, along with the EF 17-40mm f/4L USM (2003) and the EF 70-200mm f/4L USM (1999), the 24-105mm is without a doubt the most modern, with a three stops IS; completely weather sealed build; and new a standard for image quality. It's nothing less, nothing more than eighteen elements (!) on thirteen groups, three aspherical (when the lens surface doesn't fit on a sphere), and one Super UD, for effectively correcting chromatic aberrations through the zoom range. All in one of the lightest lens on the lineup (considering its range and IS), paving the way for modern build and manufacturing technologies.
This was the first lens that made me look at photography in a whole different way, when I purchased it with the EOS 5D Mark II. It was my first L lens; my first IS lens; and my first touch with a "professional" photography device. Although it is not that expensive for what it offers, and almost always under rebates, there are few "high-end" photographers that admit its performance. I don't know if they think "it's too cheap to be good", but the fact is: it just doesn't get the same TLC that other pricier lenses get. So this is my trial to defend it. Build quality? Great images? They're all attributes of the EF 24-105mm f/4L IS USM. Let's see it in action. Nice reading!
BUILD QUALITY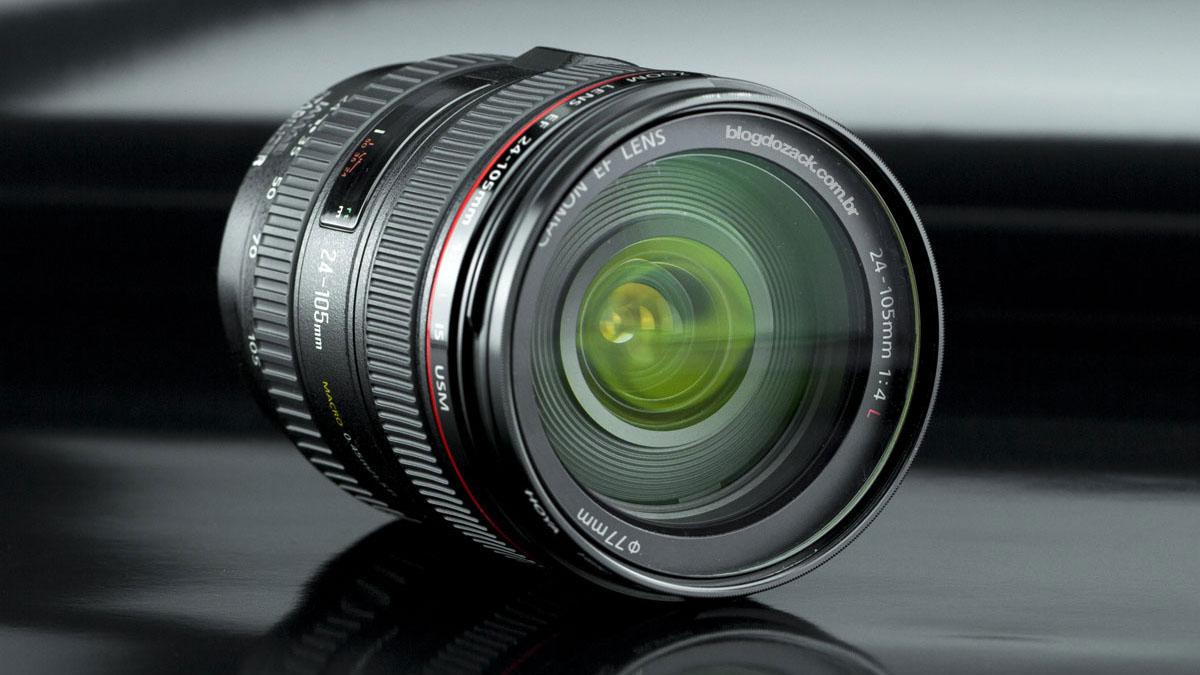 Built like a tank with plastic and metal, at 670g the EF 24-105mm f/4L IS USM is on the heavy side. It is solid and a major upgrade to any EF-S kit, or even standard EF lenses. It is just right, high quality. The zoom design is very traditional with a rubberised ring, shorter at 24mm and longer at 105mm. It's different than the EF 24-70mm f/2.8L USM that is shorter at 70mm, requiring a long, deep lens hood to avoid flaring, and a totally different balance at the wider end.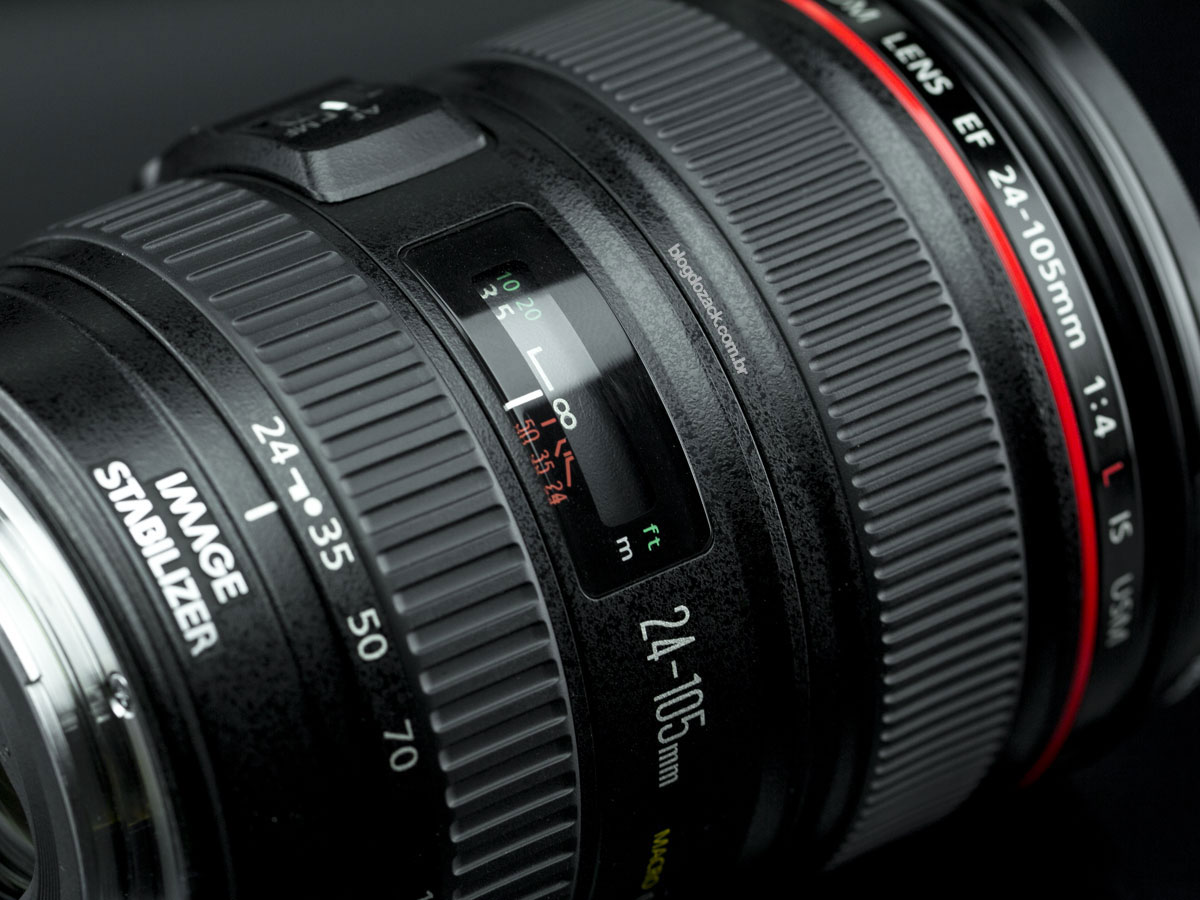 Both rings are reasonably large, rubberised, easy to turn. The feedback is better on the focus ring though, as the zoom ring can be tough at times. None of them have any play, and any touch by the tip of your fingers will turn the internal mechanism, allowing fine adjustments, or quick, fast control under extreme situations. "Quick and fast" are also properties of the fantastic AF USM system. Virtually all my files with the EOS 5D Mark II are in tack sharp focus.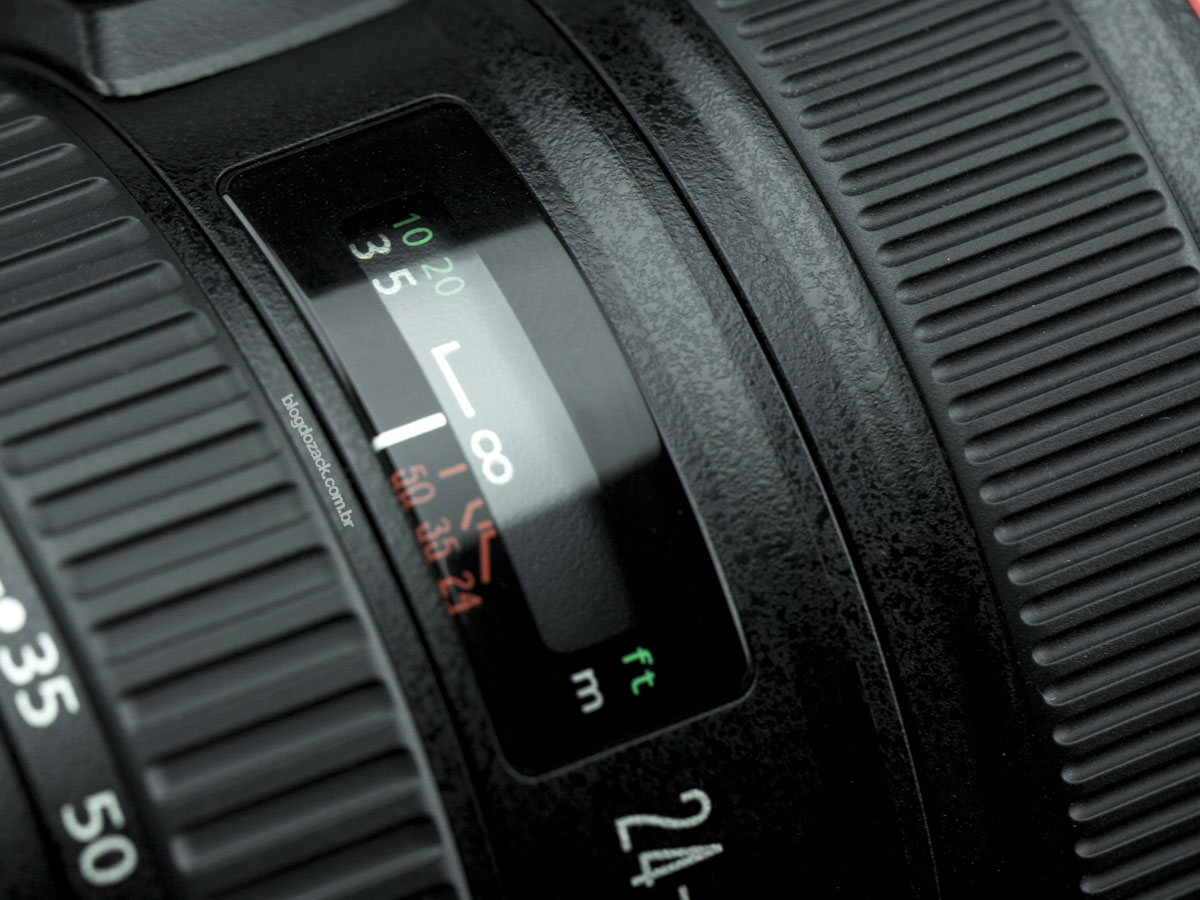 You can use the manual focusing ring at any time because the ring type USM features full time manual. If the camera fails to focus you don't need to switch to MF to compensate. And when you're too tired to hold it steady, the three stops IS can be activated at the time of composition, or continuously during video recording. It's all very easy to operate as it should. At the front it accepts ø77mm filters that are shared by other L zooms, like the EF 70-200mm f/2.8L IS II USM They won't rotate during focusing nor zooming, great for using polarisers and graduated NDs.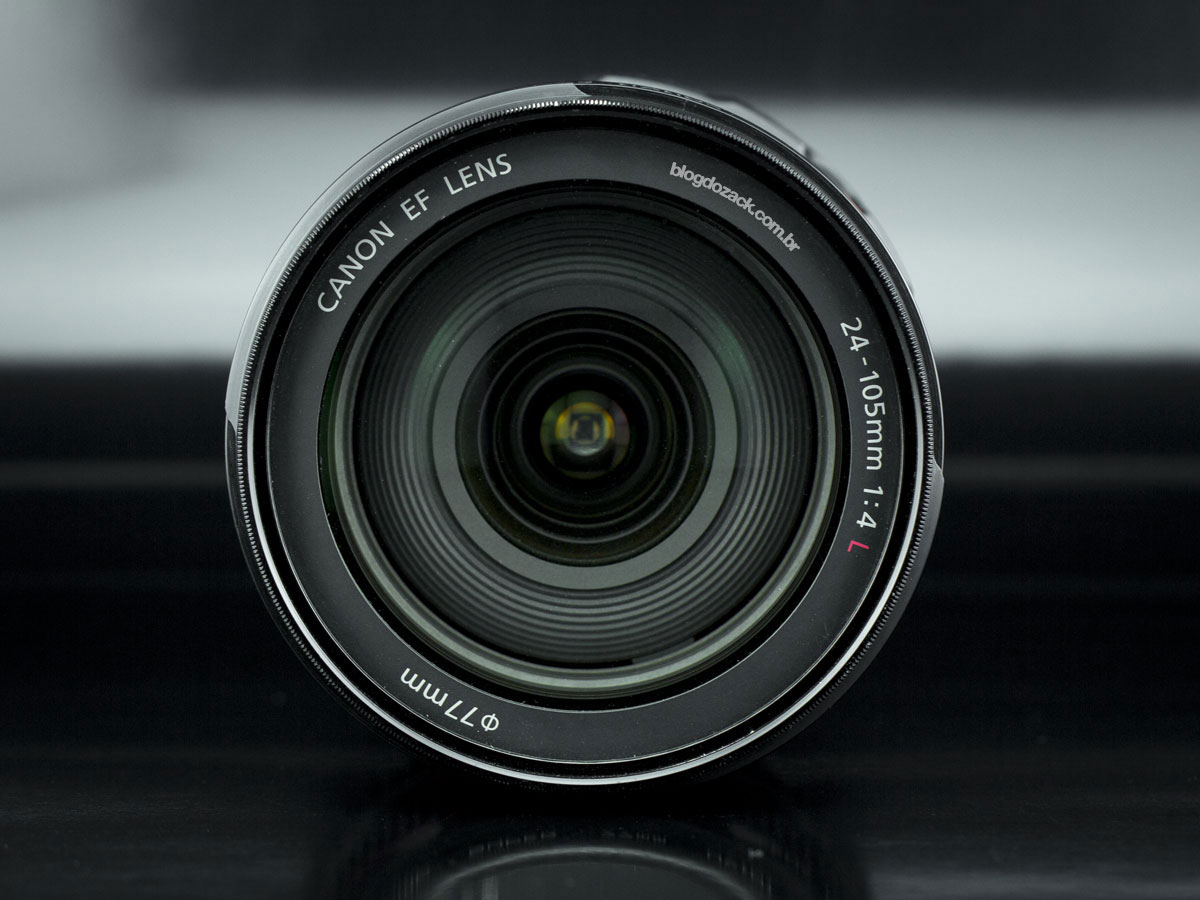 The EF 24-105mm f/4L IS USM is one of the best built lens on Canon's lineup and my copy feels brand new besides its four years. I took over 50.000 photographs with it; some few hours of stabilised video; under the most severe conditions; and on the first week the lens went almost underwater during a rafting at the Grand Canyon, never breaking down. Let's talk about its image quality and wrap up why this one of the best lens ever made to the EF mount.
IMAGE QUALITY
It is known that any zoom lens over a 3x ratio can't keep its image quality comparable to similar prime lenses. So the "4.3x" EF 24-105mm zoom theoretically shouldn't deliver high resolution files, or major aberrations. But Canon made a better job than the EF 24-70mm f/2.8L I USM, the old standard for high IQ zoom in terms of resolution, colours and contrast; now all with IS and a constant f/4 aperture. While some aberrations remain if you look for them, like lateral CA and strong vignetting (both can be corrected by software or DIGIG5), sharpness and resolving power (that can't be computer generated) are at their highest level, at any stop, putting this zoom lens among the higher performers on the market, on a very flexible instrument, under any situation.
At f/4 the focal plane renders great details, not improving that much stopping down to f/5.6 or f/8. Whatever lands inside the depth of field will be registered by any modern sensor, with no problems like blooming or lack of sharpness, at any aperture. From 24mm to 105mm I didn't feel any difference in resolution, leaving the photographer with a peace of mind while shooting; you don't need to stop it down nor avoid any zoom position. At any setting it delivers high quality files.
Typical zoom behaviour like lateral CA, vignetting wide open and geometric distortions are all there. Shooting straight lines? Beware of the "barrel" effect at the wide angle, and pincushion at the telephoto end. Too much contrast around the edges? Those coloured lines will be there and can be a problem for large prints; correct them in post. Homogeneous skies wide open? Forget it, because the vignette is high and disappears only by f/8. Stop it down as usual.
But its resolution, that is the lens capability to render sharp details at the focal plane, is the greatest feature of this lens and that's why I praise its IQ so much. Files are rich and easily corrected when flaws occur, matching the resolving power of high MP full frame cameras, for any job that will be appreciated from near like magazines, editorials or large format prints.
VERDICT
This is simply my most used lens on the kit, on every situation. It's an easy choice to work with most cameras (wide angle/telephoto on full frame; standard telephoto on APS-C); has full weather sealing and it's rugged (four years on my kit, feels brand new); and can match most primes in terms of resolution. All with IS, that few Canon lenses offer on this range. It's a lens for everyday use, that keeps me on the EF mount. And you should definitely give it a try. Nice shooting!