Estimated reading time: 05 minutes.
February/2014 - The Canon EF 17-40mm f/4L USM is one of the most popular Canon lens because it offers a L series build quality, on a cheap, accessible and easy to use package. At US$839 (B&H Photo, feb/2014) it is the second least expensive "professional" zoom lens and complete the f/4 kit with the EF 24-105mm f/4L IS USM (US$1149) and the EF 70-200mm f/4L USM (US$709), all costing half of the f/2.8 offerings. Although its low prices, these three lenses are not that far behind in performance, allowing any photographer to own a high quality kit.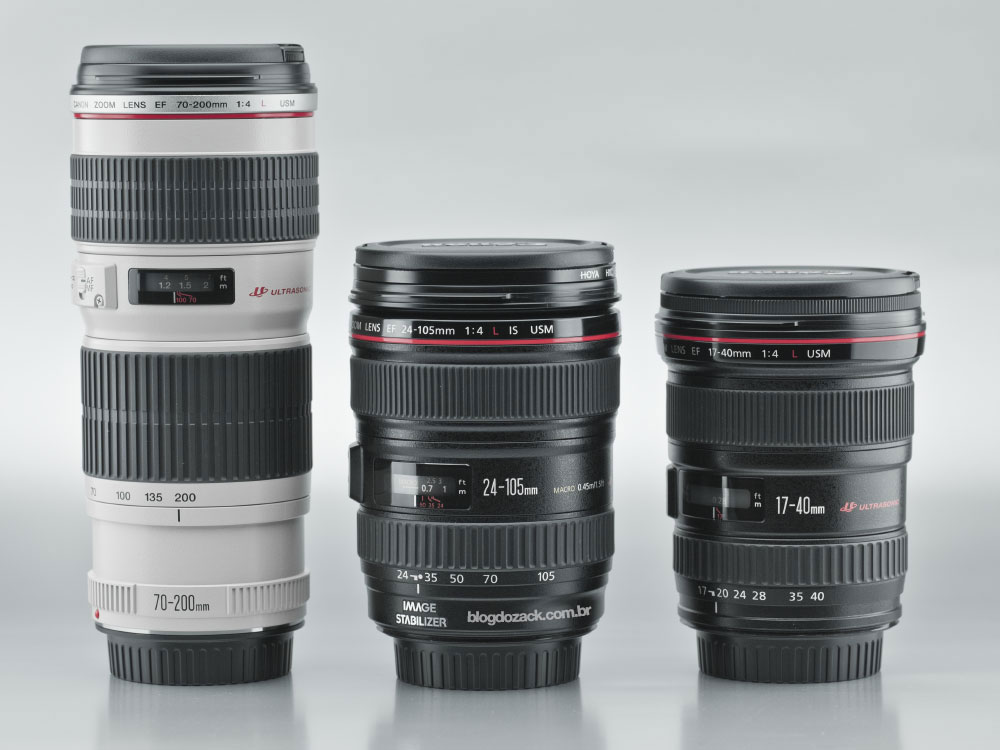 It was introduced in may 2003 as a newer version of the very popular EF 20-35mm f/3-5.4.5 USM from 1993. With a completely new design the 17-40mm gained a Super UD element, to reduce chromatic aberrations; a powerful AF mechanism, with a shorter MDF of 28cm; a rounded, seven blade aperture for superior bokeh; and leadless glass to keep with Japanese legislation. But for photographers, the real news was the 2.3x zoom ratio (against the older 1.75x), making this an ultra wide angle lens on full frame (103.6º to 56.8º), and a standard on APS-C bodies at to 77º – 37º.
This lens got into my kit specifically for review purposes. I bought it second hand on Mercado Livre (Brazil's ebay) and used it as a cheap, light UWA (ultra wide angle) zoom on the EOS 5D Mark II, along with the Sigma 12-24mm f/4.5-5.6 DG HS II (heavier and larger), and the prime EF 14mm f/2.8L II USM. Sometimes I use the 17-40mm as a standard zoom on the Blackmagic Cinema Camera, or a weather sealed walk around lens on the Canon EOS 60D, as it's light and a pleasure to use. Will its build please most photographers? And how good is the image quality? Let's find out.
BUILD QUALITY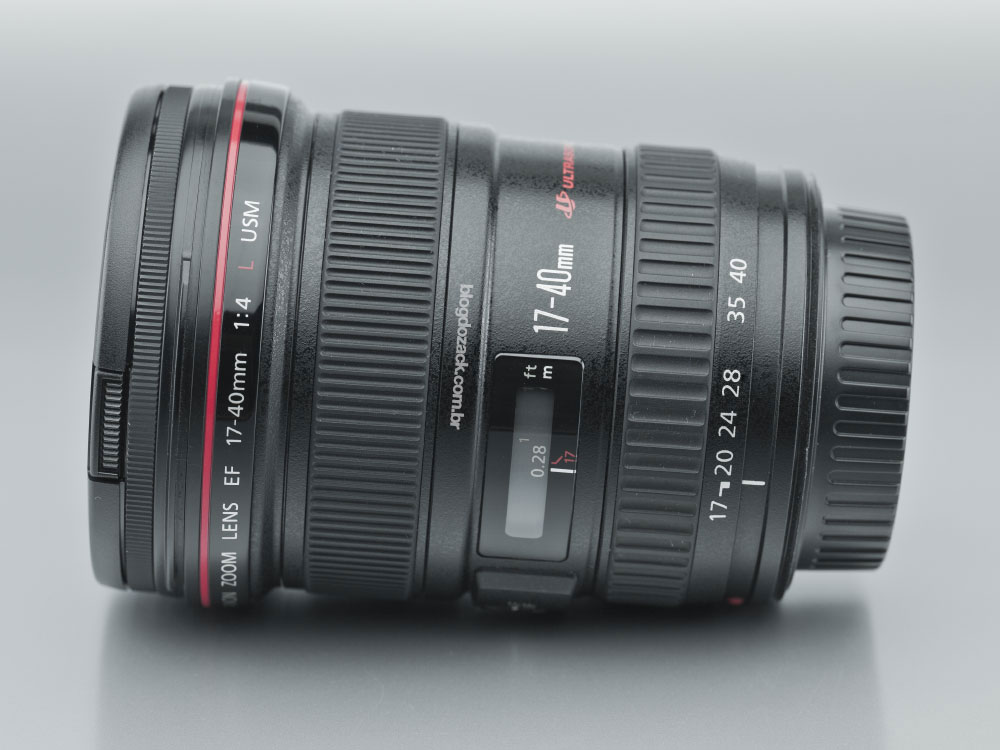 At 475g, the EF 17-40mm f/4L USM is the lightest zoom on Canon's "L" lineup, and a pleasure to use with any camera body. It balances well with full frame cameras like the 5D, 6D and even 1D (APS-H, s or X), AND with crop, plasticy cameras from the T3i to the 70D. It's also one of the shortest at just 96mm long, making it an easy to use, "always with you" package for everyday usage, without hustling the photographer; one of the advantages of being a f/4, demanding less glass than a f/2.8.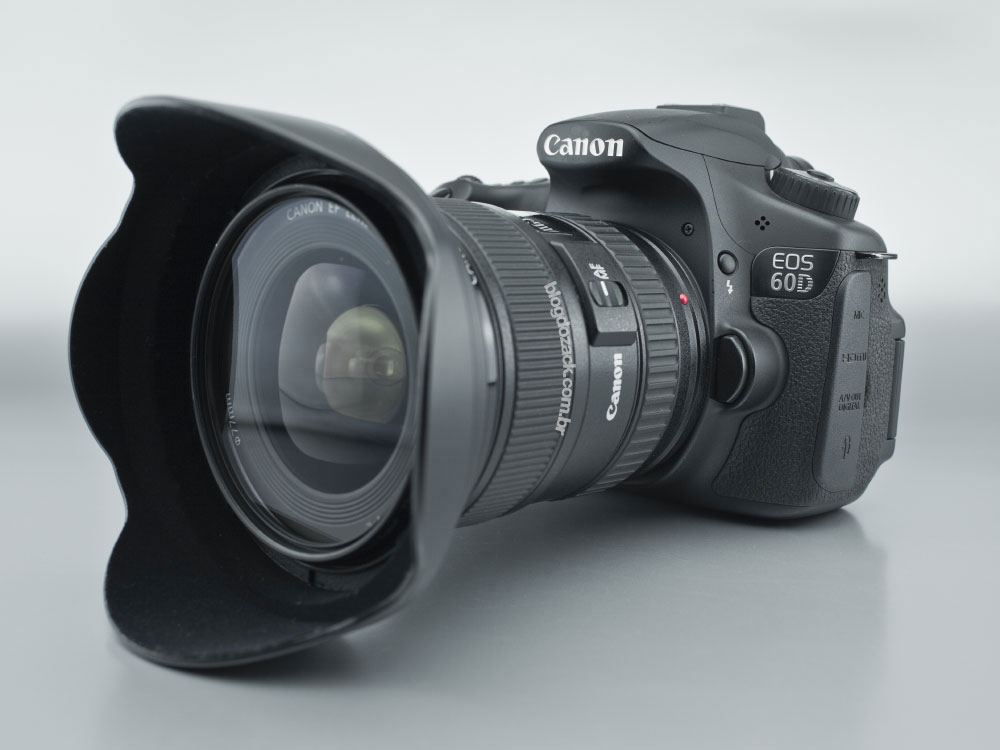 Made out of plastic (external) and metal (internals), this lens gives you an impression of great build quality, being robust no matter how the photographer treats it. It's one of those lens you can "trow" in your pack back not worrying if its internal elements will shake out of alignment: an all internal zoom and focus mechanism doesn't expand while in operation and keeps everything safe during action shots, be it journalism or sports, also with some level of weather resistance.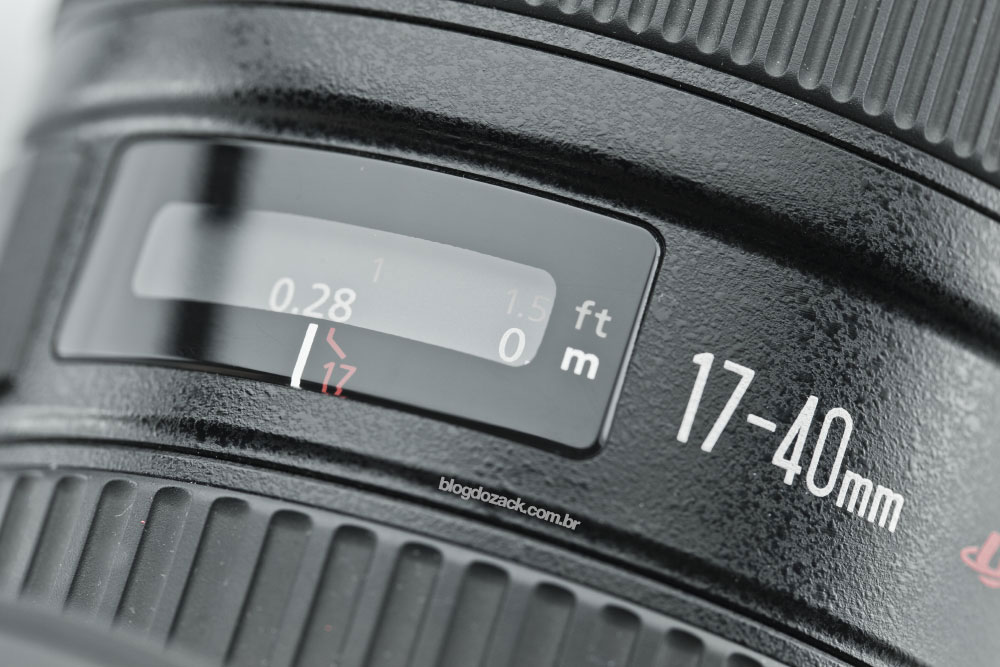 The operation is great with a zoom ring close to the camera body and the focus ring at the front, after the distance window. Both are very smooth and precise, with no play like we saw on the prime EF 50mm f/1.4 USM; or a loose feedback like most Nikons. The AF motor is ring type and dead silent, very quick; this is a genuine L series and AF is instant on every EOS camera. Full time manual is present and it is possible to manually override the focus at anytime.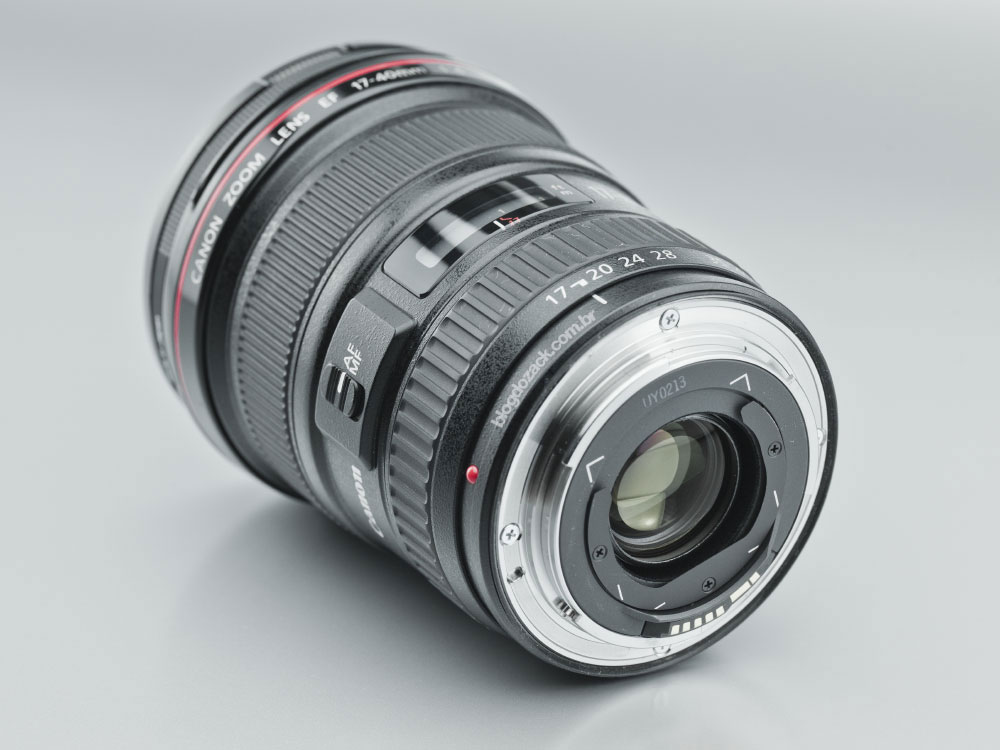 At the front the excellent ø77mm filters are compatible with other lenses, like the popular EF 24-105mm f/4L IS USM. They won't rotate and can be used with polarisers or graduated NDs at all times. And Canon recommends a clear filter to complete its weather sealing, working together with the rubber gaskets around the mount, rings and switches.
IMAGE QUALITY
I made it very clear on my EF 16-35mm f/2.8L II USM review that I was not happy about its IQ. Considering its price and the competition, mainly Nikon's AF-S 14-24mm f/2.8G and AF-S 16-35mm f/4G VR, it is clear that Canon can't design a high end ultra wide angle zoom. As the EF 17-40mm f/4L USM is not as expensive, I won't say it's that bad, as most of the 16-35mm f/2.8 issues remain intact: lack of corner sharpness at f/8 (!) and too much lateral CA. The first is a pity as you really can't add detail back in post, and some very fine quality work can't be achieve with this lens. But the aberrations are neglectable once it can be perfectly corrected during post-processing.
Stopping down to f/8 you get better resolution figures at the edge of the frame, but still not great for this level of equipment. Note: photos are great and both these lenses (including the 16-35mm f/2.8) are favourites on Canon's lineup. But using at the widest aperture and things get complicated. It's just not as good as Nikon's offerings, and Canon's UWA still have a long way to go.
Lateral chromatic aberration is strong on high contrast areas but easily fixed via software. Axial CA is non-existent on the bokeh and colour reproduction is excellent, much better than most kit lenses (like the EF-S 18-55mm), good for those with APS-C bodies.
VERDICT
An excellently built lens with mediocre image quality: typical for Canon's ultra wide angle zooms. But that doesn't mean I didn't get great shots with it, neither it's not a good value on your kit. We know better performance optics from Nikon and Tokina, and when you compare them together you can see what I mean. Canon is simply lagging behind on the image quality of its UWA zooms. Nonetheless the build quality is second to none and the fast AF is reliable. You get what you paid for, and we can only hope for better wide angles from Canon. This isn't the best. Nice shooting!