Canon EF 50mm f/1.4 USM
Estimated reading time: 09 minutes and a half.
February/2014 - A large aperture 50mm prime is probably at the top of the list of the most wanted lens of any DSLR enthusiast. Popular in the 80's when they came as a SLR kit, the fifthy mm became reference to the "SLR look", with shallow depth of field at large apertures and the pleasing perspective for human portraits. Nowadays, be it for the good cost/benefit ratio, or be it for its praised image quality, the fact is sooner or later, you'll have a fast, large aperture 50mm prime.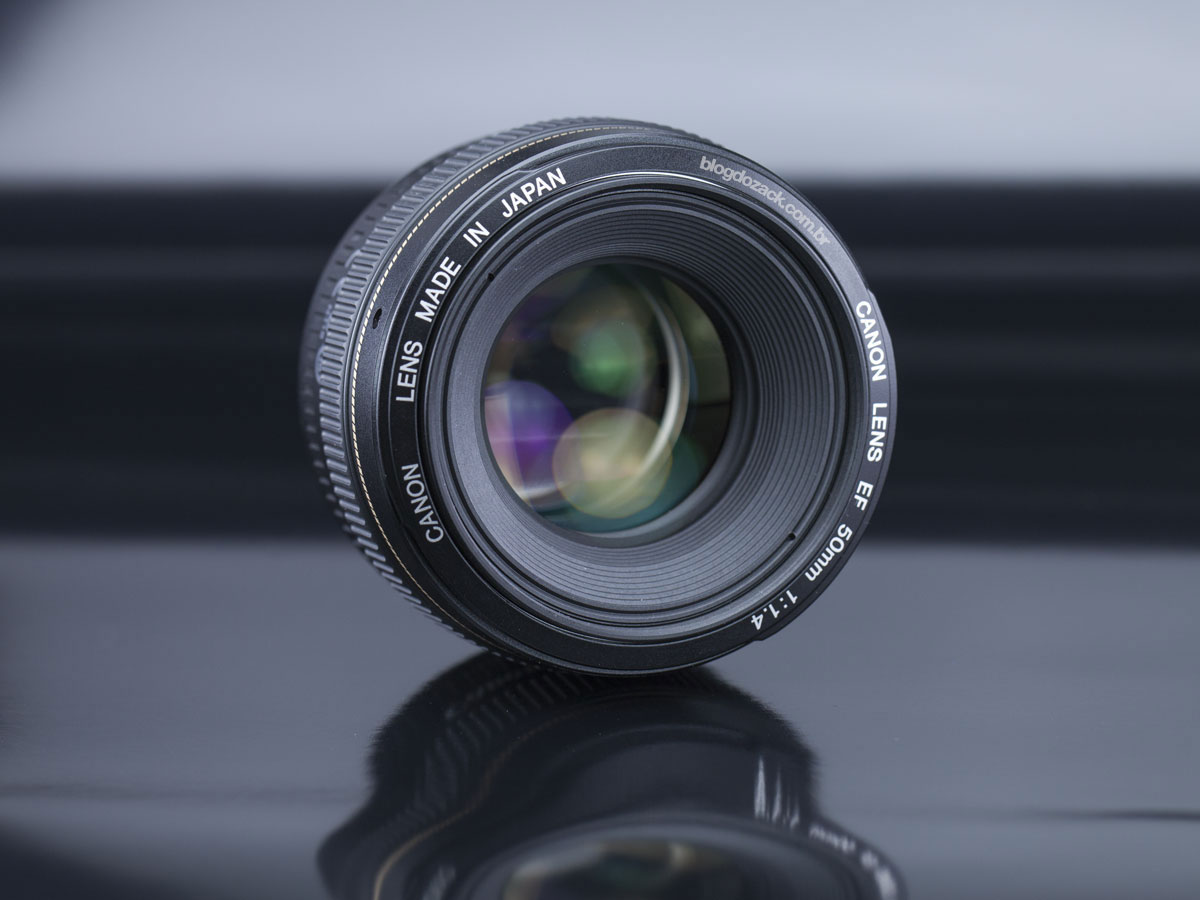 And the manufacturers, oh, the manufacturers, are more than pleased to offer many options for many photographers, with different styles, different needs, and different pockets. Canon itself offer no less than four EF full frame option, three of them f/1.#: the plastic fantastic f/1.8 II; the USM f/1.4; and the state of the art f/1.2L USM, excellently built. Any of them delivers more than seven times the light gathering capabilities of most kit zooms (from f/5.6 at 50mm to at least f/1.8), and are great for: low light photography, depth of field control and half body portraits.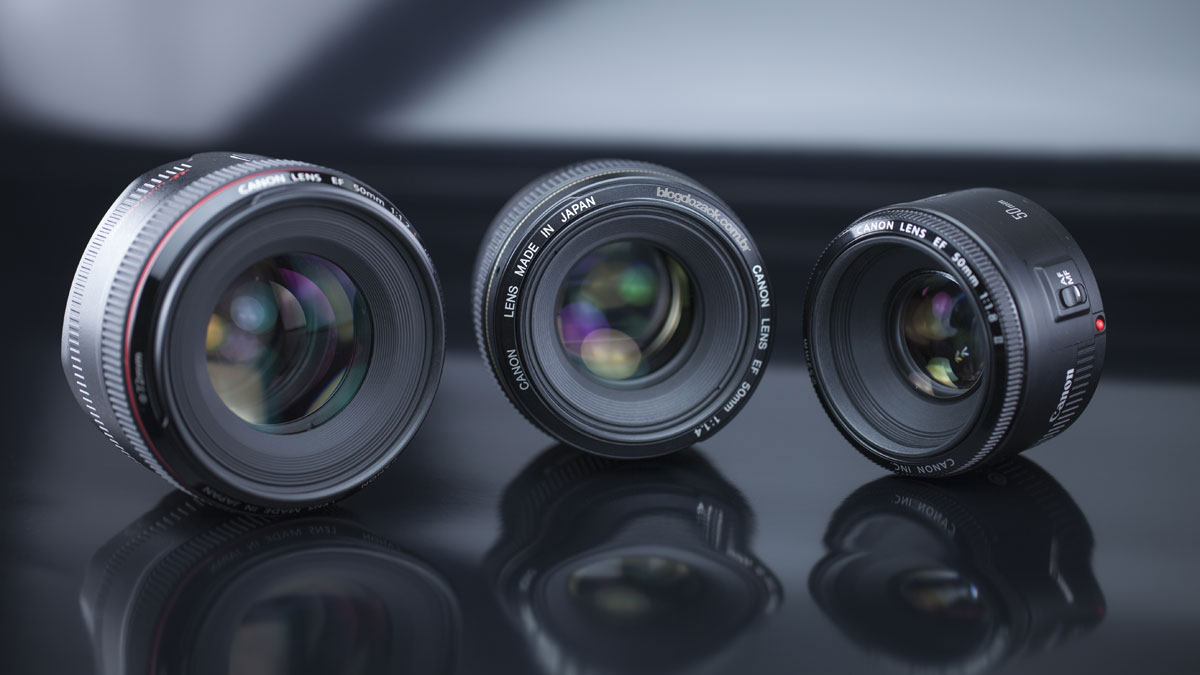 The Canon EF 50mm f/1.4 USM took forever to get on my kit because I already have the 50mm f/1.8 II, my first large aperture prime ever; and I also have the EF 50mm f/1.2L, mandatory for my weekly work marathon with its solid built, apparently unbreakable. With no plans to add a "lesser" lens on my backpack, the intermediate class got left forgotten. But after I got a rebate from a store for about US$200, I decided to try it. Let's see what did I find about this "forgotten" Canon lens.
 BUILD QUALITY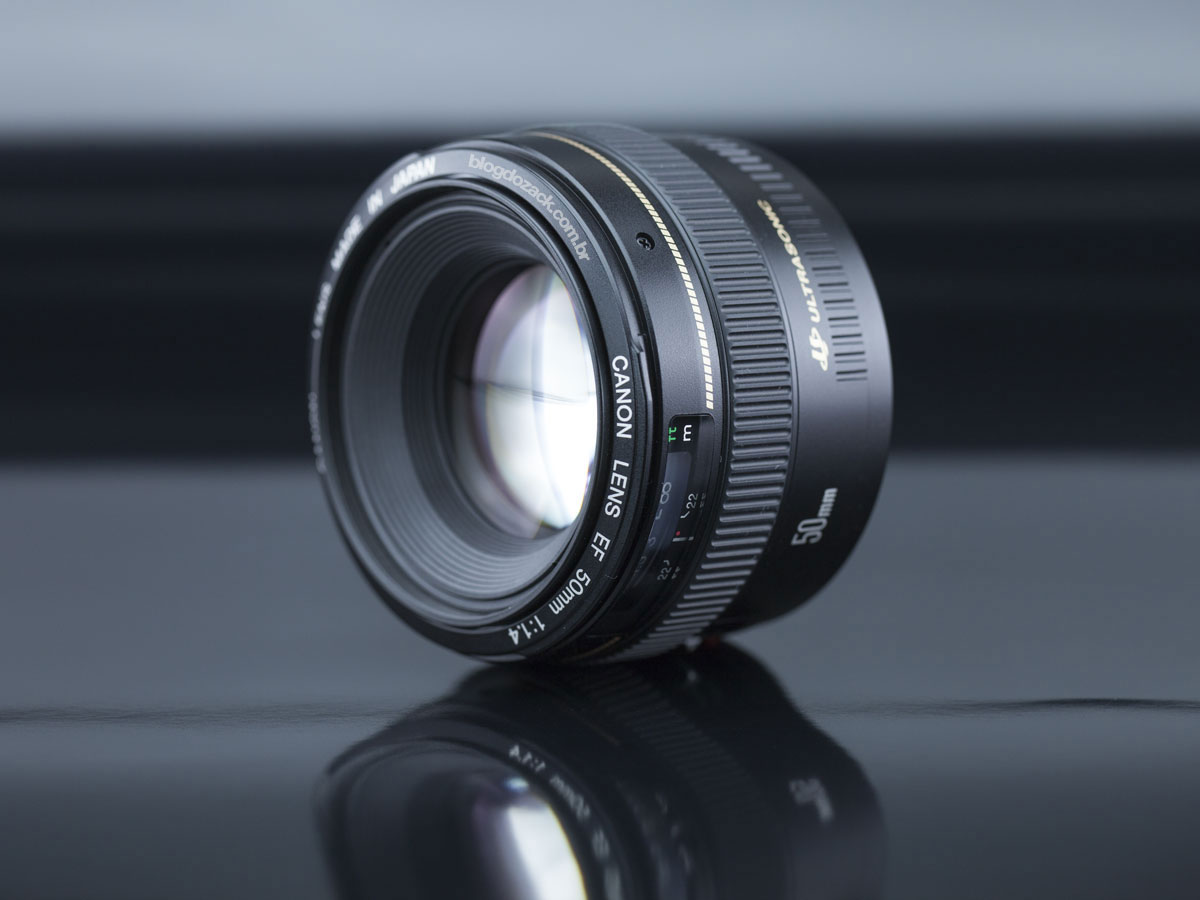 Launched in 1993 for the EF mount, the 50mm f/1.4 USM is based on the same optical project of the 1971 FD, with seven elements in six groups; but updated with electronics for focusing (ultrasonic motor) and aperture (controlled by the camera). But it's one of the oldest designs still under manufacturing on Canon's line and it shows a huge gap between generations, almost two decades with no improvements. Other japanese brands brought their lens to the XXI century: the Nikon AF-S Nikkor 500mm f/1.4G is from 2008, with 8 elements; and the new (and awesome) Sigma 50mm f1/.4 DG HSM "Art" is 13 elements of special glass, both better built and higher quality than Canon's.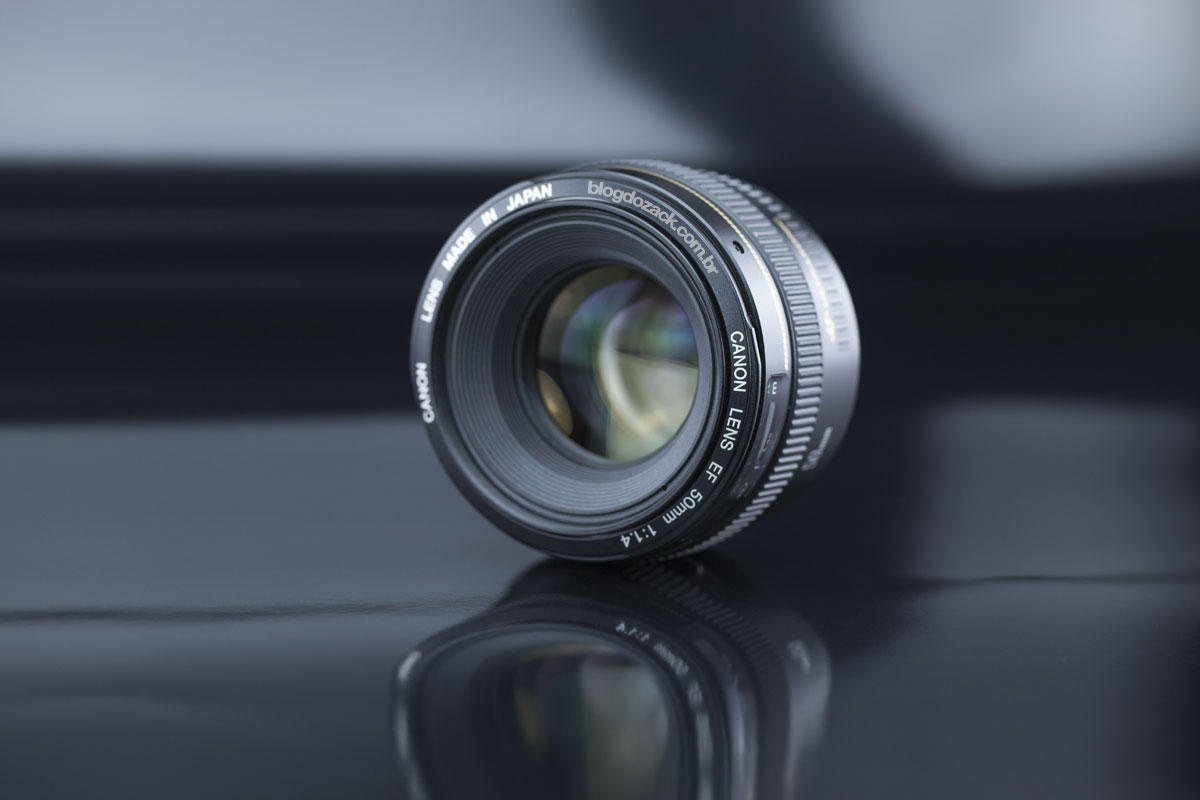 At 290g and 5cm of length, the EF 50mm f/1.4 USM is what I call short. Coupled with full frame bodies and the combo is nice to handle, with great camera grip on your right hand, and the lens with your left. On APS-C bodies it's even smaller and easy to use with just one hand, not being front heavy. Unfortunately there's no hood included inside the box and I can't comment on its usefulness. The model I bought, with the new black and fray box, comes with the new pinch front cap, easy to use than the older version; but this newer cap doesn't say "ultrasonic" at the front.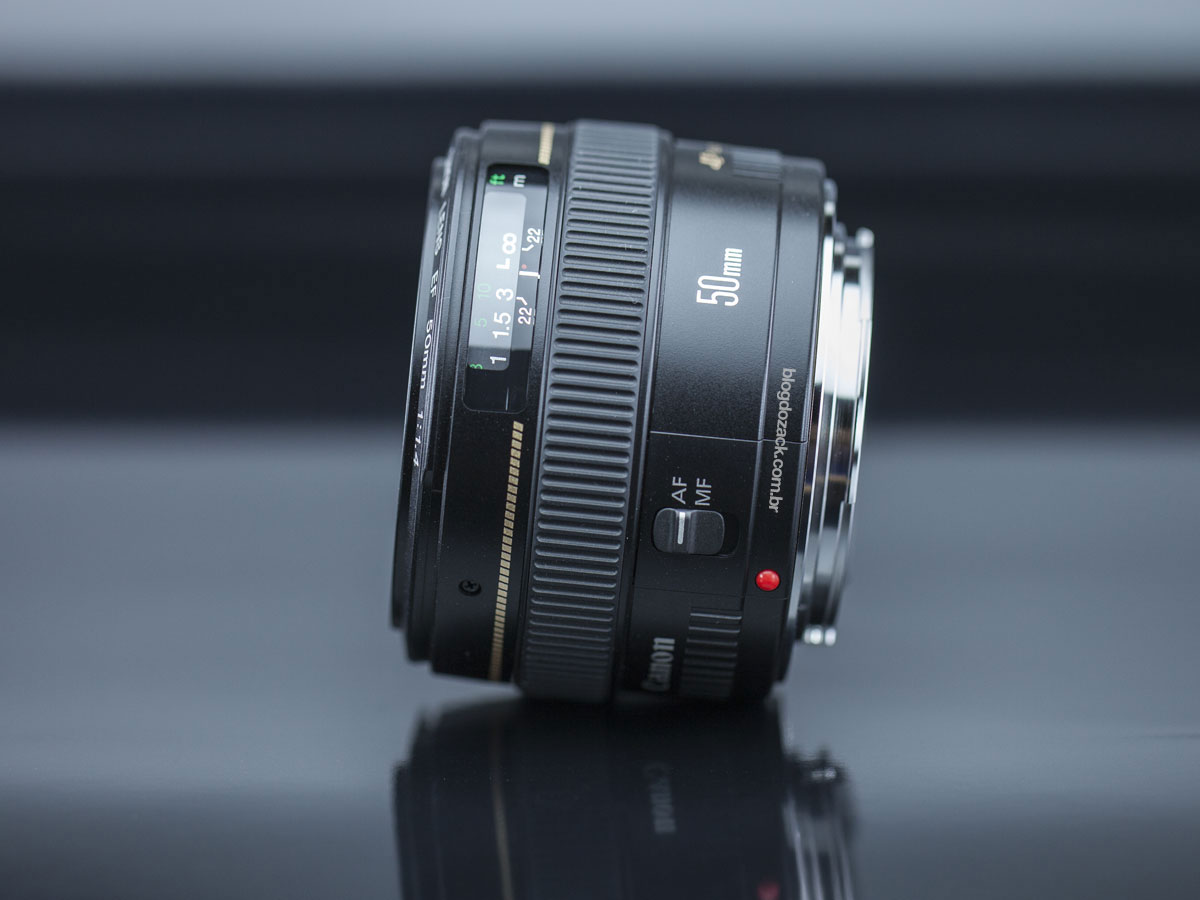 This lightness is due to the all plastic body, on both inner and outer tube. And although the mount is metal and feels secure for many mount/unmount sequences, I really can't fell the same about the rest of its build. You see, I don't want be a prick, but they just wobble too much. Just hold the lens in your hands and extend the inner tube to the minimum focusing distance, shake a bit and it feels loose! It'd been a while since I've used such a bad lens, feeling "second grade" for its price.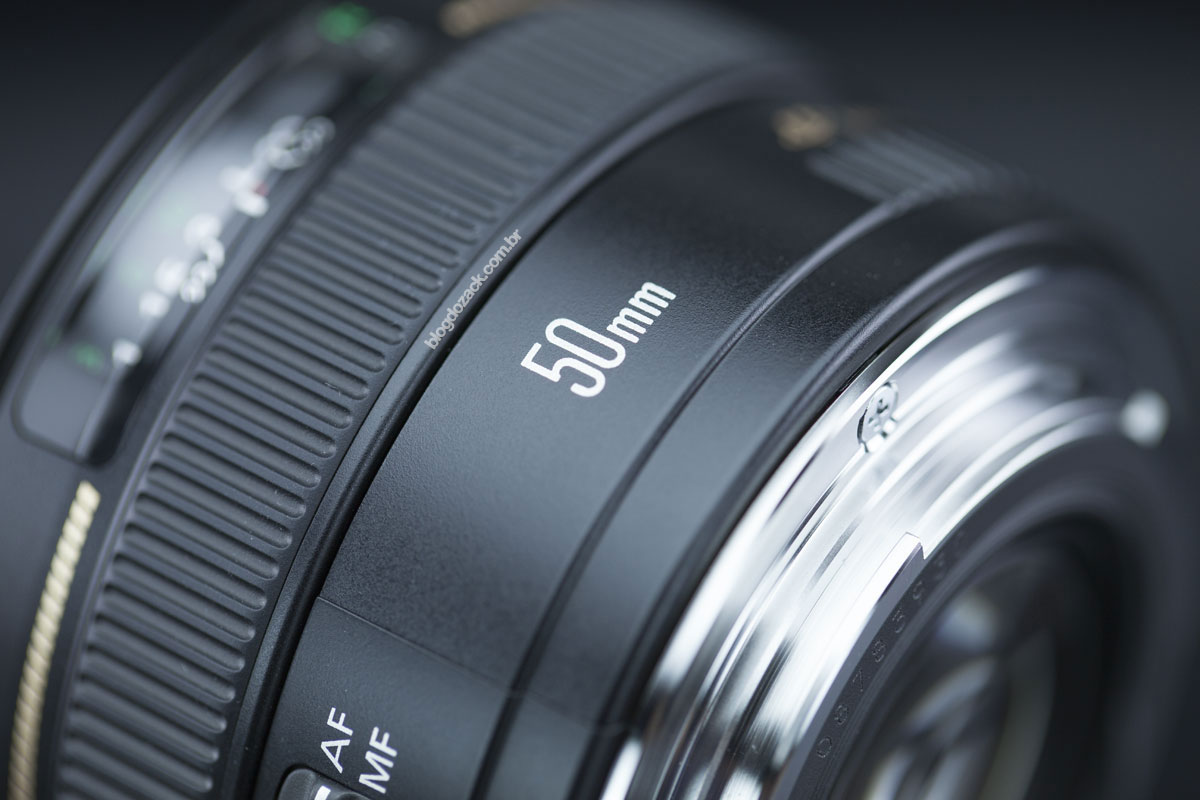 And the same thought process was used on this USM implementation. Instead of the micro-bad-motor from the f/1.8 II, you do gain a "micro-USM-motor"; not so bad, but not the greatest. It's not as fast nor silent like the excellent "ring USM" from the f/1.2L USM. And although it features a full time manual, so you can use the manual ring at any time, its feedback is very poor, very "plastic on plastic". Do not expect super precision while manual focusing because there's a noticeable lag between the ring movement and the inner tube, making it nearly useless for most situations.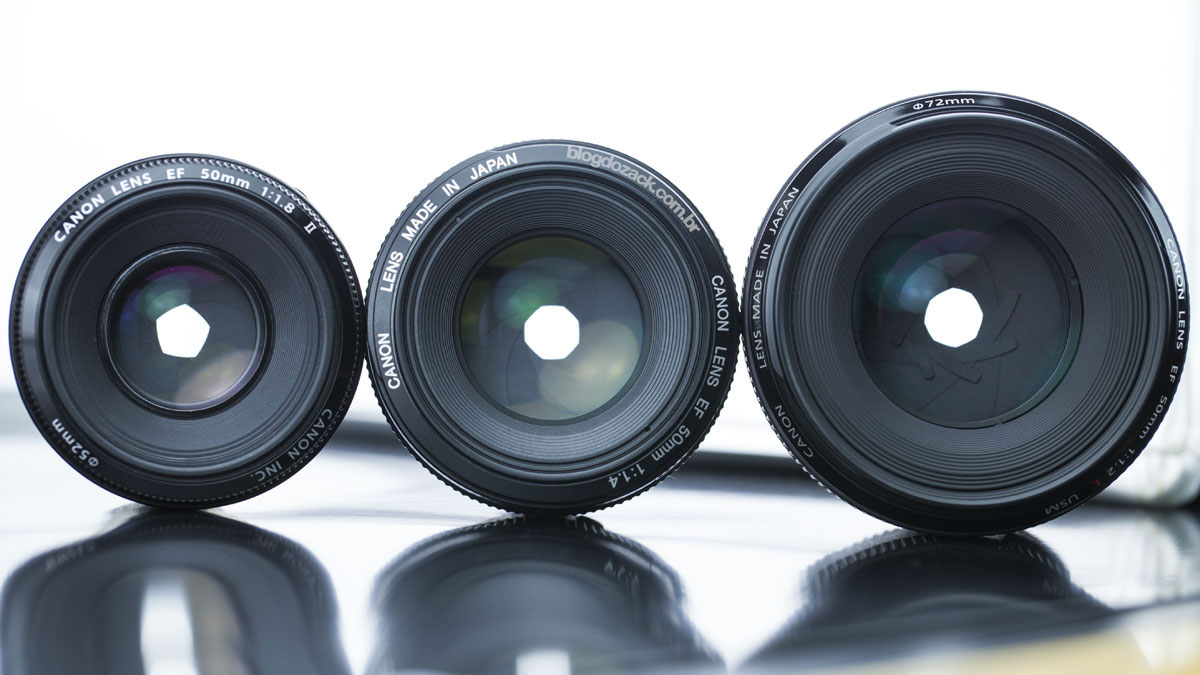 At the front the ø58mm filters and typical for 50mm primes. They won't rotate during focusing and are great for polarisers. The eight blade aperture is completely automatic and stops down to f/22, but it's not rounded for greater bokeh like the f/1.2L. It's evident that Canon listen to its marketing team when developing a product. "We'll have three similar lenses? So the first won't be better than the second, and the second won't be better than the third". It's sad once the f/1.4 USM is praised for its image quality and in my opinion it's not that cheap. It's an old design, begging for an upgrade. It should be at least STM or built after the 2011 EF 35mm f/2 IS USM.
COMPARED TO THE CANON EF 50mm f/1.8 II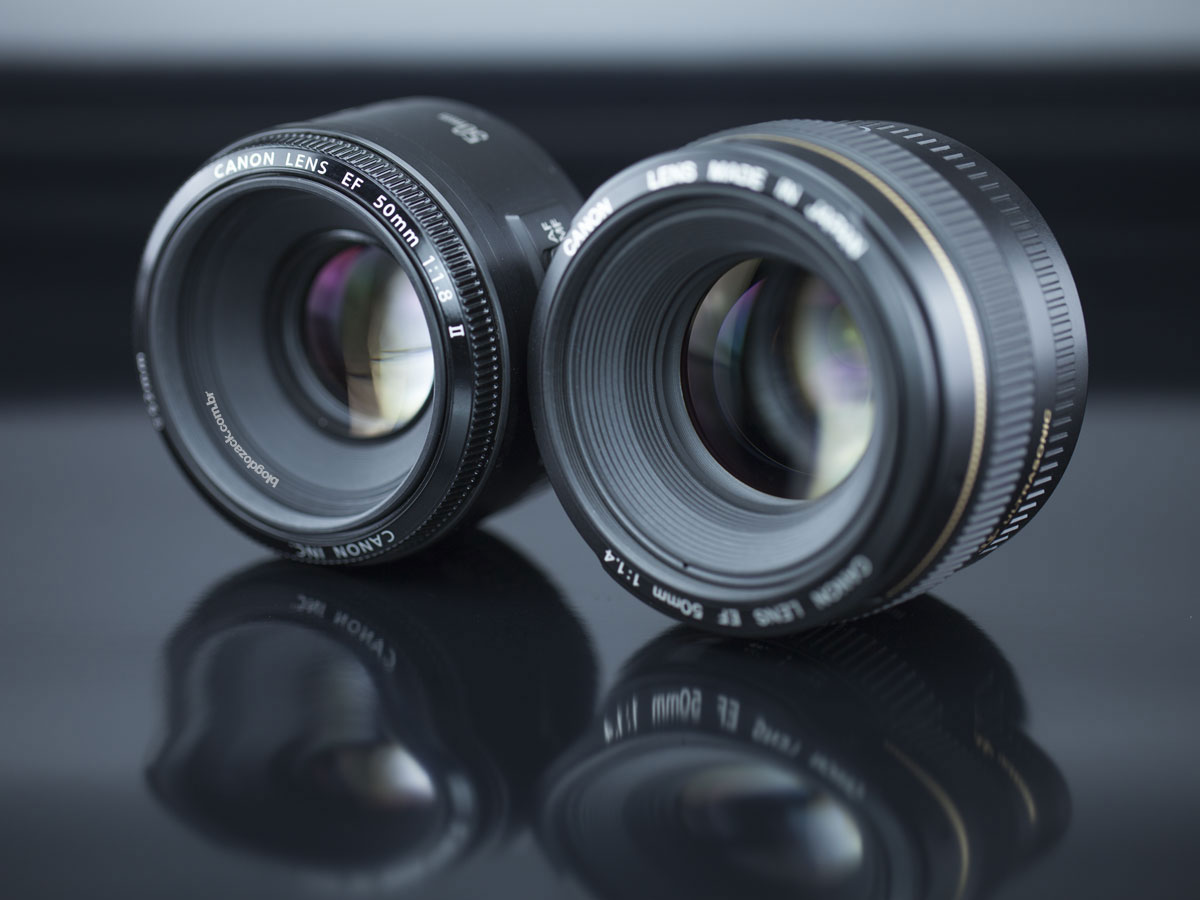 You get the metal mount on the f/1.4 USM, smoother and durable. You get a distance window and larger manual focusing ring. The micro-USM-motor is faster and quieter, with full time manual. And 1/3 of a stop on the aperture, not noticeable on the DoF, but with an eight blade system against the f/1.8 II five. But you loose on its price (more than double) and size. It's worth the investment in my opinion, definitely a better "first buy" when you don't have a 50mm already.
COMPARED TO THE EF 50mm f/1.2L USM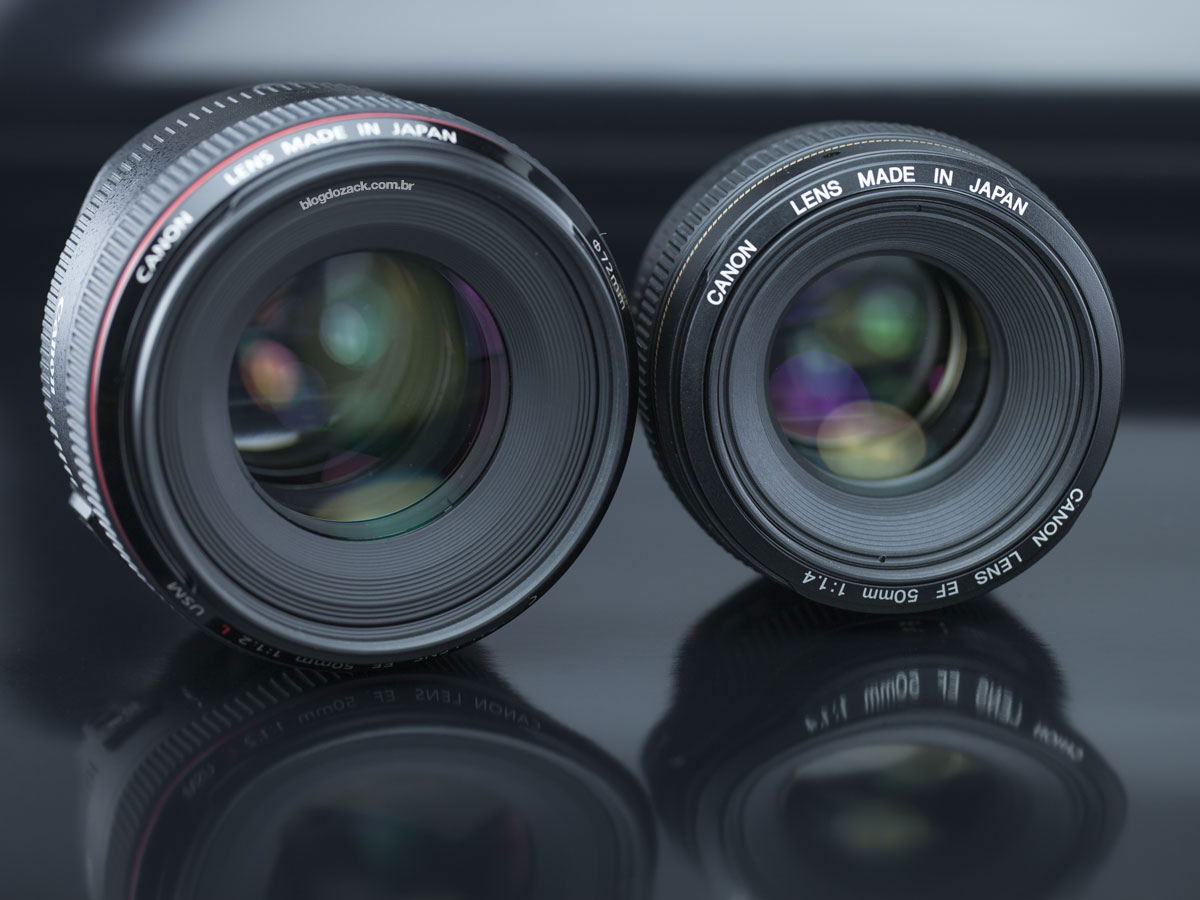 The top of the line 50mm features an absolutely impeccable build, probably the best on the market ever. It's all metal with plastic exterior, full weather sealing (when used with a front filter), fast and silent ring USM, with a rounded eight blade aperture, for smooth bokeh. But it's five times more expensive than the EF 50mm f/1.4 USM and doesn't really deliver much on the image quality department. The f/1.2L USM is for everyday work when you can't care for the equipment.
COMPARED TO THE EF 85mm F/1.8 USM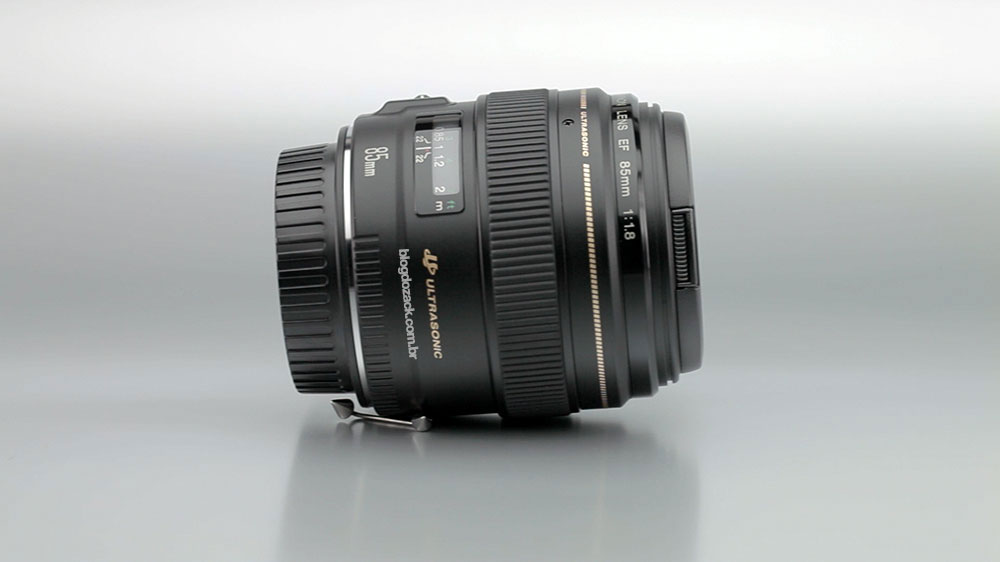 You know the decision to buy a new lens comes from the focal length you need, but many users question these two lenses although they are not really comparable. The 85mm features an internal AF mechanism, dead silent. And the 85mm bokeh is much more pronounced, for obvious focal length diferences, for different photos. The 85mm is also larger, heavier, and a bit delicate, for so much glass on so little space. You must choose which one you'll use first, not between them.
EVIL COMPARISON: THE AF-S NIKKOR 50mm f/1.4G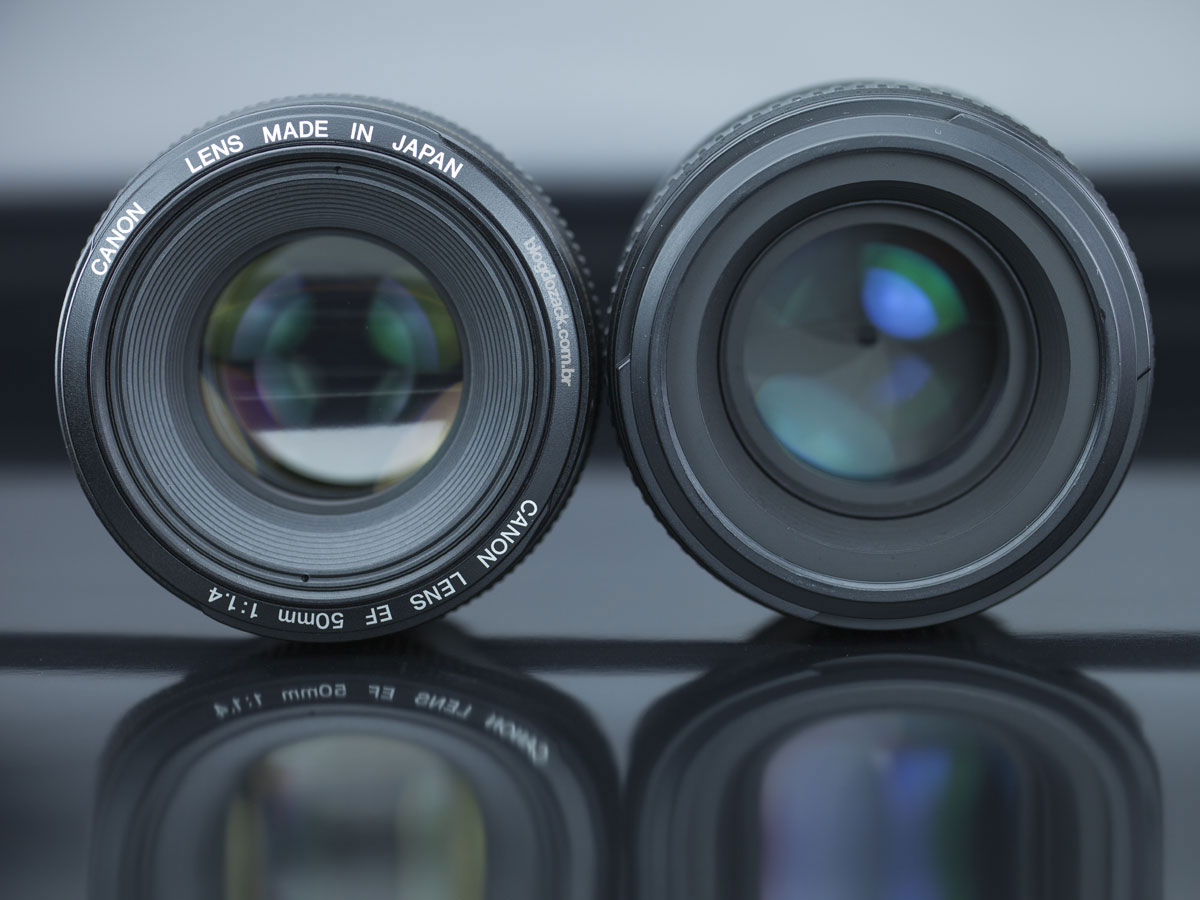 Updated in 2008 is the first Nikon 50mm f/1.4 design since the 70's. It's also all plastic but way better built and weather sealed. The kit even includes the pouch and the hood, for the same price of the Canon. It's a better offering after all and the image quality is a bit better, specially wide open. Both AF mechanisms are good, but Nikon's is completely silent and the manual focusing ring is much better. This Nikkor is a showcase for Nikon's AF-S G ease of use and it show.
PHOTOGRAPHIC RESULTS
After questioning its built quality, we're left with its great IQ in favour the EF 50mm f/1.4 USM. And the 1971 optical design delivers even by today standards. Photos are simply great and filled with personality wide open, with impeccable resolution by f/2.8 and razor sharp at f/8. Of course this 50mm f/1.4 wide open show its age: we can see some blooming, all sort of chromatic aberrations, astigmatism and lack of resolution around the corners. These optical shortcoming are exaggerated by the thin DoF and this lens requires precise focusing to guarantee good results at least on the subject. Out of the image plane and we can see much better performance on other brands.
Vignetting, that's a darkening of the frame corners due to the optical design of the lens (glass + barrel), is pronounced wide open and actually gives personality to your images, bringing the attention to the center of the frame. It's a creative effect for intimate pictures, and it's gone by f/2.8, when the lens will only use its flawless center.
At f/2 the frame resolution is much improved and most light bubbles around highlight dots are gone. It's the best "light gathering/image quality" ration stop, and a safe bet for files that will be printed. The f/1.4 is full of issues, almost artistic; the f/2.8 is perfect but not that bright.
From f/2.8 and up the sharpness is exemplary overall and way ahead of most zoom lenses, that can't really compete on this level of detail. Absolutely every nuance of most scenes are registered by even the highest resolution EOS sensor, from full frame corners to the center of APS-C. f/4, f/5.6 and f/8 are just for DoF control and light gathering, as any of these settings deliver great IQ.
COMPARED TO THE EF 50mm F/1.8II
The f/1.8 II "plastic fantastic" just have a too simple design to compare with the larger, more expensive f/1.4 USM. Their wide open sharpness is totally different and we just have to stop the f/1.8 II even further to reach the same level of details; sort of expected. But mostly it's the image looks that differ greatly between both lenses, with better bokeh on the intermediate lens. Again, I recommend starting with the f/1.4 USM unless you're on a very tight budget.
COMPARED TO THE EF 50mm F/1.2L USM
The large f/1.2L USM has never been recognised for its image quality and it becomes very clear compared to the f/1.4. Both deliver virtually identical results and sometimes the astigmatism seems stronger on the bigger lens, depending on how the light enters the camera. From f/2 and up it's very hard to say the L series is actually better, so my recommendation lays on the build quality of both. Frame by frame and the 50mm f/1.4 USM is a better purchase.
VERDICT
It took a while but finally the EF 50mm f/1.4 USM arrived on my kit, and to stay. The build quality survived an awful trip (lots of rain, in and out of the bag), and most pictures were good beside minor optical flaws. The AF was very reliable on the EOS 5D Mark II using the center point; and I took some photos that otherwise would be misses with third party lenses (like the Sigma 35mm f/1.4 DG HSM). In general this is the best EF 50mm considering the "price to photo" ratio: the bokeh is not rough like the plastic 50mm f/1.8 II; and not as expensive like the 50mm f/1.2L USM. It's worth your money if you're serious about photography and want to build an intermediary kit.