Sigma 35mm f/1.4 DG HSM
Estimated reading time: 07 minutes.
January/2014 - The Sigma 35mm f/1.4 DG HSM was the biggest surprise of 2012 when it presented a high performance, large aperture prime lens, for the price conscious consumer at just US$899. While the market standards Canon EF 35mm f/1.4L USM (1998) costs US$1479, and Nikon 35mm f/1.4G (2010) costs US$1619, the Sigma was the first child of the new "Global Vision" line with new ideas for marketing, design, quality and price. It's a total revamp unheard of in the photography market.
I already have the EF 35mm f/1.4L USM with no plans to replace it. The image quality is excellent, the build is on par with the rest of the L family, and it shares ø72mm filters with other primes (the new Sigma is ø67mm). Not to mention its AF speed, that we always take for granted until we use a third party lens. But I've got to admit the Sigma 35mm f/1.4 DG HSM found its place on my kit. It offers lens distorted files and better bokeh, and my lens of choice when I need f/1.4 resolution.
BUILD QUALITY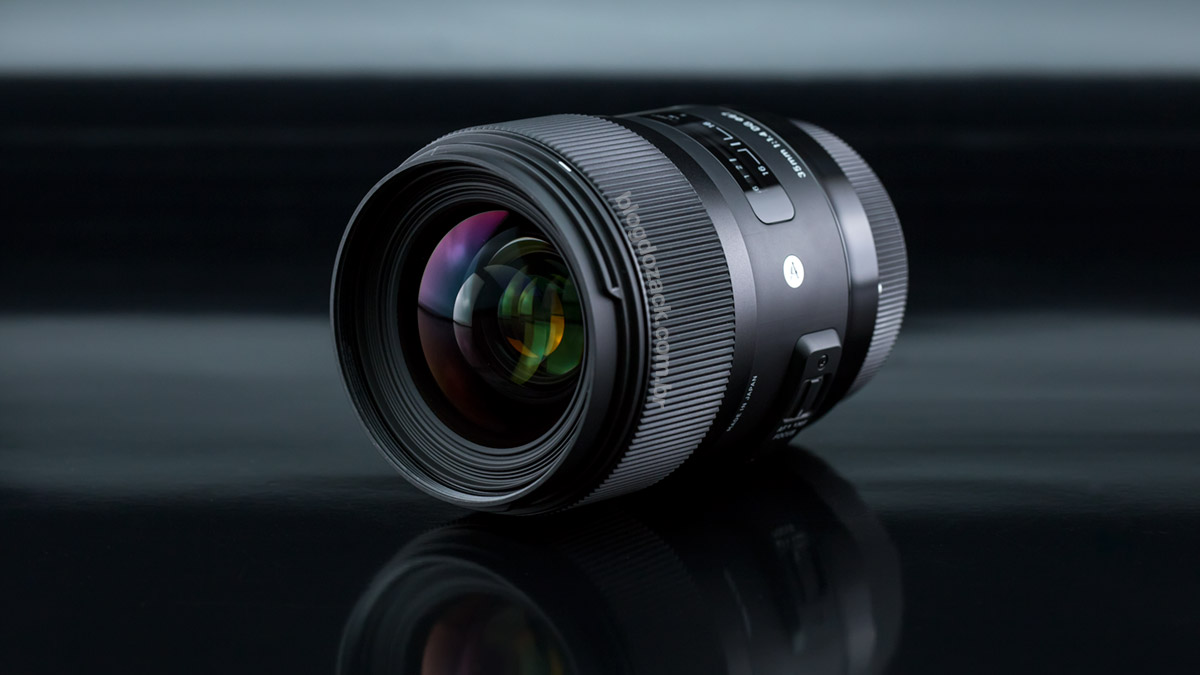 People have been looking for a reason to complaint about Sigma's new "Global Vision" lenses, but I can assure there's nothing wrong with the 35mm f/1.4 DG HSM. While this manufacturer indeed spent a few years dropping the ball on quality control, with easily scratched bodies, misaligned elements and failing AF motors, the Art, Contemporary and Sports series left it all behind. Nobody can guarantee these lenses will last, as they're just two years on the market, but they're without a doubt robust and simple, with no great concerns about build quality. Well done, Sigma!
We start at a brass mount with an exterior metal piece, continuing to a rubberised grip where the distance window lives. The tactile response is great and it feels high quality, firmly gripping to your hands. Near that we can find the single switch for the AF HSM system. The hypersonic motor uses the same principle as Canon's USM and Nikon's SWM, working with magnetic waves to turn a ring. It's main advantage is the silent and speed, being practically quiet all the time. It also offers the full time manual ring, so even at the "AF" position on the switch you can turn the manual focusing ring.
The manual focusing ring represents the greatest advance on Sigma's design. In the past it used to be very rough, tight, with excessive friction (and bad plastics), but now it's metal and rubber, very smooth to the touch. It's better than most Nikons G lenses for sure! The 35mm f/1.4 DG HSM is easy to use with no play; you can turn the ring to any side that it immediately locks the internal barrel.
At the front we have a plastic thread for the lens hood, which is sort of hard to use, not as smooth as the MF ring. And before the first glass element you can attach ø67mm filters that don't rotate during focusing. Unfortunately it's smaller than most f/1.4 lenses on the market. On Canon's L family the only lenses I remember using a ø67mm filter thread is the EF 100mm f/2.8L IS USM and the EF 70-200mm f/4L USM; the rest are mostly 72mm, 77mm and 82mm.
COMPARED TO THE CANON EF 35MM F/1.4L USM
Side by side with the Canon EF 35mm f/1.4L USM, the 35mm f/1.4 DG HSM is about a 1cm longer and apparently thinner, giving a completely different grip between them. The EF feels like a regular large aperture 35mm lens, while the Sigma DG actually feels like Nikon's 105mm primes. It's an obviously subjective matter, but I can tell it's very different from Canon's. Once I even left the Sigma at home because it wouldn't fit my backpack, because it's 1cm longer. Yes, I pack that tightly.
But Canon's great achievement will always be its auto focus, and Sigma just won't let us forget that. Although it's not slow or imprecise, I did lose some low light action photos (skaters down the street) because it just wouldn't lock focus. Even on some stationary subjects the Canon EOS 5D Mark II hunted for focus. I never even noticed how fast and reliable the EF 35mm f/1.4L USM was until I used Sigma's. At night, inside churches, photographing friends at a restaurant and Canon's just nails it. But Sigma makes us remember: Toto, we're not in L land anymore.
In general there's not much to complain about the first "Global Vison Art" lens, with its standards of build quality. I know more expensive Canon and Nikon lenses that are not better built, and hats of to Sigma for reinventing itself and leaving the past behind. Without a doubt I will recommend a kit with all Art lenses, especially when we start talking about its image quality.
PHOTOGRAPHIC RESULTS
In short, Sigma's 35mm f/1.4 DG HSM image quality is awesome. It's way ahead of the competition in terms of resolution, contrast, sharpness; and the bokeh is made for smooth colours. Noticeable are the almost complete lack of lateral and axial CAs, and very detailed files wide open. It's almost a different way of shooting because we don't have to worry stopping it down for great results.
Working at f/1.4 is a breeze because most aberrations like other larger aperture lenses are simply gone. Even on full frame corners the details are registered with far faster shutter speeds, with no worries about blurring or lack of resolution, or the axial CA that kills most f/1.4 shots on Canon's and Nikon's offerings. CA is harder to find on Sigma's DG HSM files.
It is literally a new philosophy of shooting with large aperture primes. While other lenses requires stopping down for better results around the corners, the Sigma files are actually weird to look at, by f/1.4. Any subject that fits the short depth of field will be registered with maximum detail, making other lenses look broken. I can only remember this optical performance from Canon's white telephoto primes like the EF 200mm f/2L IS USM and EF 300mm f/2.8L IS USM.
Stopping down to f/2 and f/2.8 increases sharpness around the corners raising the resolution over the whole frame, way before Canon's L (best at f/5.6) or Nikon's G (best at f/8), for yet another break in shooting paradigm. While we usually close the aperture for deeper depth of field, controlling how the subject stands out from the background, on this Sigma the quality is so high they stand out because of resolution. It's a new kind of personality to the images.
Vignetting is pronounced at f/1.4 and worse than Canon's 35mm f/1.4L, probably because of the smaller front element. But it goes away by f/4, typical behaviour. And straight lines remain straight around the frame, and can be further corrected via software. Overall it's a totally different performance a new way of shooting. Other lenses surely gets the job done, but the Sigma makes us think in a different way, as any composition will reveal a subject in great resolution.
VERDICT
The Sigma 35mm f/1.4 DG HSM is a pleasure to use and delivers the best files among most large aperture 35mm, and I have plenty of experience with them. In my opinion this distance is great for "environmental portraits" around the streets, allowing the light to tell a story in the frame. In one hand it doesn't behave like a regular  35mm f/1.4 because it is so large, but on the other it's very well built and smooth to operate. It doesn't matter if you're into shallow DoF or high resolution images; the 35mm f/1.4 DG HSM works for both. Have fun with it. And nice shooting!