Canon EF 100mm f/2.8L IS USM
Estimated reading time: 07 minutes.
March/2015 - The EF 100mm f/2.8L IS USM is by far the most important piece of equipment on vlog do zack. For three years it was used on the production of the product shots of my videos, back when they were recorded with an EOS 5D Mark II; and until today it's used on most product photos you see on this blog. The state of the art IS, the light, plastic build and the precise, smooth focus were mandatory to create that Canon soft porn that gathered so much attention online when the channel started. And the EOS colours science together with the ease of use of their cameras simply never led me to the need of a new kit. So if we don't see as many Nikons or Sonys you'd want, now you know who to blame. My life depends on this lens and now you'll learn why. Happy reading!
BUILD QUALITY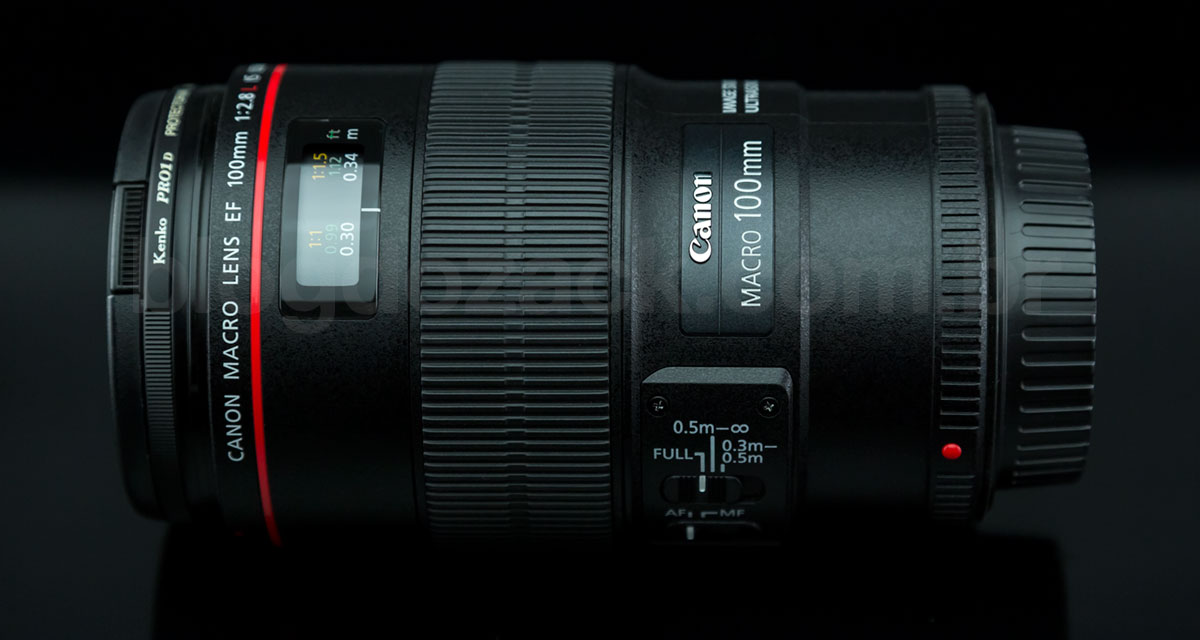 At 625g of 15 elements in 12 groups, the most striking feature of the EF 100mm f/2.8L IS USM is for sure its featherlight weight, as we are not talking about an exotic large aperture prime like the shorter f/1.# L lenses. Also this if the first Canon telephoto to be built in plastic and aluminium, concepts later borrowed by other high end models like the recent EF 24-70mm f/2.8L II USM. But they didn't end up being less robust, much to the contrary. The polycarbonate is hard and resilient, doesn't bend like the metal used on the original EF 24-70mm f/2.8L USM, and won't expand under hot temperatures, as it won't get bad to the touch under cold weathers.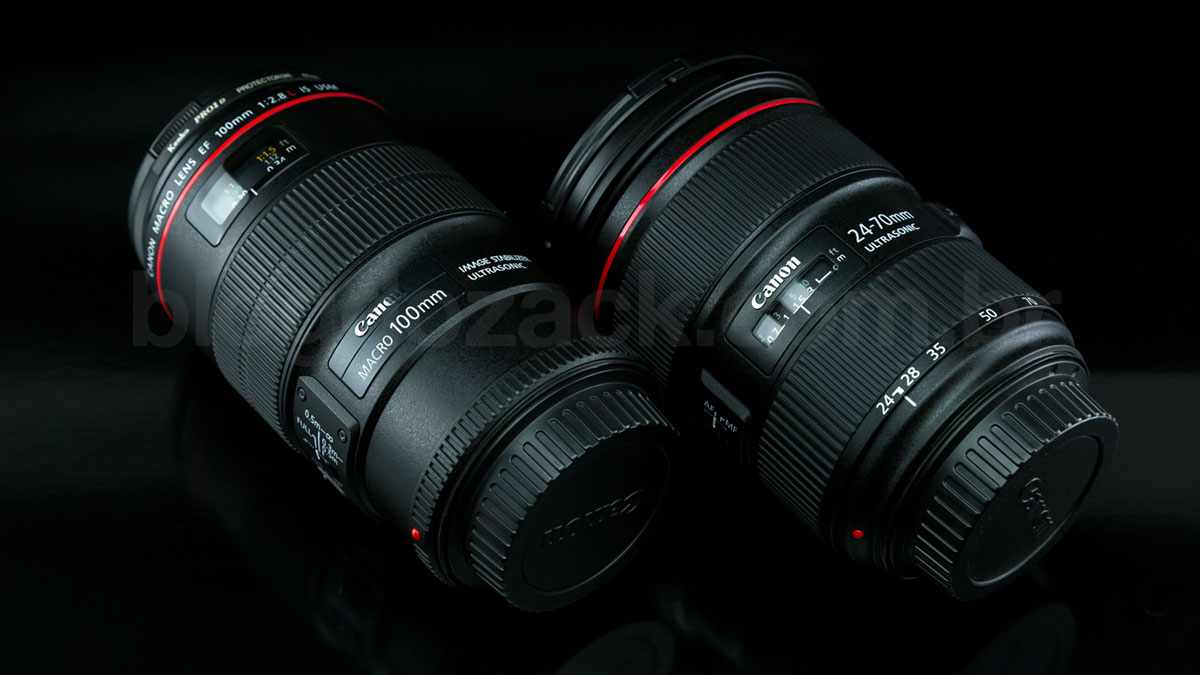 Its operation is simples with a generous manual focusing ring, made of rubberised aluminium, some switches to control the IS and AF, and a long, comfortable grip between the mount and the front element. At 12.29cm it seems long but balances well with larger 1D, 5D, 6D and 7D cameras; and feels a bit front heavy mounted on the Rebels. At the rear, near the mount, there's an empty space to fit the optional "D" tripod foot that costs a whopping US$172. And at the front the included ET-73 lens hood adds 8cm to its length. In total the EF 100mm f/2.8L IS USM can be 21cm of optical equipment in front of your camera, for a true "telephoto" feel.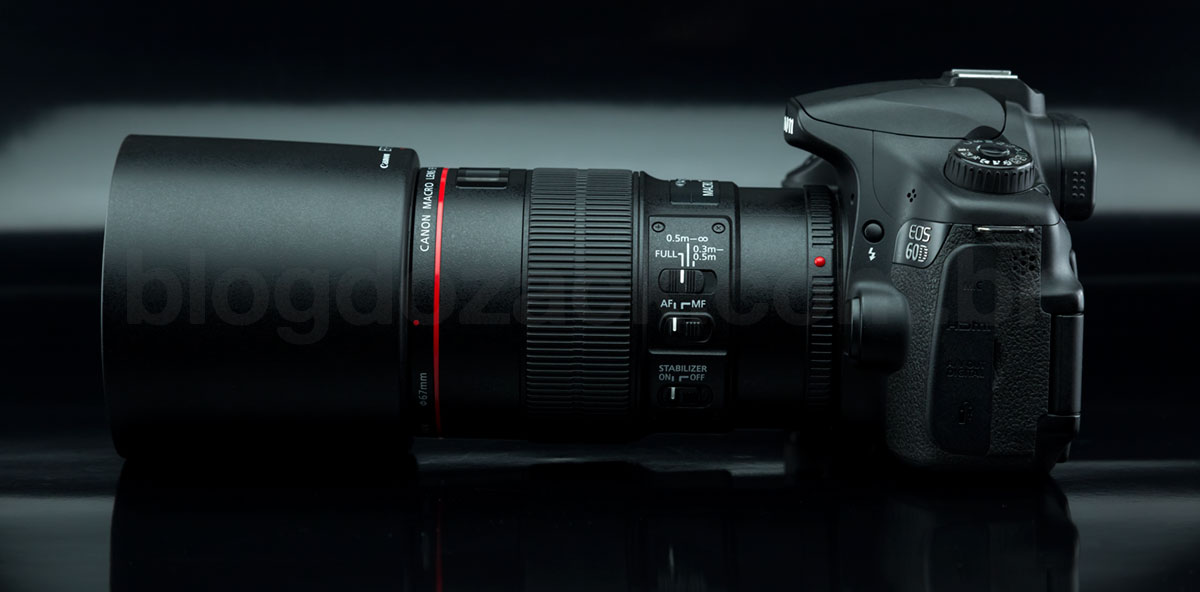 Inside the main feature is the macro floating system that guarantees great performance at every focusing distance, that doesn't expand on the 1:1 macro setting at the 30cm minimum focusing distance. That's right, the MFD of just 30cm subtracted to the 21cm length (with hood), and some more centimetres from the image plane, leave your subject at just over 6cm in front of the first glass element; making it harder to evenly lit your photo. So part of the creativity will go to your light setup at the 1:1 ratio. At least it does work up to infinity, greatly improving this model usefulness. So not only macro work but portraits can be made with the 100mm f/2.8. And the new USM AF can even keep up with moving subjects, working well for sports.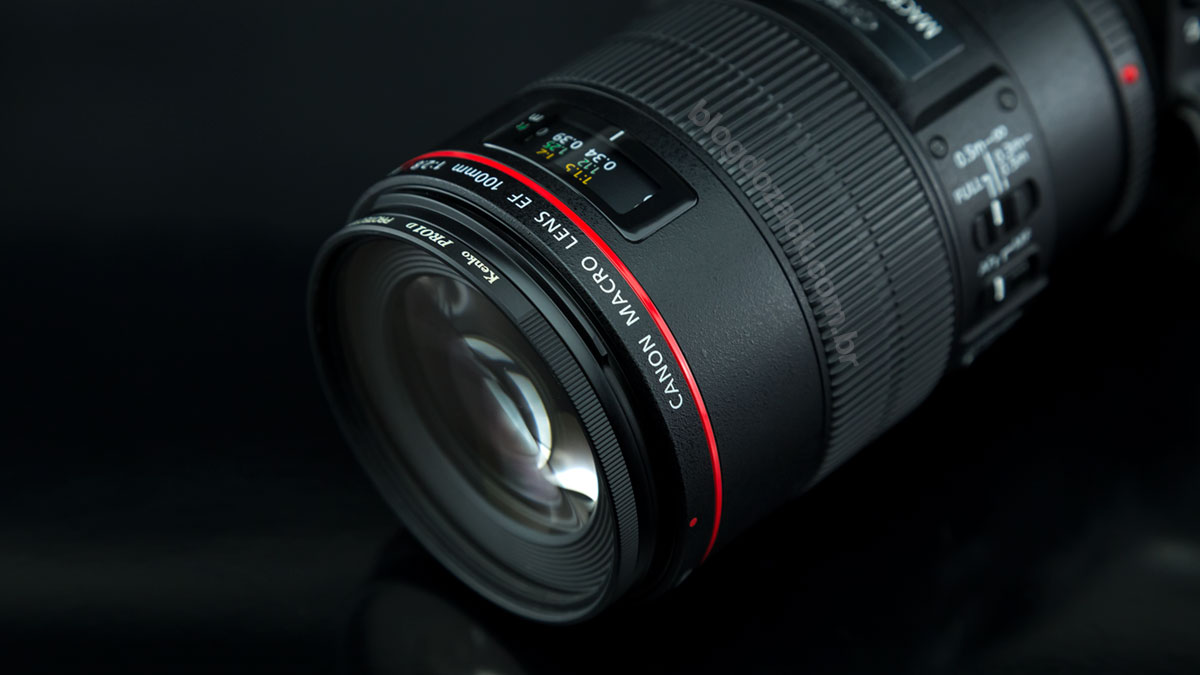 One technical detail to keep in mind about the floating elements is how much the groups have to shift inside the lens barrel, effectively losing light stops in the process. So besides its f/2.8 constant aperture, at 1:1 ratio you actually lose two stops of light and two stops of the IS compensation power. In the end the state of the art IS doesn't make much of a diference at the MFD, but it works well outside of it. Those who are used to macrophotography knows that the best setups includes a good tripod, a good focusing rail, and plenty of light to not only shoot at higher shutter speeds, but to compensate for the small apertures that are mandatory to get something in focus. Canon packed a lot of technology inside this lens, but there's no way to bend the laws of physics.
Another headline is the new "hybrid IS" module. Instead of a single sensor measuring X and Y shifts, there's a second gyro and a third speed sensor to take into consideration your hands movements on shorter focusing distances. Not, the optical compensation group won't tilt like some people would like to think; it's a traditional two axis shift like any other lens. But the new sensors do bring a new dimension of data to compensate for angular twists, and it does make some difference while shooting. At 100mm, no other Canon lens gets this smooth with the IS on.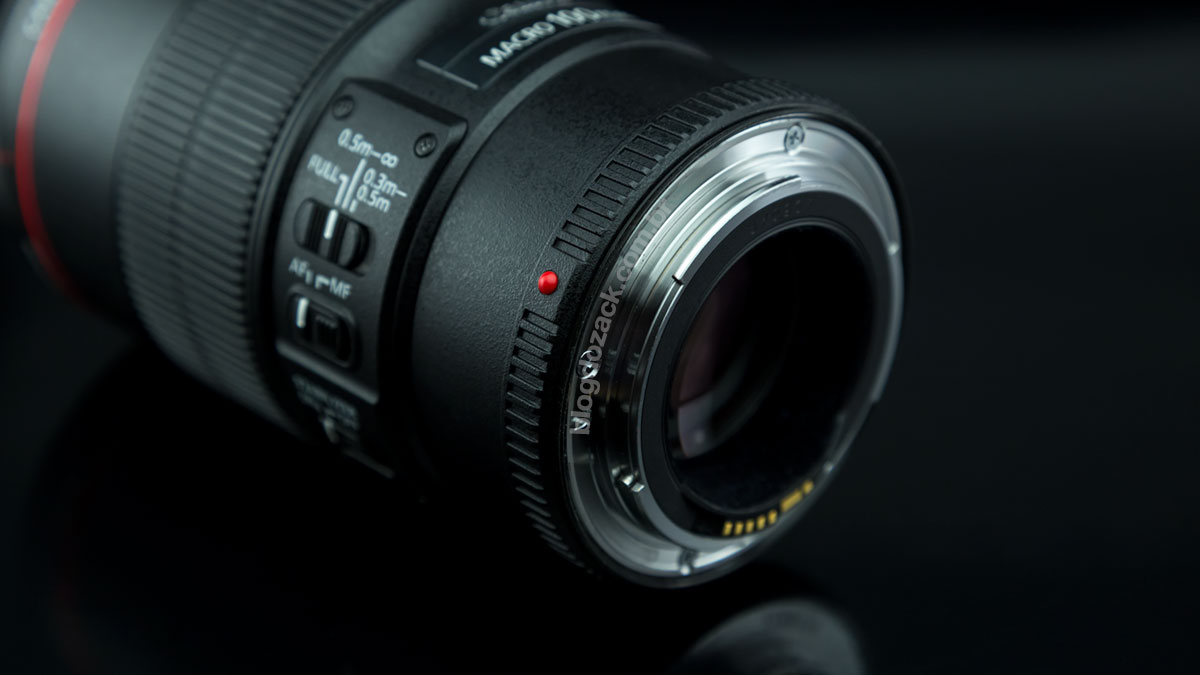 At the front the ø67mm filters won't rotate while focusing and are the largest ever on a 100mm prime, incompatible with any other L lens. The distance window is large and shows markings in feet, meters and macro ration (yellow). The weather sealing is full featured: on all three switches, at the front element and around the metal mount, improving it's dependability. Overall its a very modern lens, unconceivable some years ago when the "all metal" mentality dominated the market, with its higher costs and weight. My copy of the EF 100mm f/2.8L IS USM is over five years old with an every week use, but feels brand new. The outer plastic won't scratched and the internal pieces are all protected. I would definitely buy another copy if something happened with mine.
IMAGE QUALITY
With 15 elements in 12 groups, the EF 100mm f/2.8L IS USM Macro is considerably more expensive and complex than the standard, non L, non IS model, with an extra UD glass to better handle chromatic aberrations and a nine blades rounded aperture for more pleasing out of focus areas, no matter the f/stop. And as a genuine Canon "specialty lens" made for macro work, its optical performance is spectacular with awesome resolution from edge to edge, zero geometric distortion, and near zero axial CAs, besides the shallow depth of field. It's not only macro, it's not only state of the art in build and IS, it's perfect in its images. All photos with the Canon EOS 5D Mark II.
At f/2.8 there's not much to say other than the shallow depth of field inherent to the short macro distances. It's all extremely sharp from center to corners and if your subject do benefit from the "bokeh effect", the results can be unique. No other lens can render the details wide open at such short focusing distances, and the photos get some merit from the used equipment, not only your technique. Think of dew drops on morning leafs, the eye pupil, minuscule details on products. It's not the same as a close-up lens because no other lens shows this resolution wide open. It's not the same as cropping in post, losing lots of pixels. It's not even the same as the 180mm f/3.5L USM Macro, as the different focal length changes the perspective. The EF 100mm f/2.8L is simply unique.
Stopping down to f/22 no even the diffraction steals some sharpness from Canon's 20-22MP 135 full frame cameras; one of the reasons I never changed my macro kit to the Nikon D800E + AF-S 105mm f/2.8G IF-ED VR (don't even get me started with the new EOS 5DS). At macro distances the depth of field is as short as some millimetres, asking for different techniques like focus stacking. But as I mentioned, my main use was for video, so I needed performance stopped down, and it does beautifully. Without this lens I probably wouldn't have started the vlog do zack.
Axial and lateral CAs are practically invisible. With interesting subjects, full of colours and organic shapes, I didn't see it. And on manmade objects like watches, eyeglasses, light bulbs or any chromed finishing, the aberrations are also kept to a minimum. It's weird that some lenses get this kind of optical performance whereas other models don't perform as well. It's not the first macro we review. It's not the first f/2.8 prime. But it's near perfect performance is astonishing, not being the most expensive lens neither. I'm getting repetitive, I know, but it's better than writing a single sentence to describe this lens: the EF 100mm f/2.8L IS USM Macro IQ is absolutely impeccable.
VERDICT
The EF 100mm f/2.8L IS USM Macro is one of the highest performance Canon lens, but with hidden credentials. No, the aperture is not exotic, the price is not ridiculous and its weight doesn't tell the whole story about the technological build and optical formula, a true L series. It's an uncommon discretion on a market with all over bells and whistles on solutions that never really answer to a problem. But in typical EF fashion, it's made with the photographer in mind, not the status quo. Heavy lenses that are bad on your back? A new all plastic built. Tripod less macro work? A state of the art IS with up to four stops for photos or videos. And the usual image quality: pixel perfect files from edge to edge, vibrant colours and deep, contrasty tones ready for professional output.