Nikon AF-S VR 105mm f/2.8G ED
Estimated reading time: 08 minutes.
February/2016 - The AF-S VR Micro-Nikkor 105mm f/2.8G IF-ED is a relatively old Nikon lens launched in 2006. "Old" by smartphone standards but quite recent for a dedicated 1:1 macro, it's one of those tools that rarely needs an update. So manufacturers stuff them with as many technologies as possible, and this Nikkor came to be the first true 1:1 lens to feature a built-in stabiliser, helpful for framing hand held shots at close distances. It is also capable of infinity focusing, making it a candidate for dynamic portrait work, thus enjoying the VR II module.
Also the first Micro-Nikkor to feature Nano Crystal Coating, it's a total revamp over older formulas. Now at 14 elements in 12 groups, one ED, the AF-S G is a high resolution lens made for the ever increasing sensor resolution. At US$896 it's also a bargain for the build quality, aimed at pros who need it for field use. Being a heavy Canon EF 100mm f/2.8L Macro IS USM user myself, I'm looking forward for a chance to switch brands. But can this AF-S deliver? Let's find out! Nice reading.
BUILD QUALITY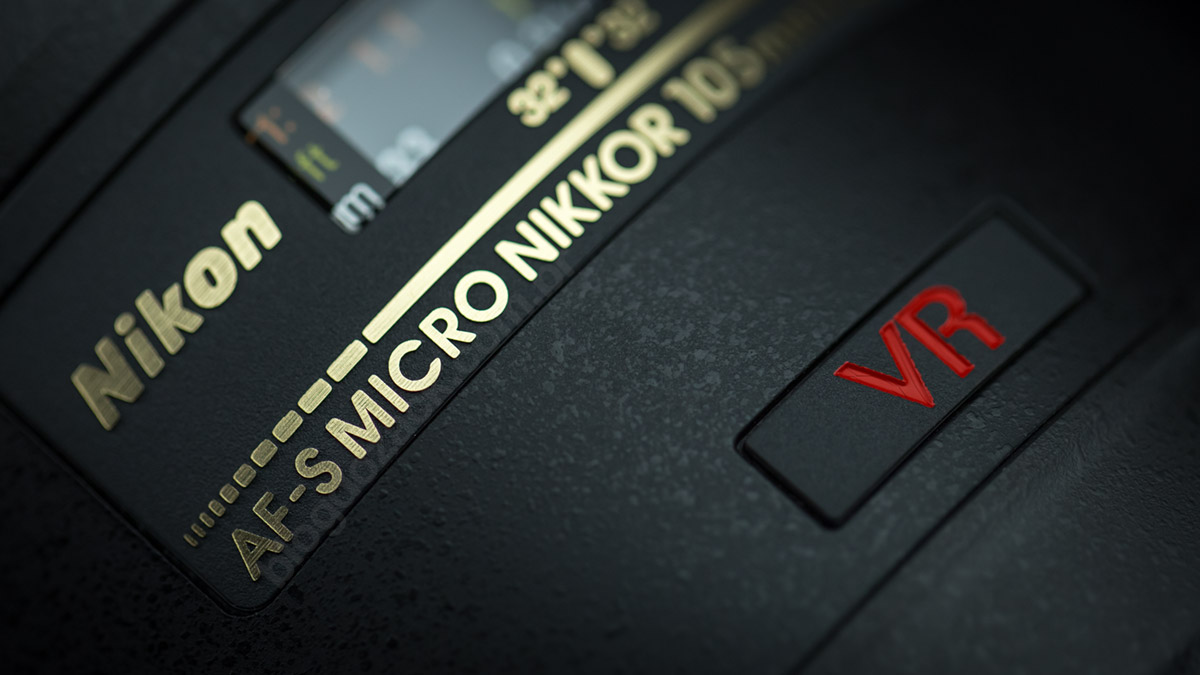 At 8.4 x 11.7 cm solo and 9.5 x 19 cm with the supplied lens hood attached, all at about 720g of plastics and metal, the Nikon AF-S VR Micro-Nikkor 105mm f/2.8G IF-ED impresses by its premium build quality. In a time when polycarbonate is used at the expense of durability, this lens feels like a proper tool with a metal mount and metal rear barrel, like top-of-the-line f/2.8 zooms. I've used US$1500+ AF-S G lenses that are 100% plastic in favor of the so called "lightness" (AF-S 58mm f/1.4G and the AF-S 85mm f/1.4G), but this AF-S Micro feels better put together than any of them.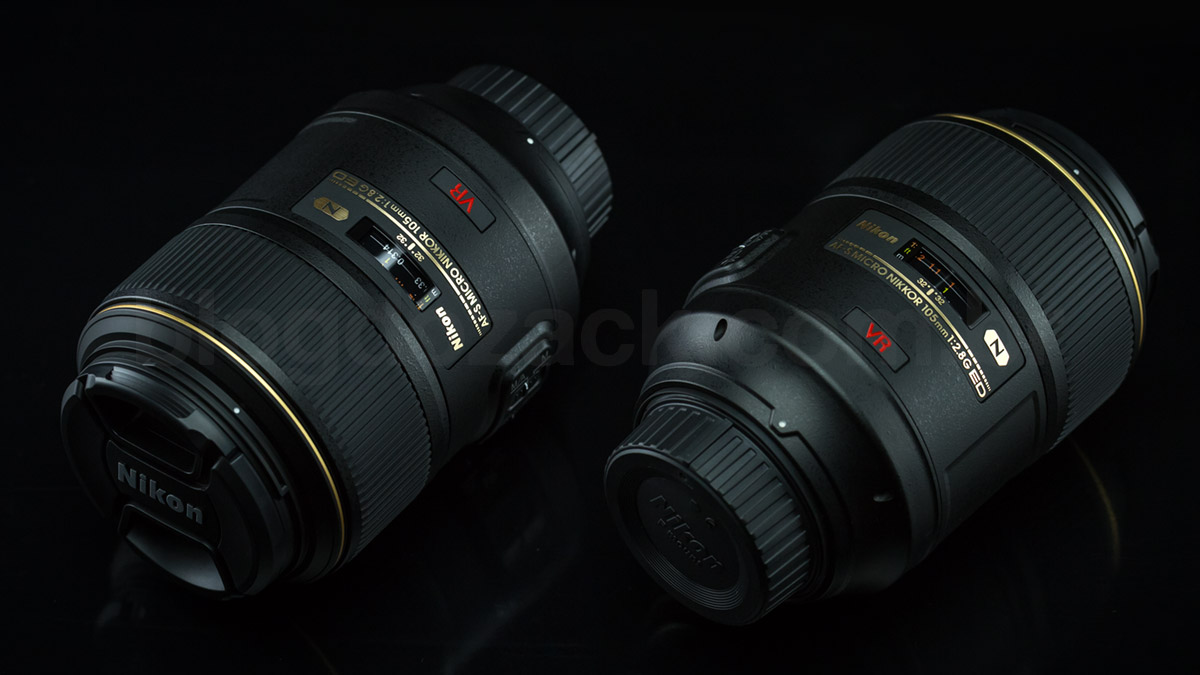 In your hands it sits comfortably around your left fingers, and the shorter size makes it very precise for aiming at your subject. Being used to the longer EF 100mm f/2.8L Macro IS USM (9 x 20 cm with lens hood), the Nikon actually feels more EOS-esque as the ergonomics are bold, just like Canon's cameras. This AF-S seems designed to match an EOS 5D instead of the slimmer D750. There's plenty of room to hold on to and the manual focusing ring is large and at the front. The switches are to the left and within reach of your thumb, all with a unique tactile feedback.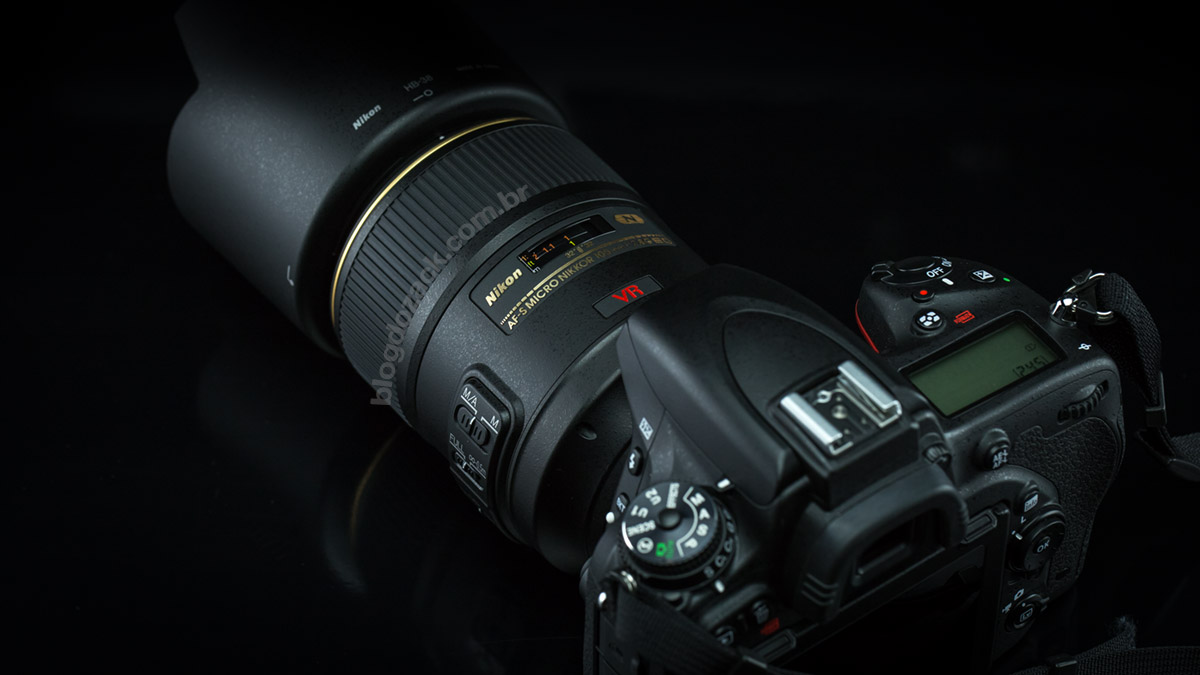 Inside the AF-S SWM is silent and by far the fastest I've ever used from Nikon. I can only say "wow"! It is really fast from infinity to MFD, and there's even a limiter switch for infinity to 0.5m. You see, this macro lens can also focus at infinity and you can use it as a regular 105mm. So the limiter gets rid of the "macro" distances keeping the focus travel at about 90º (instead of 220º in FULL mode), great for action. It takes one third of a second to drive from one end to another and it feels fast. However it's not without flaws and I have two issues with it.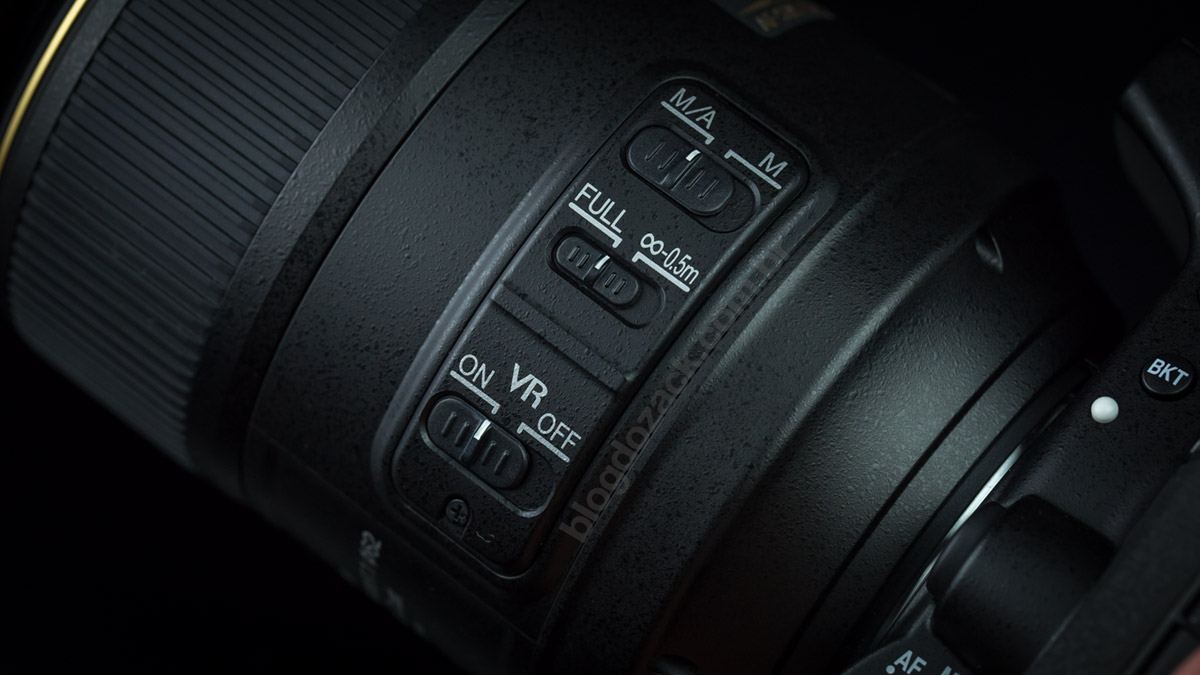 The first is how hard it is to acquire focus automatically at close distances. Sometimes the D750 refuses to lock, hunting from side to side and not achieving focus. I understand it's a challenge for phase sensors to focus at macro ratios and you're supposed to work manually. But my EOS 6D + EF 100mm L is flawless and I  was expecting the same experience. Using Live View helps the D750 as it slows down the AF, so I wish the camera was programmed to also slow the focus in phase mode.
And the second is a no brainer from Nikon: the manual focusing ring is bad and its movements aren't smooth. It feels like it is not damped, so it "jumps" from point to point making it harder to pinpoint focus. It's ridiculous to have a bad MF ring on a macro lens but Nikon managed to do it. It's a shame because the Canon L is much smoother and, again, I was expecting the same. Notice it's not unusable and most photos featured on this article were manually focused. But I strongly recommend testing your copy before purchasing, so you know what you're getting into.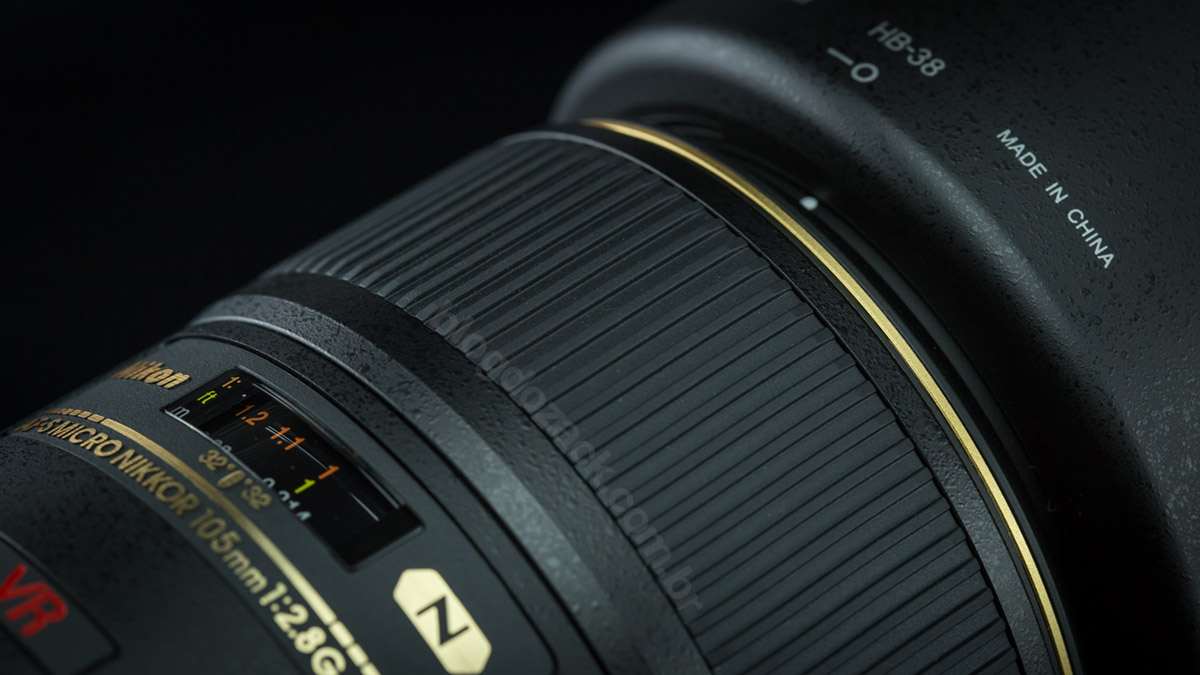 Another thing that work-but-doesn't is the VRII. Rated at 3.5 stops, it helps at any distance and I recommend leaving it ON at all times when shooting hand-held. However it looses its efficiency the closer you get to your subject, typical behavior for a macro lens, being a bit pointless on a Micro. The lenses inside the barrel acts like hands shadow puppets, and the closer you are to the subject, the bigger the image is rendered on the sensor. As it gets too big at life-size 1:1, the VR looses its power for correction. So at the maximum ratio, expect it to work for about just 1 stop of light.
At the front the ø62mm filters are much larger than the first optical element, good to avoid vignetting with thick glasses. The plastic thread is a step backwards compared to the previous all-metal AF 105mm f/2.8, but on the other hand it doesn't moves back and forth. The supplied HB-38 lens hood attaches to its own thread and is very sturdy, much thicker than the el-cheapo HB-36 from the VR AF-S 70-300mm. Some people don't believe in lens hoods, but it makes a world of difference when you're shooting inside a well lit product table, even with Nano coated lenses.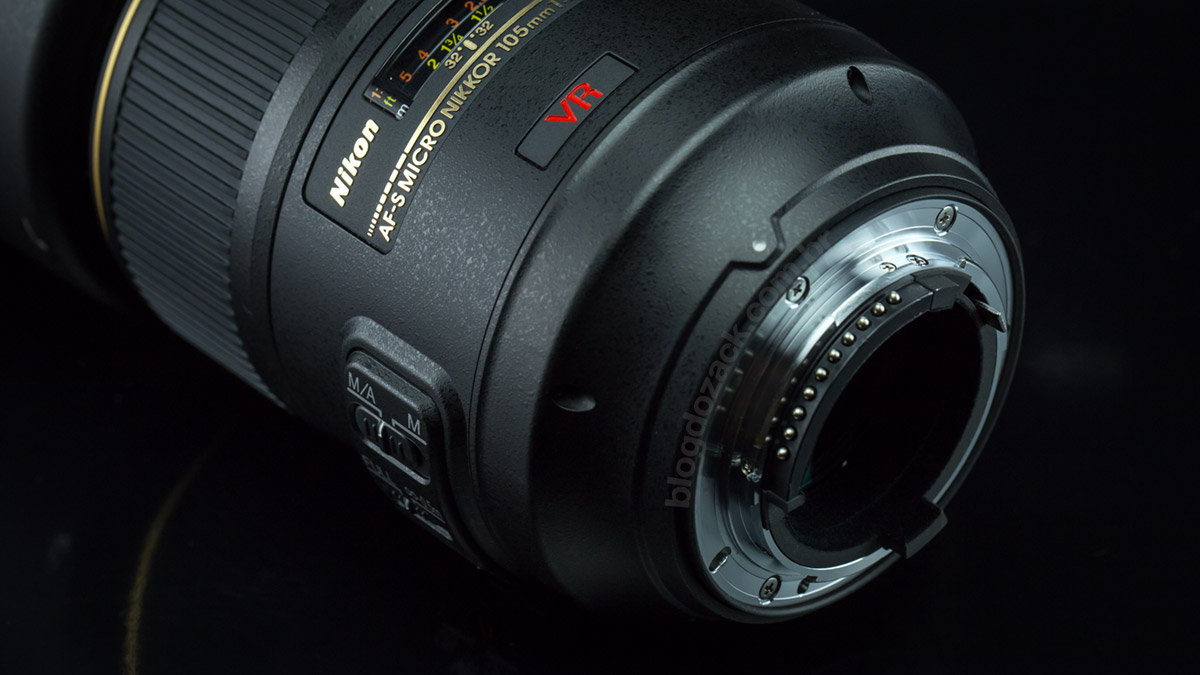 Overall the VR AF-S 105mm f/2.8G is a very fine lens and belongs on the higher-end spectrum of Nikkor's working tools. This is not your amateur glass and Nikon knows it. The build quality is very premium and something you won't understand from looking at internet images, as it looks the same as other AF-S Gs. But it is not. The AF-S is awesome, making me question all previous AF-S I've used. However I can't get past the bad manual focusing ring and it won't cut for the type of work I do. Maybe the images will do a better case for it, but mechanically it just won't do for me.
IMAGE QUALITY
With a 14 elements in 12 groups formula, one ED glass and Nikon's Nano Crystal coating, the AF-S 105mm f/2.8G is the newest member on the highly regarded Micro-Nikkor lineup. With a heritage of high performance lenses like the 90's 105mm f/2.8 AF/AF-D and the 80's Ai-s, the news is the built-in stabilization group that added four glass pieces from the previous 10 elements blueprint. But it keeps the overall sharpness, contrast and aberration handling intact, and it's one of the highest resolution AF-S G lens we've ever seen, besides some optical flaws specific to certain subjects.
ORGANICS
Organic matters featuring smooth surfaces and low contrast are the perfect showcase of the 105 f/2.8G prowess. Images are colorful, high resolution and aberration free, perfect for flowers. Wide open the bokeh enhances the hues mixture for saturated opposite color compositions, and stopped down the diffraction doesn't kicks in up until f/22, for sharp single exposure shots with plenty of DoF. It's somewhat soft at the 1:1 ratio, but not enough to really impact the details.
PORTRAITS
Somewhat an "organic matter", it keeps the same level of greatness from the maximum aperture to optimized ones. It shows a slight softness wide open reducing the contrast on facial hair, but with plenty of resolution in spite of the very shallow depth of field. Stopping down is a must for reflective accessories that will bloom and/or provoke chromatic aberrations, and improves resolution. It's a pleasure to work with and the focal length is very flattering for the human face.
PRODUCTS
Wide open 1:1 product shots are not advised as longitudinal chromatic aberration is visible on printed lettering, chromed metal and glass reflections. Lateral aberration is also present and the aforementioned lack of sharpness is very noticeable on man made textures. It requires major stopping down (f/16 and above) to get the best of its glasses, but still shows some signs of lateral CA on the edge of sharply cut metal or plastics. It works for Nikon shooters but trust me: the newer Canon EF 100mm f/2.8L IS USM show way less optical shortcomings and higher resolution at 1:1.
LANDSCAPES
By far the sharpest Nikkor I've ever tested for faraway subjects at optimized apertures like f/8 and f/11. From edge to edge the details far surpasses all digital sensors and the VRII makes a great job allowing at least 3 stops of compensation, so leave your tripod at home. Lateral chromatic aberration on buildings edges are nowhere to be seen, a downside to most zooms but mastered on this prime. However the nine blade, rounded aperture hardly generates highlight stars, so older lenses might be "cooler" for night, urban long exposures with longer stars.
VERDICT
Overall the AF-S VR 105mm f/2.8G ED makes a good case for Nikkor's specialty "Micro" lineup. The build quality it second to none, with an all-metal rear barrel and plenty of girth to comfortably fit your hands. The AF-S is superb past the macro distances, and the manual focusing ring takes a bit getting used to; test your copy prior to purchase. The VRII module works as advised but makes a very annoying click when engaging, something I'm getting used to with this module.
However the optics are pristine and I would gladly keep it on my working kit. Images are very, very, veeery high resolution and the colors are superb, things one expect from every lens. It just won't stick with me because I already use the excellent Canon EF 100mm f/2.8L IS USM, and there's no reason to downgrade to an older model. Anyway it's highly recommended for Nikon users. If you're looking for a lens that demands creativity and can set your portfolio apart, this is it. Nice shooting!