Nikon AF-S NIKKOR 70-300mm f/4.5-5.6G IF-ED VR
Estimated reading time: 09 minutes.
January/2016 - The AF-S VR 70-300mm f/4.5-5.6G IF-ED ($499) is one of just two accessible Zoom-Nikkor lenses for FX photographers that work solely with the medium telephoto. Together with the entry-level AF 70-300mm f/4-5.6G ($172), that looses the SWM and stabiliser, they're the only options before the higher end 70-200mm (f/4 or f/2.8, from US$1399), or the super 80-400mm (from $1849). The AF-S 28-300mm f/3.5-5.6G ED VR ($949) comes to mind, but it's on a different, do-it-all class, no matter the performance. It's a very different lineup from Canon's three EF 70-300mm, so the AF-S carries the weight to cater them all: from weekend amateurs to full-time professionals.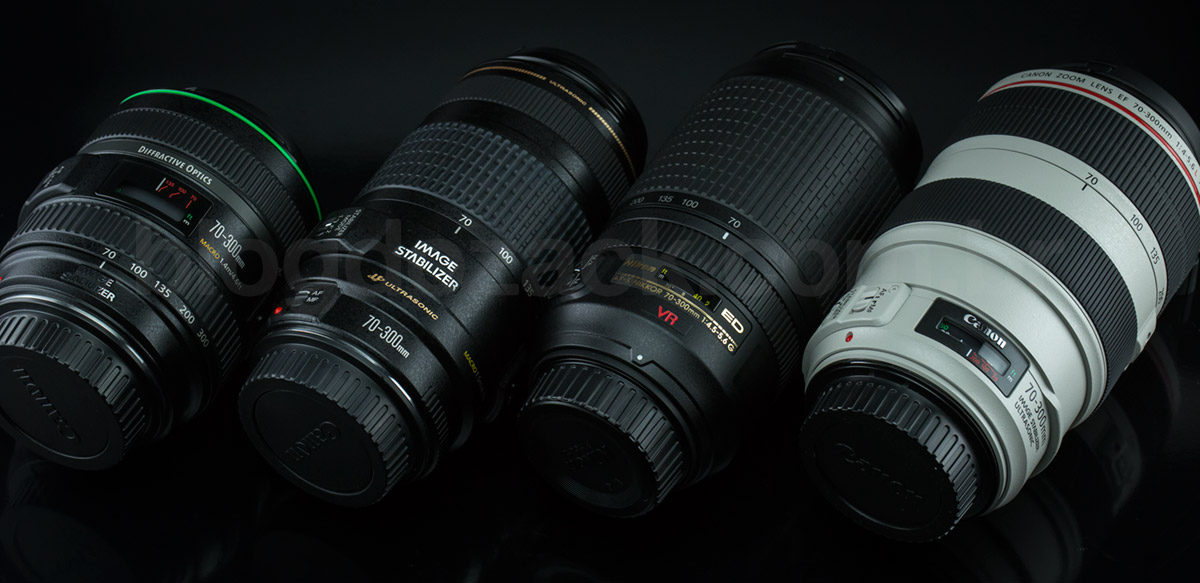 Launched back in 2006, this 70-300mm is what I call a "modern, for digital" project. Made to be completely automatic, it gets the "G" moniker indicating the lack of manual aperture ring, thus incompatible with older cameras especially from the film era. But it gains the AF-S system with a built-in auto focusing motor, not requiring a camera with a motor to work. A 4 stops VR promises to leave the tripod at home. And the ED glasses promises great aberration correction, for high image quality. Did Nikon managed to deliver it all? Let's find out. Nice reading!
BUILD QUALITY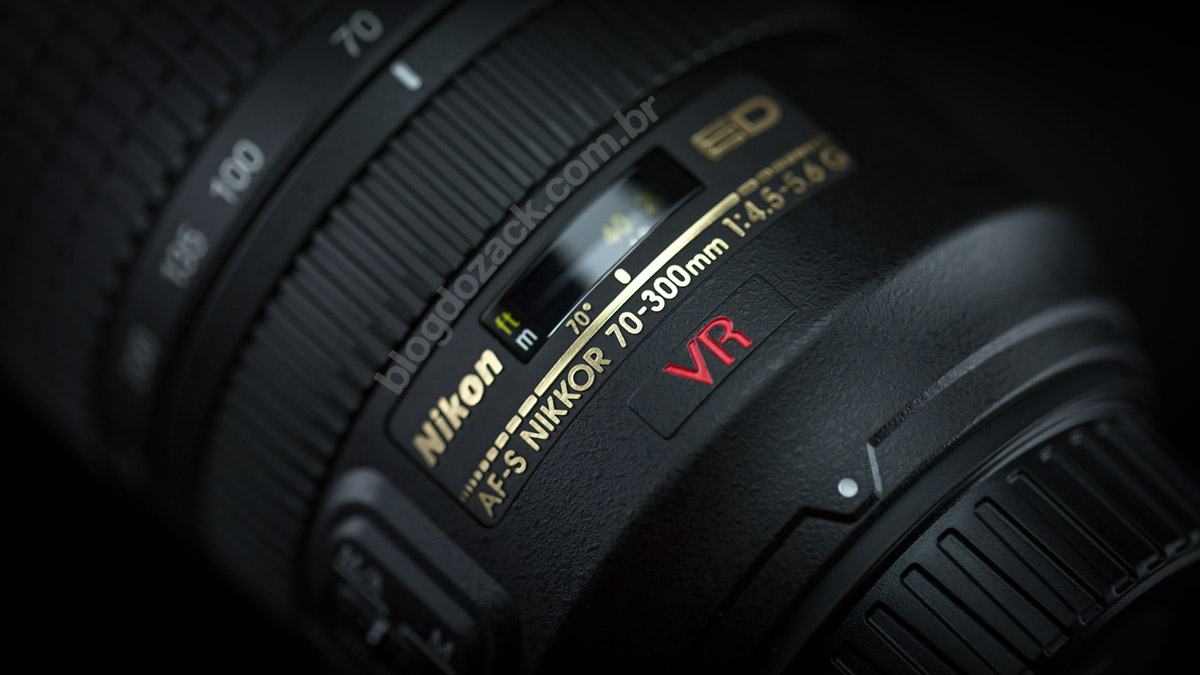 At 7.8 x 14.5 cm, what calls our attention to the AF-S 70-300mm G is its size. Although it is virtually the same specs as the Canon EF 70-300mm IS USM (7.6 x 14.22), the EF lens is thinner at the front and back, with a single bump around the lateral control panel to make this numbers look alike. The AF-S on the other hand is "fat" from beginning to end, also being 115g heavier at 745g. It makes the overall handling heavy weighted and one of the reasons this review took so long. I rather use smaller, lighters lens, and this piece asked for a special occasion for me to shoot it with.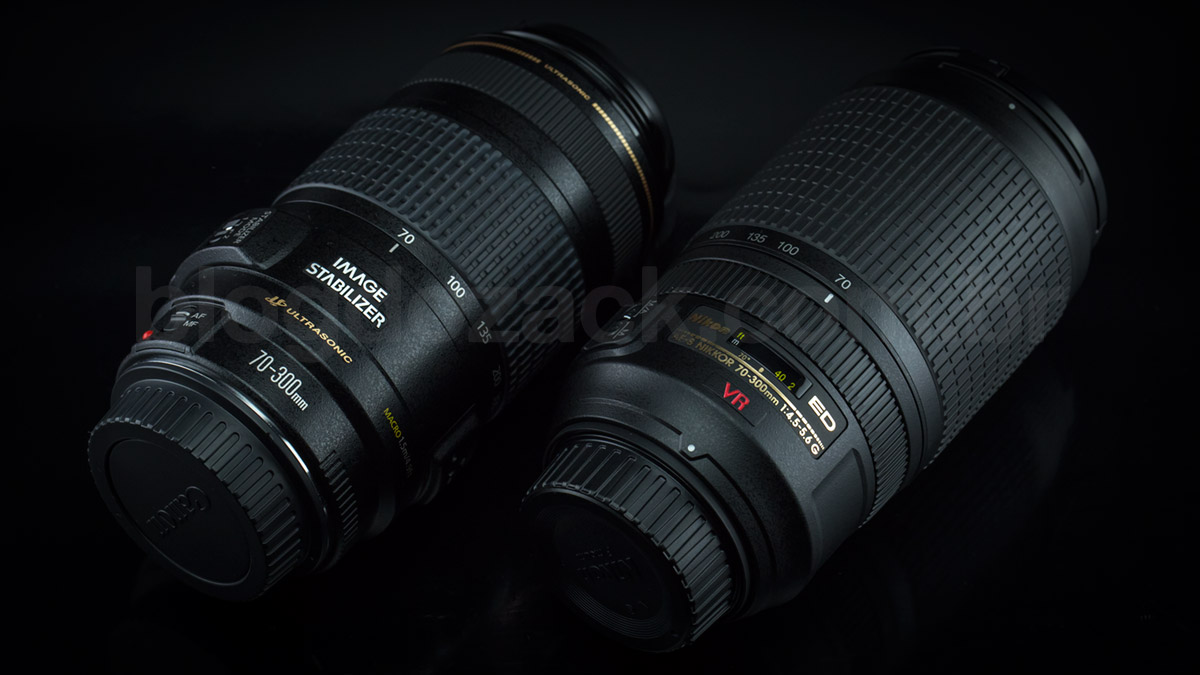 Almost the whole external barrel is a zoom ring, good in theory, bad in practice: it is hard to move and feels very plastic on plastic. The friction between the pieces makes it clear we're not dealing with metal threads and giant bearings inside. Coming from the EF 70-300L review, I was expecting a lesser lens to be less. But even the entry level EF 70-300 IS USM sports a much smoother zoom ring, and I blame Nikon for not trying harder. One reason might be the rear, internal focusing group, much harder to design. So you win some (internal focus) and loose some (bad usability).
The zoom movement expands the internal barrel 53mm to the front, also moving the lens hood and filter threads for a total of 26cm. The variable aperture drops to f/4.8 at 105mm, f/5 at 135mm and f/5.6 from 200mm to 300mm; exactly one stop less than the 70-200mm f/4G one step above. It's similar to the AF-S VR 28-300mm f/3.5-5.6G ED, also variable, and if you have the money (it costs twice as expensive at US$949), it can be an alternative to reach the 300mm. Just don't expect miracles from its optical performance; a 11x zoom lens begs for aberrations and distortion.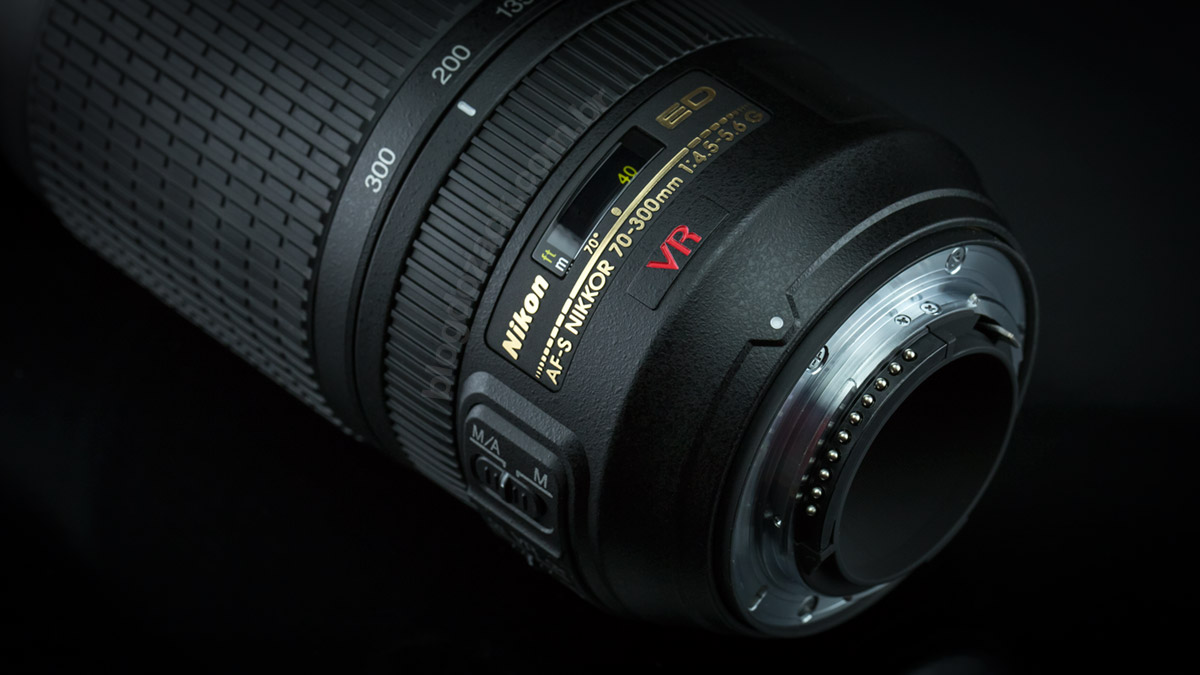 The Silent Wave Motor (SWM) is quiet and smooth, but the manual focusing ring is tough and "dry", although it doesn't suffer from play between the pieces. What do I mean by "dry"? Try rubbing two sheets of paper together and you'll hear the same noise I hear when using this MF ring. It will be recorded in videos and it's certainly a secondary addition to the usability, in favor of the AF-S motor. The all internal AF (IF) is rear mounted, features a distance window (absent from Canon's) and has a minimum focusing distance of 1.5m. It's precision is excellent with the D750 and I have no out-of-focus photos. Stationary subjects focuses quickly, certainly under 1 second.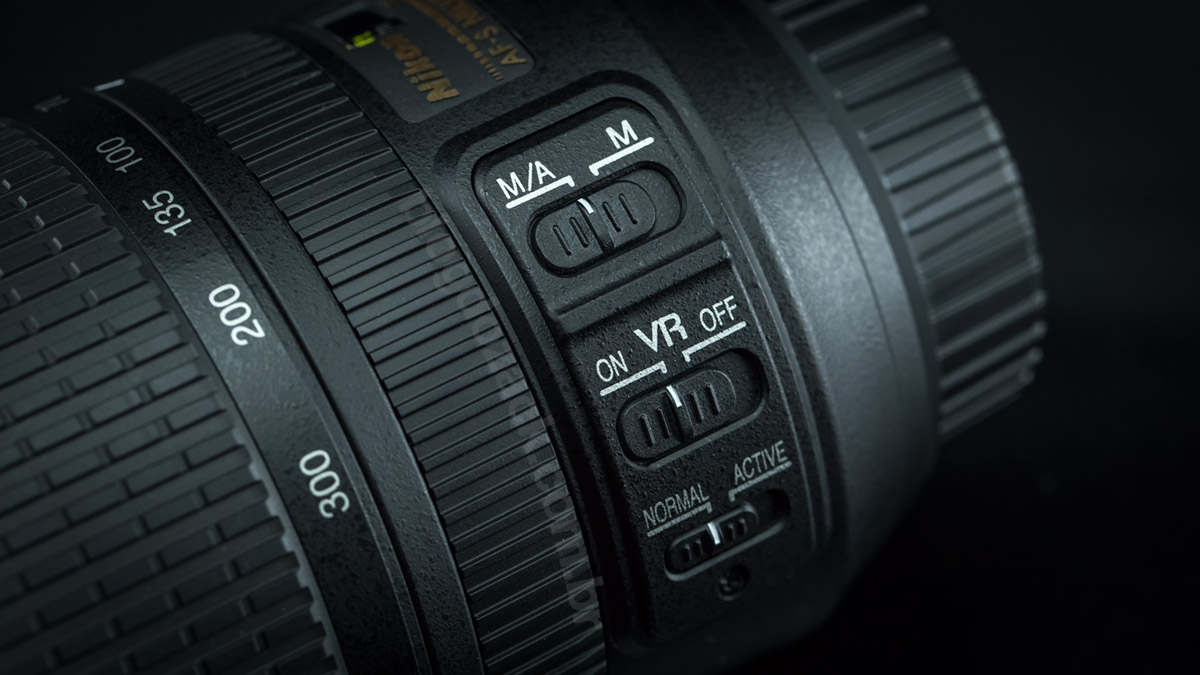 The continuous AF-C is enough to shoot sports under good light. Paired with the D750 on São Silvestre's marathon in São Paulo I had no issues following runners with AF-C d-9, for complete sets of 6fps in-focus files. The camera locked instantly and followed the subject by color, without missing the point or hunting for focus. It's easy to work during the day with reasonable ISOs, keeping the aperture wide open and reaching fast shutter speeds.
The VRII stabiliser is rated at 4 stops by Nikon and 2.5 stops by CIPA, and is one of the weirdest modules I've ever used. Not only it is very noisy, it's not very reliable. When you start the VR before the camera is level and pointed at your subject (like when you "wake" the camera up before you raise it), it can't detect the frame orientation and won't stabilise for a few seconds. You take the camera ready to your eyes and it won't stabilise. It takes about five seconds to fix the frame smoothly in place, rendering it near useless for most of the shots.
It is weird because I rarely take the camera to my eyes before waking it up. And as the VR won't work, I even thought my brand new copy was broken. It was bad enough I headed to a store and tested other three (!) lenses to make sure that was how it worked. And that's how it works. O_o It's only when you have the camera level, with the VR shut (don't half press the shutter release nor AF-ON), then turn it on, that it works well. It is far from Nikon's 4 stops claim, but enough to work with telephoto distances. And there's a second "Active" mode, made to compensate for movements made to the photographer, like from a moving car or boat.
At the front the ø67mm filters are uncommon on Nikon's lineup but cheaper than ø72mm and up, a good thing. This thread is fixed and won't rotate like the chaotic intermediary EF 70-300mm, with its rotating front element. The supplied HB-36 lens hood fixes on its own thread and feels very cheap, with a flexible plastic and plastic matting inside; but it does a good job protecting the front element. I shot under light raining and no water reached the glass. At the top the distance window is deep but easy to read, with markings up to the 1.5m MFD. And at the rear the metal mount is surrounded by a rubber gasket, although Nikon says nothing about weather sealing.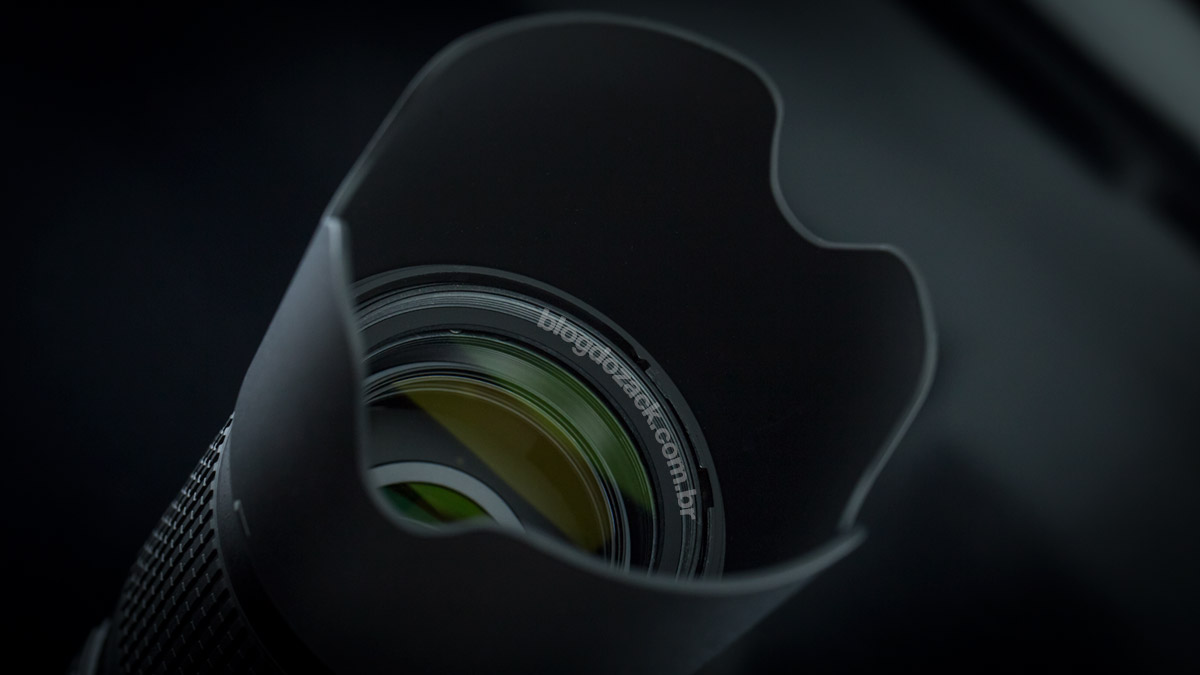 Overall the AF-S 70-300mm G is fair for its price but Nikon always leave me with the impression it could do better on the intermediary lineup. Really, this zoom ring is so tight sometimes I find myself turning the camera around the lens, as its grip is larger and better to apply force to. I've given up on sub-US$1500 Nikkor's manual focusing rings; if doesn't have play, it is too tough and noisy. And the AF-S works well besides the very questionable VR II implementation. Again it's a nice piece to have on your kit if you keep your expectations low. Considering it is the only VR + SWM 70-300mm on the lineup, maybe its images make a better job convincing us to keep it. Let's see…
IMAGE QUALITY
With a relatively complex 17 elements in 12 groups formula, two ED glasses and Super Integrated Coating, the AF-S 70-300mm G optical performance can impress if you keep your expectations low. It's the same performance as the intermediary EF 70-300mm, with nice everyday results, in point with the market it was developed for. The center resolution is great even wide open; the corners follow the aperture logic (stop it down to raise sharpness), and the contrast works. Its flaws are typical: heavy vignetting at f/5.6, visible but easily correctable aberrations at 70 and 300mm, some geometric distortion and a questionable, fuzzy bokeh.
At f/5.6 some files are impressive near the center frame with sharp details and perfect contrast. My aperture of choice to shoot the São Paulo marathon, and the results were excellent rendering facial hair and accessories, in focus due to the great AF-C performance. It was on the same level of awesomeness I got with the top of the line EF 70-300L in New York's marathon, but here for less than half the price. It's yet another example that telephoto distances are not that hard to develop and manufacture, and the main usage for such lens.
My only criticism goes to the out of focus quality, also referred to as bokeh, that looks like a magnifying glass instead of blurring the background away. If on one hand the resolution is great and the depth of field is short at telephoto distances, as soon as your subject move from the focal point it looks like a "cheap glass" rendering. The out of focus elements are simply too sharp and visible, demonstrating the lesser optical formula. On higher end lens the in focus bits are sharp and flawless, great; and the out of focus areas are smooth and colourful. That's not the case with this AF-S 70-300G and we just can't deny its low cost nature. It looks like cheap CVS prescription glasses instead of a top quality optical piece. It works but we know better.
Stopping down to f/8-f/11 and the biggest improvement falls on the corrected vignetting, for uniform coloured frames from corner to corner. At f/5.6 the peep hole effect is visible under low light exposures and the colours are saturated. But on optimised apertures it's all clear, smooth, with no rollout on skies or walls. And as there's no lateral chromatic aberration correction stopping down, that's the only reason the close the aperture: exposure, DoF and vignetting control.
Lateral chromatic aberrations are typical of telephoto distances, with coloured lines around the edges that are easy to fix in post. The pair of ED glasses make a good job minimising them and it looks better than even the Canon L, no matter how far I pushed the D750 raw files. And the geometric distortion is also discreet, besides some before/after software correction showing barrel and pincushion on both ends. I didn't really shoot straight lines to see it, like the horizon or some boring wall, so none of my files required correction.
VERDICT
The AF-S VR 70-300mm f/4.5-5.6G IF-ED is an interesting low cost lens because its performance is reasonable and it feels free from high quality promises. So when the AF, the VR (if you're careful when turning it on) and the images work, it's a good day. It doesn't bring anything new to its class and really shouldn't; it's over a decade old and continues alone on Nikon's lineup. But it's worth amateurs and professionals, keeping in mind its limitations. The first group won't care for its larger built and tough rings, but will appreciate its VR and good image quality. And the second will love the AF-S performance, especially for such a low price. For US$500, it's hard to complain about it.