Canon EF 70-300mm f/4-5.6L IS USM
Estimated reading time: 12 minutes.
December/2015 - The EF 70-300mm L introduced in August 2010 was the first lens that Canon delivered as a modern, high performance zoom with variable aperture. A highly mechanically optimised telephoto, it set the way for the 2014 EF 100-400mm Mark II, with a metal outer barrel, perfectly damped rings and great balance that only Luxury lenses offer. Different from sealed 70-200mm's, these two zooms feature inner and outer cams that expand as the focal length changes, built that usually feels wobbly on lesser models. But this time Canon is matching the iconic red ring with excellent handling and image performance, plus top of the line feats such as state of the art AF, up to 4EV image stabilisation and weather sealing. Is it the king of all 70-300mm? Let's find out!
BUILD QUALITY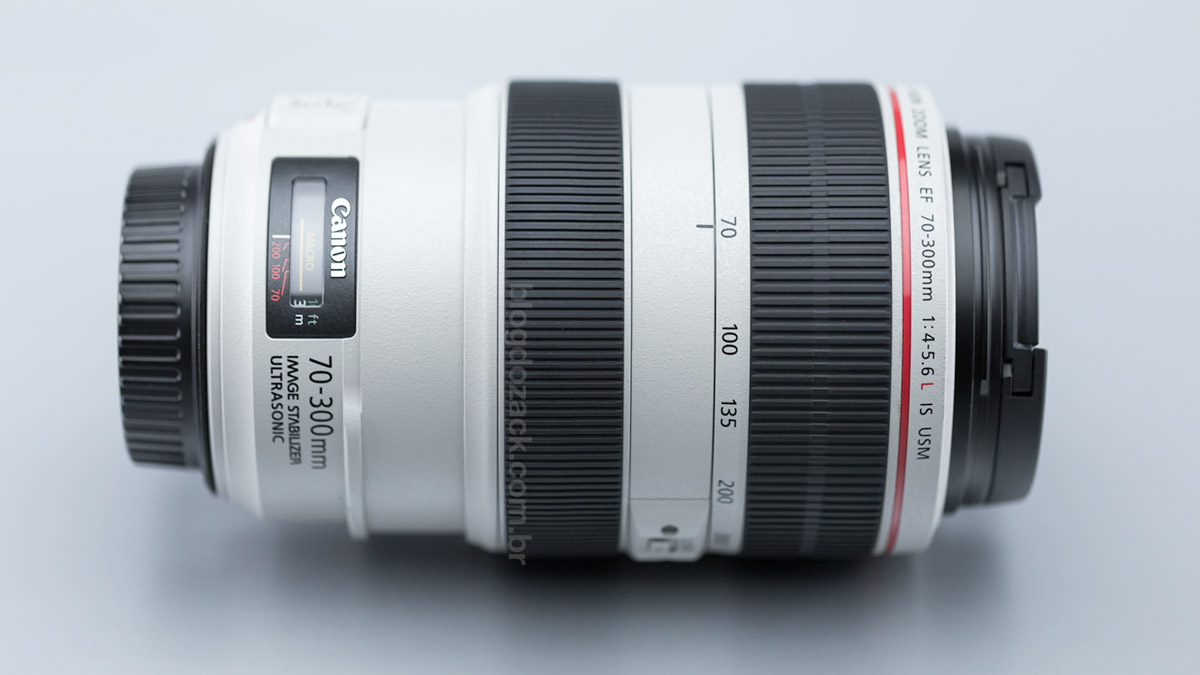 First let's take a moment to review Canon's extensive 70-300-ish lineup. It's a total of five EF lenses on the telephoto range with variable aperture, proof of the popularity of such distances. Want to get closer to your subject? Buy a long zoom lens. We start at the mediocre EF 75-300mm, available with ($179) or without USM ($199); enter the intermediary class with the EF 70-300mm IS USM (US$649, no manual override); and reach a higher end with the exotic Diffractive Optics EF 70-300mm f/4.5-5.6 DO IS USM (US$1399) and this Luxury (US$1349) white beast. The purchasing decision is easy: you'll get what you paid for and mechanics and optics follow the price.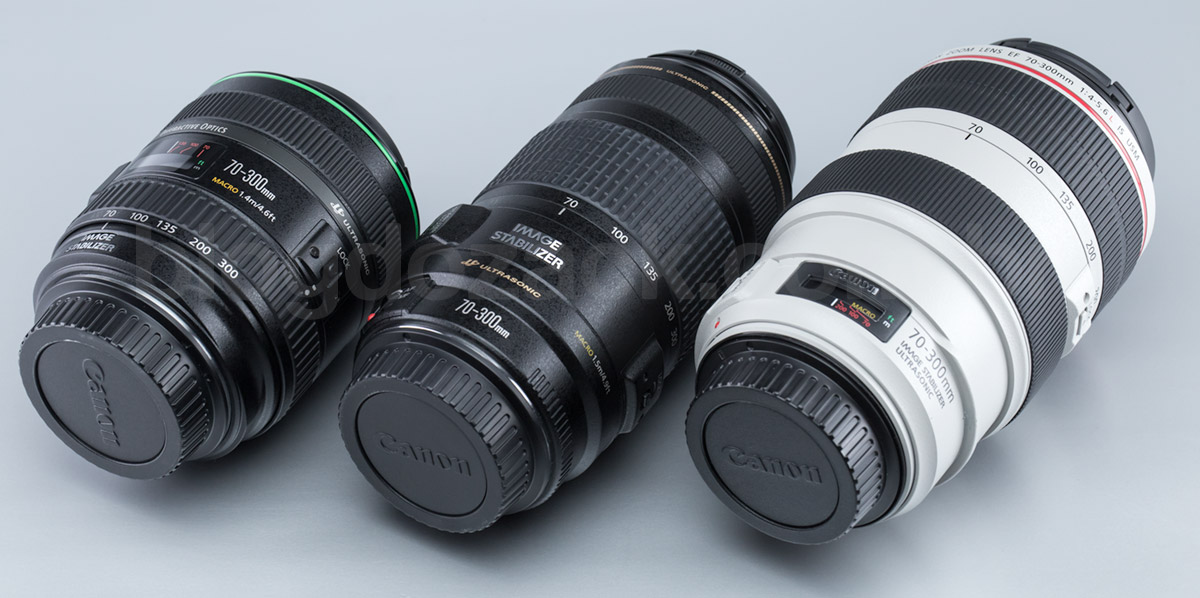 At 8.89 x 14.22cm (closed) of 1.05kg, the 70-300L sets itself apart as the largest of the bunch. Actually it's a large zoom lens by any standard and calls a lot of attention around the streets. That's why I added the compact 70-300DO on my kit back in 2010, and it took me five years to have the guts to test this monstrosity. It expands 5cm at 300mm and the lens hood moves with the zoom barrel, for a whopping 27.5cm worth of glass and metal. It looks and feels very "professional", and honestly that's where it belongs: PRO kits. If you're not going to enjoy its mechanical abilities, trust me: get another smaller and lighter, but still reasonably well built EF 70-300mm IS USM.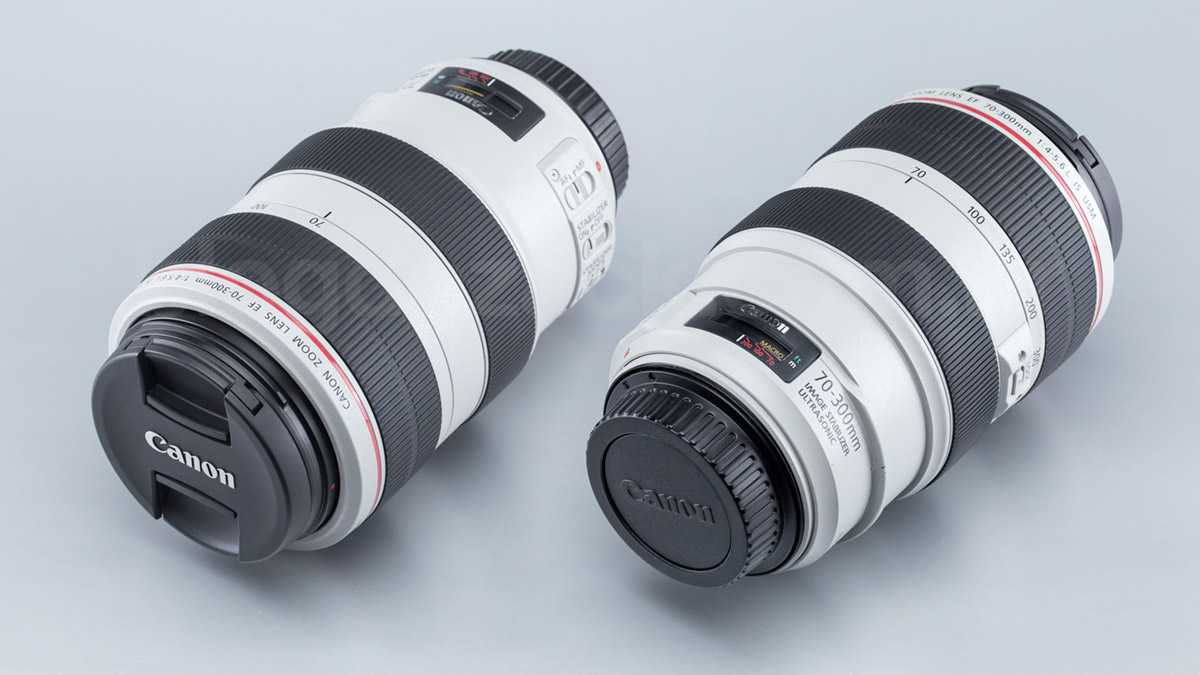 That makes the buttery smooth usability even more impressive because although it is big, it's actually fun to work with. It balances better than the long and thin 70-300IS USM, and its rings are much smoother than the "compact" DO. It's better suited for metal bodies like the 1D, 5D and 7D, and is simply the best zoom-cam telephoto design I've ever used. Larger inner bearing rolls smoothly on metal threads, and the choice of materials feels premium with a purpose. It is one of those lenses that will probably surpass the photographer's life, and can be seen as an investment.
It's easy to use with a frontal zoom ring, opposite to most L lenses, and a perfectly damped manual focusing ring at the back. From 70 to 300mm there's about 90º of movement and from infinity to MFD there's another 150º. It behaves just like the also-introduced-in-2010 70-200mm f/2.8 L IS II USM, and Canon states all their L lenses follows the same usability. So if you're coming from another EF piece, you'll feel right at home. It's easy to mount and shoot, and one of its strongest selling points. Some feel scared of the 70-300mm in favor of 70-200mm, but in practice they work mostly the same. It's all smooth, precise and well put together like the rest of the L lineup.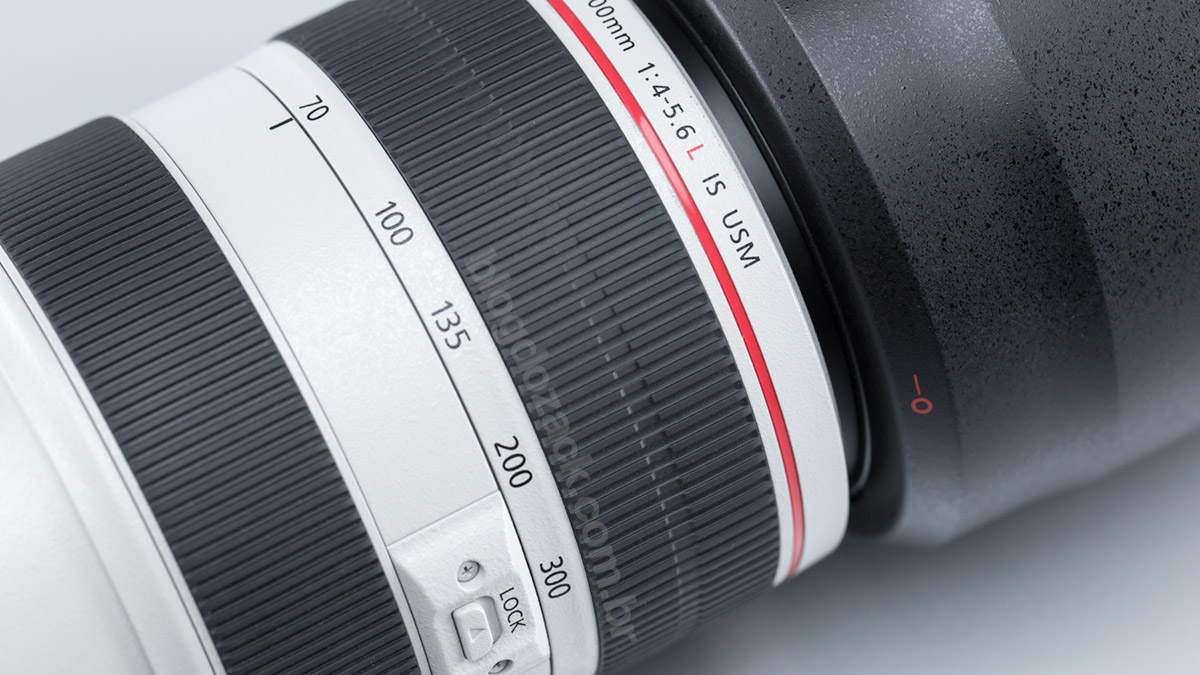 Inside the aperture drops from f/4-f/4-5 at 103mm; f/5 at 155mm; and f/5.6 from 229-300mm. But it's the brightest of them all and explains the larger foot print. The also all internal rear focusing USM is ring-type and on the same level as the DO. And it's performance is phenomenal! For the first time I could really see what Canon's AF is all about shooting TCS's 2015 NYC Marathon, and the focusing ability was superb on my EOS 6D. Set at C.Fn II -2 (Locked on) Tracking sensitivity and a +1 Accel./decel tracking, the AI SERVO worked as a dream. The camera locked and predicted where the subject would be, and I have long, complete 4.5 fps bursts almost 100% in focus.
The USM motor effortlessly travels from one end to another, and never misses a shot even in low light. It is also absolutely quiet like most ring-types. It's a big step in usability from the US$649 70-300IS that albeit USM, uses a slower and noisier micro motor. That lens is just messy with a rotating frontal manual focusing ring and filter thread, but the L series more than makes up for it, as expected for the price. The MF ring also sports full time operation (so does the DO), and the AF/MF switch is there just to completely shut the system off. At the top the distance window features markings in feet and meters, and there's a long "macro" travel from 3m to 1.2m.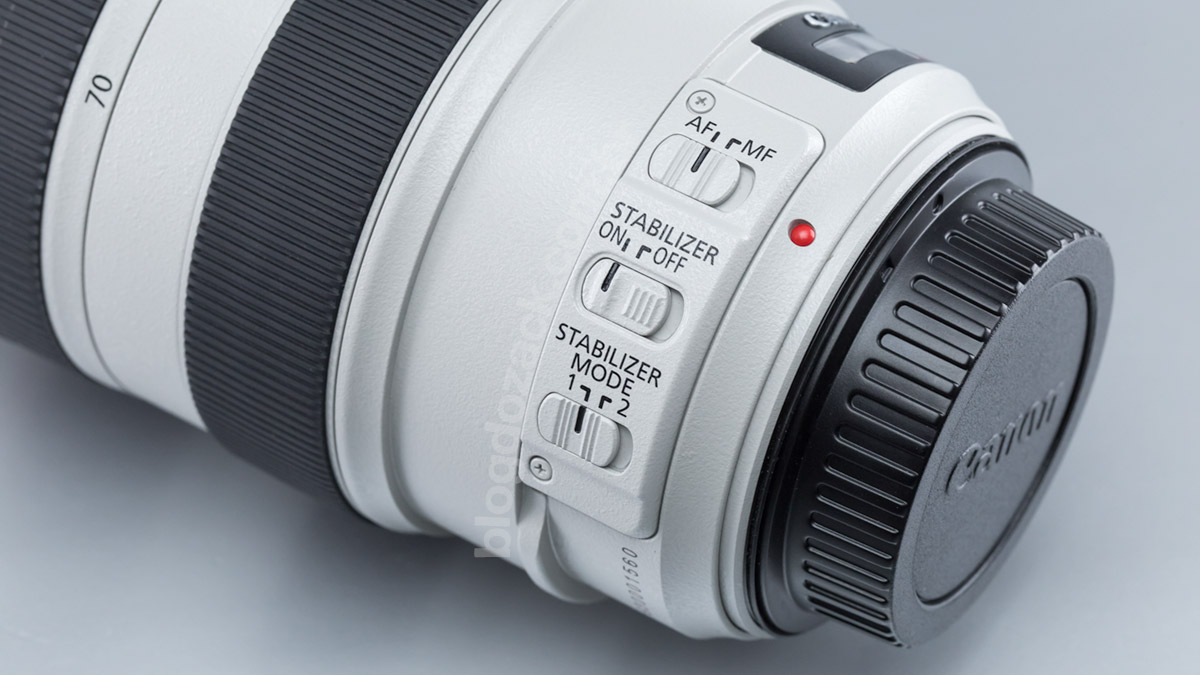 Also very handy and practically indispensable for such long distances is the state of the art +4EV image stabiliser module. This is one of the newest ones (I believe there's just two newers versions) and it's as effective as it can get. That ratio is just wrong: it easily goes to +5EV or even +6EV if you have rock solid hands. It's a great aid for those worried about the f/4-5.6 aperture in low light, and also helps a lot during framing. It's a front mounted module thus more effective without making much noise. It has a 2nd mode for panning and it just works. It is welcomed by videographers.
At the front the unusually small filter thread fits ø67mm glasses and it's surprisingly metal. Canon has been abandoning these parts in favor of lightness, but they let it go on the 1 kilo 70-300L. The supplied ET-73B lens hood is large and textured, less prone to scratches, but unfortunately friction based on its mounting. It's weird because this lens was released after the 70-200mm f/2.8L IS II that came with the excellent spring loaded lend hood, and I see the ET-73B a step backwards. And it's deep, making it hard (but not impossible) to remove the lens cap. They made it perfect on the 100-400L II, with a button lens hood that even has access to the filter thread. Oh well…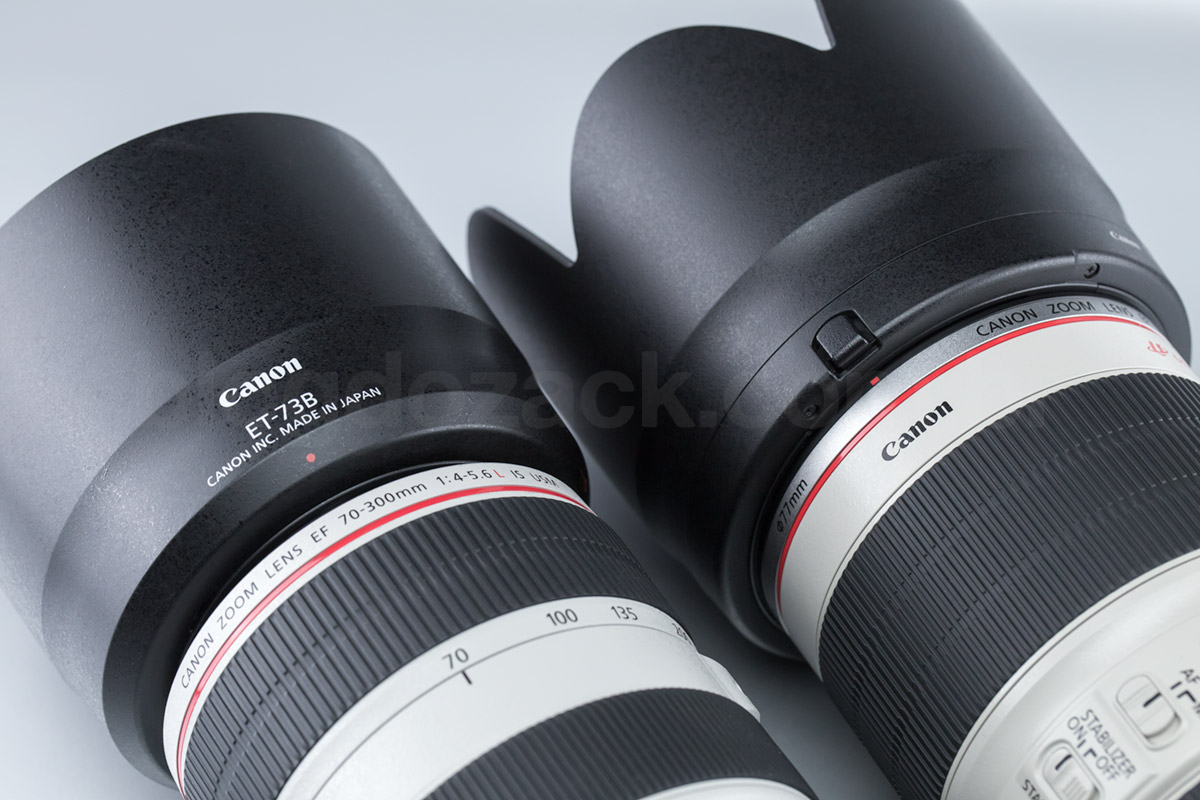 Finally at the back the metal mount features a rubber O-ring against dust and water. You're not supposed to really dunk it in water, but it helps prevent damaging under tough situations. Also unfortunate is the absence of clearance for EF Extenders, and Canon doesn't recommend its usage (although the 1.4X fits from 235mm and up). The front and rear glasses are fluorine coated and much easier to clean smudges and finger prints. There's no tripod hole on the lens barrel itself but you can use Canon's optional Tripod Mount Ring C (WIII) if you need it.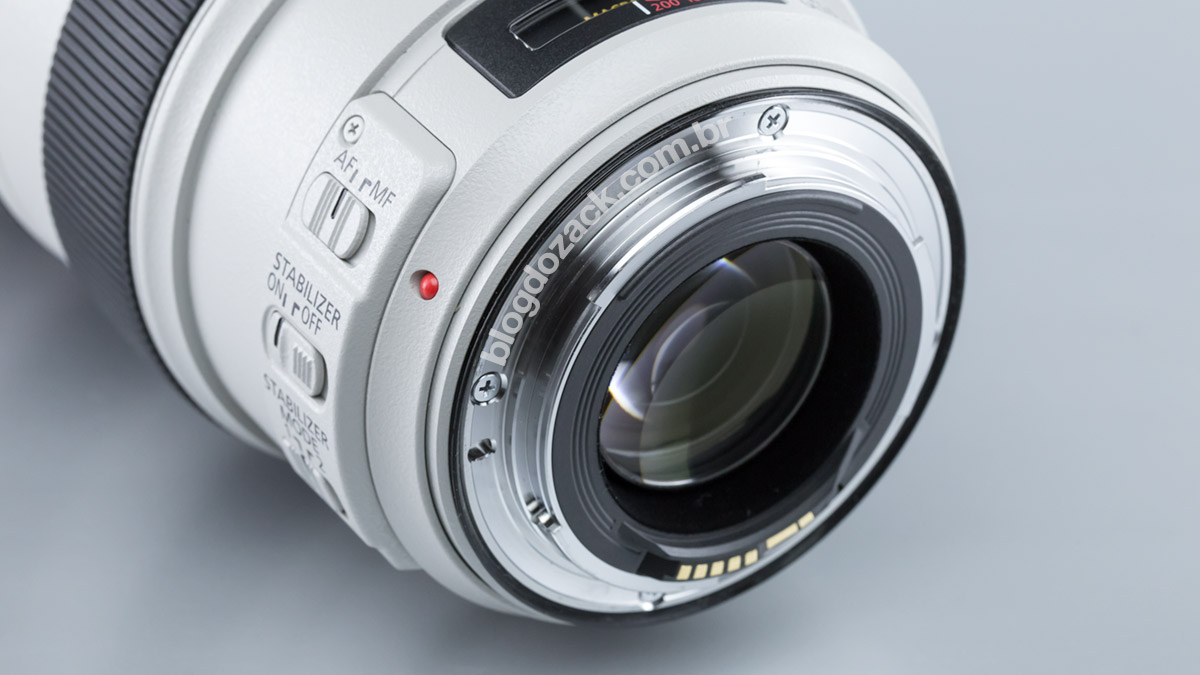 Overall it's another top of the line lens that behaves exactly like markets favourites such as the EF 24-70mm and 70-200mm f/2.8 combos, but for a different focal length. It's already five years old but feels brand new in handling, design and features. I can't stress enough this is as good as it gets. I see most photographers dream with an EF 70-200mm, completely scratching the 70-300L off their lists due to its variable nature. But that's a big mistake and this lens should be considered carefully. It's a perfect telephoto zoom if you shoot during the day, as the proof is in its images.
IMAGE QUALITY
With a very complex 19 elements in 14 groups, two ultra low dispersion (UD) and a floating focusing mechanism, Canon's moto with the EF 70-300mm f/4-5.6 L IS USM was "to bring a favourite zoom range to the celebrated L-series". This "favourite zoom range" that I can't stress enough how useful and flexible it is. I'll repeat, I see most photographers dream with a 70-200mm arguing about its optical performance, constant aperture and overall greatness, diminishing the 70-300mm focal length as a "poor's men" zoom, but that can't be farther away from the truth.
While you do see some extra aberrations at the long end on all 70-300mm lens due to physical limits, it doesn't mean it's unusable and completely rubbish like the "70-200 PROs" would like you to think. Take the basic 70-300 IS USM: it is sharp, its files are contrasty and very colourful. Take a step up in portability and high tech with the 70-300DO: high resolution in a compact package, albeit the heavy vignetting and blooming at short focusing distances. And then comes the L version, arguably the best on the market besides some easily fixable aberrations.
With very, very high resolution and contrast throughout the zoom range, thanks to the floating focusing group; excellent colours and flare resistance, much better than all the others; and just some easily fixable lateral chromatic aberration and geometric distortion on both ends, this is one of the best white Canon telephoto zooms overall. It works nicely with larger aperture primes or high performance f/4 zooms, as it is sharp from f/4 or f/5.6, and it just delivers the goods.
Wide open (f/5.6) at 300mm is very impressive the kind of details you get. You can see every single hair on heads and faces; every leaf or grass blade on landscapes; every sign or brick on urban shots. It is the same kind of performance you get from stopped down primes, but here on a high performance zoom on the same class as the 70-200mm f/2.8 or 200-400mm f/4. It is superb for large format printing and can support further cropping on high-res bodies like the new 5Ds.
Stopping down only marginally improves vignetting and you get a few extra feet in focus due to the longer depth of field. It is not much longer at closer focusing distances from 3 meters or less, and Canon even states it as "macro" on the scale, easily getting "bokeh shots" at the longer end. As a matter of fact, those praising 200mm f/2.8 lenses should be advised that 300mm f/5.6 renders shorter DoF, thus it is possible to isolate your subject on portraits and product photography.
Lateral chromatic aberrations are a problem on all 70-300 and must be fixed in post prior printing. Graphic elements like stickers on the streets or simple building edges get colourful halos on contrast zones especially at both ends, but gone between 120-230mm. I saw virtually no axial aberrations and those two UD elements work well to keep out of focus zones clean and faithful.
Geometric distortions are bad at both ends and another box to be ticked during post processing. You get severe barrel and pincushion on straight lines at 70mm and 300mm respectively, something only the DO corrects. It's invisible for subjects like portraits, though. And the vignette can also be a problem wide open, on low light shots. You will loose -1EV or -2EV around the edges, but it's much better than the over -4EV you loose with the DO.
ALTERNATIVES
Canon's extensive line of 70-300mm offer something for every pocket, but nonetheless "high performance" all around. The differences in sharpness, resolution and aberrations are subtle and honestly not enough reason to justify the purchase. I've never used the el-cheapos EF 75-300mm (neither plan to), but I can assure that even the vintage 100-300mm will deliver great images if your subject is interesting. Let's see some examples and comparisons to each 70-300mm:
EF 70-300mm f/4-5.6 IS USM (US$649)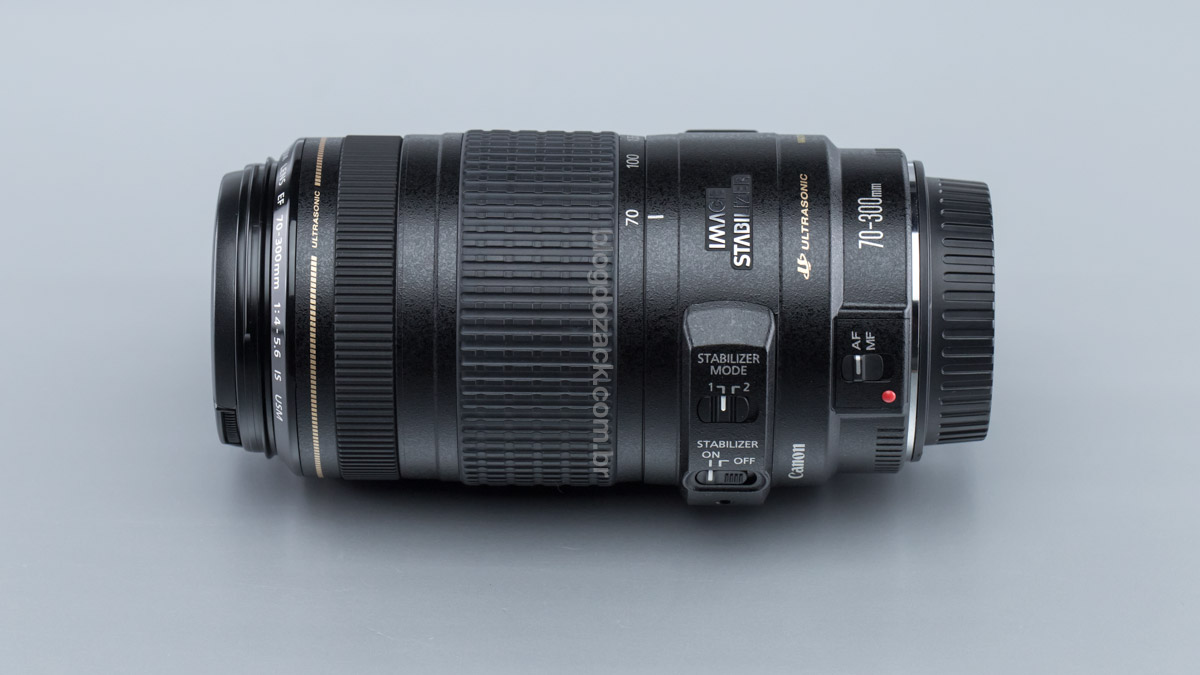 A high quality telephoto zoom with reasonable build quality, feature set and optical performance. While the AF is noisy and slow, rotates the filter thread and MF ring, plus expands the lens, its images are punchy, high resolution and colourful. There's not much complaining except for it's mechanical shortcomings. If you can stand its flaws, it's an excellent all-arounder.
EF 70-300mm f/4.5-5.5 DO IS USM (US$1399)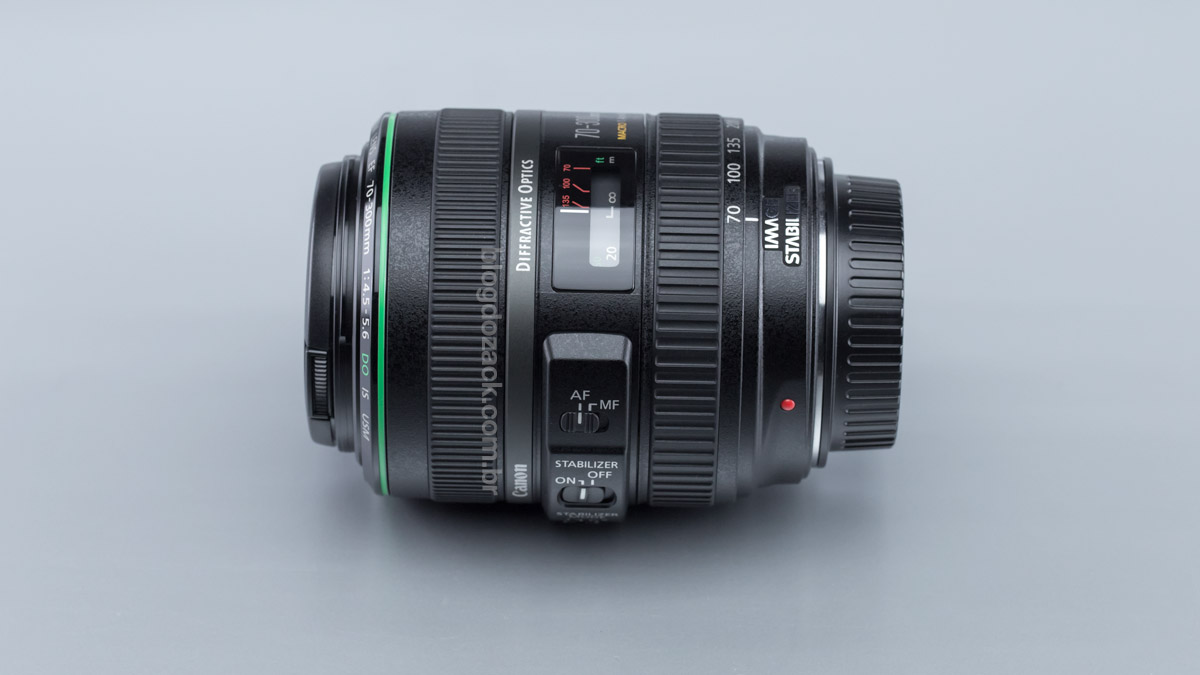 The most expensive of the bunch, it comes packed with technology for its exotic "Diffractive Optics". Special stepped elements perfectly change the light direction and focus precisely on a singe point, also reducing the lens foot print. It's 30% smaller in size and weight, and much more discreet to use. But the novelty glasses render poor contrast on close focusing distances and the bokeh can get weird with lots of highlights.
BONUS: EF 70-200mm f/2.8L IS II USM (US$1999)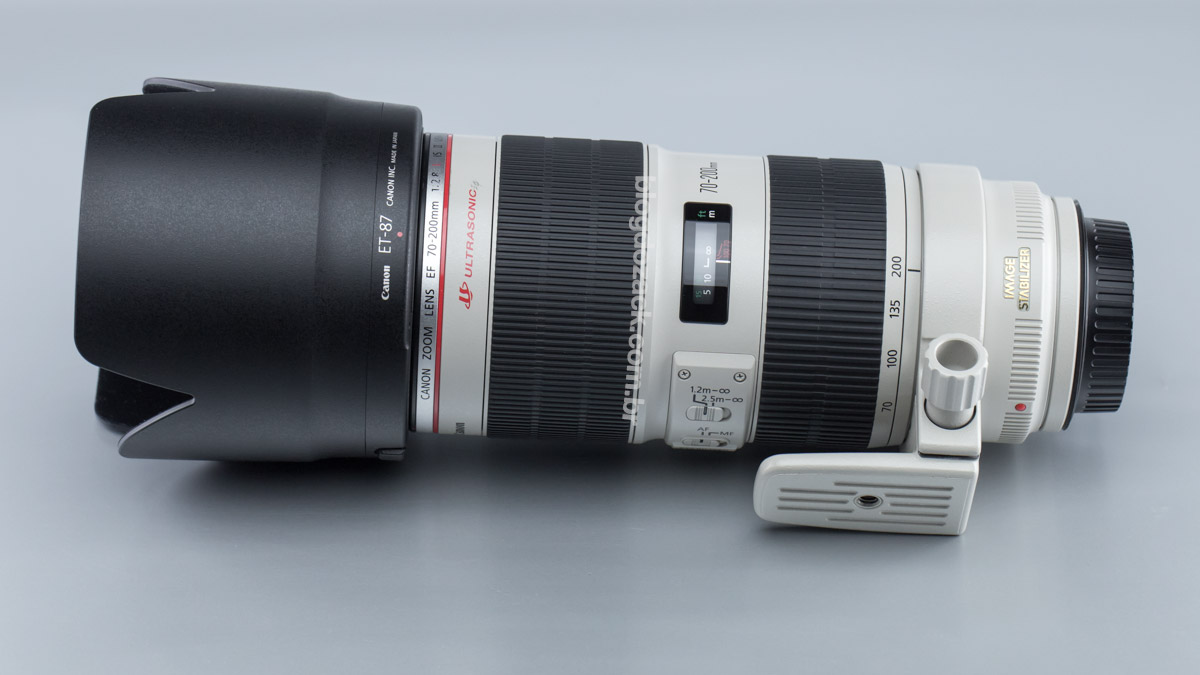 The market's darling for its mechanical and optical feats. An extremely complex masterpiece at 23 elements in 19 groups, with exotic fluorite and UD elements for near flawless files no matter the situation. But in practice it doesn't deliver much compared to the 70-300L: it suffers from some vignetting at f/2.8, the same lateral aberrations and longer DoF at 200mm f/2.8 than 300mm at f/5.6. It's a workhorse and you pay extra solely for the added stops of light.
100% crop, f/2.8 details and micro contrast.
COMPARED TO:
VERDICT
Canon's high performance zooms seems overlooked on a market cursed by low cost "artistic" primes, that although deliver in raw optical performance, never really work (literally) in terms of auto focusing speed and reliability. And that's what the L-series is all about. To use a red-ringed zoom on an EOS camera means you're ready for anything. It begs to be pushed to the limit and are meant for PROs who are willing to take that extra step for the best photographs.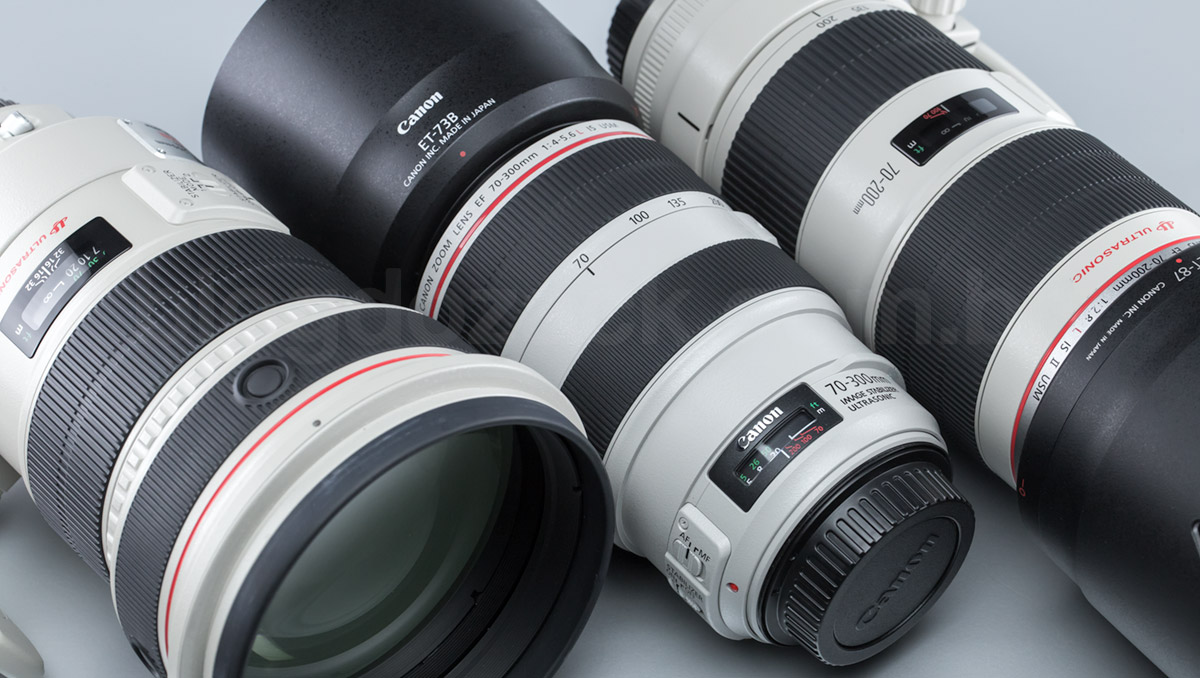 The EF 70-300mm f/4-5.6L IS USM is an underdog on the L lineup because the focal length "feels" amateurish and the aperture doesn't scream "exotic". So most photographers don't praise it for the longer reach that is always useful on a telephoto zoom. It's a different "pro" lens with a dual barrel zoom, amazingly well put together and weather sealed. The AF performance is absurd: its precision and reliability are proof of why pros stick to Canon over the years. And the optics just deliver. It's a special lens that could transform any kit into something great, and worth your attention for a future purchase. It is in fact the best EF 70-300mm ever. So nice shooting!