Canon EF 70-300mm f/4-5.6 IS USM
Estimated reading time: 06 minutes.
June/2015 - The EF 70-300mm f/4-5.6 IS USM launched in october 2005 is an update to the 1995 75-300mm IS USM; the first stabilised telephoto zoom on the market. With a new UD element in the optical formula, it solves an issue with straight, mirrored optical groups and DSLRs polished image sensor. The light reflect when they're parallel, registering a ghost, so lenses must be updated to the digital era. Said and done, the new lens delivers better contrast and vibrant colours, with optical performance similar to the L series, at least on the middle of the frame. It's the headline of my experience with it: I just couldn't take a bad picture with the 70-300mm IS USM.
And the IS module got a third generation update, with up to three stops of correction and two modes, even with automatic tripod detection. The eight blades aperture is now rounded, for smoother bokeh under any f/stop. The short telephoto range grew 5mm. And the all plastic built got 20g lighter, to 630g total. It got on vlog do zack out of curiosity as Canon has four 70-300mm on its line: two entry level 75-300mm, this intermediary 70-300mm IS USM, the high end DO IS USM, and the top of the line 70-300mm L. Not too expensive, not plastic fantastic, how does it work?
BUILD QUALITY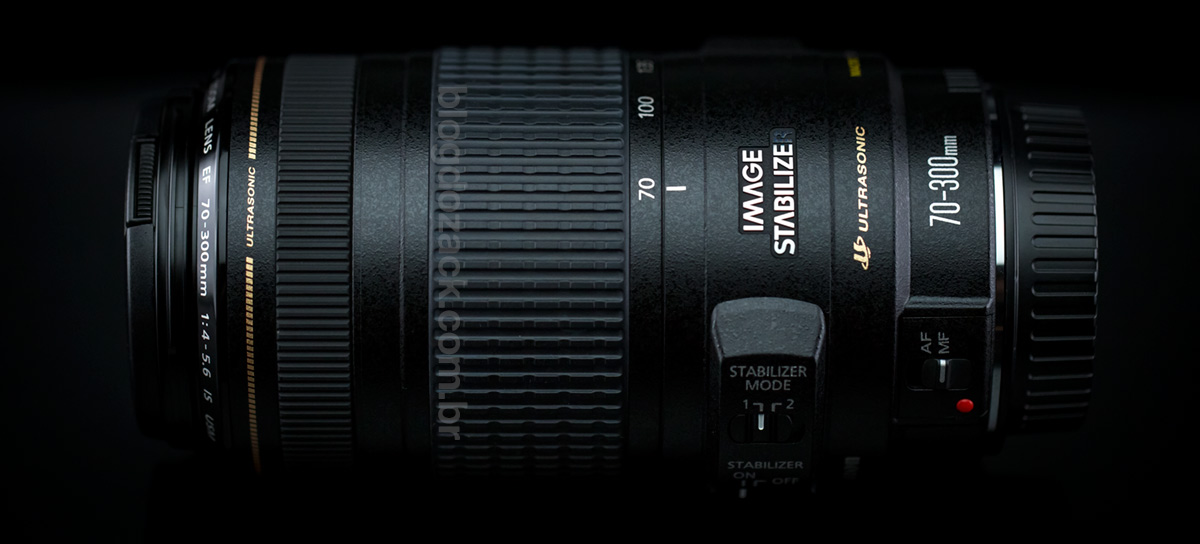 The 70-300mm f/4-5.6 IS USM first impression is how solid it feels. From the same EF 24-105mm f/4L IS USM generation, it's all plastic with a metal mount, and a single stage inner zoom barrel. It's closed at 142mm and fully extended at 195mm, with extra 17mm at the minimum focusing distance, for over 20cm in length. Add the non included ET-65B lens hood and it jumps to 32cm! That's why Canon created the 70-300mm DO, with Fresnel optics to reduce 30% of its size, great for travellers. When fully closed, the Diffractive Optics is just 10cm, much better to handle.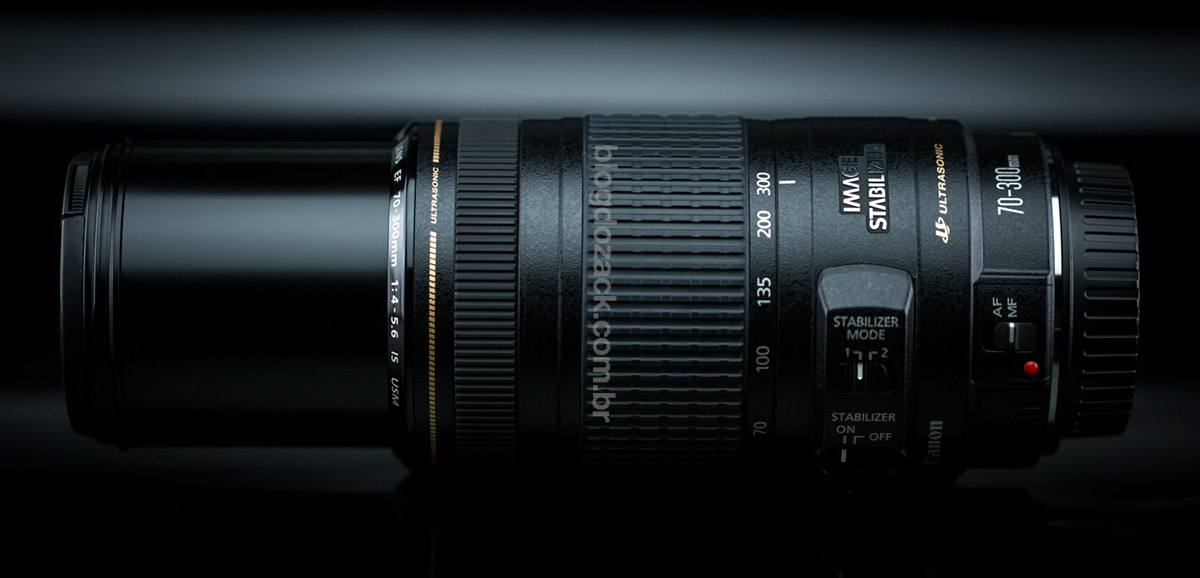 But it's not annoying when carried around and has plenty of room for your hands. Centred in the body there's the zoom ring, large and well damped, and at the front there's the manual focusing ring, not that well implemented. Canon opted for a micro motor USM inside that doesn't support the full time manual, and the ring spins while auto focusing. So it's a good idea to keep your fingers out of the way not to force the motor, that's not always possible when we're trying to handhold such a long piece. AND the frontal filter thread spins while focusing, bad for polarisers.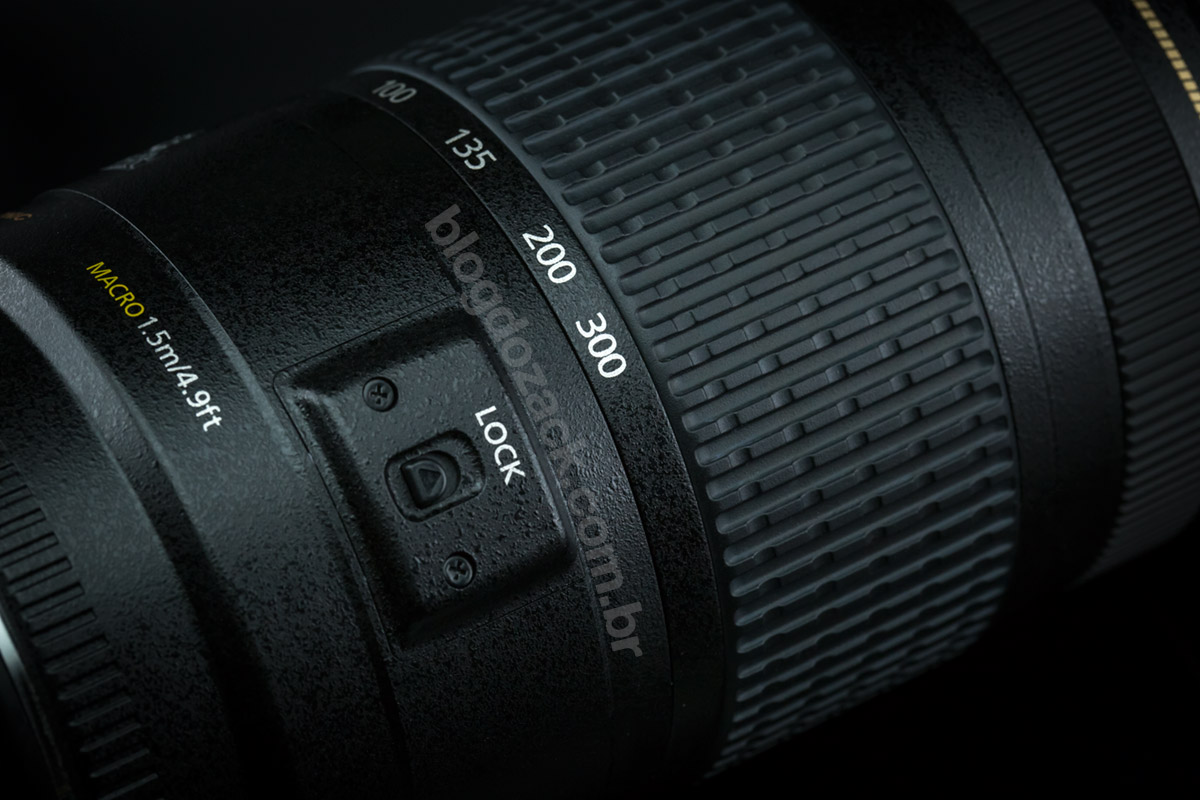 And the AF is not that fast. It's not very precise during AI SERVO, especially at f/5.6 and 300mm when the depth of field is very shallow. The EOS 6D confirmed many focused shots that were way out of focus after review. I had to adjust the AF Custom Functions to make it slower but more precise. And when it's time to manually focus, you must first disengage the motor from the ring turning the AF/MF switch, that's at the back, near the mount, far from the ring itself. At MF it turns freely and features hard stops at infinity and MFD (1.5m), moving the inner barrel front and back, spinning the filter thread. It's not the most modern implementation and my main complain.
Its headline is the IS implementation with a third generation module. It's smooth and very handy. You can easily shoot at 1/45 shutter speed at 300mm, fantastic! Great for late afternoon shots, after the sun sets and you don't want to compensate with the ISO. It's not very noisy and works well during video recording. And the Mode 2 is panning only, perfect for following linear movements. It detects the tripod automatically, so you can always leave it ON.
At the front the ø58mm filters are not expensive but spin during focusing. Graduated NDs and polarisers, useful at telephoto distances, must be adjusted all the time. And as this lens is not parfocal, the focusing distance changes at every focal length, making matters worse. I understand we're under US$700 and some cuts had to be made, but trowing everything on the focus operation was a bad decision. I doubt Canon will update this lens to STM, opting for a pricier USM model like they did on the EF 35mm f/2 IS. It's an intermediary set of functions, for an intermediary kit.
IMAGE QUALITY
With 15 elements in 10 groups, one UD, the optical performance of the EF 70-300mm f/4-5.6 IS USM is almost worth the L series ring. Photos are vibrant, with perfect contrast, that require light post processing to pop on screen; signs of a modern formula with less than a decade. It's hard to produce any crap nowadays and this lens should be handled as a modern, high performance zoom with excellent cost ratio. Its main shortcomings are the difficulties in shooting telephoto images, with short depth of field and precise focus. It will depend on your technique to get the best photos.
No matter the aperture and focal length, files are sharp and filled with details, all with high contrast. It's very different from lower end lenses like the 1995 EF 100-300mm USM that was dull wide open. The 70-300mm IS USM isn't. When you buy such a long lens, you probably plan on shooting mostly at the end of the range, and it performs well besides no being an L series. Yes, some chromatic aberration is visible as there's no high end Super UD or fluorite elements. But you can't really complain when most photos looks great. It was a pleasure to use.
The smooth and colourful bokeh is excellent to isolate your subject on opposite colours compositions. No, the aperture is not extreme like f/2.8 or f/4 primes, but the 300mm f/5.6 is more than enough to render a shallow depth of field. The rounded aperture created pleasing highlights at f/8 and f/13, for longer focus impression not missing the large sensor look. Even the vignette is discreet around the edges of the full frame, leaving the later software editing free to add it or not.
On a bad note are the coloured halos on backlit contrast areas, with green and purple bubbles. It's hard to see because it hardly ever happen, just near the focus plane; not really on the background. And it is very difficult to get all in focus subjects with such a long focal length, as the 300mm setting renders a shallow depth of field. Because it's not an exotic large aperture prime, it's easy to forget how the DoF is short. So that's why we're not seeing many edge crops as most subjects are different in distance, thus out of focus around the frame.
VERDICT
Overall the photos are excellent and the EF 70-300mm f/4-5.6 IS USM is not that far behind more expensive lenses. The album is colourful and high contrast, the image pop no matter the output, and it didn't demand much technique for it, besides the annoying focusing ring. For US$649 it's proof of Canon's telephoto expertise. If it's worth your kit? Sure! It was as nice to use and the EF 70-200mm f/4L USM that will make any interesting subject a good photo. I'm looking forward the top of the line EF 70-300mm L, but frankly? I doubt it will deliver much better results. Nice shooting!