EF 70-300mm f/4.5-5.6 IS DO USM
Estimated reading time: 09 minutes.
February/2015 - The EF 70-300mm f / 4.5-5.6 IS USM is the only Canon zoom lens to use "diffractive optics". Known in physics as "Fresnel design," the idea of "DO" elements is to focus the light in a smaller length than traditional refraction glasses. Engraved with concentric circular shapes, a group of these elements can "bend" the light on a much shorter focal point, with far fewer parts, thus relatively cheaper. Sure enough, the 70-300mm DO measures only 99mm closed and weighs 28% less than the equivalent f/4-5.6 L IS USM, but with similar image quality, for $50 less!
It arrived at vlog zack completely by chance in 2010. Five years ago I didn't even understand what these numbers on the boxes meant, and simply asked at the store for "a lens to shoot from afar, but nothing too big." And the Calumet Photographic (LA) seller wisely pushed me the 70-300mm DO, exactly what I needed. Honestly today in 2015 after all this experience with photographic equipment I would not choose another lens beyond the diffractive optics for the 70-300mm range. The construction is excellent, the compact design is very handy for traveling, and the image quality is very good. Is this the right telephoto zoom for everyone? Happy reading!
BUILD QUALITY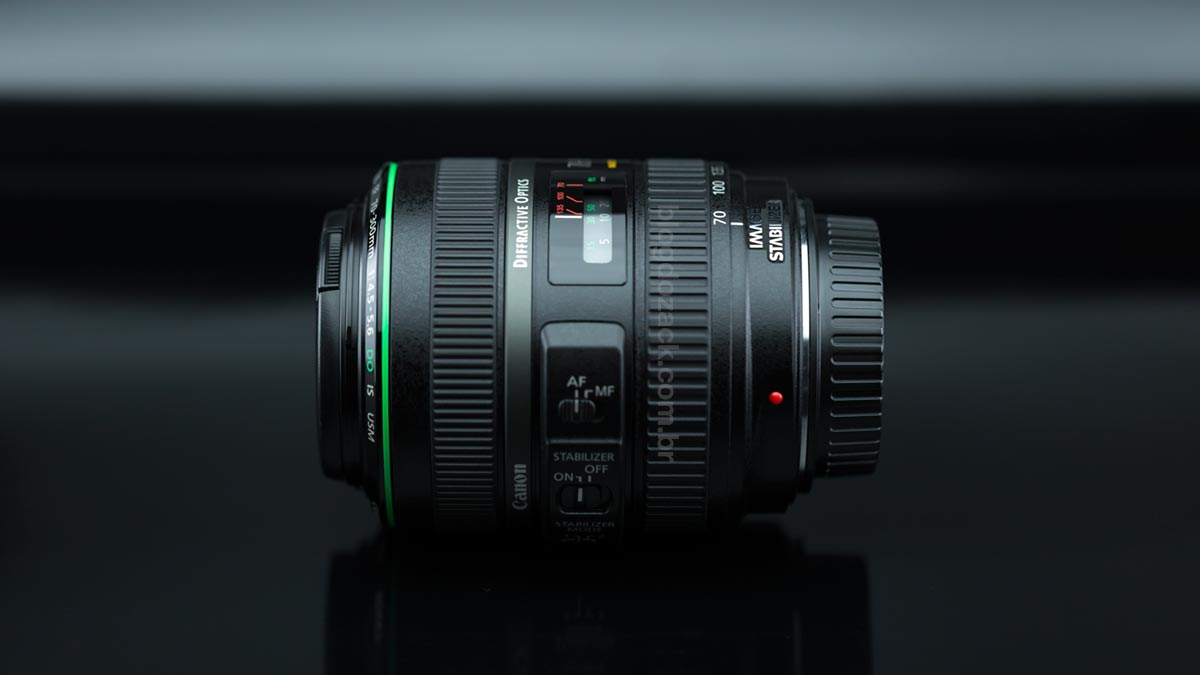 At 720g of 9.9cm (closed at 70mm) and 18 (!) elements in 12 groups, the EF 70-300mm IS USM DO physically has nothing to do with a telephoto zoom lens. Too short and relatively "fat" for a f/4.5-5.6 aperture, it shows Canon's boldness to try new things. A mix of metal and solid plastics, nothing wobbles and my copy feels brand news after five years of use. But no weather sealing, no giant rings, and with a two stages telescopic zoom barrel, the DO was not designed for extreme jobs under rain or dust. So it gets a green (DO) ring in front, not the blessing from the L series (red ring).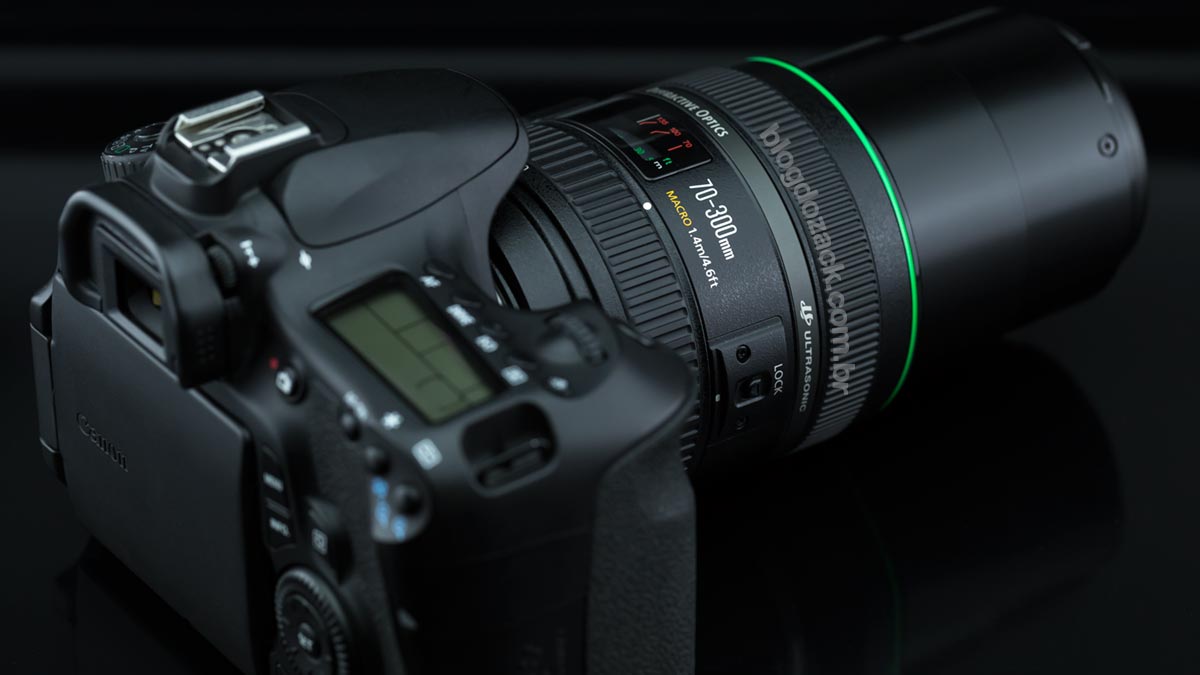 The 70-300mm diffractive optics definitely delivers an exotic product at US$1,399. It sits vertically in the backpack while similar zooms have to go horizontally. It is the main selling point of this model. It's 4cm shorter than the EF 70-300mm f/4-5.6 IS USM and L IS USM, both at 14.22cm, and you can take the full frame telephoto anywhere. I went to an official volleyball game with the DO + EOS 60D without attracting attention, a place where I could have problems with security if I was carrying a larger lens (they would not let me in). It's great to shoot without anyone noticing and I thank that it's black on the outside, discreet in any situation.
With it's high price one would expect the complete set of Canon functions: the third generation IS, with three stops and two modes; quiet and fast ring type USM; and even the complete kit on the box, with hood and pouch. Outside the operation is simple with two rings made of rubberized metal, and three switches on the left to turn the functions on/off. Since its release they changed their shape, and the recent manufactured lenses have flushed buttons, harder to unintentionally hit. At the front the ø58mm filters are the same as the traditional 70-300mm (not L) but don't rotate (other than the aforementioned lens), making a clear "premium" aspect of the diffractive optics.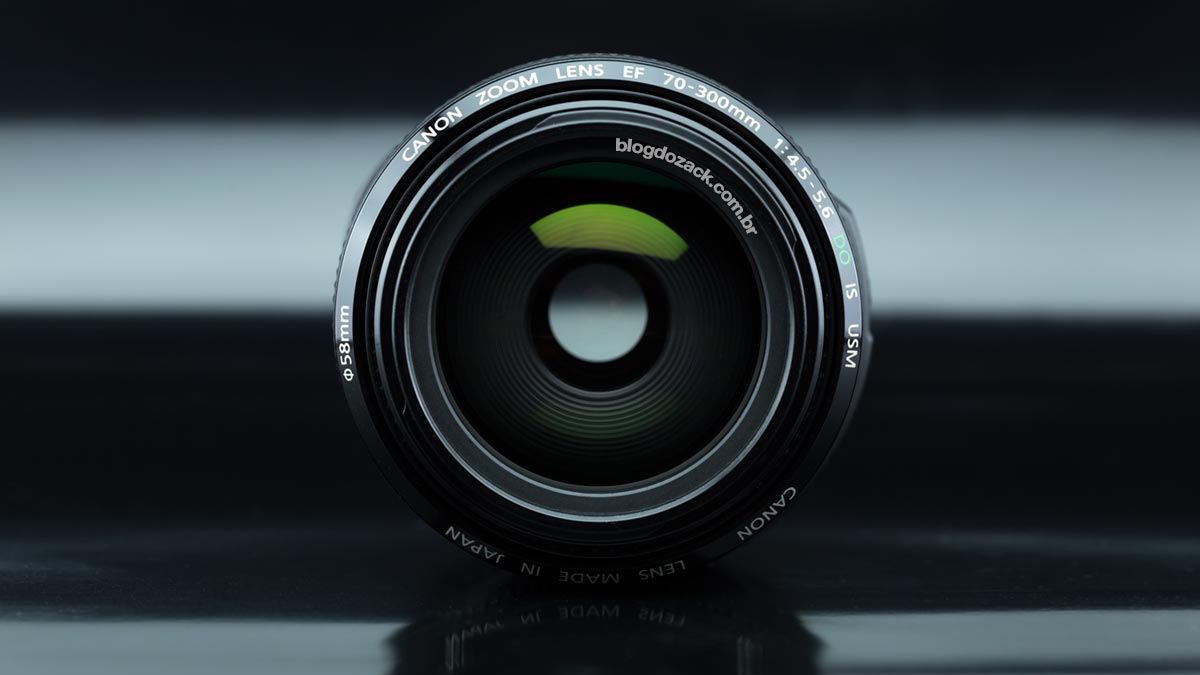 "Premium" that I would not say about the operation because the zoom ring is bad. With a short ring on the body, it has only 20mm and is too hard to get from 70mm to 300mm. But even so Canon did not manage to avoid zoom creep (when the inner tubes moves because of its weight) and there is a fourth LOCK switch on the right. On a everyday basis I ended up picking the habit of pointing the camera down when I wanted it to "open" (300mm), and up when I wanted it to "close" (70mm); in order to get a little help from gravity. It works but the regular 70-300 is infinitely more gentle.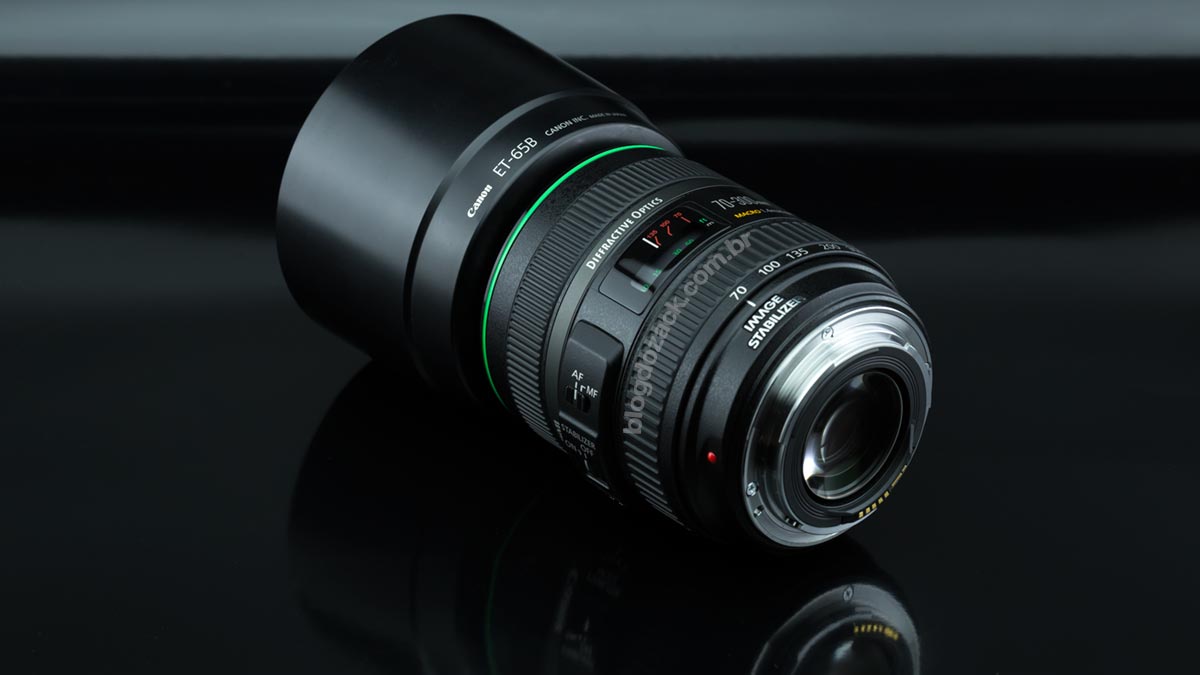 On the other hand the AF and IS are typically Canon and I thank this manufacturer to exist! Wow, they are fantastic! The AF is extremely quiet and fast, a true ring USM performance. But it can also follow moving subjects, great for sports. The success rate I had with the EOS 5D Mark II was virtually 100% (!), and this camera was not made for action. The focus ring on the front is also very good, much larger than the zoom ring although I didn't use it much. The movement is smooth and you can feel that it is metal, it's colder than the rest of the lens. And the IS makes up for the f/5.6 aperture in low light, or to allow creative effects without a tripod. The target audience is pretty obvious: travelers who want to carry minimum weight.
Above the distance window is deeper than usual and shows markings in meters and in feet, plus infrared ranges for the 70mm, 100mm and 135mm positions. Overall its operation is different because this lens is different. It is heavy for its size, the zoom ring is very tough, but we are talking about the 300mm after all. It is better than the regular 70-300mm that is noisy and with rotating filters at the front. And it won't compete with the L series because it is much shorter.
IMAGE QUALITY
The DO technology uses a different principle than traditional lenses. While other formulas focuses the image with spherical elements by refraction, which is the change of light direction as it passes from one medium to another (like air to glass), the Fresnel design proposes circles as obstacles to the light. In this way it is possible to "bend" the direction of light in a smaller length by the "diffraction" principle, which is the change in direction of a wave (electromagnetic, as the light) as it goes through such obstacles. The "DO" element has concentric steps engraved on the lens, spaced at around micrometers, almost as an aspheric lens, but much more complex and precise.
With so much control over the light path, the DO group is able to perfectly focus the different color spectrums eliminating chromatic aberrations and ensuring sharpness without exotic low-dispersion glasses. But just as aspherical lens, the bokeh renders the path the light went through. The OOF points are not as smooth as a prime lens (which zoom is?), but this is a very subjective matter. On the absolute minimum focus distance we can see a light leakage in contrast points, as it's physically impossible to focus the light is such sort distance. And vignetting is high even at f/8.
But if I had to define in one word the EF 70-300mm f/4.5-5.6 IS USM DO photos, it would be "excellent". Make no mistake with these "blooming in minimum focus" and "not as smooth bokeh" comments. In my opinion this DO zoom is ahead of the EF 70-200mm f/4L USM suffering with the colored lines around the edges (lateral CA) this 70-300mm does not show. Out of the MFD (minimum focusing distance) the contrast is also perfect, be it to shoot graphics, landscapes or silhouettes. And the colours are vibrant, making prints pop. Photos with the EOS 5D Mark II.
From f/4.5 (up to 180mm) to f/ 5.6, images in minimum focusing distance have a dreamy aspect, with some light leakage on contrast points perceived under maximum magnification. It only happens at the 1.4m focus setting and you really need to provoke the lens to see it, as some sites do when they shoot resolution tables out of the infinite position. On a daily basis, with normal pictures as vlog do zack show you, from a hundred files that I chose, only two showed blooming.
The important thing is that pictures are crisp at the focal plane, much more than any kit zoom. The edges lack a bit of resolution, including the X and Y axis, but honestly we are used to this behavior with most lenses, at least under the US$2000 price tag. Need more resolution around the corners? Work with optimized apertures, usually stopping down two or three stops. At the center, wide open, the DO is enough to pixel peep and see most details.
Stoping down to f/8, f/11 and f/13, a surprise: the edges improve, yes, but never get as perfect as a prime. It's just at f/16 the 70-300mm reaches impeccable resolution for landscapes, traditional aperture setting for these situations that require long depth of field, anyway. Also the vignetting is very heavy under f/16, so beware of darker exposures even at f/8. But I'm being very, very meticulous and writing a review. Any interesting subject compensates a file with optical flaws, and interesting compositions never happens with subjects leaving the frame, where no lens is perfect.
Another major highlight of the DO technology is how it deals with chromatic aberrations, which are absolutely canceled when the light is focused with micrometers accuracy. There is simply no CA to comment on, except rare purple fringing on very contrasting points. Those magenta and green bubbles around buildings and signs… Are… Not… There! This is the first and only lens I have on my kit that absolutely does not display chromatic aberrations. O_o Long live the diffractive optics!
Color and contrast are typical of Canon's quality. You can overdo the post-processing and get in-your-face prints. It's neutral like other EF lenses withs reds where they should be, blue where it has to be, great for those "cultural" photographs. Asian countries with colourful temples work very well and are the opposite of boring western B&W subjects. There are some places so bland on the western hemisphere that I'm left with nothing but B&W pictures. But on the other side of the world, where these manufacturers lives, the colours are reproduced with excellent saturation.
Flaring resistance is very good although it does bizarrely happens sometimes. When some internal reflection "illuminates" the DO groups, the concentric lines are rendered on the image sensor, recording a repetitive pattern on the image. But it is only seen without the hood and when the light comes from the edges. Behind the subject, for example to shoot silhouettes, I did not see it.
Blurring the background working the aperture, distances between photographer, subject and background is never the strength of a zoom. And I'll take a clear picture over a heavily blurred one at any time. But there's some controversy over the appearance of the 70-300mm DO bokeh because some highlights show the concentric light path; an optical element with several circles engraved. Some say it looks like a "rolled condom", with dark circle edges and lighter centres.
VERDICT
If it's for everyone? Unfortunately not. Its US$1399 price tag is very steep and you're paying for some "innovation". With extra fifty bucks you can gen the excellent EF 70-300mm f/4-5.6L IS USM, which is brighter at 70mm; fully weather sealed; and with a barely better image performance (higher resolution but some CAs). But the DO fits in any backpack where the L series and the regular 70-300mm won't. It's an interesting technology that Canon should have mastered at this point, lowering the manufacturing price and selling for US$899 tops. If you're desperate for a compact 300mm zoom, there's no other choice. Nice shooting!