Nikon AF-S 28-300mm f/3.5-5.6G ED VR
Estimated reading time: 10 minutes.
January/2016 - The Nikon AF-S Zoom-Nikkor VR 28-300mm f/3.5-5.6G ED is a paradox on blog do zack. An unique zoom lens made for FX cameras, it can take the place of virtually all lenses on a kit, from the 28mm wide angle, good for indoor architecture and landscapes, all the way to the super telephoto 300mm, great to play with the perspective compression of faraway subjects. On a site designed to help you decide "which lens to buy?", the 28-300mm could easily be the only answer you'll ever need, from beginners who still don't have the need for a high performance, large aperture specialised prime; to anyone looking for a do-it-all, flexible lens, like travellers.
A part of the AF-S G family, it's reasonably well built and packed with Nikon's technology. A SWM built-in focusing motor makes it compatible with every digital SLR ever made. The VRII optical stabilisation promises up to 3.5 stops of correction, mandatory for telephoto distances. And three aspherical and two ED glasses keeps the image quality acceptable for such an extreme 10.7x zoom ratio, with a sub-US$1000 price tag. But can it live by its promises as the perfect all-arounder? Or is it too much to ask from a single zoom lens? Let's find out! Nice reading.
BUILD QUALITY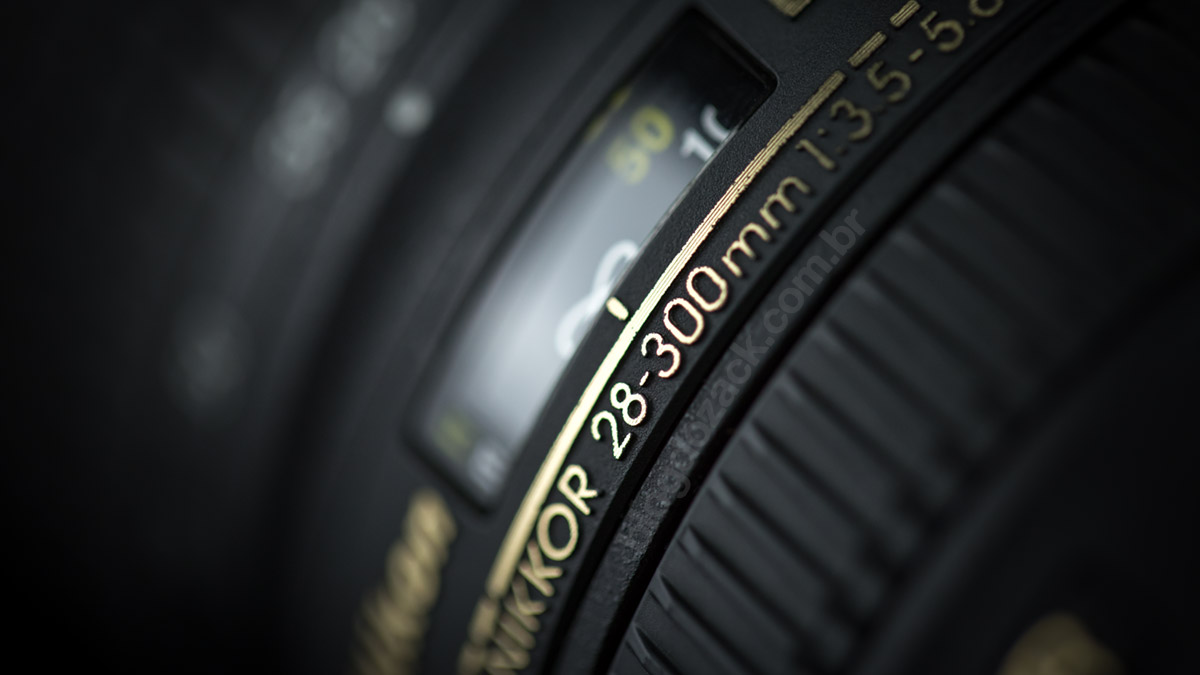 At 11.6 x 8.3cm closed, and 24.9 x11cm open with the lens hood attached; all at 800g, the AF-S VR 28-300mm f/3.5-5.6G ED is a heavy giant in trend with other "specialty" zooms. It's big without being exaggerated, much closer to "consumer" lenses like the AF-S VR 24-120mm f/4G ED (10.4 x 8.4cm at 710g) than professional tools like the 70-200mm f/2.8. It easily fits in bags designed to carry a single lens and camera, and can be a nice walk-around lens to spend the weekend, without the hustle of various equipment. With a mix of plastics and metal, the first on the outer barrel and the second on the mount and internal barrel, it's well put together for a large zoom.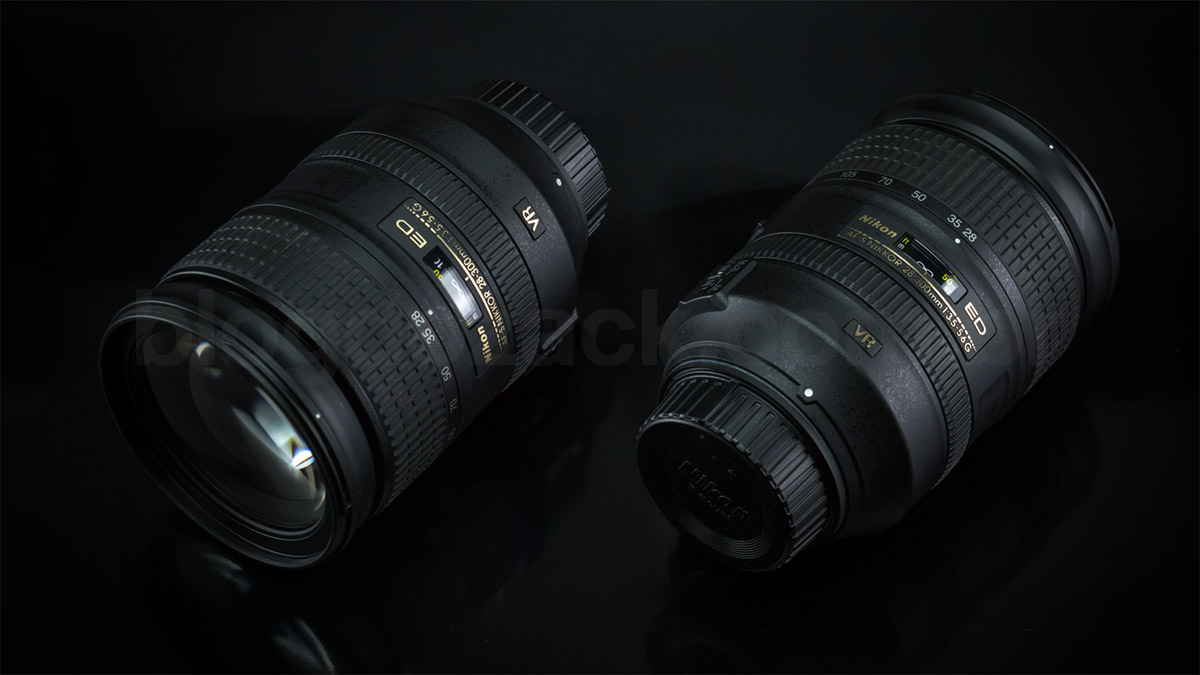 In your hands it fits comfortably around all fingers, with a frontal zoom ring and rear focus ring, side buttons for AF/VR/LOCK operations, the standard layout for most telephoto Zoom-Nikkors. From 28mm to 300mm it smoothly extends without rotating the barrels, much smoothly than the half-priced AF-S 70-300mm we've tested recently. That all plastic lens was hard to the touch, but this 28-300mm isn't; proof the inner threads and bearings are indeed metal, as you can feel on the colder frontal cam at your finger tips. It does have a minimal play when shaken, but not by much as it could be damaged. It's decent for US$949 lens, and can definitely last a lifetime if well kept.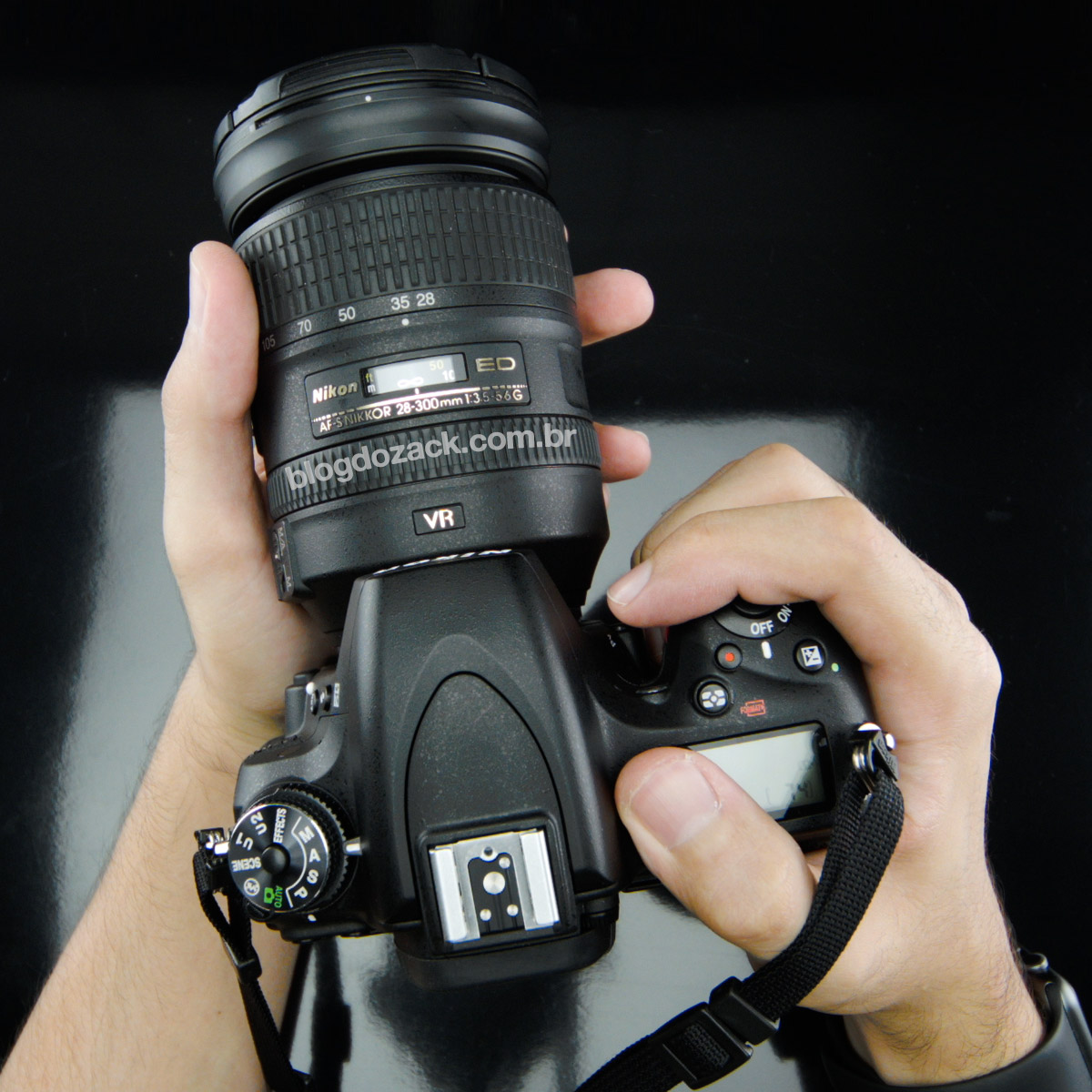 Inside the SWM AF-S motor is silent and smooth, with an operation closer to higher end pieces. It's much quieter than entry-level, large aperture primes like the AF-S DX 35mm f/1.8G or 50mm f/1.8G; and makes a high pitch, almost "sonic" like sound similar to the Micro-Nikkor 105mm f/2.8G. But it's not the fastest and can be a little cumbersome for action shooting, especially if the focusing position is too far off where it's supposed to be. It can take a whole second from infinity to 0.5m, and it gets slower if the camera has to hunt for focus. At least it's accurate and I have no out of focus shots, except when I did something wrong like shooting close subjects, wide open, at the telephoto end, without holding my breath, slightly moving the very thin depth of field.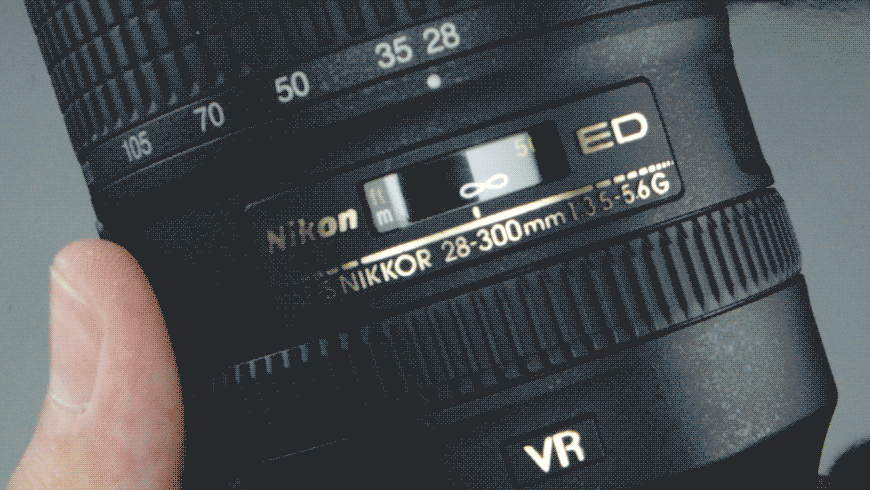 The VRII is well implemented and again much quieter than lesser lenses. My AF-S 70-300mm copy makes a loud click when the module activates, and requires careful timing before half-pressing the shutter button. This AF-S 28-300mm keeps the "must be pointed at the subject before activating" operation, but gets rid of the noise. The declared 3.5 stops compensation indeed works, but requires you to aim at your subject before engaging the VR mechanism; lagging a bit or not working at all if done otherwise. I didn't specifically used it for reducing shutter speeds as I was using AUTO-ISO and kept it at 1/100, but the VR was great to frame the shot at the telephoto end.
At the front the non-rotating ø77mm filter thread is plastic and big, compatible with other telephoto lenses. The included lens hood attaches to its own thread, and the petal shape seems designed to work better at the wider end. At the top the distance window is small but clear, and the manual focusing ring shows some play between the ring movement and the inner group engaging. It sports full time manual operation but it's never really necessary, as the AF-S does a great job at auto focusing. And at the rear the metal mount surrounds a tiny rear element, not compatible with extenders. There's a rubber gasket against the elements, but nothing is declared about real weather resistance. I did see major dust speckles inside my copy, so beware.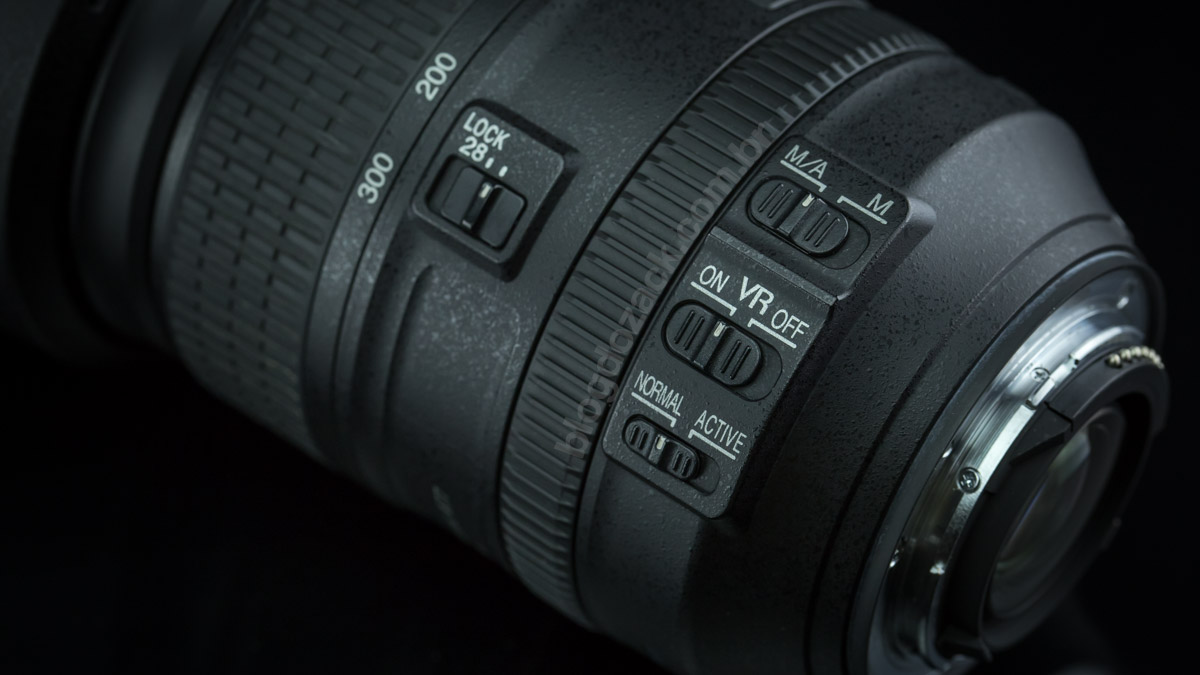 Overall the AF-S 28-300mm is well put together and handles much better than some intermediary zooms, especially the AF-S 70-300mm. The 28-300mm zoom ring is much smoother, although it suffers from some zoom creep when carried on your shoulders; that's why the LOCK switch is there. Its SWM won't win any awards for speed but it's accurate even under low light, at least with the D750. And the VRII lags if you're not perfectly aiming your subject before activating it, besides the great 3.5 stops compensation. It's a very nice lens to have and works like a proper US$1000 equipment. But only the images will prove if it's good enough to substitute a whole set of primes.
IMAGE QUALITY
With a complex 19 elements in 14 groups formula, three aspherical and two ED glasses, plus Nikon's Super Integrated Coating, the AF-S 28-300mm f/3.5-5.6G pushes the boundary of what Nikkor can deliver on the FX format, following the steps of the highly regarded AF-S DX 18-200mm. It's a very difficult focal range to achieve quality, and I've got to admit I wasn't really expecting miracles from a 10.7x zoom. But honestly I was surprised by the results.
Even wide open at f/3.5 28mm, f/3.8 35mm, f/4.5 50mm, f/5 70mm, f/5.3 105 and f/5.6 from 200mm to 300mm, I'm pleased with the results from such a flexible lens. Ok, ok, it's not the sharpest at the edges and the contrast benefits from some software boosting in post, but honestly, what lens doesn't? It's one of those cases of cost/benefit ratio with a flirt on nice results: you get a complete set of focal lengths from a single lens that screams creativity, but you won't get the sharpest files for clinical results. The AF-S 28-300mm just works as the images are colourful, the details are well rendered, and, again, the photos are not absolutely awful as to not recommend it completely.
As much as I've tried to make it look bad, the AF-S 28-300mm also delivered good results when stopped down at f/8. The corners are acceptable throughout the zoom range if you can keep your subject within the limits of the depth of field, which is very thin at the telephoto end. The photos were a paradox as I went to Inhotim, one of the largest sites of contemporary art in the world, and saw about four photo exhibitions on a single day. And guess what: none showcased images that required corner to corner sharpness, and they're considered masterpieces. So take raw optical performance as an extra, not as a request for good photographs, and the 28-300mm just works.
Those interested in aberrations will be glad to know the AF-S 28-300mm show loads of them. The geometric distortion if very pronounced at 28mm, with a noticeable bulge around the edges, gone at 35mm; and back as pincushion from 50mm to 300mm. Most DSLRs can correct it in camera with the EXPEED processor, and you're good to go even in motion during video recordings. Chromatic aberrations are present with heavy lateral lines around contrast edges, visible in virtually every zoom lens I've ever used (except maybe the Canon EF 24-70mm f/2.8L II USM). And some axial aberration can happen at close focusing distances, that looks like a magnifying glass at the minimum focusing distance at 300mm, with a ratio of 0.32x for macro shooting. 
Finally the bokeh is interesting at the longer wide open end, when the shallow depth of field isolates your subject. The nine blade aperture is not exactly circular when stopped down, nor it generates good light stars for night exposures. But the out of focus areas can be pronounced, blending the background for colour composition of flowers and other smaller objects, and one of the uses of the telephoto. The highlights are not the smoothest as you can see the light path throughout circles and other "bacteria" noise, but it's usable for most situations.
COMPARED TO: AF-S 70-300MM F/4.5-5.6G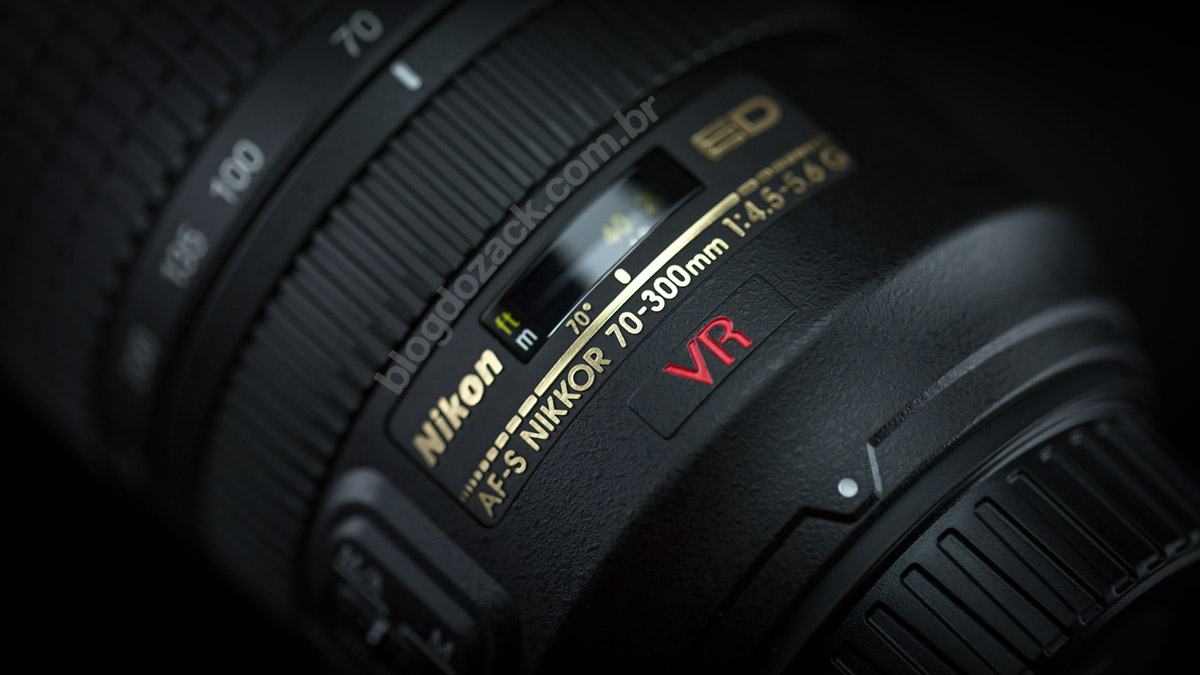 The Nikon AF-S VR Zoom-Nikkor 70-300mm f/4.5-5.6G ED is a US$499 alternative for telephoto shooters who don't need the tight build and high performance of better US$1899+ zooms. A popular choice among amateurs and low budget professionals, sometime it gets competition from the all-arounder 28-300mm that reaches the same telephoto end. However both featuring an AF-S motor and a second generation VR II, there's no way around the laws of physics: optically the 4.3x 70-300mm is a much better performer than the 10.7x 28-300mm. (click for larger)
At minimum focusing distances on the telephoto end the AF-S 28-300mm is also much wider than the AF-S 70-300mm. The ultra zoom looks like a 150mm lens at the 300mm setting and will make a difference for those shooting insects, flowers and other details. At infinity they look the same.
VERDICT
Honestly the AF-S 28-300mm f/3.5-5.6G ED was the first ultra-zoom lens I've ever tested on a full frame camera and I'm pleased with the results. The flexibility far surpasses its optical flaws and even those are small enough that some post processing make the files pop. The build quality is great for a simple, easy to use zoom-cam design, with minimum wobbling of the barrels and metal in the right places. It's heavy and made to balance with full frame cameras, but nonetheless a pleasure to use. The truth is in it's images and, I'm sorry to disappoint you, it delivers. It might not be a top performer in raw resolution and contrast, but that's not the idea. To be an always-with-you-lens to deliver great focal range and images, it surely reaches its goals. Have fun with it!