Nikon AF-S Nikkor 85mm f/1.4G
Estimated reading time: 08 minutes.
February/2015 - The Nikon AF-S 85mm f/1.4G is the 85mm prime lens with most credentials on the market. First it is blessed by the Nikkor inheritance: both Ai-S and D versions that came before got the "classic" status for their built, handling and optical performances; qualities that are improved on the f/1.4G. Second, its SWM AF is a silent killer (no pun intended). Extremely quick and precise, this is the fastest AF 85mm I've ever used, allowing employments besides portraits. And 3rd, its  resolution is high and the bokeh is smooth; qualities that rarely get along.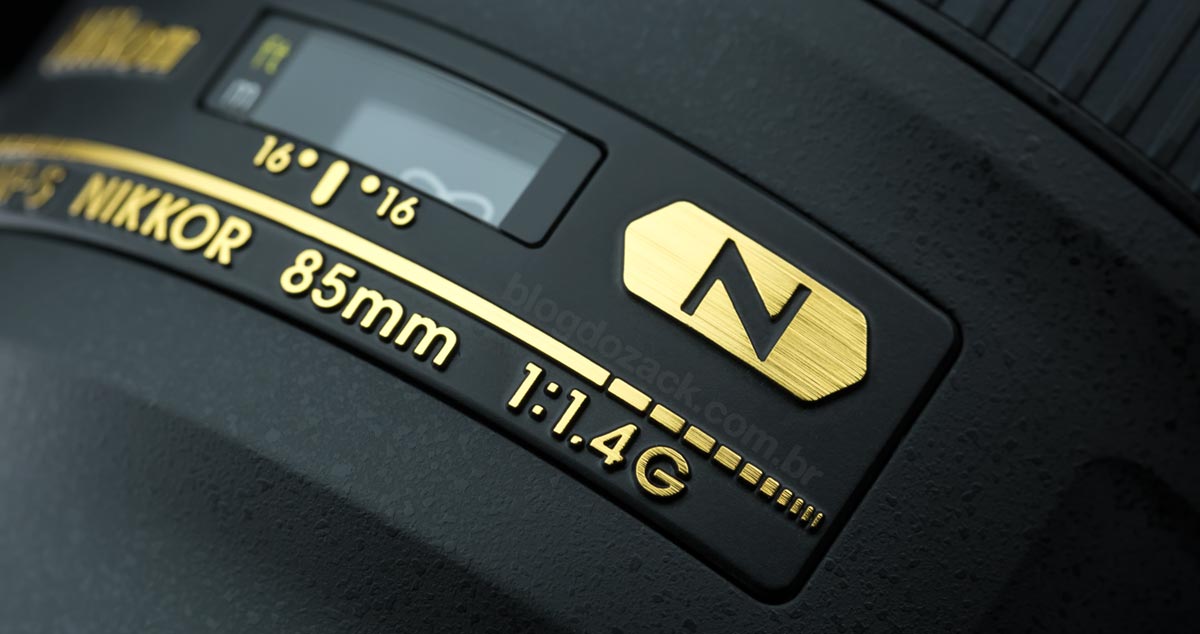 Nothing comes close, not even the top EF 85mm f/1.2L II USM. Canon's is half a stop brighter and its wide open images are essentially different. But the slow L series AF is a deal breaker: with 270º of precision, it's too long from infinity to MFD, impossible to work with sports for example. And the fly-by-wire manual ring doesn't help speed things up. Not even the Sigma 85mm f/1.4 EX DG HSM (pre-Global Vision), with a mechanical focusing ring, compares to the f/1.4G and its optical design.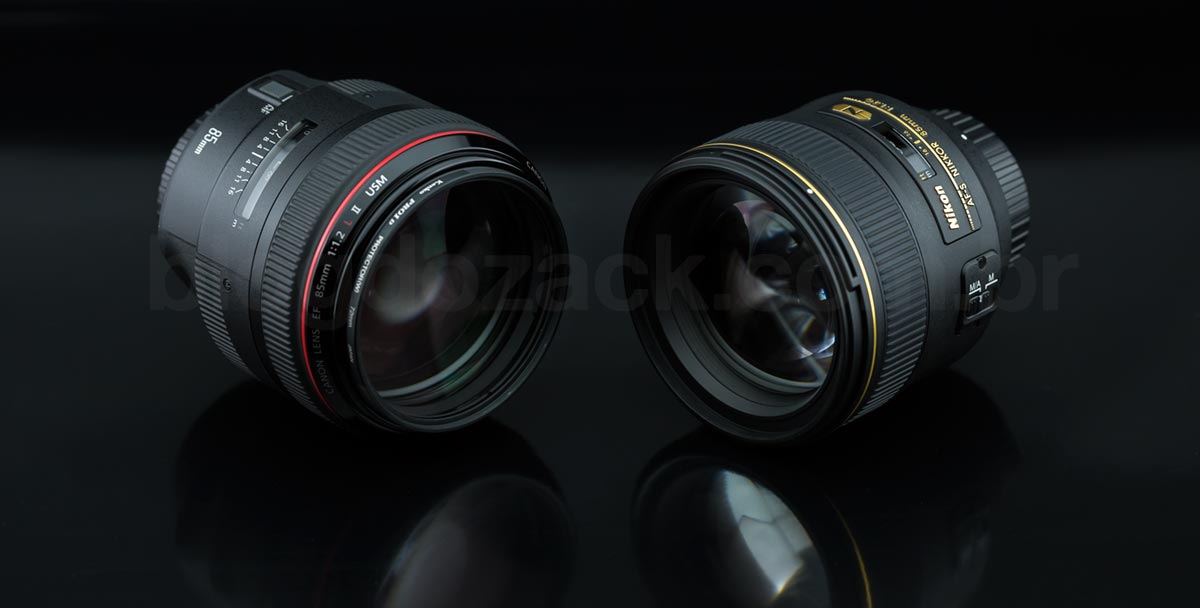 It got on vlog do zack in 2013 to try conquer the 85mm f/1.2L II USM throne on my kit, which never happened. After many side by side photos, street sessions, trips and even some files sold, I judged both would have to live together in my backpack. The f/1.4G is better at action shots, like fast passed models, and it's one of only two Nikon lenses I decided to keep with my D800E (the other being the 14-24mm f/2.8G). And the Canon is more special, with shallower depth of field, nicer for one or two portraits wide open, photographing the models soul. Their specs are so close but the results are far away. They must stay together on any kit. Happy reading!
BUILD QUALITY
The first thing you notice when handling the 2010, US$1599 AF-S 85mm f/1.4G is its weight. At 595g it's lighter than Rokinon's 85mm f/1.4 (635g) besides having focus and aperture motors the low cost option doesn't have. And that's the main reason it's on my kit: the Canon EF 85mm f/1.2L II USM is a 1025g pig, impracticable for long tripod-less sessions. It's unbelievable that Nikon built the 85mm f/1.4 with more elements (10 in 9 groups) and it's lighter than both competitors: 9 and 8 elements, both in 7 groups, respectively. That's what I call feat of engineering. Well done, Nikon.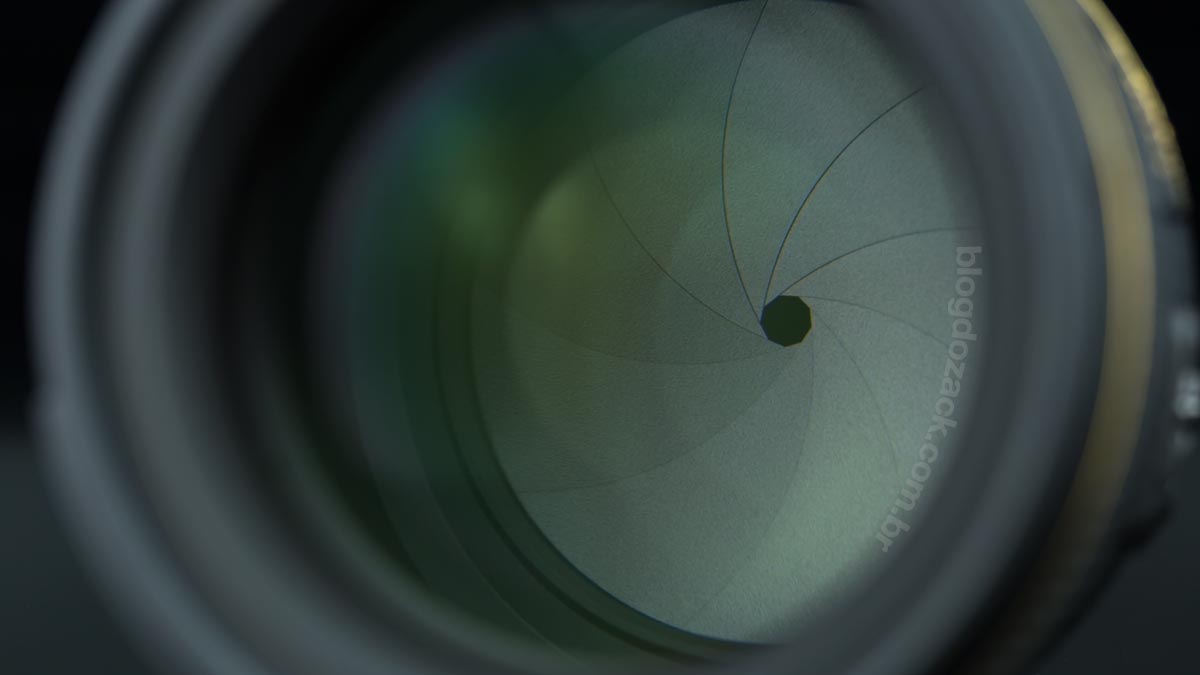 And at 8.38cm, it's not big. It balances almost perfectly (8.64 width) and on camera it's not front heavy, very nice to use. It almost feels as a different manufacturer when you compare it to the 24-85mm, 24-120mm and 16-35mm zooms. They're weird to operate, with poor handling and bad rings, that makes me thank Canon's L strategy or Sigma's "Global Vision Art". With these two lines you know what you're getting: excellence. But on Nikon's G line, it's a hit or miss scenario. I don't remember criticising other brands as I do with Nikon Nikkor's, specially the zooms.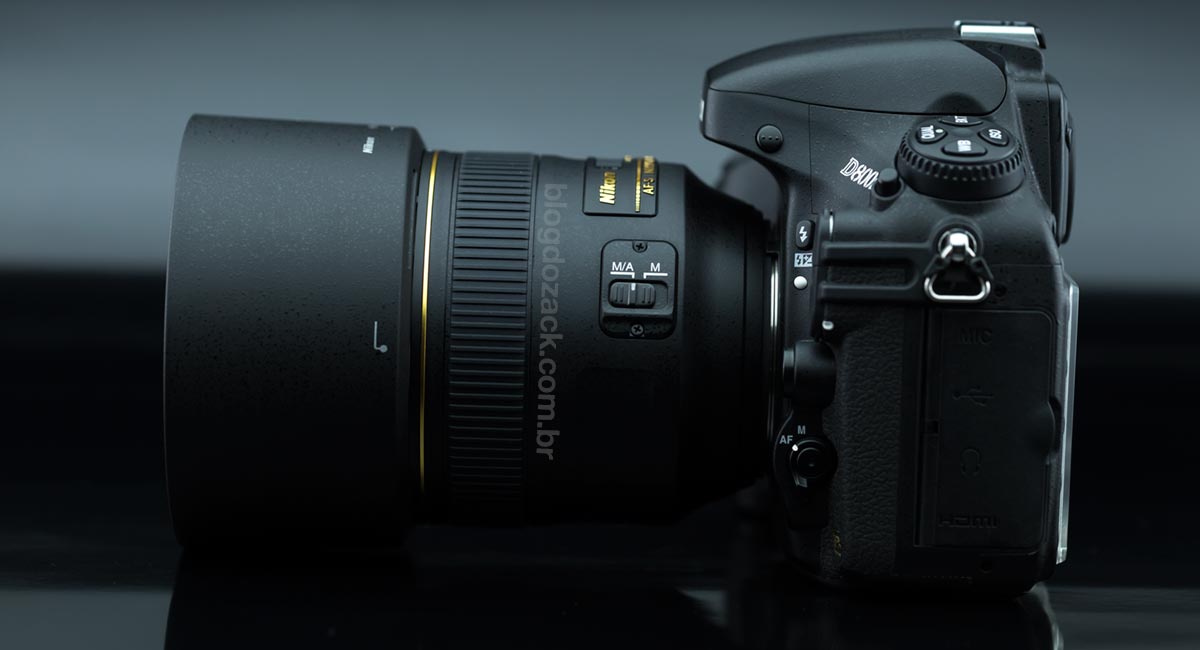 On the outside the plastic body features simple controls typical for prime lenses: just a manual focusing ring and the AF-S switch. The ring is made of rubberised metal at 18mm, recessed into the body. And there's no play between external and internal movements, perfect for nailing focus. Why aren't all their lenses like this is beyond me. You can see through the distance window the feet and meters scales, with a short 45º turn from infinity to the 85cm MFD.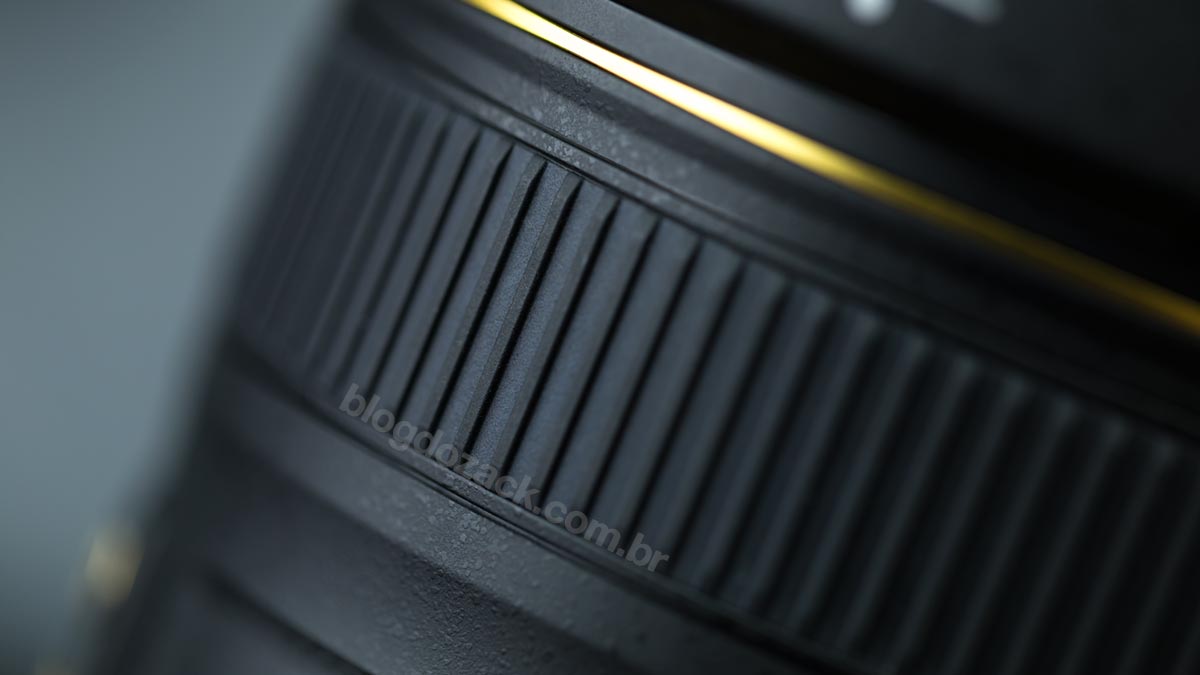 And inside the silent wave motor is the f/1.4G best feature. It's impressive how the D800E Advanced Multi-CAM 3500FX precisely locks focus wide open, not an easy task for phase detection under f/2 apertures. Just like the 50mm f/1.4G, it can nail focus at any distance, without front/back focusing errors. Maybe that's why Nikon doesn't feature an "AF micro adjustment" function like Canon's EOS. AND it works in a forth of the time it takes for the EF 85mm f/1.2L II USM, be it on static or on moving subjects. It brings new uses for the 85mm f/1.4 like indoor sports, wide open, with lots of light to freeze your subject without compensating via the ISO.
At the front the ø77mm filters are huge (on the f/1.2L II they're ø72mm) and don't turn during focusing, nice to use with polarisers. The included lens hood fits on a different thread and is not much thicker than the lens itself. Which is sort of bad, since larger filters like variable NDs won't fit inside the hood. At the top the distance windows is easy to read and I kind of like these name plates around it, much better than Canon's printed specs near the front element. And at the back the AF-S mount is crowded trying to fit so much glass. Look side by side with a Canon lens and you can see why the EF mount can handle large, f/1.2 AF lenses. At last there is a rubber gasket around the F-mount, but Nikon says nothing about the 85mm f/1.4G being weather sealed.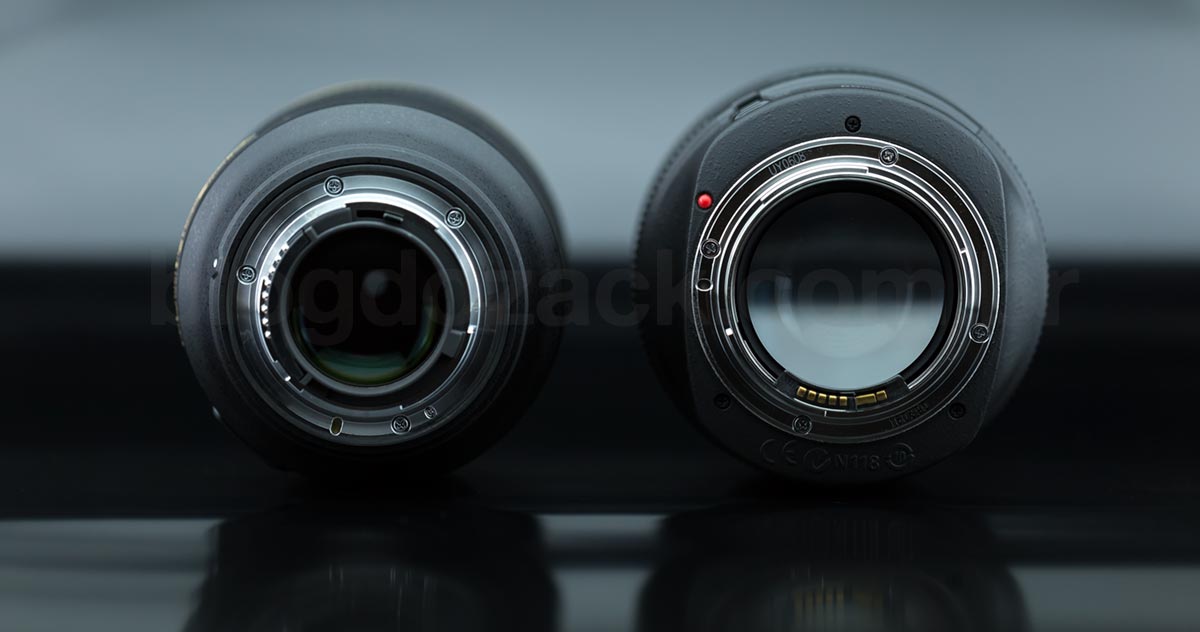 After all the AF-S 85mm f/1.4G impresses for its lightness, ease of use and precision. You're not reminded all the time you're shooting with a large aperture prime because it's not front heavy, the focus is fast, and the external plastics are average, not very premium. But after some shots, when you are rewarded with high resolution files and awesome bokeh on the same file, you start to realise this is indeed a very special lens, unlikely any other.
IMAGE QUALITY
With only SIC (Super Integrated Coating) and Nano-crystal coatings to depend on, the AF-S 85mm f/1.4G is proof that not every high performance lens needs specialty glasses to work with. Based on a double Gauss design for high resolution, and the lack of ED or aspherical elements for creamy bokeh, these two antonymous qualities are balanced together on a lens full of character.
Images come out with a strong background blur no matter the aperture. Because of its focal length, that classic shallow depth of field look is easy to get and great to isolate your subject. Further away and stopped down we have a completely different look: high resolution images that marry well with low-pass-less cameras. It's great for urban landscapes, nature, large products, that render giant, immersive prints, filled with details. Lateral CAs are non existent nor the astigmatism wide open; the same for geometric distortions. The contrast is high although some flaring exists.
At f/1.4 the overall sharpness is great but there's a visible lack of resolution around full frame corners. It's really on tiny squares near the edges where the details won't be render as good as the center. But you'll only notice that on 2D objects like walls or landscapes, if they fit the short DoF. For portraits, 3/4 perspectives that enhance the shallow DoF look, whatever is in focus will be very sharp. Under too much light we can see some blooming around contrast areas, mostly on graphics; but the resolution is there. The only lens that is clear at f/1.4 is the Sigma 50mm f/1.4 DG HSM Art.
Stopping down to f/2 gets rid of most of the blooming but the DoF remains short, making it harder to nail focus. The chances for axial CAs to happen is high and files still look from a "large aperture lens". It's not a weakness, it's a characteristic. Every lens I've tested larger than f/2 (f/1.8, f/1.4, f/1.2, f/0.95, except the Sigma's f/1.4 DG HSM Art) showed this behaviour but it can be corrected in software using some form of selective contrast (like Adobe's clarity slider). If you want perfect f/1.4 files, Zeiss is happy to sell you any US$3999+ Otus lens. :-)
For the rest of us, stop down to f/2.8 if you need perfect files. Blooming? Gone. Lack of contrast under too much light? Fixed. Perfect resolution? Finally. I took a picture of some beach chairs that show every grain of sand on the shallow DoF. Another shot of a skate board looked like a vector drawing on screen. The axial CA is high and some edges get weird colours, but it keeps improving as you stop it even further. The good part is at f/2.8 you can print your files without heavy post processing, and it's the minimum optimised aperture for the AF-S 85mm f/1.4G.
Stopping further down you fix the remaining chromatic aberrations and its great for architecture and landscapes. Buildings look impressively detailed with 36MP. At ISO100 the images are so clean it feels like looking through a window. The optical shortcomings will be left at the sensor, like some eventual moiré. Contrast is perfect and we can appreciate colours, shapes and textures.
The bokeh is smooth at any aperture thanks to the rounded 9 blade aperture. I'm not a fan of shallow DoF photos and it happens by chance on my files. But for some photographers it is the reason d'être of large aperture primes, and Nikon delivers. Fussy backgrounds are melted, like the crowds in a soccer match. Highlight spots become larger, light blobs, that by itself generates interesting shots. Of the few Nikkor primes I've tested, the 85mm f/1.4G delivers the best bokeh.
VERDICT
A short telephoto large aperture prime with fast AF. Easier said than done, but Nikon made it. Canon delivers excellent images from the EF 85mm f/1.2L II USM, but its cumbersome focus restricts it for portraits only, maybe some slow paced street photography. Not the Nikkor: it easily goes from the studio to the field, locking focus with the D800E even wide open. The resolution is high as you expect from a US$1500 prime. But the optical flaws are all there, and behave like any other lens: close it down two, three stops for perfect files. At least the astigmatism is zero as the field curvature. If it's worth staying in your kit? Absolutely. The problem is the AF-S 85mm f/1.8G, even sharper at large apertures and costing US$498, although its bokeh is not as smooth. That's the question: do you need extreme sharpness (f/1.8G) or smoother bokeh (f/1.4G)?