Nikon AF-S 24-85mm f/3.5-4.5G ED VR
Estimated reading time: 05 minutes and a half.
March/2014 - The AF-S Nikkor 24-85mm f/3.5-4.5G ED VR (US$599) is the newest wide angle/ telephoto full frame on Nikon's FX standard line. Designed for everyday use, its price doesn't require photographers with deep pockets like the excellent AF-S 24-70mm f/2.8G (US$1899, optically and mechanically perfect), neither weights like the AF-S 24-120mm f/4G VR (US$1300, longer and with better IQ, but not as nice as the f/2.8G); remaining just mediocre.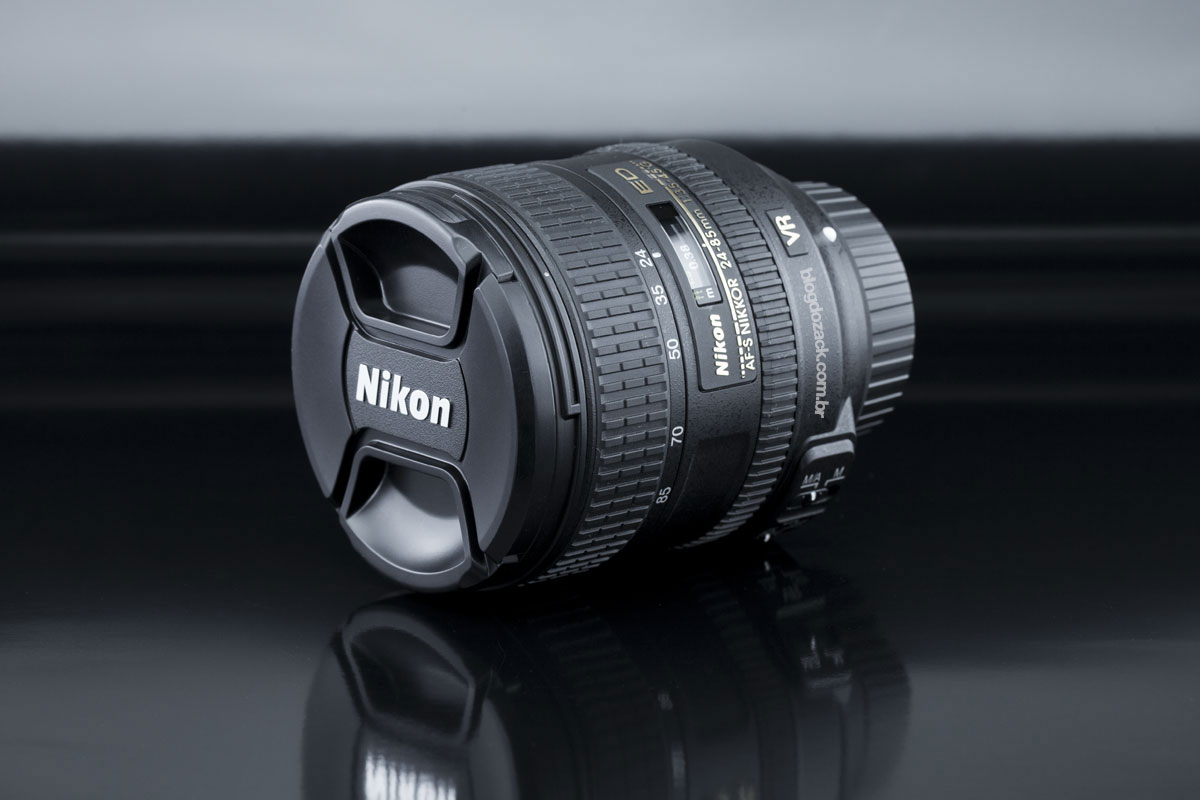 Launched in 2012 as a zoom kit with the FX D600, this lens gathers Nikon's G (genesis) build paradigms and high performance glasses (ED and aspherical). We even get a second generation VR with up to four stops of compensation, making the photographer life easier under low light situations, with a variable f/3.5-4.5 aperture. Its compact body and light weight are for sure strong selling points. But the questionable IQ makes it clear that Nikon made it "just" for entry level users. Should you get something better? Let's find out! Nice reading!
BUILD QUALITY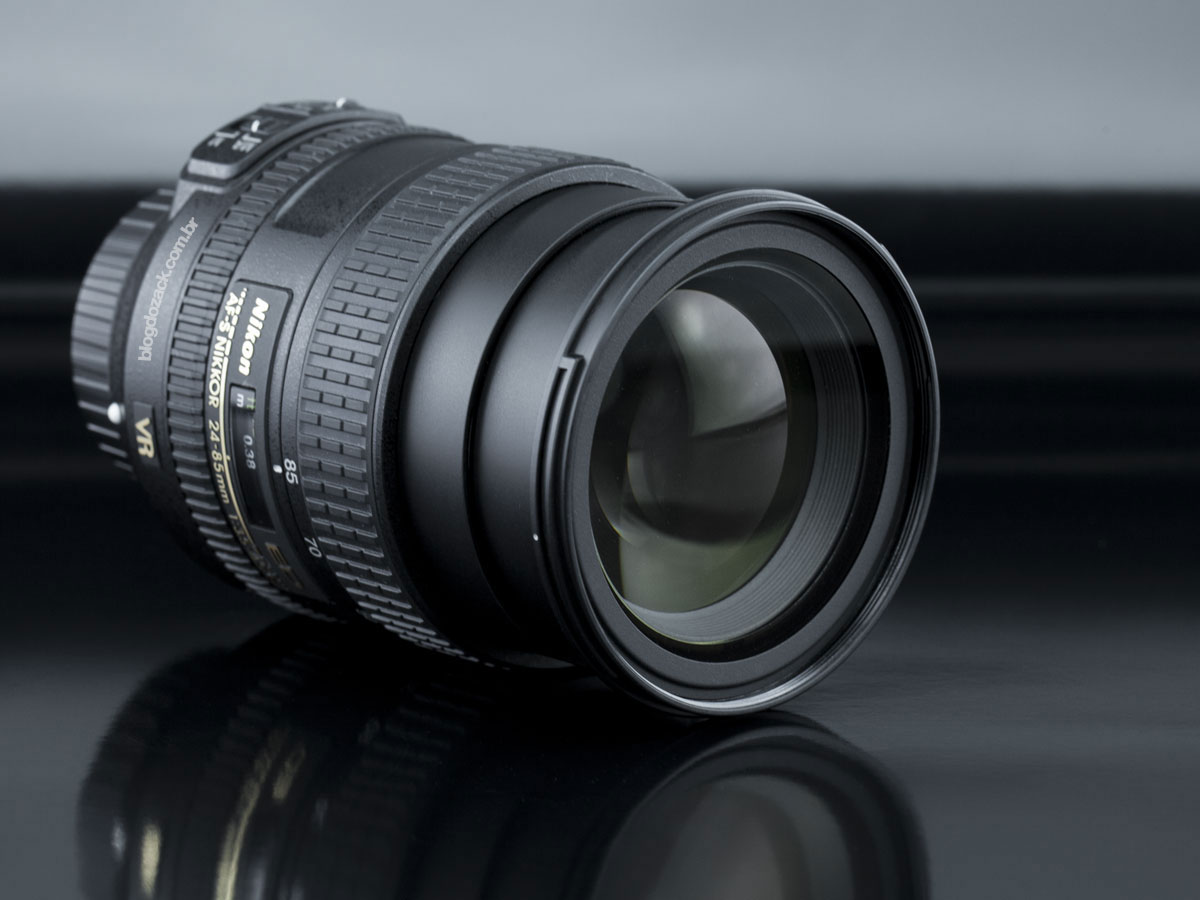 At 465g the AF-S 24-85mm f/3.5-4.5G ED VR is the lightest standard zoom I've ever used. It's also one of the shortest at just 8.1cm closed at the wide angle (24mm), and it doesn't get much bigger at 11.4cm when at the telephoto end (85mm). Its inner tube has two separate stages operated by a frontal zoom ring, a bit tough to get from 24mm to 35mm, and looser from 35mm to 85mm. Although well built, with zero play or wobbling, the movement is far from smooth and it's simply impossible to achieve precision near the wide end, as the distances are cramped together.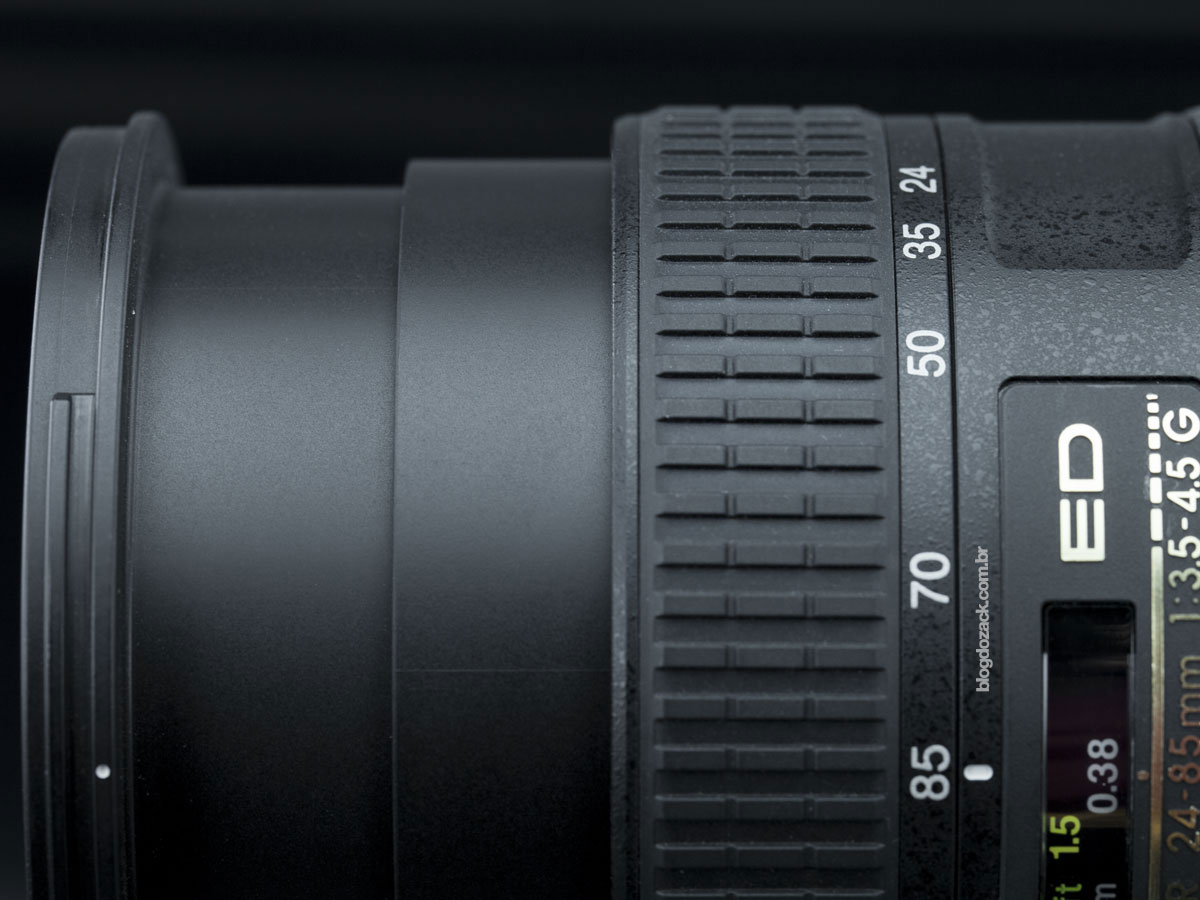 The manual focusing ring is also bad and at the back, just 3mm wide and with way too much play. When you change direction, it takes forever for it to engage the inner mechanisms, making it impossible to fine tune any adjustments; always a complaint for low end lenses (I'm talking to you too, Canon). At least the AF is SWM and supports full time manual; at M/A you can override the motor, but you probably won't want to do that as the ring is imprecise and lagging.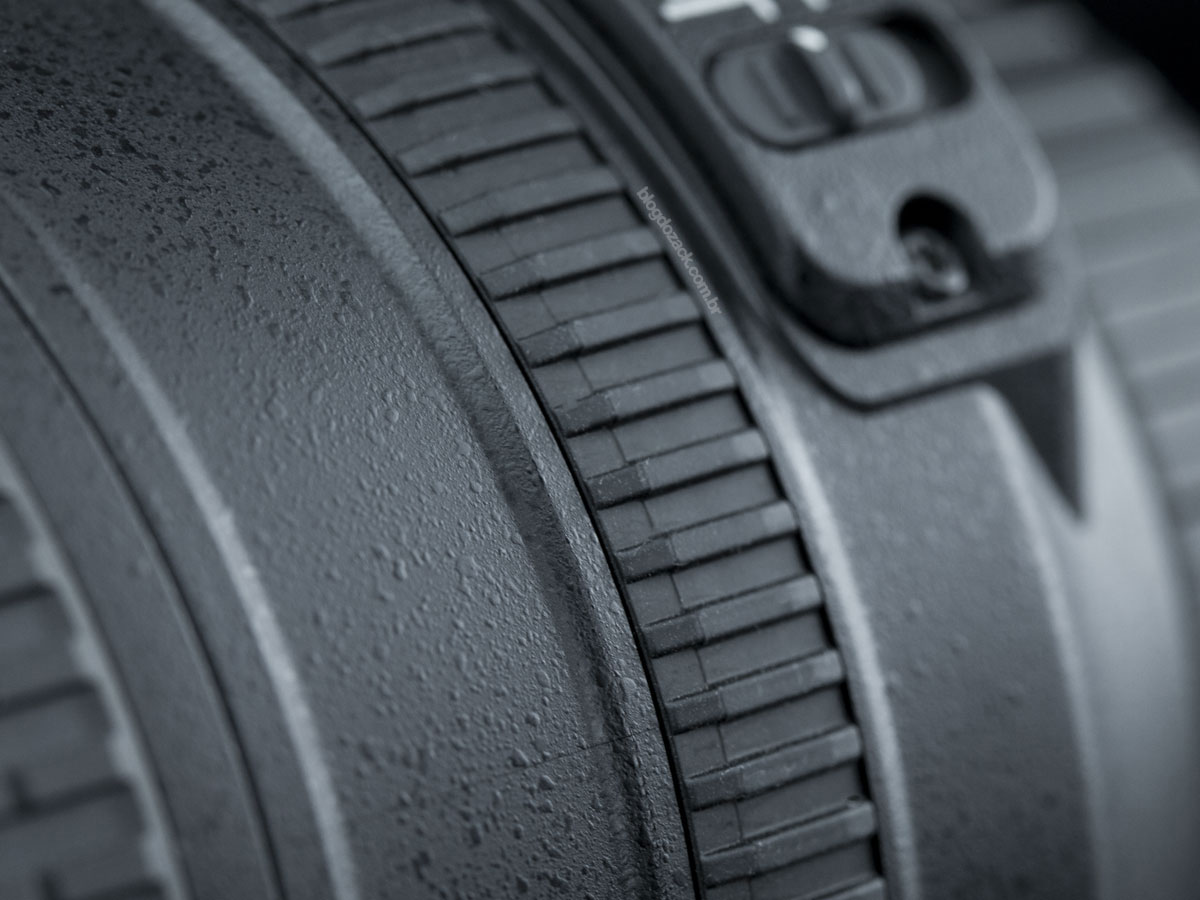 If in one hand the AF performance is precise, on the other it's not that fast; definitely not "Canon-like". It's actually the biggest difference between Canon's and Nikon's lenses: EF/EF-S are much, much faster than most AF-S FX or DX. It takes over one second from the MFD (38cm) to infinity, and doesn't feel snappy. Any fast paced street photographer will miss photos as it did with the D800E, refusing to lock focus on moving subjects even under plenty of light.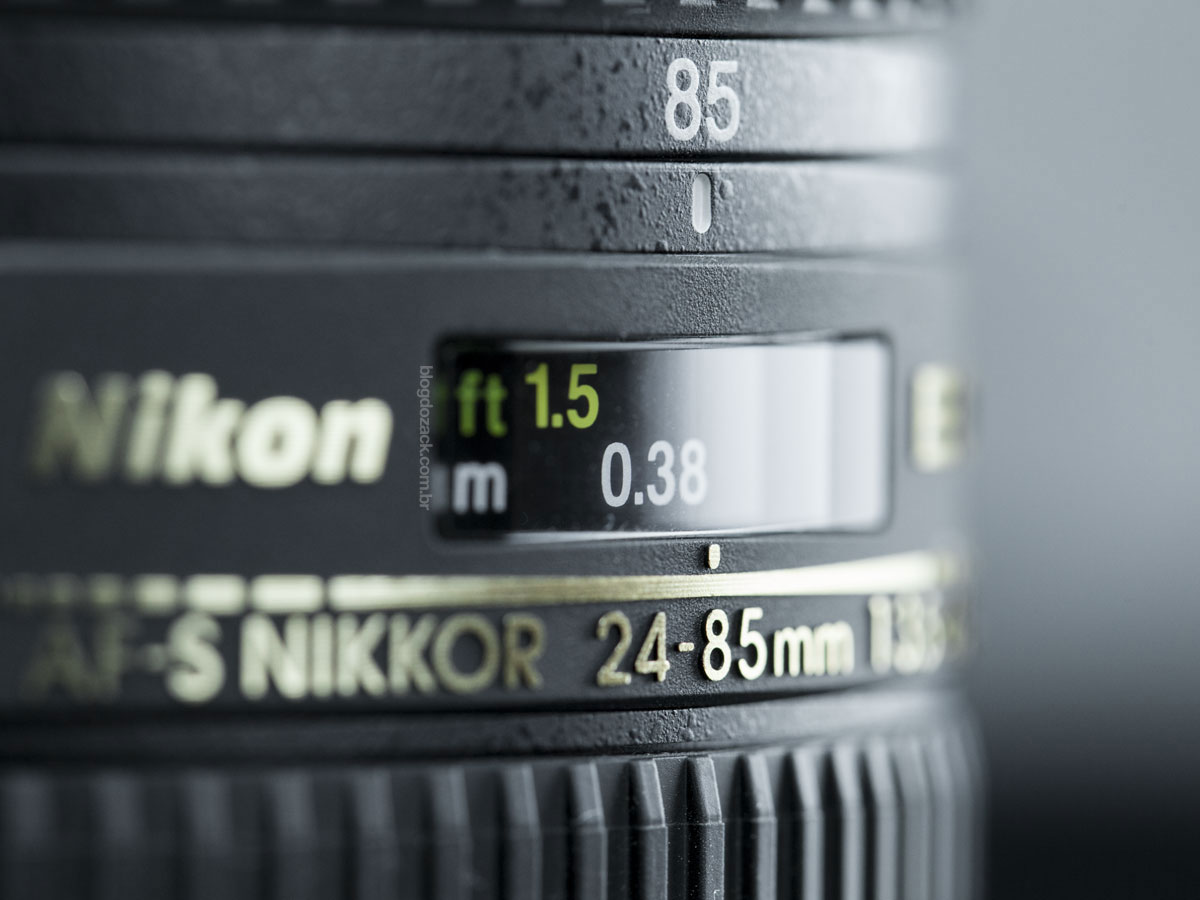 The VR on the other hand is powerful and silent. It offers theoretically four stops of correction. It is helpful for up to 1/3s exposures at 24mm or 1/5-1/10s at 85mm, of course working continuously during video recordings. When you're composing your shots you get a very smooth viewfinder, so leave it on at all times. But turn it off when using a tripod as it is not tripod sensitive.
At the back the mount is metal but the whole body is plastic. It feels well put together and probably will last a long time besides the cheap materials. There's even a rubber gasket around the F-mount but Nikon says nothing about its weather sealing. It's 16 elements in 11 groups, three (!) aspherical and one UD, with a rounded seven blade aperture. It's very complex for such a basic price point, and some compromise had to be done optically. Let's take a look at its image quality.
IMAGE QUALITY
The Nikon AF-S 24-85mm f/3.5-4.5G ED VR is at the bottom of the Nikkor 24-###mm line and unfortunately it behaves like so. Although it does take pictures and we can fix 90% of its optical flaws via software, it is undeniably a budget lens. Its performance is typical: good resolution at the center, even wide open; but bad around the corners, unacceptable for large prints even at f/8; with plenty of chromatic aberration and geometric distortions on both ends.
The highlight goes to the great resolution at the center of the frame even with the very demanding 36MP D800E, with lots of details from f/3.5-4.5 at any focal length. Here is the secret of these lenses: keep what is important at the center, an you'll be able to get great prints.
You can see the lack of resolution with two dimensional subjects through the focal plane. Even stopping down to optimised apertures (f/5.6-f/6.7) the 24-85mm never really delivers high quality files. I mean, forget wide, detailed landscapes rich with information, urban scenes with lots of graphics or faraway signs; or even everyday shots that fill the frame, as the edges simply won't be rendered as they should. At least it didn't with my D800E, and the lack of performance shows.
Other optical flaws like axial CA, vignetting, geometric distortion are on every frame, and not usable straight out of the camera. CA is heavy on contrast areas; vignetting is visible even at f/8 and 85mm; both barrel and pincushion distortions are present. High quality prints or too much pixel peeping can't hide the low performance of this lens. You can't deny it: today sensors demands the highest quality glasses, and the AF-S 24-85mm f/3.5-4.5G ED VR just don't have them.
VERDICT
But it doesn't mean I didn't get great pictures with it, nor that it's easy to forget how compact and light it is. Contrast and colour reproduction are great, and even the bokeh feels smooth, typical of most recent Nikkor "G" lenses. I am satisfied with its results, and the AF-S Nikkor 24-85mm f/3.5-4.5G ED VR does what it promises: FX on a budget. But forget about raw image performance and look somewhere else for better files. Or deep inside your pockets. :-) Nice shooting!