Sigma 12-24mm f/4.5-5.6 II DG HSM
I'm looking for a marketing or social media position in a large multinational enterprise. Contact me at https://linkedin.com/in/marcellocastilho/
Estimated reading time: 06 minutes and a half.
January/2015 - The 12-24mm f/4.5-5.6 DG II HSM is an exclusive Sigma focal length because no other 135 lens covers such a wide angle on full frame at a rectilinear 122º of view. Canon only got the EF 14mm f/2.8L II USM 114º (and are taking forever to release the 11-24mm), and Nikon also "only" offers the superb AF-S 14-24mm f/2.8G (I'm not taking the 1976 Ai-S 13mm f/5.6 into consideration). Other formats are actually even shorter, like Sigma's 8-16mm f/4.5-5.6 DC HSM, but for APS-C bodies. On full frame cameras and with no fisheye distortion, the 12-24mm is unique.
This focal length is so extreme that not many subjects actually benefit from it. Most photos look bizarre with so many elements in frame, and straight lines tend to "fall" in the vanishing point, making columns into arrows, building into triangles, people into weird figures. That's why Sigma decided to give it a 24mm option to work with other environments, like street photography, portraits with your subject surrounded by the scene, and even some large products. So if you decide to add it on your kit, it's not an one trick pony: it does more than bizarre images.
"Alcázar" at f/8 1/250 ISO100 @ 24mm; a normal 24mm photo and an extreme 12mm one.
It got on vlog do zack as an alternative to all quoted lenses. After my "standard phase", from 35mm to 85mm, the "wide angle phase" settled in. Then came the EF-S 10-22mm f/3.5-4.5 USM, the bad performer EF 16-35mm f/2.8 L II USM, and the top of the line EF 14mm f/2.8L II USM. But it's not easy to justify most of these purchases due to their high price, and Sigma felt like a logical option, even more exotic and interesting. I decided to give it a try. Happy reading!
BUILD QUALITY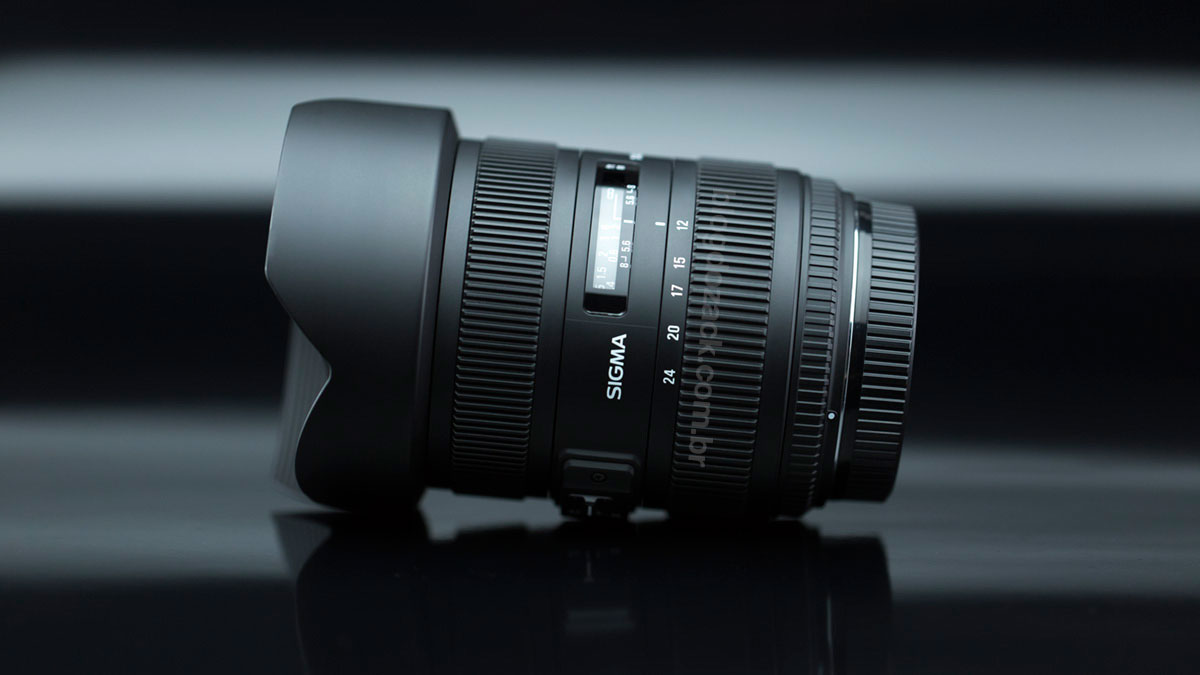 The 12-24mm f/4.5-5.6 DG II HSM is what I call a "transitional phase" on Sigma's philosophy, before the massive Global Vision rebranding and after the "bad reputation" years of darkness. The 12-24mm II is very sober, all black, plastic and metal (on the built-in hood and mount), that doesn't look like an "Art" lens because it is not covered in rubber. Everything is at its right place and it doesn't feels flimsy, like most modern Sigma's (pre or post Global Vision).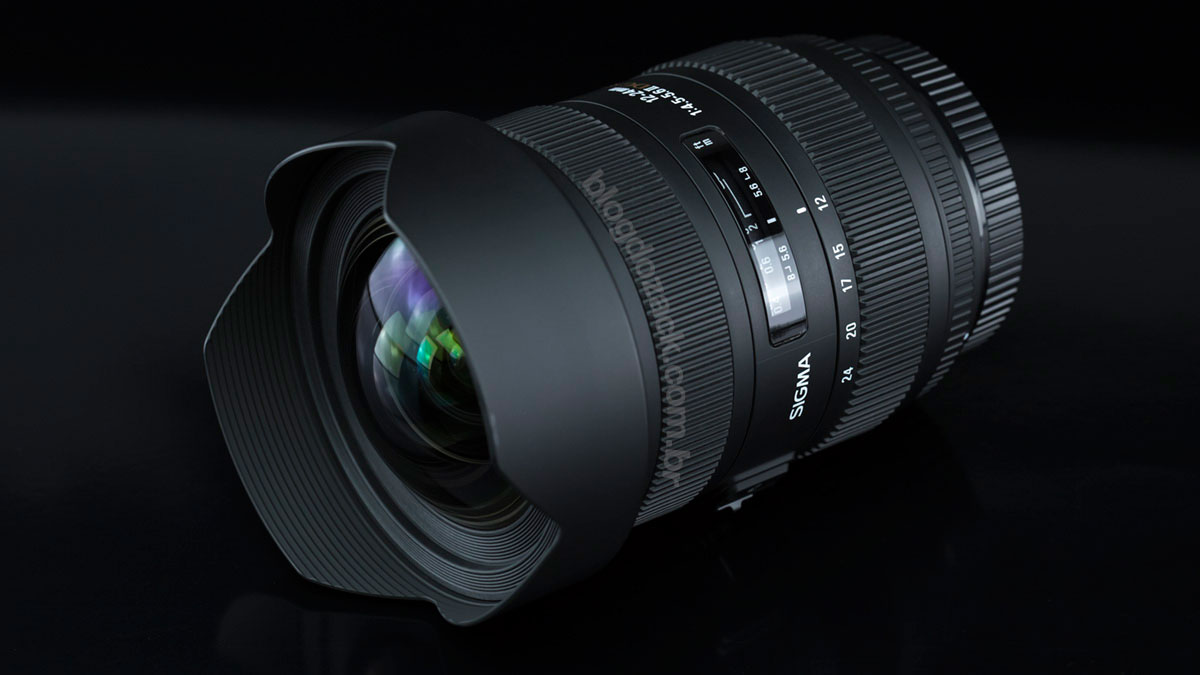 But at 670g the optical formula is very bold with 17 elements in 13 groups, a lot for such a small maximum aperture. It's four FLD glasses, Sigma's artificial fluorite elements; one simpler SLD (Special Low Dispersion) for controlling aberrations; three glass mold and one extra hybrid aspherical to keep its performance intact from 12mm to 24mm. It's without a doubt one of the most exotic lenses we've ever seen, on any brand, at any focal length.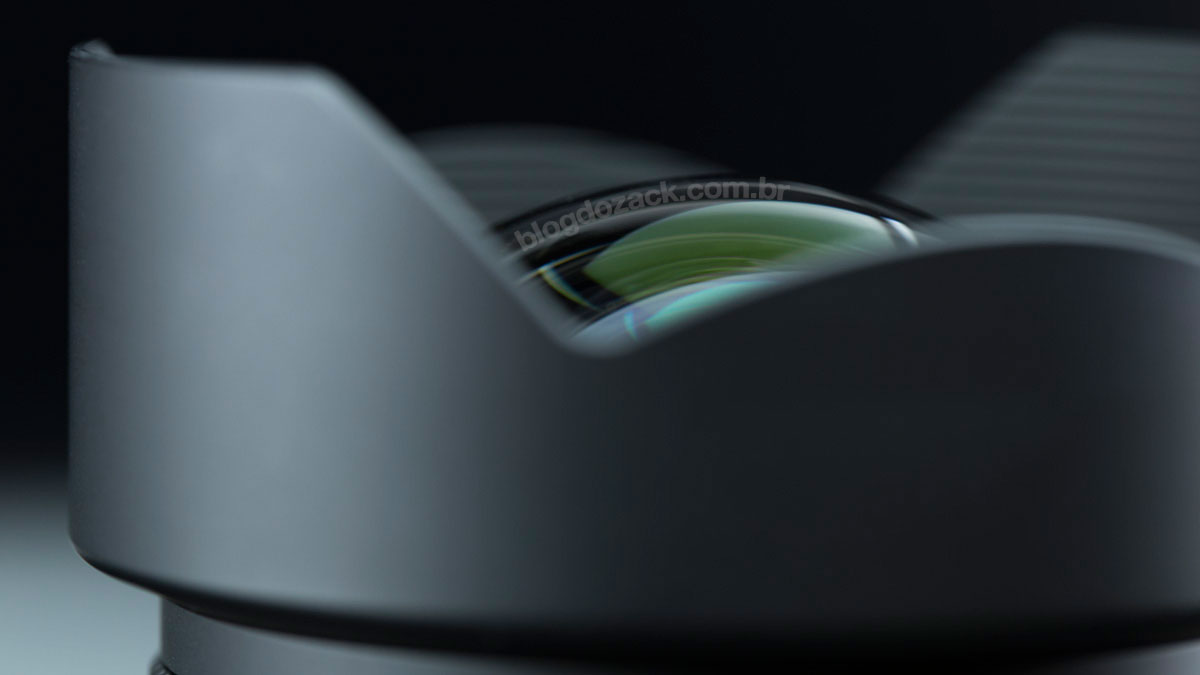 On the outside its design is functional with two identically width rings, one for zooming and the other for focusing, with rubber grips. The frontal non-removable metal hood fits perfectly with the also metal lens cap, that ingeniously serves two purposes: you can completely remove it for full frame coverage, or just remove the front cap to reveal a ø82mm filter thread. So you can use filters on the 12-24mm, but it must me mounted on an APS-C camera, as this part creates a heavy vignette on full frame cameras. It's a good idea, but poorly implemented.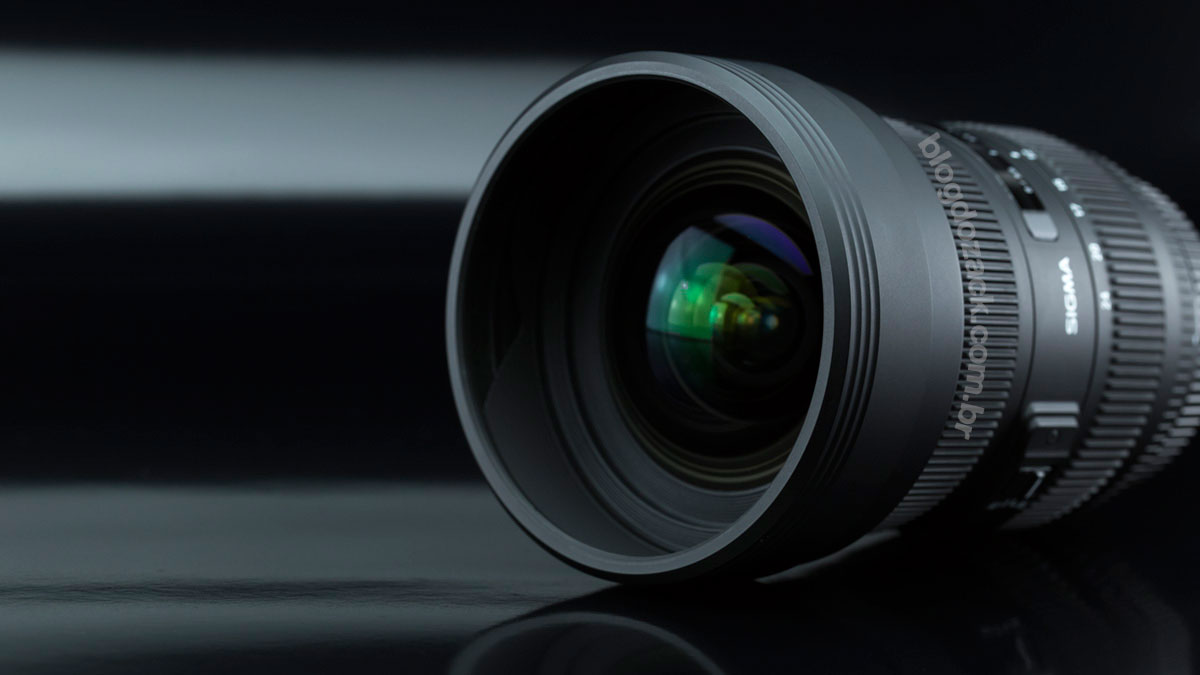 The single AF/M switch controls the internal HSM AF, short for hypersonic motor. It's dead quiet and uses the same principle as Canon's USM or Nikon's SWM. But as my first Sigma, I couldn't help but notice the difference in speed, especially compared to the EF line. It "thinks" before it moves, with a noticeable lag between the press of the AF-ON button and to start moving. It's not that big of a deal for architecture and landscapes. But also won't work for dramatic sports shots, like on skate parks. I'd never seen a lens lag so much after the press of the button.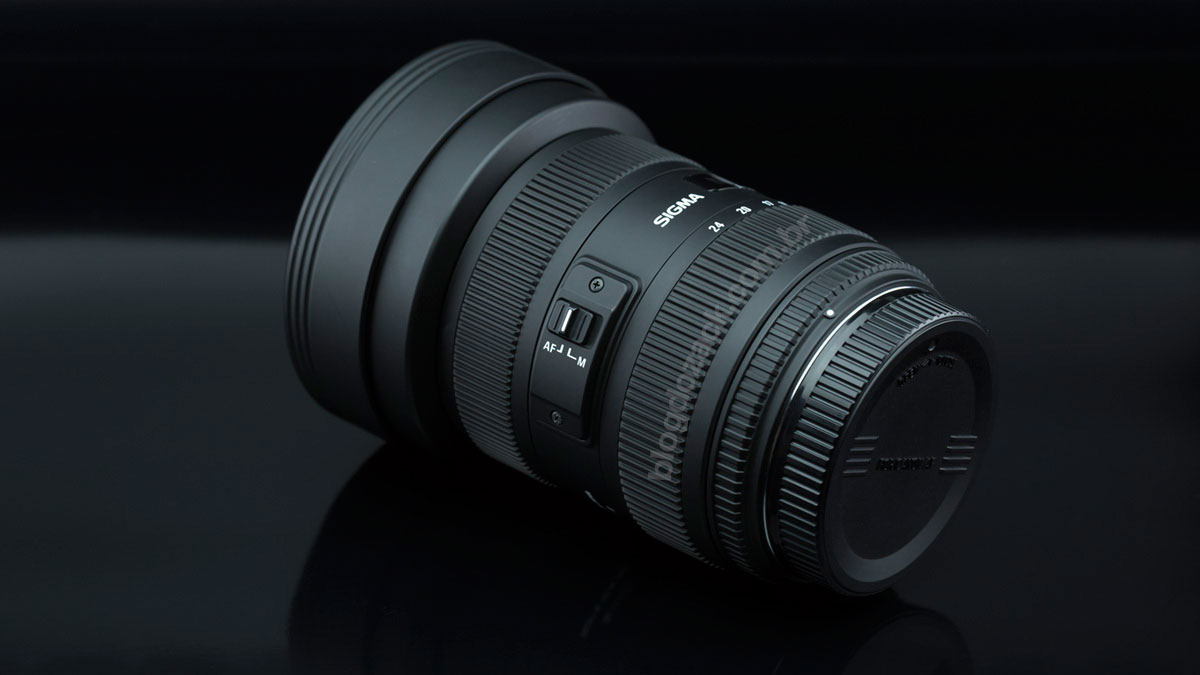 It's usability is very simple for such an exotic distance, proving that Sigma was paying attention to the design and development departments. The 12-24mm f/4.5-5.6 II DG HSM is robust, well built and easy to use. The rings are well damped, smooth, precise, with no play at all. Its aperture, although not the largest, makes it easier to carry around than gigantic f/2.8 first party offers. It's an alternative for every ultra wide angle need, even if you don't plan on using the 12mm.
IMAGE QUALITY
An ultra wide angle lens is one of the toughest optical challenges because the rounded nature of the glass pieces never really focus a rectilinear image, after the light passes throughout. So the hard part is to take this rounded projection and bend it back to form a straight image, with resolution around the corners. But Sigma did the impossible condensing a 122º angle of view into a 36x24mm area for the 135 full frame format, with 17 elements. Photos with the EOS 5D Mark II.
Because all that, the resolution is excellent on near 95% of the frame, with the 5% left limited to the corners. Contrast and details are great, ideal to render beautiful architectural shots, with perfect colour reproduction. My only complain goes to the strong axial CA and some geometric distortion at 12mm; two easily fixable flaws in post. For what it is, and for such a low price, the 12-24mm is an engineering marvel, even before Sigma's Global Vision well regarded Art series.
Stopping down to f/8 you get deeper depth of field as the f/4.5 (only at 12mm, it falls to f/5 at 13mm) is already excellent. There's no reason to close the aperture because the lateral CA won't be fixed at all. Some say the 24mm resolution is not the greatest, and I agree that it's different from 12mm, but nothing some smart sharpen filter won't fix on Photoshop. You've got to be very dumb to justify the purchase solely on optical performance for a 12mm full frame focal length.
The lateral CA is visible around the corners on high contrast images, like graphical signs or ornamental details. The coloured neon edges on buildings can be fixed depending on the output, like for web or small prints. Only a 100% pixel peep can reveal this aberration. But, again, all very easy to overcome in post with a single click on Adobe's Photoshop or Lightroom.
The same goes to the very high 12mm geometric distortion, going away at 18mm, and back at 24mm. Also it's a single click away from Photoshop correction, together with the strong vignetting, caused by the strong bending that light must go through to render such wide angle. You won't really notice it until you try to fix it on post.
VERDICT
Any exotic photo demands care, and it's not different with the 12mm Sigma files. It's hard to align everything on such wide framing, mixing together shapes, distortion and lights; even keeping you out of the frame! And on post, it is expected that you better balance the exposure of wide angle images. But the Sigma itself delivers a high quality optical tool, easy to use yet not "Global Vision". The thing is it doesn't lag behind on build and images, and it's an exotic that everyone can have.