Fujifilm X-T2
Estimated reading time: 15 minutes.
October/2016 - The X-T2 is the second top-of-the-line camera on Fuji's X-mount lineup. A departure from the X-Pro 2 "rangefinder style", the T series has a more traditional design, with a right hand thumb grip and frontal piece, paired with a centered viewfinder. The manual exposure dials, the solid metal build with high quality finishing, and high-end specs are shared between the two, but the "photography experience" is completely different among them. So Fuji included more sophisticated functions on the X-T, like more AF points, greater shooting speed, 4K video recording (a first for a X-cam) and a swivel LCD screen, besides the lower price (US$1599) on the "better" camera. But does it deserve the flagship status together with the X-Pro 2? Let's find out!
BUILD QUALITY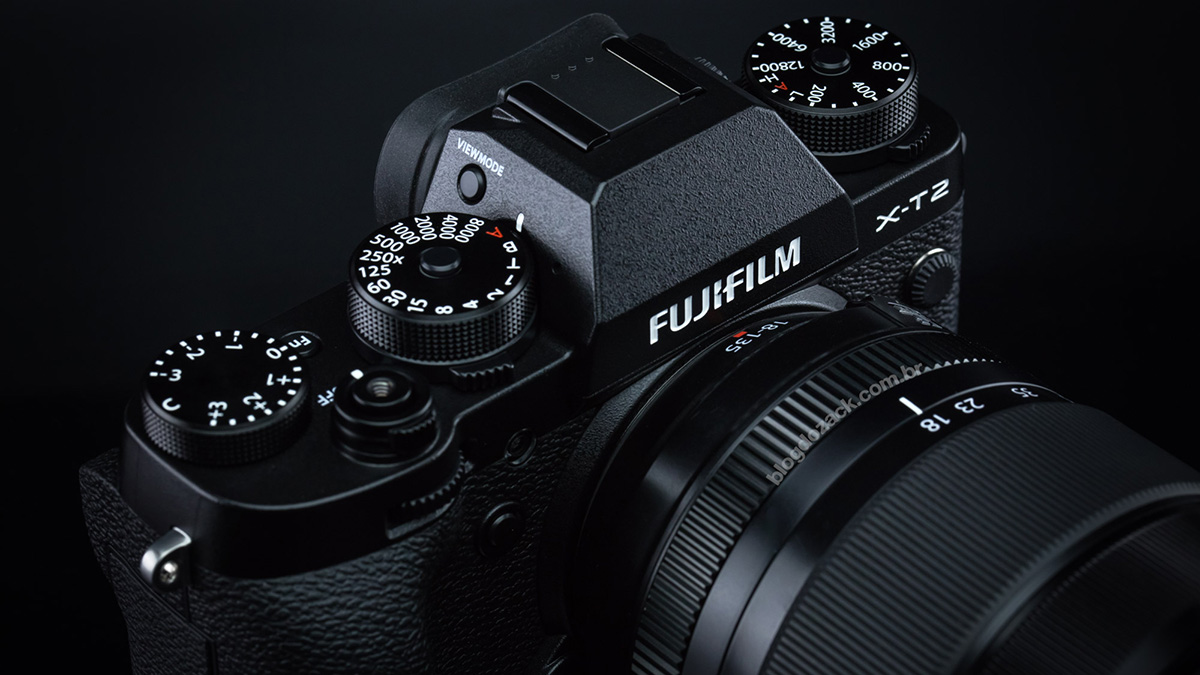 At 132.5 x 91.8 x 49.2mm of 507g on an essentially metal body, the X-T2 is big to mirrorless standards, which can be both good and bad. The good is it's a comfortable camera to use, with a generous right hand grip, by far the best mirrorless body to use with larger lenses. But on the other hand it loses the compact mirrorless appeal, and I question why Fuji don't create a traditional SLR all together, to use with its excellent Fujinon lenses. They already have a great APS-C camera (X-Pro 2), and even a medium format (GFX), so maybe the market would absorb a Fuji full frame SLR, with the advantages of an optical viewfinder plus the mechanical dials that they puts on its cameras.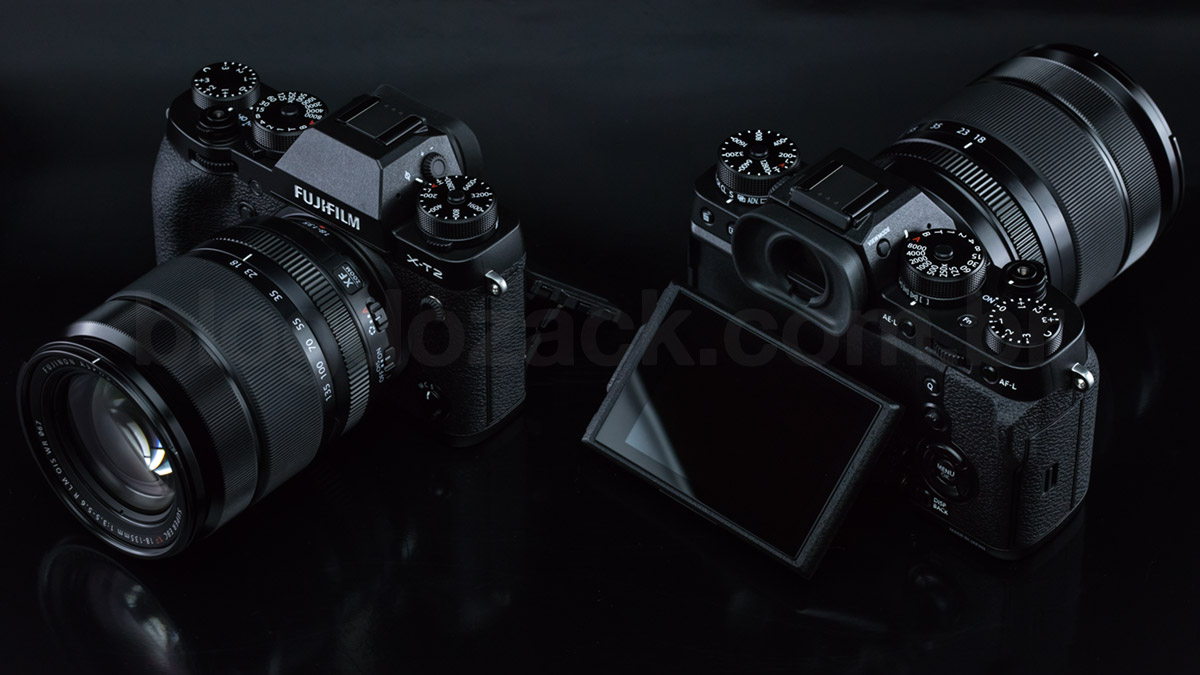 In your hands the X-T2 grip in comfortable, with plenty of girth at the front, absent on the slippery X-Pro. The index finger gently lands on a two-stage, spring-loaded, top shutter release, that feels smooth to the touch, but has strong clicks when it's time to focus and shoot. Surrounding it is the ON/OFF rocker, one of the smoothest pieces I've ever used, making a pleasant experience on a daily basis. Those who cycle mirrorless cameras ON and OFF to preserve battery life, will be happy with this perfect ON/OFF rocker. At the front a built-in horizontal dial is used to pass photos back and forward during playback, or it can be programmed to other 22 functions. At the top there's another customizable button, behind the shutter release. The X-T1 REC button is gone, and now we must turn the left-side DRIVE ring to activate a movie mode, that is far less practical.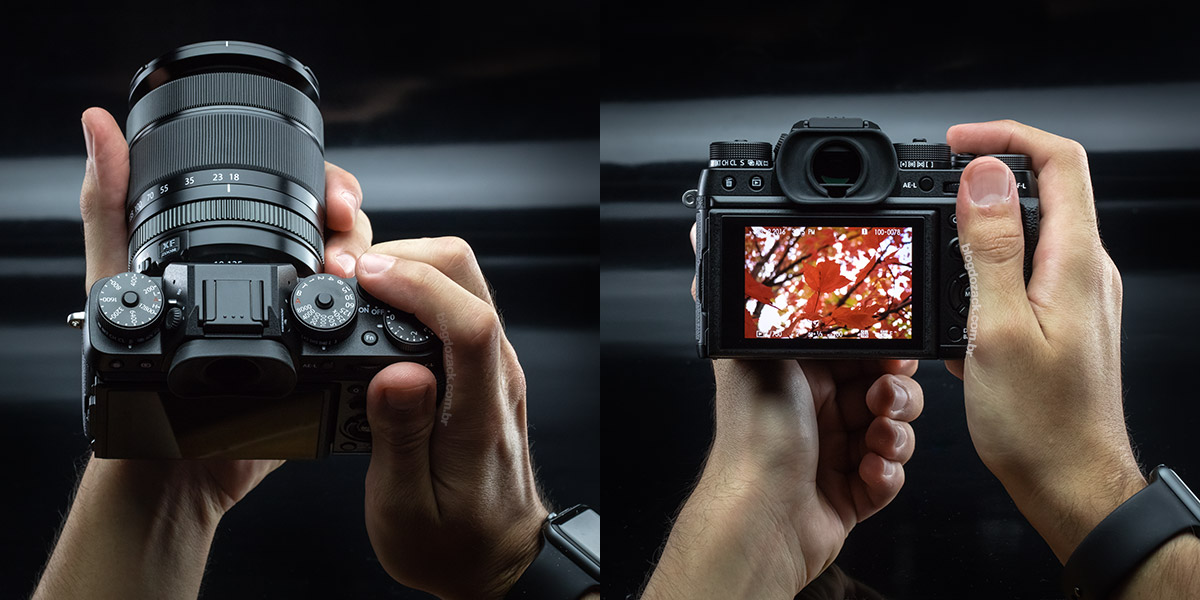 At the rear, the headline goes to the thumb support, very pronounced and well designed; hard to find on most mirrorless cameras. It allows the single hand use of the X-T2, leaving the index finger to operate the aforementioned controls. When the thumb is free, when the camera is supported by both hands, it's within reach yet another built-in horizontal dial, factory set to zoom during playback; plus a push-click programable button, up to 22 functions. Two lock buttons surround this dial: AE to the left and AF to the right, to operate the metering and focusing separate to the shutter release. A Q button triggers Fuji's quick adjustment menu for image quality, white balance, etc. And the new directional joystick makes selecting AF points a breeze, borrowed from the X-Pro 2 (it's new to the X-T1). You can easily select the AF without taking your eyes out of the viewfinder, like larger DSLR; useful for action and sports shooting, not missing the subject.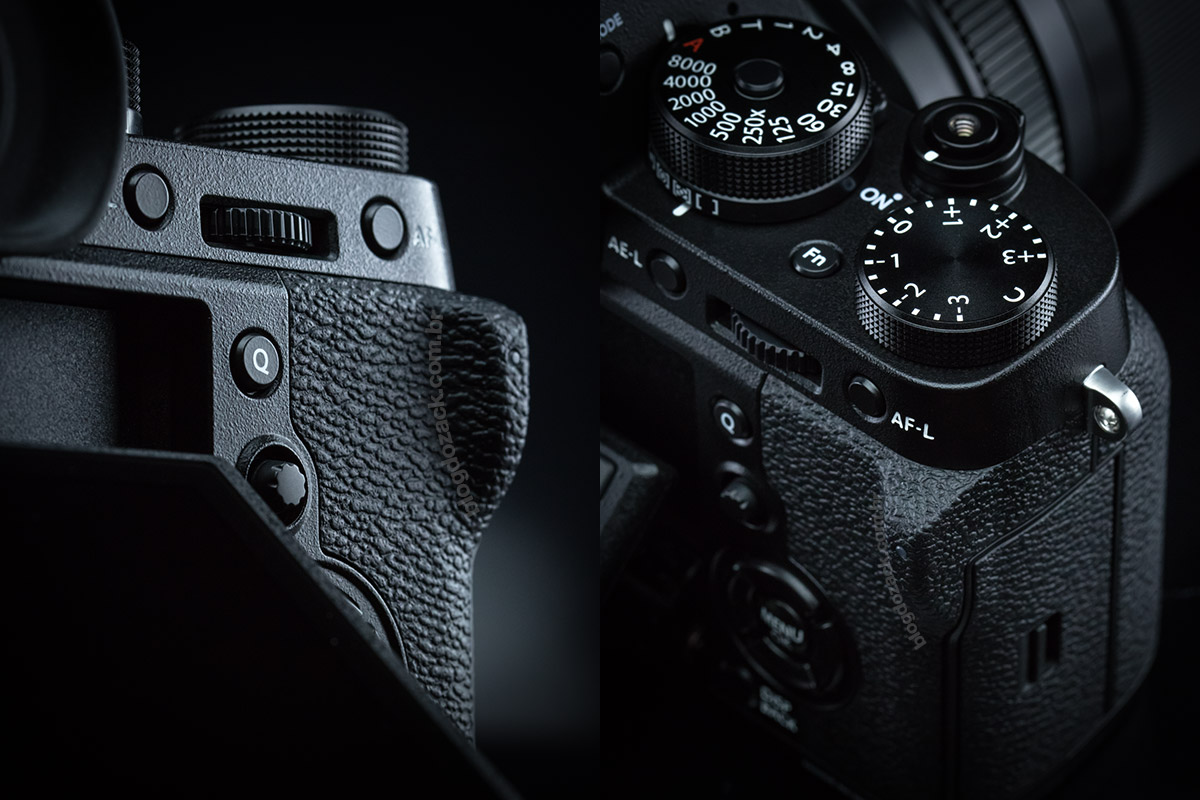 Also at the rear we have a standard "digital" layout. A four cross-buttons surrounds an OK/Menu, and a DISP button cycles the LCD data modes, all within thumbs reach. The playback controls are on the other side, requiring a two-hand operation to delete images. My only complaint is most of these buttons are small, making it harder to use when wearing gloves. But the tactile feedback is sharp with an easy to feel click. To your left, the rear is dominated by a 3.0" 1.04M-dots LCD screen, curiously behind the X-Pro 2 in quality (there're 50% more pixels on the Pro 2), but it swivels up to 90º up and 45º down, with a weird 60º right side movement; made for portrait shooting, less useful than a "selfie" 180º to-the-front hinge. It's not touch sensitive, questionable for a 2016 camera, but I didn't really missed it given the amount of physical controls.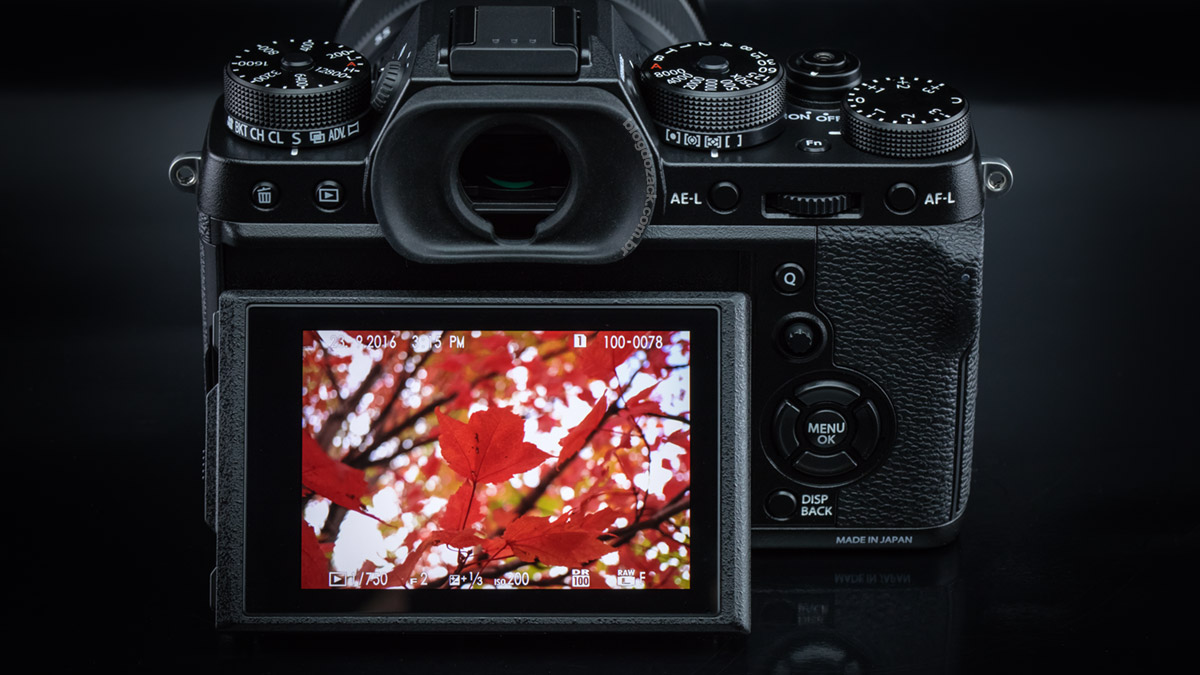 In the center, the X-T series headline is its electronic viewfinder, with a 0.77X magnification; large for APS-C standards. Given it is a "headline", I'd have to say it's sort of a disappointment. It's indeed a very good EVF: bright, colorful, "immersive", near the experience of a low-end full frame (think EOS 6D and Nikon D610 in size). But the overall experience is still very electronic, as expected, and reflects Fuji's color profile, that's far from reality. Besides the 2.36M dots (quite standard for 2016), there's plenty of aliasing and moiré to be seen on its rendering. It can be "boosted" up to 100fps (the Sony A6300 goes all the way up to 120fps), but the result is "fair" at best. That's the main advantage of the X-Pro 2, that features an optical hybrid viewfinder, giving a new dimension to mirrorless cameras, with a proper optical piece plus a built-in EVF.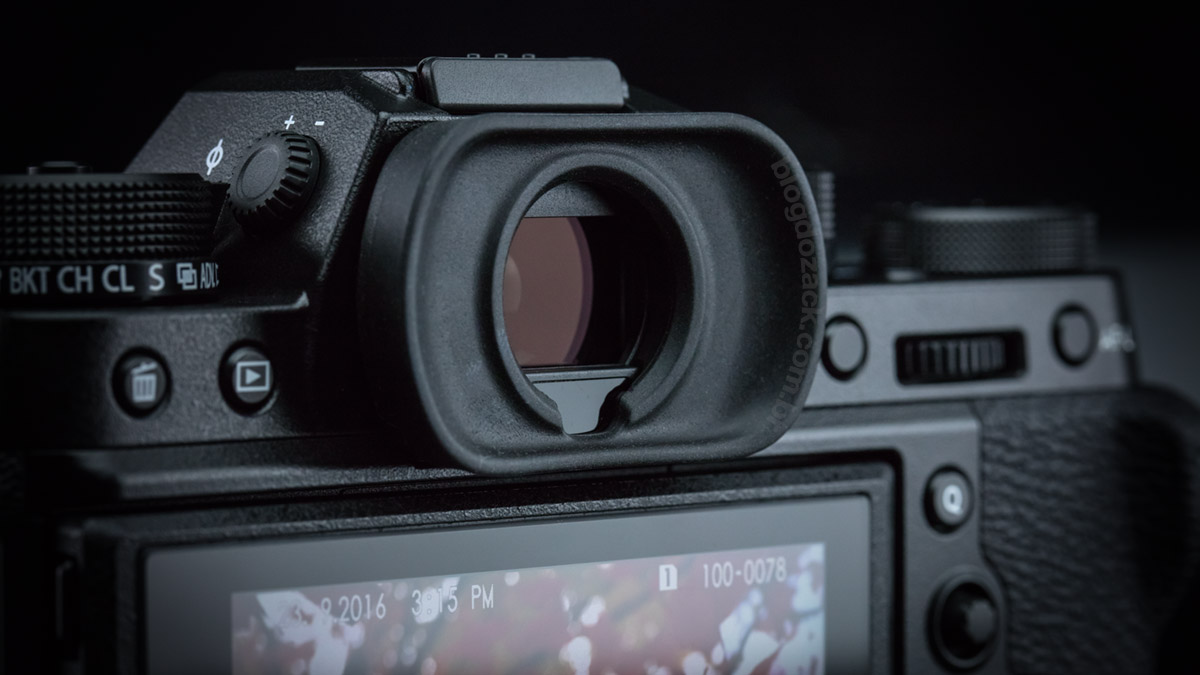 At the top sits Fuji's signature mechanical dials. There are two, one at each side of the EVF, both comfortable to use: ISO to your left and shutter speed to your right. They're taller than the dials on the X-T1, and gain a DRIVE ring under the ISO dial, and a metering ring under the shutter speed. But the best part are on the lock mechanisms, that allow for a fully free operation of such dials; or a complete lock, at the touch of a button. It's a much more intuitive way of using semi-automatic modes, usually found on PASM dials; a missing piece on the X-T2. Near the right edge sits a third exposure compensation dial, that requires a two finger (thumb + index) operation, as it's very stiff; impossible to be set by accident. A metal hot-shoe sits on top of the EVF, accepting external flash heads. A basic EF-X8 flash comes in the box, as there's no built-in flash unit on the X-T2 body.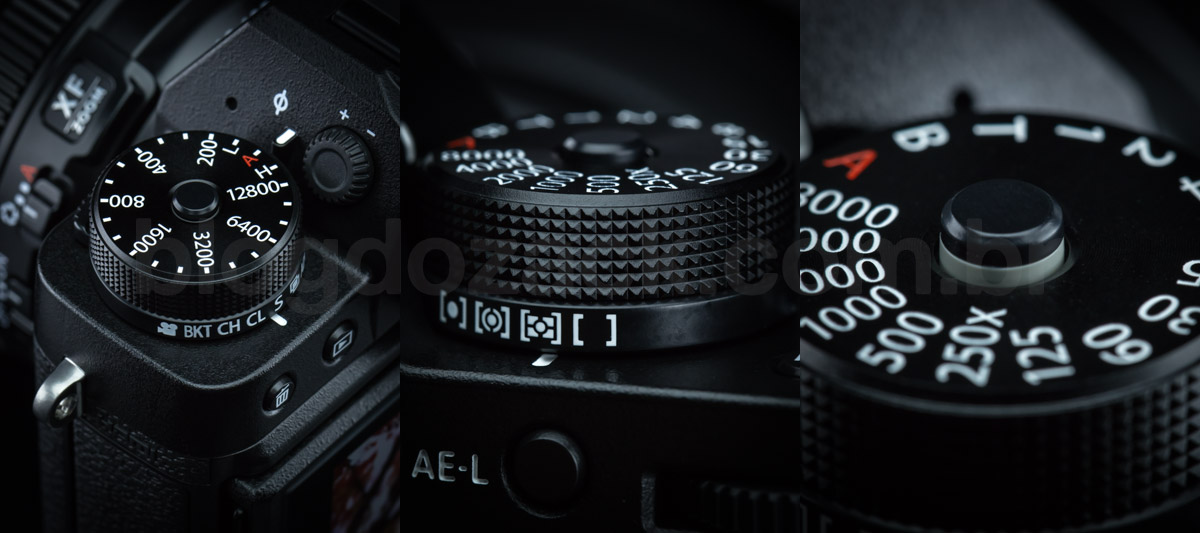 At the front there's a focusing switch (single, continuos, manual), where you control Fuji's button-less X lenses. A flash sync terminal sits on top of it. To the photographers left are the camera's connections, with HDMI, USB3.0, remote and mic-in, under a solidly built plastic door. And to the right, two SD slots support the fast UHS-II standard, almost mandatory to handle the X-T2 50MB uncompressed raw files (there's a single fast slot on the X-Pro 2). Underneath, the 340 shots NP-W126S battery (330 when using the EVF) goes under a sealed door. Actually, every X-T2 door have rubber seals, and Fuji declares other 63 sealing points compatible with WR lenses.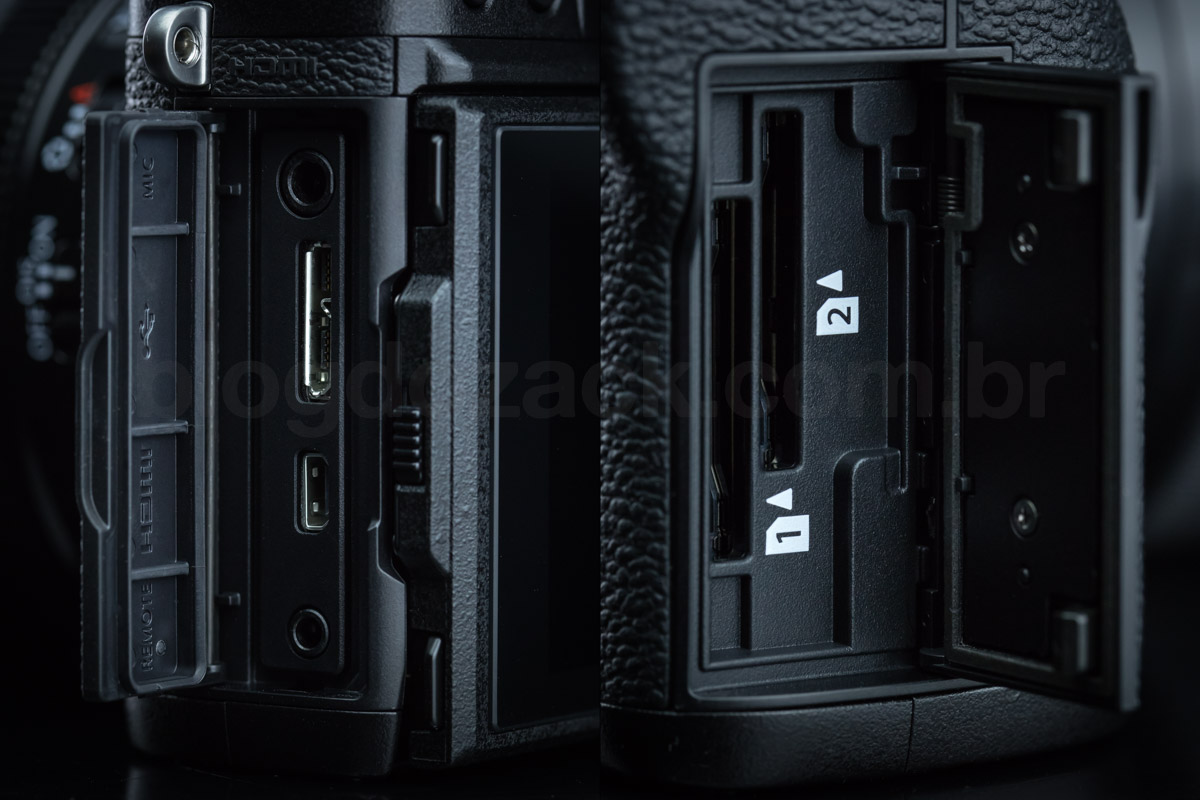 The X-T2 is yet another great camera from Fuji, looking like a traditional camera without missing the mechanical dials. It's built and ergonomics are flawless, made to be used with larger Fujinon zoom lenses, whereas the X-Pro 2 feels better with compact primes. As a mirrorless camera, it's by far the most ergonomic on the APS-C market, great for everyday shooting or for professionals looking for a Canikon alternative. However its size make it hard not to be compared with traditional DSLRs, and in that sense it doesn't make anything new, except for the mechanical ISO/shutter dials; or it does even, considering the lack of the optical viewfinder. And that's my biggest issue with it. I didn't get on the X-T2 the same "photography experience" I got from the "rangefinder styled" X-Pro 2, and I question its place on the APS-C X-mount lineup.
THE HIGHLIGHTS – SPEED AND FOCUS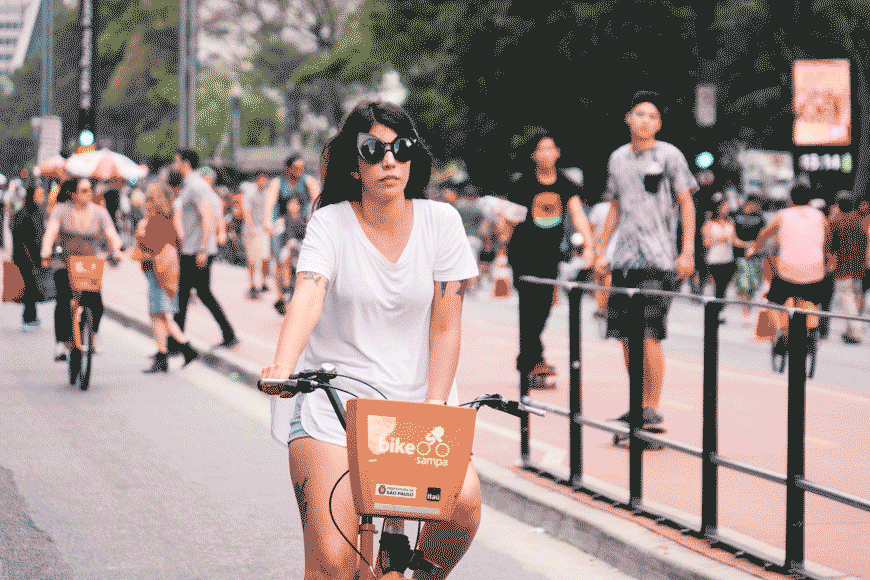 The X-T2 shares the X-Pro 2 new X-Processor Pro, made for speed; and a revamped AF system, featuring on-sensor phase detection points, for shooting action. The first guarantees a fast user experience: less than half-a-second boot cycle; up to 0.08s focus acquiring; fast 8fps shooting speed (extended to 11fps with the battery grip and 14fps in electronic shutter mode); and instant raw + JPEG processing, with a 27 uncompressed raw buffer (33 compressed or 83 JPEG; even higher figures with a UHS-II card). The X-T2 is an as fast as camera as the X-Pro 2, and the X-Processor Pro upgrade is by itself a selling point over the last generation X-T1.
But Fuji went a step further and implemented an even better AF system, with more phase detection points and advanced predictive algorithm settings; latter added to the X-Pro 2 via a firmware update. The new hybrid AF sports 325 zones, with 169 phase points on 50% of the center-frame (it's only 273 zones on the X-Pro 2, with 77 phase points on just 40% of the frame), with the camera auto-selecting between phase and contrast detections. And there's added acceleration, sensibility and tracking adjustments, just like professional DSLRs. And in practice it all works: although it's not faster nor better than the X-Pro 2, the X-T2 is yet another mirrorless camera capable of shooting sports, with an AF system that is truly predictive.

Other advantages of the AF are its -3EV sensibility, to shoot in near-dark situations; and the face + eye detection, made to shoot portraits. The X-T2 shows no difficulty in finding faces and, most importantly, driving the lens to the correct focusing point, in high speed, even under low light. With the XF 18-135mm f/3.5-5.6 R LM OIS WR zoom, that's not the brightest to work under poor light conditions, the X-T2 made a good job around the streets, at night. While I still prefer a DSLR "mandatory" phase detection system when using the mirror, Fuji states the X-T2 actually gives preference to the phase points, and overall the camera feels secure in auto focusing.
THE NEW – 4K VIDEO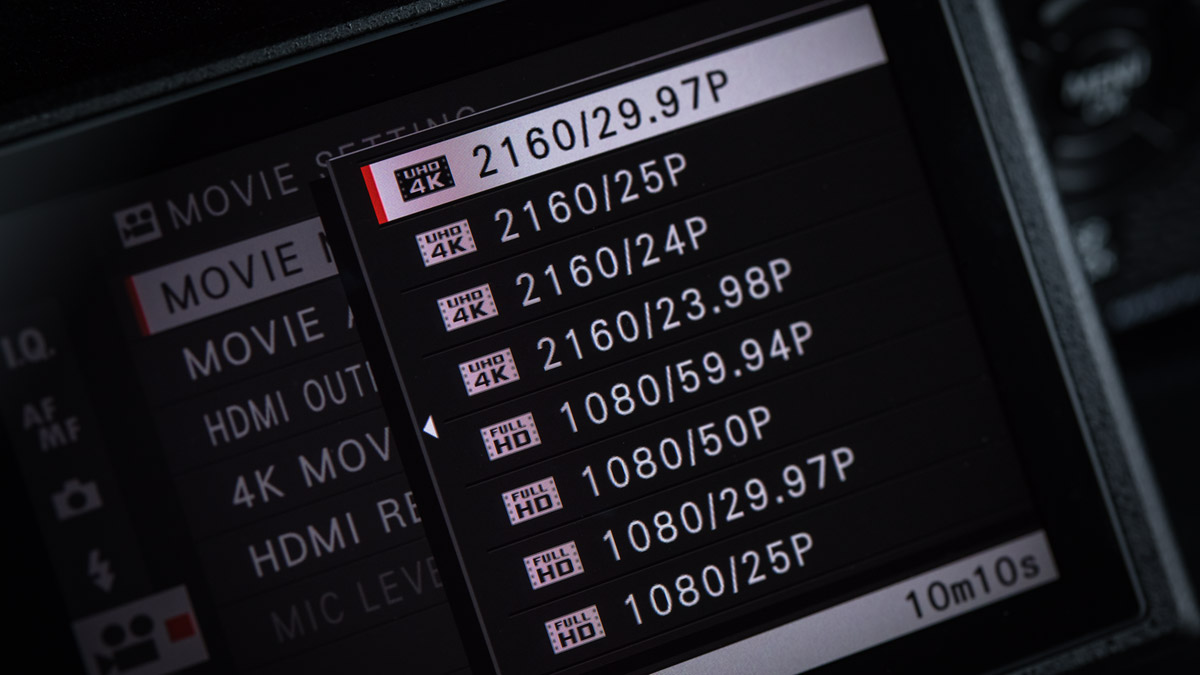 New on Fuji's X lineup and X-Trans cameras is the X-T2 3840x2160P30 (4K) video capabilities. The video acquisition is rather exotic: a 5120×2880 1.17X sensor crop generates 1.8X the 4K data to be outputted to the SD card at up to 100Mbps, free of moiré and aliasing. Even the 1080P is sophisticated: a 3000×1687 reading its reduced to 1920×1080 at 24, 25, 30, 50 or 60 frames per second, also at 100Mbps for great looking HD videos. So the X-T2 brings the X-Trans cameras to modern times, something promised for the X-Pro 2 but not delivered by Fujifilm.
However, as we're used to on hybrid "photo + 4K" cameras, the sole 4K resolution doesn't really make for better videos. The main problem is Fuji's aggressive color and contrast profiles, easily blowing highlights or completely killing any shadow detail; plus weird colors from Fuji's mandatory Film Simulations. It's could be solved using Fuji's new F-log mode, that preserves the whole X-Trans dynamic range, but it's limited to the 8-bit 4:2:2 HDMI output; not very practical. Besides, I even question if 100Mbps are enough for 4K recordings, as some compression artifacts can be seen on finely detailed scenes. So the X-T2 videos demand a "serious" approach with an external recorder, killing its already not-so-small mirrorless form factor.
Another limitation, although easier to overcome, is the 10-minutes ceiling for internal 4K recording; probably due to heat issues. So longer interviews, video logs or creative non-stop videos (think of drone flights) are completely scraped from the X-T2. And there's no audio output for monitoring, unforgivable for a camera meant for video. But magically both can be fixed adding the VPB-XT2 camera grip, a US$329 accessory that adds: a headphone jack, some vertical buttons and 29m59s 4K videos to the camera; a bold move from Fuji in order to get even more money for those opting for the X-mount. It's hard to believe the grip can be responsible for cooling the camera, and considering the US$998 Sony A6300, it's hard to swallow Fuji's camera + grip US$1928 combo.
The X-T2 4K update is a welcome update (it always is), but far from a unique selling point. The resolution goes up, but not the overall video quality. The high ISO performance is not the best compared to last-generation's Sony A7S (full frame). There are no X-Mount adapters for electronic lenses (think Canon's EF). And besides Fuji pushing the X-Processor Pro Film Simulation as a great idea, what it does is lifeless files with limited dynamic range. So considering the US$998 Sony A6300 for less than half Fuji's X-T2 (US$1599) + VPB-XT2 grip (US$329), that can do more on the video side (1080P120, internal S-Log3), I recommend a careful look at the X-T2's 4K capabilities.
THE QUESTIONABLE – OLED EVF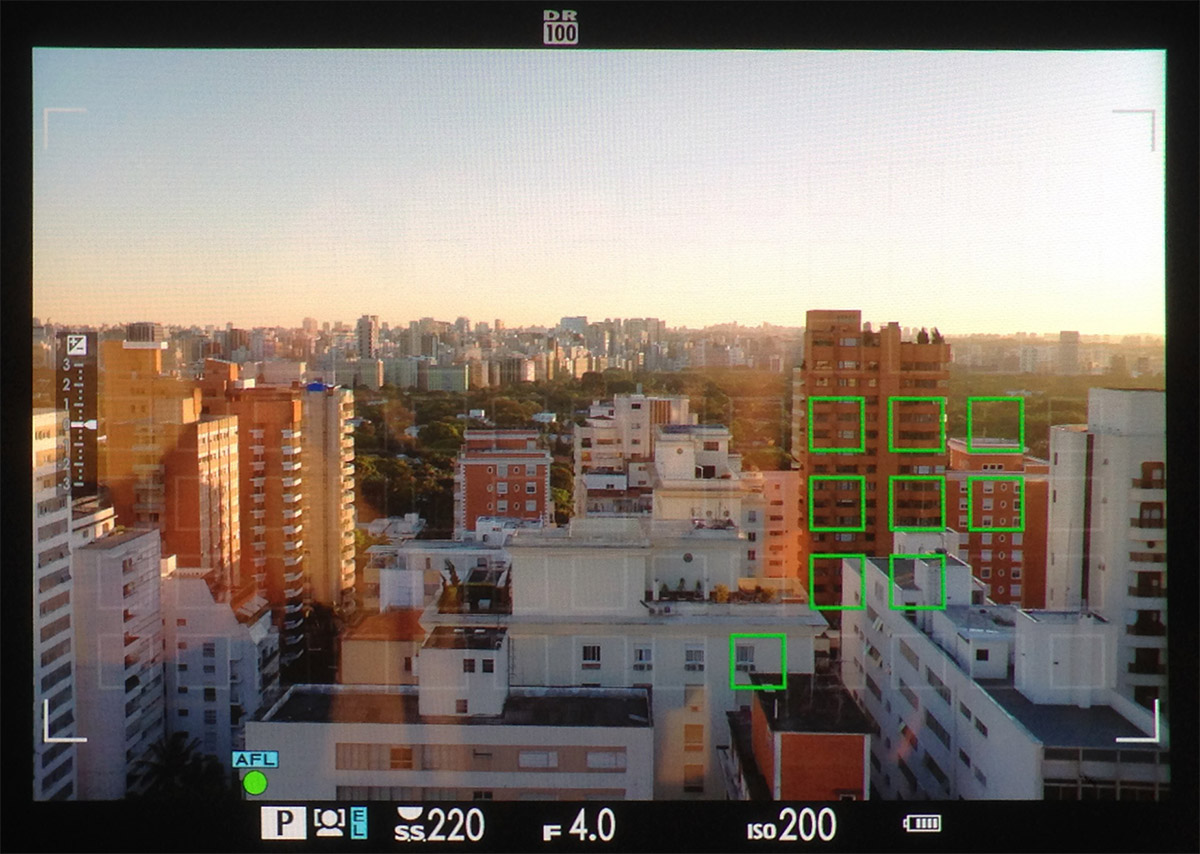 One last personal comment about one of the X-T2 most praised features, is its giant EVF and how it compares to the rest of the market. Let's make one thing clear: it's a big viewfinder for mirrorless standards, using a 0.5" 2.36M dots OLED screen with a 0.77X magnification, sitting just 23mm to the eyepiece, for a giant viewing angle, close to most entry-level full frames. As it's electronic, different display modes can shown like the FULL viewfinder area (for an immersive experience), NORMAL (reduced to action shooting) and even DUAL (to help during manual focusing).
But the hardware itself is far from new, and it doesn't perform that much better than the rest of the market. "It's a big screen with a big magnification". But so is Sony's Alpha A7 (all of them), at the same 0.5 OLED screen size and 2.36M dots. The Sony mag. is smaller at 0.71x, but the screen sits farther from the eye at 27mm (it's 23mm on the X-T2); the end experience feels the same. The A6300 has an even smaller screen at 0.39", but the same 2.36M dots OLED plus a 1.07x mag. makes for practically the same experience. And none of these screens feels natural. It's easy to see the pixels and Fuji's giant magnification is prone to chromatic aberrations, together with a far-from-natural color profile. So compared to the X-Pro 2, that has a real optical viewfinder with a hybrid screen, I opt for the organic feel of the Pro model.
IMAGE QUALITY
With virtually the same X-Trans III APS-C CMOS from the X-Pro 2, that caused a positive impression early in 2016, I don't need to mention the X-T2 leads the APS-C market in image quality. Both output 6000×4000 uncompressed raw files at about 50MB, with Fuji's innovative color array and the lack of low-pass filter, for finer resolution. And the result is fantastic: files are easy to manipulate, be it for exposure correction or creative coloring; the high-ISO performance is excellent up to 3200; and straight-out-of-camera JPEGs look great, using Fuji's propriety color science. Together with the X-Pro 2, the X-T2 is essentially different from the rest of the APS-C market in image quality, and the final reason to invest on the X-Mount lens system.
At ISO200, the base value of the X-T2 raw format, the X-Trans III perceived resolution impresses by the file's clarity. Ahead of any standard Bayer 24MP sensor, including those without low-pass filters, be it full frame or APS-C, Fuji stands as an alternative for those making large prints, not relying on larger cameras or special formats. The resolution is so high, that some sites are making crazy statements about it (exaggerated, IMHO), but this generation Fujis can hold up to large printing. You're probably limited by the lens resolution than by the X-Trans detailing capabilities.
The low-ISO dynamic range is also on-par with recent APS-C technology. There's plenty of shadow data to be recovered on underexposed zones, with a discrete noise footprint. There's no banding to be seen, nor weird color bubbles from low-light areas, making it a breeze to shoot difficult scenes with a single click. The highlights are a bit harder to recover, so I recommend preserving the brightest areas whenever possible. But there's a clear advantage in shooting raw instead of JPEG, as Fuji opts for a dramatic contrast curve on all X-Processor Pro profiles.
"Massacre" with the XF 18mm f/2R at f/5.6 1/160 ISO200.
"North Grand Canyon" with the XF 18mm f/2R at f/5.6 1/300 ISO200.
"Juke" with the XF 18mm f/2R at f/3.6 1/100 ISO200.
"Juke II" with the XF 18mm f/2R at f/5.6 1/120 ISO200.
Higher ISOs shows the limits of APS-C sensors, although files look reasonably good even under exotic values (think 6400 and up). The X-Trans III looks clean up to ISO3200, making it possible to shoot astrophotography with a compact camera. But absurd values from ISO10.000 and up (ISO12.800 is the native max.) shows a heavy noise pattern that kills details, not so visible on full frame sensors. Anyway, those working with the correct lenses, be it large aperture for low light or compensating for longer telephoto apertures, won't be limited by the X-T2 high-ISO performance.
Fuji's colors are easy to manipulate on Adobe's Camera Raw / Lightroom, with deep blue skies and brownish green tree leafs. But the main highlight is the SOOC JPEG processing, bringing Fuji's 80+ years of film heritage to real time electronic profiles, shared with the X-Pro 2: PROVIA, Velvia, ASTIA and the new black and white ACROS, that create the best straight-out-of-camera JPEGS on the market. It's very interesting to get instant results without extensive Photoshop sessions, that concludes the recommendation for those interested in better shots.
"Dana" with the XF 18mm f/2R at f/5.6 1/1800 ISO200; before and after some software compensation.
"Apgar" with the XF 18mm f/2R at f/5.6 1/750 ISO200; Film Simulaton Velvia.
"St. Mary" with the XF 18mm f/2R at f/5.6 1/80 ISO200; Film Simulation ASTIA.
"Grand Teton" with the XF 18mm f/2R at f/5.6 1/125 ISO200; Film Simulation Classic Chrome.
"O deserto" with the XF 18mm f/2R at f/5.6 1/1000 ISO200; Fim Simulation ACROS.
VERDICT
The X-T2 came to blog do zack with a lot to prove. Sharing the X-Pro 2 image pipeline, that I loved earlier in 2016, the T2 would have to justify: the six month span between the two, with more AF phase points and 4K video; the better ergonomics, due to its size and style, and the OLED EVF, praised since the X-T1. And it filled some of my expectations: it's in fact the most comfortable mirrorless camera I've ever used, although it goes against the mirrorless essence; it's big! The usability is easy breezy, with comfortable tactile dials, fast booting and shooting cycles, and Fuji's guaranteed image quality since the first generation X-Trans sensor.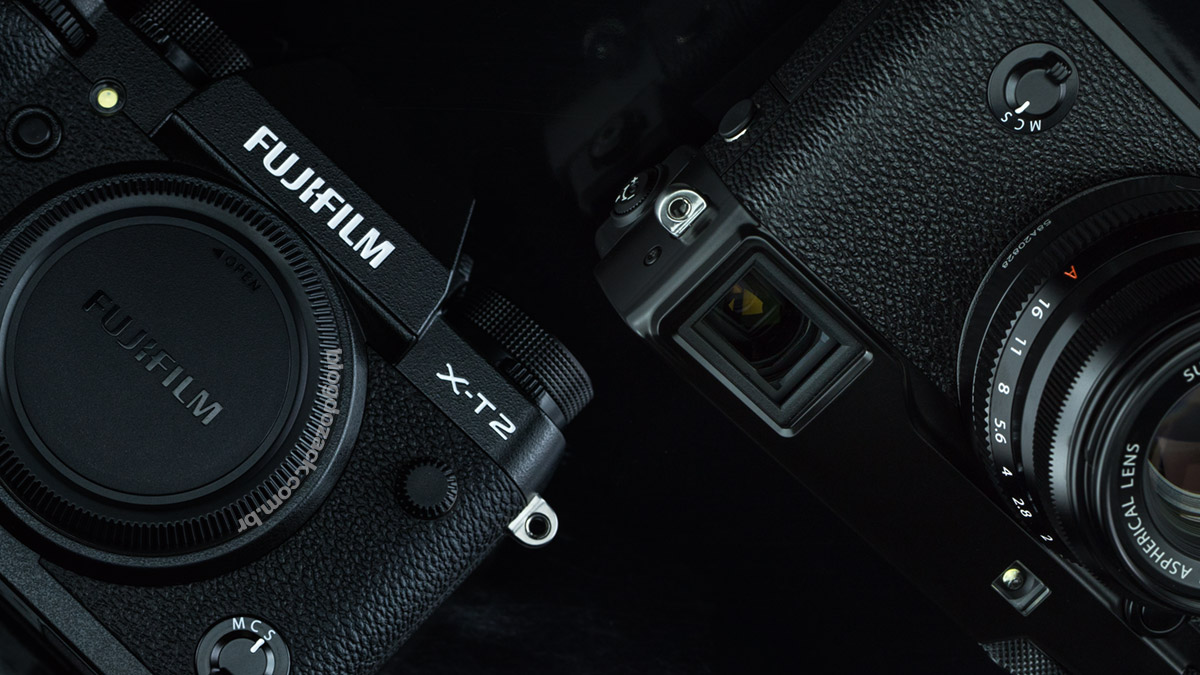 But the "tech" behind the X-T2 is not worth the "photographic experience" of the X-Pro 2, and it feels too close to a consumer electronic; and that's a problem. As an "electronic", it does nothing more than other APS-C mirrorless (or even less; hello, Sony A6500!), and it's too expensive. So it's hard recommend considering only the 4K video shooting + more AF points, things that cheaper cameras does as well. The X-T2 is all about the ergonomics, but so was the X-T1. And the image quality is the same as the six-months-old X-Pro 2. There's nothing wrong with it, but there's nothing really new. So if you're looking for a dedicated "photographic experience", I'd recommend giving a careful look to its older sister, the X-Pro 2. And nice shooting!