Estimated reading time: 10 minutes.
September/2017 – The Xiaoyi 12-40mm f/3.5-5.6 is the first zoom lens offer by Chinese brand Xiaoyi, as a kit for its mirrorless M1 camera on the Micro Four Thirds format. Covering the 24mm (equiv.) wide-angle distance, nice for playing with the frame's lines; up-to a 80mm (equiv.) telephoto range good for portraits and details, it's an easy to use zoom with striped down features; typical of a kit lens with a variable f/3.5-5.6 aperture. Made as light as possible at 280g, it's perfect to match the M1 camera body made of plastic and mostly point-and-shoot operation. But at US$299 the kit (!), is the performance good enough for great pictures? Let's find out! Nice reading.
BUILD QUALITY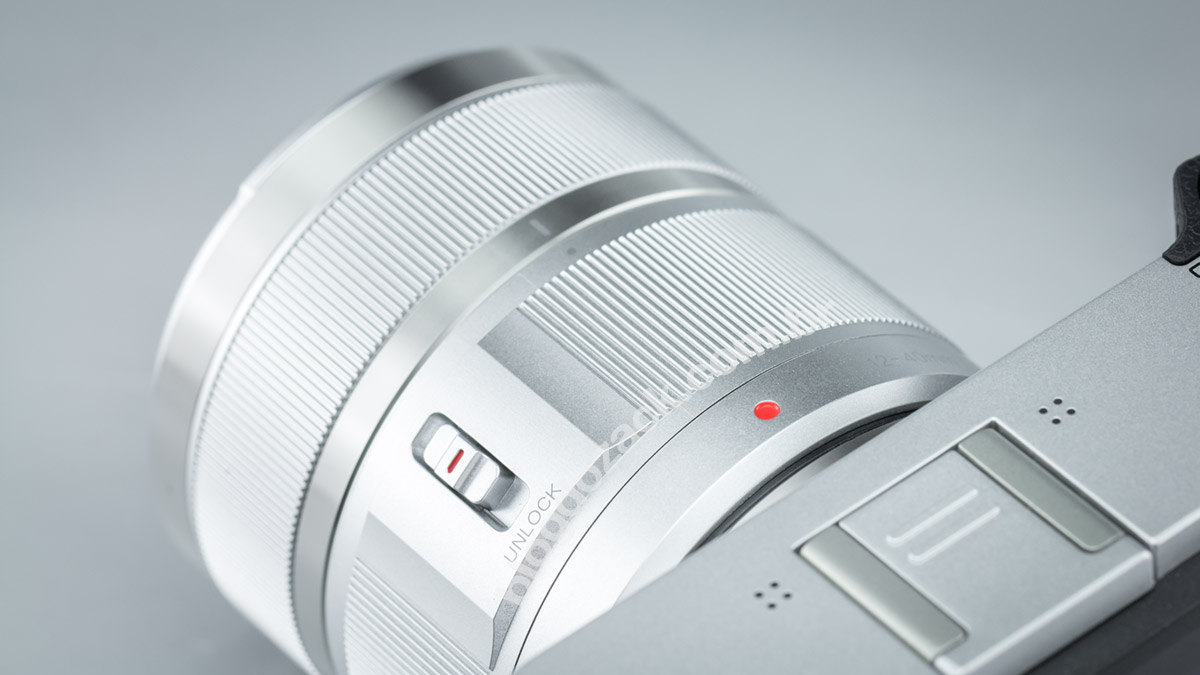 At 6.2 x 5.8cm of 185g of mostly plastics, the Xiaoyi 12-40mm f/3.5-5.6 is a typical standard zoom lens for the Micro Four Thirds format; one of the smallest and lightest on the market, with an overall simplified operation. Its secret lies in the collapsible design, that must be extended prior to use, growing to 7.2cm at the widest angle (12mm), and up-to 9.3cm at telephoto; shorter than most MFT lenses. That's the raison d'etre of the Micro Four Thirds format, and a pretty straight forward purchasing decision: the standard usability of a dedicated camera (large sensor, different lenses) despite being as portable as possible. It's the same idea behind Panasonic's G lenses like the equivalent VARIO 14-45mm f/3.5-5.6 MEGA OIS, but even simpler on the Xiaoyi.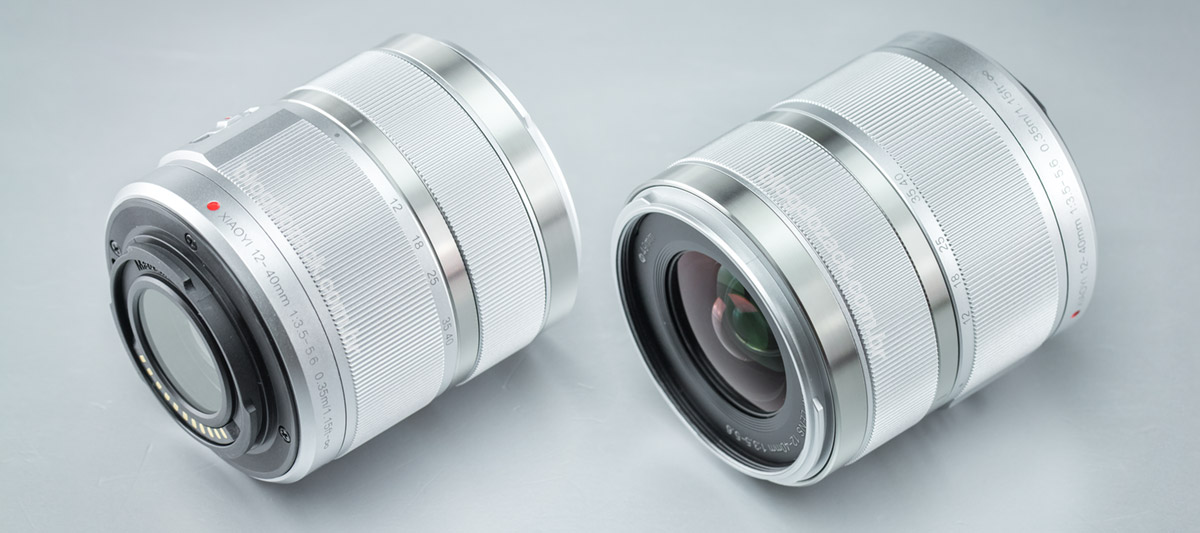 In your hands the usability is also miniaturized, light and well balanced, specially against the also portable MFT cameras. Paired with the 280g Yi-M1, the camera's weight is distributed to both hands, distinct from DSLRs where the camera is usually the gripping point. This makes for a much more portable device like the card-sized Panasonic DMC-GF3, also making due without a larger hand grip; it's all balanced on both hands. The zoom operation is made via a non-rubberized rear ring from 12mm to 40mm at about 70º, and its movement feels smooth and precise; not as "cheap" as I was expecting for US$299. And at the front the focusing ring is fly-by-wire (electronically controlled), following the zoom ring design: all plastic, not rubberized, and smooth to use.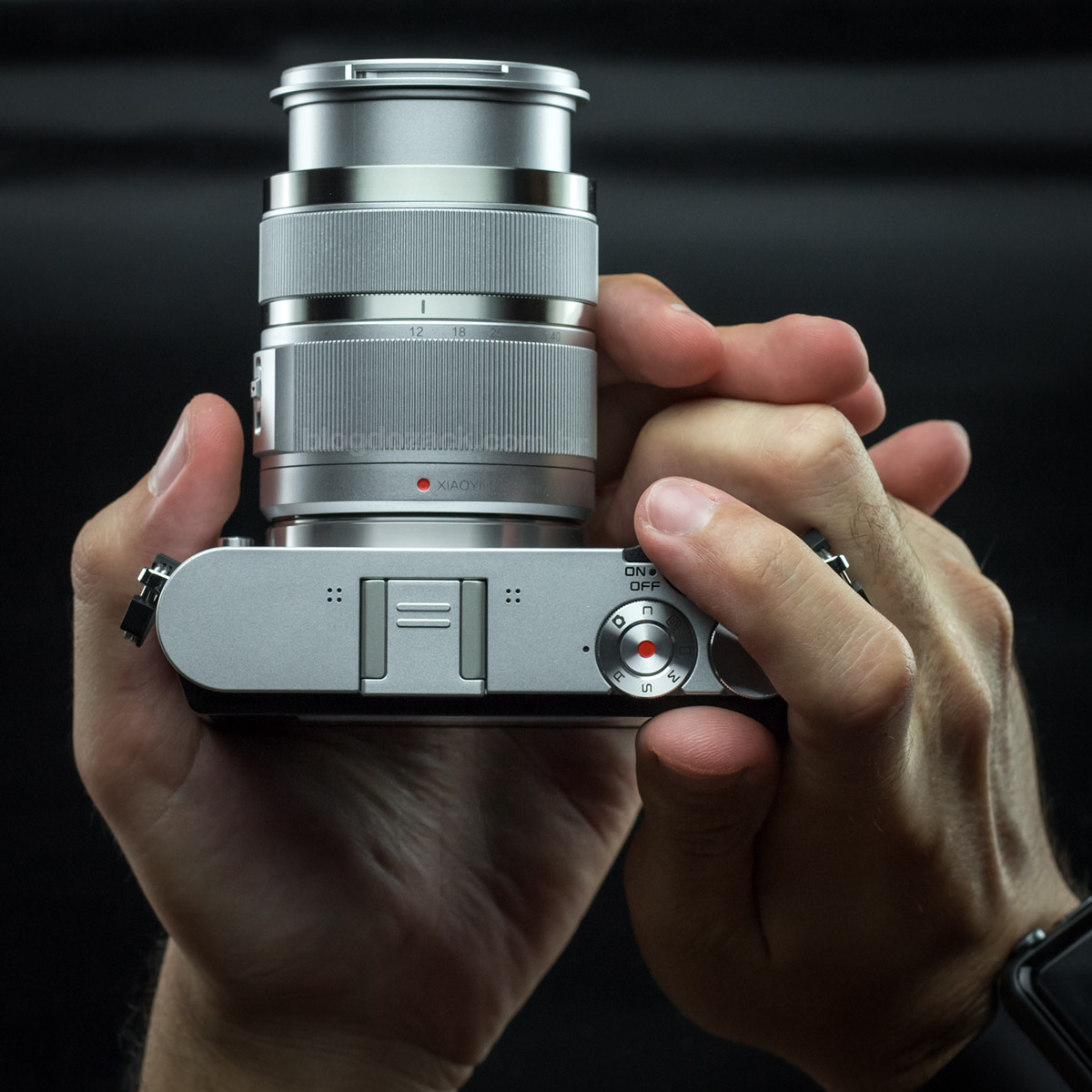 As soon as we turn the camera ON, its interface warns us to extend the zoom mechanism; making the camera ready to shoot. The unlock switch sits to the left, near the left-hand thumb, feeling easy and smooth to use; there're no clicks nor scratches from this piece. From 12mm to 40mm the zoom ring turns clock-wise and lightly, and the internal barrel expands to the front; also reasonably robust, not wobbling the optics, avoiding misalignments. That's a hidden advantage of the Micro Four Thirds format: as it's smaller and require less mechanical structure, most mundane specs feels better to handle; made for a lifetime of photographs. It all feels cheap and fragile from a distance, but it's actually sturdy and high-quality in your hands. Less is definitely more on the MFT format.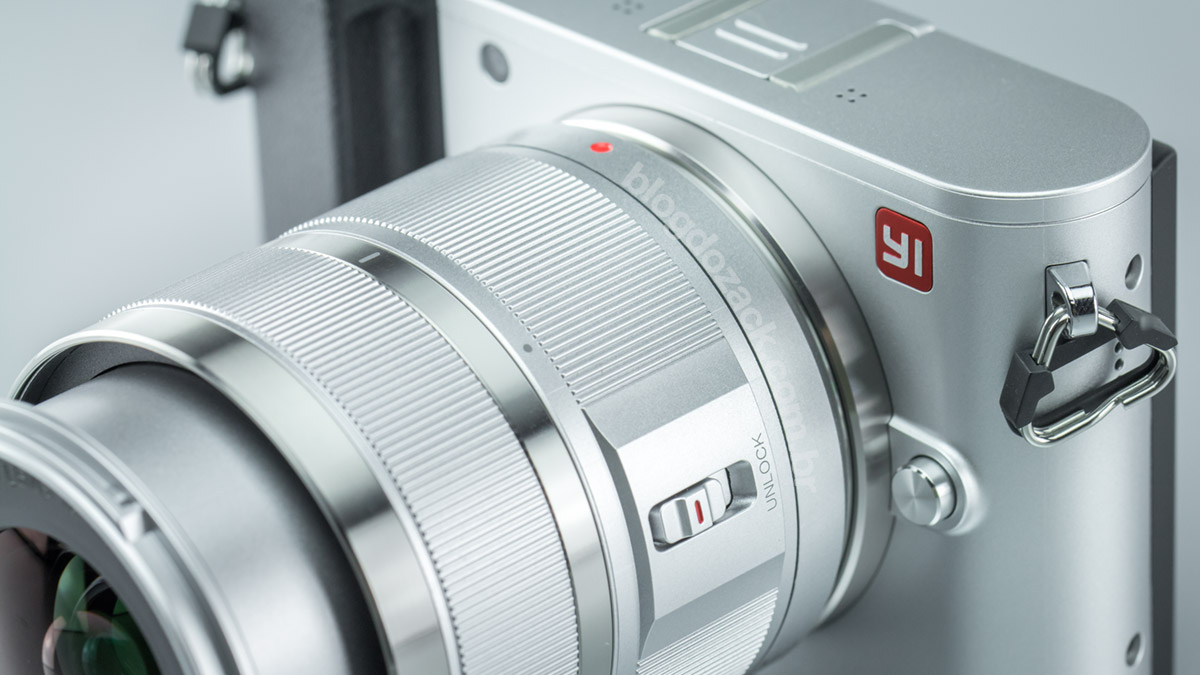 The focusing operation must be set using the camera's interface, once the 12-40mm doesn't sport any physical AF/MF switches. The Xiaoyi Yi-M1 camera offers such adjustments on both main and quick menus for ease of use, with AF+MF "full time manual" mode and peaking; perfect for the M1 ergonomics. As neither the 12-40mm nor the camera's software feature a distance scale, it's impossible to "guess" where the focus really is; thus asking for a peaking contrast. A colored highlight surrounds high-contrast edges revealing sharpness, making it easier to manually focus the lens. The external ring is smooth to turn both sides, all silently and precisely, also not showing delays between movements; very nice. This ring is as good as Sony's US$999 FE55ZA, making the Xiaoyi US$299 kit even more impressive; plastic never felt so good.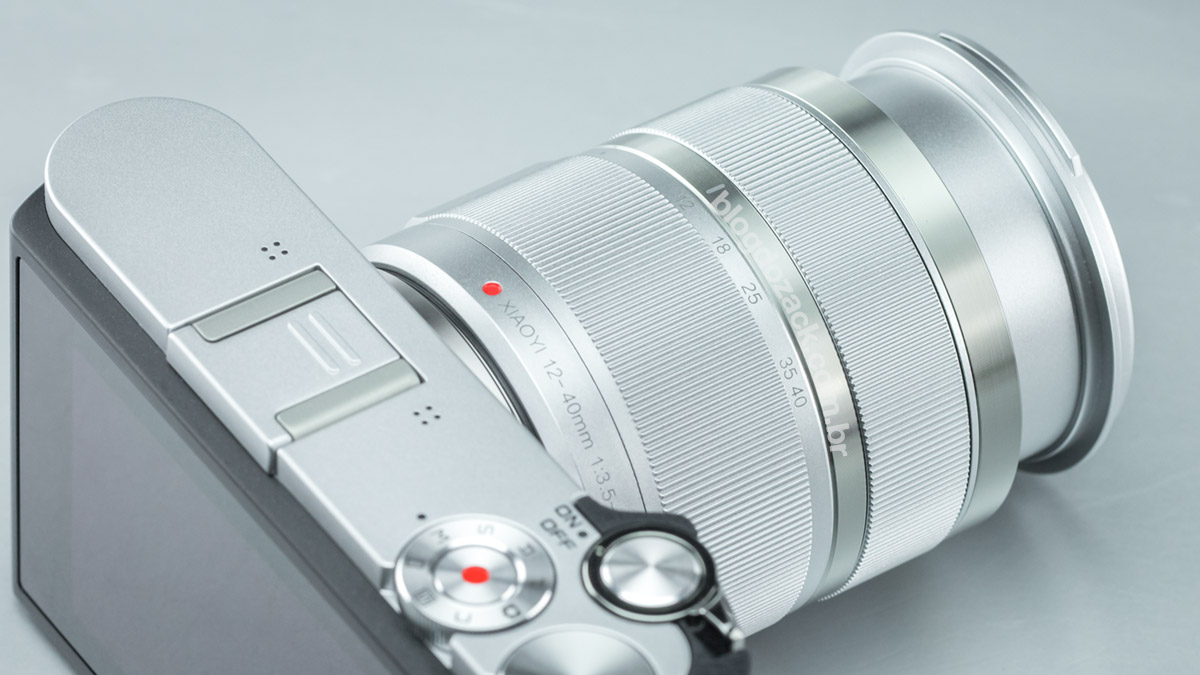 Inside Xiaoyi doesn't declare the focusing motor technology on the 12-40mm, but we can imagine a linear track system; probably operated by magnets. As there're no vibrations indicating a helicoidal thread, nor any noise indicating a micro-DC motor, I can only guess it's linear. The M1 can focus in about 0.5s, that's reasonably fast for everyday still life, although it doesn't work at all in continuous mode; we've seen this camera simply can't keep-up with moving targets. On the other hand its precision is quite good considering the contrast-only detection method, and less than 10% of my 900 review-clicks were out-of-focus; good enough for its class. So despite not competing with higher-end mirrorless cameras, the M1 performance is fair: not the best, but far from the worst.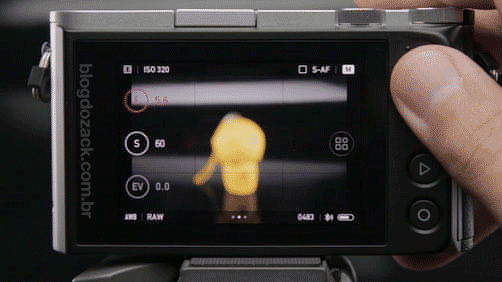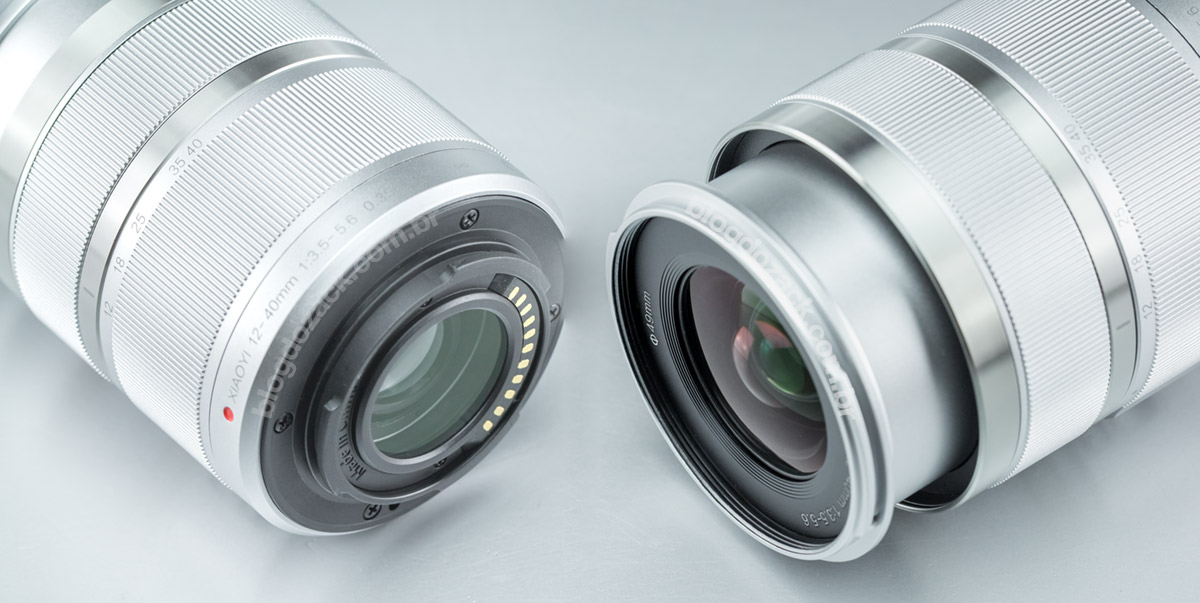 Finally a notable absence is the built-in stabilizer on the 12-40mm; nearly standard for this class of equipment. It makes it harder than usual to use the US$299 kit under low-light, also making it nearly impossible to shoot high-quality hand-held videos; the image shake is unacceptable. At the front the lens accepts ø49mm filters that are fixed on a plastic thread, inside the secondary lens-hood thread; not included on the M1 kit. At the rear the plastic mount is smooth and nice to use with minimum friction, pressure or noise; a wink at Nikon's tougher the usual F-Mount, for example. The last optical element is fixed and prevents water and dust from entering the optics, despite nothing being declared about a true weather-resistance scheme; standard for its class. But overall the 12-40mm is an excellent choice for the M1 kit, worth the ease of use and ergonomics, and cohesive with its US$299 kit price-point. It works for its simplicity and, as we'll see on the following images, it doesn't lack the performance of even more expensive Micro Four Thirds alternatives.
IMAGE QUALITY
With just 11 elements in 9 groups, nothing else is published about the Xiaoyi 12-40mm optics: glass quality, geometry, chemical treatments or design. What we can see on the lens itself is the rear groups moving independently from the rest of the formula, thus indicating some form of floating system; that should guarantee optimized resolution at all focal lengths. And in practice the 12-40mm just works: the images show plenty of resolution on the frame's center, as good as any kit zoom on the market, dropping performance around the edges. Stopping down enhances the overall resolution peaking at f/5.6-7.1, and the geometry is questionable from 12-24mm; fixed only at 40mm. And chromatic aberrations are present on most frames, typical of Chinese low-cost lenses; despite never really ruining an image. The colors and contrast are also questionable asking for extra post-processing. But the 12-40mm works for what it is: a simple lens for simple images.
Wide open at f/3.5 at 12mm, and f/5.6 as zoom as 25mm, the Xiaoyi performance is far for acceptable; not even at the frame's center. The optical resolution can't resolve Sony's IMX269 20MP M1's sensor, displaying poor contrast and sharpness, behind even the most basic smartphone. The loss in contrast is due to the obvious blooming on both zoom ends, given the low-performance glass, and around the edges the resolution is further reduced; worst giving the shallow depth-of-field and the field curvature. The widest aperture could be used to enhance image quality, allowing for more light to reach the camera's sensor, but honestly should be avoided; there's no resolution.
Stopping down greatly enhances the overall resolution, standard behavior for kit lenses. The corner resolution peaks at f/5.6 at 12mm, with acceptable edge-to-edge details with good contrast. The blooming is also not an issue making it useful to work with in-frame light sources, not leaking light to nearby pixels; enhancing the overall sharpness. It's ideal to shoot street photography with backlit signs and light spots, sharp and full of details, much better than the widest aperture. At telephoto the f/7.1 setting is welcomed for detailed captures of textures, a leap-forward the maximum f/5.6 aperture. Once again it's a standard behavior of low-cost kit zooms, and works wonders for the image quality: use the 12-40mm at f/5.6-7.1 to see what the M1 is really capable of.
The axial chromatic aberration is also severe on high-contrast zones getting colored green and magenta halos that are hard to fix in post-processing. Images of trees, street signs, window frames and backlit objects get weird lines asking for careful framing. While it does take a very high-contrast object for the axial CA to happen, it's easy to forget it and ruin everyday shots; the optics were not made for high-precision and we'll be pushing the low-cost, low-quality glass to its limit. The high resolution MFT sensor also doesn't help and we're set to fail: larger than usual aberrations. On the other hand the lateral chromatic aberrations are discreet: high contrast graphic design show little to no colored edges, unless also pushed to its limit during the image post-processing.
The geometric distortion is also not the best on this portable, wide-angle zoom, despite being easily avoidable depending on the focal length. Most issues happens exclusively at 12mm under a shorter than 3m focusing distance, rendering a visible bulge on peripheral straight lines, demanding post-processing compensations; there's no in-camera profile to fix lens aberrations. This is noticeable on graffiti art and architecture, but not on landscapes; as long as you keep the horizon line out of the frame's edges. But between 24mm and 40mm the geometry is near perfect thanks to the lens longer design, extended at 9.3cm under telephoto distances. It's very useful to shoot using a tunnel effect on details and portraits, easily competing with a similar prime. We've seen longer zooms with worse distortions but that's not the case with this Xiaoyi 12-40mm.
"Tsūtenkaku II" at f/6.3 1/320 ISO200 @ 12mm.
"Tsūtenkaku III" at f/5.6 1/100 ISO800 @ 12mm.
"Bar" at f/5 1/100 ISO640 @ 12mm.
"Monks" at f/5.6 1/100 ISO2000 @ 12mm.
Finally the colors and the bokeh are always questionable on 1) Chinese 2) low-cost 3) simplified lenses. If it wasn't enough to be a variable aperture f/3.5-5.6 zoom at just 40mm, with shallow depth-of-fields only at closer focusing distances, the 11 elements in 9 groups formula make highlight edges a bit nervous, with concentric circles not as smooth as a prime. Although it works for "bokeh" close-ups, it's not the best lens to do it. But its colors largely depend on the camera: the Yi-M1 can render pure red, blue, greens, yellows, orange and pinks under natural light via raw files, but that's not enough to mix pleasing tones, as we get from Canon's EF+EOS system; it will all depend on your post processing. But the 12-40mm is a neutral lens with pastel tones, without shifts.
VERDICT
The Xiaoyi 12-40mm f/3.5-5.6 is a logical pair to the Yi-M1: light, portable, easy to use and optically as capable as any kit zoom. Its ergonomics are surprising considering the smooth zoom ring and the internal barrel build; an advantage of the smallest Micro Four Thirds format compared to APS-C. The usability is nice, better than most first-generations zooms, and worth your kit; if you're invested in better lenses, this 12-40mm is still nice for the everyday photographer not really caring about damages; but not really leaving any feature behind. While it's auto-focusing is "ok", the absence of a built-in stabilizer can be an issue: it's a problem for those used to IS/VR/OS lenses; or even current smartphones that fit optical stabilizers. But the optical formula is fair enough for a kit lens: the resolution is OK, the contrast is OK, the aberrations are OK, and the colors and bokeh are also OK. So just keep your expectations low and be ready to get impressed; and nice shooting!