XiaoYi Yi-M1
Estimated reading time: 22 minutes.
September/2017 – The Yi-M1 is simply the cheapest camera ever tested on blog do zack. At just US$299 – the kit! – it comes from Chinese brand XiaoYi best known for its low-cost GoPro clones actions cameras, usually found on Alibaba website; based on Xiaomi funding. Built around a Sony CMOS IMX269 20MP four-thirds image sensor, the Yi-M1 offers complete exposure controls and raw .DNG file output, paired with an impressive 4K video mode; specs not long ago dedicated only to higher-end cameras. A mirrorless camera body based on Leica's TL design, it uses a Micro Four Thirds lens mount; Wi-Fi and bluetooth wireless connections; a 3" rear touch-LCD screen with a completely electronic touch-interface; up-to five frames per second shooting speed; all for endless creative possibilities. But how is it possible? Does it even work? Let's find out! Nice reading.
BUILD QUALITY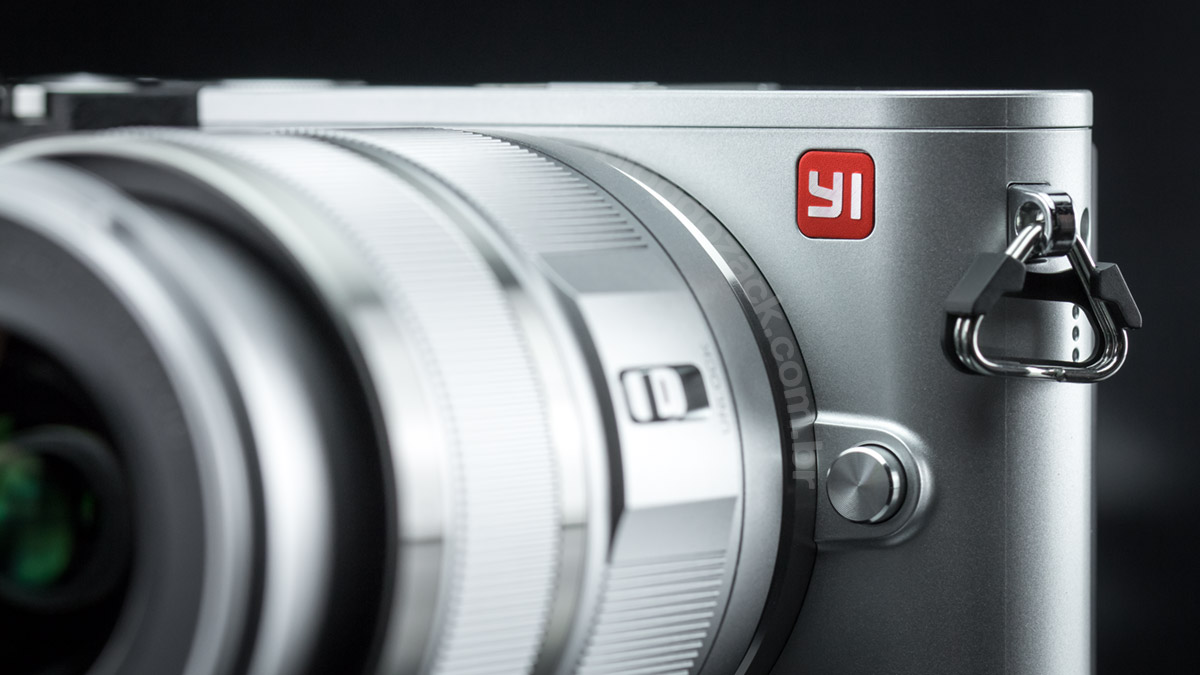 At 11.4 x 6.4 x 2.2cm at the thinnest, or at 3.5cm in the discreet right-hand grip, all at just 280g of mostly plastics, the Yi-M1 is a typical mirrorless entry-level camera; not too big, annoying to carry around; not too basic, like older point-and-shoot cameras. While the 100% plastic construction indicates the first flirt at the US$299 price, in fact the M1 stands out for its minimalist design and lightness, inspired by the Leica TL; a US$1700 camera built from an anodized aluminum block, but here sincerely well-made in plastic; impressive for the price. All panels fit to perfection with no ripples, paired to operational keys/disks that do not wobble, even better than more expensive Japanese cameras like Fuji's X-A2 and Canon's top-of-the-line EOS M5; costing two, three times more than M1. It is proof of the saying "less is more", but here multiplied by US$299x – the kit!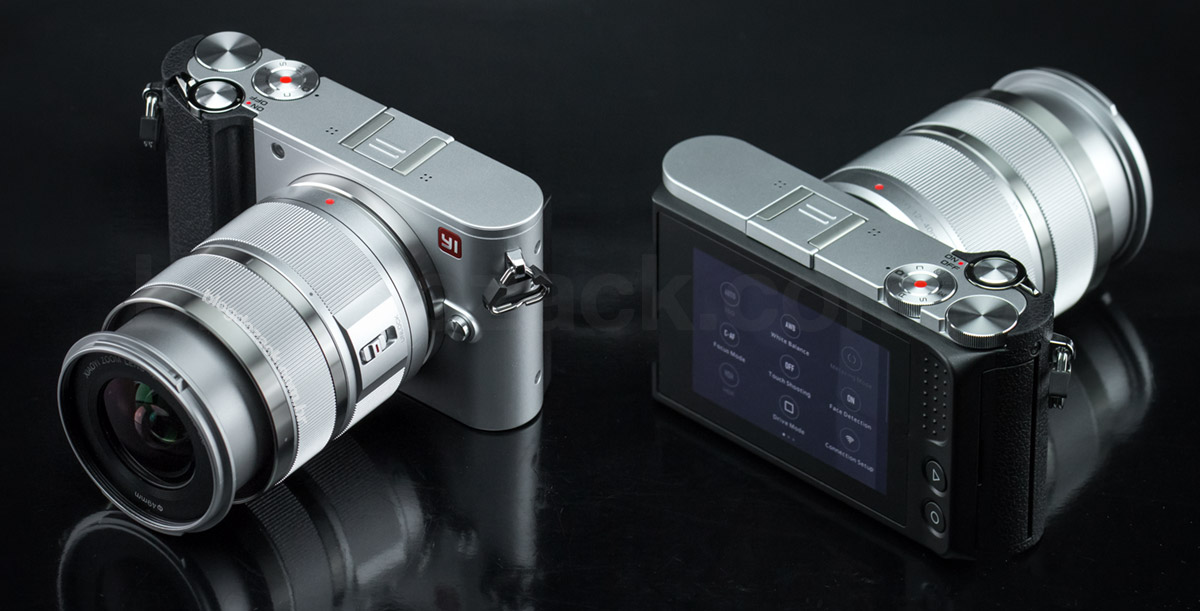 In your hands the ergonomics are curious because the basis of the Yi-M1′s design is already a cutting-edge product: the Leica T. The German principle is that non-essential operations (menus, ISO, etc.) should now be software programed on the rear touch-LCD screen, limiting buttons and disks; thus reducing the overall camera's dimensions. While the front-left right-hand grip has a discreet protruding area, with a subtle rubber texture, most of the support actually weighs on the left-hand; distributed to the lens at the front. This is interesting to make the camera light and portable, for an always-with-you piece, but limits the balance only to smaller lenses. So it's a coherent decision to its price, but it doesn't compare to larger, more advanced mirrorless cameras.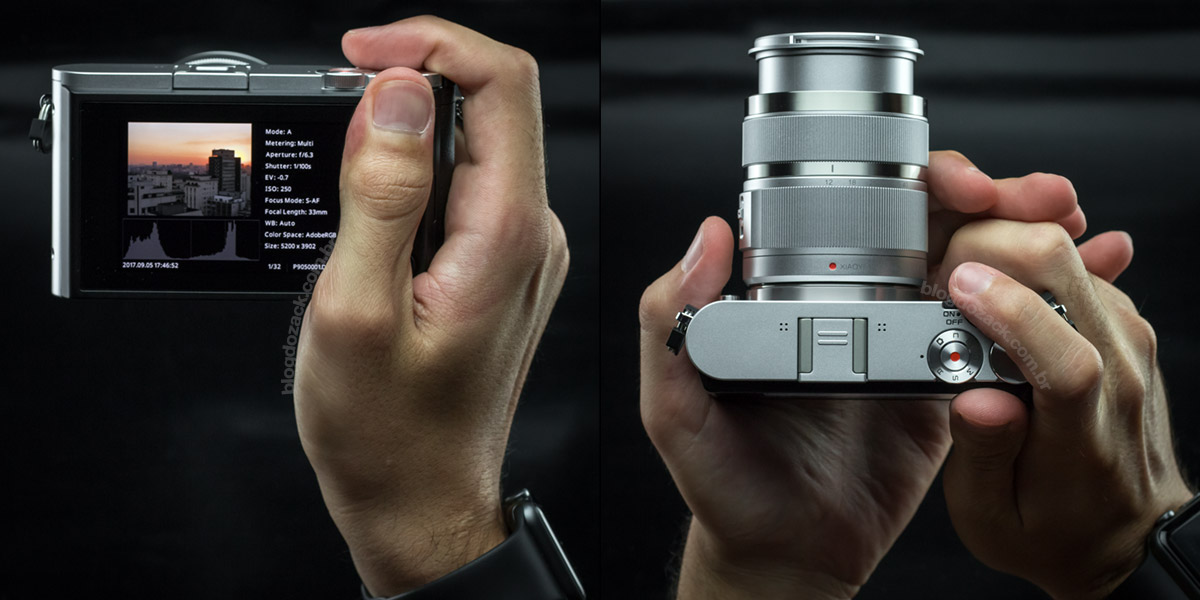 The entire Y1-M1 usability follows the Leica T philosophy, simplistic and distributed between only two operating discs and four buttons; the rest accessed by the rear touch-LCD screen. At the front the shutter button sits inside the power switch, and sports two stages: one to focus, another to shoot; all with a simple chromed finishing, with minimum wobbling between the ON and OFF positions. As the release button is closer to the body, inside the power switch, it has a purposeful swing in the Y axis (down) in order to orient itself to the curvature of the photographer's finger; it is not a defect like the disks used on the Canon EOS M5. But one criticism goes to the ON/OFF switch, which is very easy to accidentally click. When carrying using the shoulder strap, I often set the camera ON wasting battery, so be careful how you handle this device. Also this plastic chromed switch begs to peel over the years (Fuji's X-A2 is also guilty), so take good care of the camera. Prefer carrying it in front of your body, hanging from your neck.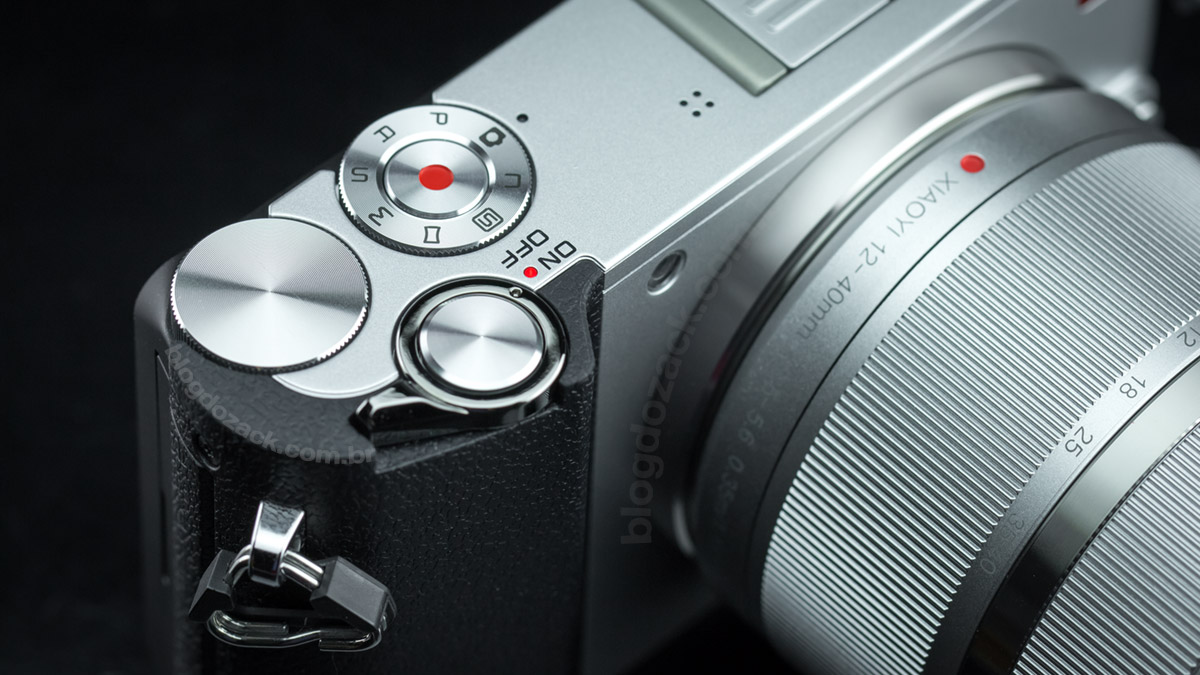 At the top the Yi-M1 has two operation discs, one with the PASM exposure modes, and a built-in video recording button; and the other for variable controls. These discs are solid without any wobbling, despite being smooth to use; Sony could copy them in future cameras, considering today's tougher A6300/A6500 jog-dials. The PASM disc also has firmer clicks that are self-explanatory, and includes special modes for "scene", with preprogrammed exposure settings; "Panorama," which takes pictures in sequence and blend them into a wide-angle photo; and the comic "C – Super Professional Guide", which superimposes pose and composition guides on the LCD screen; for the photographer to direct the model. At its center XiaoYi fitted a very ergonomic video recording button, another lesson for Sony that insists on putting it behind the rear thumb grip. And the side disk has the same robust PASM dial feel although it rotates more smoothly. It is used to adjust the aperture or the shutter speed, or zoom-in during playback, to check image focus.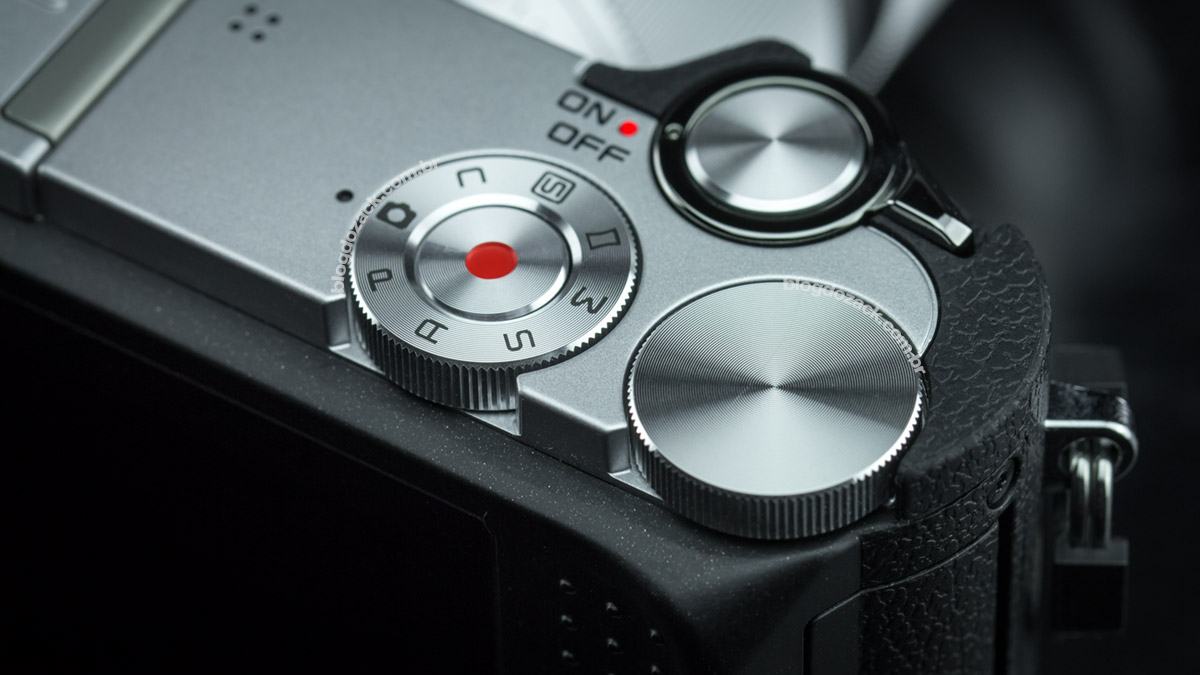 At the rear the Yi-M1 is dominated by the 3" 3:2 ratio LCD touch-sensitive screen with 1.04 million dots; perhaps the second "cut" towards the U$299 price (after the plastic construction). The quality of this screen is not particularly bad: the resolution is high, nice to check focus; and its brightness is reasonably high for everyday use. But its contrast is as poor as it gets in 2017, with washed-out colors that are far from reality; all with touch-controls responses lagging at its best. As both menus and scene/guide settings are made by swipes, it is easy to see how the Yi-M1 panel has a delay in response; we're not talking about an iPhone or Android phone here. Plus this screen doesn't tilt, making it impossible to take selfies or; all justifying the higher price of the competition.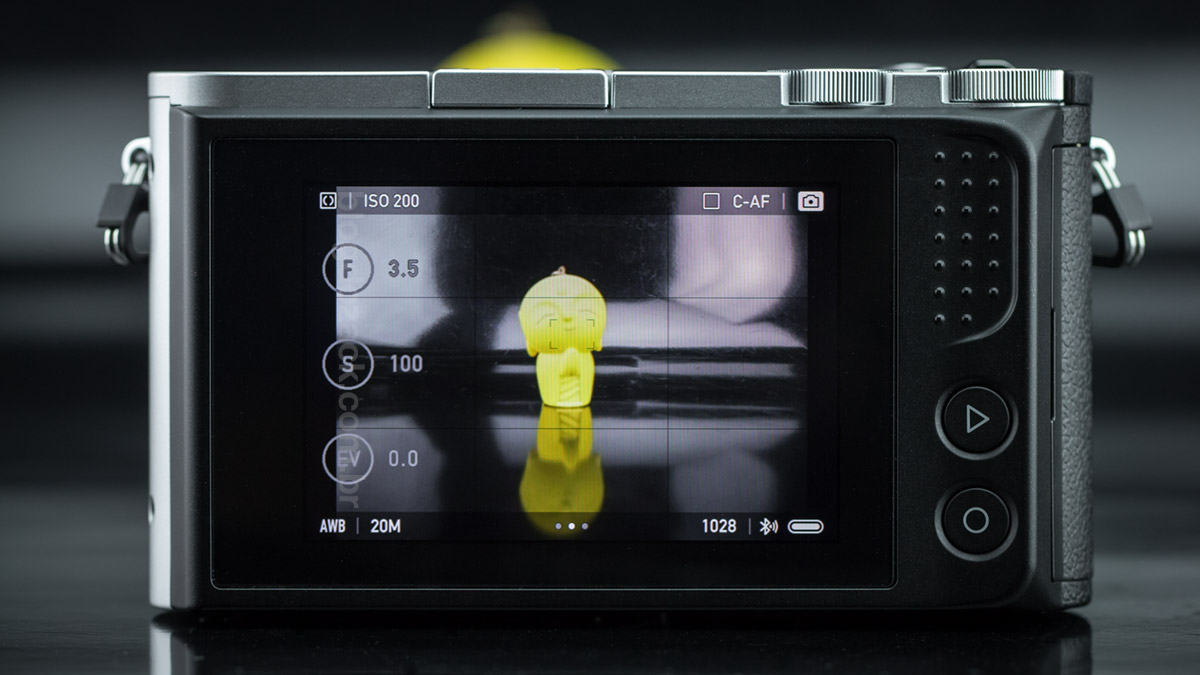 Next we have the last two buttons (of the only four) on the Yi-M1: a playback triangle turned to the right; and a bizarre "O" (circle) used to delete photos. All ISO, white-balance, menu, drive, etc. functions should be adjusted virtually on the LCD screen (more about the interface below). And to the right of the camera a dedicated door holds the single SD card slot, plus the HDMI-micro and USB2.0 plugs; which internally charges the BMX-10 battery; or serves as a power source for the camera. But unfortunately the HDMI port is only for passing photos / videos on the TV; automatically activating the playback as soon as you plug the cable; there's no real-time video feed to use with an external recorder. The battery is rated at only 900mAh but that's good for 380 shots, though nothing is stated about its video recording performance. It fits under the M1 behind a spring-loaded plastic cover, protected by the camera's housing. And at the top of a flash hot-shoe can control only firing (no TTL), and there is no built-in flash on the M1, which limits its usage.

Finally at the front the lens-release button could not be simpler, all plastic and with minimal pressure; worrying to use with some expensive lenses. But that's not the idea of ​​the Yi-M1. As a US$299 product, it is practically a housing to accommodate Sony's IMX269 sensor, with the simplest and cheapest interface + screen + buttons + dials possible, despite its elegance and simplicity; flirting with Leica's design philosophy. The closest I've ever got to such camera was the all-important Blackmagic Cinema Camera, which rocked the film market by offering raw Cinema DNG and 12-stops dynamic range for less than $ 2000; and XiaoYi has the potential to do the same thing for photos and videos. In the same way that Blackmagic is a learning platform to work with better cameras, the Yi-M1 serves as a "high-end" camera course; without the added value of main brands.
PERFORMANCE – INTERFACE, ERGONOMICS, SPEED
DISCLAIMER – Before talking about the Yi-M1 performance, Xiao-Yi keeps an active development team improving the M1 firmware. I bough it at 1.02-int software, and it's been since updated to 2.0. So the following description is based on both 1.02 and 2.0 firmwares.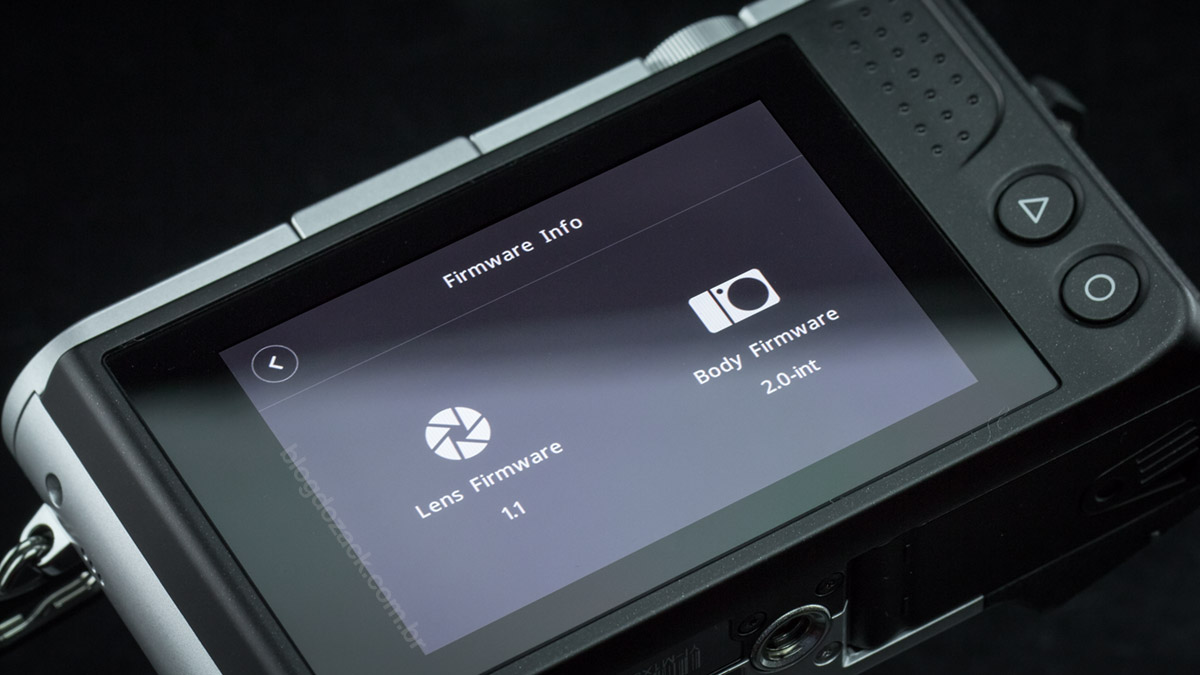 Despite being a mirrorless cameras, distinct from a DSLR with a viewfinder and "always on" operation, the Yi-M1 is also an over-simplified touch-sensitive machine; meant to operated just like a smartphone. So not only it dares at the US$299 price – the kit! – it dares on how we interact with a camera; based mostly on the rear LCD screen. While fundamental controls like ON/OFF, AF and shoot, exposure modes (PASM) and aperture/shutter speed settings are all physical, any other adjustment (ISO, exposure compensation, drive, focus point, metering, white balance) must be set on screen. So everything is very different on the Yi-M1, and it requires a slight learning curve.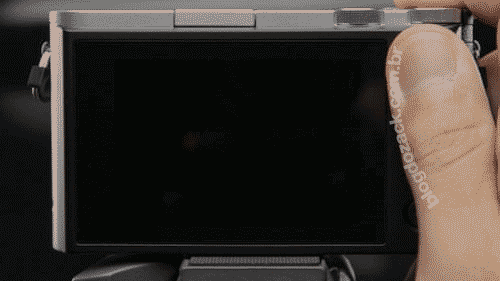 The good part is the Yi-M1 sports reasonable performance. Its booting time happens in about 2 seconds, notably faster than Sony's top-of-the-line, speed-oriented A6300/A6500; despite not as instantaneous as Fuji's (about 0.5s on the X-A2) or Panasonic's (a mere 0.2s on the 2011 (!) GF3). Focusing (more about it later) usually is achieved under half a second, and there's no shutter-lag between the button press and the image capture. The mechanical shutter is reasonably smooth not shaking the camera, although the simple two-curtain system make a distinct "dry" noise. The LCD turns black after image capture, but quickly displays the playback if its activated. In single shooting mode the camera feels always ready to shoot, and feels just like any other mirrorless system.
On the other hand the continuous shooting mode leaves much to be desired. As much as XiaoYi declares up-t0 05 frames per second for sequential shots, it just never happens. In raw mode not more than four (04) files are shot before the camera stops shooting, showcasing an exact 128MB buffer (each raw is about 32MB). However even at JPEG Super Fine, with files only at 6MB/each, it can't handle more than four shots; shooting a single frame per second until the SD gets full. So it's not really a buffer issue, but a software one. The M1 never shoots more than 04 sequencial images.

The Yi-M1 LCD screen also renders the frame at the native 4:3 image sensor ratio, letter-boxed in the 3:2 panel. ISO, focusing, metering and exposure modes are overlaid on a thin strip, and white balance, file format, SD card, battery and Wi-Fi data are rendered at the bottom. The exposure data are smaller on the left side inside interactive circles, with f/stop, shutter speed and EV settings; there's not a regular "century old" metering ruler to advise the photographer; you must look at the EV circle, showing up to -5EV values. Depending on the PASM mode you can set the value on-screen, touch the circle and then rotating the physical dial. But one limitation is the lack of an exposure preview during framing, showcasing an always "0EV" image no matter the setting.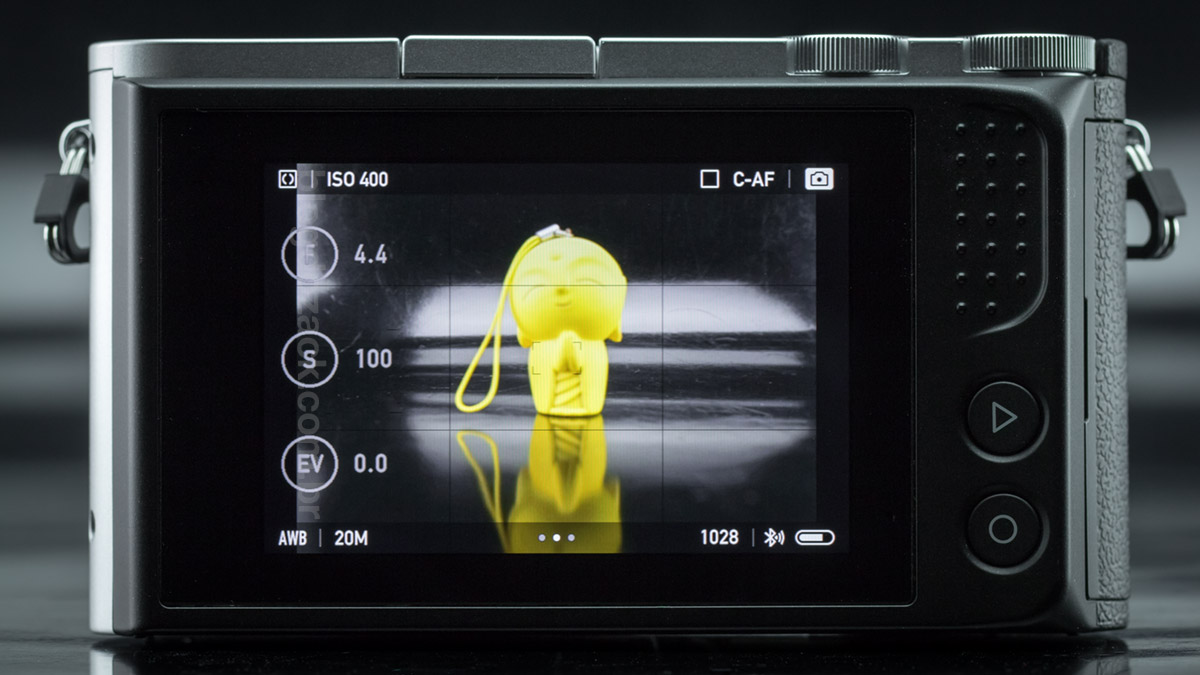 On the newer 2.0-int firmware a forth interactive circle was added to the right, engaging a quick menu overlay; just most mirrorless "Q" buttons. It features shortcuts to common focusing, ISO, white balance, drive, metering and image settings, whereas on the older 1.02-int firmware they were hidden on the main menu (slower to activate as we'll see in a moment). This new menu is great to adjust basic digital photography settings, but it's not customizable; so you can't set the camera to fit your style. But it's a good example of an all-electronic interface: at each update, you can have an easier and faster to use camera, despite feeling experimental on this first Yi-M1.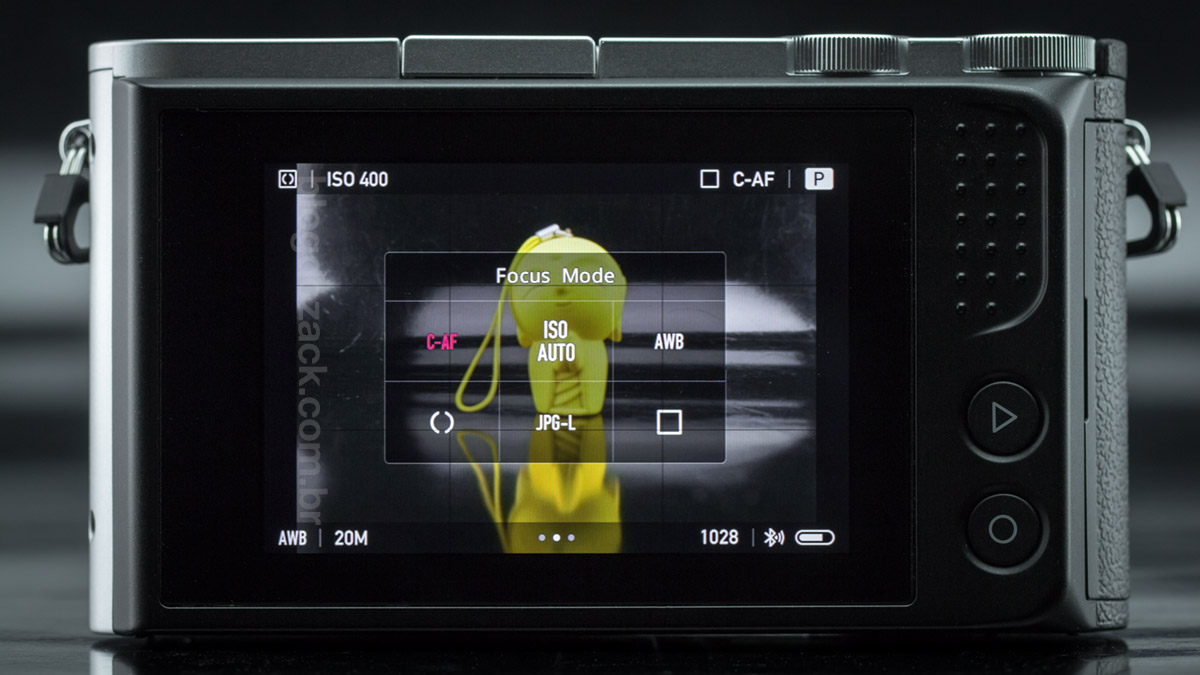 Evoking the main menu happens by sliding your finger over the LCD screen, from left to right; activating horizontal menus. There's a very noticeable delay between your hand's gesture and the interface response, making clear the hardware's limitation. As every setting maybe adjusted on the camera's screen, XiaoYi solution to avoid accidental inputs was to delay its response; as the hardware can't handle the heavy touch-avoidance programming behind modern smartphones. So only after we slide our finger; raise it from the screen; and wait a few moments; the interface appears, severely limiting its usage. This logic plagues every other on-screen control (it inputs only after you raise your finger), also not showing a modern rubber-band effect at the interface's limits; neither a carrousel dial on numbers. So it's all very limited despite agile, genuinely low-cost.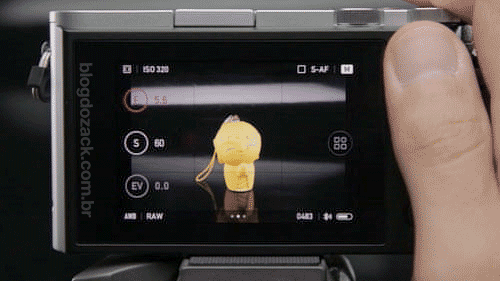 The main menu brings nine graphical buttons per tab, as poorly organized as they can be. For example ISO, WB, metering, focusing, touch-shutter, face detection, HDR, drive and wireless settings are on the first tab. Time lapse, video resolution, basic adjustments (?), bracketing, file format, image ratio, photo resolution, flash (?) and SD-format are on the second. And focusing assistance, auto-playback, grid, stabilization and firmware are on the last. Instead of organizing it with "image quality", "setup" and "playback", it's all scattered around different tabs. So prepare to spare a few minutes adjusting simple items like LCD brightness; and finding advanced "color space" modes (Adobe RGB and sRBG) near the clock setting. Also each adjustment uses a third text interface activated by arrows, that's different from the rest of the circles. Go figure…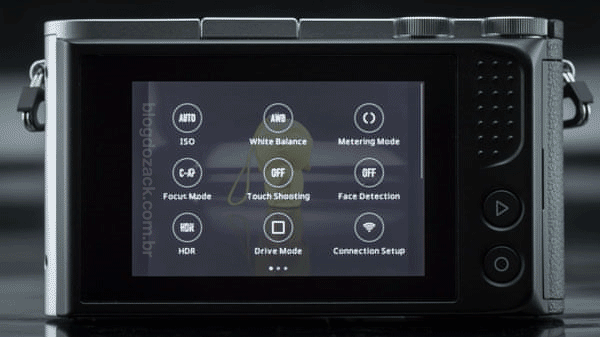 Anyway, once you're set, the M1 is very simple to use. Changing exposure is quick using the rear dial, making those used to a PASM discs feel at home. The metering system offers three modes with multi, center and spot, and advanced auto-ISO, bracketing and HDR are all there; despite many combinations not being supported. For example you can only use bracketing when shooting JPEGs; and raw files are limited to the sensor's native resolution (20MP). Some bizarre features like a 50MP (8160 x 6120) mode might entertain some amateurs, and even the playback renders different controls from the rest of the interface: a new side tab can be accessed using the top dial (?) and a long-press (??) activates a raw/JPEG processor. So I'll leave it up to you finding hidden functions.
PERFORMANCE – AUTO FOCUS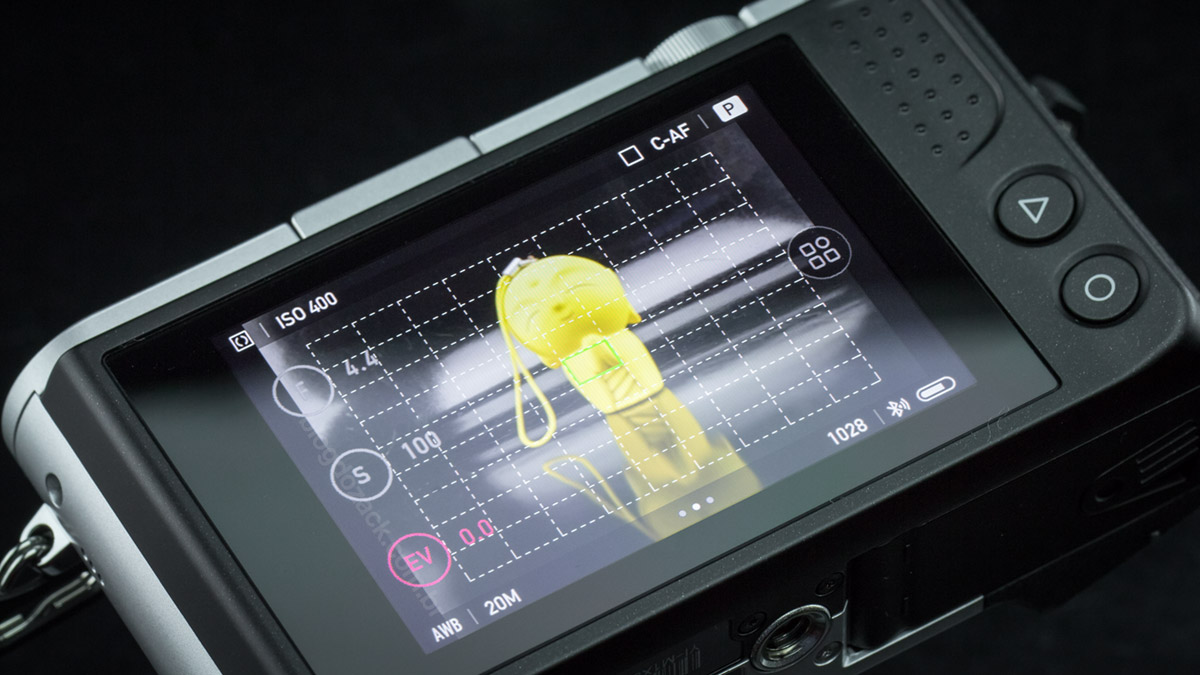 The Yi-M1 uses a contrast-detection focusing system driving the lens back and forth until it reaches maximum sharpness; thus the correct focusing distance. It divides 80% of the frame on 81 touch-selectable areas (9×9 grid) with options for single shot or continuous, for shooting sequences. The interface also offers manual adjustments, important for the Micro Four Thirds lenses that lack buttons; and peaking assistance, displaying a colored overlay over contrast edges. But some noticeable absences make focusing the Yi-M1 more limited than it should be, without options for zooming-in prior to exposure; nor color subject tracking. Overall the M1 focusing is good enough for everyday usage, but don't expect similar performance from a higher-end camera.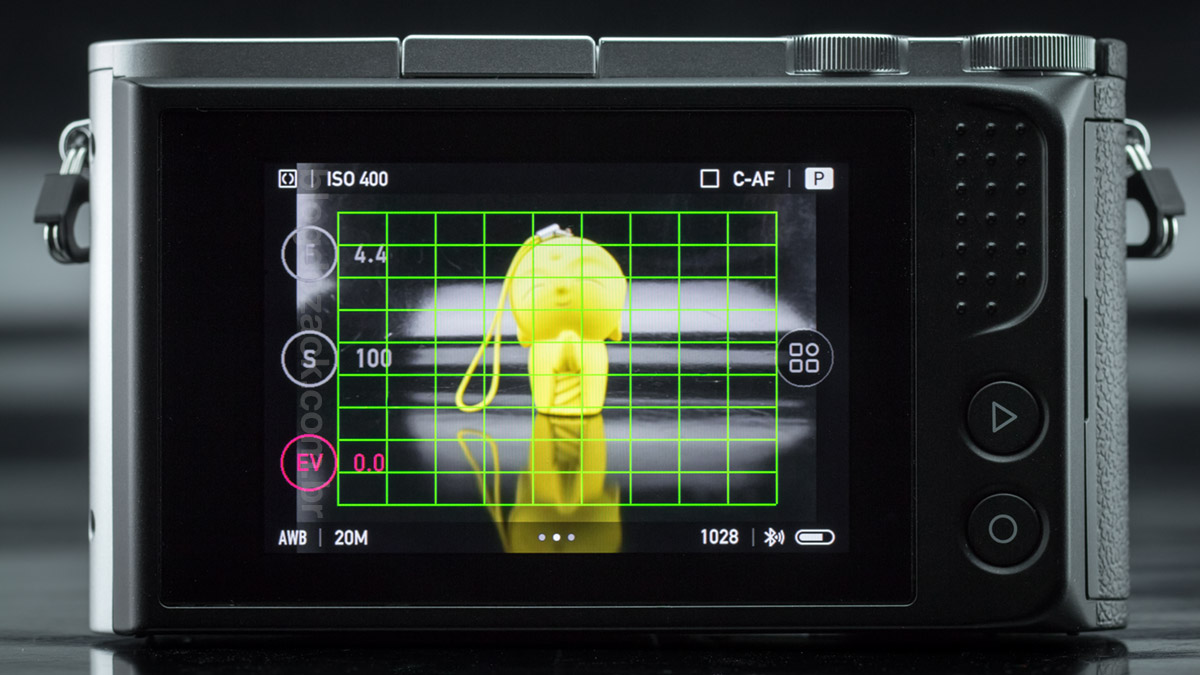 The focusing area selection is easy. As soon as we turn the camera ON the automatic mode is activated and the camera should seek contrast anywhere in the frame; no matter if it's closer to the lens; it's color; or even if it's already in focus. That's why it's particularly bad: it's absolutely unpredictable as where it will focus. A face detection mode enhances its chances of focusing on people, but it easily looses itself between front and back subjects. So a better idea is to opt for the touch-sensitive area mode, using the "O" button to display a 9×9 grid. Also there are no tracking or zone modes built in the M1, making it simplified: just select a focusing point and press the button.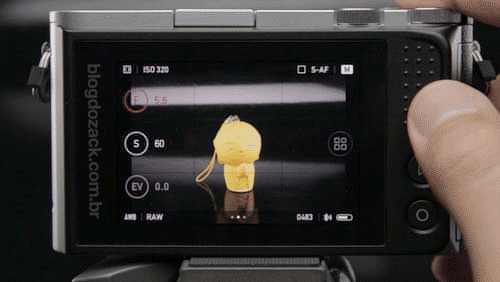 Coming from the 1.02 to 2.0-int firmware, the M1 focusing speed got better. Be it using single point or face detection, the camera locks focus in under half a second in Single AF; and that's good. You press the button and the camera confirms – or not – the focus distance, all in less than a second. This behavior is also welcomed: even if the camera fails to lock focus, it warns the photographer as soon as possible; either to change the contrast area, or to try it manually. Some brands opt to slowly seek focus in low-light situations, that rarely enhances its chances at focusing; but not XiaoYi. And while the instructions manual declares an up-to -4EV light sensibility, that's surely a type. While the M1 can easily focus on closed venues (about 1EV), enhancing the sensor's output in order to seek contrast, it surely demands extra patience (and practice) during the night.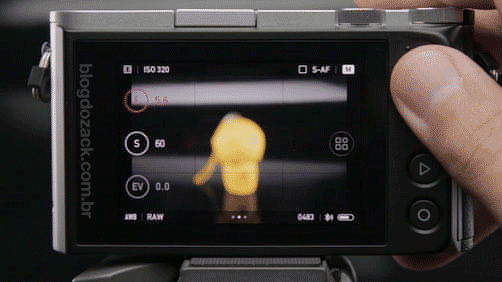 In sequential "Continuous AF" the XiaoYi Yi-M1 simply doesn't work. The contrast-only detection can't really feed a continuous algorithm, as the lens moves back-and-forth against the subject's motion; there's simply no chance to actually follow it. While it could work with minimum focusing shifts, for example to shoot portraits or simply tracking the subjects lateral motion (X and Y axis), the Continuous AF just deactivates the camera focusing confirmations and keeps seeking focus randomly – imprecise, unpredictable – not even trying to calculate the next shot distance (SERVO). So there's no shooting sports, kids, drunk buddies, pets… nada! Actually I don't understand why some brands insist in offering this type os focusing on contrast-only cameras: Sony RX1R, Fuji X-A2/A3 and Panasonic GF3 all offer continuous contrast AF, but it never works.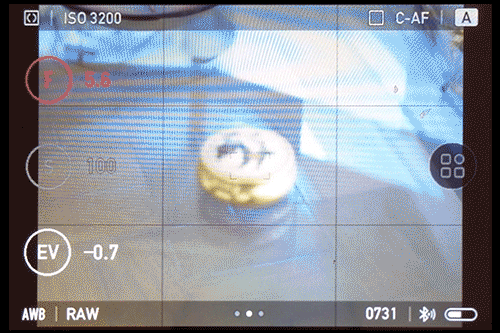 However the XiaoYi Yi-M1 focusing precision is surprisingly good. Here tested mostly with its kit XiaoYi 12-40mm f/3.5-5.6 lens, the focus accuracy was about 90% of the frames; over the 900 shots I took during this review; that's very good! Of course I exclusively used the manual selection mode on the central point, and quickly refocused the camera when it failed to lock – common practice to any camera. But while it's not perfect – some shots came out of focus despite the camera's confirmation, it's a very good performance. Also tested with Panasonic's G VARIO 14-45mm f/3.5-5.6 ASPH OIS and G 14mm f/2.8 ASPH lenses, I noticed the camera wasn't really happy in focusing the zoom lens. So I recommend double-checking your focus as its performance might vary.
PERFORMANCE – UHD 4K30P VIDEO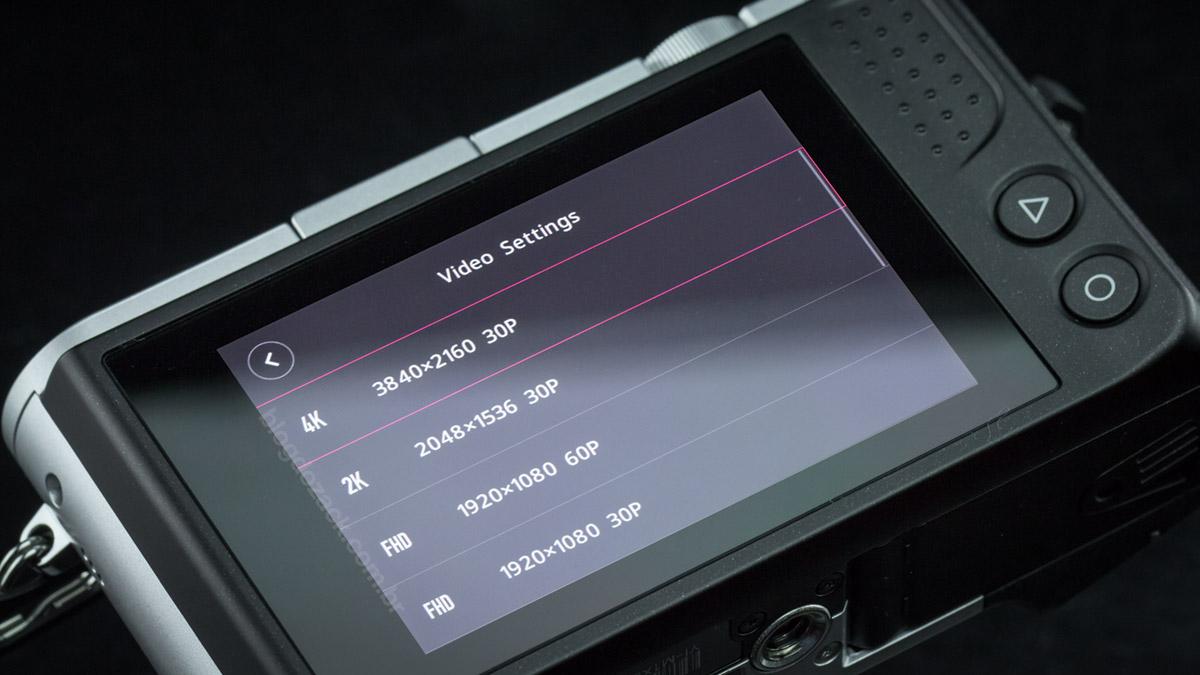 Those interested in shooting videos will be pleased to read the Yi-M1 is capable of recording 4K UHD files. Once a luxury used to sell much more expensive cameras, XiaoYi took advantage of Sony's IMX269 4K output to render 30fps videos at 75Mbps, internally recorded in H.264 to the SD card. There are options for 2K at 2048×1536 at 30P (4:3) and 60P 1920×1080, also with 24P 1280×720 and 640×480; all offering a digital stabilization mode. And that's the good part.
The bad part is the 4K resolution is mysteriously limited to just 7 minutes and 30 second, fitted into a 4.28GB MP4 file; maybe limited to its FAT32 file system. The 4K is limited to just 30P, not 24P, and it's captured using a severe sensor crop, unsuitable for wide-angle shots. More? There's no manual exposure adjustments during video recording, nor focusing in firmware 2.0. MORE? No image profile adjustments with options for sharpness, contrast, colors; it's all factory set just like the noise reduction that can't be turned off. M-O-R-E? The HDMI port can't output video for an external recorder. The built-in digital stabilizer can't be used in 4K… There's no headphones-out port…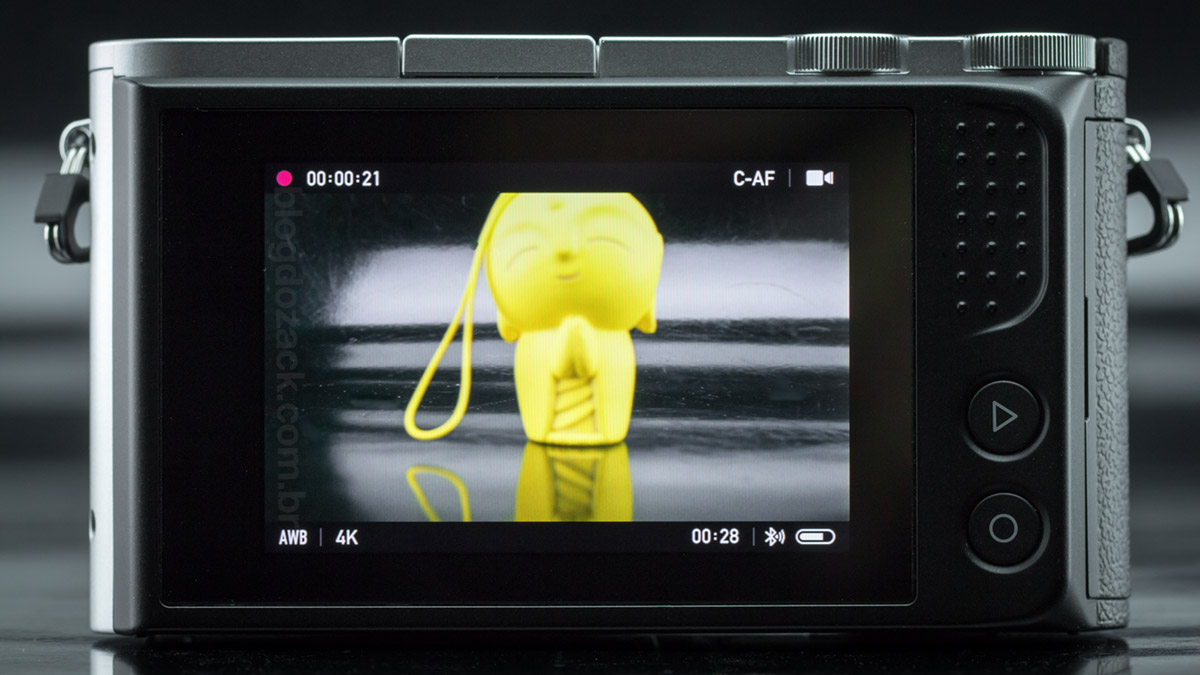 That's right, those looking to purchase the Yi-M1 to start shooting low-budget 4K files, you're out of luck. Even if  you're not into longer-than-7 minutes files, the fully automatic exposure and focusing modes are erratic, ruining most shots. Even if you trust the camera's metering, there's a catch: it's always using the lens wide-open! So the image quality will greatly depend on the lens performance, paired with a mandatory shallow depth of field look. And if that wasn't an issue, the auto focusing system is always ON, but with no area selection (there's no touch-to-focus mode either). And even if you accept recording 1) short clips 2) wide-open) with erratic focus, the white-balance shifts during capture, making it nearly impossible to shoot video with the Yi-M1.
Which leaves us with the question: what can be done with the Yi-M1's 4K? Frankly, a lot! The technical parts are easy to figure: the 3840×2160 files have way more details than any Canon EOS 1080P recording, a leap in image quality at a very low-cost. To watch a 4K video on a large, color-corrected screen feels like a crystal-clear window to details and nuances, years ahead the recently tested Canon EOS T7i – that cost twice the M1, sans-lens. Even under low-light the M1 mystery-ISO (it's not displayed on screen during capture) and the mandatory noise-reductions makes for better-than-usual recordings, and the auto-focus system is not that bad as to destroy most recordings. So creatively it can surely work despite the fully-automated adjustments.
Also the 2K and 1080P60/1080P30 recordings are limited on the Yi-M1, most likely due to hardware than software limitations. The 2K resolution uses the sensor's native 4:3 ratio for a 2048×1536 file, at 30Mbps; that's 40% of the 4K. The recording is limited to 18 minutes and 56 seconds at the same 4.28GB file; thus proving the FAT32 system. BUT in 1080P30 a 15Mpbs recording (too low for today's standards), the recording stops at 29:59 at just 3.5GB; so the M1 is limited either to 4.28GB; or to 29m59s. Also these modes offer an electronic stabilization system in case your lens lacks OIS.
EXTRA – WIRELESS AND APP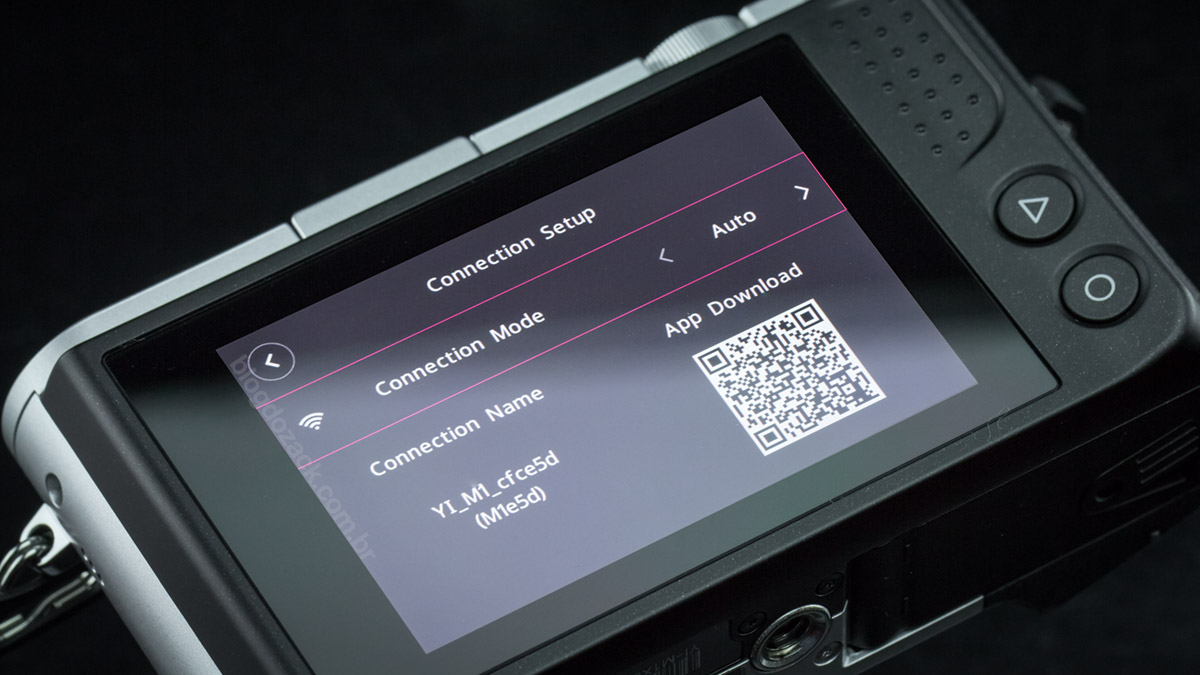 Keeping with the "less is more" premisse of nearly no-buttons and a fully touch-sensitive interface, it's natural for the Yi-M1 to offer wireless connections; ready to pair it with your smartphone. While both Wi-Fi and Low-energy Bluetooth are offered on practically every digital camera today, it's in its software that most brands fail to deliver; with maybe only Canon offering something useful. Others just doesn't work: Nikon is trolling us with its SnapBridge, incompatible with older smartphones that doesn't feature the low-energy BT; Fujifilm's CAMERA REMOTE feels like an intern project. And most of the photography market doesn't ever use these features; enters XiaoYi.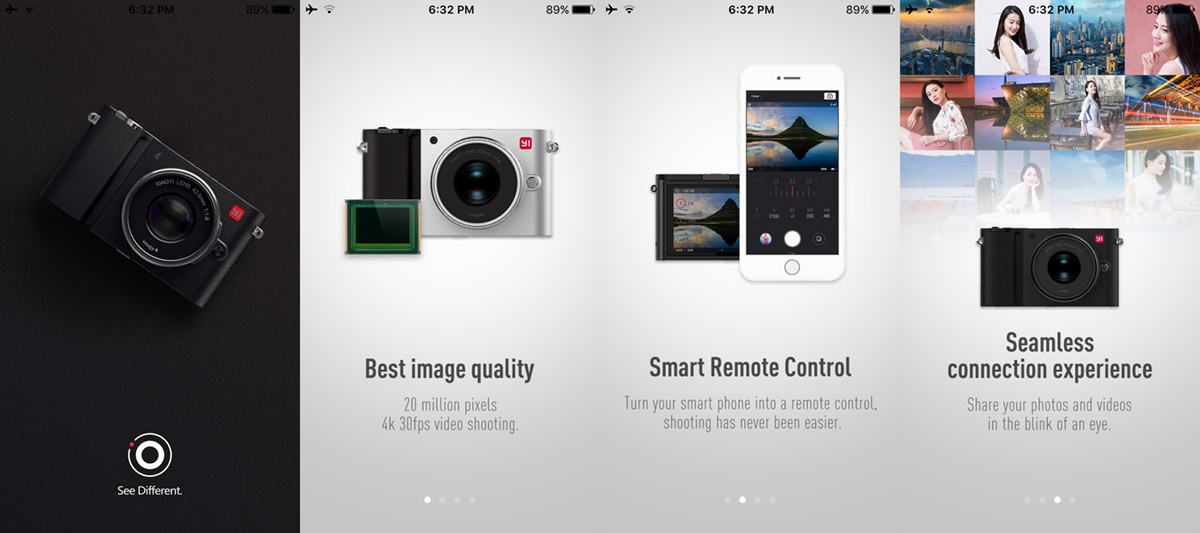 The XiaoYi offers practically the same features as other brands: download an app on your smartphone (iOS or Android) and both will communicate wirelessly. It's all easy to setup using bluetooth, and then using Wi-Fi to transmit data. The image displayed on the camera's screen is the same as the smartphone, and you can wireless release the shutter, change exposure, JPEG "quality", white balance; etc. However XiaoYi "YI Mirrorless" app is innovative: probably the fastest and easier to use than any other brand, feeling modern with new ideas; despite some limitations.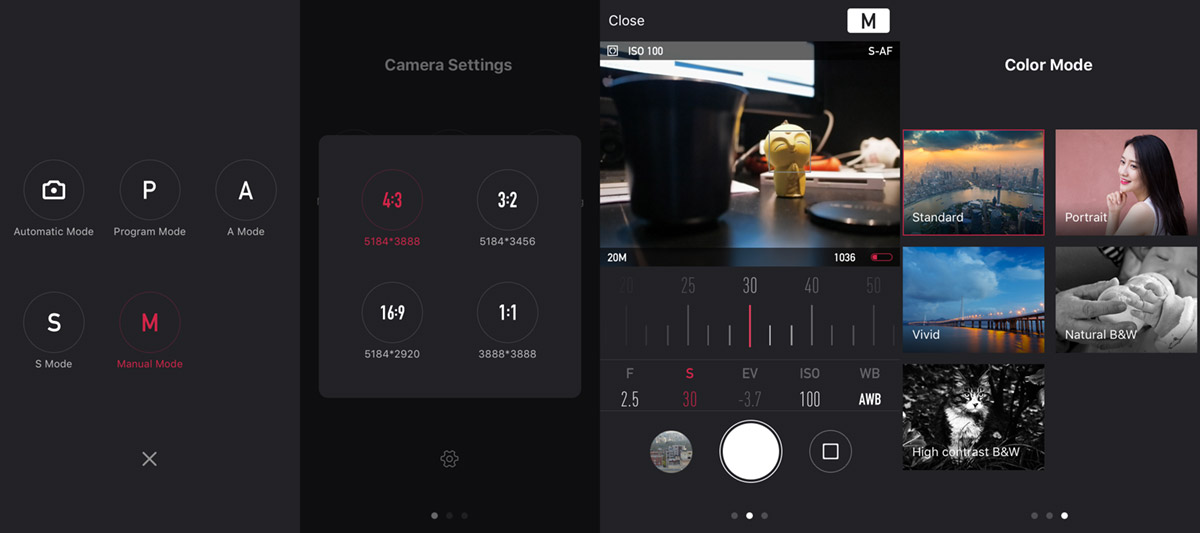 Here tested on iOS10 the settings are elegant with graphical sliders for aperture, shutter speed and ISO; all interactive on the smartphone's screen. It's possible to switch between PASM modes, not using the camera's physical dial; it can all be set wirelessly. Some basic settings like "image quality" can be adjusted on a side panel, activated by the same swipe gesture as the camera's interface; all very coherent. But the most interesting feature is what XiaoYi calls "C – Super Professional Guide", allowing for the photographer to download framing and posing templates to the camera, leaving the photographer to merely direct the model to fit the image. It's funny because it's sad, as it eliminates creativity. But it can be welcomed by amateurs; the possibilities are endless!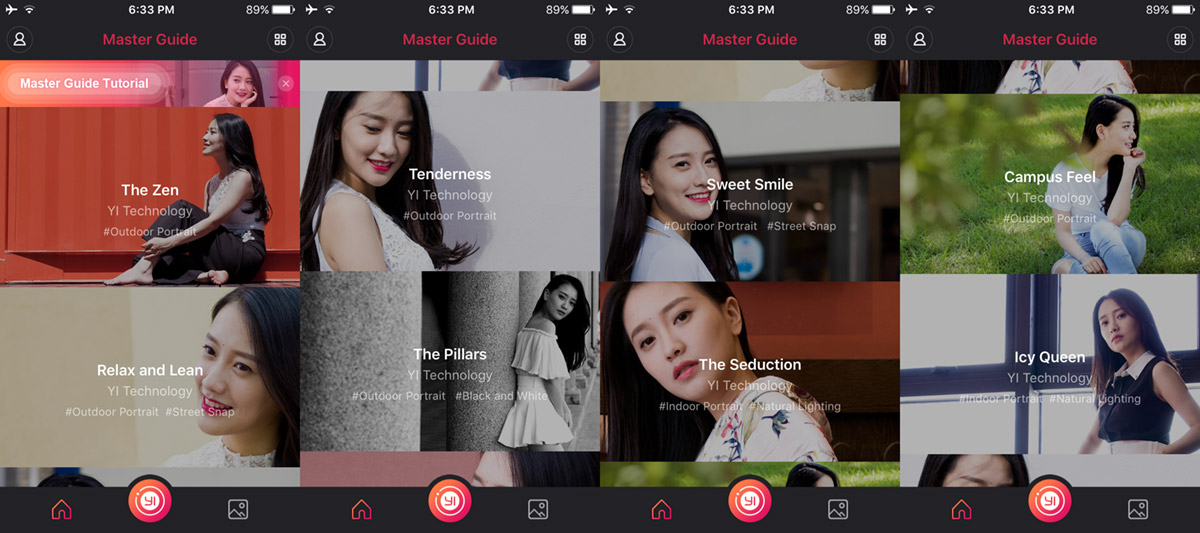 On the other hand not everything is perfect on the YI Mirrorless app, showcasing serious limitations; some heartbreaking. First there's no way of shooting videos using the app; those wishing to mount the M1 on a drone or shooting personal videos are out of luck. Second the wireless playback can't transmit raw .DNG files, nor the 4K/2K/FHD/HD videos; they simply don't appear as files. Also every image taken wirelessly must be JPEG, limiting its usage despite being logical (no one shares raw files on Instagram). So once again we're left waiting for updates.
IMAGE QUALITY
The XiaoYi Yi-M1 uses a Sony IMX269 image sensor capable of 12-bit raw files (not to be confused with 12-stops of dynamic range) with 5200×3902 pixels; apparently the same used on the much more expensive Micro Four Thirds cameras Olympus US$1999 OM-D E-M1 Mark II and Panasonic's US$999 Lumix DMX-GX8. A CMOS imager using EXMOR technology, the idea is to execute two noise-reduction passes prior to the A/D converter, enhancing image fidelity even on smaller chips. Also a very accessible and easy to implement chip, it's performance is on-par with the rest of the market: under most APS-C; but above every smartphone, given its physical dimensions. So it actually impresses how little performance Olympus and Panasonic offer on such expensive cameras; and how much performance we can get from the US$299 M1 – the kit!
The M1's base-ISO is 200 with a push-option for 100, with no visible gain of quality. So ISO200 files feels as good as any 2015 CMOS with minimum light leaks between pixels and smooth gradient transitions, with a slight texture over the image, we've fallen in love since 2002; when we opted for CMOS imagers instead of CCDs. It's on the base-ISO value we get the most dynamic range in raw files, great to record highlight and shadow data, but at the Micro Four Thirds quality standard: if you think full-frame imagers are bad (some people do) and APS-C are reasonable, this MFT will be simply garbage. As soon as +2.00 (exposure) and +60 (shadows) in Adobe's Lightroom reveal chroma noise on shadows, making us miss the visually lossless +3.00 files from the T6i/T7i/A6300/A6500; or +3.5 from the 5D Mark IV; or the absurd +5.00 lossless files from the Nikon D800E. Certainly this Yi-M1 is better than a smartphone, but don't fool yourselves: the MFT is still behind even the most basic APS-C cameras.
"Tree" at f/3.5 1/100 ISO500 @ 12mm.
"Bar" at f/5.6 1/100 ISO800 @ 33mm.
"Arcade" at f/5.6 1/100 ISO200 @ 12mm.
"Estação" at f/5.6 1/800 ISO200 @ 18mm.
The Yi-M1 resolution impresses for it's detailed rendering of textures at the base-ISO, and even the amount of data kept at higher-ISOs; always the advantage of shooting with a larger sensor. The 5200 x 3902 files are "generous" with up-to 100DPI 1.3 x 1 meter prints, way ahead most 12MP smartphones; you can't really push smartphone resolution not impacting their low-light performance. Detailed subjects like landscapes, fashion and products, street photography and architecture takes advantage of the higher resolution, great to work despite the M1 low-cost. It's interesting to see how this sensor maintains data even at ISO3200, as long as there's light reaching the subject. And in raw mode it's possible to work under insane ISO25600 values, of course filled with noise, but also details; bringing the sensor to its limits.
The Yi-M1 high-ISO performance is also impressive and aligned with the theory: large sensor = good low-light performance. Raw files up-to ISO800 allows for great images even from the f/3.5-5.6 zoom kit after the sun sets, useful not to use a tripod; all with reasonable details. The ISO2000 impresses for its color rendition with no major shifts in hue; a leap ahead older APS-C cameras (EOS 60D/T3i). And even the ISO4000 renders fine details at night, still with minimum color loss. It's just from very high ISO16000 an up that we loose definition when looking at the files at 100% pixels, despite the colors still look reasonably good on all RGB channels. Sony's IMX269 imager is so flexible that it seals the deal on most Micro Four Third cameras, but there at US$299 – a kit!
The Yi-M1 raw file colors are also a pleasing surprise with saturated colors after processing, absolute RGB values and no major color shifts. While Canon mixes everything with red and balances skin colors with pink; Nikon pushes everything towards the green, and Sony colors look neon; and Fuji opts for a heavy-handed X-Trans saturation; the M1 deliver smooth gradients of pink, blue and greens, without interference of purple, yellows and oranges; despite failing miserably at its skin tones. The skin shadows look brownish under natural light, and push towards the green-ish-brown under electronic light sources; be it under closed venues or even using the flash. Despite not coming with a built-in flash unit, Canon's 580EXII is compatible in manual mode, and it showcases how poorly the M1 can handle flash light. So while the raw files gives some flexibility in post, the skin tones just doesn't work; pay close attention if you're planing on using it for portraits.
Finally the M1 JPEGs look like a joke and I recommend avoiding it at all costs. The JPEG engine is far too aggressive: be it under base-ISO200 during the day or ISO25600 during the night, it completely erases any texture/noise from Sony's CMOS imager, and files don't even get a "water color" effect; they look like wax! Color profiles can be selected with a swipe-to-the-right but brings just five options: standard, portrait, vivid, natural black and white and high-contrast black and white. There's no option for sharpness, contrast, saturation and tones, neither to turn its noise reduction off. And forget advanced features like Canon's Auto Lighting Optimizer or Nikon's Active D-Lighting; nor Sony's S-Log during video capture. So it's pretty simple to use: shoot raw files!
Crop 100%, before (left) and after raw conversion, notice the raw file texture
Crop 100%, the raw file feels organic after the conversion.
Crop 100%, high-ISO JPEG just does't work; I recommend always using raw.
Crop 100%, raw files keeps the textures erased by the JPEG engine
Crop 100%, the obvious advantage in shooting raw with the Yi-M1.
VERDICT
The XiaoYi Yi-M1 puts many of the photographic market's history to the test. Firstly its Chinese DNA: as much as it feels like a Leica T cheap-knockoff, frankly its build quality is strong enough in ergonomics, fit and finishing; impressive for the US$299 price tag. Its usability go against the norm and will be much appreciated by new users. The tactile controls are over-simplified and nice to use, and the mostly touch-interface works well, despite its sharper edges. It's as far from a traditional camera as possible, but it doesn't leave anything behind; maybe just the rest of market.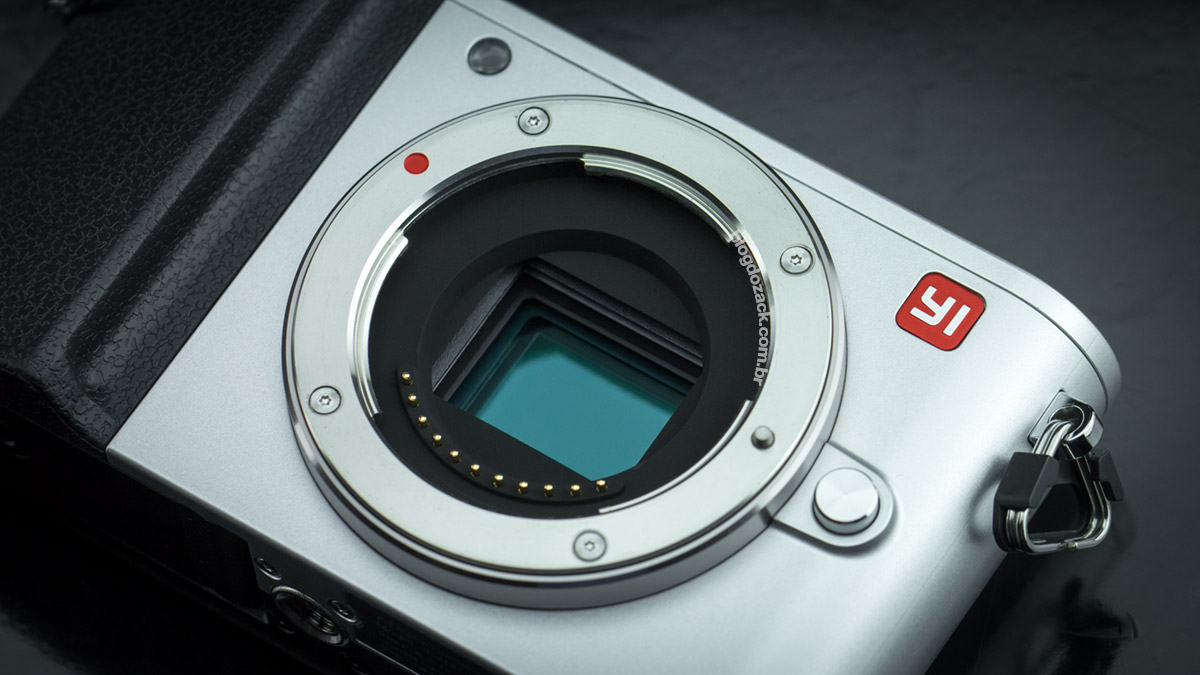 The 4K video still feels like a higher-end game and the M1 might not work as advertised. It's all automatic, all unpredictable, but maybe better with a next firmware update. The 4K resolution is always welcomed and a giant-leap forward any 1080P camera. And the image quality overall follows the "bigger sensor, bigger quality" trend, despite being one of the smallest formats on the market today. Its files are flexible and easy to handle, yes, but don't expect any miracle from the Micro Four Thirds system; you get what you paid for. Its dynamic range can be limited in recovering shadows and highlights, and the noise footprint is visible even at the slightest post-processing adjustments. So the M1 works for amateurs that can't really pay for a branded camera, and for sure will keep them busy whilst having fun. It's a true Chinese deal at US$299 and nice shooting!