Canon EF-S 17-55mm f/2.8 IS USM
Estimated reading time: 07 minutes and a half.
December/2014 - The EF-S 17-55mm f/2.8 IS USM is the most expensive, APS-C only lens that Canon makes. Launched in february 2006 for US$1159, it's the equivalent to a 27-88mm "full frame" lens (68º-23º field of view), what we call a standard zoom. These numbers are great for a series of subjects: street photography, portraits, groups, landscapes, architecture… It is one of those "lifelong" lenses, that'll forever be on your kit, working flawlessly till you make an upgrade.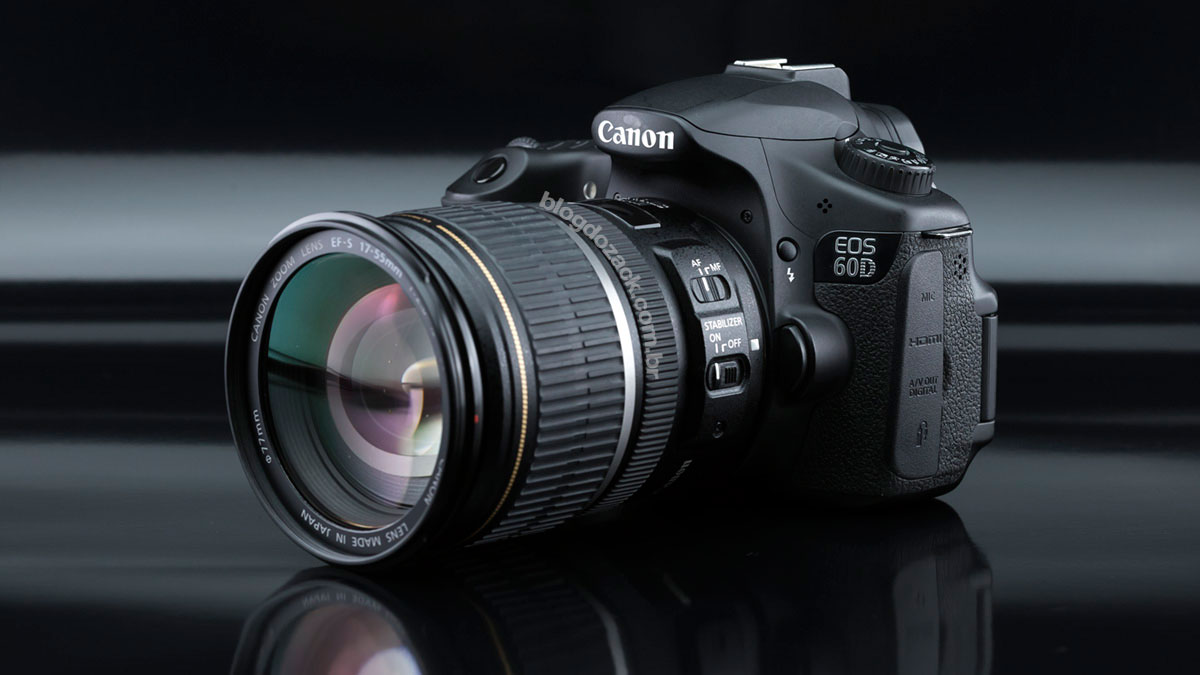 But with an incredible 19 elements in 12 groups optical formula, unusual for a standard zoom, this model stands ahead of other options. The reason behind such complexity is the "exotic" f/2.8 aperture, great for low light situations and short depth of field, all with three stops optical IS. It's worthy of the L series but Canon chose to keep it on the intermediary EF-S line, working only on APS-C cameras, requiring some commitment to smaller formats. But if you're looking for raw performance from a "crop" lens", go ahead: optically it doesn't get much better than this.
BUILD QUALITY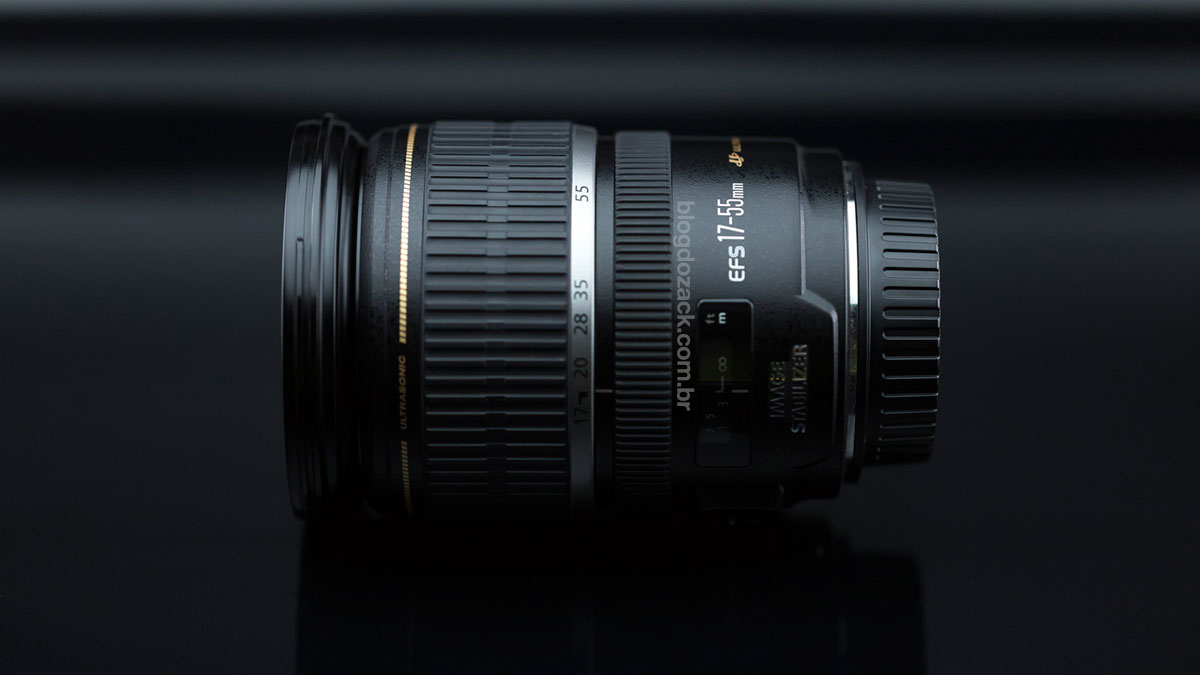 At 645g, the EF-S 17-55mm f/2.8 IS USM is the APS-C format antithesis. Made for portability and cost reduction, the 17-55mm is neither small (11cm x 8cm), neither cheap (US$879 nowadays). C'mon, the EF-S 18-55mm f/3.5-5.6 IS STM does virtually the same photos and weights just 205g and costs 1/5 of the price. O_o What is the big deal with the 17-55mm? This damn f/2.8 aperture.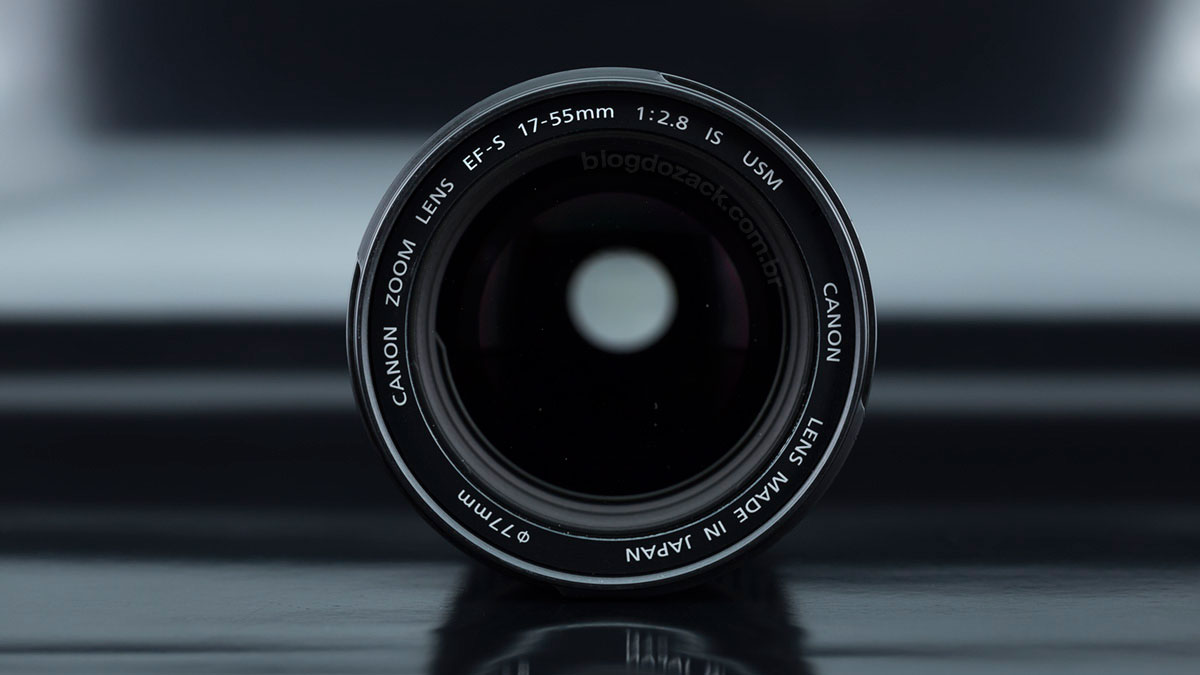 With 19 elements in 12 groups, three asphericals and two UD, it all revolves around fixing that large aperture optical shortcomings. You pay the price for extra elements to correct small details, that frankly can be fixed via software. You also carry three times the weight for the same pictures. I'm not here to judge the photographers whom believe this lens will "take better pictures". But trust me, the 18-55mm will do the same things in a more reasonable package.
Optically speaking it is worthy of the L series, but Canon's marketing division just could not live with a EF-S "crop L lens". So they ordered the development department to "save" on this project and now we have one of the most wobbly lenses ever seen on vlog do zack. Expand it to 55mm; hold it in the middle; shake! Everything wobbles inside and I question how precise it will be a few years from now. Weather sealing? Professional usage? Work horse? Forget about it.
And another huge problem on the mediocre EF-S 17-55m build is how much dust it collects inside. With no rubber gasket around the mount, non around the rings, not even on the front element, virtually every copy of this lens is known as a "dust pump". During the zoom movement, the air pressures suck dust particles to the inside, settling on every element like a vacuum cleaner. I must say it wasn't really a problem on any of my pictures. But it is unacceptable and some say Canon never did something about it. We have some 8 year old lenses gathering dust on the inside.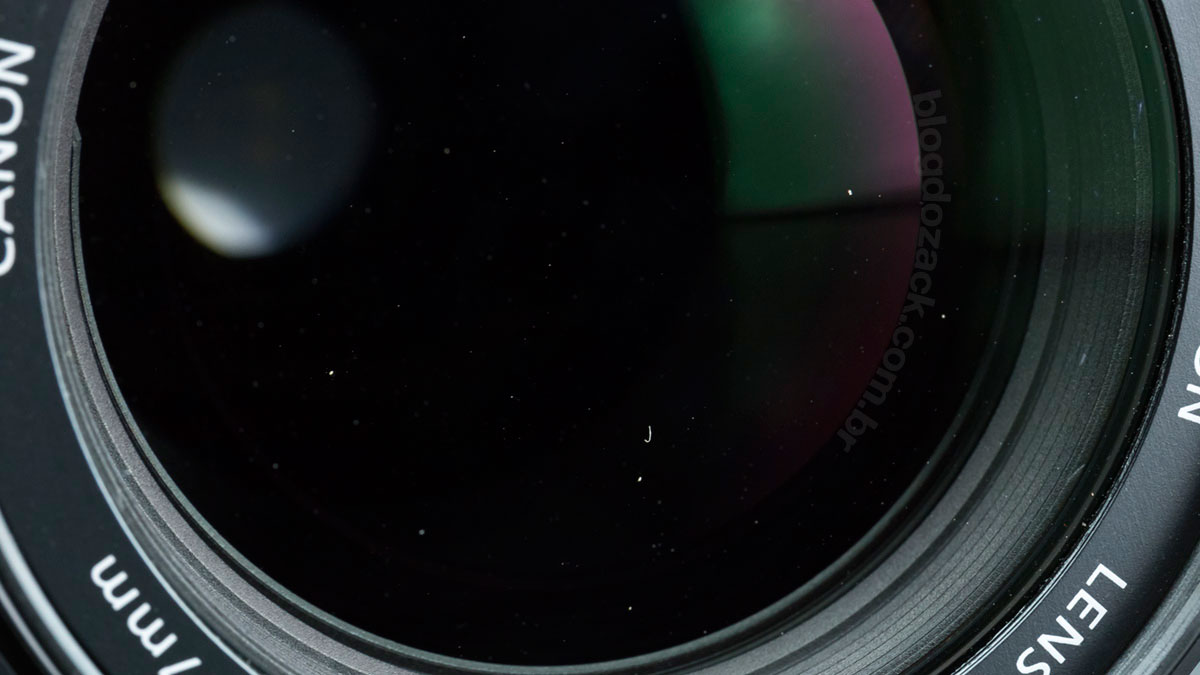 The EF-S 17-55mm f/2.8 IS USM biggest headline, typical for all Canon lenses, is the AF performance. It's on par with the L series in speed and precision. Those who work with the 7D line (classic and Mark II) should take the 17-55mm into deep consideration. It shines even with the Hybrid CMOS EOS M. Everything is fast, accurate and silent. The ring type USM supports full time manual. At any moment you can turn the smooth MF ring, at the back, unusual on a Canon zoom lens. There's no play and it's very precise, noticeable from looking at the distance window.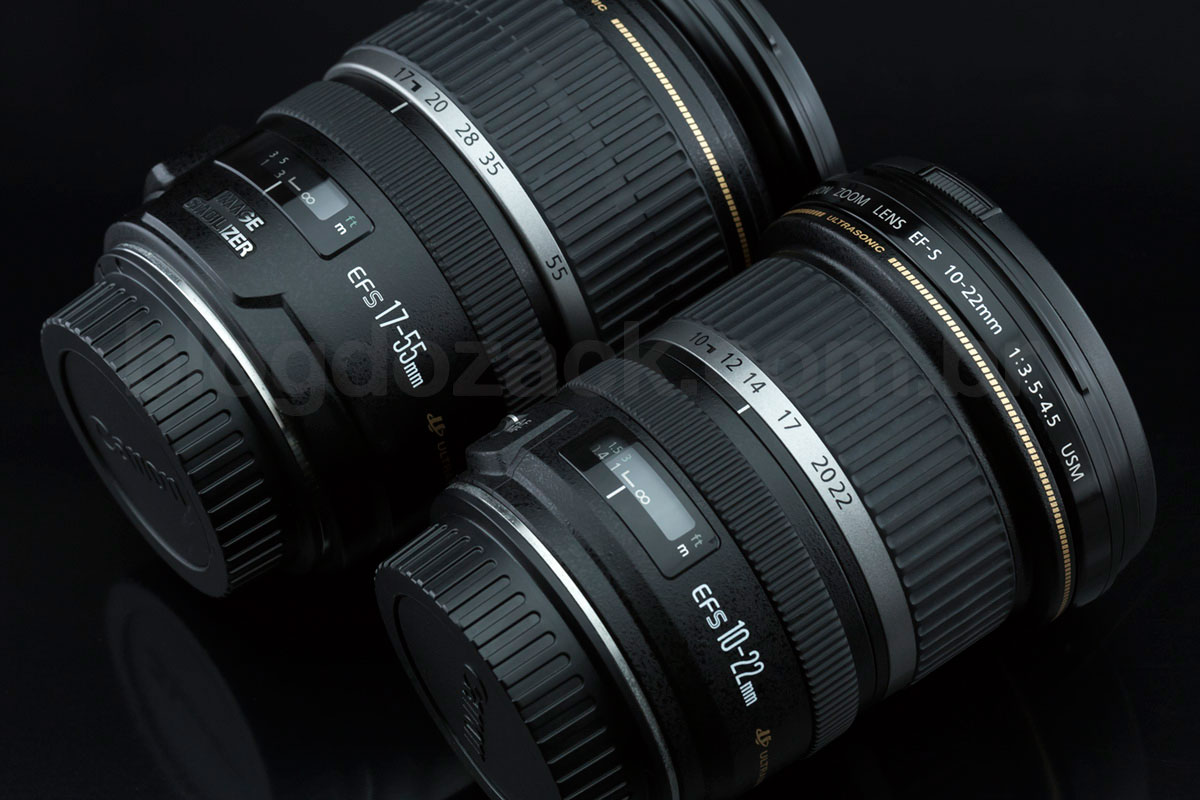 Also great is the third generation IS with up to three stops of correction. On my EOS M tests, a body virtually without any grip, I could shoot indoor without raising the ISO and keeping the shutter speed reasonable to work with the IS on. It's useful for videos and one of my biggest reasons to add it to my kit. Together with the Blackmagic Cinema Camera, now a I have a single, bright, stabilised lens for a good range of handheld shots. There's a single ON/OFF switch and it detects panning.
At the front the ø77mm filters are sort of unfortunate if you think about the APS-C as a "poor's man" format. They are big and expensive. At least the also APS-C only, EF-S 10-22mm f/4.5-4.5 USM, and both 70-200mm f/2.8 share this filter size, making a good professional kit. But at the back, the plastic bump that prevents the EF-S line to mount on full frame cameras makes us think twice about such heavy investment. Should you buy APS-C lenses or update to a full frame?
IMAGE QUALITY
No, you don't have to update to a larger full frame format. The 18-55mm is popular on APS-C cameras and the 17-55mm f/2.8 IS USM brings high performance optics to the table, results that are always hard to achieve. The EF 16-35mm f/2.8L II USM, similar in focal length and aperture, without IS, costs over US$2000 (although its full frame). But on this EF-S zoom, Canon kept the price reasonable, delivering great IQ and lots of light. All photos taken with the EOS M.
Unfortunately at f/2.8 I saw some lack of sharpness with blooming and drop of resolution around the edges, thing most primes don't show, nor the newest 24-70mm f/2.8 zooms (Canon L II and Tamron Di). There's a visible ghost around contrast areas, wide open, that disappear when stopped down; indicating this lens requires some attention in order to get maximum IQ. Please note: it's not bad to the point I completely lost some photo. But it's visible under careful pixel peeping, so remember to stop it down for the best results, with a f/5.6-f/8 aperture being the optimized setting.
From f/4 the blooming goes away and we can see an improvement on the sharpness figures, mostly around the corners (typical for a 2006 lens). It's enough to handle finely detailed subjects like landscapes, portraits, products and street photography, certainly a step ahead of most 18-something zoom kits. Photos are visibly sharper and doesn't feel like a small format.
Canon's 18MP APS-C diffraction limit lies on the f/5.6 aperture, so I didn't take many photos after f/8. Just one at f/22 to use with a slower shutter speed, registering some pedestrians moving, and of course the details were gone. But in general, except at f/2.8, the results are fantastic, proving the APS-C value against larger formats. Believe me, these tiny cameras can deliver big boy results. I printed an EOS M file with over a 1 meter wide and the results were awesome. The full frame advantage lies on some low light situations, or when you need shallow DoF with specialty lenses.
Colours are not a problem for vlog do zack anymore as I decided to shoot all B&W photos from now on, to explore new shapes, contrast and textures. So with the B&W conversion, the chromatic aberrations are gone. Of course it wouldn't be a complete review if I didn't talked about its colour performance, and again the EF-S 17-55mm makes a great job. Besides some minor lateral CA, axial CAs are nowhere to be seen. Not that it's easy to get shallow DoF with this lens, but when it happens the background colours remained intact. Both UD elements perfectly focus the light.
Vignetting is pronounced wide open and not a surprise considering the APS-C circle, that is still huge. I blame the IS module that requires an even bigger circle of projection, in order to compensate for the camera movement. It is visible wide open but it's a matter of taste, as some people add more vignetting via software. If you don't like it, any DIGIC4 or newer camera can correct the "peripheral illumination", or later using Adobe's Photoshop or Lightroom.
"Jd. Europa2" at f/2.8 1/2000 ISO100 @ 17mm.
Last but not least the geometric distortion is high for such a limited zoom range, with every distance showing some form of barrel or mustache waviness. It made a big difference after some software correction, so keep that in mind before printing architectural shots. Flaring?
VERDICT
The EF-S 17-55mm f/2.8 IS USM is a special lens because the stabilised f/2.8 aperture is exclusive of this model. Canon doesn't make a similar full frame lens and had no choice but to design a complex, expensive lens. But they made it. Optically it delivers what modern zoom lenses should: it can replace most primes with sort of the same performance. Unfortunately the build quality is not the greatest but it works, with a very good AF mechanism. The final proof is in its images: files are detailed and doesn't make you wonder "should I've used a better lens?". If you're an APS-C aficionado, this is the best Canon has to offer you. Nice shooting!