Canon EOS 80D
Estimated reading time: 19 minutes.
October/2016 - The EOS 80D is Canon's newest "intermediary-advanced" DSLR. Above the T6i (smaller and slower), and behind the 7D Mark II (larger and faster), the "#0D" line was the brand's first "high-end, under US$2000" offering. Coming with a completely revamped spec list compared to the 70D (2013), what's on the outside might feel familiar, but inside it's all brand new: a recently developed 24MP CMOS sensor, maybe Canon's best APS-C ever; a DIGIC6 CPU, the same found on the 5Ds/ 5DIV/ 7DII; a new all-cross-type 45-points phase-detection AF module; and Canon's exclusive Dual Pixel, now with SERVO AF. A swivel touchscreen? Check! Wireless connection for photo transfer and remote control? Check! The 80D inherits most of the 70D features, as an all-around DSLR for travelers and families. But how does it hold itself in a 2016 market? With no 4K, no more than 7fps speed, and without built-in IS, is the 80D dated as soon as it hit the shelves?
BUILD QUALITY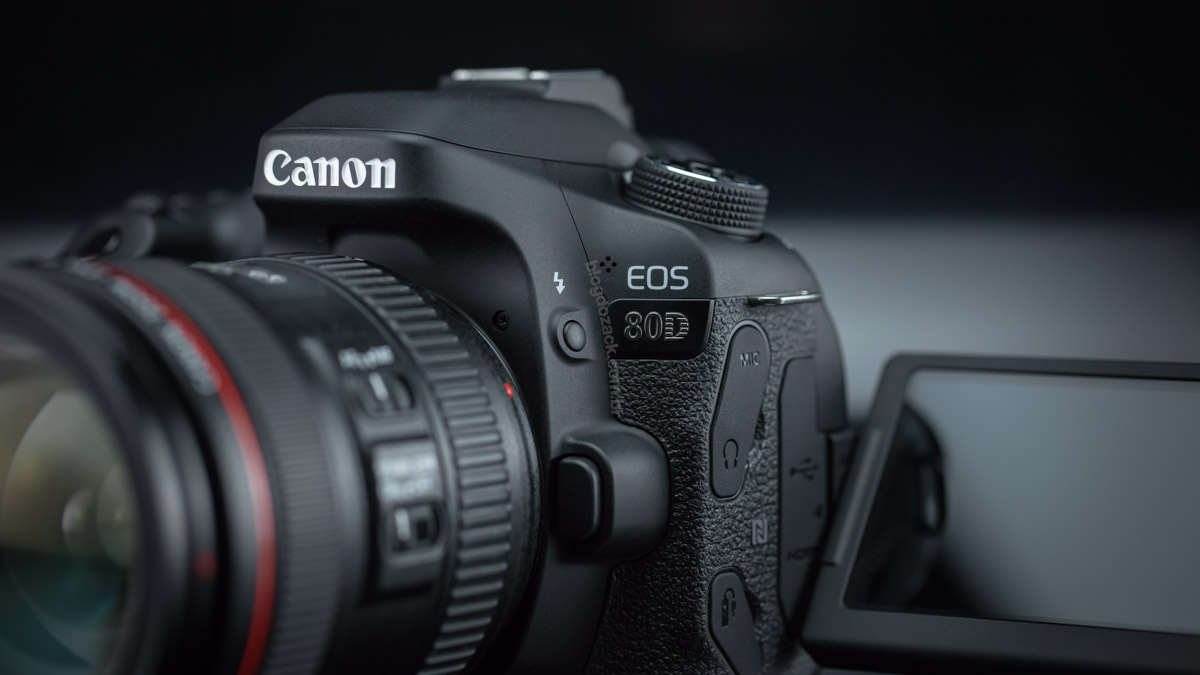 At 13.9 x 10.5 x 7.8 cm of 730g of outside plastics and rubbers, the EOS 80D is a genuine "serious camera", not too small to always be with you, but large enough to handle large lenses. With an aluminium structure surrounded by a polycarbonate shell, it's one of Canon's most durable cameras, and also one the lightest, nicer to hold than the heavier all-metal 1D/5D/7D. With sharp angles carved around the plastic body, it's noticeable the attention to ergonomics on its design, with every control carefully separated by negative spaces; as if it was sculped to be hugged by your hands. It's the first purchasing decision: if you're looking for comfort, the 80D is perfect.

In your hands the experience feels truly unique, a reminder of why DSLRs will always have a place in the market. The right hand grip is enormous, almost 2cm deep at the front and over 1cm (!) high at the rear, enough to use safely with very large lenses. It fits better than even larger EOS 6D and 5Ds (which is based on the 5D Mark III), as these full-frames models feature a smooth back grip. Not on the 80D: each finger sits in its place, and even the shoulder buttons (AF-ON, AE-lock, AF-point) are curved to follow the camera's body; a first on an APS-C EOS. Canon really outdone itself on the 80D's design, and it impresses being an "intermediary" camera; I wish all 5D's were like this!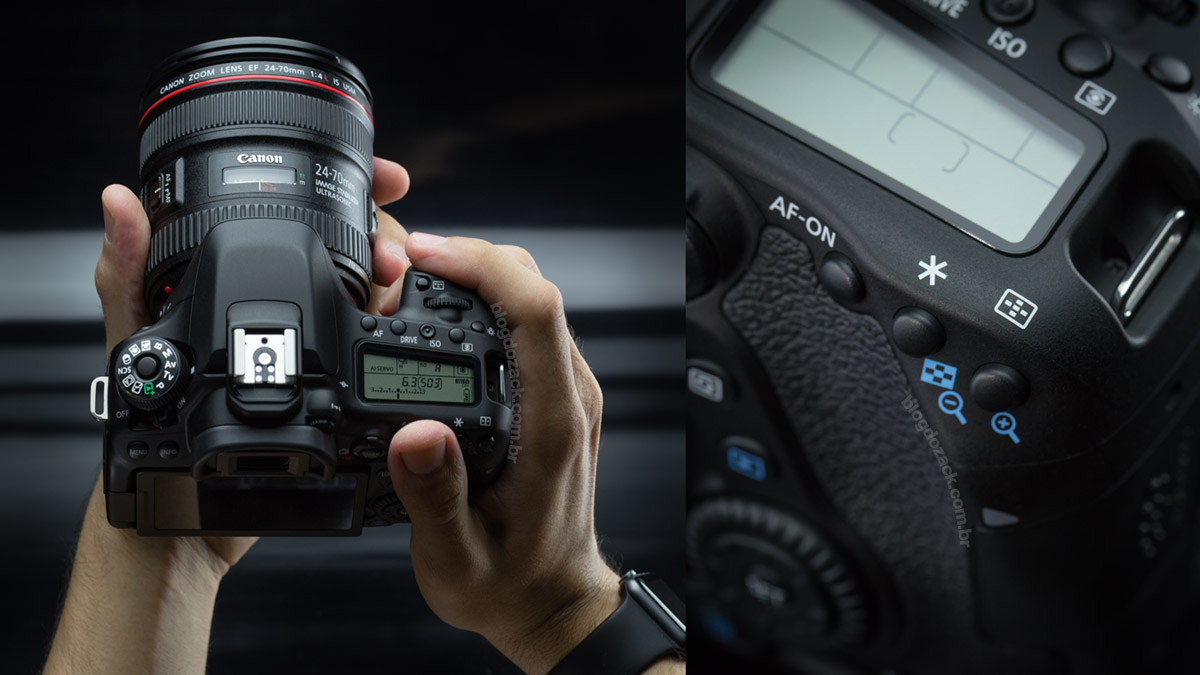 The camera's controls are practically all right-hand oriented, once the left hand should support the lens. At the front, the right index finger gently sits on top of a two stage shutter release, half-pressed for AE + AF (customizable), and fully pressed for picture taking. The tactile and sound feedback are both "click" type, standard for the #0D series and different from the smooth, quieter 5D/6D/7D. On its side there's an AF-point mode selection button, also click-type, and different from the 5D/7D's "M-Fn" one. But it does a good job, as I find it easier to "program" your brain to "index finger = shutter + AF-point mode selection" than program "index finger = shutter / thumb + button + rear lever = AF-point mode selection" like Canon's suggests on larger 7DII and 5D IV cameras.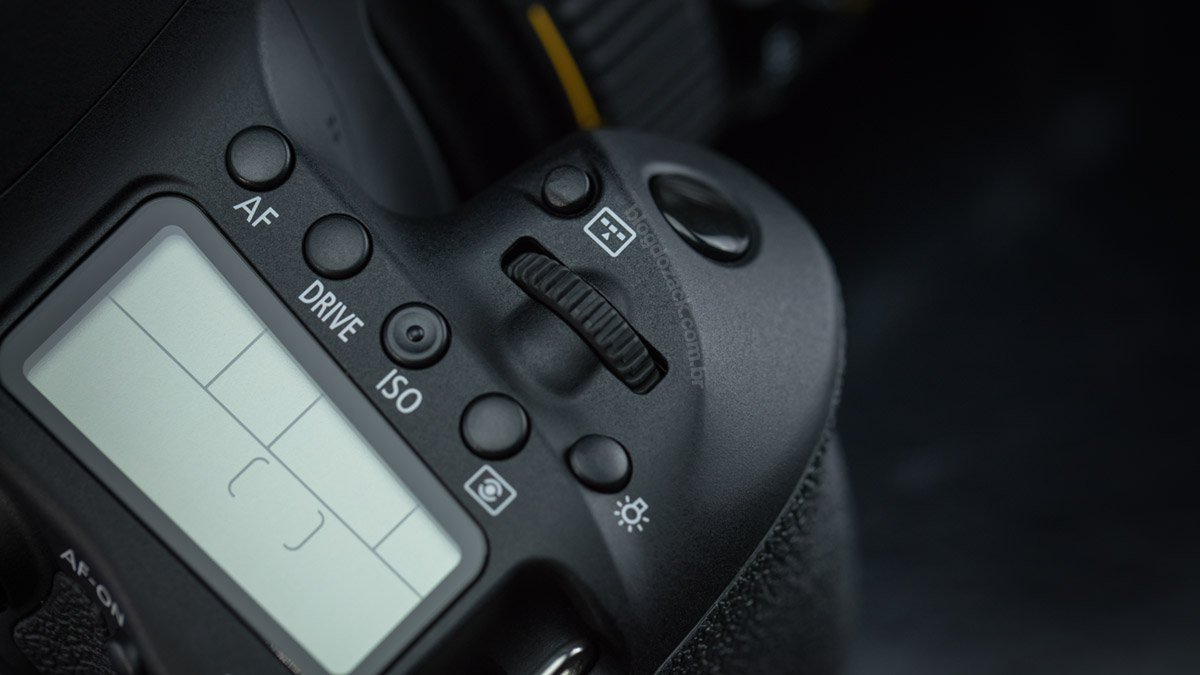 Still within finger reach, there's a vertical control wheel and five more buttons; all click-type. These buttons are the same as the "compact full frame" 6D, with a AF, DRIVE, ISO (with a tactile dot) and metering sequence; distinct from larger 5D/7D that only have three dual-function buttons. The last one activates the top LCD backlit, in a discreet orange tint available only to DSLR; I haven't seem a mainstream mirrorless featuring a top LCD. It instantly shows most camera's adjustments, without the need to use extensive LCD menus; that also saves battery. It's possible to see memory space, battery charge and metering infos, among shutter speed, aperture, ISO, drive and AF modes.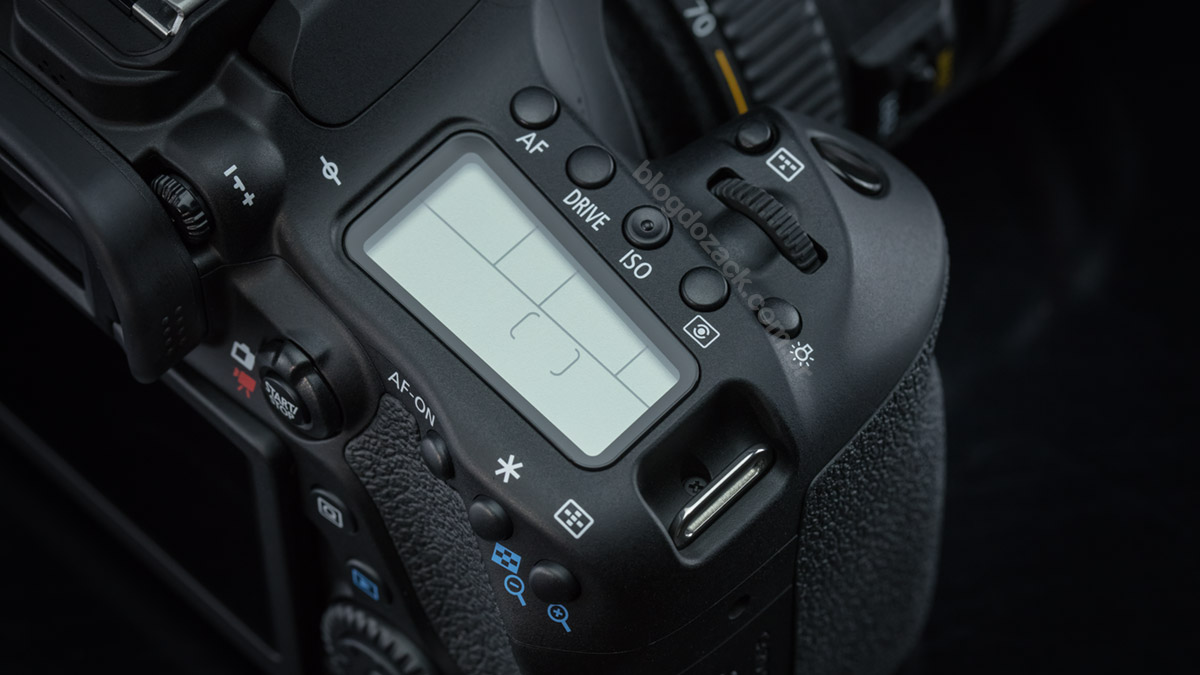 At the rear, your thumb slips to a middle ridge, between the top right shoulder and left dial, with plenty of grip on both sides. These corner buttons are self-explanatory with AF-ON, AE-lock (*) and AF-point selection, all click-less and quiet (different from the top buttons). As the 80D lacks a thumb AF joystick, found on larger 5D/7D and even newer mirrorless (Fuji X-Pro 2 and X-T2),you must set the large, rear directional button to do so; it's not factory programmed for that. It's worth mentioning that Canon raised this directional button from the rear vertical dial, easier to press but harder to turn the dial; something to get used to when switching between cameras.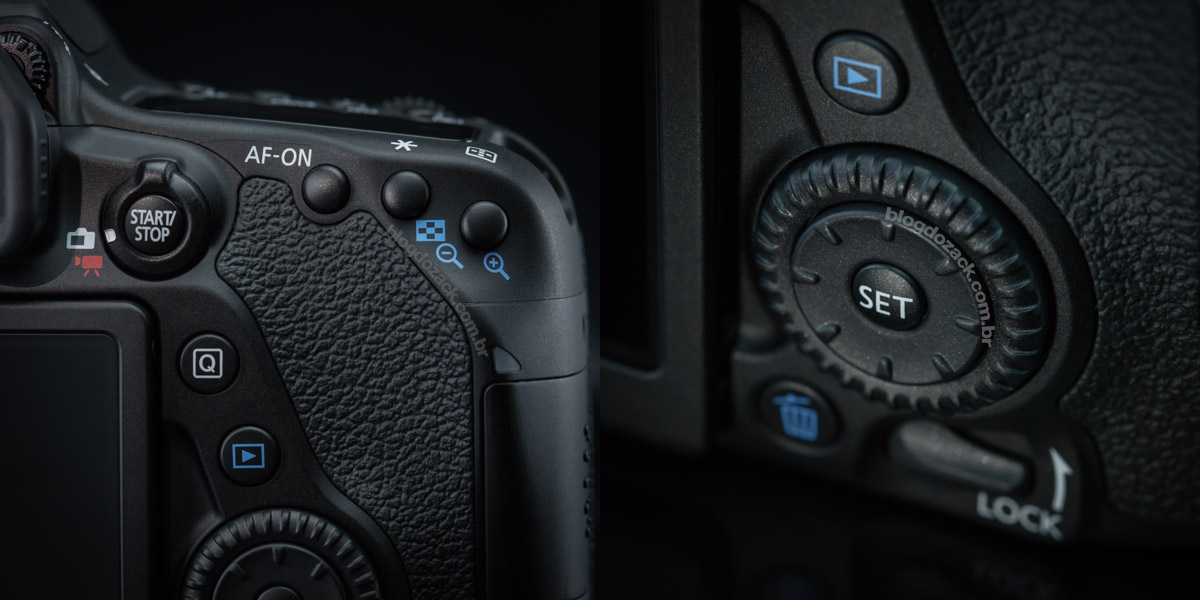 When the photographer is supporting the camera with both hands, the right hand thumb is free for "off-eye" functions. Near the viewfinder, the 80D features Canon's now standard "hybrid DSLR" photo/video lever, with a START-STOP button in its center. Near the LCD, there's a Q (quick) button for easy access to common on-screen adjustments, also standard on almost every digital camera today. The playback and delete buttons are on the right camera side, a godsend to quickly review and single handedly erase photos. Under the rear main dial there's a LOCK switch, to prevent it from being accidentally set when carrying the camera over the shoulders. And the MENU/ INFO buttons are on the left camera side, right under the ON/OFF switch that revolves around the large, PASM mode dial. It's Canon's standard speed-optimized layout, shared by most EOS cameras and great to used the 80D as a backup; or to learn how to use an EOS before switching to a larger one.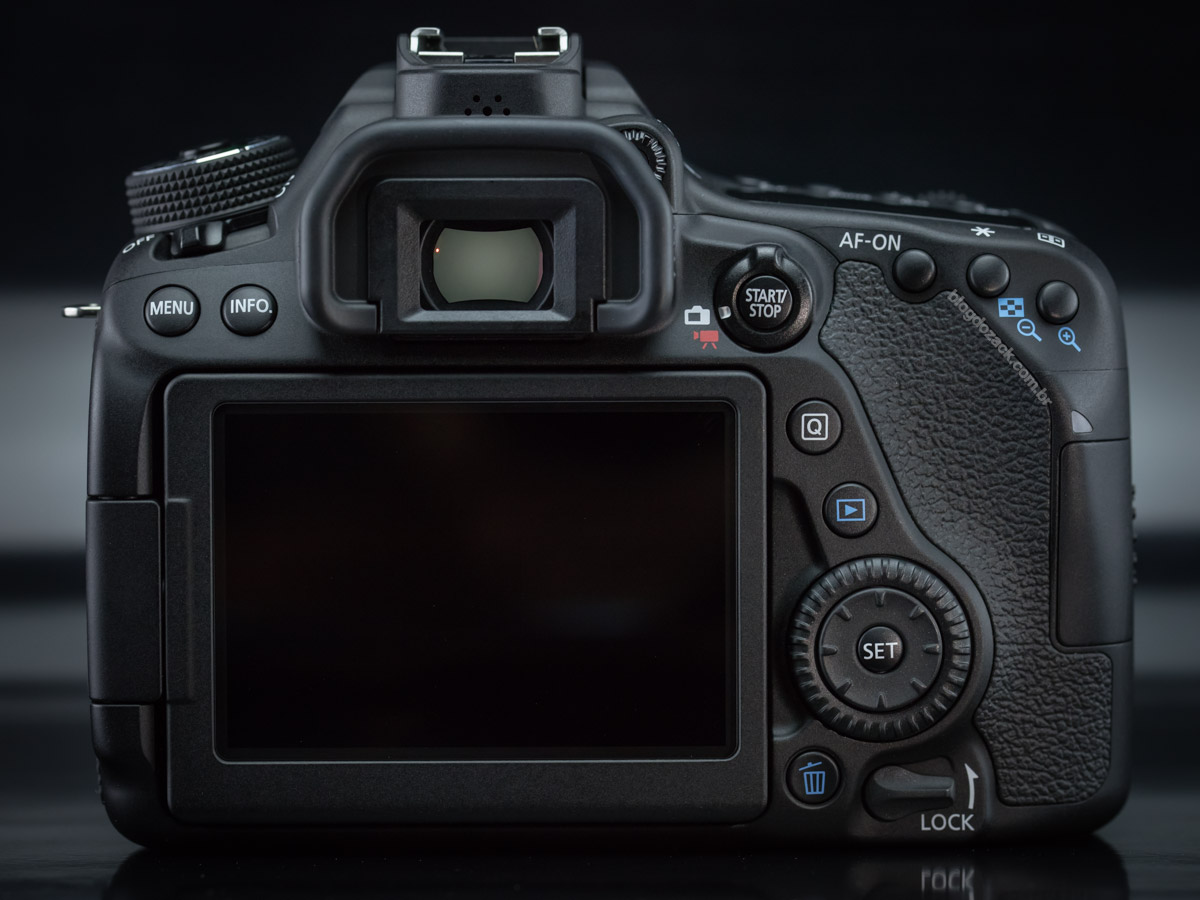 On the left, the rear panel is dominated by the 3.0" 1.04M-dots swivel LCD screen. With a left-side hinge, it can be tilted forward for selfies or up/down for creative perspectives, something Canon unfortunately reserves only for its amateur DSLRs. While Nikon and Sony engineers swivel screens even on their "pro" cameras (D500, D750, A99II), Canon's #0D is the "best" one with a tilting screen, limiting the creative use of Live View and video recording on most models. Touch sensitive, this LCD accepts sophisticated gestures like pinch-to-zoom and slide-to-move, also accepting touch input for every single menu tab (Sony and Nikon doesn't allow that). Even simpler "touch-to-focus" and instant AF-point switching commands are available, giving a new dimension to the Dual Pixel AF.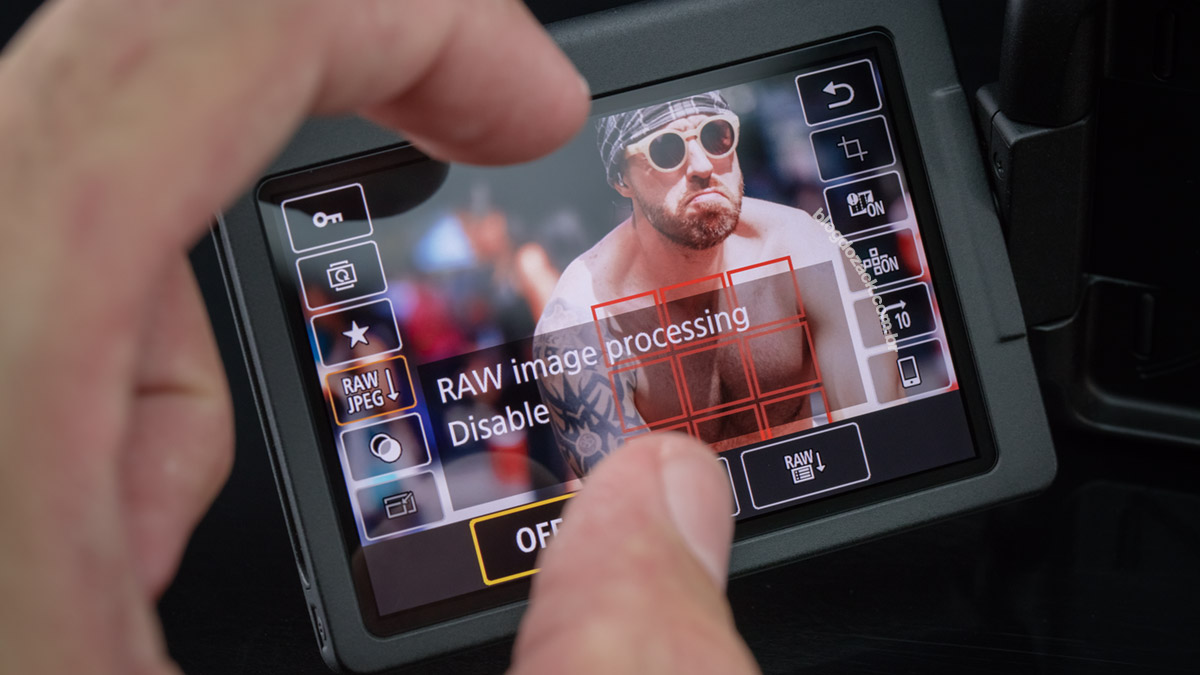 At the rear center, the optical viewfinder is the soul of every DSLR, with a truly optical experience to use with different lenses. With a bright and sharp pentaprism, it finally cover 100% of the frame, a first to the #0D line. It is reasonably large with a 0.95x magnification at a 22mm eye-point, showing a full rectangle inside, great to compose your shots at a quick glance. While it's not as immersive as full frame DSLRs nor some APS-C mirrorless (X-T2), at least it's easy to see. Also it's an "intelligent" viewfinder, that for Canon means it features a built-in overlay LCD screen, displaying various information like AF-point, grid lines and warnings, with a red LED light to be visible in the dark.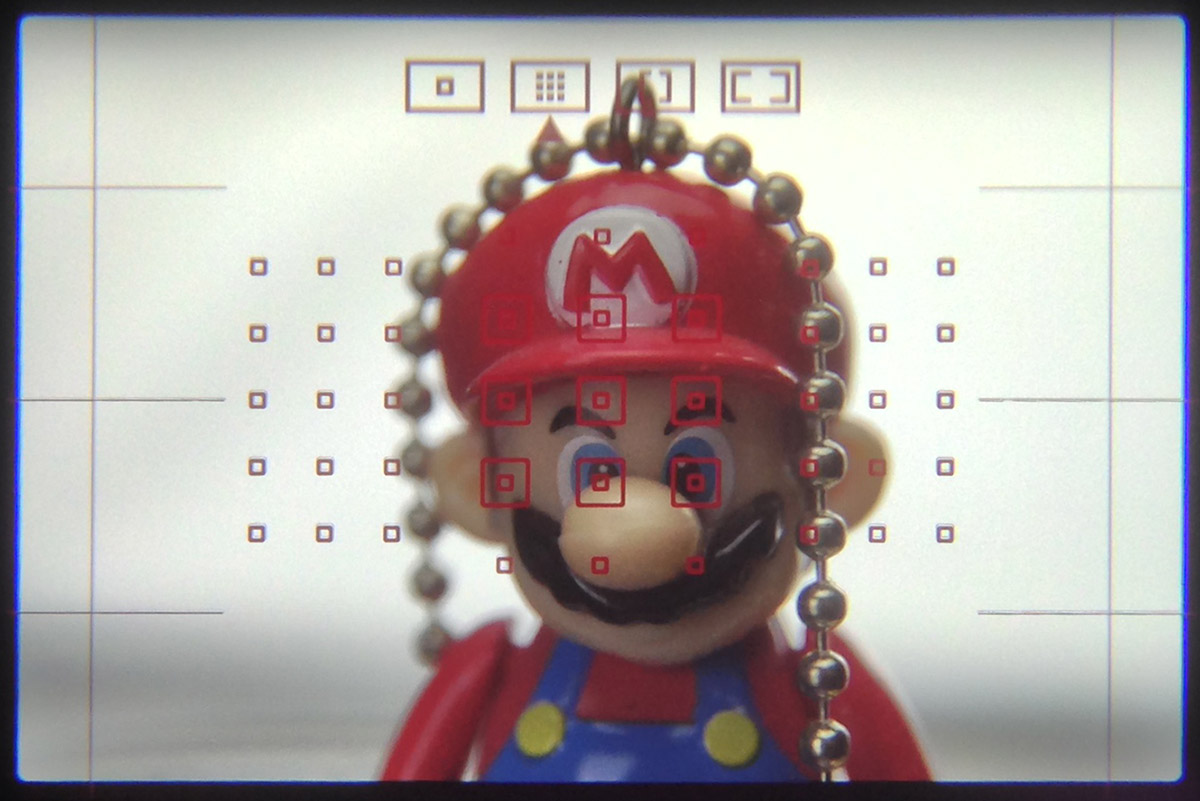 At the top, the built-in flash is rated with a 12-guide, featuring advanced wireless commands to other EX flash guns. A hot-shoe accepts a larger flash unit, like the EX600, or a RT radio transmitter. To the left, are HDMI and USB2.0; mic-in and headphones out (yay!); and remote ports, surrounding what appear to be the NFC sensor area. On the other side, under the right hand grip, a single SD slot supports only the older UHS-I BUS, severely limiting the EOS 80D for shooting action. And underneath the camera goes the LP-E6N battery, the same used on Canon's 5D/6D/7D cameras; rated at up to 960 photos. The camera is declared weather sealed, compatible with some L lenses.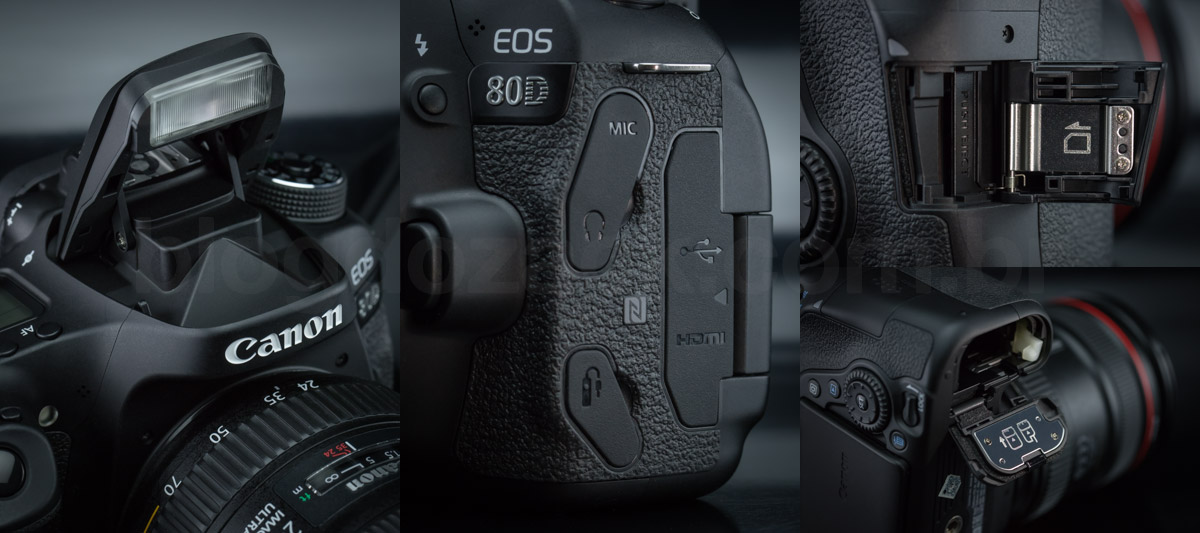 At first the 80D doesn't bring anything new to Canon's EOS family, with virtually the same controls, buttons and overall layout from the 70D; that by itself is not that different from the 2010 60D. But at a closer look, and after using the camera for a few weeks, it is actually a completely new camera, and we haven't even started talking about its internals. It seems easy after it's done, but to design deep ridges, sharp plastic edges and angled buttons is an engineering challenge, and it puts the 80D at the state-of-the-art of Canon's capabilities. The DSLRs didn't have anywhere to go, but Canon proved it could completely change everything, on a very familiar camera. Genius!
HIGHLIGHTS – DIGIC6 + MIRROR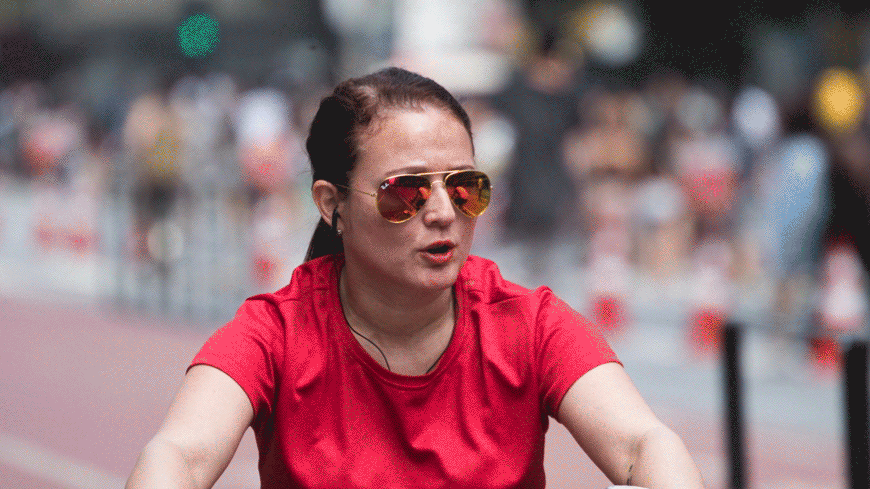 With a new motorized mirror mechanism and updated DIGIC6 processor, the 80D feels like a fast camera. ON/OFF boot cycles, navigating the menus and shooting large amounts of JPEGs are all done effortlessly by the CPU, that's is notably faster than the previous 70D. Also borrowed from newer EOS cameras (7D Mark II, 5Ds/sr), is Canon's newest mirror technology, employing a motor to drive mirror actuations, instead of old school springs. It results in much smoother mirror + shutter cycles, that render less vibrations for sharper images; all at a 1/8000 maximum speed and rated at 100.000 cycles. The top 7fps shooting is speed didn't see any improvements from the 70D, but the 80D does it in a much more elegant fashion, given the smoother module.

But a major bottleneck to use all this speed lies on the 18 raw file buffer (38JPEG), and the 80D support to only SD UHS-I cards; a non-sense, non-upgrade from Canon. If the measly 7 fps wasn't bad enough (mirrorless cameras from Sony and Fuji easily reach 11fps), the 80D's aging BUS + buffer makes things worse. Not compatible with faster UHS-II (ultra high speed) cards, it's just too easy to fill the buffer, being unsuitable for photojournalism or action photographers; not comparable to recent Nikon's (D500) or Fujifilm's (X-Pro 2 and X-T2). It's stupid of Canon not to support faster BUS in 2016, when its DIGIC6 CPU is totally capable of handling the USB3.0 standard.
HIGHLIGHTS – 45-POINT PHASE AF
The EOS 80D got a brand new 45-point, all-cross-type phase detection module. A good move from Canon, that didn't recycle the older 70D 19-point system borrowed from the classic 7D, nor the overly complicated 65-point module from the current 7D Mark II, it is used when shooting through the viewfinder. The focusing point are spread about 70% on the horizontal axis, enough to focus and compose most photos. As all points are sensitive to both axis (cross-type), we don't need to rely only on the center point, usually more sensitive. However it still got special attention like dual-cross-type sensibility when used with f/2.8 or brighter lenses; compatibility with f/8 combos, and low light sensitive up to -3EV. It's a current and capable module, besides not doing anything new.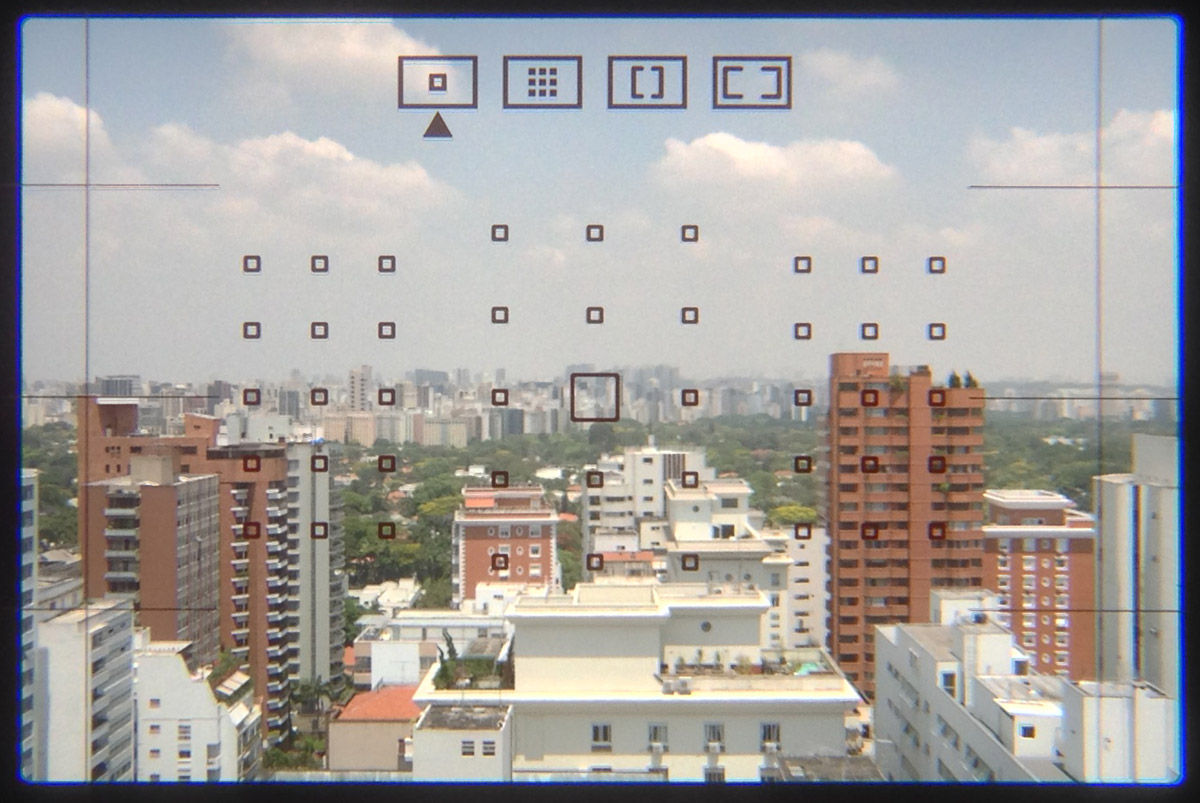 There are four modes of AF point selection: single, zone, larger zone and auto; missing the 5Ds, 5D Mark III/IV, 1D-X "Spot", "area" and "area:Surround" modes. The single mode is the most precise: a single AF point can be selected from the grid, to pinpoint focus on the horizon, a tree, the subject's eye or a single person on a group. The zone mode groups 9 or less points together, to enhance the camera's ability to track focus, like on a cyclist face. And the large zone, as expected, divides the whole module in three parts, made to follow larger subjects (like single players on a soccer field). And the auto mode attempts to select the appropriate subject based on its distance and color.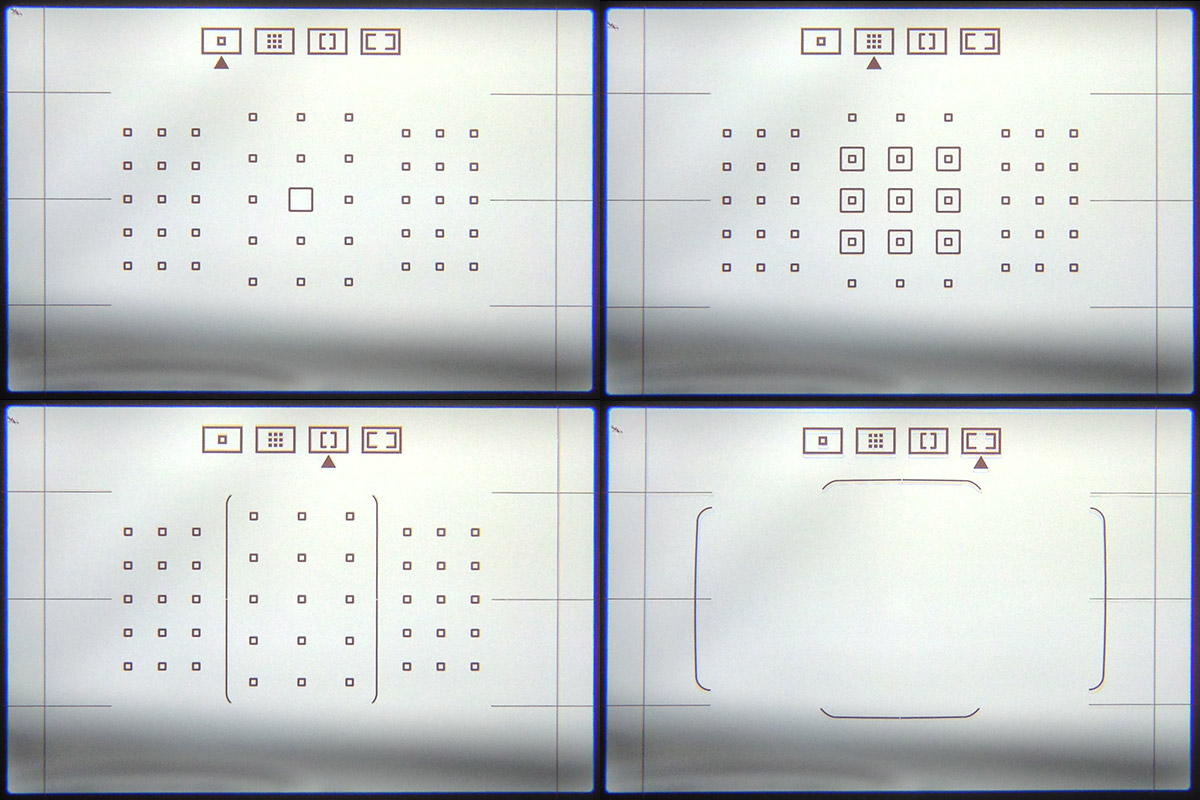 However what the 80D can cleverly do, is to use its 7560 pixels RGB+IR metering to drive the AF module to specific colors, and even the subject's skin. That is particularly useful during "auto point selection", be it for ONE SHOT ou AI SERVO (continuos), once the camera "knows" where the subject is. It can be used even during "manual first point selection", to follow a color decided by the photographer. While it's not as advanced as Canon's iTR (intelligent tracking) found on EOS's 7DII/5Ds-IV/1DXII, that use a much denser 100.000 pixels metering featuring iSA (intelligent scene analysis), that can follow faces, the 80D doesn't have issues to find (and keep) the correct point.
Unfortunately Canon's "AI SERVO AF III" menu system, found in its EOS 1D-X/5DIII-s-sr-IV/7DII, is nowhere to be found on the EOS 80D. Instead there's an extensive "Custom Function II – Autofocus" with 16 (!) different options, that is just harder to use. The first five gives us practically the same adjustments as the SERVO AF III algorithm, with tracking and sensibility priorities. The next are hardware oriented, followed by ergonomics and auto modes; with the last two setting the OVF illumination and Canon's AF Microadjustment. It's a very stupid software limitation not to employ the AI SERVO AF III menu, as the Custom Function III settings are the same, only harder to use.

HIGHLIGHTS – DUAL PIXEL LIVE VIEW
If shooting through the optical viewfinder wasn't enough, with high speed focus and a real representation of the lens, the EOS 80D brings Canon's Live View one step ahead. When activated, the camera's mirror gets flipped out of the path to the image sensor, giving a real-time image on the rear LCD; great for "precision shots" of products and landscapes, or some creative perspectives using the Vari-Angle screen. It's an "extra" function on most DSLRs, that have been getting attention in order to compete with mirrorless cameras. And Canon is exploring it with an exclusive tech: the innovative (albeit under explored) Dual Pixel AF CMOS sensor.
Introduced on the 2013 EOS 70D and enhanced on the 2014 EOS 7D Mark II, and adopted even on high end camera's like the Cinema EOS lineup and the new full frame EOS 5D Mark IV, the Dual Pixel is Canon's definitive technology to remain relevant on the market. As its name suggest, two photo-diodes compose each image pixel, receiving two different distance values from each side of the sensor; much like a phase-detection module. The main difference is that is covers 80% of the APS-C sensor, for effectively giving the 80D 19 millions phase-AF points during Live View; lightyears ahead of the mirrorless competition (hello, 425 AF-points A6500!). And we get what we paid for: industry leading AF performance, much faster than any mirrorless camera and on a much larger area.
QUESTIONABLE – SERVO DUAL PIXEL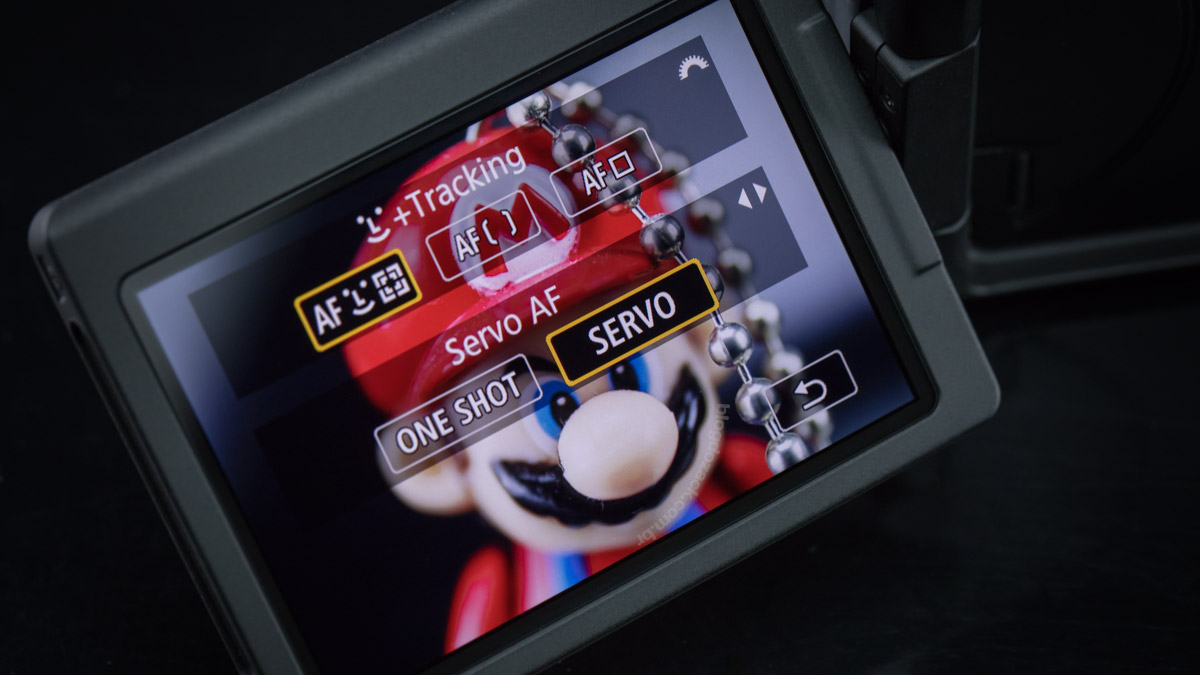 While the 70D and 7DII "1st generation" Dual Pixel gave us a hint of what it could do, on the EOS 80D Canon is really pushing its functionality further; sort of. It's biggest headline is the new SERVO AF, that attempts to follow the subject's movement during continuous bursts; replicating what the viewfinder does. There are two settings for DRIVE speed: a speed oriented 5fps, and a precision oriented 3fps; nowhere near recent mirrorless cameras. The focusing area can be automated with facial tracking; touch selectable via the LCD screen, with color priority; and area selection. When focus is confirmed, a blue square displays the camera is actively following the subject's distance.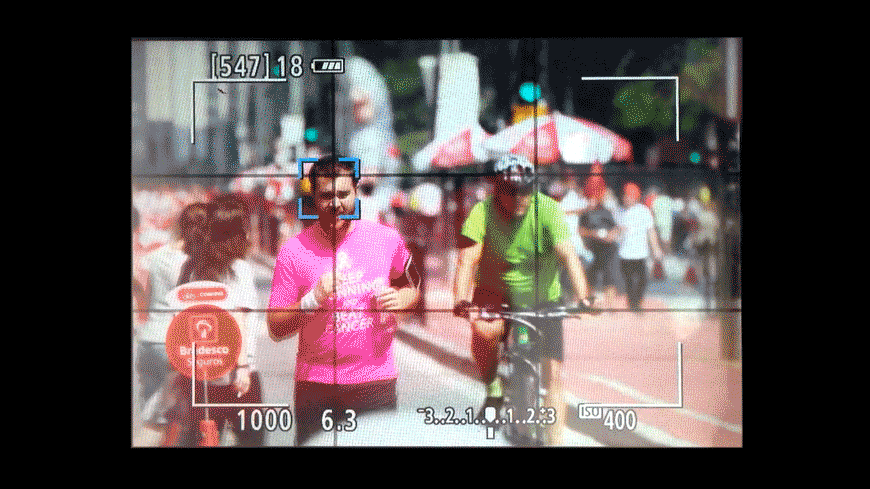 But while the camera does a good job in keeping static subjects in focus, great to use while focusing and recompose, it still can't quickly decide and follow a moving subject; greatly limiting its use for sports. Notice the different name tags: the Dual Pixel is "SERVO AF", but not "AI SERVO AF", like traditional phase! So it can't really predict the subject's position, made brilliantle by Sony's 4D Focus or Fuji's X-Pro 2/X-T2 AF-C. Subjects coming in the direction of the camera are harder to follow, making it difficult to recommend the 80D for action. So we must wait for yet another generation of the technology, to see what it's really capable of; maybe we'll have the answer on Canon's EOS M5, using an even faster DIGIC7 processor.
QUESTIONABLE – CANON'S EOS MOVIE
If the Dual Pixel wasn't useful to shoot photos in Live View, it's on the 80D's EOS Movie mode that it really shines. With such a detailed "fabric" with phase data, Canon can smoothly program focusing transitions during view recording, perfect for automated "focus pull" operations. But the 80D maximum 1920×1080 (HD) resolution up to 60 fps, compressed in H.264 and delivered in either MP4. IPB-S (60Mbps), or 30 fps IPB-S (30Mbps), IPB-L (12Mbps), or MOV. ALL-I (96Mbps), with Linear PCM (MOV) or AAC (MP4) audio; is a dated spec compared to other 4K offerings. And, as usual with Canon's DSLRs, the EOS 80D keeps getting the movie data from line-skipping, grossly reducing the video resolution and rendering moiré + aliasing issues, far from the real HD quality.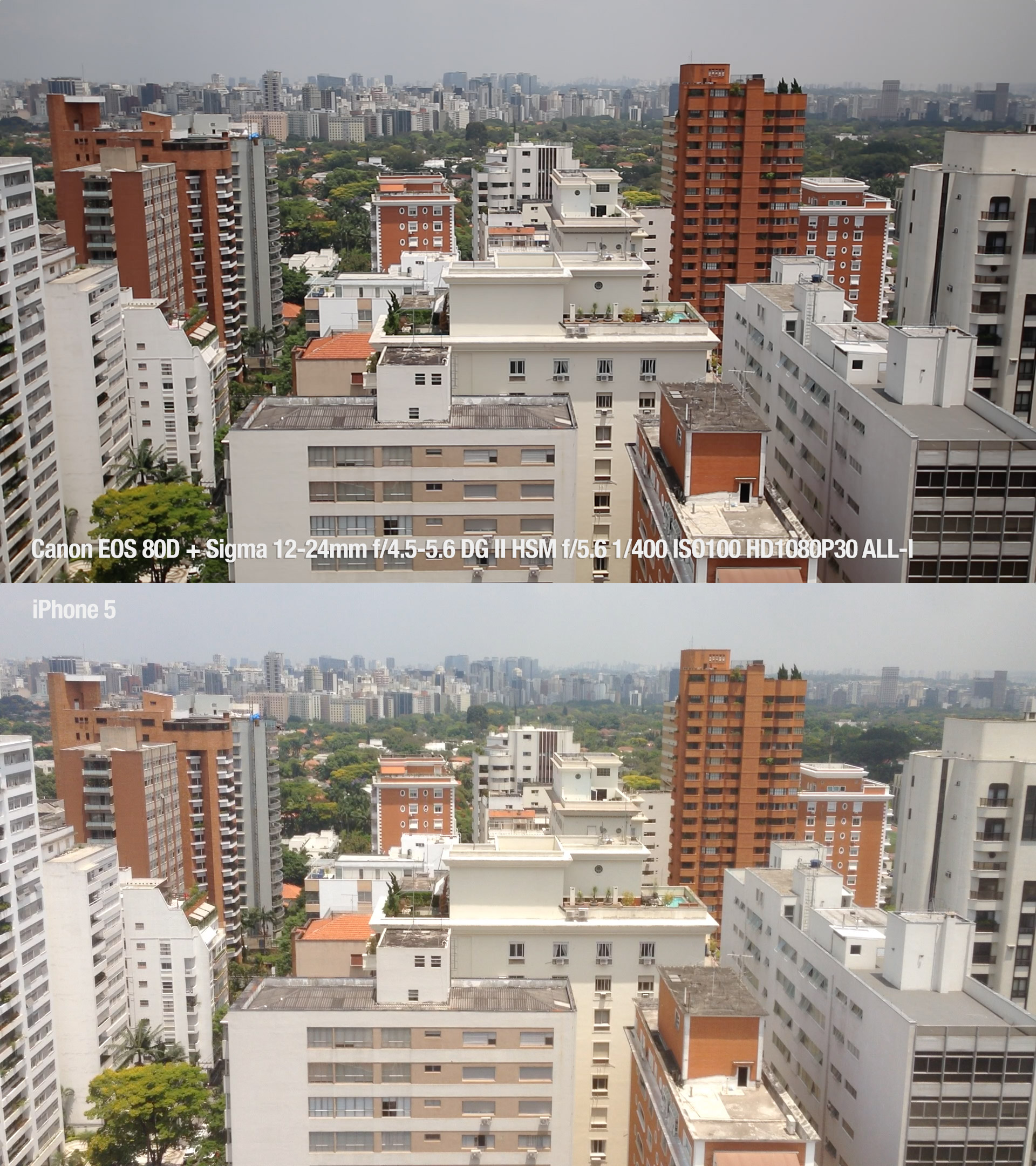 The biggest issue is the laughable 1080P resolution, that honestly isn't a bad standard compared to 4K, but poorly implemented by Canon. The HD res is more than enough for 2016's web posts and even professional outputs, with plenty of detail for smartphones screens; where the content is mainly consumed anyway. But the EOS 80D 1920×1080 looks blurry and with too much contrast, behind videos delivered from three years old smartphones. Not only that, basic video assistants like focus peaking, zebras and even a "clean" HDMI output are nowhere to be found on the 80D, making clear the EOS 80D fit for domestic users. It's comical to see the Sony A6300 with over 30 tabs of adjustments (compression, color, gamma…), while Canon can't even put a clean HDMI.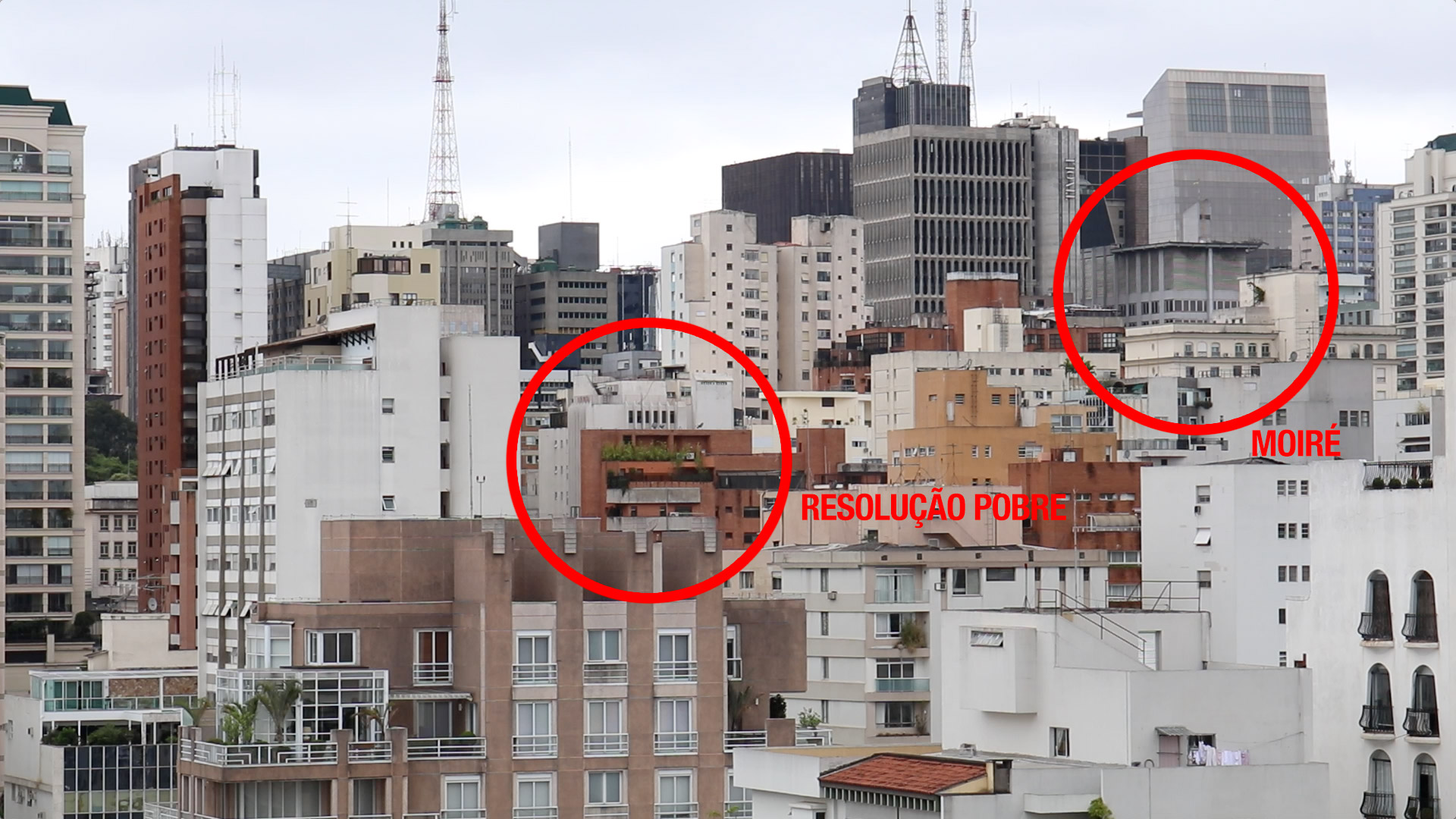 At least they're trying new things like the "HDR Movie" mode. When activated, the camera reads the image sensor at 60fps, with each frame featuring a different exposure value; to later blend it back to 30fps with greater dynamic range. However it is limited only to automatic exposure (no PASM modes) and, as expected, not suitable for fast moving subjects (with visible trails). So it is crippled by design, making it hard to see any effort from Canon, to truly deliver a compelling "HDSLR".
QUESTIONABLE – RGB+IR METERING
"Avalanche" with the Sigma 50-100mm f/1.8 DC HSM at f/5.6 1/320 ISO640 @ 100mm.
Other "function" that showed issues during my tests was the EOS 80D 7560 pixels RGB+IR metering; too sensitive to photograph landscapes. The camera "sees" large blocks of trees as dark areas, overexposing most frames. It's as chaotic as +2EV, making it almost impossible to fix on raw files (later in post). So I got myself shooting mostly with the Live View mode, as it shows a real time exposure simulation, allowing for precise compensations before the shot. While the camera didn't have any issues with urban landscapes or portraits, it's definitely an issue with landscapes.
EXTRAS – WI-FI + NFC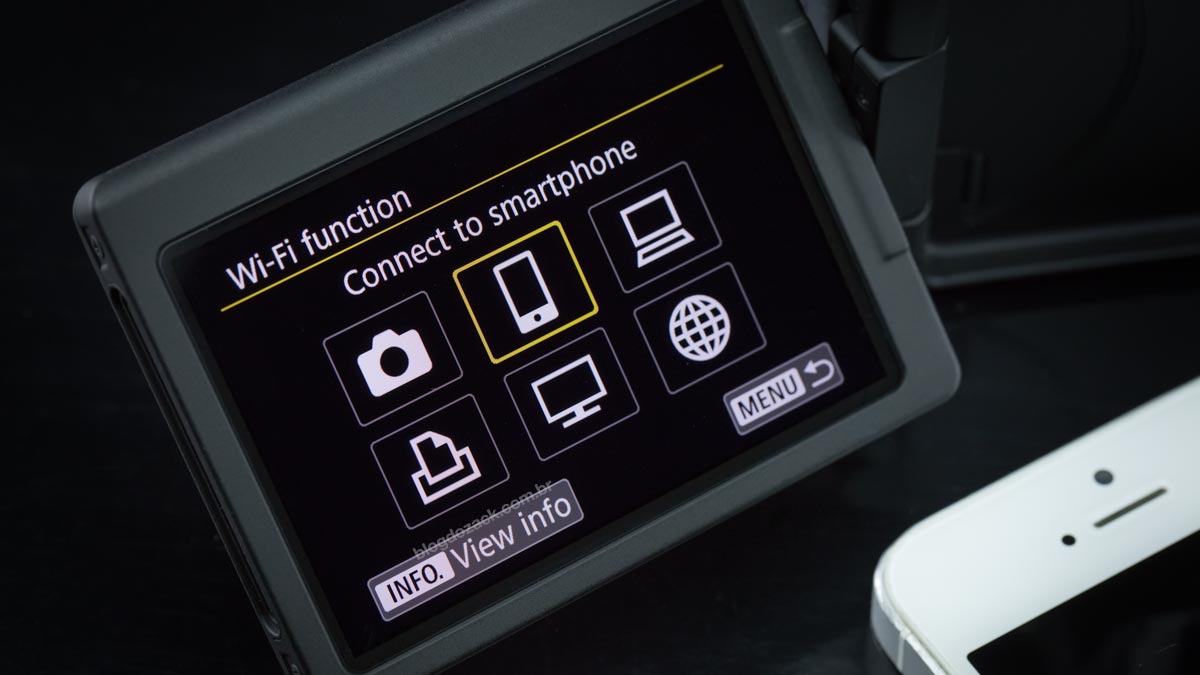 The 80D follows Canon's 2016 trend to add wireless communication to all EOS cameras. With a fairly advanced Ad-Hoc, Infrastructure, app based or even direct upload to cloud services, the 80D is one of the easiest cameras to use Wi-Fi. A NFC chip also allows instant configuration with Android devices, making it further easier to use. There's even an option to use the smartphone location services, to feed GPS data onto camera's photos, as there's no built-in GPS on the body. It's an extensive wireless implementation that Canon is systematically building in every EOS.
IMAGE QUALITY
With a newly developed APS-C CMOS Dual Pixel imager, the 24MP EOS 80D follows the Rebel's T6i/T6s steps to push the EOS "cropped sensor" lineup forward. Outputting 6000×4000 files, slightly larger than the 70D/7DII 5472×3648 pixels, the 80D is flexible for both large prints, up to 1.5m x 1m at 100 ppi, or high quality web outputs, given the large sensor. Raw files also feature a step ahead in dynamic range, with less visible noise in pushed shadows. The noise footprint is discrete up to ISO3200, with minimum detail impact. It's an APS-C sensor with some full frame qualities, and a steady improvement for Canon's EOS "cropped" cameras.
At base ISOs it is interesting to see how the raw files maintain shadow data, that can be recovered up to reasonably high (but not extreme) values. While Canon's APS-C sensors never tolerated more than "+2" exposure compensations via software, displaying banding (even on the current EOS T6i), the 80D has fair quality up to +3; more than enough to correct most errors. It is "fair" because it is nowhere as PERFECT as Sony's Exmor sensors, also used on Nikon DSLRs, nor as good as Fuji's X-Trans (these cameras allow for an up to +5 exposure compensation on Adobe's Camera Raw). But it's a solid step forward for Canon: the 80D files are easier to handle with enough quality for prints.
"Valley" with the Sigma 50-100mm f/1.8 DC HSM at f/5 1/40 ISO100 @ 50mm; ACR +100 Shadows +100 Blacks – 25 Highlights.
"Sunset" with the Sigma 50-100mm f/1.8 DC HSM at f/6.3 1/1250 ISO100 @ 50mm; ACR +80 Shadows +1.00 Exposure.
"Grand Canyon" with the Sigma 50-100mm f/1.8 DC HSM at f/2.2 1/640 ISO100 @ 50mm; ACR +100 Shadows +23 Blacks.
"Kolob" with the Sigma 50-100mm f/1.8 DC HSM at f/6.3 1/500 ISO100 @ 100mm; ACR +100 Shadows.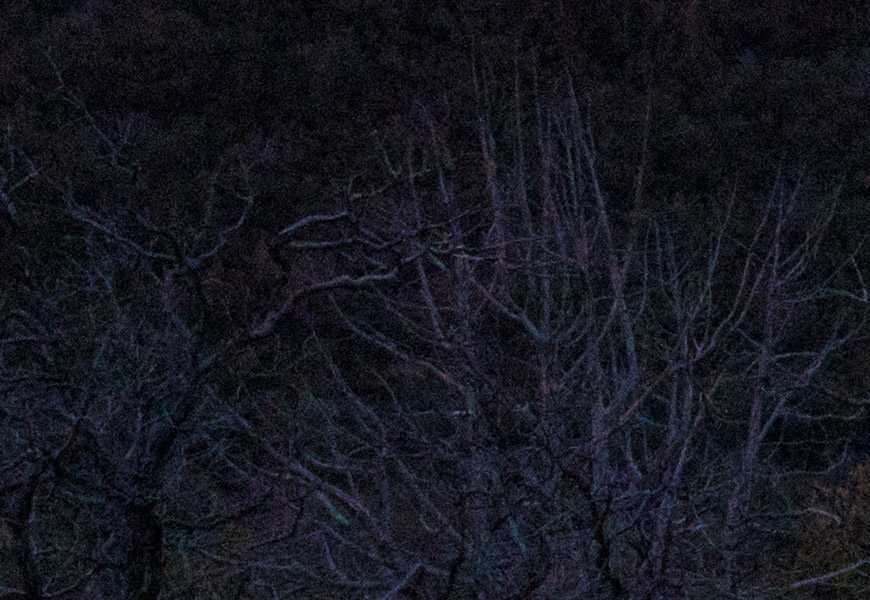 The resolution is also great on lower ISO values (ISO400 or less), rivaling even optical-low-pass-less cameras (a "feature" the 80D doesn't do). Urban or nature landscapes can be printed in large formats, limited more by the lens resolving power and the photographer's technique (not to blur the shot), than the sensor itself. It's yet another trend that photographers have to get used to: if your camera's body is more expensive than the lens, you're doing it wrong. Here tested with the near flawless Sigma 50-100mm f/1.8 DC HSM, we can see the zoom limits on the frames edges. Not even Canon's megapixel monsters EOS 5Ds/5Dsr (50MP) feature such a high density sensor, so be prepared to invest in high quality glass to take advantage of your camera's output.
High ISO noise looks pretty and organic, serving as a creative tool for black and white photographers. The EOS 80D looks clean up to ISO3200, more than enough to compensate for the lens aperture or to work under low light, even with kit zooms. From ISO6400 it can keep the colors under control, with no magenta cast; a long time issue for Canon's APS-C. The details can't compare to last generation's full frames (like the EOS 6D), being erased by the noise. And absurd values from ISO10.000 an up, demand post processing to get rid of weird colors. A quick reminder on how the current generation EOS 7D Mark II barely works from ISO800 and up, the 80D (together with the T6i) is a solid improvement for Canon's APS-C sensor technology.
Finally Canon's colors are great on print or screens. Even using "Auto Picture Profile" and in-camera JPEG processing, files are saturated on a broad range of tones, not rendering an specific look; a pleasing result we're used to at Canon. Landscapes get a new dimension with deep blue skies and perfectly green leafs, that are harder to see on both Sony and Nikon. Skin tones are balanced to the asian pink-ish orange, far from reality but intense for portraits; a Digital EOS trademark for over a decade. Together with Canon's L lenses, the system is a great choice for color photographers.
VERDICT
The EOS 80D tries a lot and it delivers most of its headlines. Yet another intermediary DSLR, Canon had to try harder to impress and we see its hard work as soon as we take the camera in our hands. The ergonomics are fantastic with deep ridges, angled buttons and distinct tactile feedbacks, for a greater grip not found even on larger cameras. Take a second to look at is functional lines, and notice how Canon is attentive to the details: if we're designing another DSLR, let's make it the best.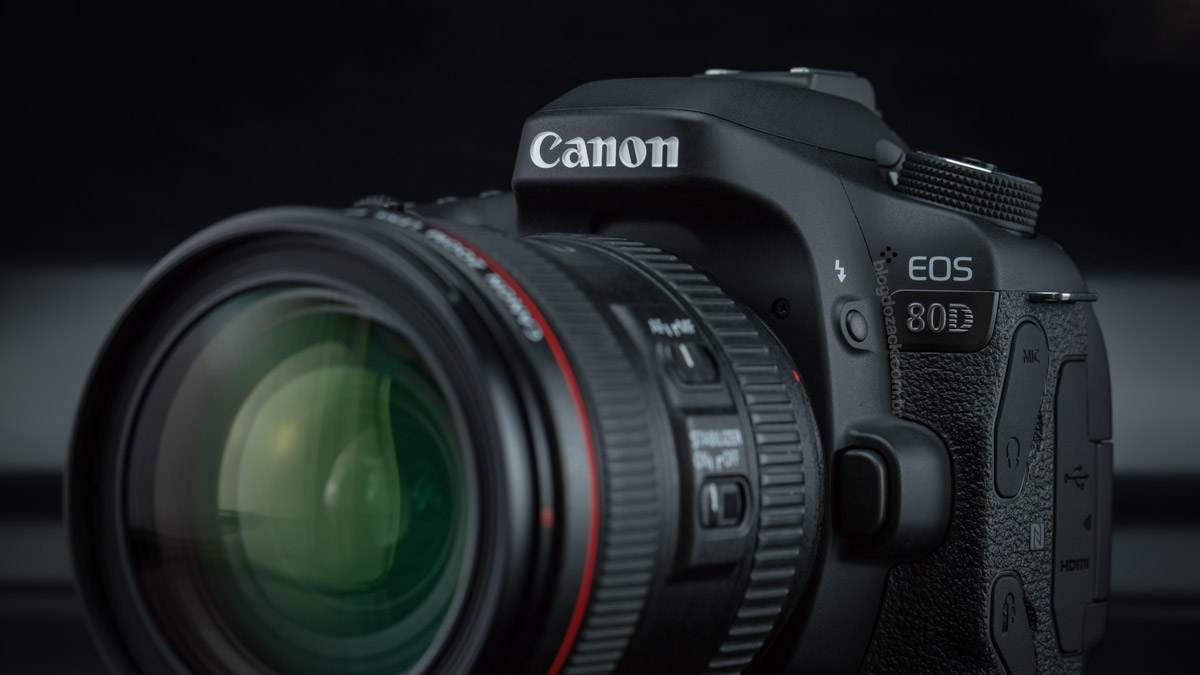 The same logic follow the internals with a fast DIGIC6 processor and motorized mirror that, by itself, are enough reason to upgrade. Just from turning the ON switch we see how light-years the DSLRs are in front of mirrorless cameras, no matter if they shoot 10, 20, 1.000.000 frames per second: if they can't boot in time, the moment is lost. Nope, I'm not happy with the limited raw buffer and Canon could have put a faster BUS, not updated since the 2004 EOS 20D. So we can't really enjoy the new 45-point AF module that, although it's quick, it doesn't do anything new.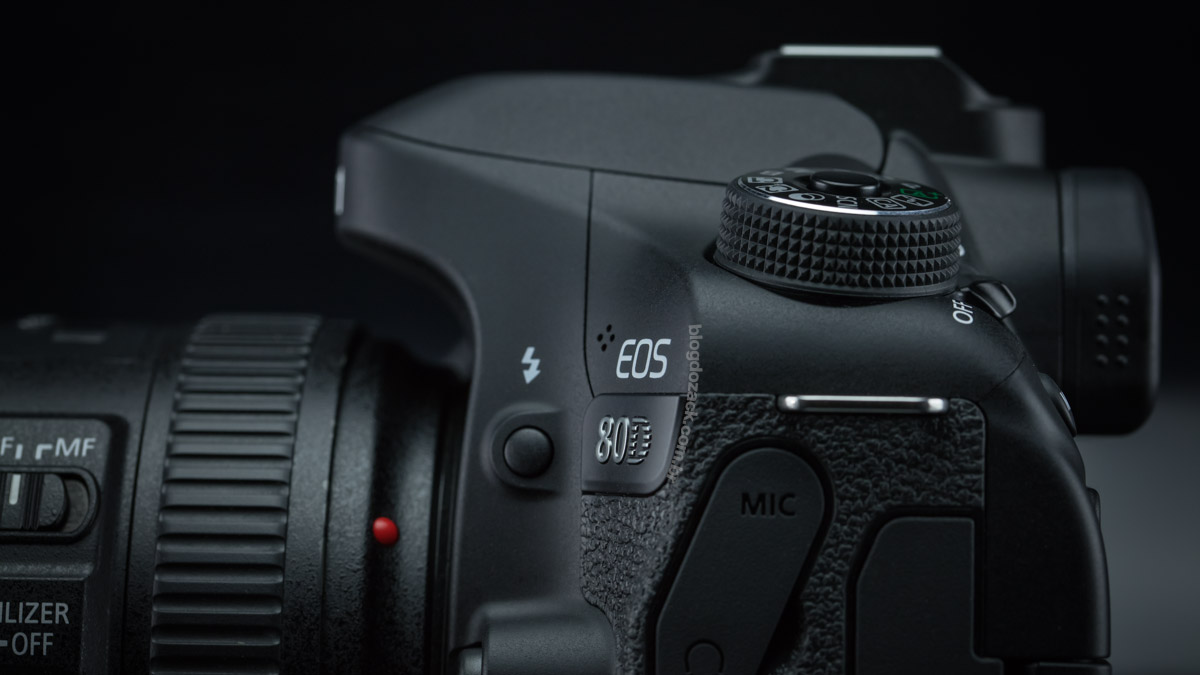 And then they went too far (or not far enough?) with the third Dual Pixel DSLR that can't really benefit from the technology. Ok, the SERVO AF was long requested since the EOS 7D Mark II, but we need it to be "AI SERVO", predicting the next shot. Is it a hardware or software limit? Maybe the new DIGIC7 EOS M5 have the answer. The EOS Movie is still rubbish rendering low quality HD files, and the lack of video resources (peaking, zebra, clean HDMI) make it a no-go for videographers. In times of a 4K-S-Log3-1080P120 US$998 Sony A6300, a crippled EOS HDSLR is unacceptable.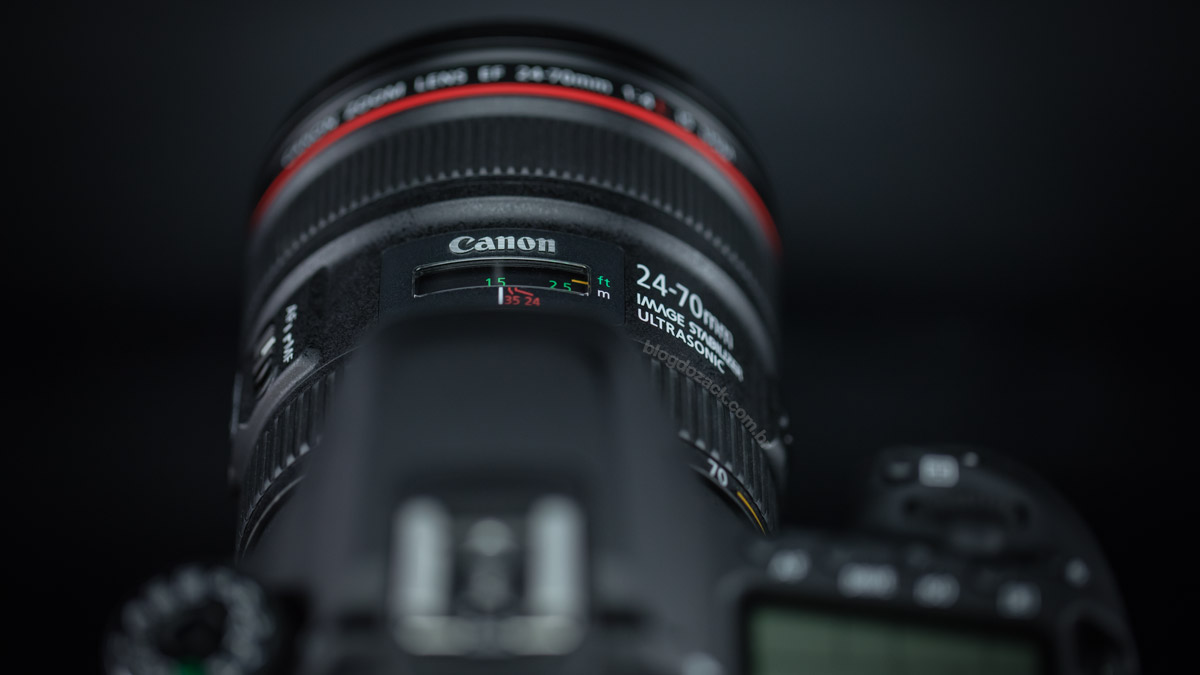 Last but not least, the new CMOS APS-C 24MP image sensor is a step on the right direction, something not that hard to achieve by Canon's standards. The noise footprint still eats details from ISO5000 and up, not comparable to full frame models. And the colors are Canon's last breath to mask the sensor technological gap. After all, what saves the EOS 80D? For just US$1199, at least it is not too expensive. And that's the market endorsement that makes it a good option, for those considering photos AND videos. US$1199 is a fraction of the cost of any "better" camera I mentioned in this review (X-Pro 2, X-T2, D500, A6500), and the EOS 80D's biggest triumph. So if that's all you can pay, yes, indeed the 80D is the best intermediary DSLR. If it's the best? No, it isn't.