Mitakon CREATOR 85mm f/2
Estimated reading time: 07 minutes.
March/2016 - Zhongyi Optical used to be an unknown chinese manufacturer, providing optical elements for major brands since 1984. It's one of those obscure companies, much like Japan's Cosina who produce some manual Zeiss lenses. Sometimes these factories offer their own line of products, like Cosina's 1999 Voigtländer purchase, to use its name; Korean Samyang, who makes lenses under the Rokinon, Optic Pro and Opteka brands; and now Zhongyi with two distinct names, its own Zhongyi and the newer Mitakon. It's almost as some CVS products, sharing the same USP: lower prices compared to brand products, an alternative to try a higher end spec on the cheap.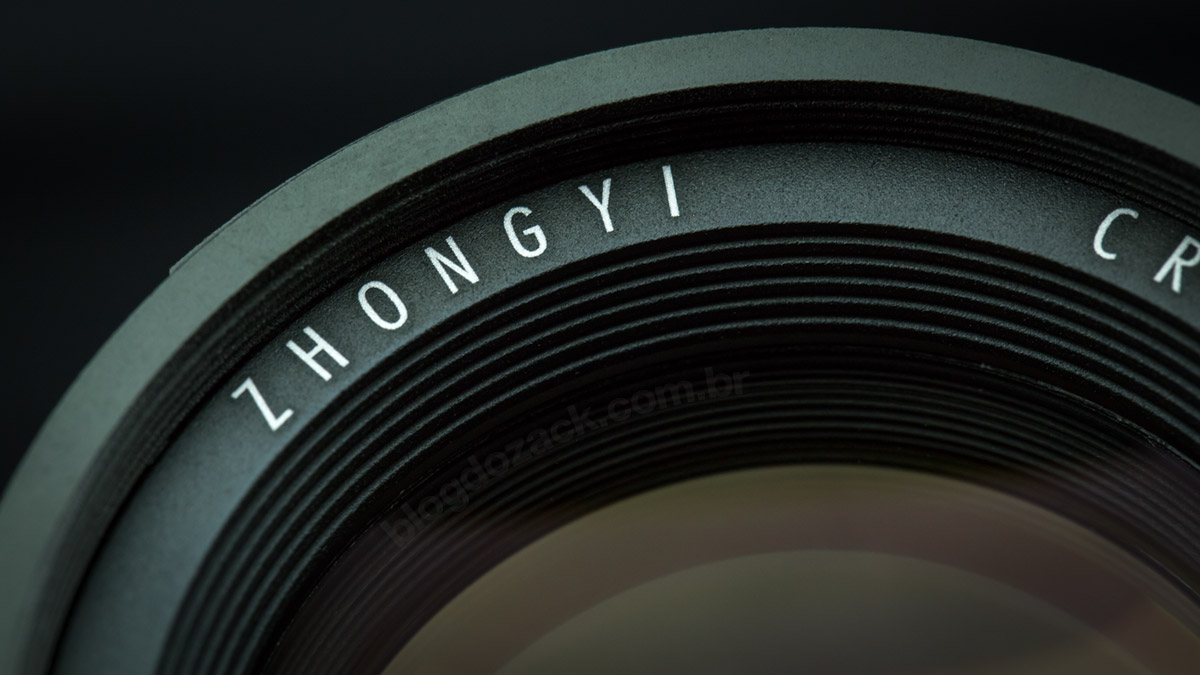 To enter the market with a kick, they announced in 2014 the Speedmaster series, made for mirrorless cameras, with exotic specifications like a full frame 50mm f/0.95 (previously available only on Leica's US$10.000 Noctilux), and a never seen before 135mm f/1.4. And for reflex cameras, the CREATOR line, with much less impressive specs, but a much more affordable price like this US$199 85mm f/2. It's the same strategy used by other low cost brands from Asia: an all manual operation, great build quality and fair optical performance. But considering Brazil's weak currency, the Mitakon US$199 must deliver the goods. Can the Mitakon perform? Let's find out! 
BUILD QUALITY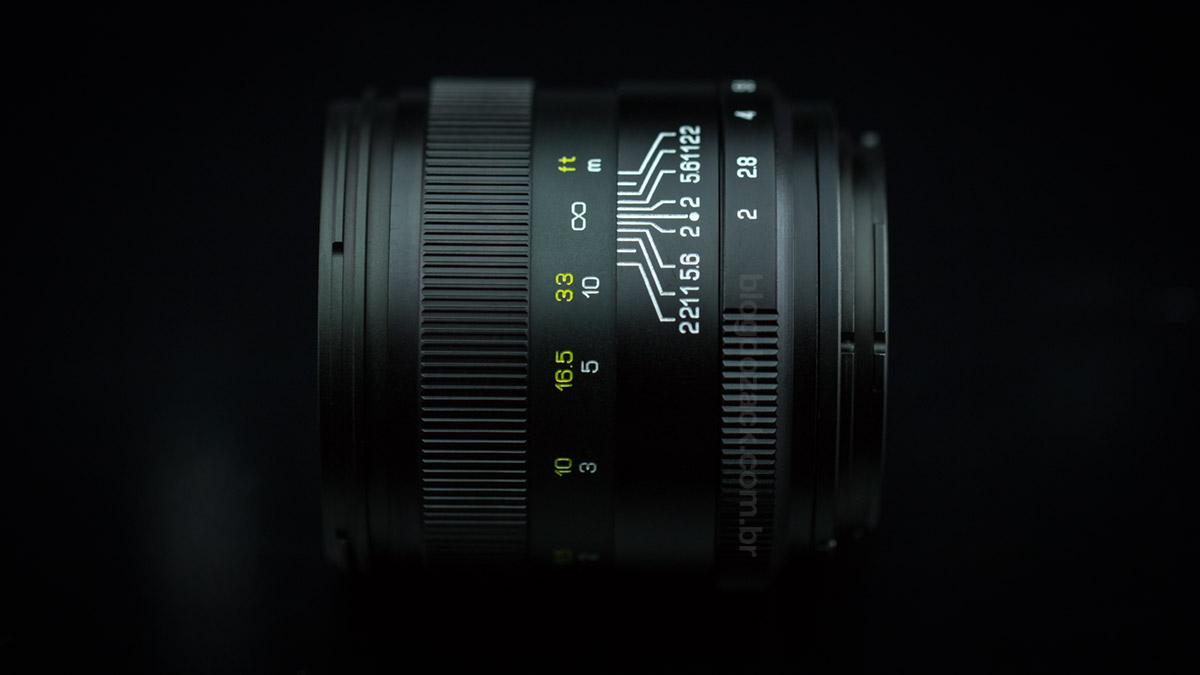 At 7.6 x 6.5cm of 410g, the Mitakon CREATOR 85mm f/2 is the smallest 85mm I've ever used. Very light on my EOS 6D, it behaves like a nifty fifty and it's even weird to use. The Mitakon is a 85mm that doesn't feel 85mm, and you get a compact camera in your hands, but with a tighter  viewfinder typical of the short telephoto. On Canon's lineup we have two bigger 85mm: the f/1.8 USM, the same length and weight, but much fatter at 71mm; and the larger than life f/1.2L II USM, at 9.1 x 8.3cm and an absurd 1kg; both with electronic focus and aperture. And at Nikon's both f/1.8G and f/1.4G, at 7.8 x 7.3cm of 350g, and 8.6 x 8.3cm of 595g respectively, are bigger.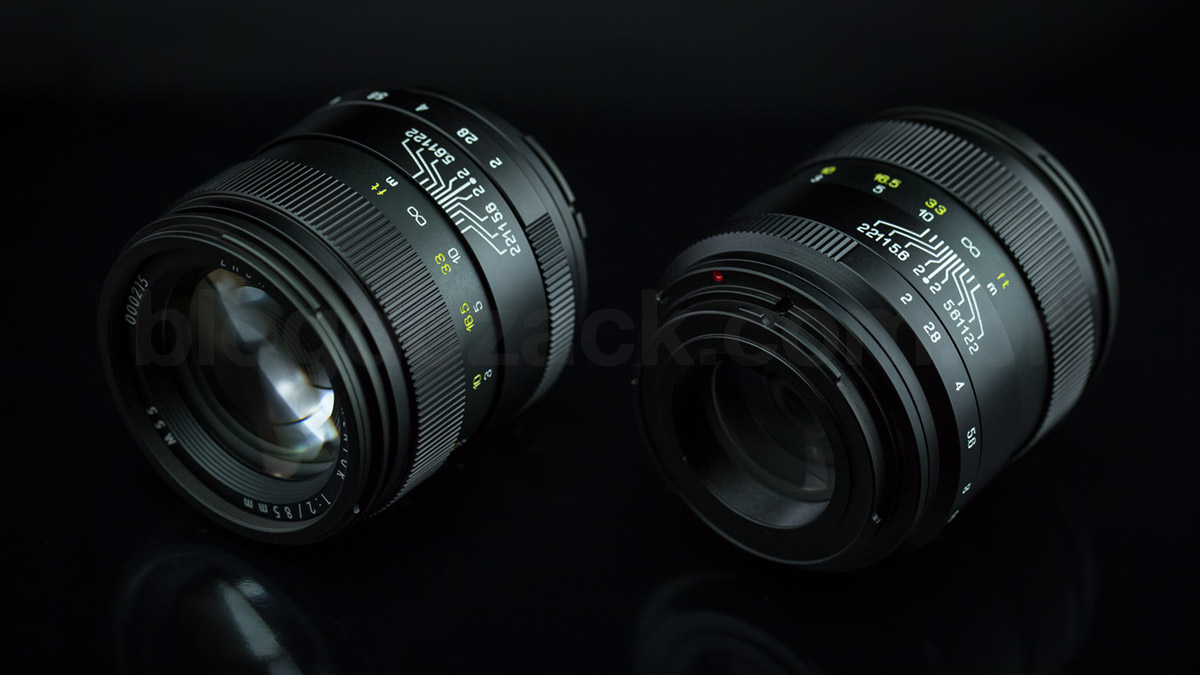 The magic behind such a small footprint is in part due to the conservative f/2 maximum aperture. But it's thin body is mostly due to the lack of motors and electrical circuits, for an all-manual operation, and a single internal barrel casing the double-Gauss optics. Turning the frontal manual focusing ring expands the lens, moving the glasses about 1cm, for a minimum focusing distance of 0.85cm. It's a long way from infinity to MFD at about 240º, making it impossible to focus quickly. It's about 100º from 1m to 2m, with no chance of agility in the process. But it's smooth as butter, nice to work wide open and the resulting shallow depth of field, or during video recording.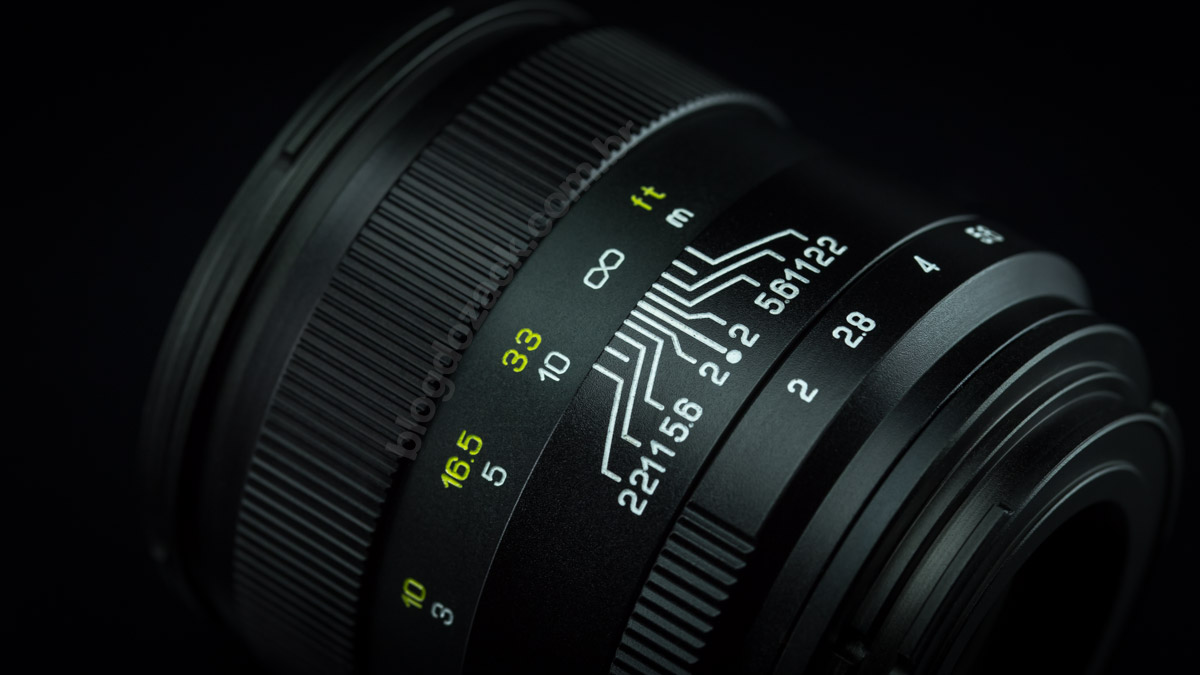 At the rear the manual aperture ring is mechanical and controls a 10 straight-blade diaphragm. There's no way for the camera to communicate with the lens, so the photographer must select an aperture in the f/2 to f/22 range, with full stop clicks. I leave my EOS 6D on Shutter Priority and Auto ISO, selecting an adequate speed for my subject on the camera, and the aperture on the lens. Then the camera selects the lowest ISO possible, with exposure compensation available. There's a smooth click at each stop, much lighter than a Nikon Ai-S, but not stepless like some Cinema lenses. And my copy has a noticeable play at f/2, going further but not opening the aperture more; and the last click is between f/11 and f/22; I must take it all the way to the right to really select the f/22. It's the US$199 chinese precision speaking here, and we're not in Leica's camp anymore.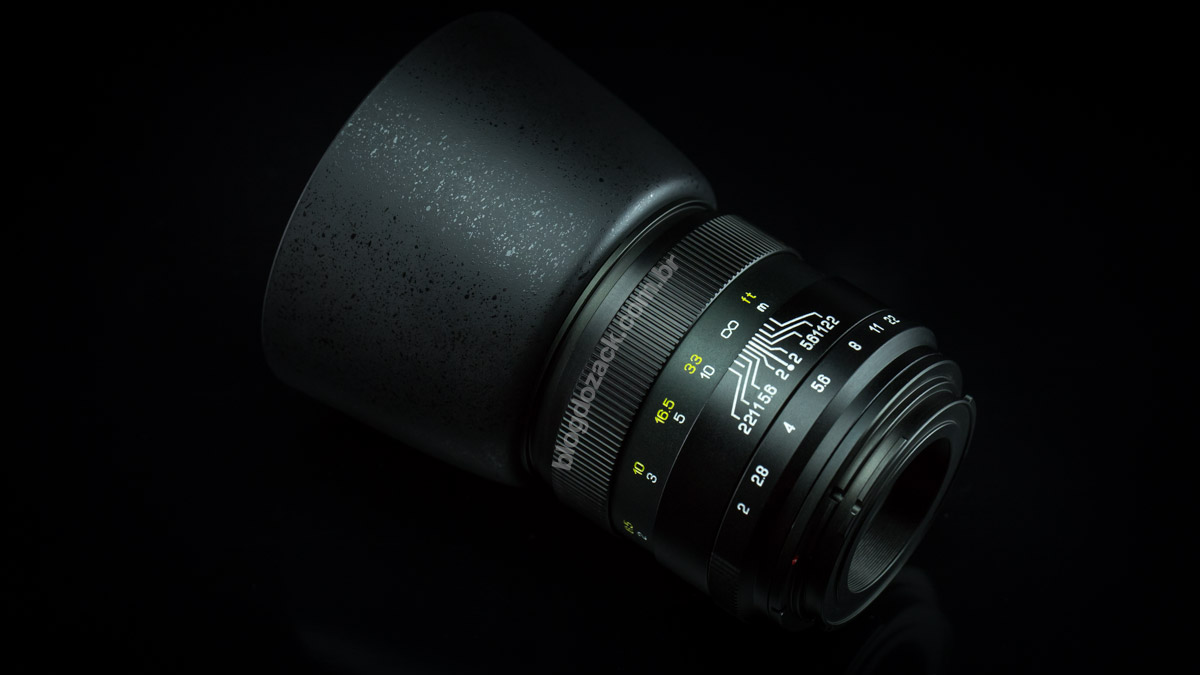 At the front the ø55mm filters are weird, I've never seen such size. At least the filter thread is metal, something all US$2000 Canon L lack. The lens hood is comically included outside the box, and the cheapest possible; I had to shave it with a precision cutter to get rid of some extra plastic. And all markings, from hyperfocal to focusing distances and aperture, and engraved and painted; much harder to erase over time. Overall it's a simple lens, free of any extras to the photographers aid. It doesn't get much simpler than this, and frankly it's what I want to take with me when it's time to shoot: a light, compact camera, with basic controls and plenty of discretion. A pleasure to use.
IMAGE QUALITY
With a simple 6 elements in 6 groups formula, the Mitakon 85mm f/2 is a legit double-Gauss lens. Designed to eliminate lateral aberrations and offer high resolution at optimized apertures with fewer glasses, thus the lower price, it's the minimum requirement for high image quality, the same logic behind some market favorites like Canon's f/1.8 EF nifty fifties. It's almost like a tool to understand the physics behind optics: position two Gauss groups back to back and the rendered image is free of lateral aberrations. It could be done on a DIY kit at home, but it shouldn't. And a closer look at the files reveals what is missing from this barebones lens: quality control.
The main issue with my copy of the Mitakon 85mm f/2 is some misalignment. Before we start to think about optical properties, we must first take into consideration its mechanical qualities, and not forget it's included on the measly US$199 price tag. I don't know if it's a lack of quality control; the very thin, unprotected box it comes in; the delicate build of the all-metal barrel, the reality is my CREATOR is less sharp on one side and expose a typical problem of low cost lenses. My 35mm f/1.4 Sigma Art DG misaligned with just three years of use (thus the 5 years warranty); the Tamron SP 24-70mm f/2.8 Di VC USD we saw a few years ago was lacking sharpness on the left half of the frame also; so test your lens prior to purchasing. Don't expect miracles from the US$199.
Misalignment aside, pure optical power speaking, the Mitakon actually delivers above my expectations. The resolution is reasonable wide open at the center frame, maybe a bit soft around the edges of two dimensional subjects. It's not even the low quality of the glasses. It's the over simplified double-Gauss formula that doesn't get extra glasses for correcting spherical aberration. It's easy to understand: the lens curvature is higher around the edges, and the light enter through a different angle, on a different distance in relation to the image plane. The result: an out of focus image around the edges. It's only when we stop three, four stops and use only the center of the optics that we get uniform resolution around the image.
Stopping down to the f/8 and f/11 and the CREATOR reaches top resolution on the EOS 6D, identical to most branded primes but costing less than a basic zoom. Other issues like axial chromatic aberration are also solved, eliminating purple fringing on high contrast highlights. But the most interesting usage of stopping down comes from the 10 straight blades aperture, that generates beautiful 10 point stars on bright spots of light. If used creatively, the results can be awesome and rival much higher end lenses. Who knew we could get this performance for so little?
Even the bokeh in interesting on the Mitakon 85mm f/2, thanks to the double-Gauss design and the short telephoto distance. The longer focal length makes for a shorter depth of field, so the background also looks smoother. At the 0.85cm minimum focusing distance I can hardly see some difference between the CREATOR and the 10x more expensive Canon EF 85mm f/1.2L II USM. They look near identical even at f/8, also hard to believe considering the Canon's oh-so-desired rounded aperture. The EF bokeh does look smoother at the front plane, while the Mitakon looks smeared.
VERDICT
I wrote this once and I'll repeat it about the Mitakon CREATOR 85mm f/2. It's one of those lenses that make me question this website when for US$199 you can get a working lens, with a metal body, smooth manual control and reasonable image quality; things Canon won't deliver outside the L series. Nikon's AF-Ss are mechanically laughable on the f/1.8G lineup: bad manual focusing rings, all plastic build and questionable image quality. Then you get a chinese lens that, except some misalignment, deliver better results at a fraction of the cost. Be creative and nice shooting!