Rokinon 12mm f/2.8 ED AS IF NCS UMC
Estimated reading time: 09 minutes.
May/2017 – The Rokinon 12mm f/2.8 ED AS IF NCS UMC is the second stereographic fisheye lens we see on blog do zack. Despite the same 180º diagonal angle of view as the also fisheyes Canon EF 15mm f/2.8 and Canon EF 8-15mm f/4L USM, not all fisheye lenses are designed the same way, and there are various projections: equidistant, keeping the angle distances throughout the frame; and stereographic, slightly compressing the vertical axis, used on this Rokinon; among others.
"São Paulo" with the Canon EF 8-15mm f/4L USM at 14mm (more distorted), and the Rokinon 12mm f/2.8 (less distorted), at f/8 1/160 ISO100.
For such reason all feature the same 180º angle of view, despite the difference in focal length. It's 15mm on Canon's f/2.8 vintage fisheye, and 14mm on the 8-15mm zoom L, but just 12mm on this Rokinon; all 180º on full frame or 118º on APS-C. An almost exclusive tool on the market, given the special stereographic projection and the low cost (US$499 against Canon's US$1248 8-15mm), is it worth the purchase given the all-manual operation, without the AF and motorized aperture agility? Let's find out! Nice reading.
BUILD QUALITY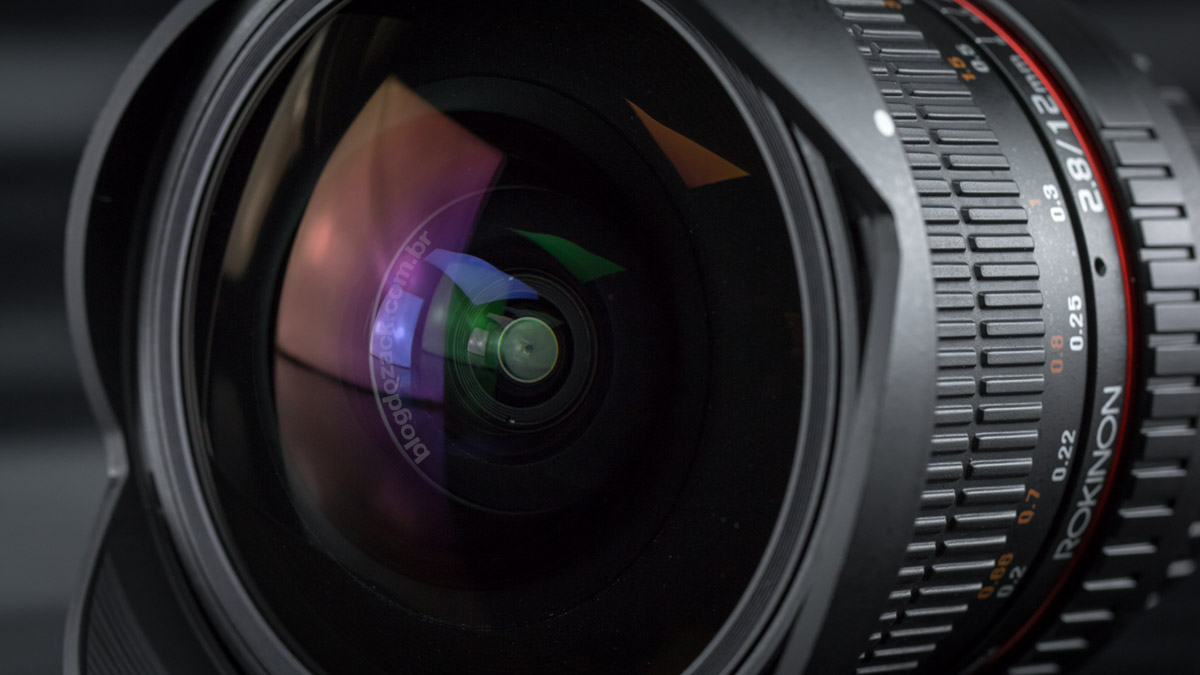 At 8.5 x 9cm with the lens hood and frontal cap attached, or at just 6.9 x 7.2cm without both covers, both at 515g, the Rokinon 12mm f/2.8 ED AS IF NCS UMS is a "serious" lens at the very least, thought for those working with larger full frame cameras. If you're shooting with an APS-C camera I'd recommend the smaller Samyang 8mm T3.8 CS II, much lighter and easier to use and, depending how "portable" you want to travel, this Rokinon 12mm is definitely not the way to go. That's because the fisheye design requires a large, bulging convex frontal element, delicate and pronounced, that demands a large front cap for protection; a pain in the ass to fit smaller into backpacks. It's the same problem found on the also tiny EF 8-15mm f/4L USM, the smallest zoom lens on Canon's L-series, that gets huge with it lens hood attached. Only the vintage EF 15mm f/2.8 fits smaller bags, with it super compact footprint, despite the non-removable metal hood. This Rokinon asks for a large area in your backpack, and something to notice if you're traveling light.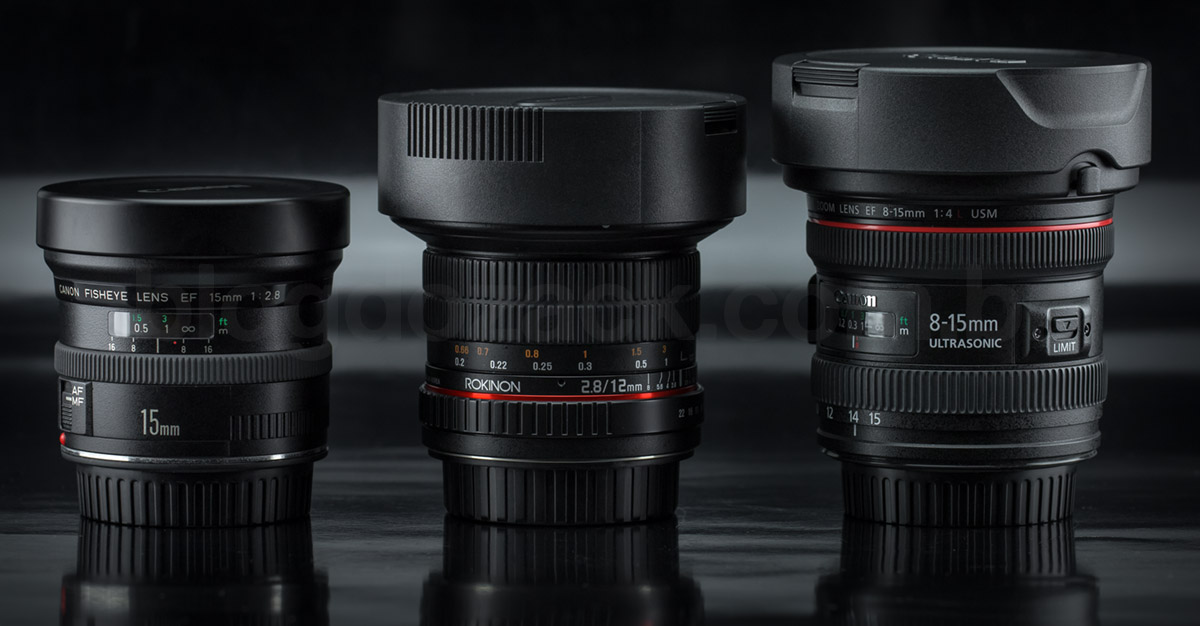 In your hands the 515g weight translates into a robust all-metal built, with just a few plastic finishings together with rubberized rings. The manual focusing ring dominates the barrel grip, comfortable and precise to use, well balanced with most full frame DSLRs. Your fingers smoothly sit on top of a generous rubber grip, surrounding a ring with infinity to 20cm distance markings, clear and printed on the barrel, mandatory for precision work; all with 100º of movement, from end to end. At the rear, near the camera mount, the aperture ring is just 8mm long and all plastic, not as comfortable as the focusing ring. It features clicks between every 1/2 stop, except from f/2.8 and f/4, that go straight from one another. Unfortunately there's little stationary area on the lens barrel, making it difficult to mount the lens on the camera; anywhere you hold it, it can spin out of grip and fall. But overall it's all easy to use, as a 100% manual prime should be.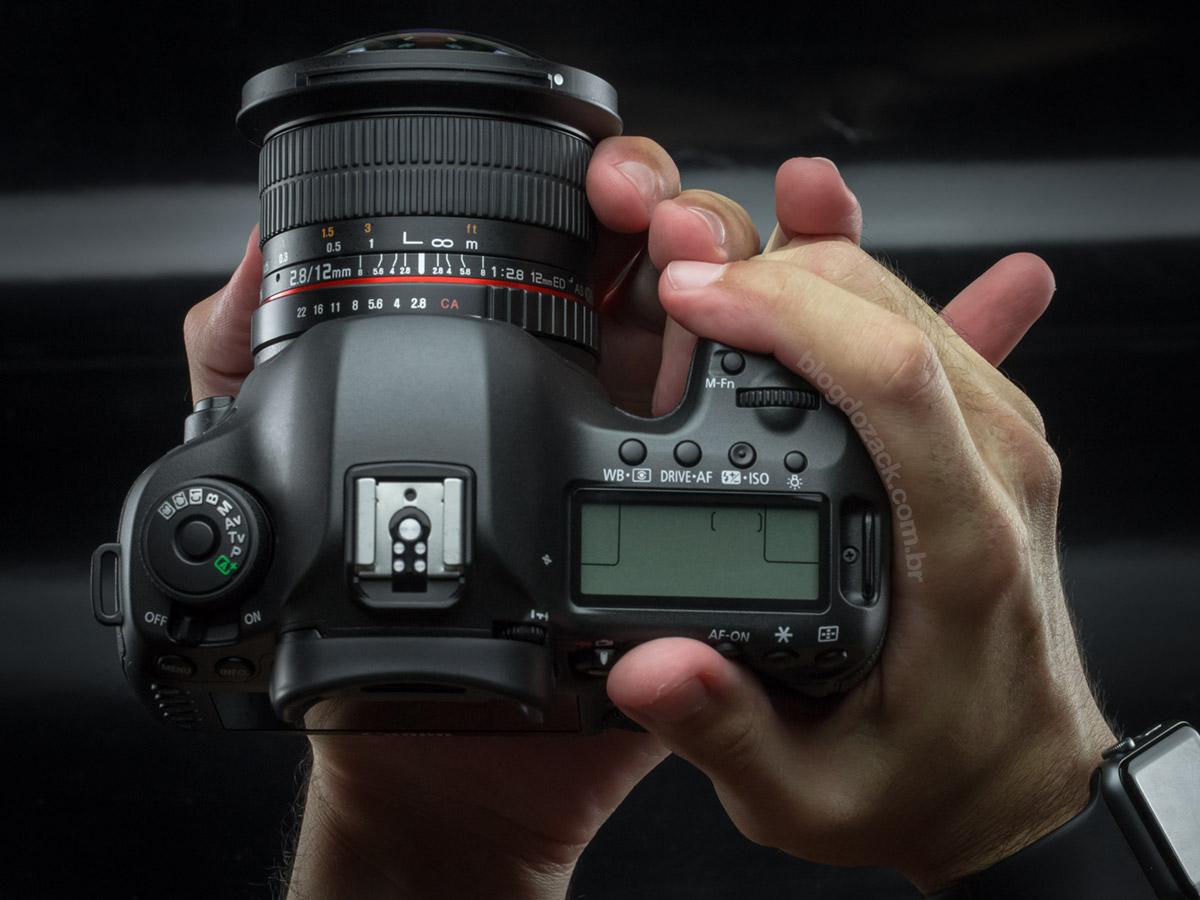 When it's time to shoot, the EF, Pentax, Sony A and Sony E mount versions are all-manual; only the Nikon version gets an AE chip to be used during Auto/P/A/S/M. The all manual focus is smooth and nice to use, with hard stops at infinity and minimum focusing distances; not very loose, not very tough. The infinity hard stop is welcomed for those interested in astrophotography: instead of running past the real infinity marking, like most "ED" lenses require, the barrel simply locks at infinity, guaranteeing sharp results during long night time exposures. From there you simply select the f/stop via the rear ring, to open or close the aperture, and set the shutter speed until the desired EV value, calculated by the camera's meter. It's much east to use than the Mitakon CREATOR 35mm f/2, that insists on a Canon AE chip, messing with the camera's exposure.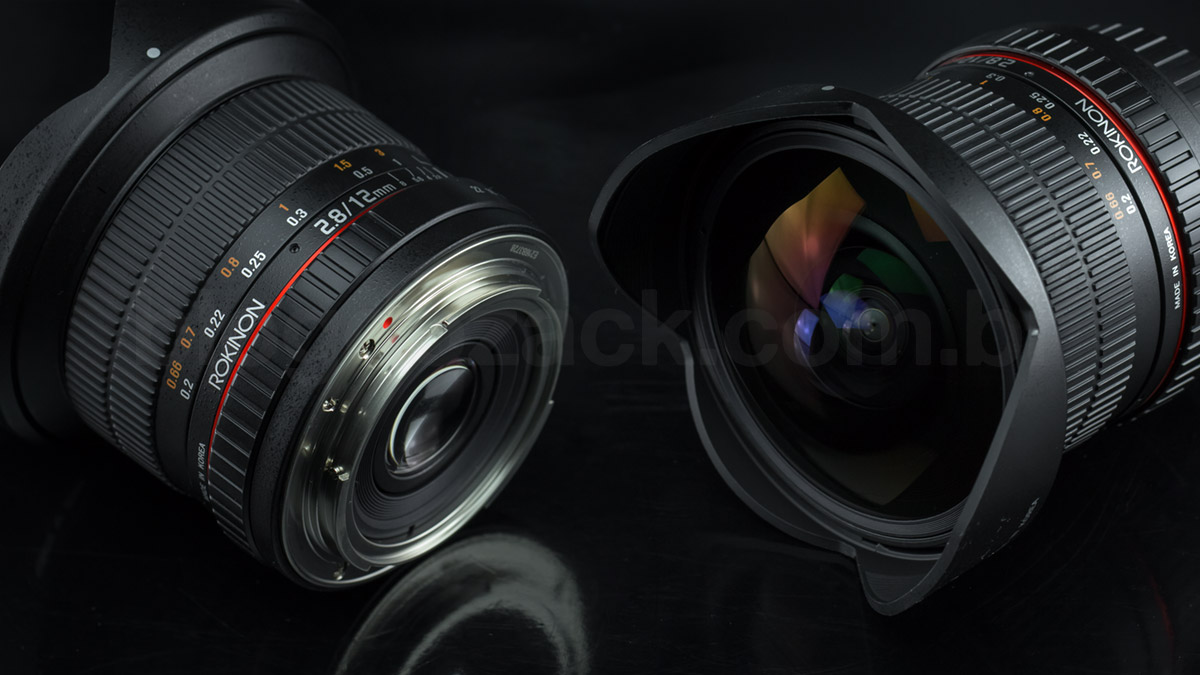 Finally at the front the ø69mm glass element can't support filters, an usual problem with fisheye lenses. Although the lens hood is removable, there's no filter thread like most rectilinear wide angles. Not even the gel holder is found at the mount, like both EF L and vintage f/2.8 prime, a missed opportunity by Rokinon. Also nothing is declared about its weather resistance, with a standard "naked" metal mount at the rear, expected from a US$499 lens. Everything is simple and easy to use on the Rokinon 12mm f/2.8 ED AS IF NCS UMS, and it sports a robust, trust worthy built. During my tests it felt as durable as the Canon EOS 5DS used, both tough inside my backpack, keeping up with long trails and cold nights during astrophotography sessions. And as we'll see next, the optical performance is also as trust worthy: full of resolution and sharpness, with a few easy to fix aberrations and nice looking photographs.
IMAGE QUALITY
With an outstanding 12 elements in 8 groups optical formula, three "ED" (extra-low dispersion) pieces, two "AS" (aspherical) glasses for high resolution, and one "NCS" (nano coating system) element plus all other featuring UMC (ultra-multi coating), the Rokinon 12mm f/2.8 ED AS IF NCS UMC is an alphabet soup to scary first party brands, given its technology and optical performance; all for a low price. It's interesting to see so much technology on a low-cost lens: Canon and Nikon usually charge a premium for novelty glasses, blaming high manufacturing costs. But third party alternatives deliver the same principles in much cheaper products, like Sigma's FLD fluorite; Tamron's eBAND coating; and now Rokinon. And the 12mm f/2.8 is an impressive feat: although it's raw resolution is lower than Canon's 8-15mm f/4L USM, it's so close it's hard to complaint; not for 1/3 of the price. The chromatic aberrations are virtually identical between the two, and the flaring looks pleasing. If it wasn't for a slight drop in contrast when backlit, there's no doubt the Rokinon could compete head-to-head with first party options.
That's not to say the Rokinon f/2.8 resolution is perfect. While it's incredibly sharp at the center frame, even wide open, at the f/2.8 corners it lack details, about 12% of the overall frame (imagine all four corners with a 3% area, and multiply); something I didn't notice on both Canons. No matter the varying distances between subjects, from the middle to the edges, a normal difference for such wide frames, the photo corners shows severe smearing from a less-than-perfect optical design, also lacking the contrast shown on more expensive lenses. That's simply unacceptable for high precision architectural or industrial work, but worth everyday shots of landscapes and amateur astrophotography. As 88% of the frame is intact, it would be hard to ask for anything better at this price point. It's the old cost/benefit ratio: if you require 100% of the frame tack sharp, you should pay 3x more for the flawless Canon EF 8-15mm. With the Rokinon, you get what you paid for.
Stopping down the aperture exponentially enhances the resolution, as close as Canon's top-of-the-line zoom, making it easy to recommend the Rokinon, given the stereographic projection. At f/8 the resolution is excellent near 98% of the frame, incredible to see on Canon's EOS 5DS 50MP monster. It's EVERY branch on a faraway tree, leaf veins and rock textures, all ready to print straight out of the camera. Although the overall contrast is higher on Canon's 8-15mm f/4L, that clearly (no pun-intended) renders clearer shots, perfect as soon as f/4, the Rokinon is just as good at f/8. Considering the Rokinon less severe stereographic projection, it's interesting to recommend for photographers on a budget, that would also need to "defish" the lens in post, giving the straight lines its original look. In this scenario the Rokinon looks like a rectilinear 16mm f/2.8.
Chromatic aberrations are inevitable on all fisheye, and the Rokinon 12mm f/2 stands by the rule. The frame edges show thick magenta and green line on contrast areas, like window frames and trees against the bright sky, on the same level as Canon's EFs; all must be fixed via software prior to publishing. It's interesting to see the Nikon AF-S Nikkor 58mm f/1.4G sagittal comma flare reasonably well handled on this 12mm f/2.8, keeping up with the aperture/resolution logic: it's easier to lose details due to the low quality edges, than for complex optical aberrations, given this Rokinon special attention to it's geometry. While I can't recommend it for fine precision work, it's worth it's price to shoot the stars; a bonus given the maximum f/2.8 aperture.
Finally colors and flaring are interesting on this lens. The tones are well balanced with the rest of the market, and I didn't see any shift in hue from the Rokinon 12mm, compared to Canon's EF 8-15mm; both easy to process in post. The 7 straight-blades aperture gives distinct 14 stars highlights, nice to creatively position the sun or various light source within the frame. So light reflections get random color bubbles, that otherwise would look bad on different focal lengths; not on this fisheye. Actually, that's the reasoning behind different UMC and NCS coatings: just a single elements is nano treated, purposefully keeping some reflections in frame. In a way we get enough contrast to work with clean shots, but on the other hand we can compose the shot to include the flaring at will.
VERDICT
The Rokinon 12mm f/2.8 ED AS IF NCS UMC is an interesting lens for various reasons. First, its stereographic projection is different from the rest of the market, and an easy purchase decision depending on how you work. It's essentially different from all first parties, that bet on the more pronounced "fisheye look", no matter the format. Second, the f/2.8 aperture is a luxury not offered by Canon anymore: the vintage EF 15mm f/2.8 sells for a premium on the used market, and the new 8-15mm limits itself at f/4 due to the zoom flexibility. And third, the Rokinon build quality is as good as it can be: tough, robust, with all-metal internals and perfectly aligned glasses, with an easy to use all-manual operation. Amateurs can see it as a learning tool, and professionals will certainly appreciate it's lower cost for a very good quality product. But the optical formula seals the deal, with a good "low-cost" performance, that's not that low-cost at all: you're paying for high performance glasses, the novelty geometry and high-tech treatments, and receiving plenty of resolution to work with. So it's an easy lens to recommend, unique on the fisheye market.