Samyang 8mm T3.8 CS II
Estimated reading time: 06 minutes.
March/2015 - The Samyang 8mm T3.8 CS II (model name 8mm T3.8 Asph IF MC Fisheye CSII DH VDSLR) is the second fisheye ultra wide angle prime lens we see on vlog do zack, to generate those 180º diagonal angle of view images with distorted straight lines around the frame; aka "GoPro look". All these extra letters mean it's a special "cinema" version of the Samyang 8mm f/3.5, with a stepless aperture and gear for follow focus. Optically all "8mm f/3.5" you find under the Samyang or Rokinon brands are the same, so don't worry about different image quality.
Let's begin with the "CS" (cropped sensor) moniker, meaning it was designed to cover the maximum APS-C format, offering the same distorted look of the previously reviewed EF 15mm f/2.8 Fisheye on full frame. But as Samyang offers ten (!) different mounts (Canon EF, Canon-M, Nikon, Pentax K, Sony A, Sony E, Four-Thirds, MFT, Samsung NX e Fujifilm X), two full frame, they created a "II" version that comes with "DH" – detachable hood. So it can be uses as a circular full frame fisheye on 135 format cameras, similar to the Canon EF 8-15mm f/4L USM.
And the "VDSLR" version brings toothed rings instead of traditional focus and aperture setups, both manual, compatible with follow-focus rigs for video production. You always ask me to show a cinema lenses, and this is it: instead of regular rings and a "clicked" aperture, "cinema" lenses allow continuous, seamless adjustments. Even the box comes with T/stops markings that consider the light loss after the transmission through the optical assemble. So it's easier to match other lenses after you metered the scene. For just US$279 it is very easy on our budgets, the main trade-off being the manual aperture and focus. But is it worth the quality? Let's find out!
BUILD QUALITY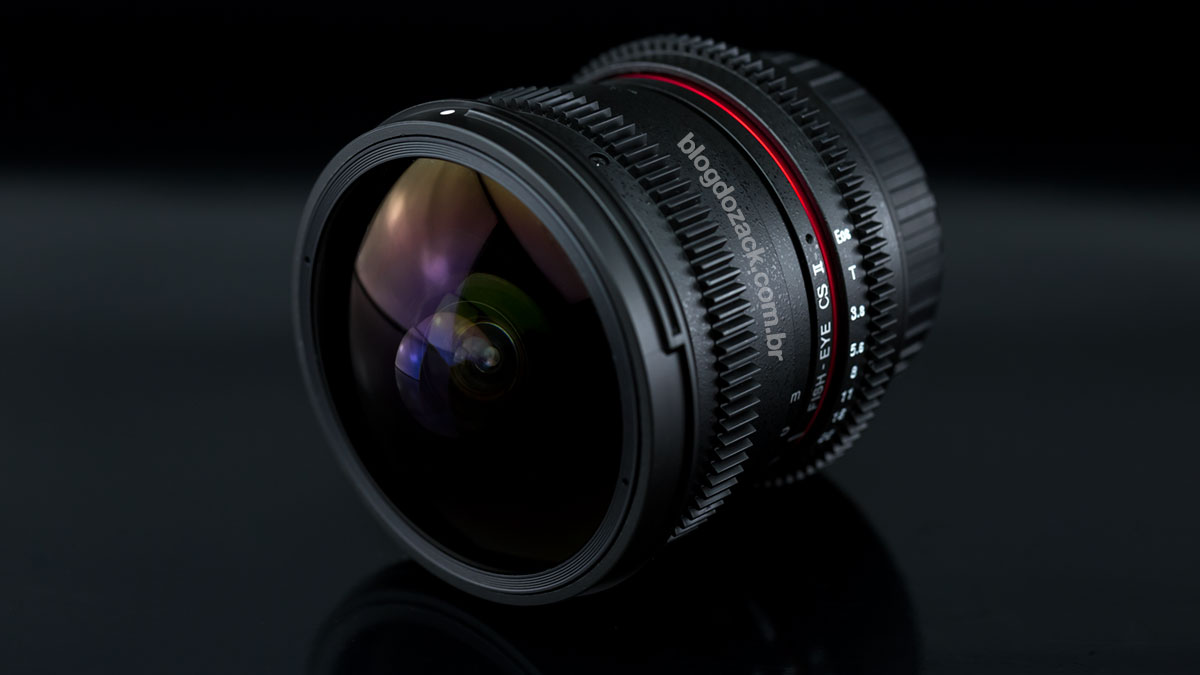 At 455g of 10 elements in 7 groups, the T3.8/8mm (as printed on the box) feels solid with a mix of external plastics and what seems like internal metals, with a metal mount. Nothing wobbles out of place and can definitely handle some bumping in your backpack. Both rings feedbacks are excellent and even its design is nice with a middle red ring and discreet markings, printed on the body. I do question if these markings won't erase over time, making a future blind operation. But it's well built nonetheless, definitely worth the US$279 price.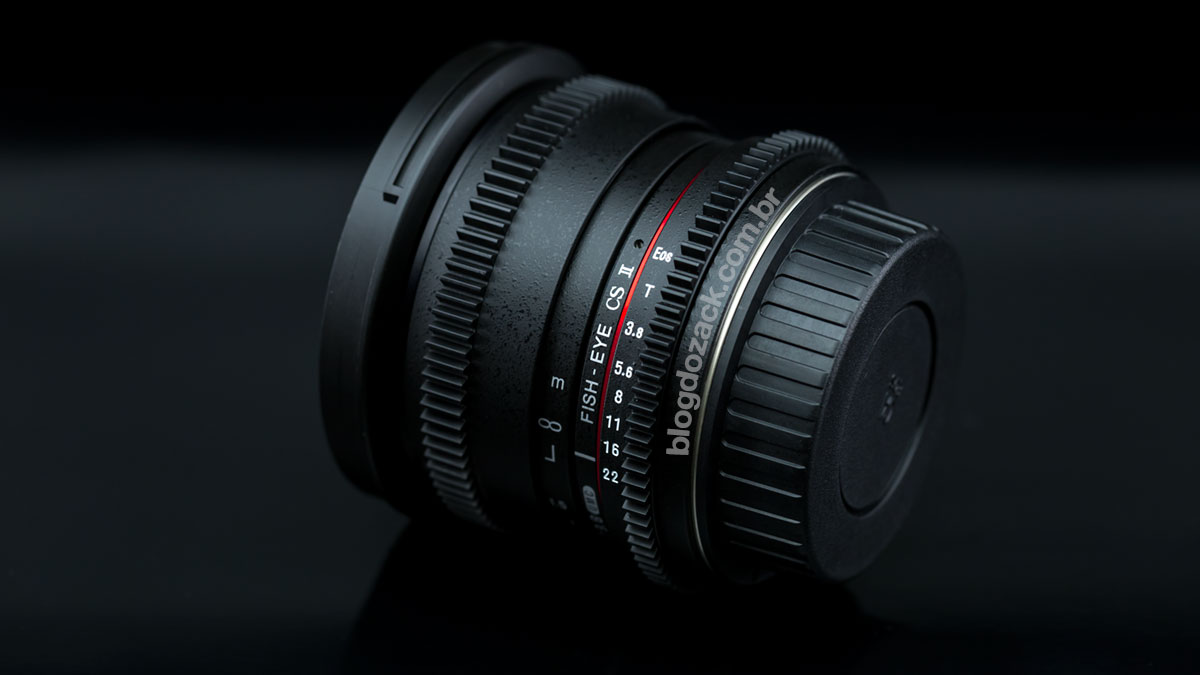 But what gets our attention the most is not the large convex front element, made to cover the 180º diagonal angle of view (167º on the Canon version). It's the toothed rings geared for professional follow focus rigs. They fit perfectly with a 0.8 pitch and as the tooth are injected in the same plastic as the rings, they won't slip like some after market adapters. Its very well damped and the movement is smooth and precise, without the wobbling of photographic lenses.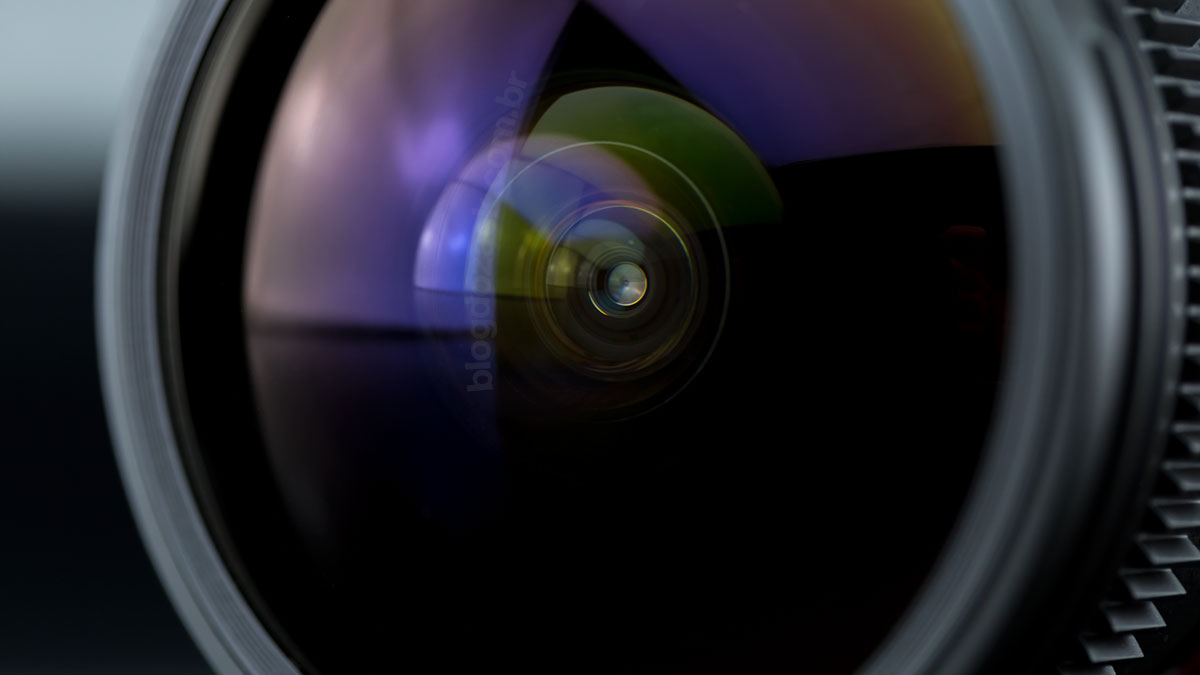 The aperture ring is clickless, another cinema feature. From T3.8 to T22 is a single 25º movement, for continuos adjustments made for seamless exposure sequences, like indoor / outdoor scenes; or even special effects in camera, like fade-ins or fade-outs. And from the 0.3m minimum focusing distance to infinity, both featuring a hard stop, it's over 70º. Both gears are 28mm apart, compatible with most servo drives for remote controlling the lens.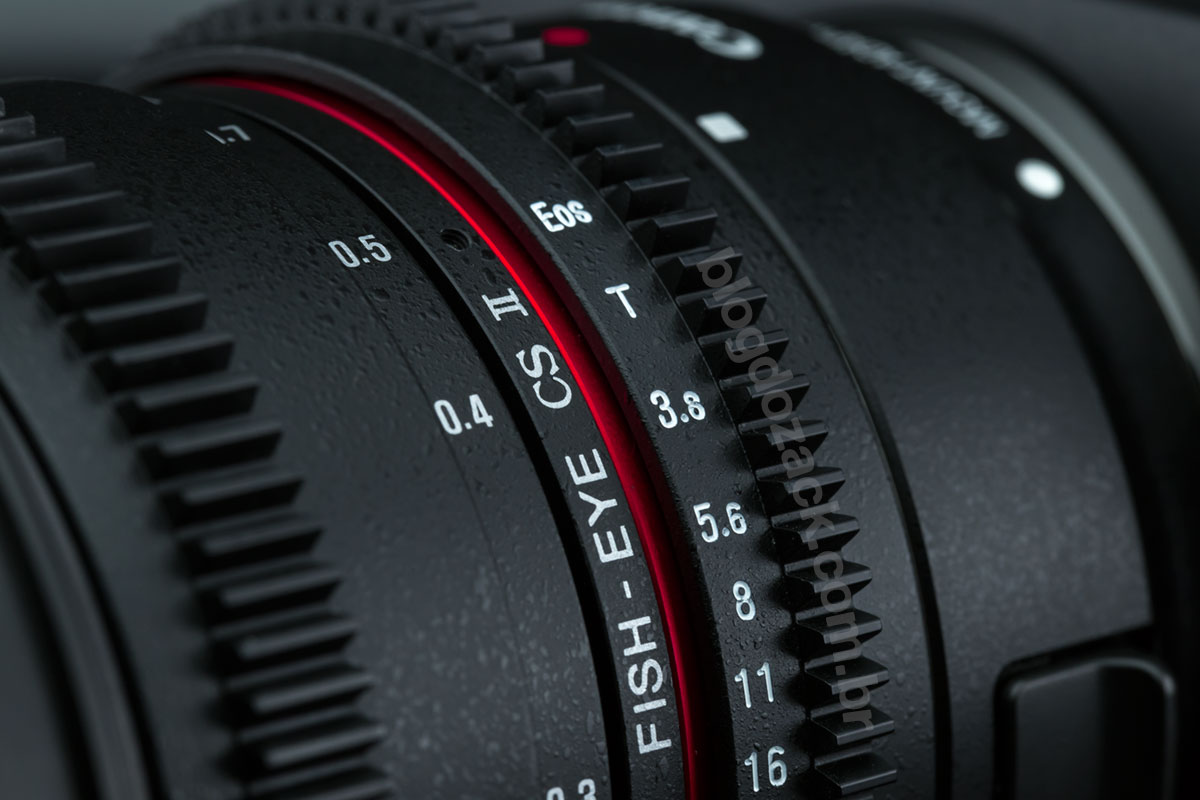 But what about photographers, can they live with a Cine lens? Yes, they can. Like other Samyangs, it's all manual, so you'll need to know a few things about focusing and aperture. But I did miss some rubber around the toothed rings as some Canon CN-E have; there's definitely room for it between both rings. And remember to set your focus and aperture shot after shot, as it's too easy to unintentionally move the rings when you're carrying the camera.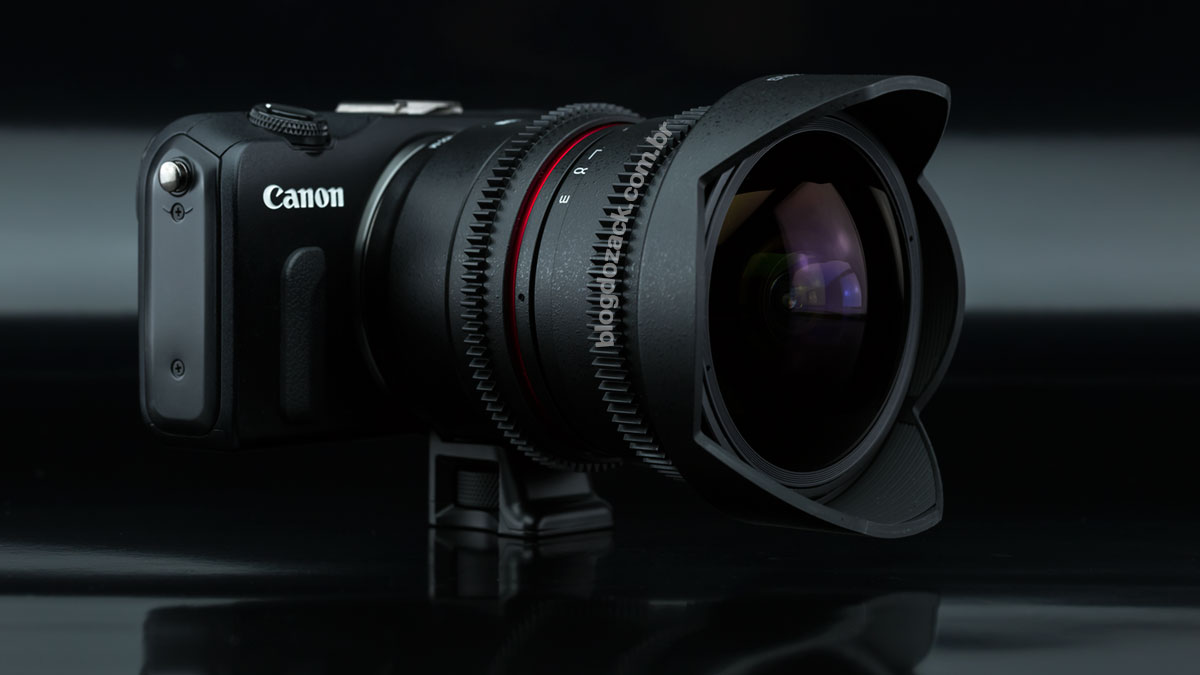 Last, the included plastic lens hood can be removed to show a 180º circle of projection on full frame cameras, like the circular fisheye EF 8-15mm f/4L USM. The also included lens cap attaches onto the hood, so keep it with you to protect the lens. It's all very big, far from an everyday lens. But the metal mount is robust, typical of shorter primes (it's 7cm in length). It balances well, the operation is buttery smooth, and I wouldn't feel bad having a Samyang kit.
IMAGE QUALITY
Samyang is known for its low cost primes, with 100% manual operation, and a fantastic ten (!) mounts lineup, with many different models for the same optics: standard, cine, with or without lens hoods etc. And as the second "made in Korea" lens on vlog do zack, it sure impresses. No, it won't get any awards for corner sharpness or wide open performance; as didn't the Rokinon 85mm f/1.4 we've seen before. But the unique look is well worth the price and no other first party offers something similar without breaking the bank. All photos with the EOS M, no aperture data.
We really can't expect any miracles at T3.8. The sharpness is not the best and there's a noticeable blooming overall, with a steep drop of resolution around the edges. We can't even blame the shallow depth of field as it won't happen on a T3.8 fisheye; the problem lies on the simplified low cost optical formula, with a single aspherical element and some coatings (Samyang won't explain which). Especially with high resolution sensors, you'll see some smears around the edges, lacking details, bad for large prints. Note: the following examples I remember were wide open.
Stopping down – I don't know the exact values as this lens won't transmit aperture data to the camera – the blooming gets fixed and we can have some hope for the corners. It's the very same performance I got on their 85mm f/1.4, that gets acceptable from f/4 to f/8. If you shoot extreme sports, architecture, landscapes; or just want to have some fun with weird portraits, all under loads of light, for sure the results won't get better than this, not at this price point. It won't rival the EF 15mm f/2.8 Fisheye on a 5D, but for a small APS-C package, it's definitely impressive.
The colours are better balanced then the 85mm f/1.4, that show some yellowing on the shadows. And the contrast is there far from highlights. It's good in general and you can get vibrant files, with micro details at T8. But around backlit areas we can see the strong light leak due to the lack of specialised coatings. It won't destroy your files, but we've sure seen better lenses on vlog do zack.
Last the lateral CA is typical of low cost lenses but easily fixable in software. No camera natively supports Samyang lenses, so you'll have to do it in post. Not even Adobe features Samyang profiles yet, so I couldn't convert the fisheye images to rectilinear ones. But a single click on "remove chromatic aberration" and +4 on the purple defringe is enough to clean those coloured halos around the edges. Stopping the aperture down and fixing it in post are the best practices.
VERDICT
The Samyang 8mm T3.8 CS II delivers exactly what I was expecting: great build quality, special toothed rings, a unique look on APS-C cameras, and a fair image quality for US$279. The purchase can be answered on the first question from that trifold logic I always tell you: if you need the focal length (1), no other lens will do it at this price point. The aperture (2) is less important given the long DoF. And extra features (3) like the toothed rings for follow focus gears or detachable hood are all covered. For a low cost fisheye, this is what you were looking for. Nice shooting!