Canon EF-M 11-22mm f/4-5.6 IS STM
Estimated reading time: 10 minutes.
May/2017 – The EF-M 11-22mm f/4-5.6 is a tiny wide-angle zoom lens made for Canon's EF-M mirrorless mount, used on all EOS M cameras. "Tiny" that is an understatement. At just 6.1 x 5.8 cm, it's 30% smaller than the already portable EF-S 10-18mm IS STM, also made for the APS-C format but for DSLR cameras; and 70% (!) smaller than its closest equivalent for full frame cameras, the EF 16-35mm f/4 L IS USM. They're all wide angle zooms, with variable field of view at 107º to 74º; all feature smaller apertures, between f/4-5.6; and they're all stabilized, excellent to leave the tripod at home. But only the EF-M fits your car's gloves compartment, always ready for wide landscapes, architecture and dramatic portraits; photo ops possible with this focal range. But is it worth the investment on a mirrorless Canon, just for the portability of the EF-M? And the US$399 price tag, does it hide some deficiency on the EF-M 11-22? Let's find out! Nice reading.
BUILD QUALITY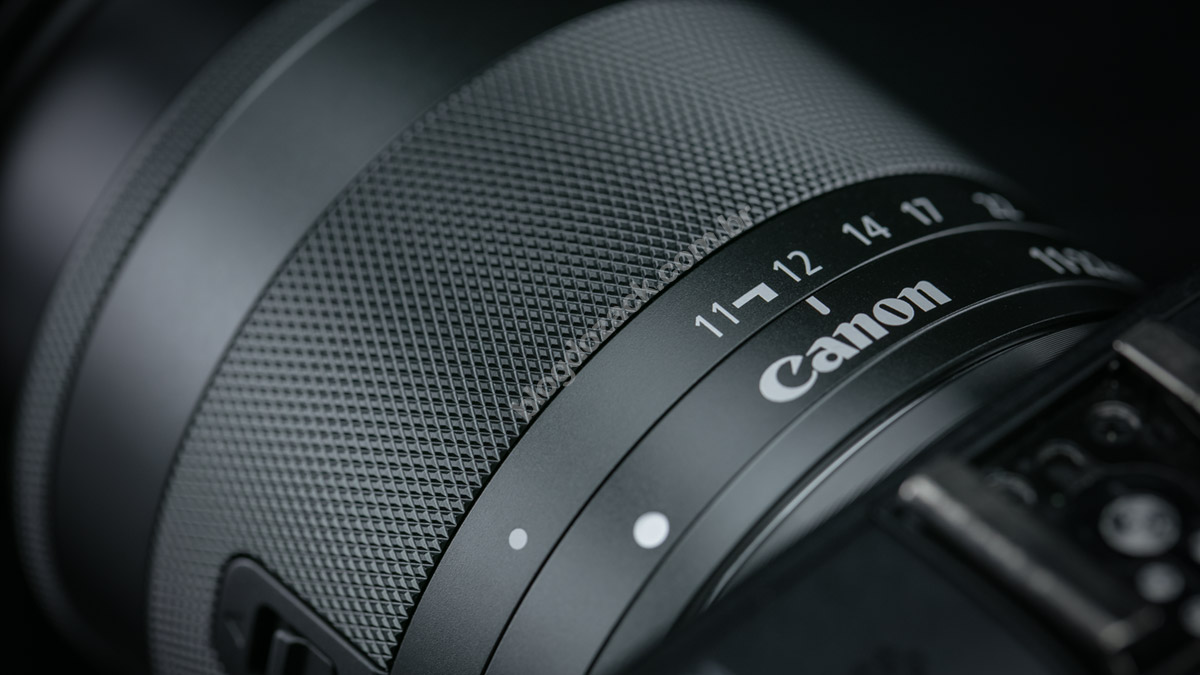 At 60.9 x 58.2mm of just 220g, I don't even have to mention the Canon EF-M 11-22mm f/4-5.6 IS STM is a tiny lens; the reason d'être of the EOS M system. If it were to be big, like the E-mount (Sony) or X-mount (Fuji) alternatives, Canon already have both EF-S 10-22mm f/3.5.4-5 USM or the 10-18mm IS STM, that can be used on the EOS M via adapter. So they designed it as portable as possible, using a collapsible design that must be extended prior to use; a common mirrorless market conception. There's a slider releasing the zoom barrel from the locked position to the widest setting, expanding the lens to 73mm; with a secondary lock in place. Around the streets you can leave it at 11mm, to shoot at will, but when it's time to put it aways, you can close it to just 58.2mm. It's the smallest wide angle zoom I've ever used, and impresses on the EF-M format; who would say I could do the same "dramatic" wide shots from my larger EOS cameras, on such a portable system?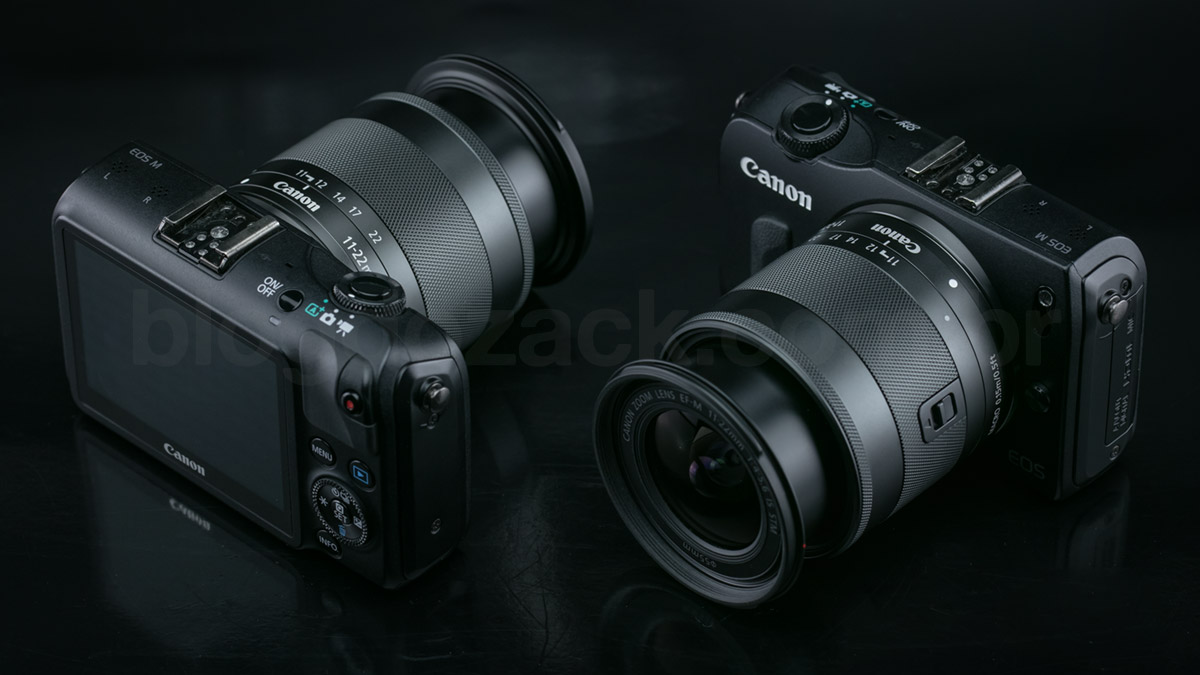 In your hands the EF-M 11-22mm ergonomics defies Canon's engineering, so portable yet so comfortable. Here shown on the classic 2011 EOS M, a thin and portable camera, with no right hand grip to hold on to, it's amazing how well balanced the 11-22 is, hard to slip from your fingers; even during zoom operations. The satin metal finishing is a premium that Canon apparently offer on all EF-M lens (despite abandoning it on the all-plastic EOS M5), and the grooved metal ring (not rubberized) is enough to grip your fingers, rotating from 11mm to 22mm at just 25º. It's a joy to shoot with this tiny package around the streets, rendering the same wide angle as much larger, heavier and more expensive wide angle lenses; masterfully designed by Canon.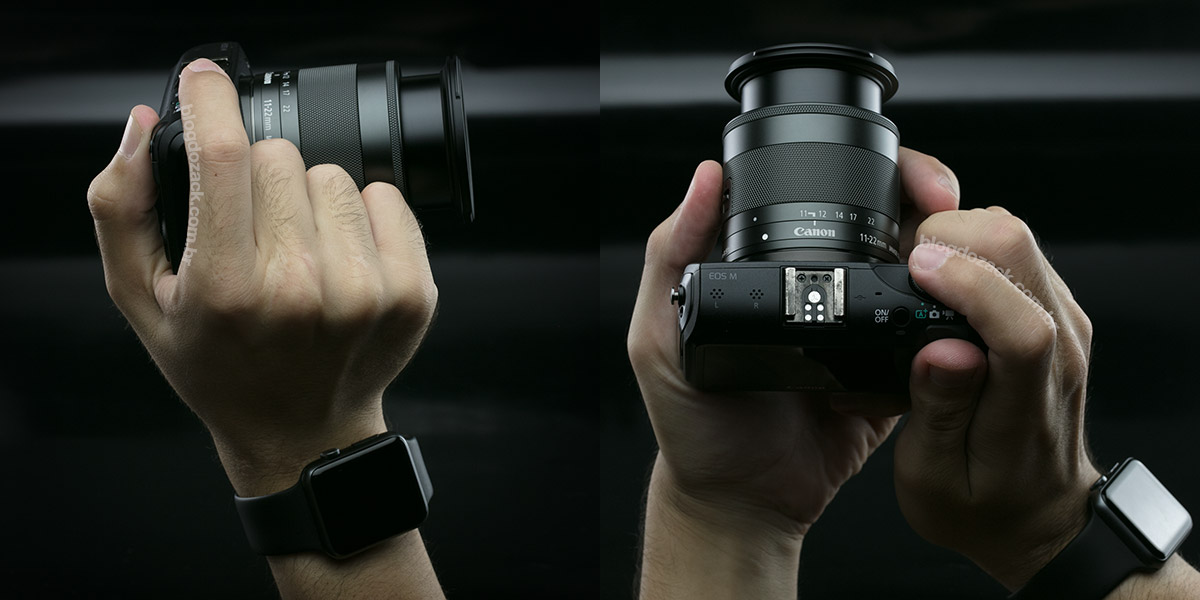 At the front the manual focusing ring is all metal, and must be activated by the camera's interface. As there are no physical switches on the lens barrel, except for the zoom release slider, all EF-M 11-22 setup must be done via touchscreen. It's also a fly-by-wire ring, using an electronic brush to send movement data to the STM motor, impressively sporting almost no lag, one thing lacking most Sony E-mount lenses. But unfortunately there's no distance scale shown on the classic 2011 EOS M, displayed only on the 2016 EOS M5; check your camera's functions if precision is important to you. The EOS M simplified operation invites you to use it "point-and-shoot", great for amateurs experimenting with wide angle compositions of lines, landscapes, and even portraits.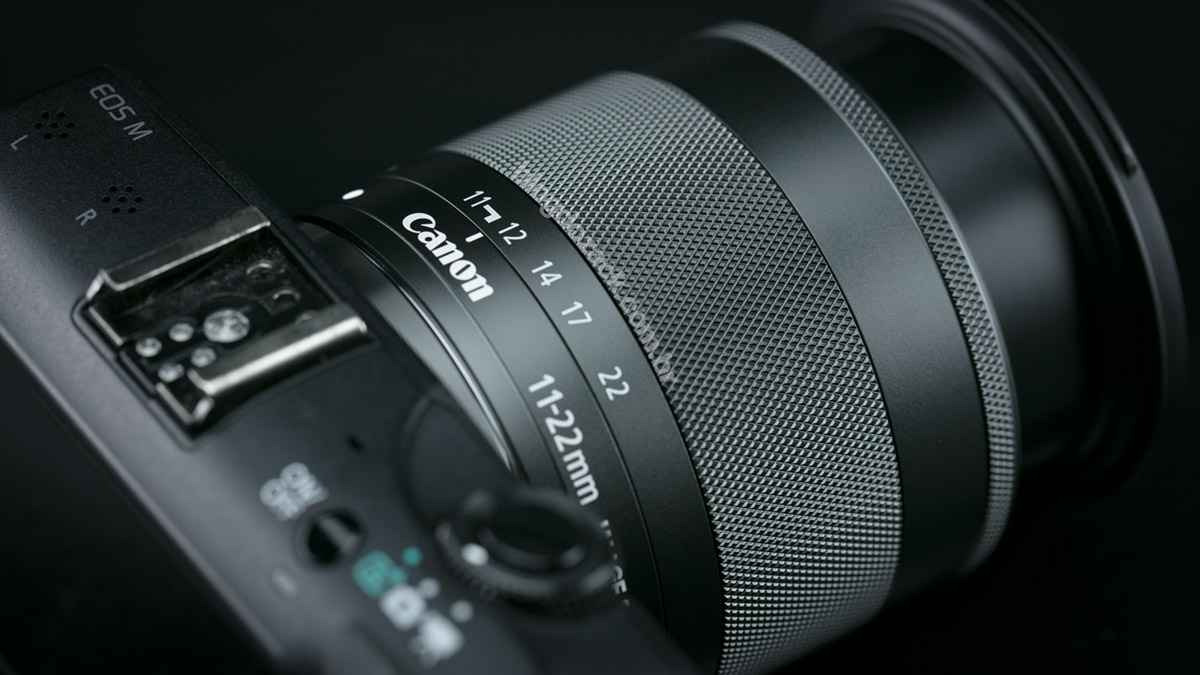 Inside the EF-M 11-22mm uses the smooth and silent STM stepping motor, great for video recordings. When it's time to shoot pictures there's also little to complain: noiseless and absolutely 100% precise. As all Canon mirrorless cameras feature some kind of hybrid AF, be it Hybrid CMOS (M, M2, M3) with a few phase detection points (for speed) + contrast detection (for precision); or Dual Pixel (M5, M6), it's nearly impossible to take an out-of-focus photo with these cameras; albeit neither being the fastest. While I won't say the 11-22mm is dead slow, at least going straight to the point, not hunting for focus as most contrast-only cameras, we can say this lens is not "in a hurry" to lock focus; as the motor prioritizes smoothness. That's the main difference between all Canon wide angle EF lenses: STM for quiet operation (EF-S 10-18 and EF-M 11-22); and USM for speed (EF-S 10-22 and EF 16-35). So if you're shooting sports, creatively using the wide angle frame to compose your subject inside its environment, give preference to the USM models, all with near instant focus.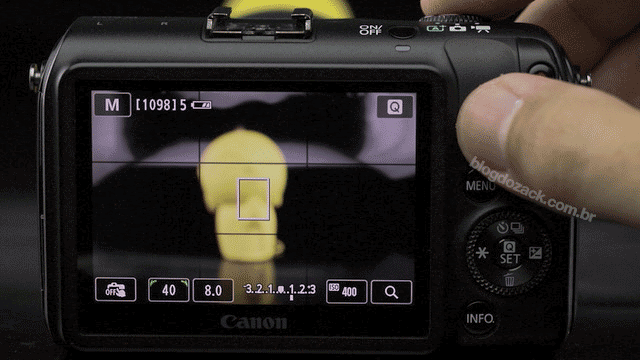 Also this EF-M 11-22 is the first Canon wide-angle lens to implement the IS module; a built-in image stabilizer. Before the 2014 duo EF-S 10-18 IS and EF 16-35mm f/4 L IS, both for DSLR cameras, the mirrorless EOS M was the first Canon camera to get a stabilized wide-angle, back in 2013. It promises up to 3 stops of optical compensation, effortlessly delivered by this lens: it's easy to shoot indoor architecture at up to 1/4s and lower ISOs; or create long exposure light streaks, all without the need of a tripod. During video captures, Canon's new Dynamic IS automatically detects panning (mode 2), giving professional finishing to hand-held videos, with virtually no hassle. It all just works seamlessly, and it's perfect for sharp shots of indoor spaces.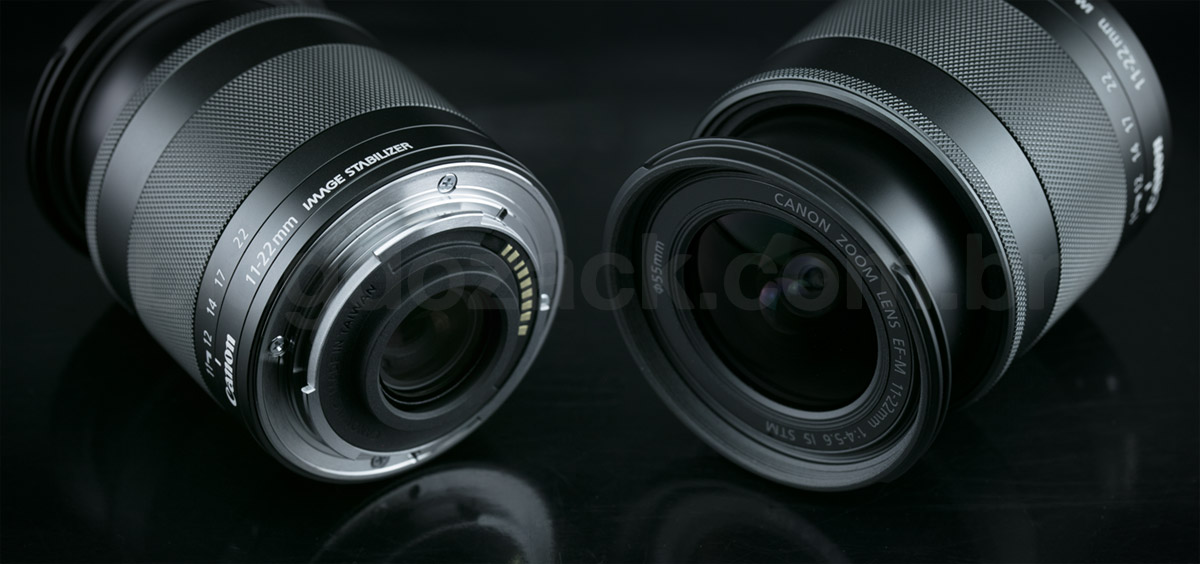 Finally at the front the EF-M 11-22mm uses bizarre ø55mm filters, not shared by another EF lens. They fit a plastic thread that itself fits a secondary lens hood thread, not included in the box (ridiculous for a US$399 kit). At the rear the EF-M metal mount is reasonably robust, fluid and nice to use during mount/unmount cycles. Nothing wobbles in place, despite the all-plastic lens barrel. The 11-22mm brings Canon's simplified EOS M usability to the premium approach other brands are taking to the APS-C format, an invitation for the point-and-shoot style with something extra. It brings the wide-angle focal range to a portable package, together with a 35mm equivalency for street photography: tiny, portable, easy to use; straight to the point.
IMAGE QUALITY
With a 12 elements in 9 groups optical formula, two UD low-dispersion pieces, two aspherical and Super Spectra Coatings, all balanced with the rest of the EF lineup, the EF-M 11-22mm was curiously the first zoom lens to showcase what the future would bring to the Canon wide angle range. In the past, Canon struggled to design wide-angle formulas: be it the chromatic aberrations prone top-of-the-line EF 14mm f/2.8 L II USM, or the resolutionless EF 16-35mm f/2.8L II USM and EF-S 10-22mm f/3.5-4.5 USM, it was hard to swallow the EF wide-angle performance, compared to exotic lenses like the Nikon AF-S Nikkor 14-24mm f/2.8G ED. But that changed with the 11-22mm, that is sharper than even the ultra-expensive EF 14mm L II. It paved the way to the fantastic 2014 EF-S 10-18mm and EF 16-35mm f/4L, but on the mirrorless system, and as portable as ever.
What impresses the most on the EF-M 11-22 is the high resolution and contrast, that together reach unprecedented levels of sharpness on Canon's EOS system. Even wide open the files are ready to print, with intact details in textures, graphics and organic subjects, that easily generate moiré even on less demanding cameras (like the 2011 EOS M used on these tests). While the mirrorless design still presents resolution challenges near the frame edges, with a noticeable drop in resolution at the 11mm corners, given the short flange distance between camera mount and focal plane, the 11-22mm is a giant leap forward compared to older EF (16-35mm L II) and EF-S (10-22mm) designs, that had plenty of space to work with. But the new 22mm EF-M is exemplary nonetheless: the resolution is virtually the same as the prime EF-M 22mm f/2 STM, and we notice the high quality optics employed by Canon (UD, aspherical and SSC) on this tiny EF-M zoom.
Stopping down has little impact on the overall details and resolution, although it fixes some of the corner vignetting, that is pronounced even two or three stops down. While I did get exemplary f/4-5.6 files, filled with details, probably due to the field curvature, it's at the f/6.3-8 aperture range the EF-M 11-22 peaks in performance. It's amazing for street photography, that would otherwise be shot with a smartphone, rendering crystal clear files that only a large optical system could deliver (despite the EOS M portability). But the vignetting is really an issue in every 35mm mirrorless lens and below, and the 11-22mm keeps the tradition. It reminds us of the mirrorless limitations and, for 100% flawless results, I recommend investing lenses with longer flange distances.
"Pose" at f/4 e f/6.3 1/20 e 1/8 ISO400 @ 11mm; the vignetting is never optically fixed on this zoom.
Geometric distortions and chromatic aberrations are incredibly well handled. While both Fuji and Sony use mandatory electronic profiles on E-mount and X-mount wide angle lenses, this EF-M perfectly focuses all the light spectrum on a single plane (lateral CA), thanks to the usage of UD and aspherical glasses. It's interesting to see how the 18-22mm range of this 11-22mm is near flawless compared to the also APS-C EF-S 18-135mm f/3.5-5.6 IS USM, that will soon be tested, and suffers from severe lateral CA; so it's not every "modern zoom" lens that fixes the issue once for all. However the geometric distortion is practically nonexistent, and just at 11mm we see just a slight barrel applied to horizontal lines; very slight indeed. It's a huge plus for the image quality, as we don't need to digitally stretch the pixels to compensate for optical flaws; it's pixel perfect SOOC.
On the other hand, one thing that really doesn't work on this lens is the flaring control, the internal light reflections that 1) can be used for creative effects or 2) should be aesthetically pleasing when unavoidable; it is not! Especially wide open, the flaring looks from cheaper optics under loads of light (like against the sun), with badly shaped sun stars and weird blobs of colors, that reminds us of bad smartphone cameras. It's a problem so bad I dedicate a paragraph just for it, as an alert for those shooting wide angle photos: the 7-blade circular aperture can't generate nice looking starl, and it doesn't work for professionals. It's much different from the EF 14mm f/2.8 L II USM for interior architecture and, then again, for flawless results, I recommend a better lens.
Finally colors and bokeh are reasonable on this zoom lens; not so intense, not truly poor. The colors are actually curious to see: compared to the prime Canon EF-S 24mm f/2.8 STM tested on the exact same locations and the exact same camera, that lens was noticeably more saturated than this zoom, besides the similar post-processing on all files. So landscapes including the blue sky and green trees, the sunset colors or portraits look mundane on this lens, requiring heavy handed adjustments on Photoshop. It's interesting the see the color loss when we compare prime and zoom lenses, and yet another reason to purchase more expensive lenses (that consider these optical qualities). But it's its bokeh the 11-22mm trow the towel and, frankly, it's never the best use of a wide-angle, variable aperture f/4-5.6 zoom. It's better to shoot only long depth of field images.
VERDICT
The EF-M 11-22mm f/4-5.6 IS STM is a curious review on vlog do zack, because it comes after the EOS M5 review, a mirrorless EOS camera I didn't really care for. It was too expensive for what it offered, with questionable image quality and function set, hard to recommend against other ILCE cameras. But the EF-M 11-22mm tested on the classic 2011 EOS M makes total sense: an ultra-portable package, easy to use, practical and accessible, with plenty of performance for everyday shots, with the same quality we're used to on Canon's EOS lineup. It's small without being cumbersome, an achievement by itself. Also every single picture of this review came out in perfect focus, something the EF M always does and I don't get from Fuji and Sony. And it's also easy to forget it's perfect image quality, matching larger DSLRs besides pushing the optical design to its limits. Be it for professionals that are looking for an easy to use tool to spend the weekend with, or for amateurs wishing to master wide-angle compositions, both without braking the bank, the EF-M 11-22mm is a great option. Who would say so much quality would fit in such a portable lens?