Sigma 24mm f/1.4 DG HSM
Estimated reading time: 08 minutes and a half.
December/2015 - Another semester, another Global Vision announcement. That was the first half of 2015 when Sigma introduced the 24mm f/1.4 DG HSM at CP+, the third lens in a lineage of fast, high performance primes, the widest (at the time) of the Art series. This time around they're coming up with a lens capable of 84.1º of view, great for full frame landscapes and architecture, and useful for APS-C street shooters. Optically it promises the best in class resolution, and mechanically it matches the excellent Art built. Did Sigma do it again? Let's find out! Nice reading!
BUILD QUALITY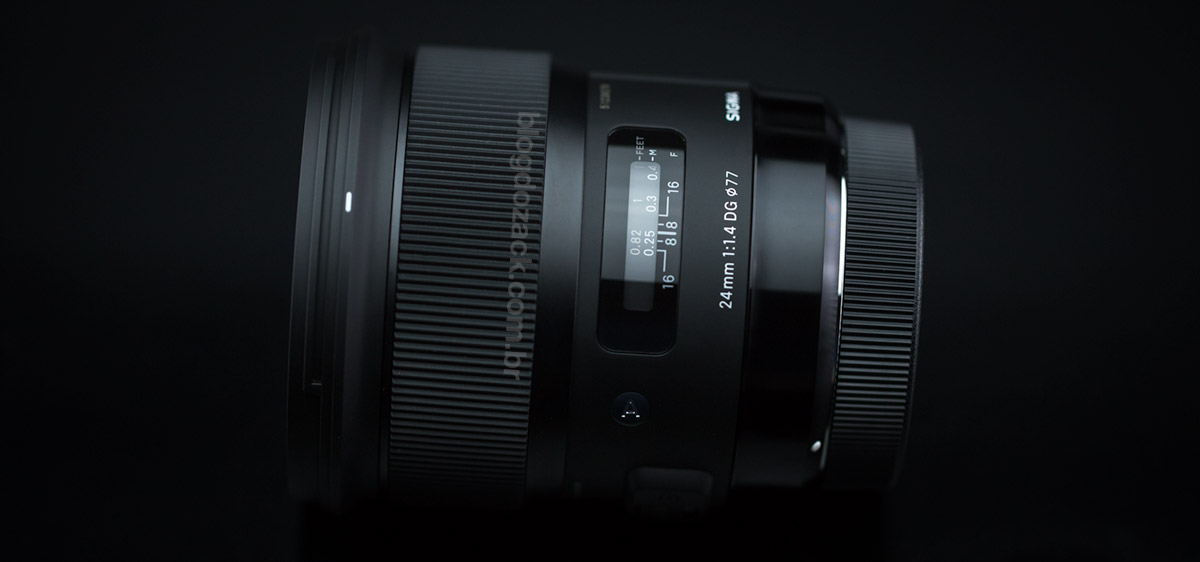 At 85 x 90.2mm, Sigma couldn't help but physically match its direct competitor, the Canon EF 24mm f/1.4L II USM. They're so similar it is impossible not to compare them side by side. The L series is a tad shorter at 86.9mm, and somewhat thinner at the front at 83.5mm. But with both lens cap on they will take the same room in your backpack, and if it wasn't for Canon's larger-than-life petal shaped lens hood, they would feel the same in camera too. They're big without being too big, and I like some weight on my lenses. So this Sigma at 665g didn't failed to please me. The 24mm feels nice in your hands with the Art series signature "tactile feedback rubbers" all around.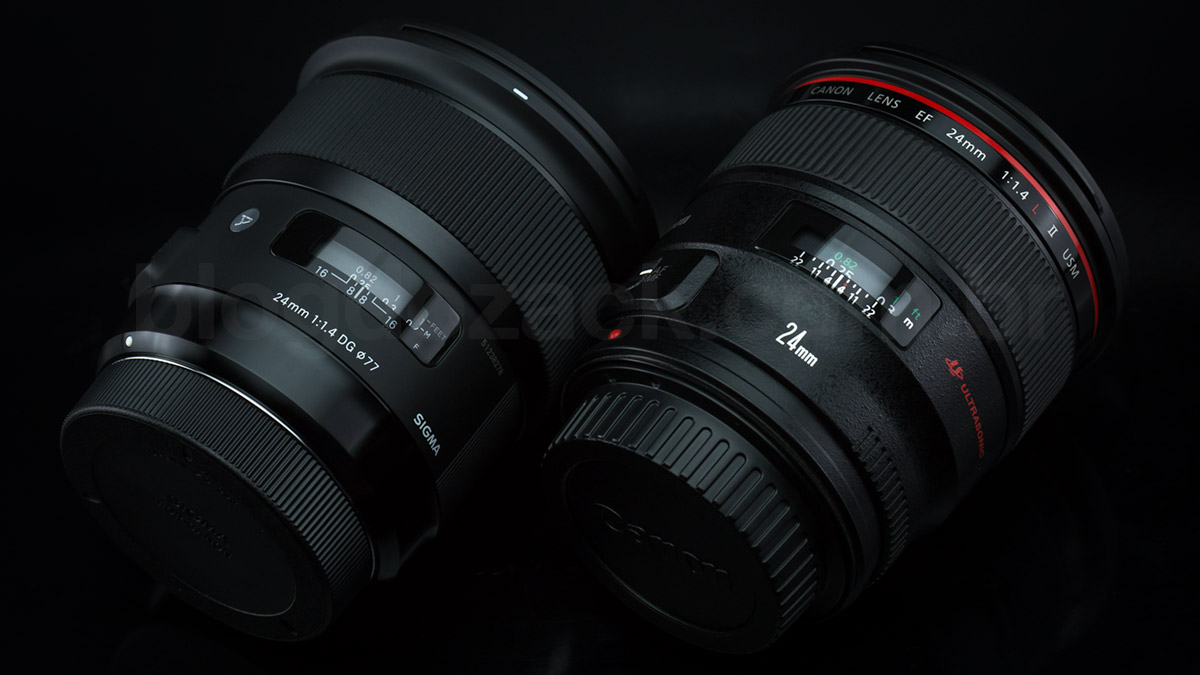 When you grab it in your hands, the first thing you feel is the high manual focusing ring rubber grooves. It kind of itches your index finger and you instantly know where it is, easier to reach without taking your eye out of the viewfinder. Near the palm of your hands you can feel the cold touch of the metal finishing, telling the ring and pinky fingers that you're about to reach the camera. It's the same feedback as other Arts and essentially different from Canon's "organic" touch. The L series are more streamlined and flat in your hands.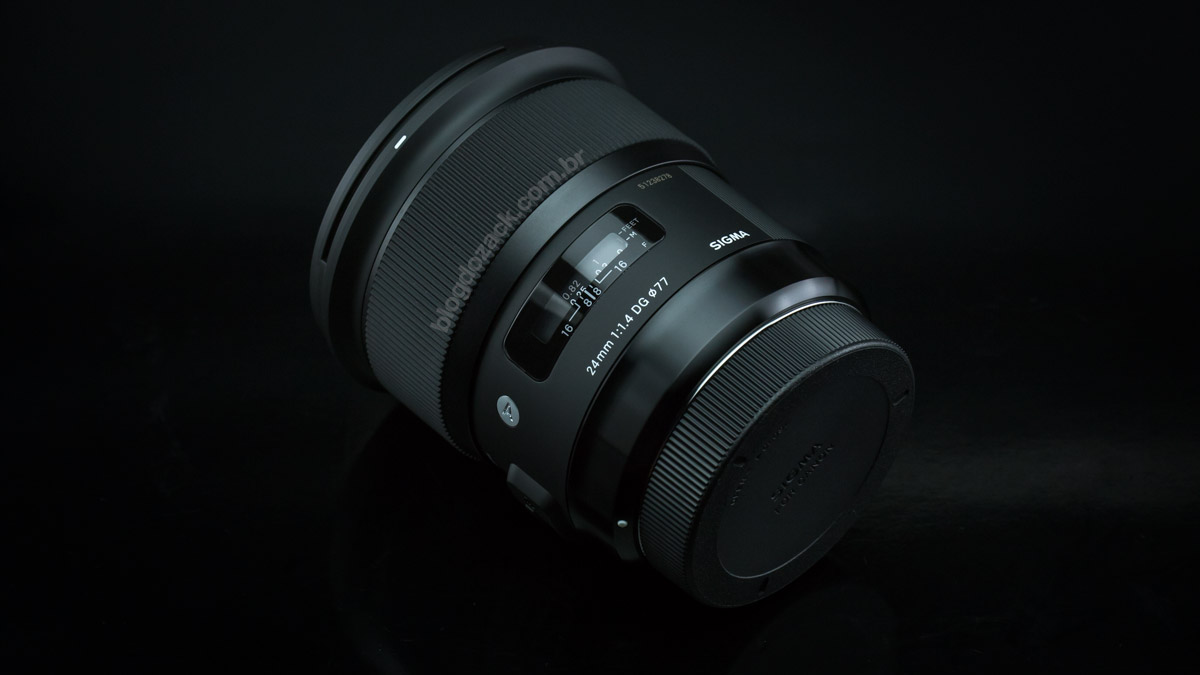 At the front the manual focusing ring is large and raised from the rest of the body, identical to all Arts we've seen so far. It's mechanically coupled to the all-internal rear focusing groups and my brand new, 2015 copy, feels a bit tough to turn. There's no lag between your hands and the distance scale moving inside the window, making it great for fine adjustments. It's just like Canon's L, but my four years old 24mm II USM feels much smoother. Inside the HSM auto focus features full time manual operation, and you don't need to switch it to "M" in order to use the ring.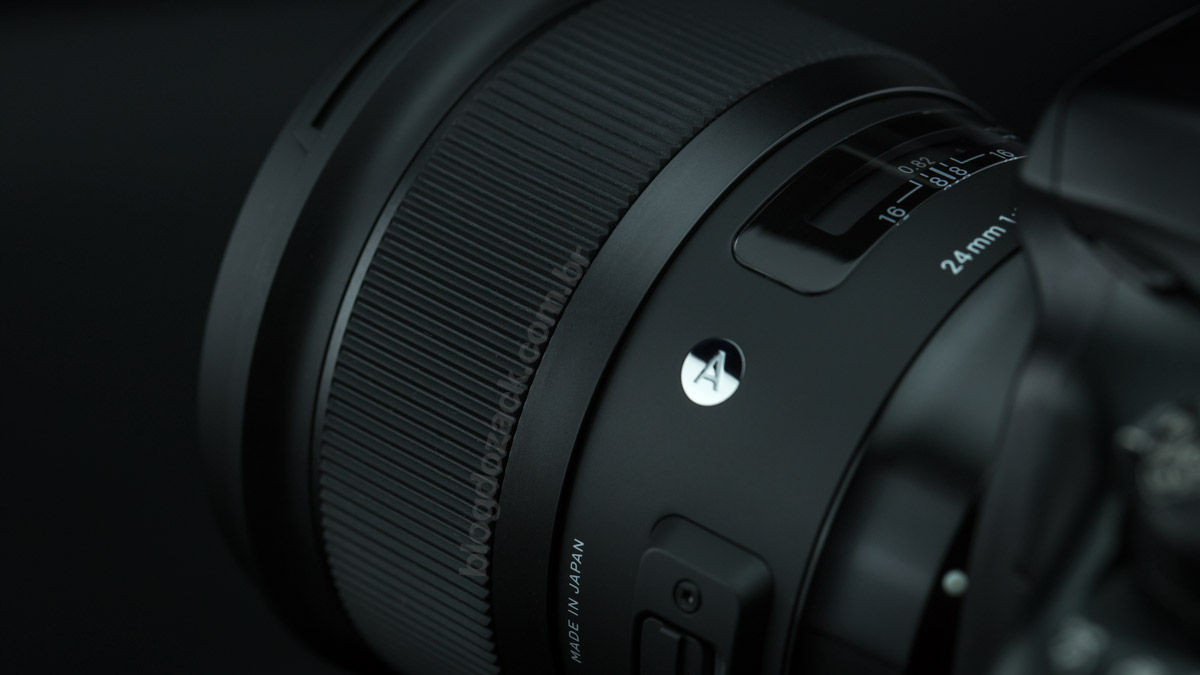 The auto focus performance is in trend with Sigma's Global Vision lineup and unfortunately it is never as good as Canon's. While I didn't have any issues with my EOS 6D center point locking in low contrast, like I had with both 35mm and 50mm DG, this 24mm is just plain slow. That must answer any purchasing doubts by itself: if your life depends on auto focusing, stick to Canon. The EF 24 L II USM has a much longer infinity to MFD turning angle at almost 180º, against Sigma's 90º, but somehow it manages to be twice as fast from point A to point B.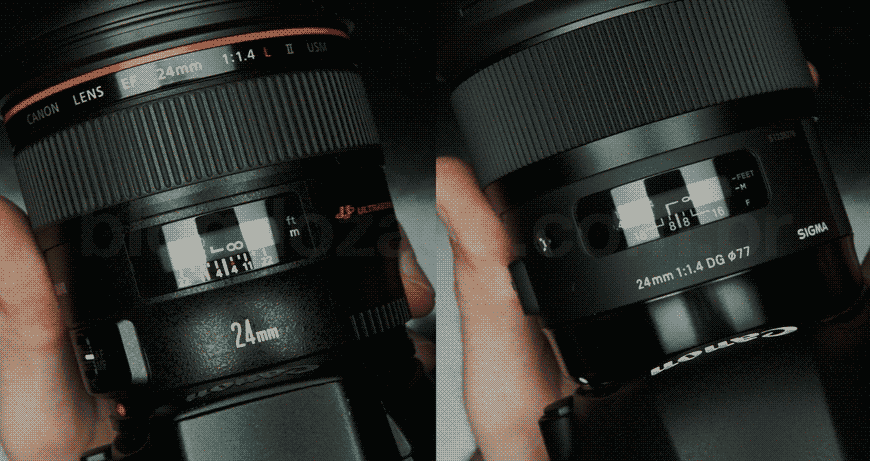 That will make or break for photojournalists, sports and action shooters, some fast paced portraits and street photography. And for the third prime happening, I think it is safe to assume Sigma just won't ever compete with Canon on the high end, professional "auto focus" market. The Art series have been delivering truly special optical gems, some never heard specs like the f/1.8 18-35mm DC and the recent ultra wide angle 20mm f/1.4 DG. But the bottom line is: they're not officially an "EF" manufacturer and don't know how to develop fast, precise and reliable AF for Canon's EOS.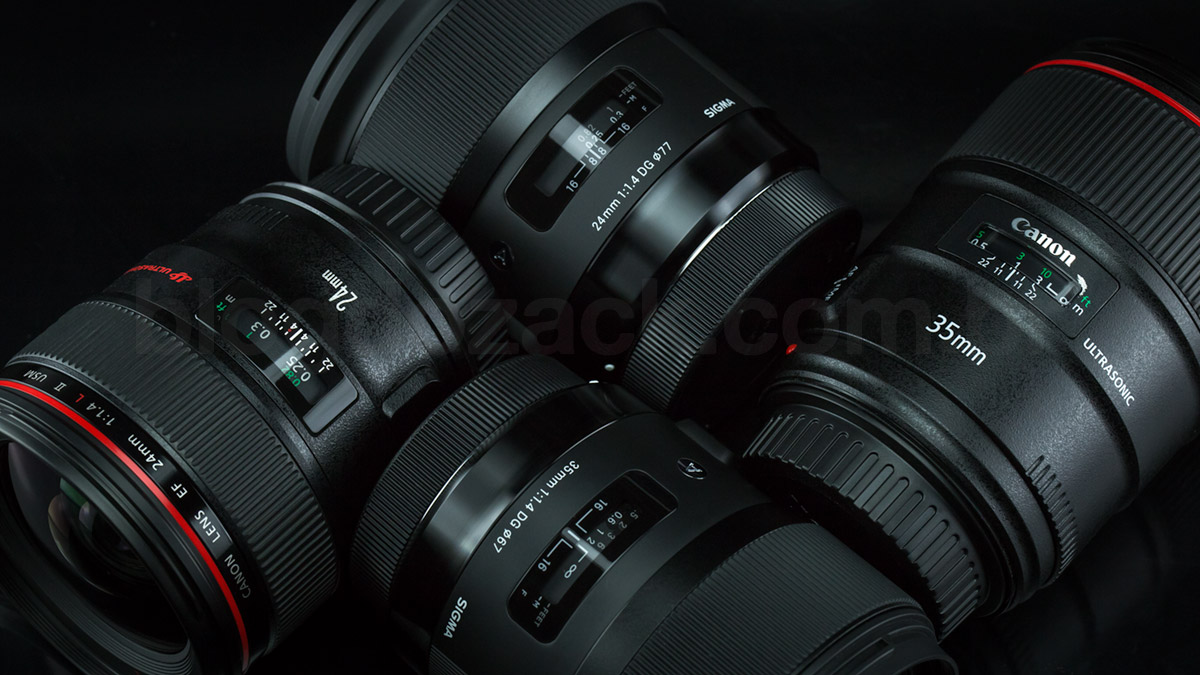 At the front the ø77mm filters go on a single plastic thread, whilst Canon's L II is metal. It's a good size to share with other lenses and it fits inside the lens hood, that add to the 24mm width and length. This lens hood is much less pronounced than Canon's EW-83K, and harder to bump around. Finally the Art chromed brass mount doesn't offer the same level of weather sealing as Canon's O-rubber ring, and Sigma doesn't say a word about water resistance. It's yet another difference between the two: if you shoot in extreme conditions, once again, stick to Canon.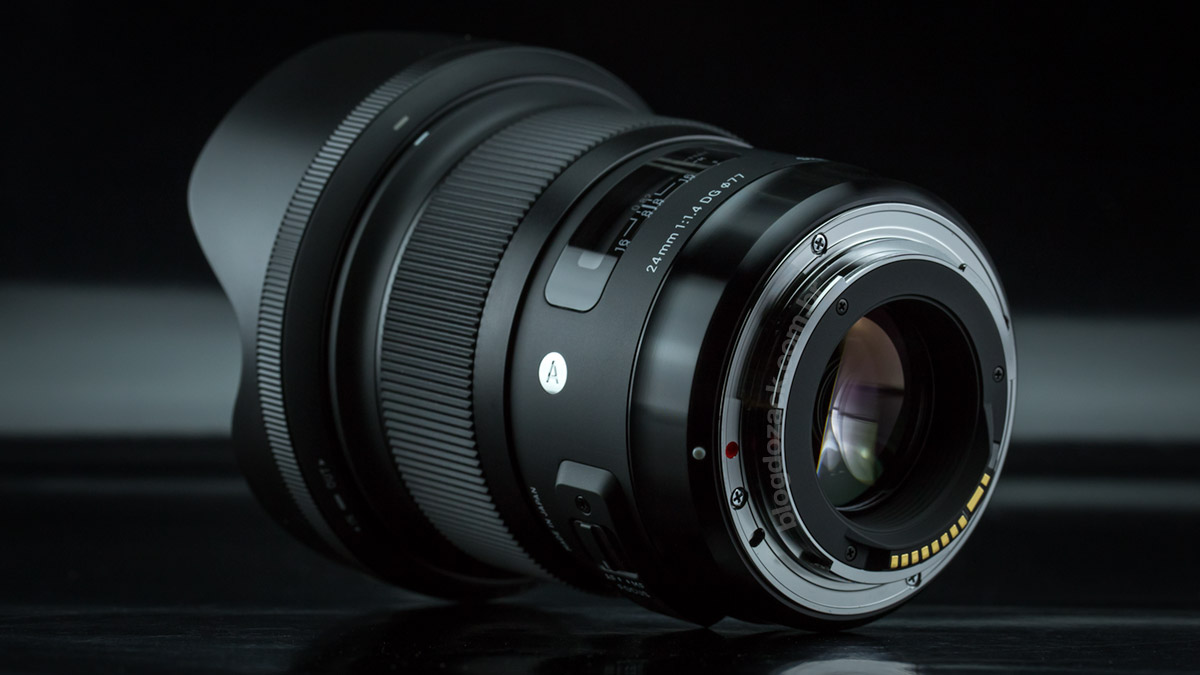 The third in a lineage of four excellent primes (counting the new 20mm) makes it clear why the Sigma Art series cost less than Canon's, but it is not as cheap as f/1.8 alternatives. It it sleek, easy to use and robust, definitely the best in class for the price. At $849 the 24mm just works and can be a good kit for videographers, studios and any other precision job. But Canon's $1549 doesn't only have an "edge" over its features; the L series is a big step in reliability and auto focus. And that's more important than looks and price for photographers, no matter the optical performance.
IMAGE QUALITY
With an über complex 15 elements in 11 groups optical formula, 3 FLD (!) (Sigma's synthetic version of fluorite), 4 "special" low dispersion and a pair of aspherical glasses, this Art 24mm f/1.4 DG HSM is the pinnacle in "super wide angle, large aperture" performance. Yes, they did it again: the Art series is years ahead of Canon's L and we can only hope for a "Mark III" EF 24 f/1.4 to beat it. The resolution is higher wide open, files are clearer overall, aberrations are less pronounced and vignetting is better controlled. 

All photos with the EOS 6D; raw files available at Patreon.
At f/1.4 it is just unbelievable what the new Art lens can do. I honestly had to check twice if my files were wide open or stopped down, because it just doesn't feel "large aperture". Canon's EF 24mm f/1.4L II USM was never sharp at such f/stop, showing heavy blooming and lack of micro contrast on details, begging for some stopping down. It wasn't bad: some softness was welcomed under low light, for smoother gradient rollouts and better skin reproduction. But the Art is on another level: it's tack sharp at f/1.4 and the contrast is very, very high even wide open.
I could even state it looks as clinical as the Sony Zeiss ZE 55mm f/1.8 Sonnar, a lens I had issues on my A7II. That glass belongs in a lab as files are too sharp, too contrasty and too dark. It was a dream for black and white post processing, but awful for colour photography. This Sigma is ahead because its tones are as saturated as Canon's, something hard to achieve. It works beautifully.
Stopping down fixes most of the vignette around the corners, a serious issue on the Canon lens. The L II renders almost -5EV corners (!), but this Sigma is about -3EV at f/1.4, and perfect at f/2. The resolution is barely higher and it should be used mainly to adjust depth of field and exposure. It's essentially different that working with Canon's, that benefit from aberration corrections on smaller apertures, from f/2.8 and up. This Sigma Art allows for wide open shots at the photographers will. Post sunset low ISO street shooting? Leave it at f/1.4 and have fun.
Chromatic aberrations and saggital coma flare are still visible but way less pronounced. Axial aberrations on out of focus areas are almost invisible on less contrasty, organic subjects, and discreet on industrial, men made objects, much better than Canon's L. Lateral aberrations on buildings edges, windows and leafs against the bright sky are also well corrected, although it can be visible in the shadows if you push the post processing to overly saturate the colours.
Geometric distortions are nearly invisible and another benefit of a super wide angle prime. Most zoom 24-xxx lenses show heavy barrel distortion at the wider end, but Canon's L and Sigma's Art show almost none; with an edge to the DG performance as well. Those shooting architecture and landscapes, with straight lines in the frame, will be pleased to know it remains straight. Some software correction does show a good amount of distortion if corrected, but it's not really noticeable. It is particularly useful for video as geometric distortions are hard to fix in post.
Finally the bokeh is aways excellent on the Art series primes, and it renders smooth, colourful, pleasing to look at blurred backgrounds. Coming from the Tamron SP 45 f/1.8 Di review, that had weird neon shapes on out of focus areas, it makes more evident that Sigma does indeed pays attention to this rendition. Canon have some cases of brilliance with its bokeh, but the Art 24mm nails it every time. It's an unique look to full frame cameras as APS-C and 645 shooters have nothing comparable in specs. It is yet another use for a wide angle, large aperture prime.
VERDICT
Sigma's Art series have been delivering great performances on paper and in practice. It's a well put together lineup with recent formulas, the newest optical technologies and loads of TLC on its build and craftsmanship. Seriously, to showcase such a comprehensive set of f/1.4 primes in less than three years is no easy feat, and we're just two focal lengths away for it to be complete (85mm and 135mm). What more could we ask for? A sub US$3000 200mm f/2 OS HSM? (oh, yes, please!)

But the bottom line is Sigma just can't compete on the pro-AF market and that's a big "but". It is hard to demonstrate focusing performance on an article, and you'll only miss it when you need it. The Global Vision Art series work for what it is: beautiful, flawless optics, but third party nonetheless. And the 24mm DG delivers that once again. If your life depends on AF, nothing can beat Canon's EOS and L lenses. For all the rest, Sigma will do the job just fine. Nice shooting!