Yongnuo 35mm f/2
Estimated reading time: 07 minutes.
June/2016 - The 35mm f/2 is the second lens announced by chinese brand Yongnuo, best known for its low cost accessories and flash heads, alternative to Canon and Nikon. Launched in 2015 after the 50mm f/1.8, the 35mm f/2 follows a different path from its older sister. While the nifty fifty was a plastic fantastic clone to Canon's well regarded 50mm f/1.8 II, this 35 is a whole new product, bigger and lighter than the vintage EF 35 f/2. It revolves around the same selling point: for just US$99 you get a fully automatic lens, with focus and aperture motors, and a complete optical formula, covering up to the 135 full frame format (56mm APS-C equiv.). But did Yongnuo pushed too far? Is it possible to make a sub-US$100 full frame wide angle? Let's find out! nice reading.
BUILD QUALITY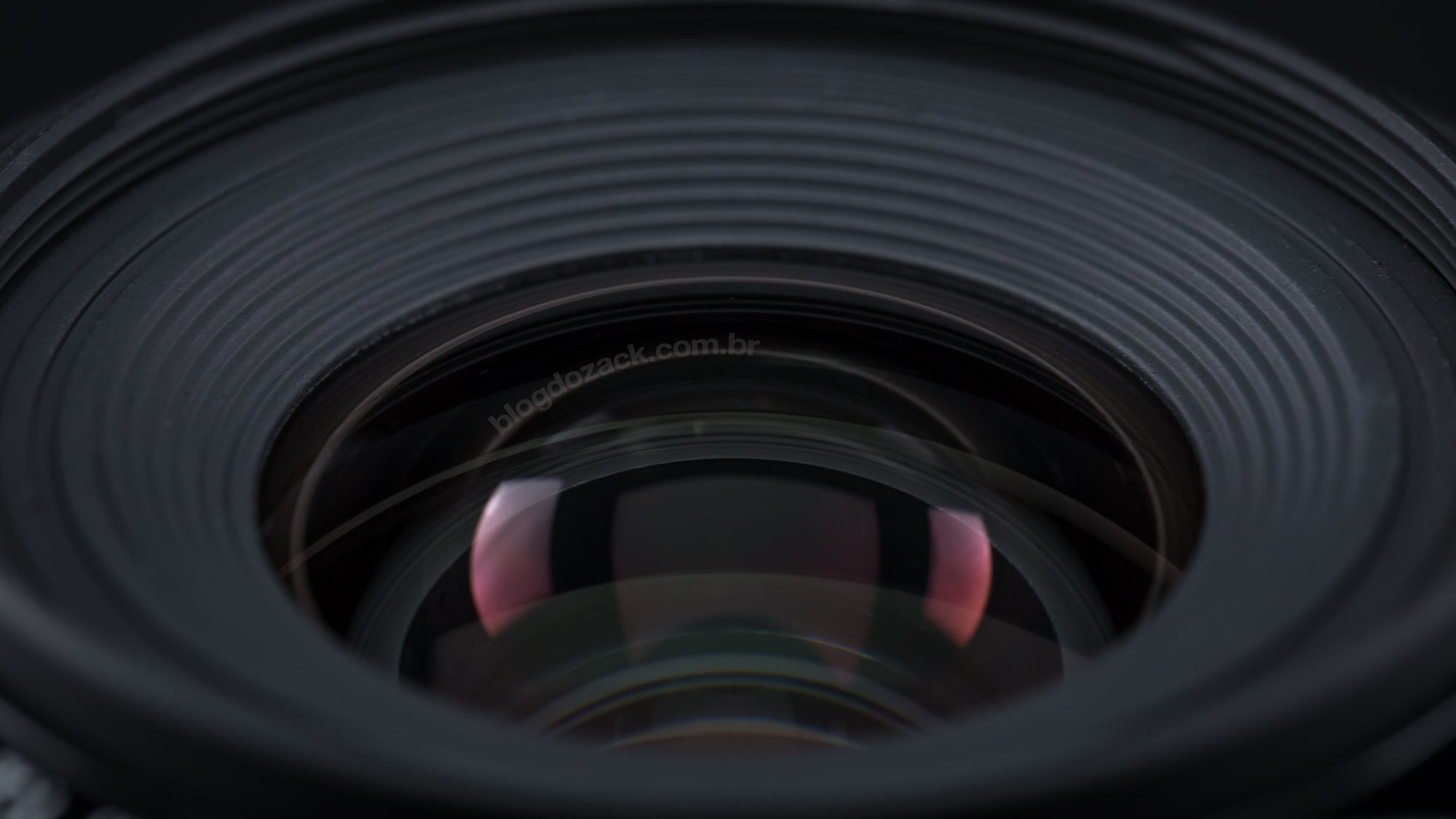 At 73 x 59mm of 155g, the Yongnuo 35mm f/2 is much larger and lighter than the Canon EF 35mm f/2. While I won't show them side by side, I remember how solid and different the Canon was, with a recessed focusing ring sitting behind a distance window; features the Yongnuo lacks. So it's a new design and should be treated as such, besides the identical Canon spec. I won't use the "cheap knock off" argument I did on the 50mm f/1.8 review, and I'm happy to do so: if there's a legitimate Yongnuo R&D department creating these things, we can take their lineup seriously, aiming for a true low cost market instead of just being clones to larger brands like Canon and Nikon.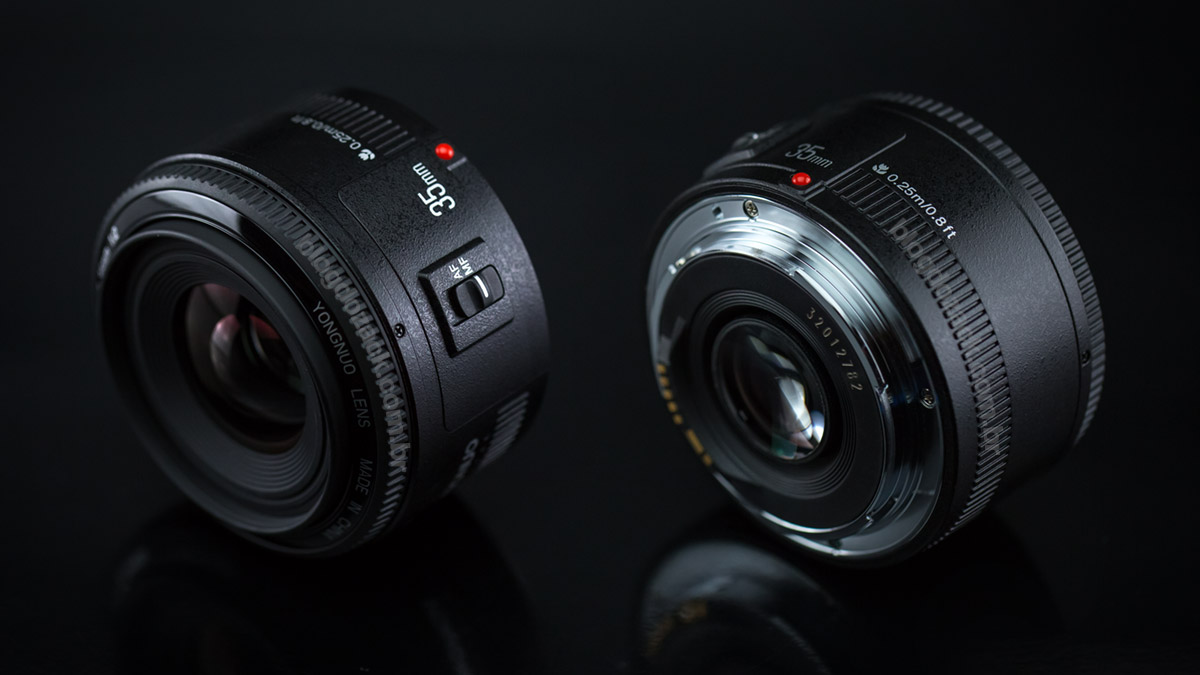 Although it's a new design, it's not necessarily a good one. The US$99 is too low and, as one could imagine, the build quality is as bad it can get. Both plastic barrels are assembled through a helicoidal thread, feeling ultra-hiper wobbly as soon as you take it out of the box. You can feel how the inner tubes shakes inside a hollow outer shell, moving up to 1mm between them; unthinkable for the true prime sharpness you expect from a fixed focal length lens. Yes, I've seen some wobbly zoom kits and even some misalignments on high end primes, but nothing compares to this Yongnuo. And that's a big issue: there's a bigger chance for your photos to look bad due to optical misalignments, than due to the quality of the cheap glass itself.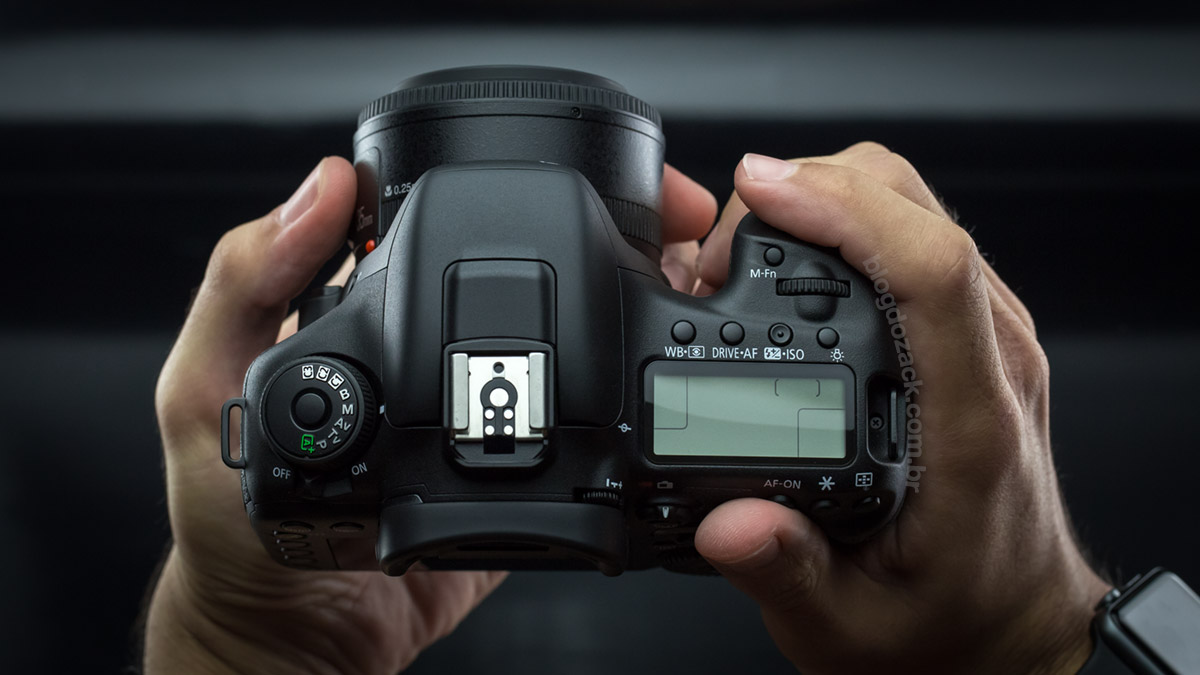 Its usability is dead simple with a single manual focusing ring at the front. It's rubberized, the same as the Yongnuo 50mm f/1.8, smoother to the touch than all-plastic (or metal) rings we see on some low costs. Unfortunately it scratches against the lens outer barrel, with that dry feedback we're used to on cheaper lenses. And the path from minimum focusing distance (25cm) to infinity is short, at just 80º, lacking precision. And as the internal barrel never really sits flushed inside the lens, there're even more chances of misalignment on impact, even when you just carrying it around. And there's more! The MF ring also wobbles, making it impossible to fine tune the focusing distance, taking an extra share of sharpness away from most pictures.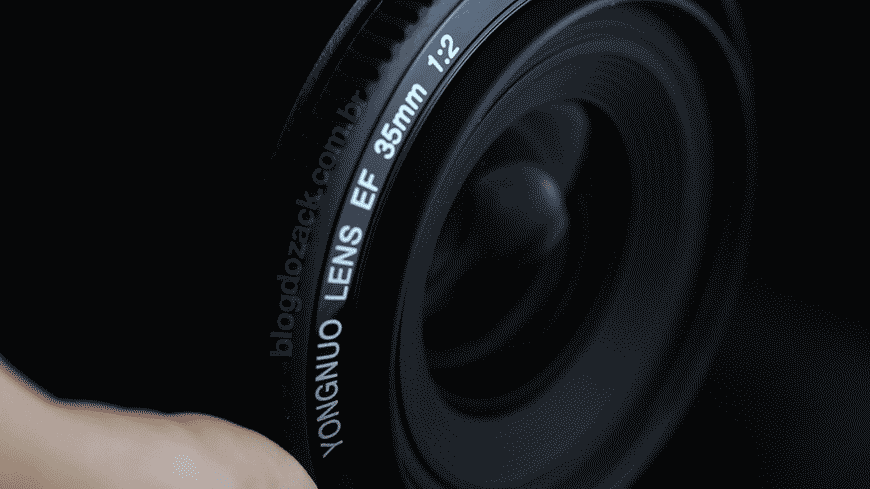 The auto focusing is driven by a micro-DC motor, that uses noisy clogs to move the internal barrel in and out. It extends up to 1cm at the shortest focusing distance, on a not very smooth movement that, you guessed it, wobbles when in use. And the MF ring rotates when the motor is in use, annoying those with larger hands. Here tested with the EOS M, that lacks much room to be grabbed on, it was nearly impossible to hold the camera while not touching the MF ring. At least it is reasonably fast: from MFD to infinity is done in less than a second, and smaller adjustments are made at the blink of an eye, at least on phase detection cameras.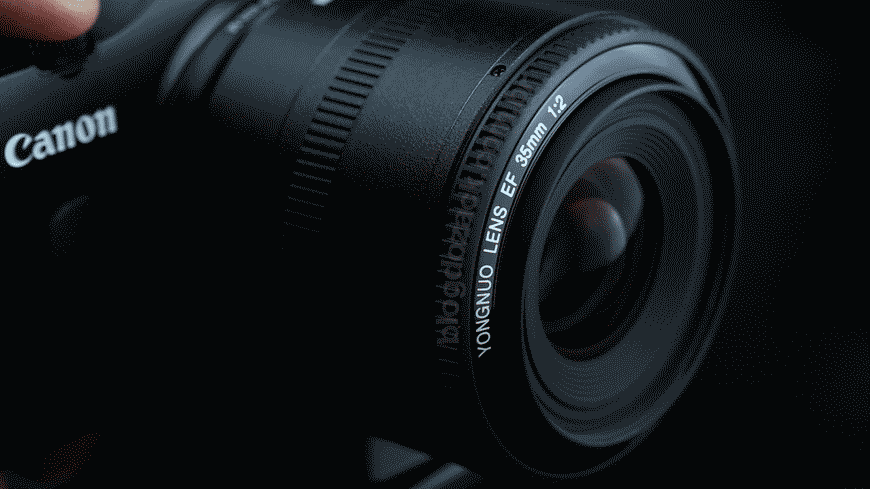 At the front the Yongnuo takes ø52mm filters that attach to a plastic thread. There's no room for a lens hood (the Canon EF 35mm f/2 had a lens hood thread), that should be adapted on the filter thread. At the back the metal mount feels well made, with plenty of screws holding it in place, and no flat cables/ weird electronics sticking out of the lens. There's no weather sealing and it's all very basic to meet the US$99 price tag. Unfortunately Canon abandoned the low cost market when it introduced the US$599 35mm f/2 IS USM, and those in need of such spec must live with the poorly made Yongnuo. It's build quality is low and can cause misalignments, the main reason I refuse to recommend it for any photographer. It will put your photos at risk.
IMAGE QUALITY
With a 7 elements in 5 groups formula arranged on a double-Gauss design, we probably shouldn't expect much from the Yongnuo 35mm f/2 optical performance. And it delivers mixed results: while it had it's moments of brilliance with the EOS M at optimized apertures, it's never really sharp at f/2, the reason to have it on your kit. The wide open resolution is weak due to major spherical distortion, that doesn't render a flat image plane, making the edges look out of focus. And the axial chromatic aberrations are visible on bright exposures, nothing new from large aperture primes. However the overall image look is bad, with poor out of focus renditions, repetitive lines, smooth focal plane… It's hard to recommend it even your subjects stand out on their own.
The good is, wide open, you can live with the Yongnuo, if your life doesn't depend on prints. The overall resolution is bad, barely working for web outputs, that otherwise would require high ISOs or slower shutter speeds in order to achieve the correct exposure. Around the edges it looks like magnifying glasses, stretching the details with poor definition and contrast, besides do being rendered. "Being rendered" that's a funny statement: yes, the details are all there and you can see it; but it comes together with a ghost (lack of contrast) and a colored version of such ghost (chromatic aberration). And around the frame we can spot axial chromatic aberration issues, that gives green halos on background elements, and purple fringes on the frontal plane.
Stopping down to f/2.8 and above boosts both contrast and resolution, fixing the dreamy look from the maximum aperture. Everything looks sharper and more detailed, with some chances of brilliance: files are clean and you can see they were made using a large sensor camera. It's the same as other low cost primes, that can look identical to top of the line lenses, if it wasn't for one issue: as the build quality is poor and there are variations on the image plane, even a f/8 you're at risk of loosing sharpness due to misaligned glasses. That's my main issue with the Yongnuo: besides the cheap optics, the poor build quality also impacts the image quality.
I don't even have to mention the geometric distortion is high on 100% straight subjects (architectural lines and the horizon), easy to fix via software. And I don't need to mention the lack of lateral chromatic aberration, after all it's a double-Gauss design. What is left are the bokeh and color rendition, a subjective matter from photog to photog. While the Yongnuo is very neutral on it color balance, matching most Canon's EF, its out of focus quality is very bad depending on the background and the focusing distance. We're asking way too much from the low cost optics, but it works better than most smartphones, that tries to render the "bokeh effect" via software.
VERDICT
Finally a lens that surpasses the "low cost" camp, the Yongnuo 35mm f/2 must be seen for what it is: a large aperture, wide angle prime, lacking the resources for greatness. And it falls on a single conclusion: the less money you spend, the less chances are for your photos to be great. Yes, mechanically it can hold itself in one piece (cof, cof, Mitakon…), both focusing and aperture are electronic; and it's as practical as any "original" Canon EF. But the focal plane variation is a big issue, and it's hard to recommend it. Nope, it's not the low cost gem we're expecting and yes, you might loose some photos with it. When in doubt, don't put your pictures at risk. Good luck!