Canon EF 35mm f/2
Estimated reading time: 06 minutes.
August/2014 - The EF 35mm f/2 was the last Canon vintage prime lens to be updated. With a metal mount, distance window and micro AF motor, it feels very 80's like the original 50mm f/1.8 and the discontinued 15mm f/2.8 Fisheye. These were all somehow updated: the plastic fantastic 50mm f/1.8 II got an all plastic build and later a STM update; the Fisheye got a L series revamp on the 8-15mm f/4L USM; and the EF 35mm f/2 got IS and USM. This cheap, stripped down f/2 was since discontinued, leaving EF photogs with no ultra low end lens at the 35mm focal length.
It got on vlog do zack because I needed a 35mm wide aperture prime and the f/1.4L did not fit my budget at that time; nor the f/2 IS USM existed. And as this vintage model is still popular on the used market, I decided to write a review. Honestly, the classic optical formula never disappointed me, and if you find it for a good price on the second hand market, it can totally be an alternative to more expensive models. It's light and a pleasure to use, physical qualities that most newer models doesn't really care about. But is it for you? Let's find out. Nice reading!
BUILD QUALITY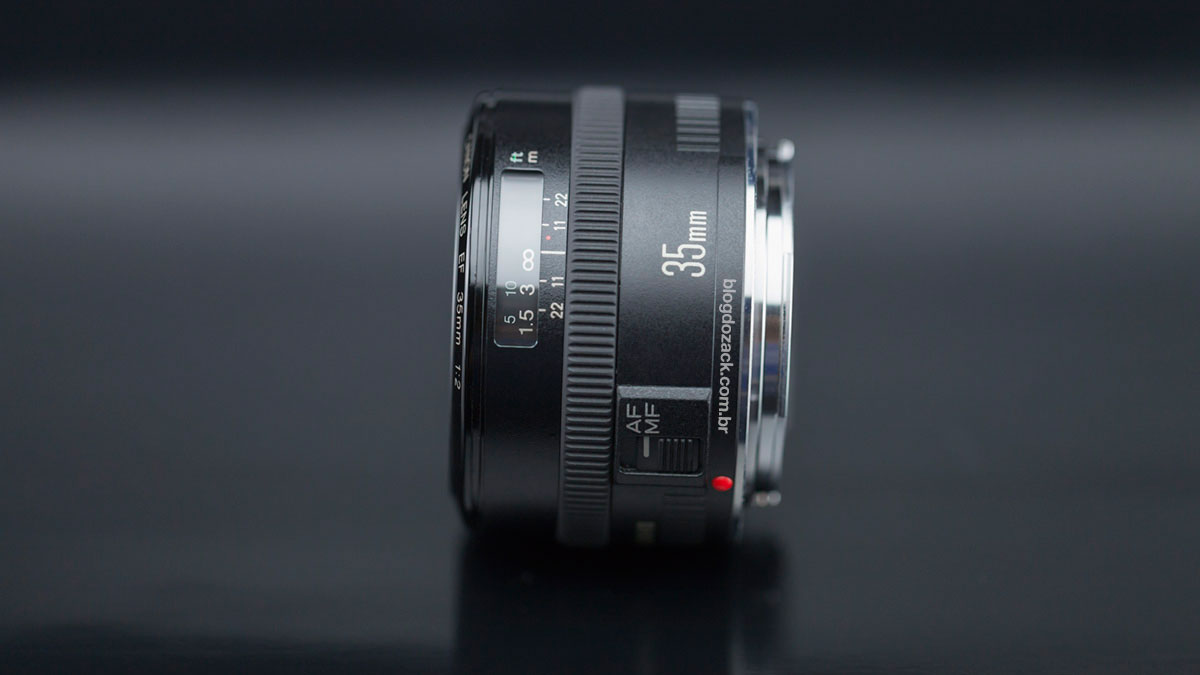 At 210g the 35mm f/2 is very light on any full frame body. Its size helps at just 67mm long and 42mm wide, after all it's not really an exotic wide aperture spec; it doesn't take that much glass nor motors to make a 35mm f/2. But it's not fragile or poorly built in any way, and the small size with a metal mount makes it feel very strong. You can keep it in your backpack all day and not worry.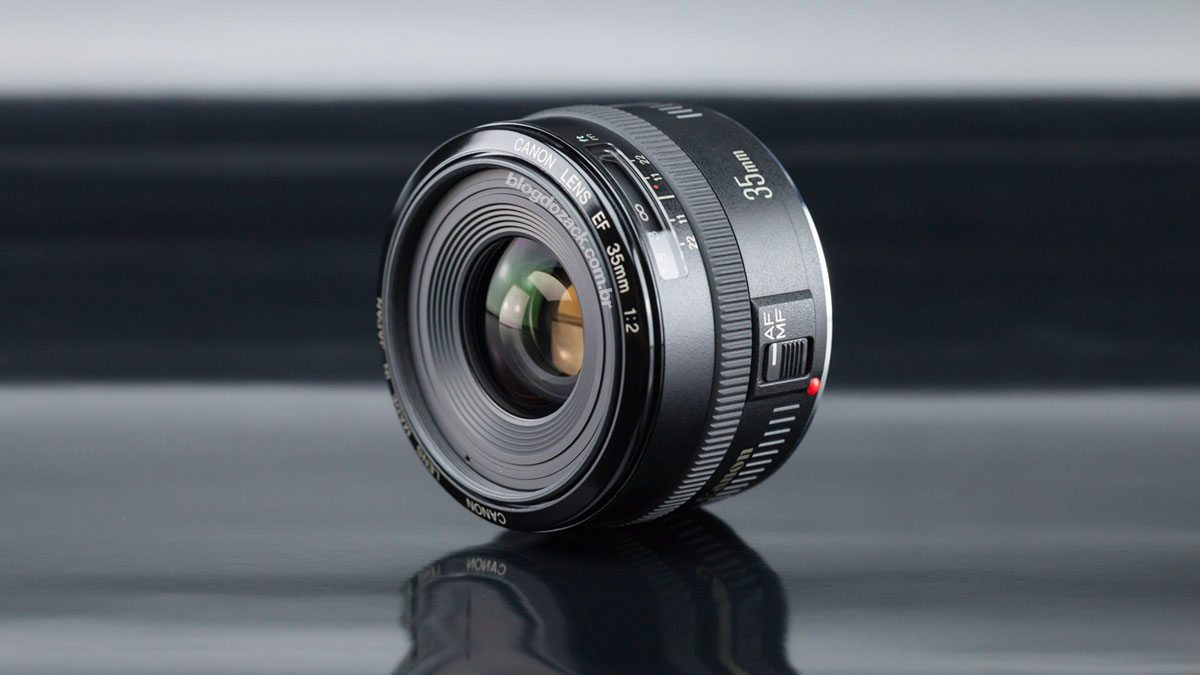 Its operation is very simple and different from newer lenses. The manual focusing ring is rubberised but it doesn't feature the full time manual. You must switch it to MF in order to operate the ring, uncoupling the motor. It's hard to find the switch when you're behind the camera as it's recessed into the lens barrel, and very "clicky". It's a simple, standard line design, without the "mandatory" premium feedback that newer lenses have to offer on today markets.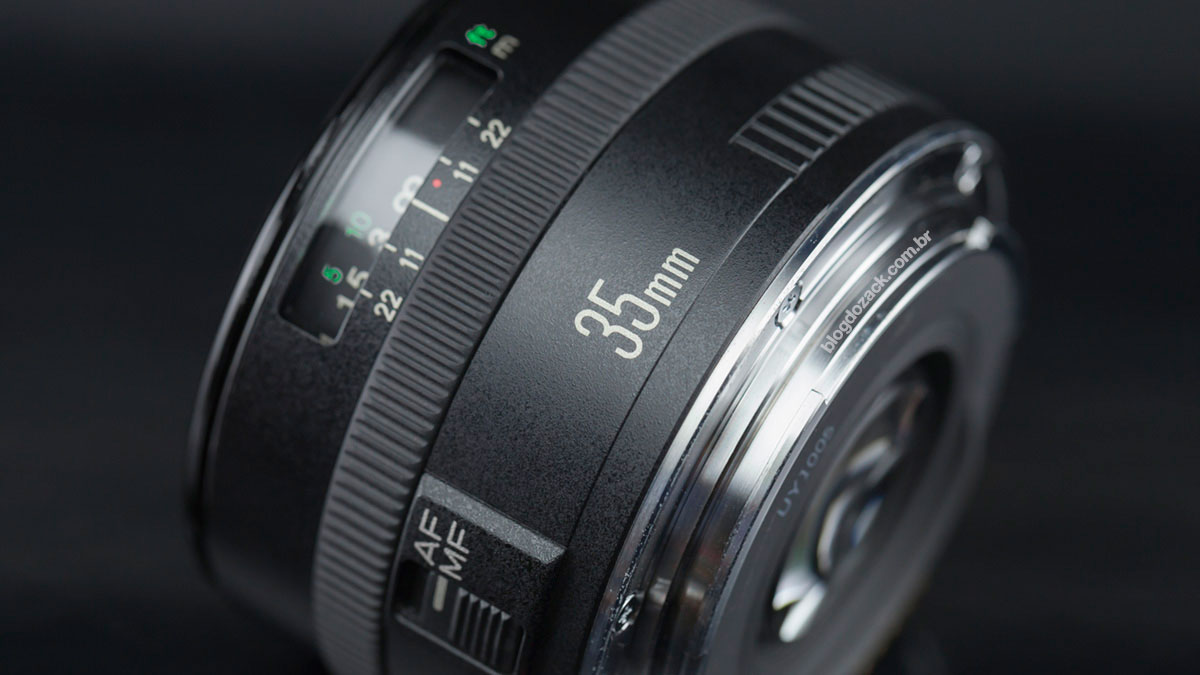 The auto focusing motor is micro-type and uses a noisy cog to move the inner barrel. It's a very characteristic sound and can be annoying at quieter settings, specially darker, closed venues where the f/2 aperture is so helpful. At least it is not slow or inaccurate, although it's not "L class" neither. It won't hunt in the dark and I couldn't get any out of focus shots from this lens. The distance window is a welcomed luxury for today standards. A big mistake from manufactures who market themselves so into the video market. It is easier to check the focusing distance looking through a window instead of guessing on the LCD screen.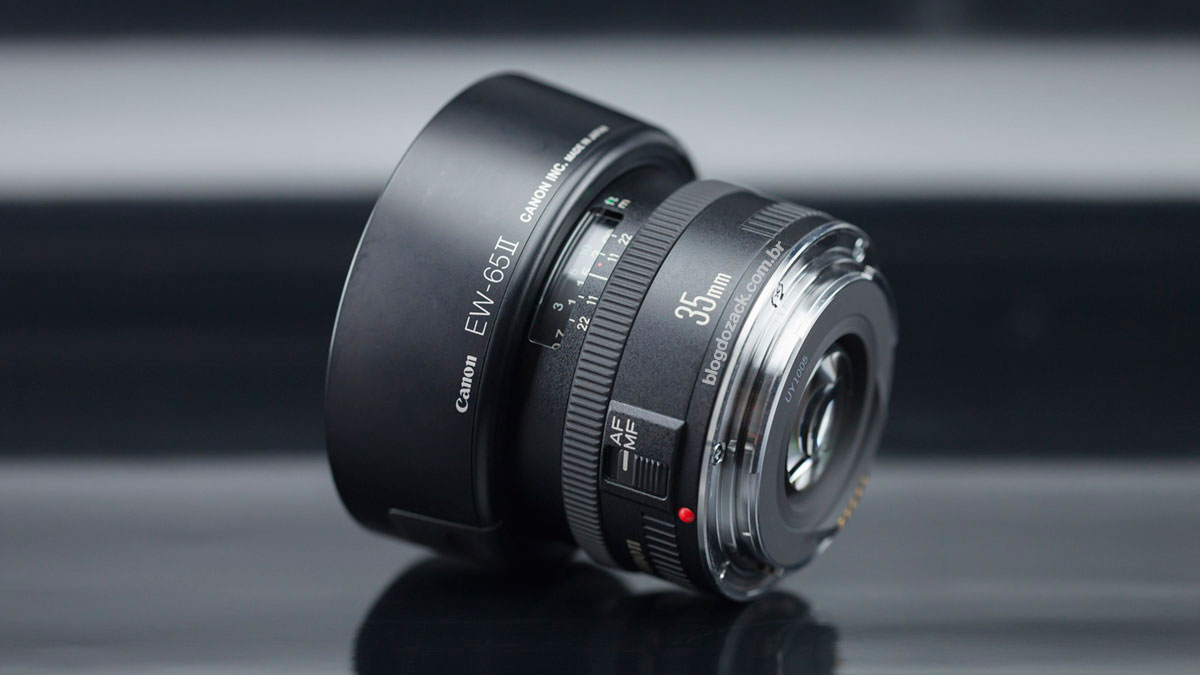 At the front the ø52mm filters don't rotate, great for polarisers. The inner tube expands while focusing and the lens hood attaches to a very thin mount around the outer barrel. My bought-in-Japan kit came with both hood and pouch in the box; a kit not sold in the US. At last a wide angle lens with a simple design, with a simple operation, made for a simpler time. It was the last vintage lens to be updated and made perfectly sense: this EF f/2 just can't compete with anything from the last ten years! But its image quality is not that bad, and that might make sense for simpler kits.
IMAGE QUALITY
I must honestly say this lens got on vlog do zack on I time I didn't even know what "f/" meant. I just cared for "bokeh, bokeh, bokeh", and the lens had to fit my budget; and be an "EF" to mount on my full frame 5D. And that's what the 35mm f/2 delivered, with a wider angle than the 50mm f/1.8 II I previously owned. I know neither will win any sharpness, resolution or contrast awards wide open. But for what I needed (bokeeeh!), the 35mm f/2 served me well. Photos with the EOS 5D Mark II.
The 35mm f/2 trademark is its lack of contrast compared to newer models. That's the result of modern coatings that were too expensive to be applied on low cost lens two decades ago. So the images are a bit dull straight from the camera requiring some post processing to become appealing. The wide open resolution in my opinion is not bad. You can see any detail that falls in the depth of field, which is short depending on the distance between the photographer and the subject. I haven't really tested its corner resolution because I rarely shoot flat subjects, so I don't care if it lacks some sharpness around the edges. Stopping down to f/8 increases the DoF, great for landscapes with lots of details on the whole frame. It's one step ahead most zoom lenses.
The lateral CA is a surprise because it's non existent, as the axial CA. The background doesn't get coloured halos and, if it happens, it's very discreet. But the geometric distortion is high at the MFD and we can clearly see some barrel distortion on the top and the bottom, but any software or DIGIC5 camera can correct it. And the astigmatism is high around the edges, especially on out of focus highlights. This is not the best candidate for astrophotography.
Colours and bokeh are typically Canon and I never really comment on it: it's always right. It's Canon's magical EOS colour science that keeps this manufacturer at the top: everything is saturated and smooth as it should be. Other brands rave about colour and bokeh, but it is always right on Canon's lenses, balanced to the older FD 50mm f/1.4. It's hard to notice any weird color casts, no matter how you lit the scene. It's print-ready from the camera, with little post-processing.
VERDICT
A vintage lens that never did anything really wrong, and Canon substituted it with a different product, with IS and USM, costing nearly 3x the price at launch. Their mistake was discontinuing the classic 35mm f/2, that optically delivers identical results. Both could stay on the same lineup offering different price points. But now these 35mm f/2 are left only on the second hand market, and most moved to Sigma's f/1.4. If you're on a tight budget, this is totally worth it. Nice shooting!