Sigma 24-105mm f/4 DG OS HSM
Estimated reading time: 07 minutes.
August/2014 - The Sigma 24-105mm f/4 DG OS HSM is the first standard full frame zoom on the "Art" Global Vision lineup. Divided in three series, the "Art" with optimised bokeh and colours, the "Contemporary" for modern, cost conscious kits, and "Sports" for longer reach and better auto focus performance, have all taken the market by storm introducing new levels of optical results and, most importantly, with awesome value for your money. After the success of the 35mm f/1.4 DG "A" HSM, with impressive sharpness around the edges, much have been expected from Sigma.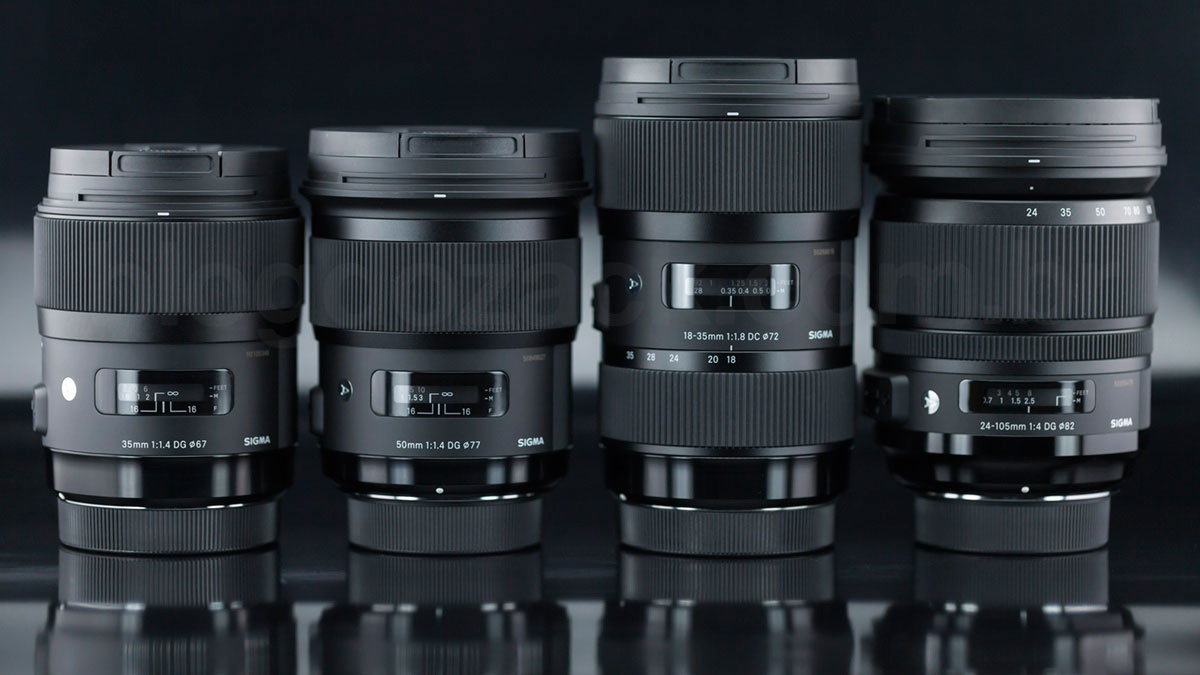 An identical specification to the very popular EF 24-105mm f/4L IS USM (my most used lens), the 24-105mm DG HSM is a walk around, high quality zoom. If you must have a single lens from wide angle to short telephoto, with constant aperture and IS, these is it. As I have no plans to replace my Canon, no matter the performance of newer models, I opted to test the Sigma on the FX D800E, that really pushes the boundaries of the 135 format. Did it work well? Let's find out. Nice reading.
BUILD QUALITY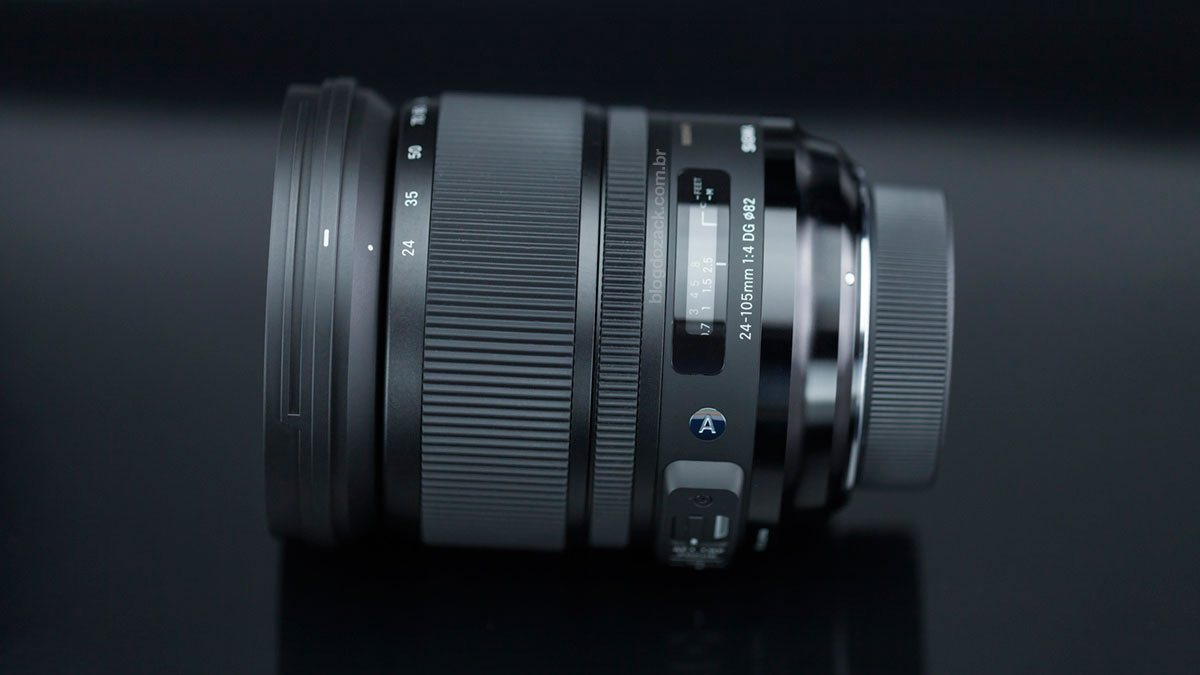 At 885g the 24-105mm f/4 DG OS HSM is considerably heavier than the EF 24-105mm f/4L IS USM at 670g. That's because Sigma chose higher quality materials like metals while Canon's built is mostly plastic. The optical formula is also different with an extra element on the Art lens (19 in 14 groups). Everything is bigger on the DG and you can feel it in your hands. It does balance well with the Nikon D800E, though. Its design is similar to other Art lenses with a brass mount, some metal near at the rear and rubberised high quality plastics on the outside. It's very sober, with no coloured rings.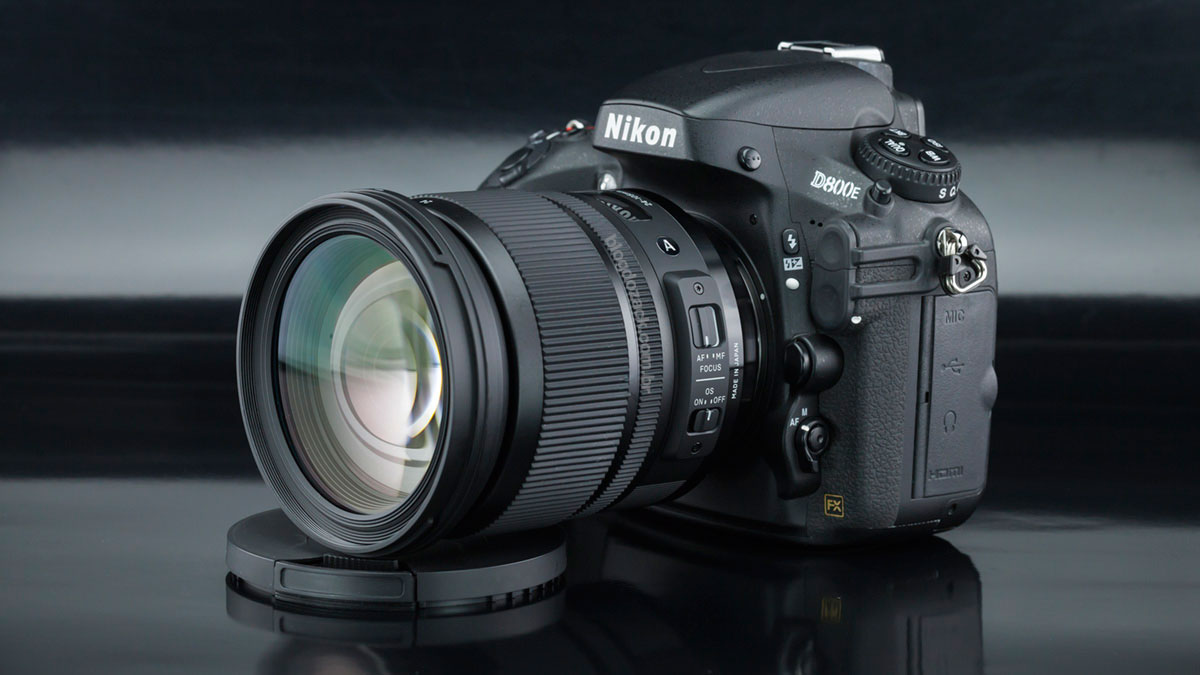 Its operation is simple with one zoom, one focus ring, and some switches for the OS and HSM. The inner tube expands in two stages similar to the Nikon AF-S 24-120mm f/4G ED VR, but it's nicely build and doesn't wobble (avoiding any misalignment). But only time will tell if it was a good design choice. The Canon EF 24-105mm f/4L IS USM has a single inner tube and feels more robust.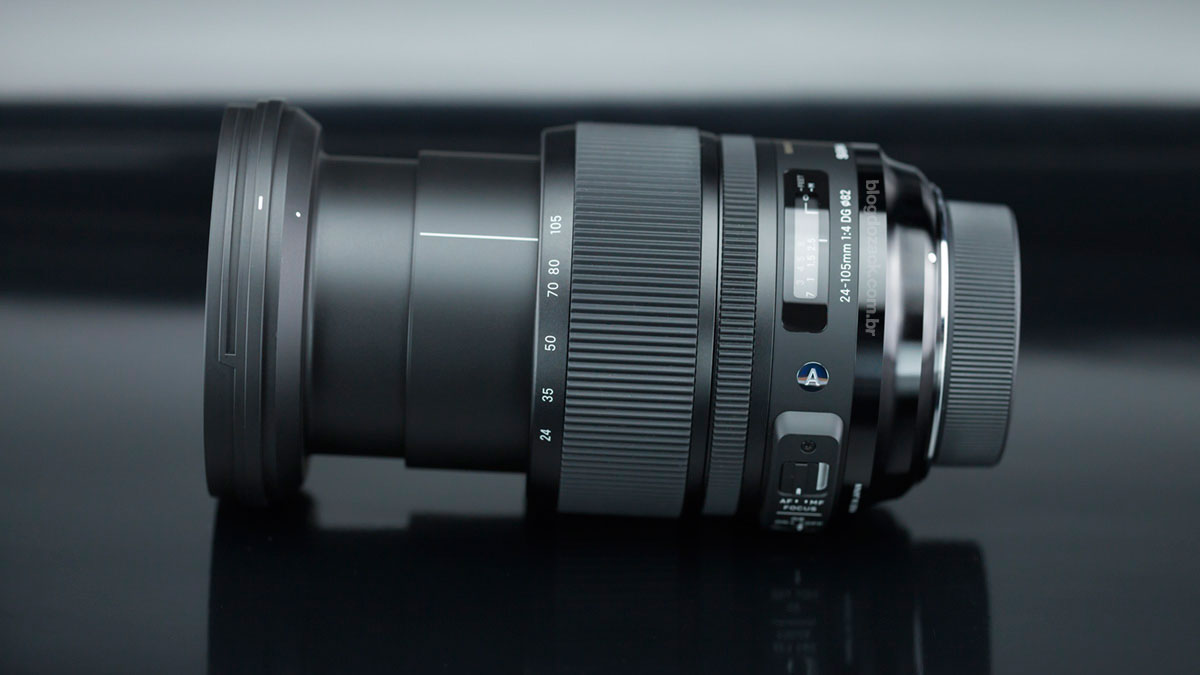 Both rings are very smooth and Sigma's is noticeably better than the competition. The Art lens features a much deeper rubber groove than Canon and Nikon, so it is much easier to turn than the EF and AF-S lenses. And it is at the front, precisely at the center of the lens barrel when fully extended; much better balanced. But the focusing ring is just 6mm thin, too slippery and tough. It's there just to be there, not really useful. At least the 24-105mm HSM motor is silent, fast and accurate. It's quieter than Canon's and Nikon's USM/SWM, and as precise: no D800E photo came out of focus. And the mechanical coupling features the full time manual: at any moment, even at "AF", you can compensate by turning the ring. It also doesn't have any play.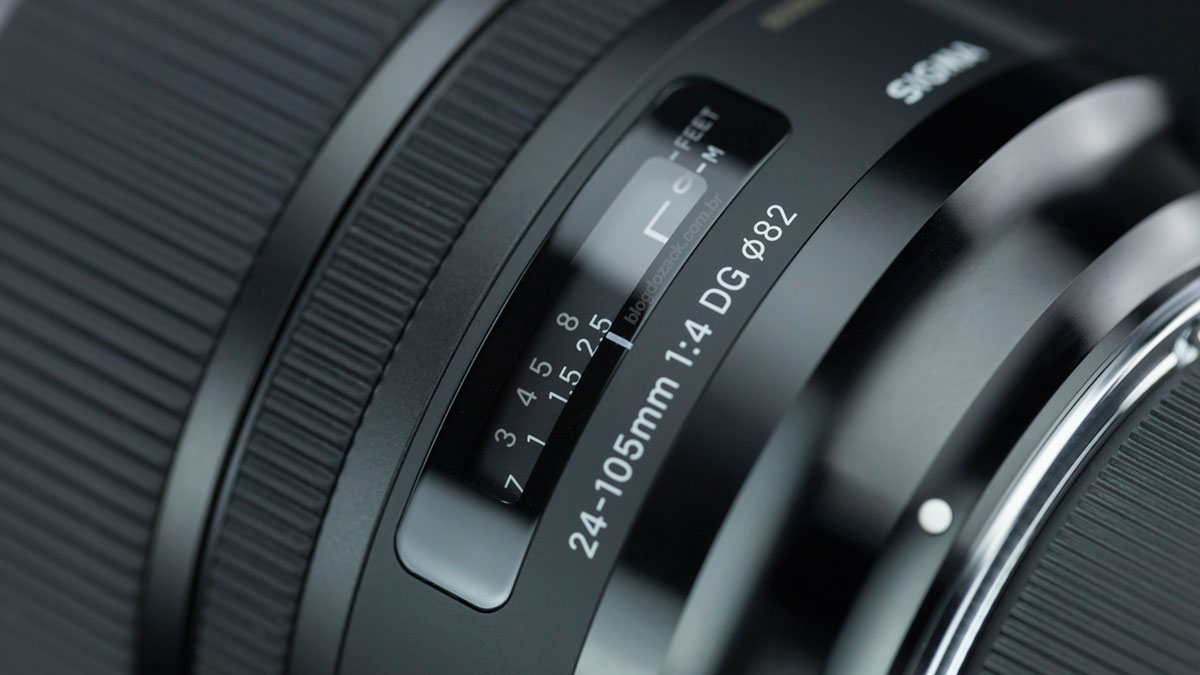 The headline goes to Sigma's four stops Optical Stabilizer. It's 2014 and in my opinion all lenses should feature some form of optical stabilisation, with no marketing fanfare nor steeper prices. I've read it is on at all times, different from EF and AF-S lenses that turns the IS/VR mechanism when the metering is ON; that's why we can't really tell if the OS is working or not, as the viewfinder is always stabilised. But it's quiet and actually very useful on a daily basis, for photos and videos. Very important note: it is not tripod sensitive and must be shut down for long exposures.
At the front the absurd ø82mm filters are very large and expensive. I have no other lens on my kit with such a big filter thread and one of the reasons the Sigma 24-105mm is not on my kit anymore. They say the filters must be large in order to avoid vignetting, which can be true. But between buying a whole new set of filters or keeping the Canon L, I decided to keep the EF lens. And the Sigma 24-105mm f/4 DG OS HSM features no weather sealing and that's one of the reasons it's cheaper than Canon's offering. But nonetheless it can be a great addition to any kit, from amateurs to professionals. Just mount it on your camera and go shoot some great pictures.
IMAGE QUALITY
I'm not a big fan of testing similar lenses because the internet is full of people worried about tinny optical shortcomings that doesn't make any difference on everyday photographs. I evidently don't need to argue that Sigma's optical performance is higher than Canon's because it's much newer: better formula, modern manufacturing, different brand philosophies… But it's better by a very small margin. And the Nikkor 24-120mm is far superior than Sigma's, end of story. So the next commentaries are more about self-assurance for future buyers than benchmark parameters. The Sigma 24-105mm f/4 DG OS HSM is excellent, just like the Canon EF 24-105mm f/4L IS USM and the Nikon AF-S 24-120mm f/4G ED VR are. All their files will be more than enough for large prints.
At f/4 its performance feels the same as other 24-something zooms. It's absolutely impeccable at the center of the frame even on the 36MP monster D800E, generating moiré on repetitive, man made patterns. It's an easy lens to work with because we don't have to keep stopping it down in order to improve its sharpness, that is fantastic under any aperture. Just around the corner it drops a little and it's better to keep your subject centered for the best results, for large prints.
Stopping down to f/8 improves the edges and the depth of field gets longer, great for tridimensional urban landscapes when we want everything in focus. It's great for street photography because the files are detailed, from streets signs to people faces. We reached a level of performance nowadays that certainly surpasses what most photographers need.
The difference between 24mm and 105mm is less noticeable that some "chart shooting" reviews might suggest. I took a photo of the Empire State Building from the street level and we can clearly see some people at the top of the building at 100% crop. I repeat, I have no idea who would actually use that much resolution on a daily basis, and to mention that "the Sigma 24-105mm lacks sharpness at 105mm" would be an epic fail. If you know what you're doing, it's fine for most jobs.
The lateral CA is high on contrast zones and very colourful around the edges, with pink and green lines. It's on the same level as Canon's but higher than Nikon's. And the geometric distortion is as high as any other 4X ratio zoom (105-24=4.3x), barrel type at the wide angle and pincushion at telephoto. It is very noticeable on both ends and require software correction before output.
Good "bokeh" is one of Global Vision's Art promises and hard to be achieved on a zoom lens. But on this zoom it actually looks nice, with a good blend of colours and tone gradients. Most MFD shots (45cm) at f/4 and 105mm, it's easy to melt the background away on a high contrast, colourful composition, great for isolating your subject. The colours are neutral and hard to judge on the D800E. You know I'm a Canon shooter and I'm a bit biased with the EOS coloured science. Everything looks more saturated than reality and colours really pop on .CR2 files. It is just different from .NEF and I only really appreciated Nikon's AF-S 85mm f/1.4G colours so far.
VERDICT
Yet another Sigma Global Vision lens that excites for its specs and price point, rivalling the market best sellers. It's a great alternative to other brands if you can live without weather sealing and with larger filters. If you're creating a Sigma kit, you can put the 24-105mm f/4 together with both the 50mm and 35mm f/1.4 primes. You won't be disappointed and will save some bucks.