Nikon AF-S DX 16-80mm f/2.8-4E ED VR
Estimated reading time: 09 minutes.
August/2016 - The AF-S 16-80mm f/2.8-4E ED VR is a 5x zoom lens made for Nikon's F-mount DX (APS-C) format. Equivalent to a 24-120mm full frame lens, it's thought as a walk around, always-with-you lens. The 16mm wide angle reach is wider than standard 18-55mm kits, nice for dramatic compositions. And the 80mm telephoto is a step ahead, to "close" on your subject, allowing for a shallower depth of field. The aperture is relatively exotic at f/2.8-4, great for low light photography. And its blades are electromagnetically controlled, using Nikkor's "E" moniker. The 16-80mm also comes with other DX's firsts, featuring Nikon's Nano Crystal Coat (prevents flaring) and fluorine coated external glass elements, easier to clean up. The only problem is the price: at a US$1060 MSRP, it's the most expensive APS-C lens ever on Nikkor's lineup. But is it worth it? Let's find out.
BUILD QUALITY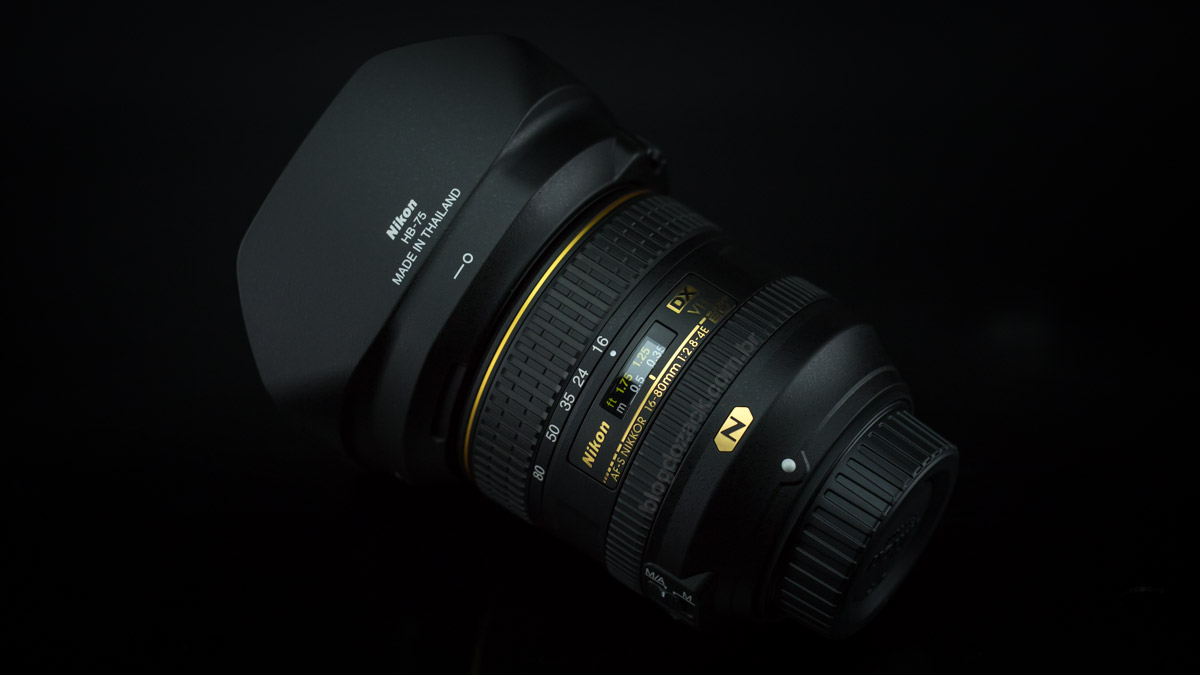 At 80x85mm of 480g, the 16-80mm is one of the biggest and heaviest DX lenses. Although Nikon states it's "the lightest 5x zoom on the market", it's big for APS-C's standards. Comfortable to use with serious cameras, not surprisingly it's offered as a D500 kit. Its high quality plastics marry well with the metal camera body, and they resemble the D800E + AF-S 24-120mm f/4G ED VR handling, just smaller. Its design is a little tacky with golden lettering and rings, with a fair finishing quality: not premium but not trashy. The 16-80mm isn't built as well as other Zoom-Nikkor at such price, but for a DX lens it's good enough. We're not talking Canon L-series here, despite the high cost.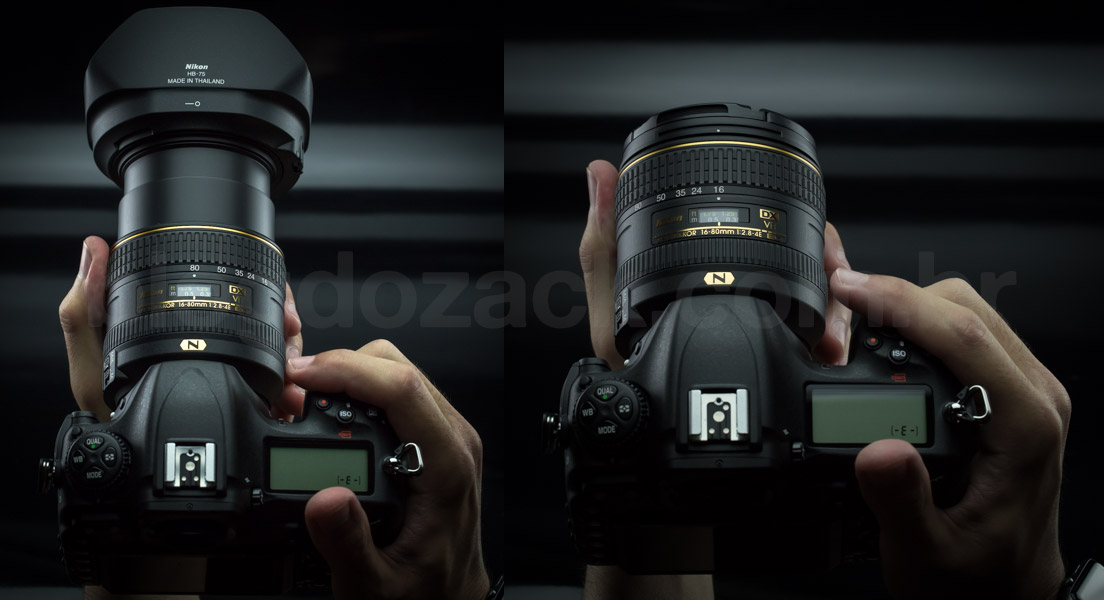 In your hands the barrel width is comfortable for those with longer fingers, with a zoom ring at the front and manual focusing ring at the rear. The zoom mechanism is done by a twin cam setup, with two inner barrels driving the elements from 16mm to 80mm. The zoom ring is quite big and rubberized, with plenty of grip to "open" the lens, in a slightly heavy movement. To go from 16-35mm my new copy is tough, but easier from 35-80mm; curiously easier from 80-16mm. It's not smooth as inner zoom lenses like the AF-S 14-24mm or 16-35mm, but at least it's well built, sturdy even when fully extended. There's little chance for the elements to misalign over time.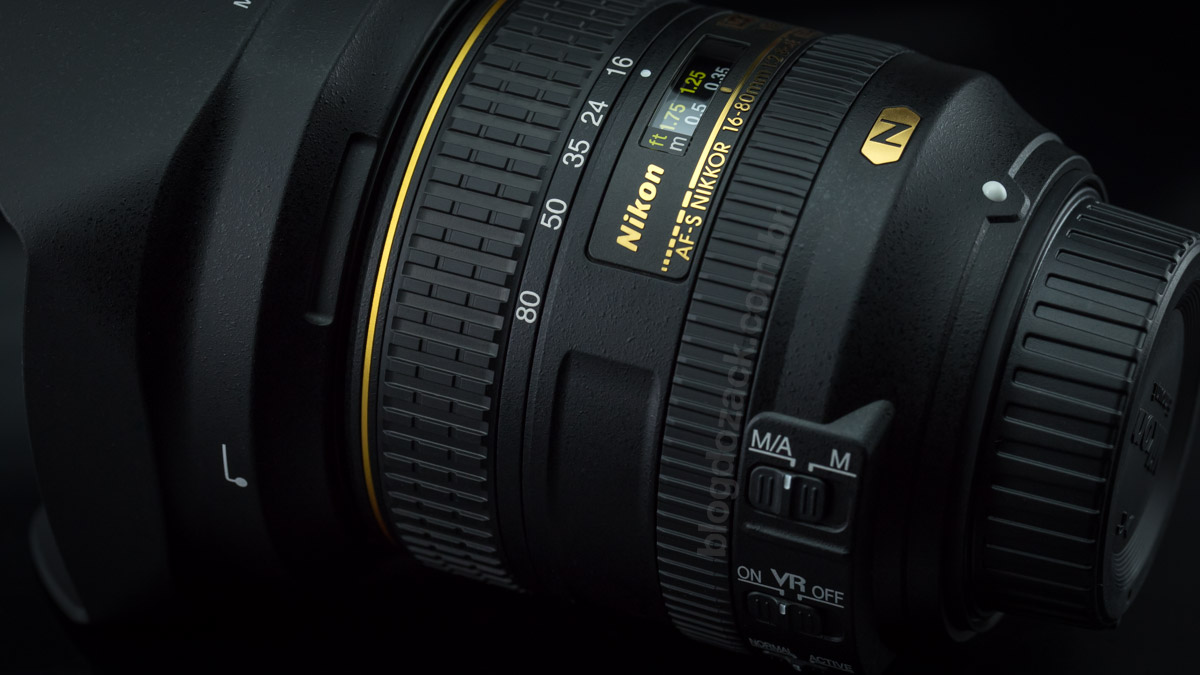 At the rear, near the camera, the manual focusing ring has Nikkor's longtime issues. There's a noticeable lag between the external movement and the focusing group adjustments, making it near impossible to finely tune it. And it's not well damped, feeling harsh from side to side like cheaper lenses. At least it supports full time manual operation, with a M/A-M switch typical of SWM lenses. The motor it reasonably quiet and fast, a pleasure to use around the streets: press the camera button and the lens locks focus fast enough. But it's not instantaneous like the Micro-Nikkor 105mm f/2.8G; if you're in a hurry and the AF point is too far, there're good chances you'll miss the shot. And it's not 100% silent: there's a noticeable robotic "ziiiriiiun" noise coming from inside, heard solely by the photographer and the camera's MIC, unsuitable for video recording.
Inside Nikon also included the latest VR module. Rated at 4 stops, it's a godsend to work at the longer telephoto distances, not worrying with the shutter speed up to 1/4s. However it doesn't play well with videos as it does with photos. On panning movements or even standing still, the module clicks near the correction limits, recording weird bumps all over the footage. It's far from Canon's smooth IS implementation, so beware during action shots. Two modes can be selected, NORMAL and ACTIVE, with the latter compensating for movements made to the photographer (like shooting on a boat). And for the first time I saw an auto-tripod-detection really work: on long exposures with the VR ON and the camera standing, it compensated for minor tripod motion.
Last but not least, this is Nikon's first E lens ever on blog do zack. A leap into the future, E lenses feature an electromagnetic aperture, leaving the spring & lever, 1959 mechanism behind. Up to G (genesis) lenses, you can see a tiny pin popping near the rear lens element, inside the F-mount. A spring holds the aperture blades closed, and the pin keeps them open when you mount the camera. When the shutter is released, the camera releases the pin, and the spring forces the aperture down on a neither fast, nor precise matter. So considering Nikon's newest high speed DSLRs, they finally adopted an all-electronic aperture control, like Canon does since 1987. The only downside is some cameras not being compatible with the new E lenses, even digital models: D1, D2, D40 and D70 series, and D60, D80, D90, D100, D200, D3000 models, plus all film cameras.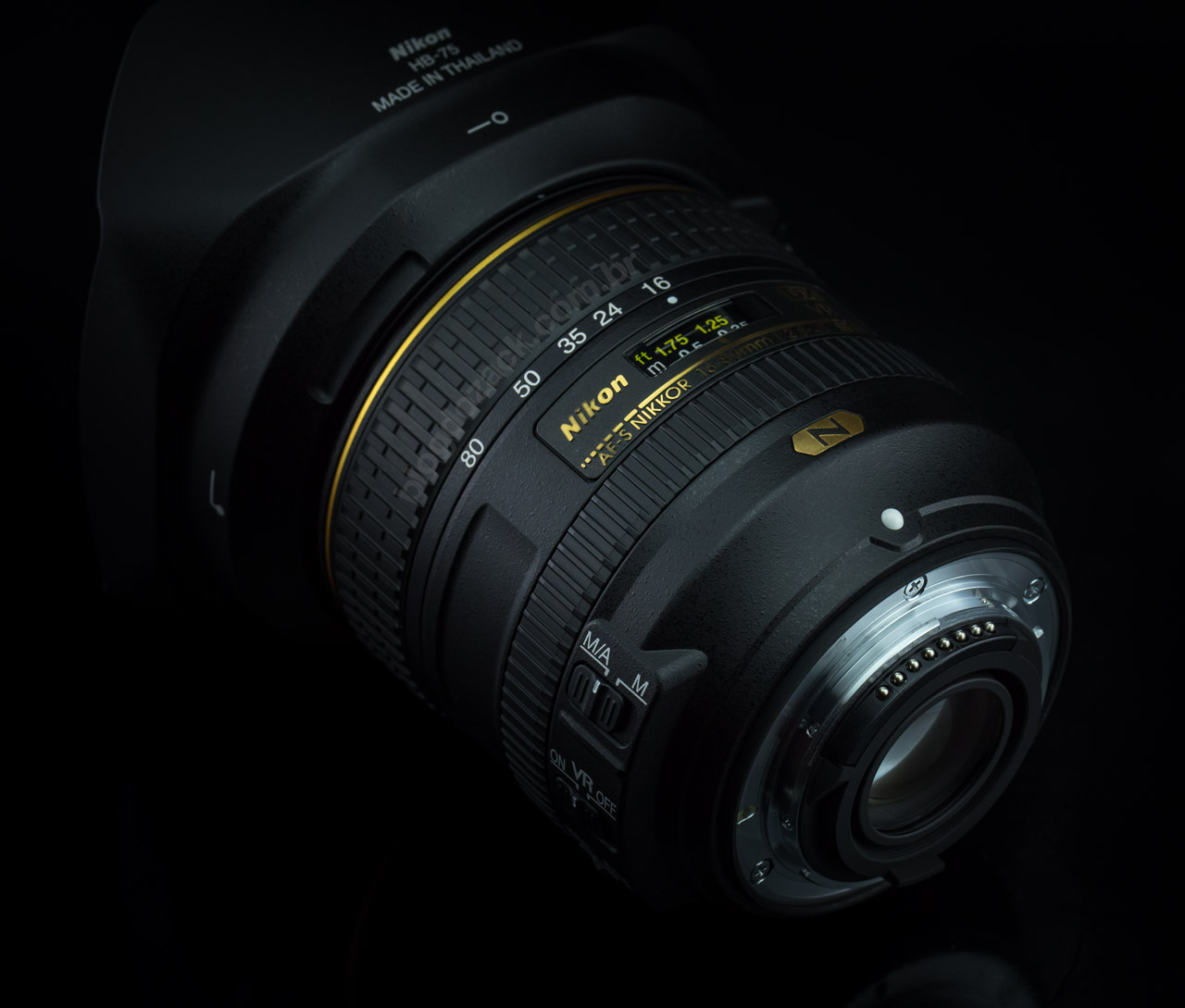 Finally at the front the 16-80mm accepts ø72mm filters on a plastic thread. The front and rear glass elements are fluorine coated, easier to clean, and a rubber gasket sits around the camera and lens mount, although nothing is said about weather sealing. On the D500 kit I got the gigantic HB-75 lens hood, with weird flat sides and, for the first time ever, a spring-loaded lock button, easier to use. Overall the 16-80mm delivers a fair zoom lens: sturdy plastics on its build, reasonably fast AF, the latest generation VR and the new electronic aperture. But the lack of any standout feature makes the US$1060 price tag hard to swallow, and only the images can justify it's purchase.
IMAGE QUALITY
With a very exotic 17 elements in 13 grous formula, 4 ED, 3 aspherical, Super Integrated and Nano Crystal coatings, Nikon aimed to the top when it developed the AF-S DX 16-80mm f/2.8-4E ED VR. And it hit the target (and our pockets): I've never had such sharp files from a zoom lens on a "high density" camera, and with the D500, a camera lacking a low pass filter, it easily surpasses any full frame camera I've ever used. EOS 6D + EF 24-70mm f/2.8L II USM… D750 + f/1.8G primes… Any low-pass equipped camera with top of the line lens can't compare to what the OLPFless D500 + AF-S 16-80mm combo did. It's once again a showcase to what zoom lenses can deliver nowadays: identical or ever better raw resolution, contrast and colors than primes, with easy to fix optical flaws (lateral CA and geometry), with plenty of performance for most uses.
The overall frame resolution is the main headline. From edge to edge, even wide open, files show almost 90% of what the D500 is capable. Only at the far corners, about 2.5% on each side, the 16-80mm shows its zoom origins. In practice it's harder to find an interesting flat subject to show the lack of corner resolution at f/2.8, than to find issues with everyday files. At 16mm the depth of field is wide enough for nightly street photography using low ISOs, very every sign, edge or subject sharp in the frame. The aperture closes down to f/3 at 24mm, f/3.3 at 35mm f/3.5 at 50mm and by 80mm f/4 your subject stands out in the middle of the frame, isolated from the background.
Stopping down one, two stops is enough to match prime performance. It's hard to see any difference between the D750 + f/1.8G prime files against the D500 + 16-80mm I tested on the same locations. Actually, due to the lack of a low pass filter on the DX camera, the zoom files look even sharper than the full frame counterpart. Bricks on build facades, details on peoples clothes around the streets, letters on faraway signs… It's a leap forward any standard kit zoom, made effortlessly by the 16-80mm. Just set your camera to f/5.6-6.3, the optimized apertures and the D500 diffraction limit, for flawless street photography files. Considering its small size and optical quality, it's the best lens for bloggers, travelers and street photographers in need of one high quality lens.
Lateral chromatic aberrations are inevitable when we push the limits of the 16-80 files. But they are minimum: even before software correction, it's hard to notice the colored lines around high contrast edges, that happens mostly when backlit. To tell you the truth, only one of the selected files showed heavy lateral CA, less that most zooms. The same can be said about the geometric distortion. Although obvious after correction, on the wide angle it's visible only in the middle of the frame; top and bottom lines remain straight even before compensations. But on telephoto it's another story: there's a heavy pincushion from 24mm and up, making any straight line fall into the middle of the frame, demanding some kind of software compensation in camera or post.
100% crop, before and after some software lateral CA compensation.
100% crop, it's hard to notice any software improvement as the 16-80E already displays excellent levels of correction.
"Up" at f/6.3 1/320 ISO100 @ 16mm; notice the straight line at the top, even before the correction.
"H&M" at f/6.3 1/200 ISO100 @ 18mm; the yellow line on the street is straight even without software correction.
"Progresso" at f/6.3 1/400 ISO100 @ 44mm; pincushion near 50mm.
"Cortiço" at f/5.6 1/80 ISO450 @ 52mm; notice the lines "falling" on to the center frame, from the edges.
"Topo" at f/6.3 1/640 ISO100 @ 80mm; it's noticeable even on telephoto distances.
Finally the bokeh is typical of a many-elements zoom, the only reason to add a prime lens to your most used focal lengths. Background highlights turn into strong edged circles, giving weird shapes to neon lights. Although it makes a good job isolating your subject, you can clearly see what the background elements were (signs, people, lamp posts), the longer the distance between subject and photographer. Only near the minimum focusing distance (35cm) and at 80mm, the bokeh is smooth and pleasing, good for flowers and small subjects. But unfortunately the optical performance drops at such an extreme setting: the contrast suffers due to the spherical aberration, demanding some post-processing boost for high impact images for printing or web output.
VERDICT
Honestly the best zoom ever for the APS-C format, the Nikon AF-S DX 16-80mm f/2.8-4E ED VR delivers a bold product in various ways. The build quality is fair and its usability is reasonable, flirting with a low-end experience, demanding a lot of wishful thinking to swallow Nikon's price tag. Its features are also food for thought: electromagnetic aperture incompatible with some cameras, a bad VR module for video recording, and a so-so AF performance. Yes, the optical perfomance is great, maybe excessive: more than enough resolution for a walk around lens, that will rarely see any of its images on print. So it's a hard thinking that makes my head spin: how can I recommend it for US$1060? Is it optically perfect? Yes, but who cares? With the D500 kit it came as a US$500 "extra"; a bargain for the best 5x zoom in history. But for a standalone purchase? It's a tough cookie to sell. The US$1060 are obviously cheaper than purchasing all primes, there's no doubt about that. But for the rest of us, the 16-80E makes sense only when offered as a kit. Nice shooting!