Sigma 17-50mm f/2.8 EX DC OS HSM
Estimated reading time: 09 minutes.
February/2017 - The Sigma 17-50mm f/2.8 EX DC OS is one of the most requested lens on vlog do zack. Replicating the large aperture spec (for a zoom) from first parties Canon EF-S 17-55mm f/2.8 IS USM (US$879) and Nikon AF-S DX 17-55mm f/2.8G IF-ED (US$1496), the US$399 Sigma is a tempting option for those looking for a large aperture zoom, but can't really afford one. A lens that for a long time I refused testing, waiting for a Global Vision update (Art, Contemporary or Sports), I got tired of waiting and decided to add it to the blog, in order to see if the manufacturer still delivers high quality products on its older EX "excellence" lineup, as various models haven't got revamped to a Global Vision design. With a full 1 stop advantage over the excellent Sigma 17-70mm f/2.8-4 DC Macro OS HSM, a part of the Contemporary line, does the 17-50mm f/2.8 is worth the aperture? And how about its optical performance, is it enough for today's standards? Let's se!
BUILD QUALITY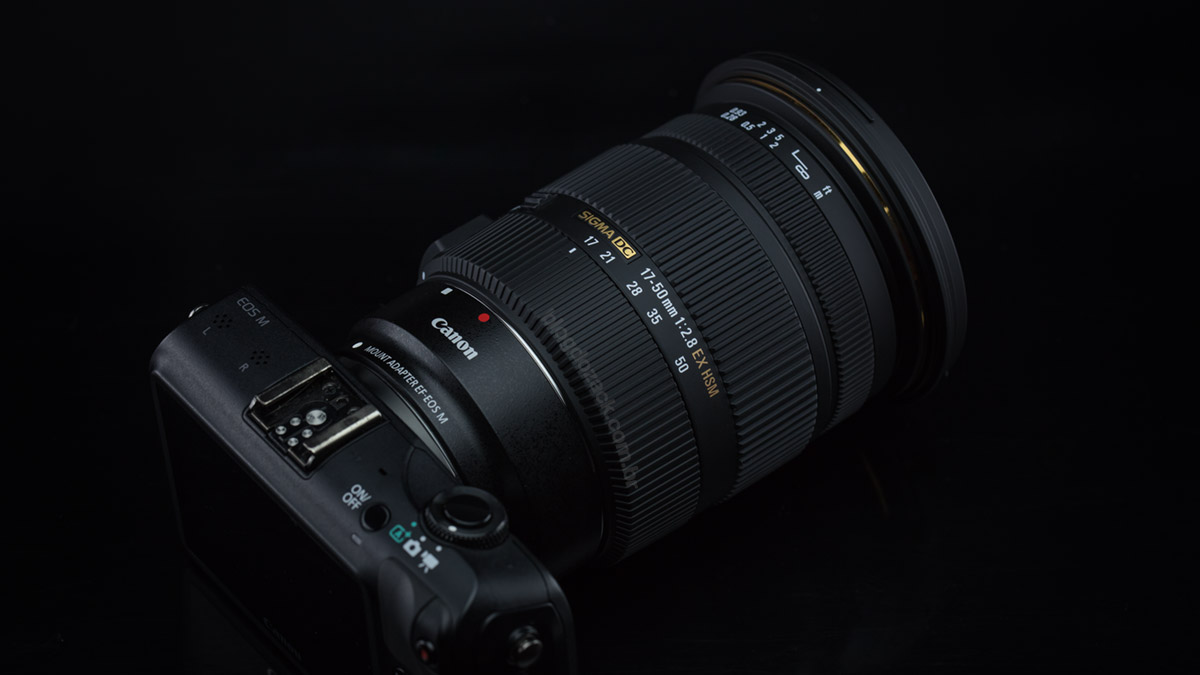 At 8.3 x 9.1 cm of 565gr of mainly plastics, the first thing we notice on the 17-50mm EX is the return of Sigma's tacky design, full of unnecessary elements. Coming from recent Canon EF 24-105mm f/4L IS II USM and EF 16-35mm f/4L IS USM reviews, both with streamlined designs and linear tubes from mount to front filters; or even Sigma's own 150-600mm Contemporary and 50-100mm f/1.8 Art reviews, the 17-50mm is an ergonomic nightmare given its various steps, all embellished with golden rings and markings that won't stand a month of work before scratching. While it's reasonably tough with solid barrels and rings, better than some Canon EF-S's, it's distinct on Sigma's current lineup, as it's not as elegant as newer Global Visions. Overall the 17-50mm works for what it is, considering the price, although it's deliberately outdated by the tacky design.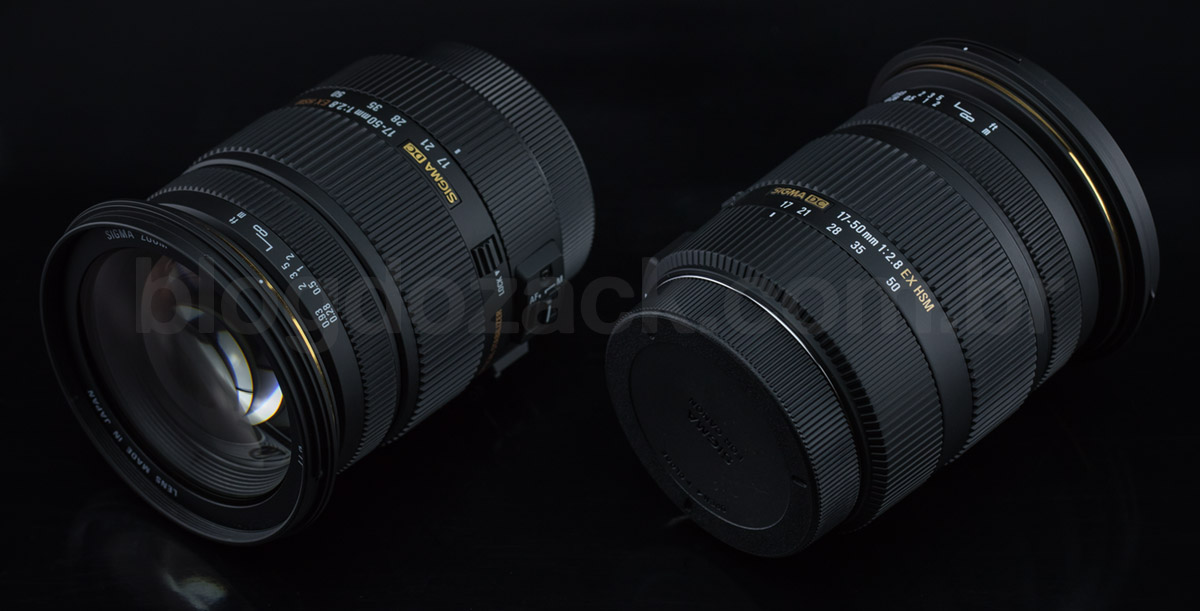 In your hands the ergonomics are a mix of pleasure and chaos, given the smoothness of some rings; and the questionable corner-cutting decisions on others. As it's small at just 9cm when closed at 17mm, the zoom ring sits at the middle of the main barrel, turning counter-clockwise (even the EF version) at about 45º; not too tough, not too lose, I'd say perfect given the precision. The internal barrel expands about 2.7cm to the front at 50mm, and the overall balance is great with APS-C cameras; an advantage over larger full frame cameras. However at the front the manual focusing ring doesn't support the full time operation and, besides needing to be disengaged from the motor via a switch, it is connected to the motor during AF; is spins on the outside, greatly reducing the area we can grab on to. It was the same complaint on the 17-70mm Contemporary tested on the tiny Canon EOS M, as there's almost no room to support the lens.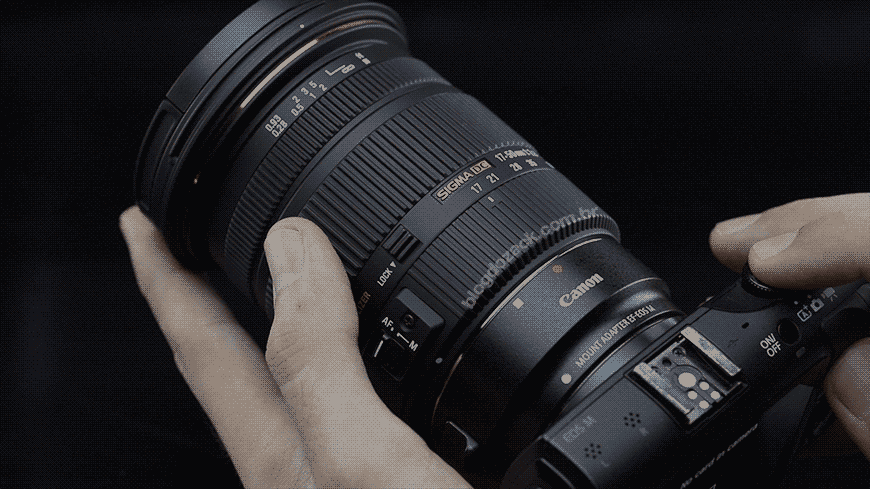 Inside Sigma implemented two automatized motors, one HSM (hypersonic motor) and other for the OS (optical stabilizer), that again are a mix of good and bad. The headliner without a doubt is the stabilizer: with up to 4EV, it's implementation is flawless for its silence, speed and precision, in fact compensating for the camera's movement that, working together with the large aperture, allows for clean shots even under low light. It's also excellent when recording videos, giving a new dimension for handheld shots that are now stabilized, leaving the always-hard-to-carry tripod at home. But the focusing motor is not the best, as it's not very fast nor silent, once it uses a simplified version of the HSM: a micro motor turns internal clogs that, again, spins the outer ring, and the overall usability is harmed on this EX lens; that should be Sigma's best. If focusing is too important for you, then the first party options are indeed better, with USM at Canon's and AF-S at Nikon.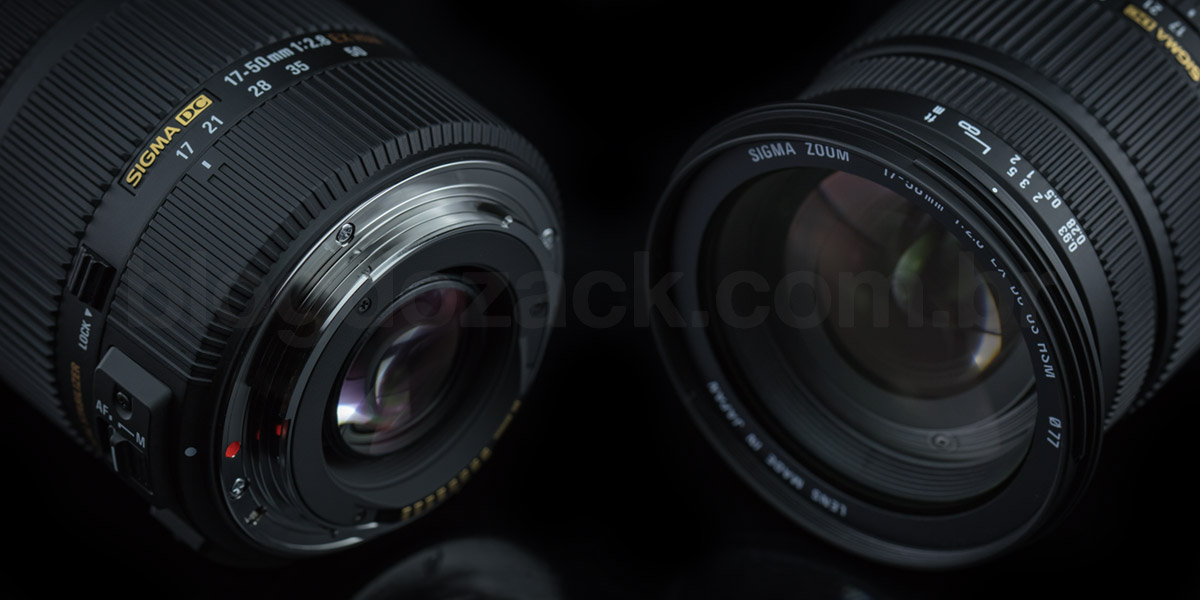 Finally at the front the 17-50mm f/2.8 grows to a plastic bump, that holds the large, vignette free ø77mm filters on the inside; and offers a thread to attach the included lens hood. As there's no room for a distance window, Sigma opted for printed markings on the focusing ring, spread at just 30º from 0.28cm to infinity, lacking precision. At the rear, the large glass element sits centered at the metal mount, that completes Sigma's good build quality, whereas there's no weather sealing gaskets to be seen; it's probably a good idea to cover the lens when using under light rain or dusty environments. The 17-50mm f/2.8 gets us for its practicality and reasonably good build quality for the price, and it feels like an upgrade to most enthusiasts kits. It's not built like a tank nor your paying (nor carrying) one, but it gets the job done, the same as more expensive first parties.
IMAGE QUALITY
With a 17 elements in 13 groups optical formula, three aspherical (two glass-Mold and one hybrid), and two FLD (compound that Sigma promises the same performance as flourite, used on some high end Canons), the highlight of the Sigma 17-50mm f/2.8 EX is the high technology glasses, that indeed deliver resolution, contrast and sharpness that I didn't see on "oficial" products. The Canon EF-S 17-55mm f/2.8 IS USM, for example, never impressed me for it's "fogged" wide open shots at f/2.8, going against the large aperture spec as it just works when stopped down; eliminating any f/2.8 advantage. But this Sigma is indeed miles ahead: the details are sharp, no matter the aperture, focal length or focusing distance, practically an "Art" quality rating; with just a few chromatic aberration flaws, that are hard to happen. Overall the Sigma 17-50mm f/2.8 EX DC OS is one of the best "everyday" APS-C lenses, together with the also excellent 17-70mm f/2.8-4 DC OS; and it's curiously hidden on the older EX "excellence" lineup, with a great value at just US$399.
At f/2.8, the Sigma 17-50mm has some moments of brilliance, together with rare flaws shown at its limits. It's very impressive how detailed everyday wide open shots can get, lightyears ahead what Canon delivered on the 17-55mm. This Sigma can render edge details of fine lines, textures, graphic elements and contrast no matter the focal length, be it wide at 17mm or closed up at 50mm; both as sharp as it can get on whatever falls inside the short depth of field. The f/2.8 short depth of field goes against sharp files, as few subjects can fit such a short space, that would rendered along a poor out-of-focus background: halos around bright subjects display the complex 17 elements light path, and they'd be better handled by a prime. However these are difficult situations to happen – 3D subjects, wide open – and they won't get the compliments away from the 17-50: use it wide open at will, that files are sharp almost every time, impressive for a low cost zoom lens.
Stopping down the aperture slightly enhances the contrast and the resolution, peaking as soon as f/4 up to f/7.1, when diffraction takes its toll. On such settings the Sigma 17-50mm behaves like a prime in resolving power and detail rendering, flirting with much more expensive lenses to work with large prints. Precision jobs can be done at the smallest details, even on modern "high density" APS-C sensors, that are now standard at 24MP. It's possible to read street signs at afar, see human hairs across the street, mundane high resolution textures, all with the same quality of larger full frame cameras, but here on the tiny APS-C cameras. And that's the main Sigma advantage: a big-boy performance on a small, light and stabilized package, with a great value for its price.
Chromatic aberrations are not a problem, although visible on complicated light situations. The lateral CA can easily happen on high contrast edges, mostly on buildings facades or organic backlit subjects (think trees against a bright blue sky), that ask for software compensations, in camera or on the computer, prior to printing. On out of focus spots, axial aberrations can be seen on subdue tones, that display colored purple halos on contrast areas, together with a loss in resolution, especially wide open. Although it's all expected from a 17 elements zoom, in reality it rarely happens: the high technology glasses allows us to extract near perfection from this low cost zoom, no matter the smaller glass pieces used on the APS-C format.
Geometric distortions are practically invisible, especially on normal working distances, from 1 meters and above. At 17mm it is possible to see a centered bulge/mustache on straight lines, obvious on architectural subjects or other man made items; but way less visible than full frames alternatives (think 24-70mm). Around the streets it is easy to photograph buildings and symmetrical compositions on the wide angle equivalency (27.2-80mm), that don't need software compensations to look straight, probably an advantage of the oversized Sigma elements. At 50mm a slight pincushion distortion "drops" the lines to the frame center, visible mostly on the horizon. Overall the electronic compensations are unnecessary, as the frame already looks great before them, not losing any resolution from any profile correction. It's very useful for video production when the camera's CPU/brand can't handle the moving compensation when recording the files.
"Portal" at f/2.8 1/40 ISO125 @ 17mm; visible distortion only after the profile is applied.
"EITA!" at f/5.6 1/80 ISO100 @ 17mm.
"Rua" at f/8 1/50 ISO160 @ 33mm; slight pincushion on the middle range.
"Letters" at f/8 1/80 ISO200 @ 50mm.
Finally vignetting, colors and bokeh are all standard on this zoom-standard: they happen when you need them, and it obviously can't compete with most prime. The vignette is very discrete at f/2.8: Sigma did a good job using larger glass elements that render plenty of light around the frame's corners; even larger aperture primes (think f/1.4) suffer more from this issue than this zoom. Colors are saturated and neutral from the multi-coated elements, balanced to Canon's red-ish color science. But the out of focus quality is kind of a mixed bag, sometimes useful, sometimes not. The 7-blade aperture can't really keep a circular shape beyond f/4, rendering an heptagon on highlights. The various aspherical elements show strong edges on the bokeh lights, looking like rolled condoms at close range distances. And when at the minimum focusing distance and at the maximum focal length, the bokeh unites to the poor chromatic aberrations, making the "effect" look even worst. So I recommend using the 17-50mm for what it is: an all-in-focus zoom lens.
VERDICT
The Sigma 17-50mm f/2.8 EX DC OS HSM leaves a good impression, albeit its flaws. The built, design and usability are expected from an EX lens, with sturdy barrels and high quality plastics, operated via cost-cutting mechanical rings (no full time manual), that are welcomed by those coming from a kit lens. Inside, Sigma impresses with it's great stabilizer: it's instantaneous, quiet and quite useful, greatly enhancing video capture. The auto focus won't win any awards for it's speed and implementation, as it's the least modern feature to match the price: a noisy HSM motor spins the outer barrel, not competing with modern USM, STM or AF-S first parties. However the optical formula is always Sigma's headliner with plenty of high-tech glasses to render resolution, contrast and aberrations unmatched for its price, leaving the competition behind. So the 17-50mm f/2.8 EX is an easy recommendation for all, especially those looking for raw optical performance no matter the flimsy usability. Just add it to your kit and nice shooting!