Sigma 17-70 f/2.8-4 DC Macro OS HSM
Estimated reading time: 07 minutes.
June/2015 - The Sigma 17-70mm f/2.8-4 DC Macro OS HSM is one the most interesting lens I've ever mounted on my EOS M. With a hybrid distance between the 18-55mm kit and most wide or telephoto upgrades, it also pushes the aperture further from the measly f/3.5-5.6. You get a f/2.8-4 for effectively doubling the light gathering of your camera, all with a built-in Macro and stabiliser, a perfect companion to APS-C cameras, in a cheap package. Is it worth your money? Let's find out!
BUILD QUALITY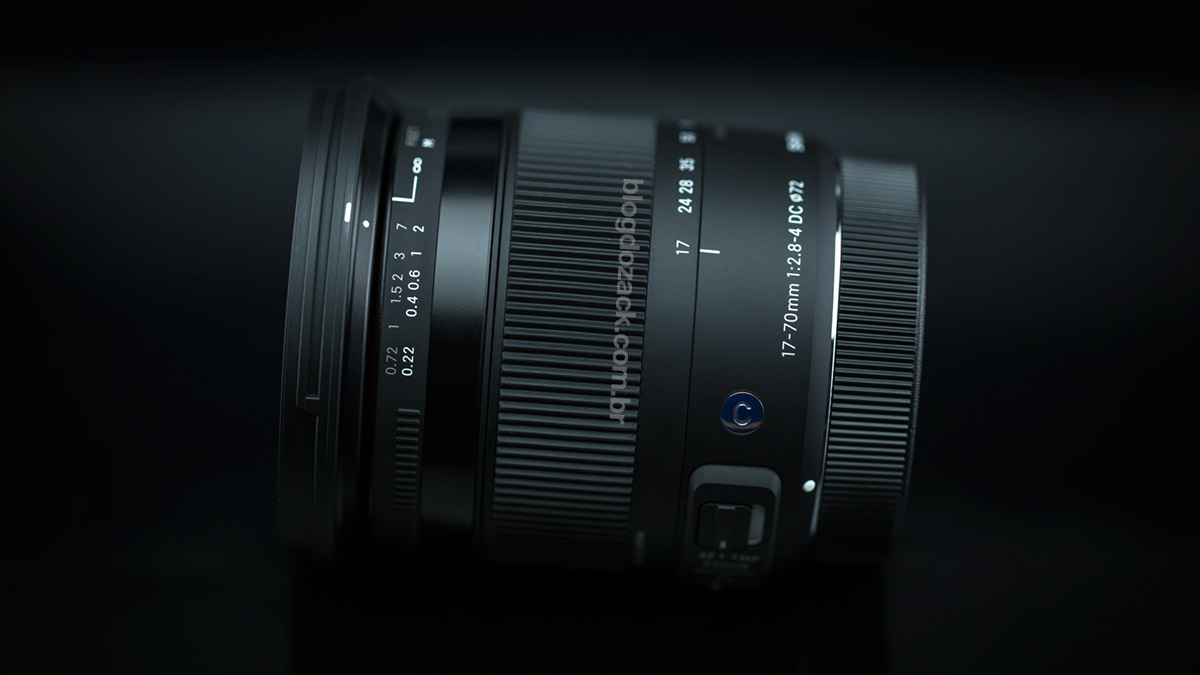 Part of the Global Vision lineup, its design reminds me of a low cost Art lens. It's very elegant: gone are the golden embellishments and we're left with a black and white exterior, with an embossed, chromed "C" badge on the side. But the metal piece near the mount isn't there. The mount is metal, but the base isn't. It's all rubberised, opaque, a pleasure in your hands. But it is asking to be scratched, so be careful. Its headline is the size: at just 79-82mm closed down, it's not much bigger nor heavier (462g) than a regular 18-55mm f/3.5-5.6 that Canon and Nikon offer in most kits.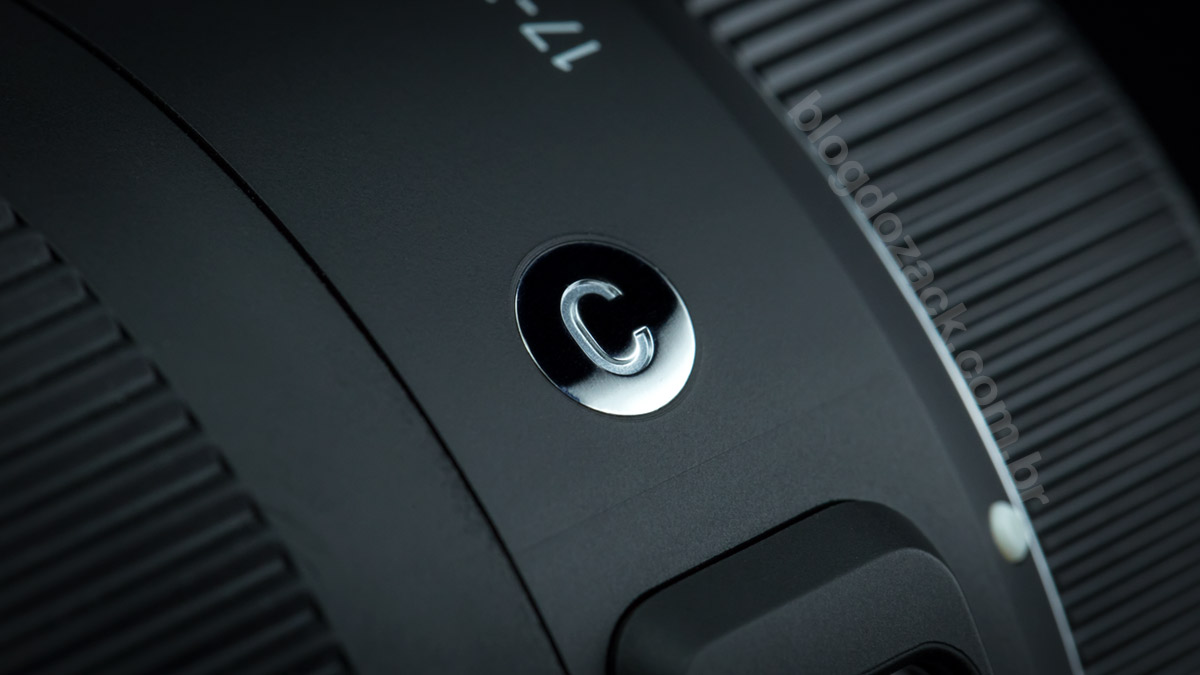 The zoom ring feels like the giant 24-105mm f/4 DG OS HSM. That lens was compared to the Canon EF 24-105mm f/4L IS USM, and the Sigma 17-70mm can be compared to the EF-S 17-55mm f/2.8 IS USM. And the enhancements are practically the same. The Sigma's deep zoom ring grips much better on your finger, for a much more precise feedback. It's well damped and doesn't get faster from one distance to another. The two stage inner zoom barrel expands at 70mm and is well built, and I notice it gets lighter depending on the camera orientation. Point it down to get some help from gravity. But it's well built overall, definitely much better than most entry level Canons.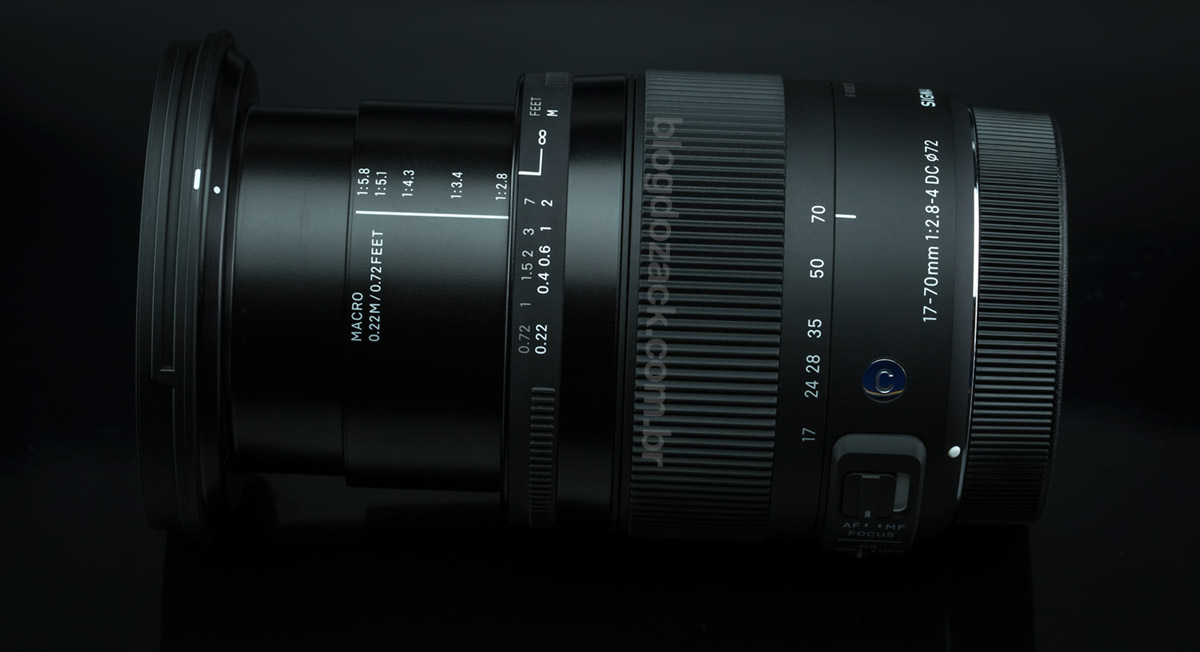 At the front the manual focusing ring is curious. Inside sits a HSM AF, the same as other Global Vision's. But it's smooth and dead silent, and the MF ring spins when the AF is ON, like a ghost. Be careful not to let your fingers touch it while in use because it can force, and damage, the motor. On my EOS M that virtually has no hand grip, I missed a longer lens to hold on to. And unfortunately it doesn't support the full time manual, you must always disengage the ring from the motor via the AF/MF switch. It features hard stops at infinity and minimum focusing distance, and there's a distance scale printed on the outside, great for videographers.
Another curious scale is printed on the telescopic zoom barrel, and it's time explain the ~sort of~ "Macro" that Sigma printed on the box. As the zoom lens "grows" from 17mm to 70mm, there's practically a "built-in bellow" on it, driving some elements farther from the image plane. Some designer use that to build a macro function, like Canon did on the EF 24-70mm f/4L IS USM. But it's not perfect: on this Sigma the "macro" is just 1:28 (0.36x), far from the real 1:1 deal; it's only at 70mm; and at the minimum 22cm focusing distance.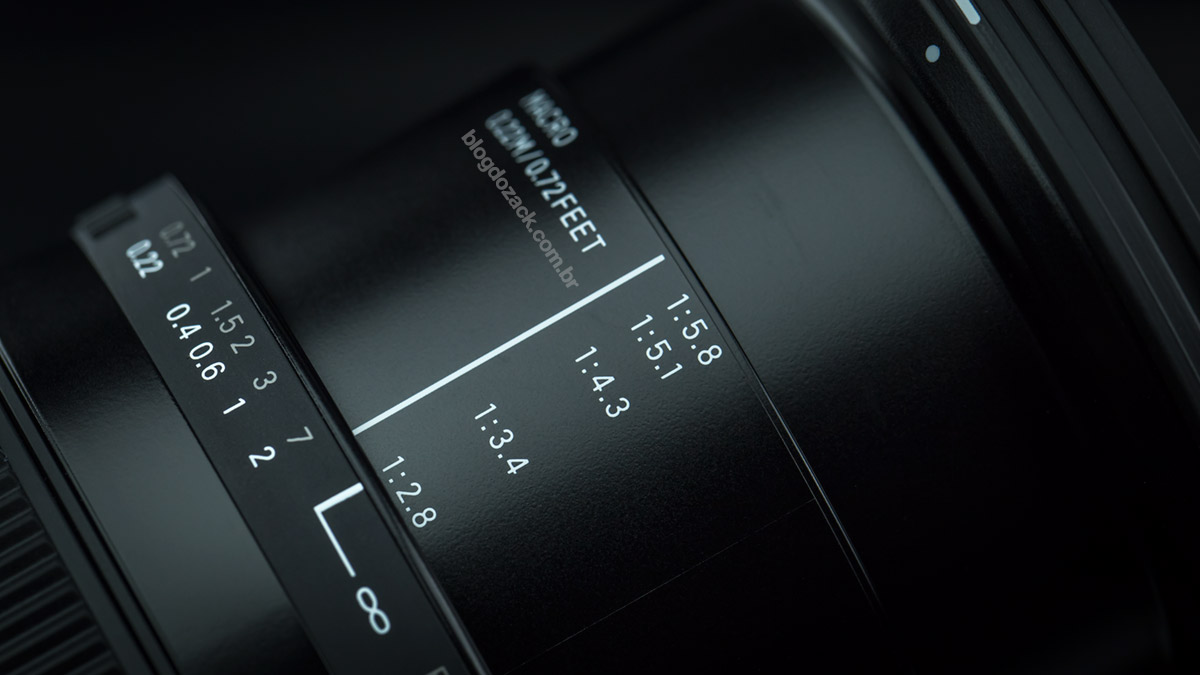 Considering the lens size and working distances, you're left with only 4cm between your subject and front element at 1:2.8. It's not very practical to light it and position the camera. On your hands, the focus changes all the time as much as you try to keep still. And if you're using a tripod for macro, you should really think of a real macro prime, don't you think? In other words, this zoom lens will focus very close when you need it. But it's not really a Macro lens, and it shouldn't be written on the box. Shame on you, Sigma!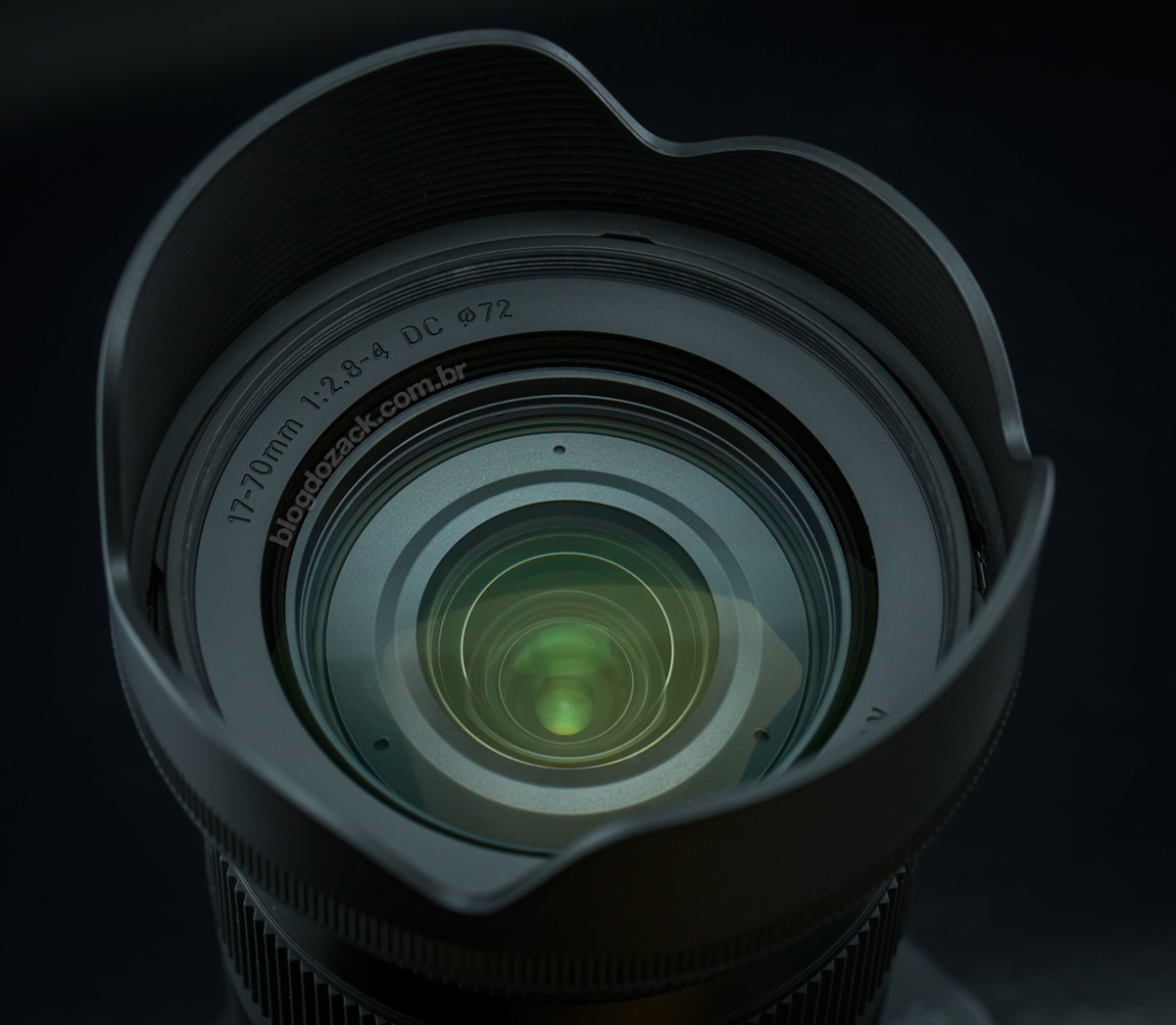 On the other hand the 4-stops OS is great to compensate some shutter speed in low light, or during handheld video recording with less shake. At the front the ø72mm filter thread are big, and the lens hood, included in the box, fits on it's own thread, very easy to use. At the back the metal mount completes the solid, well thought overall build. I don't think I've ever talked about so many features from a single lens, but it's the "Contemporary" philosophy: "featuring the very latest technology, combining optical performance with compactness, our […] line covers a wide range of need". Word from the manufacturer. Mission accomplished.
IMAGE QUALITY
With a bold 16 elements in 14 groups formula, fitted for a high performance zoom lens, two FLD pieces (Sigma's synthetic fluorite) and one SLD (super low dispersion), once again they raised the bar for raw image quality on resolution, aberration control and sharpness. Every zoom shortcoming is there, like heavy later CA around the edges, but easily fixed in post. But overall the frame are very "clean", with a visible "high quality glass" look, for results that rivals most primes.
Starting with the macro function at 70mm f/4, it pushes the lens and the photographer to get a good result. And it's not that bad, if you're shooting details like flowers, fabric and some products, the center of the frame is actually very sharp, with no visible loss in performance like blooming. But some tridimensional subjects do show a bluish halo around contraste edges, near the corner of the frame. It's like a magnifier glass, and that's why I would recommend a prime lens for real macro photography. It works, but I wouldn't use it for professional, high end product photography.
At f/5.6 and any zoom setting, around the streets is the best environment for the Sigma 17-70mm. It's extremely high-res on the EOS M, with files that look from a much more expensive camera or larger format; something I've been noticing from high performance, low cost zooms. Sometimes I wonder if I really need so many full frame bodies when the EOS M is perfect for street photography.
Optical shortcomings are the lateral CAs on contrast zones. It shows on some subjects against strong light, like tree leafs against the bright sky, or some fine details on architectural shots. But it's software correction is virtually perfect, so most brands are actually leaving the lateral CA in favour of higher resolution. And it just happens around the frame, if you're perfectly focused, showing some wavelength before the UV spectrum. Don't call it an issue if there's a solution!
As 70mm is very long and this lens focuses really close, the "bokeh effect" (shallow depth of field) can be a part of your shots. And it works just right. It's smooth, colourful and easily isolates your subject. It's easy to get great portraits without a large aperture prime. And some say (those chart shooting websites) the 70mm is actually sharper than 17mm, with plenty of details.
And we're left with some geometry distortion, typical for zoom lenses but, again, easy to fix in post. Spherical distortion? Didn't see it. Astigmatism? Do you even know what that means when you're street photographing? Really. Keep calm and keep shooting. There's nothing close for US$399.
VERDICT
That brings us to the question: why the hell they're separating the Arts, Sports and Contemporary lines? If it's only for aperture and range, they should make it clearer. As my first "contemporary" I was expecting much less performance, especially considering the price. But #not! The 17-70mm photos are as good as the 24-105mm f/4 DG OS HSM or the 18-35mm f/1.8 DC HSM, both "Art". I understand they're constant or large apertures, but most people are taking the contemporary lenses as lesser products, and it's not the case at all. For US$399 it's another gem from Sigma, and highly recommended. If I had a single APS-C lens, this would be it. Nice shooting!