Sony E 50mm f/1.8 OSS
Estimated reading time: 10 minutes.
May/2017 – The Sony E 50mm f/1.8 OSS is an APS-C only prime lens, with a focal length perfect for portraits. With a 32º diagonal angle of view, it's thought for half body shots, 1m from the subject, enhancing the human figure with flattering proportions, not distorting the nose and the ears. A large aperture f/1.8 spec, its short depth of field is great to isolate the subject, also useful for low light photography not pushing the ISO. But the headline goes to the OSS (Optical SteadyShot) implementation, taking the low light flexibility ahead: with up to 4-stops of compensation, you can leave the tripod at home. At US$299 it's not an el-cheapo "50mm f/1.8", like the ones offered by Canon's (US$125 EF STM) or Nikon (AF-S G US$215); both covering the larger full frame format. But does it justifies the premium price just for the built-in stabilization? Let's find out! Nice reading.
BUILD QUALITY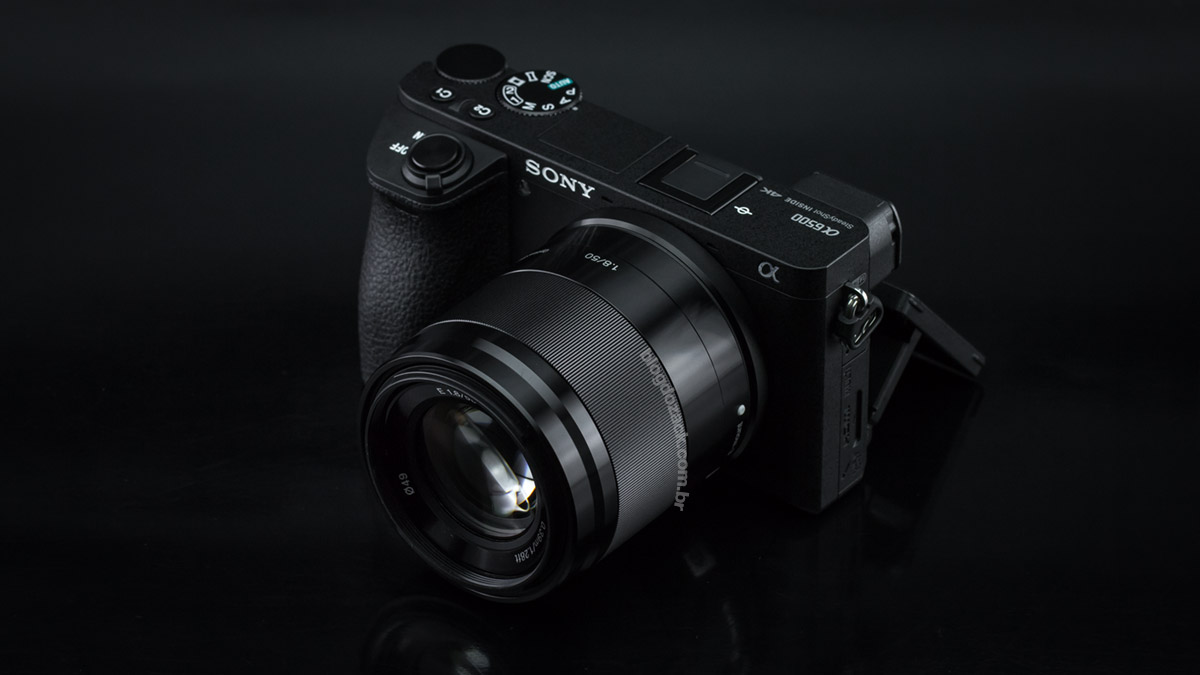 At 6.2 x 6cm of 202g of mostly plastics and metals, the Sony E 50mm f/1.8 OSS is a small and light prime lens, typical of the "50mm f/1.8" market. Although not as short as Canon's or Nikkor's offerings on the full frame format, the Sony E 50mm is really small for 1) an all-internal focusing lens and 2) a stabilized prime, not offered by other brands. The build quality is also far superior to the el-cheapo plastic-fantastic nifty fifties, opting for a metal external finishing matching premium "Alpha" cameras, with a finely textured cover. The E 50mm f/1.8 is indeed one of the most robust 50mm on the market despite its lightness, ready to be with you at all times.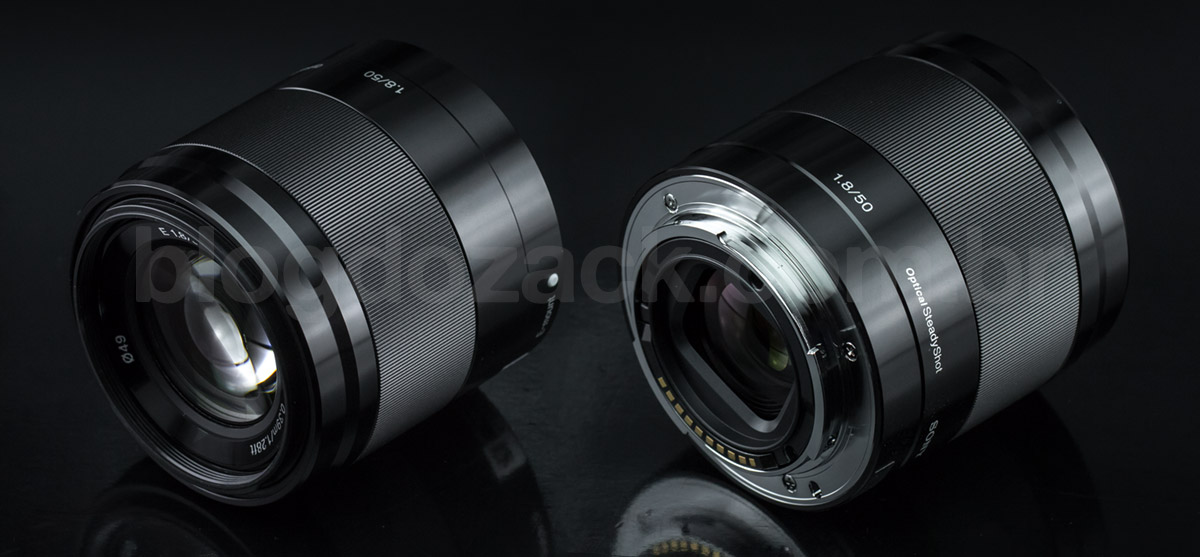 The usability is completely electronic with no buttons nor switches, also lacking a rubberized focusing ring, opting for an all-metal groove. In your hands the ergonomics are perfect with mirrorless cameras, portable in nature, asking for smaller lenses to keep the balance. Mounted on the Sony A6500 it's all very small without being uncomfortable, great to shoot with the OLED EVF at eye level, everything weighting at less than 600gr; putting those used to shooting with full frame 85mm lenses (the SEL50F18 equivalency) to shame. It's certainly an alternative for photographers wanting to get rid of the chores of larger cameras, and it's the APS-C advantage fully realized on the mirrorless market: compact, lightweight and full-featured.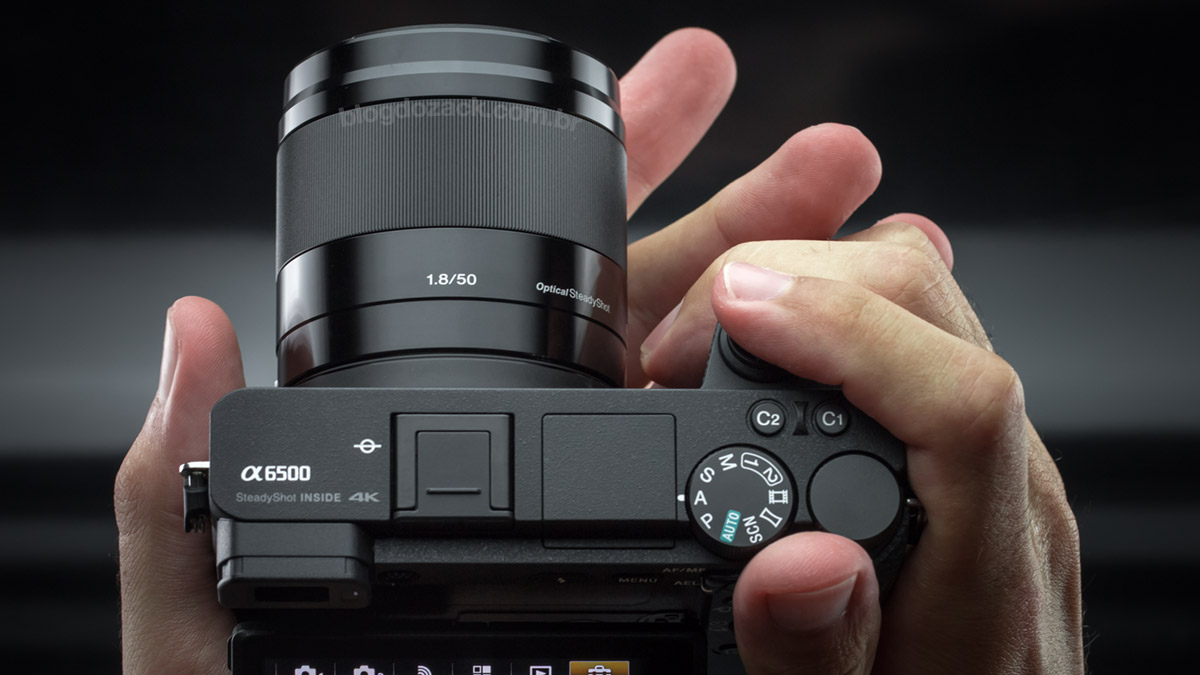 Focusing is achieved via two ways: manually using the 1" metal ring; or automatically using the all-internal linear motor. Given the lack of button or switches, the manual/auto focus adjustments must be set virtually on the camera's menu. For manual focus there's a Dynamic Manual Focus (DMF) option, that works similarly to Canon's "full time manual", allowing for further adjustments in focus after the motor + camera measured the distance. The focusing ring works fly-by-wire via an electronic brush, not mechanically coupled to the internal focusing group, lacking the precision (and speed) of mechanical lenses. However this makes possible to implement a linear focusing motor, that works just like Fujifilm's "LM" lenses: instead of a rotational motor, found on most AF lenses (that can be noisy and generate vibrations), a linear motor uses tracks and magnetism to produce energy and motion; for smooth and instant focusing, is a portable design.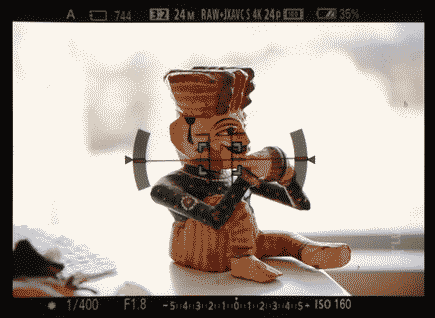 Tested on Sony's flagship APS-C A6500, the 4D Focus with 425 phase-detection points and 169 contrast detection areas delivered mixed results from the E 50mm f/1.8 OSS. When the subject is greatly lit and showing lots of contrast, the camera doesn't "hunt" back and forth, going straight to the correct focus. This can be achieved quickly, as long as the motor doesn't make a big change in position (like from total infinity to minimum focusing distance; that will take a full second, as bad as Canon's STM). What's interesting to see is how these "low-cost" motors lack torque, never being totally instant to focus like higher end USM systems. But as the Sony A6500 features a mandatory "hybrid" focus (phase + contrast detection), the focusing is invariably precise, hardly making any mistakes, much better than the front/back focusing prone phase-detection-only modules from DSLRs. It's also possible the adjust advanced settings on the A6500, like focusing automatically on the subject's eye – not only its face – for picture perfect portraits every time.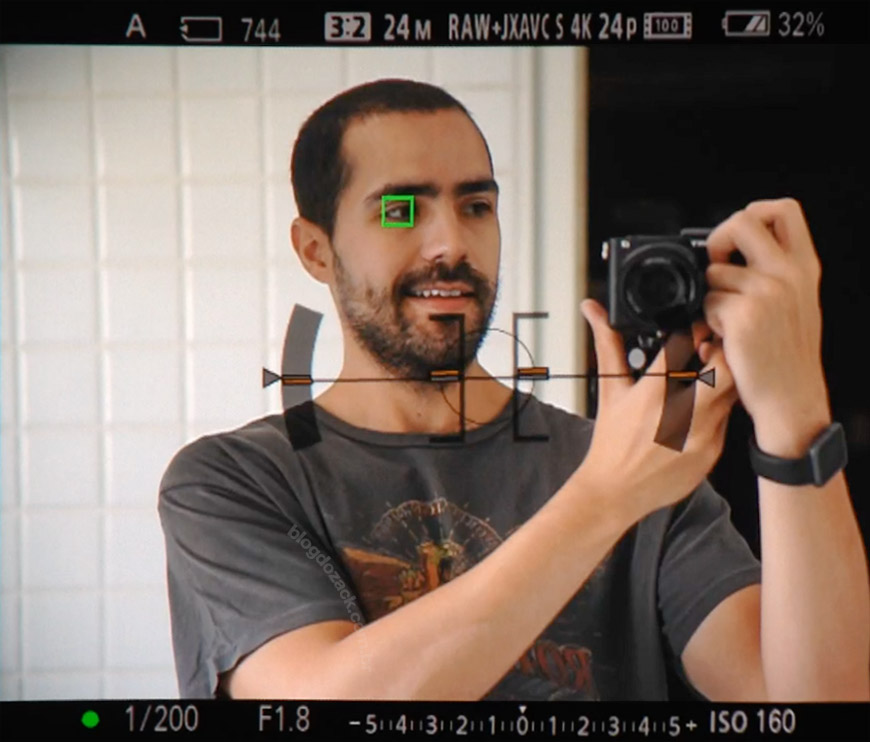 The built-in stabilizer is another technology yet to be seen on DSLR's "50mm f/1.8" lenses, except maybe for the slightly wider Tamron 45mm f/1.8 Di VC USD. A 2011 first, it's still relevant as only the high-end APS-C A6500 features a SteadyShot Inside, making the E 50mm f/1.8 OSS useful for those shooting run-and-gun videos with the A6300 or lesser cameras; or those shooting low-light photos without a tripod. Sony promises up to 4-stops of in-lens compensation, that should allow for 1/4s exposures on the APS-C 50mm equivalency; a standard hardly delivered by this lens. Even tested with the A6500, that promises up to 5-stops using both camera+lens sensors and OSS modules, I could hardly achieve 3-stops; a big let down from the system overall. And during video capture, the results are even worse: there's a noticeable jitter on every capture, not as steady as a tripod or steadycam. And during panning, the camera can't decide which axis to compensate for and which to turn off the compensation, jumping from one side to another. So unfortunately it's hard to recommend it for professional results, making the OSS a secondary purchasing decision.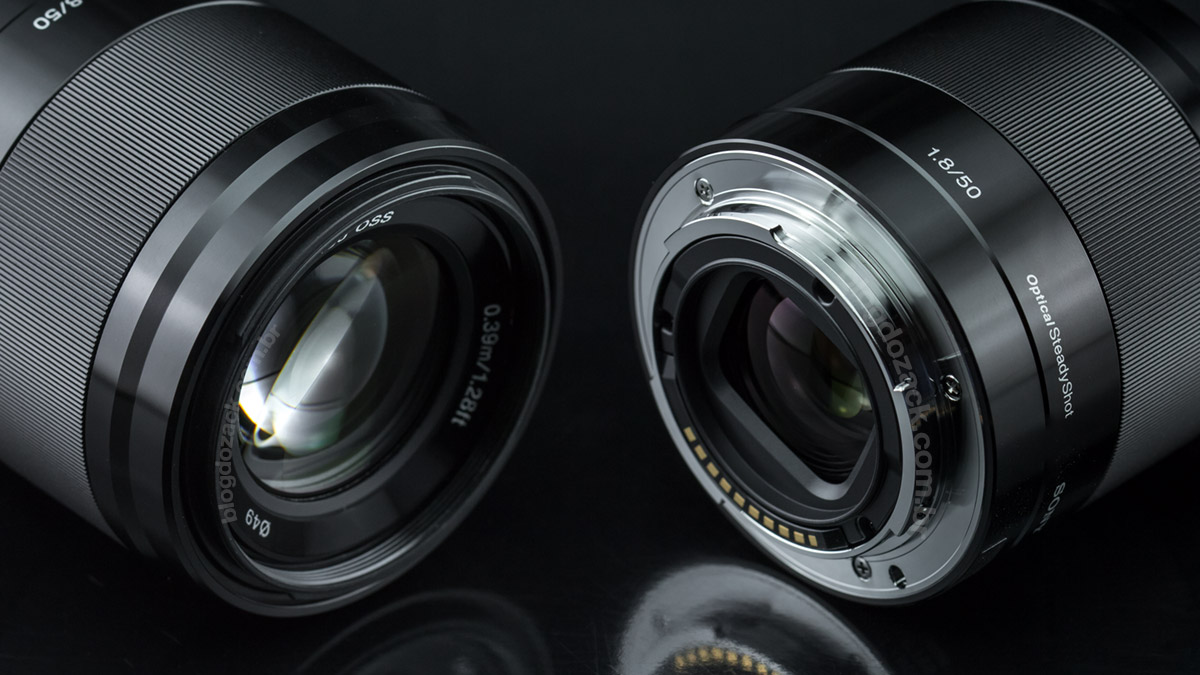 Finally at the front the E 50mm f/1.8 OSS accepts small ø49 filters. They fix on a plastic thread that itself fits inside the lens hood thread, that comes included in the box; it's possible to use both at the same time. At the rear, the metal E-mount feels robust, fixed with 4 screws to the lens barrel, unfortunately making do without a rubber seal; so there's no weather resistance like the Nikon AF-S 50mm f/1.8G nor the Fujifilm XF 35mm f/2 R WR. Overall the 50mm f/1.8 OSS is a product with Sony's expected quality, with a shiny design and simplified ergonomics, interesting for those looking for a premium experience that doesn't try too hard (like Sigma's Art series). On Sony's own E-mount lineup it's beaten only by the FE 55mm f/1.8 ZA, that costs 3X more just to cover the full frame format; lacking the OSS like this APS-C. And as we'll see on its image quality, their similar optics deliver high resolution files on the smaller E-mount cameras.
IMAGE QUALITY
With a 9 elements in 8 groups optical formula, no special composite nor special geometry glasses, the E 50mm f/1.8 OSS delivers impressive results for its price, probably thanks to the OSS design. Given the larger optics used to cover the SteadyShot compensation movements, the 50mm gains a much larger "usable" area, that guarantees sharp captures from edge to edge; an advantage of the much larger full frame 135 format. The files are high-res no matter the aperture or working distances, afterall this is one of the longest (mechanically) "50mm" we've seen (because of the OSS), despite the 0.39cm minimum focusing distance (Canon's STM is just 0.25cm); never taking the optics to the limit. The 7-blade rounded aperture makes the out-of-focus background as smooth as possible, comparable to f/1.4 lenses that also use as many glass elements. It's a "big boy" performance on an easy to use package, an example of what the APS-C market can deliver.
Wide open the E 50mm f/1.8 OSS almost always delivers resolution and contrast, that combined make for great sharpness; one of the best in the market. It's easy to see texture details despite the very short depth of field, that shows more axial chromatic aberrations than a lack of resolution, thanks to the larger glasses used by the Optical SteadyShot. As the image plane isn't 100% plane, once the axis moves to compensate for the hands movement, it's easy to see colored bubbles in-front-of and at-the-rear-of a sharp f/1.8 plane, typical of large aperture lenses when used wide open. The overall contrast begs for software compensations for dramatic shots, but it's never truly poor compared to most "low-cost" APS-C lenses. It's actually very close to the clinical FE 55mm f/1.8 ZA, just not in chromatic aberration handling and, of course, astronomical price.
Stopping down to f/2.8 exponentially enhances resolution, perfect for precision work like landscapes and textures. Peaking between f/4 and f/8, the E 50mm f/1.8 OSS is excellent to compose wide landscapes in layers, not distorting the lines like wide-angle lenses. The resolution is so high that we can truly see the power delivered by Alpha's A6#00 CMOS EXMOR, with detailing as good as cameras not sporting a low-pass filter, besides it being present on these models. It perfectly renders faraway tree and rock textures, incredible for large printing, especially when shot using low ISOs. Besides photos, the resolution is welcomed for 4K UHD 3840X2160 videos (Alpha A6300 and A6500), that asks for higher-end glasses to really resolve so much resolution. It's a performance level yet to be delivered by Canon and Nikon, that don't offer stabilized 50mm primes nor 4K cameras at this price point; Sony is on a league of its own.
Chromatic aberrations happens mostly when wide open and just on the Z-axis, near the focal plane. Flirting with double-Gauss formulas, the lateral CA is invisible on the E 50mm f/1.8 OSS, perfect to shoot high contrast lines near the frame borders, not showing weird magenta/green lines like most wide-angles. But unfortunately we see heavy color aberrations on the bokeh, that render any graphical (like signs) or chromed (like products) elements filled with color bubbles; begging for software compensation even for web output. It's a standard issue with large aperture primes: Canon, Nikon, Sigma, Tamron, Zeiss etc all show this problem below f/2, only to a lesser degree on lenses costing US$900 or more; and this US$299 Sony doesn't fit that group.
Other distortions are kept to a minimum, like the perfect geometry no matter the working distances; the visible flaring only when you want it to happen; and the discreet vignetting when wide open. The horizon always looks straight on the E 50mm f/1.8 OSS landscapes. Urban portraits that may use architectural lines to frame the subject make good use of the minimum distortion, an advantage of the 50mm over wider focal lengths. Internal reflections might happen under strong backlit situations, like the sun behind the subject, or inside the studio using the flash as a rim light. But it looks good during video captures, with diagonal flares moving from one side to the other in the frame. The vignetting is also reasonably low, another benefit of the over sized optics that support the optical stabilization. Near the frame edges the exposure might get a bit darker, but it's less than 1-stop; much superior to cheaper optics that render a "peep hole" effect.
Finally the colors and the bokeh are mixed on this Sony. Actually the colors have been improving, depending more on the camera's technology. Here tested on the A6500, the reds, oranges and magenta tones are notably more saturated than the A6300, perfect for golden hour shots. The blues and greens are still questionable, and must be balanced prior to publishing. This renders vivid portraits instead of muted tones, a step ahead other Alpha cameras that displayed much different colors from the rest of the market. But it's the E 50mm f/1.8 OSS smooth bokeh that seals the deal for those interested in portraits, with a colorful out-of-focus look, that completely isolates the subject even with busy background. Although under longer working distances we get stronger lines from branches and straight lines, on distances shorter than one meter the bokeh looks great; perfect for headshots with the 75mm equivalency of this APS-C 50mm.
VERDICT
The E 50mm f/1.8 OSS is a surprise on Sony's "E" lineup, made for the APS-C mirrorless. It features a reasonably high-end build if we think about the premium finishing, albeit simple, perfectly matching Sony's form and function. It's operation couldn't be easier with the all-electronic focus and stabilizer, both fast and silent, also working reasonably well despite the measly 3-stop OSS. But the great optical formula due to the OSS implementation makes it unique, easy to recommend for those shooting on E-mount cameras. Be it for short depth of field portraits, making good use of your camera's large sensor, or for creative effects on everyday shots, even under low light, it's a no-brainer on Sony's Alpha E-mount APS-C lineup. Nice shooting!