Canon EF 35mm f/1.4L II USM
Estimated reading time: 16 minutes and a half.
November/2015 - The EF 35mm f/1.4L USM is one of Canon's most respected lenses. On the Luxury family since 1998, it was the first high end example of what the all-electronic EOS system could do combined with the japanese optical expertise. On par with the german Leica Summilux 35mm f/1.4 performance, who invented this spec in the 60's, the EF lens quickly became the pro market darling thanks to its lightning quick AF that no other brand could match.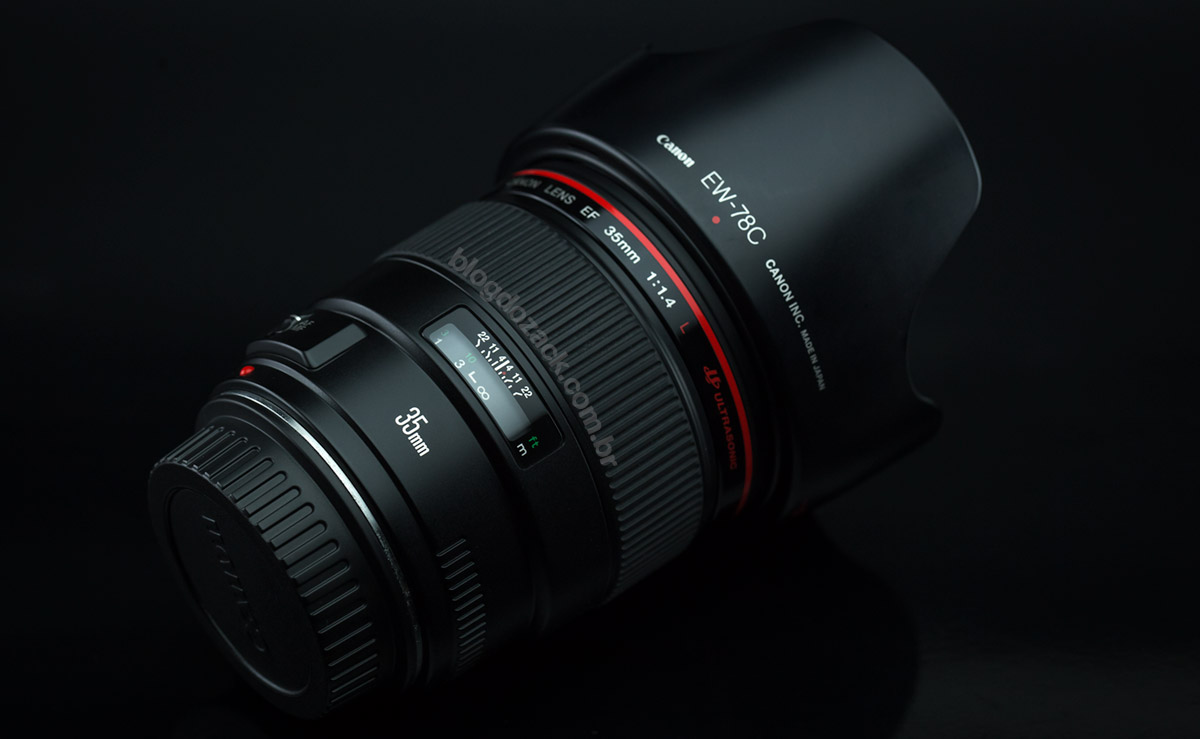 Seventeen years have passed and the Canon 35mm f/1.4L remains on everybody's kits or wish lists. Be it for its solid built or the excellent image quality, it was just until recently it saw its reign threatened by some competitors, at least optically. Notably Sigma with its Global Vision Art 35mm f/1.4 DG HSM (2012 – $899), photographers met new standards of resolution and aberration control, all for a very competitive price. How would Canon respond?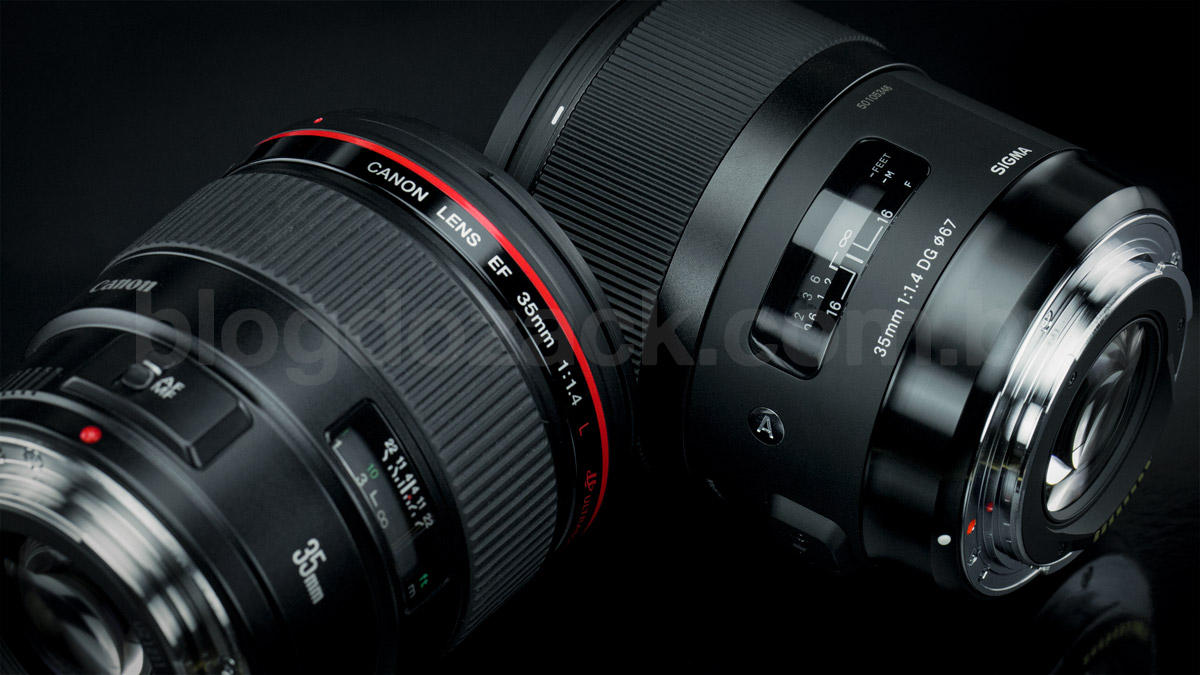 It took everyone by surprise when they introduced the new 35mm f/1.4L II on 2015. With revamped optics, updated design and usability, together with a new technology called Blue Spectrum Refractive Optics, this lens comes to give some breathe room for the EF lineup on the next years. Although there was nothing wrong with the older lens, it does show its age on newer, high resolution bodies like the 50MP 5Ds. But what does US$1799 buys you on Canon's most expensive auto focusing 35mm f/1.4 ever? Let's see. Nice reading!
BUT FIRST: A WORD ABOUT REFRACTIVE OPTICS
On a market in need of flashy headlines and in response to the internet anti-Canon/pro-DynamicRange online platoon, it became custom to hear about some innovative technology when Canon announces a new lens. Like the 2010 70-200mm f/2.8L II IS USM with larger-than-life internal bearings, or the featherlight EF 24-70mm f/2.8L II USM, the EF line has been receiving substantial upgrades to keep Canon at the top of the market.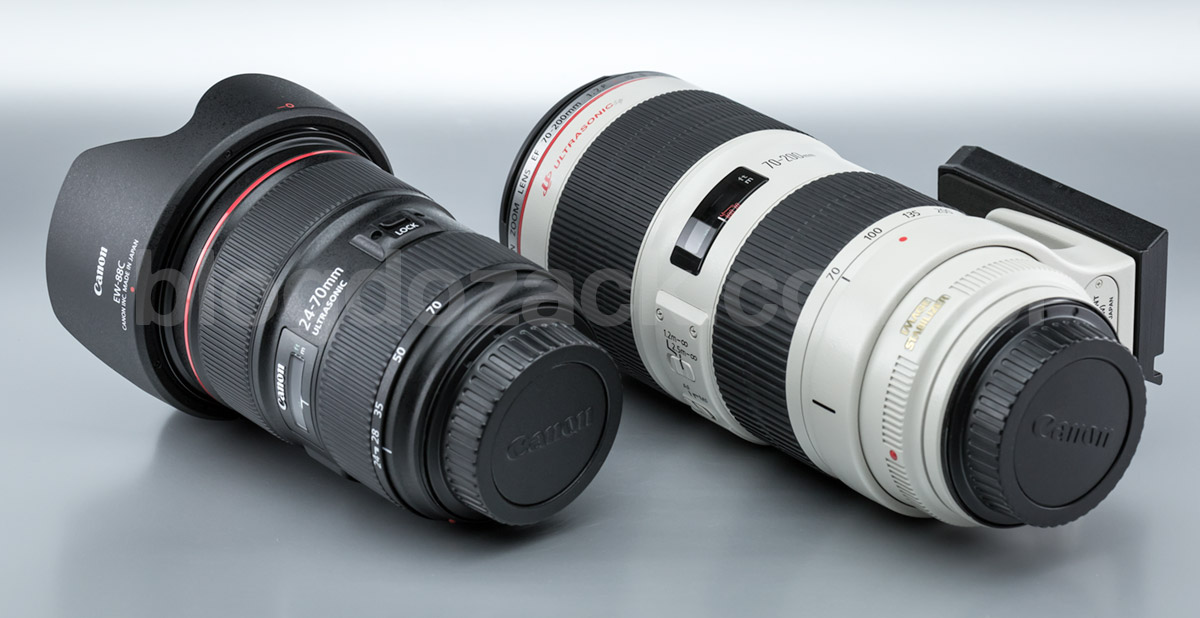 Thanks to it's close relation with photographers, Canon heard us about the issues with the legendary f/1.4L. Specifically about chromatic aberrations, those coloured halos around light highlights on contrast areas, front and backgrounds, Canon knew it had to master light in order to perfect focus the whole visible spectrum, specially the blue 400nm-480mm wavelength that is harder to deal with.
So Canon developed what it's calling "Blue Spectrum Refractive Optics" (BRO), that just like the name says, changes the direction (or refracts…) the blue light. Using an organic material molecularly developed, it is possible to create a new compound lens sandwiching two optical-glass pieces with the BR optics, almost perfectly isolating the light onto a single focal point. It's smoother than a diffractive piece, thus ideal for large apertures lenses that can benefit from smooth bokeh (OOF blur quality).
What's cool about BR Optics is it's a non-glass element, once it's not solid. It's actually some form of goo that is sandwiched between two glass pieces, thicker than a coating, between a biconcave and a convex element. While other brands deal with chromatic aberrations with special dispersion elements and complicated formulas, Canon was the first to think outside the box to solve the problem. And although we're starting at Blue Refractive optics, there's nothing keeping them from using it on red or green… And thinking about organic elements, if you thought fungus were bad for your lenses, this comes with it right from the box. Who would've thought? PS: Nope, BR Optics are not made from fungi. :-)
BUILD QUALITY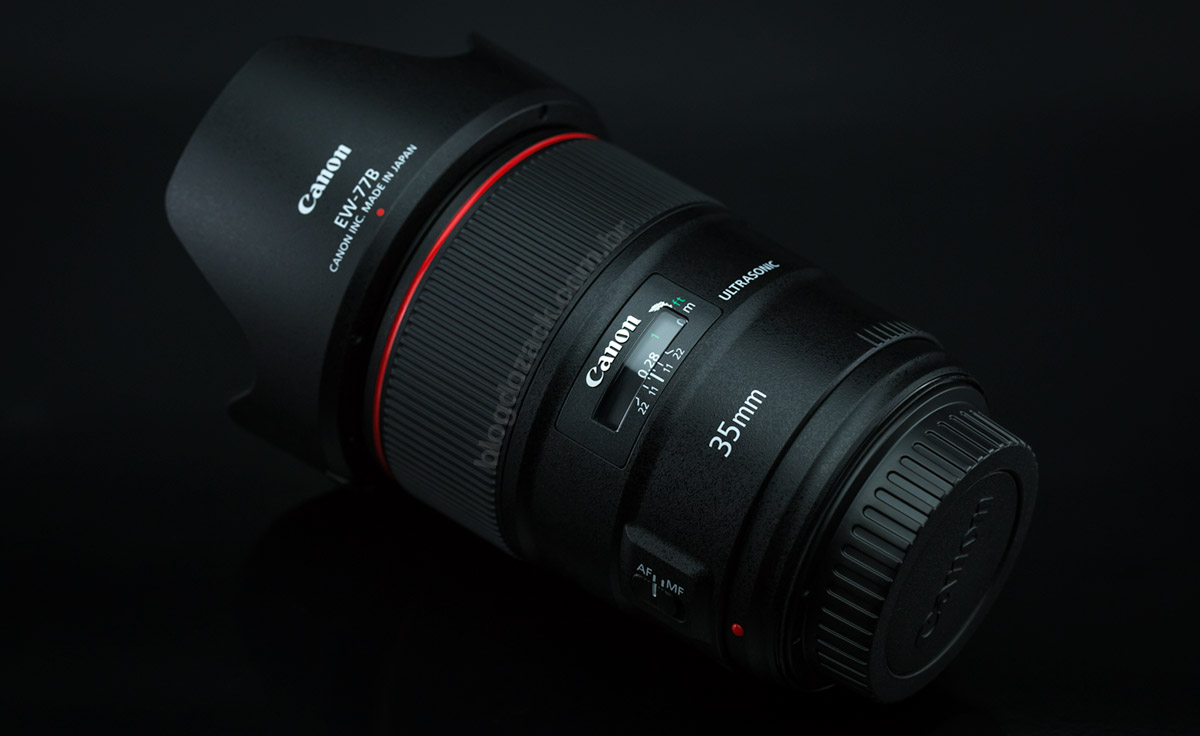 At 80.4×105.5mm of 760g, the first thing we notice on the new Canon EF 35mm f/1.4L II USM is how much it grew in seventeen years. In a single word, it is HUGE. It's almost 1.5cm longer than the original 1998 vintage lens, 6mm longer than the Sigma DG, and much heavier than both L (580g) and Art (665g). I honestly didn't notice with my EOS 6D. But as soon as I held all three in my hands, I noticed how heavy the new Canon is. It's not all bad as it balances much better with magnesium bodies like the 1D and 5D series, and the add length allows for a shorter minimum focusing distance, dropping from the older 30cm to newer 28cm, the closest of the bunch.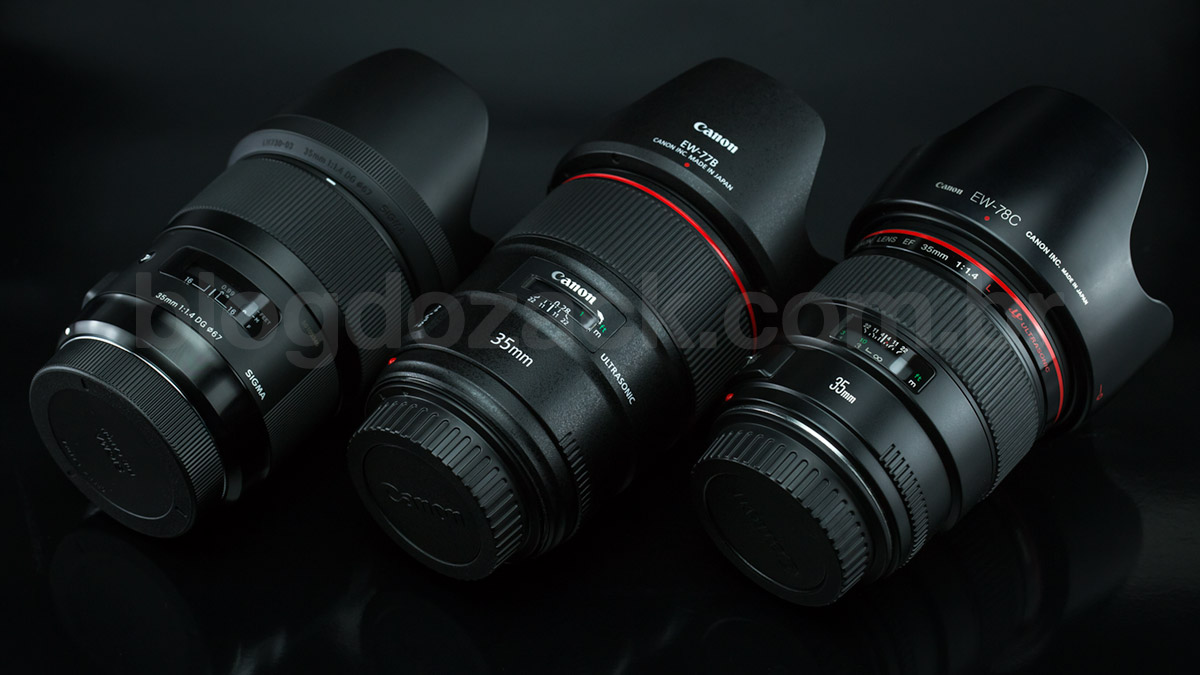 Its design also changed with the longer body, with more room for your hands, larger manual focusing ring and a completely different handling. The steps between the mount and distance window are smoother, curvier. The AF/MF switch got updated, flushed into the body and closer to your thumb. And it lost the shinny spec band near the red L ring, gaining 6mm on the MF ring (33mm L II vs. 27mm vintage L). Some say it looks like a Sigma Art, but it doesn't. The DG has steps the L doesn't, the MF ring is tougher and the rubberised finishing scratches easily.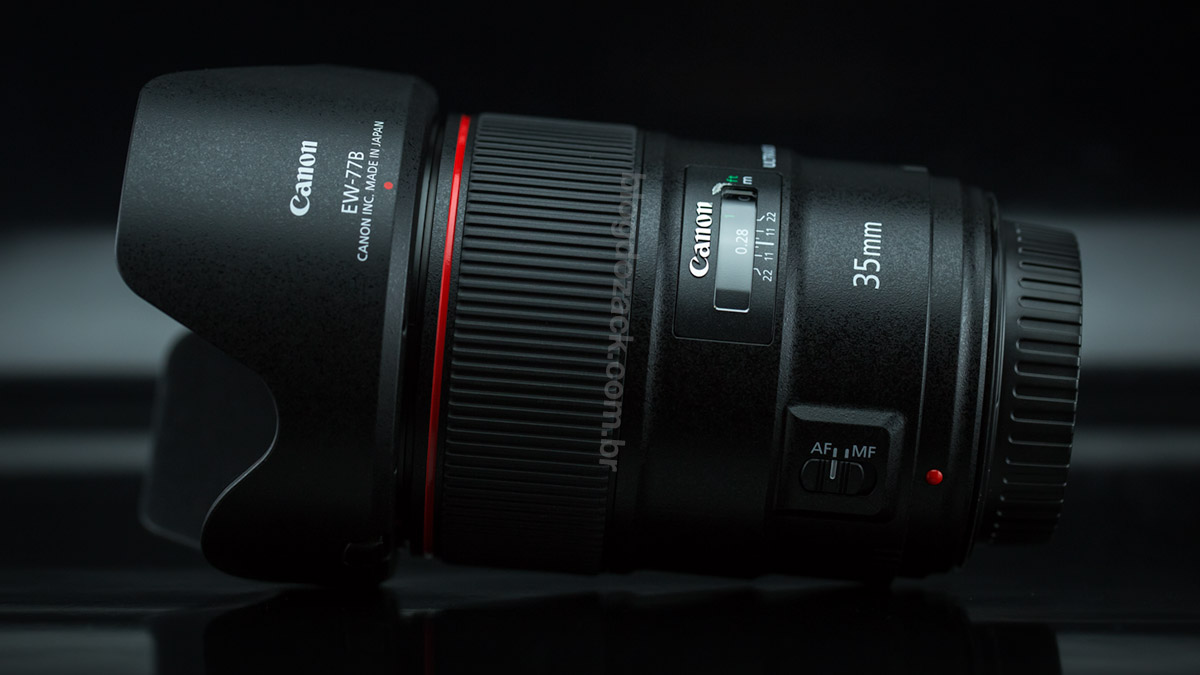 In your hands the Sigma is filled with different tactile feedbacks, with distinct rubber grooves on the MF ring and base plate, together with a metal piece near the mount. You can feel where your hands are by temperature. The older Canon, the shortest of the three, can barely support your hands between the mount and the lens hood, and the photographer must flex its fingers to operate the MF ring. Not on the new L. The longer barrel has plenty of room for larger hands and the tactile grip is smooth, organic, seamless. These details add to newer cameras like the EOS 6D, IMHO Canon's best EOS design ever, for an ergonomic showcase that other brands seems to ignore.
The auto focus is typical USM, which is always great news. Canon doesn't state anything about updated algorithms, that were last revised on the EF 24mm f/1.4L II USM. In practice it's quick and silent like the previous lens, that was always a market benchmark. No matter the light situation, if you select the right AF mode in camera, the EF 35mm f/1.4L II USM just works. I remember similar situations when the Sigma Art DG HSM refused to lock focus even with good contrast under poor lighting. I didn't have the same issues with the Canon L II. All photos in this review were shot with the EOS 6D center point in ONE SHOT: aimed, pressed, focused!
On the outside the manual focusing ring is perfect, light and heavy at the same time, with no play. The tactile feedback reminds me of other recently tested L lenses like the zoom 24-70mm L f/2.8 II and f/4. It's not heavy handed like the Sigma Art, even on my brand new copy. But it's precise, perfectly coupled with the internal, rear focusing group, supporting full time manual. At the front the ø72mm filters are the same size as before, but the new plastic thread differs from the older metal. Some say that's a bad thing, but I can't remember any trouble with recent plastic threads. It's actually better, with no chances of bending.
The new EW-77B  lens hood, included in the box, uses a button to lock in place. The more I use it, the more I love it, much better than friction-based mounting mechanisms. You align the hood, slide it in place and it locks as smooth as the EF mount itself. The 35mm f/1.4L II also got the very important Canon DW-R treatment, or Dust/Weather Resistance. Rubber O-rings are strategically positioned inside and the rubber gasket seals the camera mount against water and dust. I don't recommend testing them, and even recommend an extra frontal filter to complete the seal. But it's a welcomed addition. Finally both front and rear elements are fluorine coated to repeal water and grease, much easier to clean.
Overall Canon updated a classic lens with ergonomics that were missing from before. Every new lens they announce gets me thinking "why couldn't all lenses be like that?" It doesn't seem like a big deal, but smoother steps on the external barrel makes a world of difference throughout the day. The longer body is much nicer to handle. And you'll notice it as soon as you hold it in your hands. It's a substation mechanical feat that could justify the purchase itself, no matter the optical qualities we'll see in a bit.
COMPARED TO: SIGMA 35MM F/1.4 DG HSM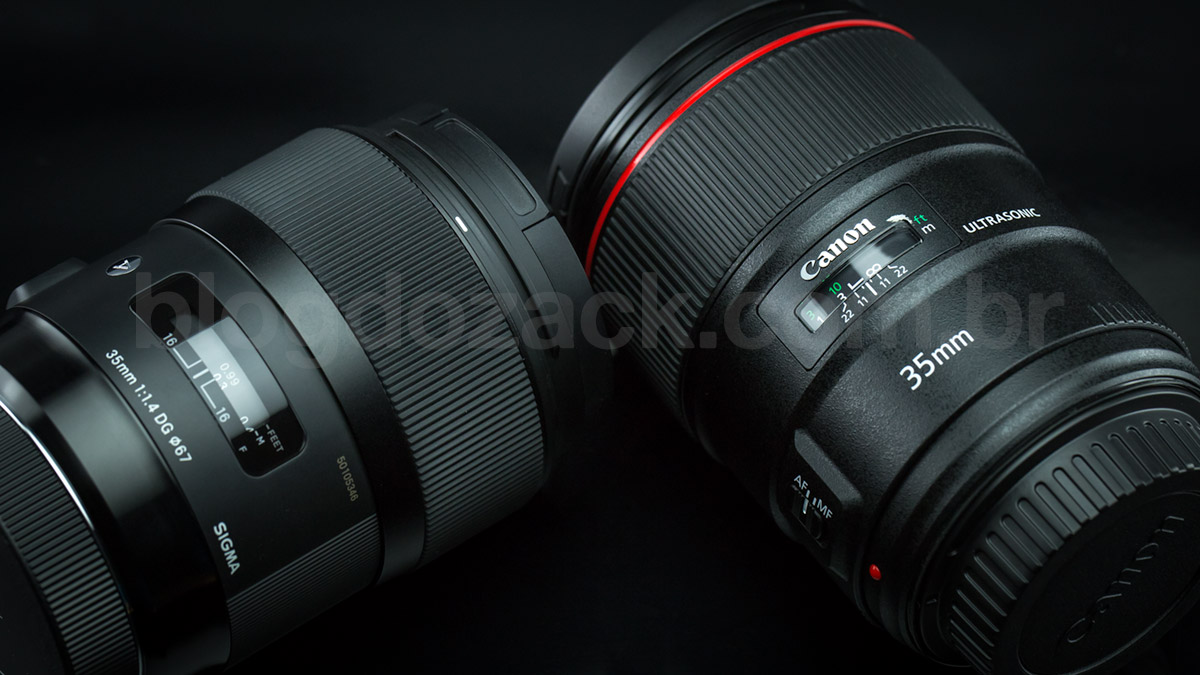 Inevitable comparison between the internet darling, the disruptive Sigma Global Vision Art 35mm f/1.4 DG HSM. The also-japanese competitor revamped it's R&D department a few years ago and in 2012 launched the fantastic Art line, with daring optical formulas and high performance, modern design and usability, all for unbelievably attractive prices. It was like night and day: on one moment they were badmouthed around the net, on the other they were the best thing in existence ever since sliced bread.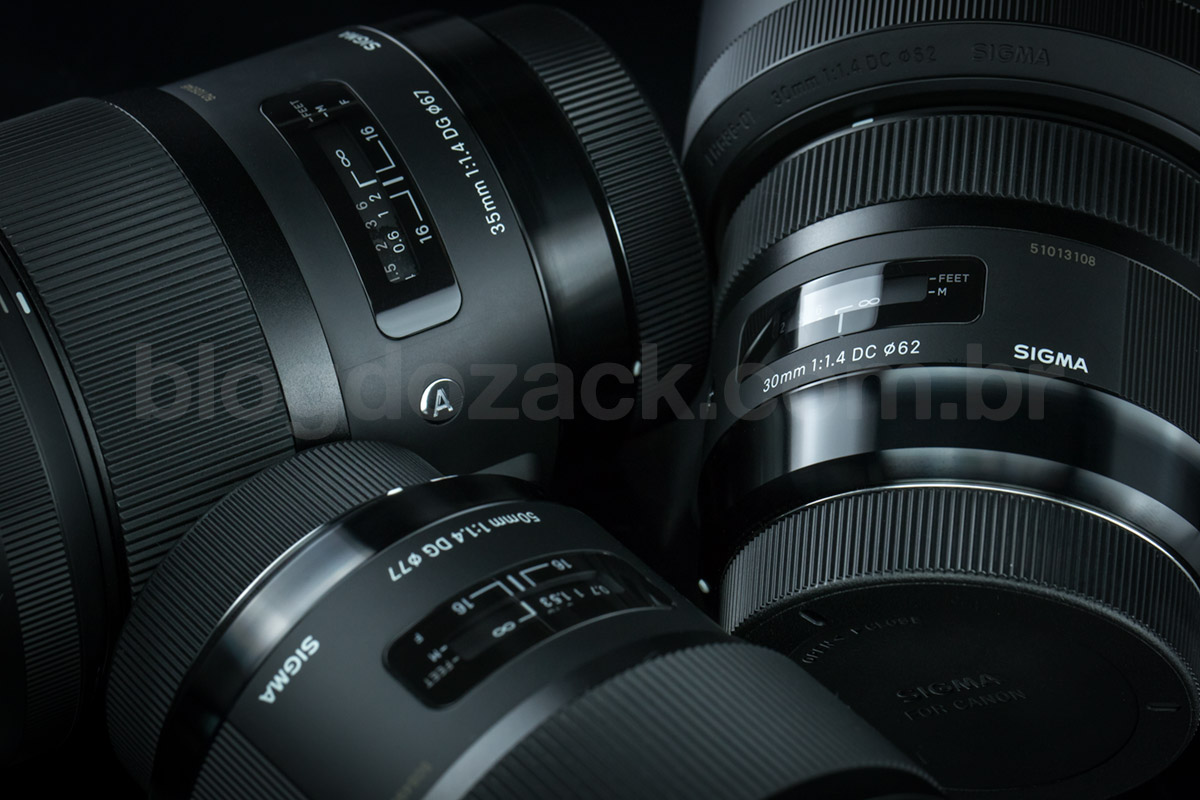 The main difference between the DG and L II is their size. The Canon EF is bigger, fatter, following the Zeiss Otus steps or even Sigma's own 50mm DG Art. It's more elements for improved performance, letting ergonomics and focal length "looks" aside. The Canon 35mm L II doesn't look like a 35mm the same way the Sigma 50mm DG doesn't look like a 50mm. Gosh, not even the 35mm DG felt like a 35mm, but Canon managed to get it bigger. With the lens hood in place, both add a substantial piece to your camera. It's better to hold and work, but might not fit any bag.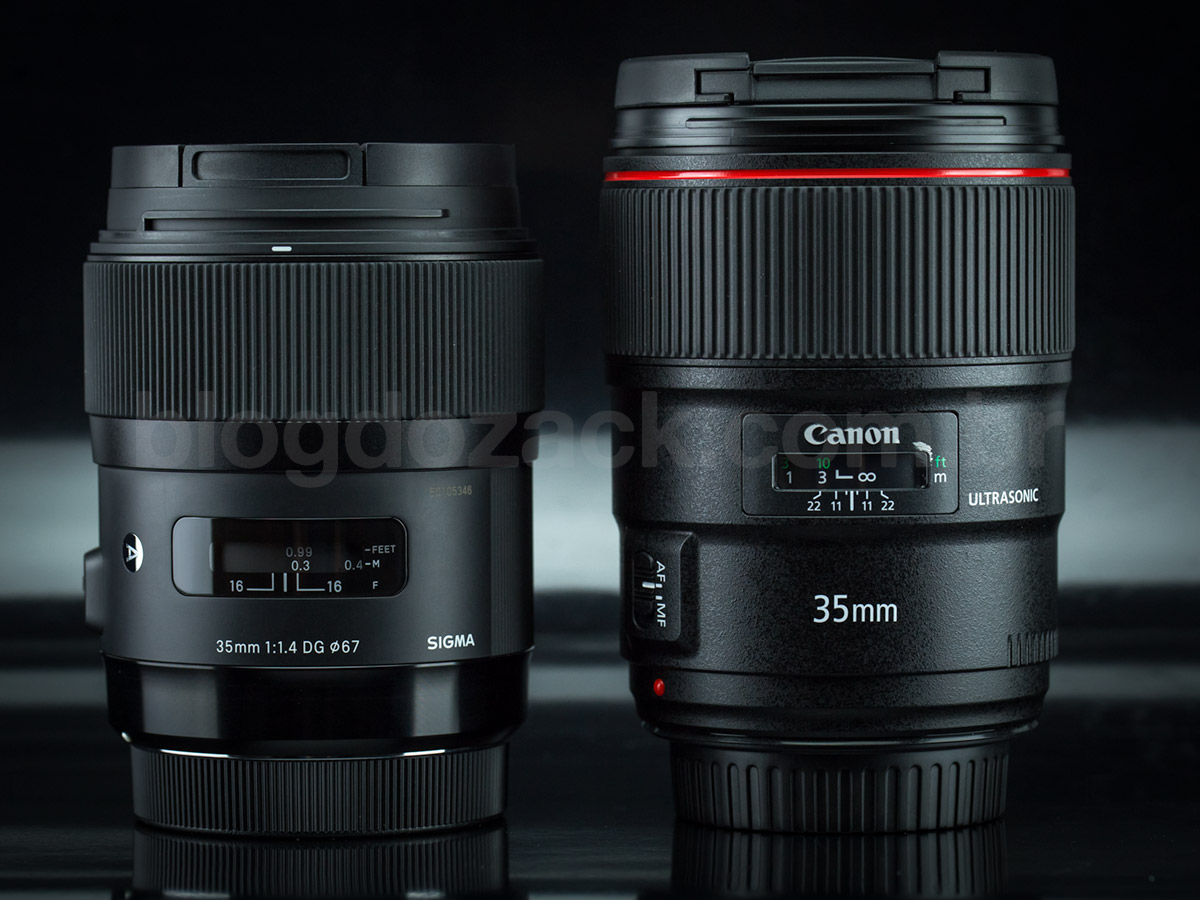 Sigma's finishing is also flashier with the infamous rubberised barrel that's a magnet for scratches. I whom sell these lenses after use know very well: it's almost impossible to keep a Sigma Art intact for resale. Any touch of another plastic and it get's a shinny scratch. And I've even seen some lenses with a lose rubber finishing, messy. None of that happens at Canon. My 35mm vintage L looks brand new and the newer L II features the same plastic as other recent L, harder to scratch.
Sigma's manual focusing ring has a much higher grooved rubber ring than any EF lenses, and it makes sense as their feedback is much tougher, heavier to turn. The new L II has a much longer MF ring, but the smoother, thinner rubber piece asks for your will to turn it around. As it is longer, your hands comfortably sit around it too, not touching the lens hood. The shorter Sigma asks for some thumb flexing, so much the lens hood has a rubber finishing at the rear. I like both, but Sigma has been way too heavy handed on the MF ring weight and Canon's feels just right.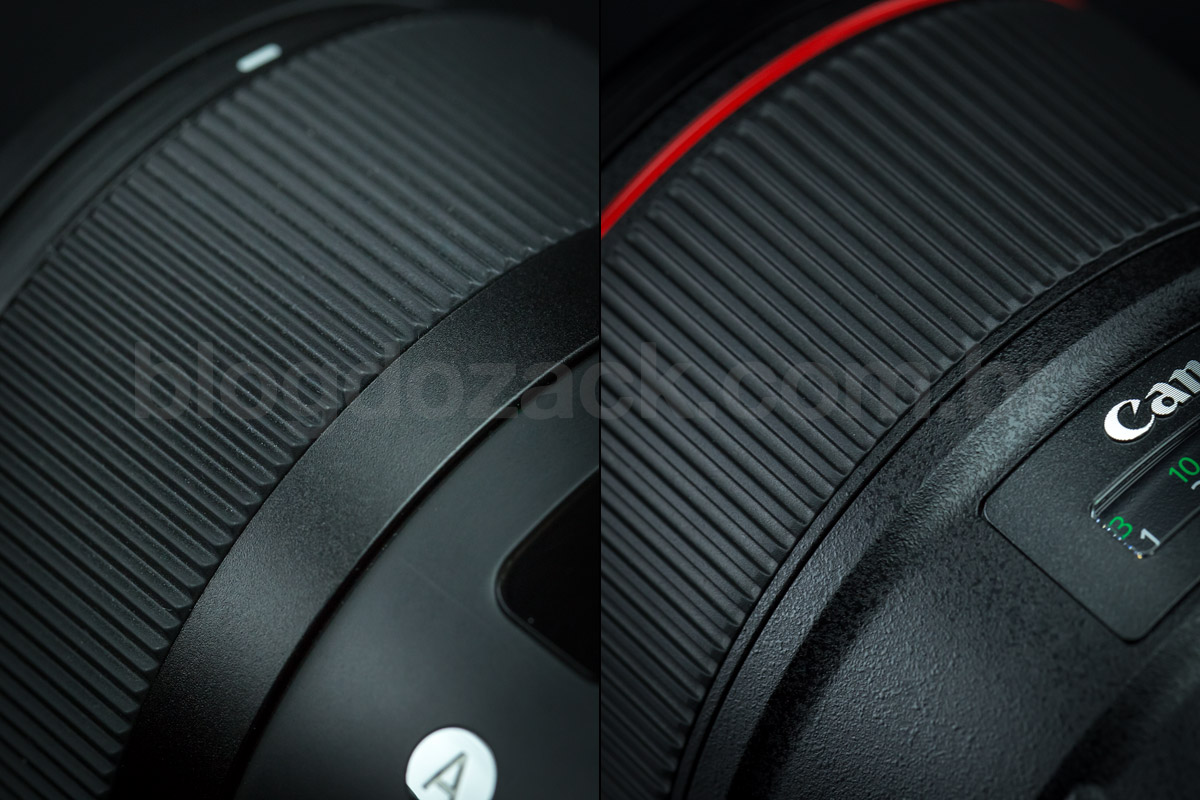 Canon's DW-R score points for durability but I can't comment on a recently launched lens. I own the EF II for less than a month, and I don't know how it will keep itself together for the next few years. And I've never had any serious problems with my three-year-old Sigma DG HSM, that's used exclusively in the studio on the Blackmagic Cinema Camera. In the end both lenses share a spec, but once again the design schools are totally different. It's a matter of choice, but the Canon L II has an edge in usability.
COMPARED TO: EF 35MM F/1.4L USM (1998)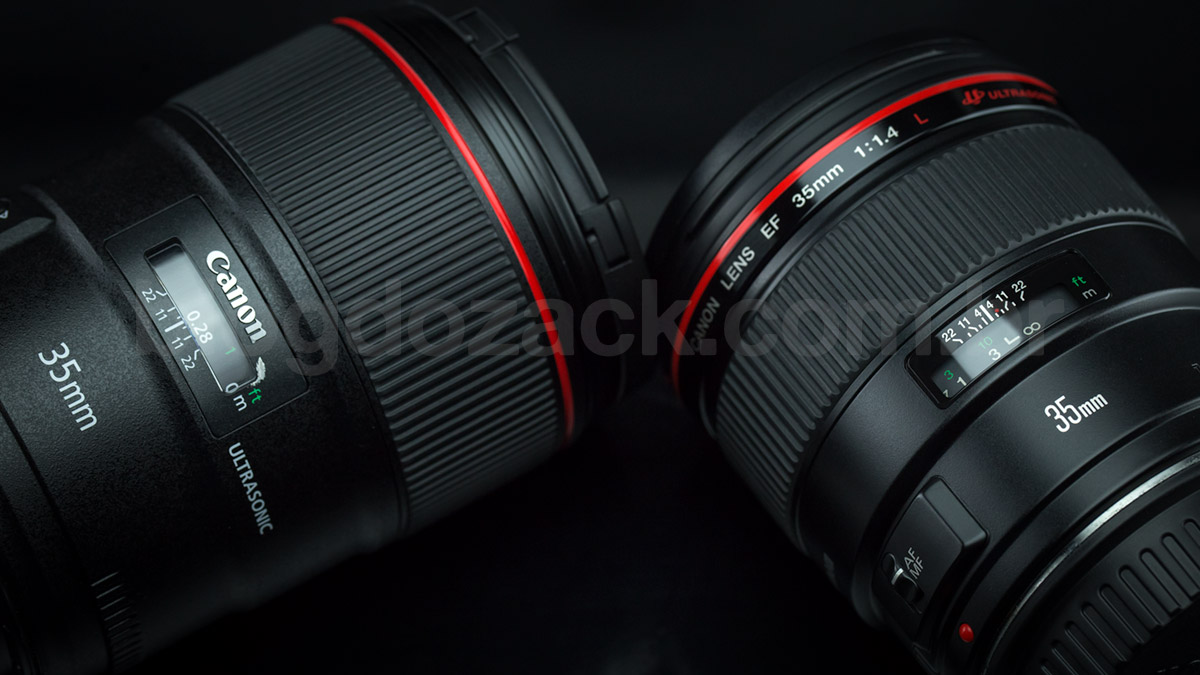 Inside Canon's own lineup the upgrade is substantial and unfortunate, in a good sense. The new 35mm L II USM is their best large aperture prime in handling and ergonomics, that automatically makes every other spec outdated. Maybe the 100mm f/2.8L IS USM handles the same way, but it's not particularly large aperture. My 24mm, 35mm, 50mm and 85mm kit have issues compared to this L II. Let's hope it doesn't take forever for Canon to update it.

The L II design is sober with fewer plates, just a single external barrel for a more streamlined design. From the camera mount to the filter thread the L II is a single tube, with smooth steps instead of bumps or different textures. The biggest example is the AF/MF switch area, that you can use with the side of your thumb instead of pinching it. Or even the bezel-less distance window, similar to newer lenses (24-70mm f/4, 35mm f/2 IS USM). Its style matches the perfectly designed EOS 6D or Canon's Mark II EOS Cinema line.
The purchasing decision comes from optical performance. Nope, the new lens AF is not much faster. Nope, the filter size hasn't changed. Not even the overall usability, that is a personal matter. Most kits will be gradually upgraded and I can't recommend a US$1799 lens solely for ergonomics. Canon apparently released the L II for a much higher price to keep the used vintage L market in good health, as that lens is still worth every penny (it's now US$1099 new). A classic is a classic, and no shinny newcomer will take that status away.
IMAGE QUALITY
With 14 elements in 11 groups, three pieces (!) more than the older lens, one more than the Sigma Art besides the Blue Refractive Optics goo, sub-wavelength coating, a pair of aspherical glasses, one UD, nine blade aperture… Phwww! The EF 35mm f/1.4L II USM is ready to take Canon back to the top of the optical performance chart dominated by the other artistic minded lens. And it did. Ok, its price is more than double and that DxOh-no! troll site says otherwise (funny they never show proof but numbers). But there's no way out: the EF L II is back at the top in terms of resolution, aberration control and distortion control.
For the first time ever on a review, I'll be showcasing both f/1.4 and f/8 images together. That summarises the Canon EF 35mm f/1.4L II USM performance. On modest resolution bodies like the 20MP EOS 6D, there's practically no difference between "wide open" and "stopped down", from the edge to the centre frame. That's right: there's no difference and if there was, it's probably misalignments between the image plane and the subject, not the lens itself. It's hard to proof its performance: only optical labs might be able to really test it. On an everyday basis, like vlog do zack's photos, the conclusion is rather simple: it's perfect, high res and crystal clear.
What about Canon's Blue Refractive Optics? Does it work? It makes sense to add a goo between two lenses? The answer is "yes" and "no". Yes, the EF 35mm f/1.4L II USM has a fraction of the aberrations on the 1998 vintage L. That f/1.4 lens suffered from heavy spherochromatism and that was solved. But no, it's not 100% invisible and some out of focus areas do show purple and green halos that demands correction. But it's very discreet and impressive considering the aperture.
Geometric distortions are practically invisible just like flaring, that can be provoked with bright light spots (like the sun), but hardly visible on a daily basis. That was the main reason the Sigma 35mm f/1.4 DG HSM stayed on vlog do zack kit for so long, as the EF 35mm L USM couldn't handle my studio lights during video recording. The new lens do. Vignetting is also discreet and completely gone by one stop at f/2, just like the 24-70mm f/2.8L II USM zoom corrected it at f/4.
THE BAD BOKEH TRASH TALK
With ever higher resolution sensors, optical formulas have been featuring more glass pieces in order to render high sharpness and contrast instead of simplified lenses with more personality. In my opinion, something to be praised instead of criticized as it's impossible to invent details but it is easy to blurry complicated backgrounds in post. But first, without direct comparisons between lenses, how does the 14 elements EF 35mm f/1.4L II USM bokeh looks like? Let's see:
COMPARED TO THE SIGMA 35MM F/1.4 ART DG HSM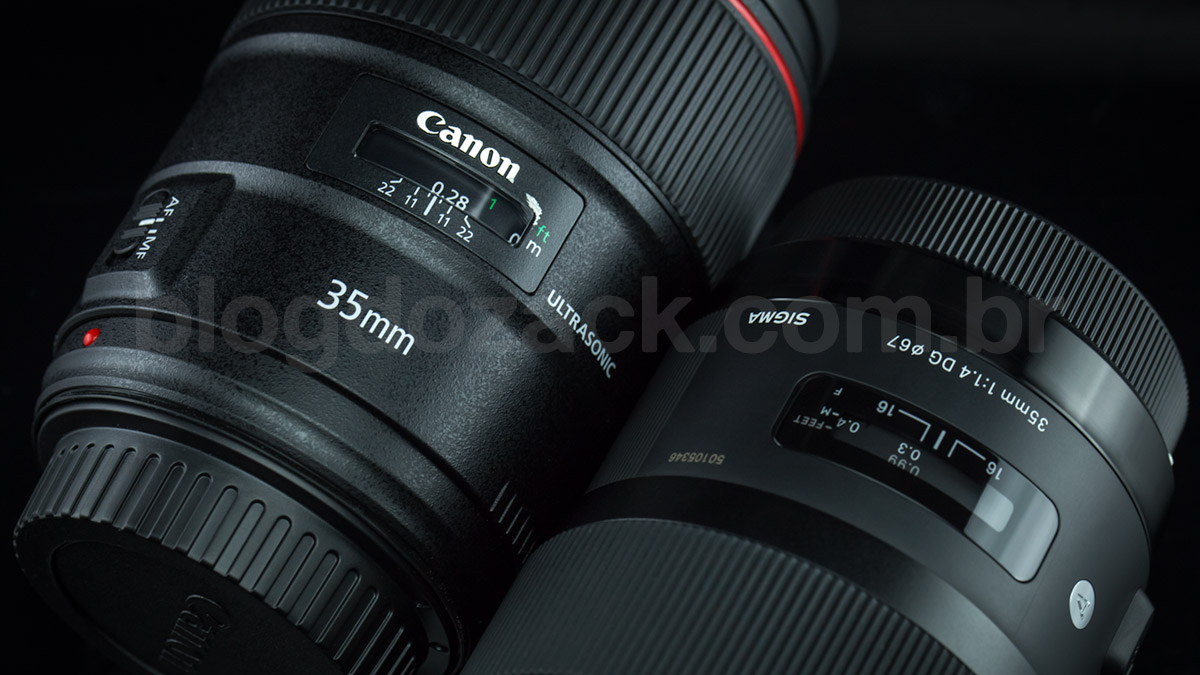 You know I hate this sort of comparison. Different lenses, different MFDs, different price points etc. But everyone's asking if the Canon L II is worth the money and how does it compare in resolution, contrast and aberrations; a difficult task considering Sigma's Art already high performance. Putting them side by side, let's take a look:
RESOLUTION: CENTER (click for larger)
RESOLUTION: FRAME EDGE
SAGGITAL COMA FLARE
AXIAL CA
LATERAL CA
BOKEH
COMPARED TO THE EF 35MM F/1.4L USM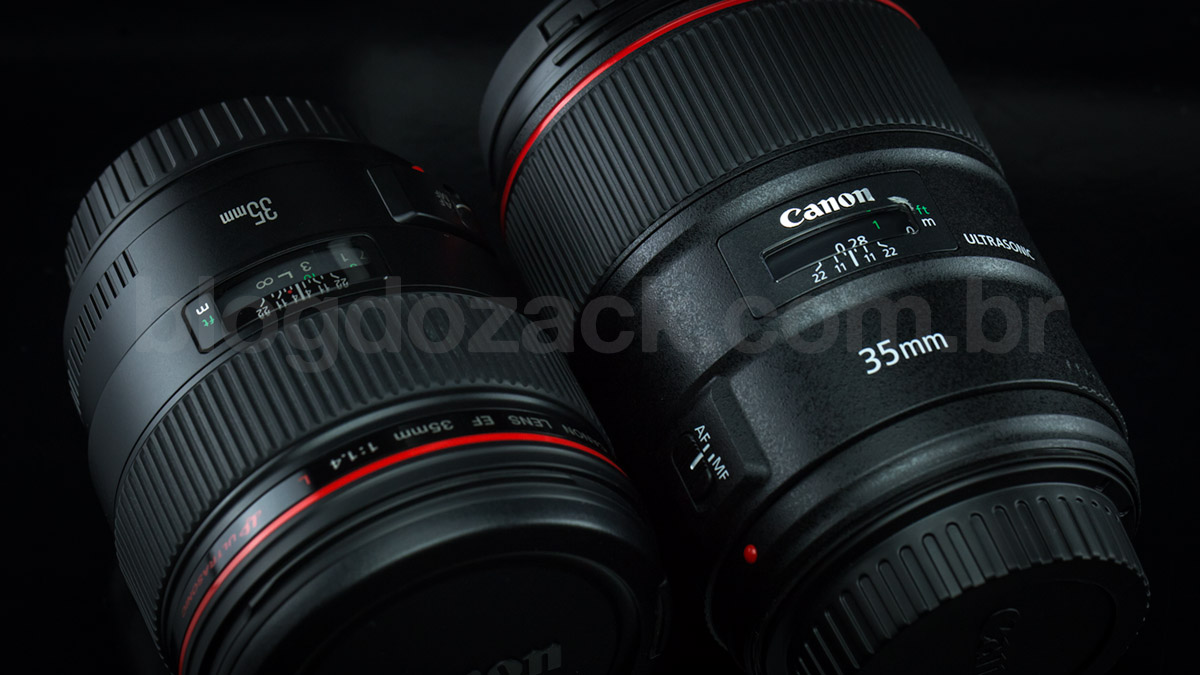 The difference is obvious. I have some 35mm L shots I can see chromatic aberration right on the file thumbnail. Night landscapes get weird corner shapes due to Saggital Coma Flare. But does it really need an upgrade? If you own the older lens, will you have to sell it? Let's see: (NOTICE: The EF L II is much less "wide" than the older L. Some framing shift might occur.)

RESOLUTION: CENTER (click for larger)
RESOLUTION: FRAME EDGE
SAGGITAL COMA FLARE
AXIAL CA
LATERAL CA
BOKEH
BONUS: COMPARED TO THE SONY Cyber-shot RX1R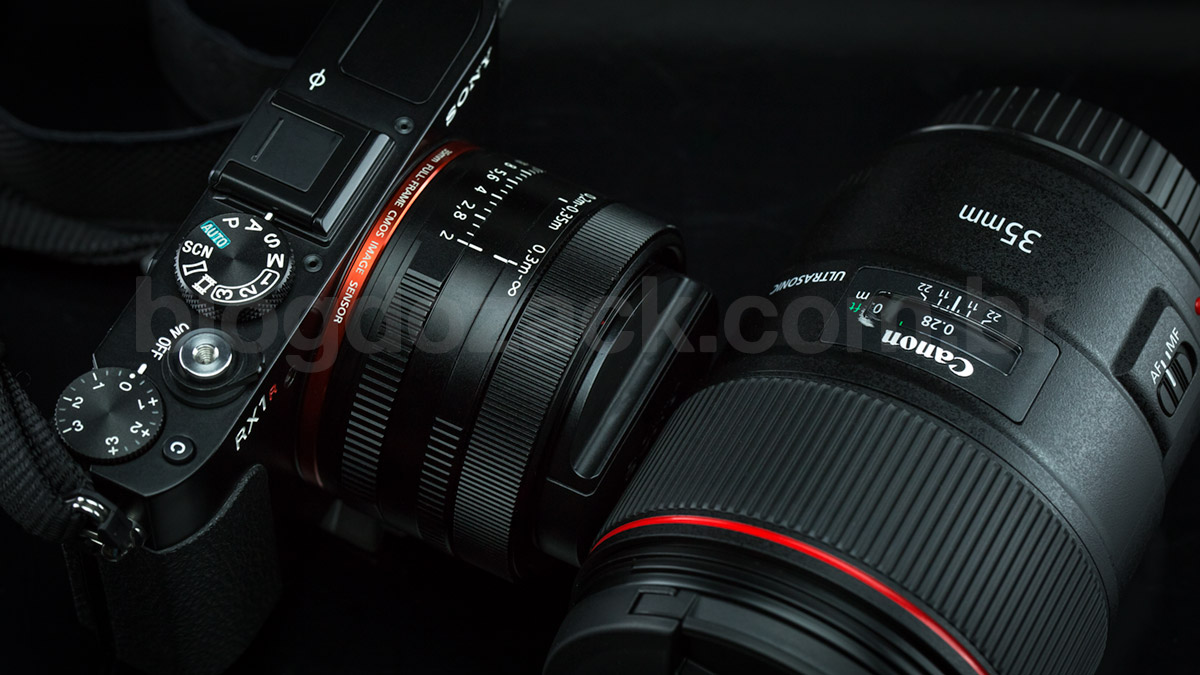 Even before my final verdict, one thing it for sure: none of theses lenses will stay on my kit. I already shoot everything I need with the EF 24-105mm f/4L IS USM on my Blackmagic Cinema, and wider distances like 24mm and 14mm are much more important to me. On the "35mm full frame" style most of my shots are clicked with the incredibly small and silent RX1R, a god-sent no matter the US$2999 price tag. But will I be losing more than just one stop of light on the f/2 Zeiss Sonnar? Let's see: (NOTICE: Once again the 35mm L II is much, much less wide than the RX1R. Why? Look at its size. Also the 6D files are just 20MP, versus the RX1R 24MP. Some framing shifts might occur.)

RESOLUTION: CENTER (click for larger)
RESOLUTION: FRAME EDGE
SAGGITAL COMA FLARE
AXIAL CA
LATERAL CA
BOKEH
VERDICT
It took seventeen years but Canon did it: it updated a classic auto focusing lens keeping its essence in usability and optical performance. The EF 35mm f/1.4L II USM is what most photographers hoped for. The AF it still top of the line, hard to demonstrate on a blog post, but its biggest strength against Sigma's. If it's worth the US$1799 price tag? Yes, absolutely: fewer aberrations, more raw resolution, practically zero saggital coma flare. It's better than both vintage L and Sigma Art. These differences will show on highly specialised professional areas like product photography, fashion, landscapes and architecture; mainly with high res bodied that will blow up any optical flaw. It's a welcomed addition to the EF family and shows Canon's will to innovate on the photography market. It's a classic lens for few lucky photographers. Nice shooting!