Mitakon CREATOR 135mm f/2.8
Estimated reading time: 08 minutes.
June/2016 - The Mitakon CREATOR 135mm f/2.8 is the second lens we see from china-based Zhong-Yi. Following the steps of the 85mm f/2 CREATOR we learned about a few weeks ago, the 135mm is larger, longer and heavier, with the same all-manual project and modest maximum aperture, perfect to keep the cost down, here also at US$199. The optical formula is simple: 5 elements in 4 groups, with one low dispersion to keep aberrations in control. Although it covers the 135 full frame format, I tested it on the APS-C EOS M, to work as a telephoto lens (216mm equiv.), on the same trip as previous reviews (A6300 for snapshots, X-Pro 2 with a prime, Tokina 11-16mm for wide angle). Did it work?
BUILD QUALITY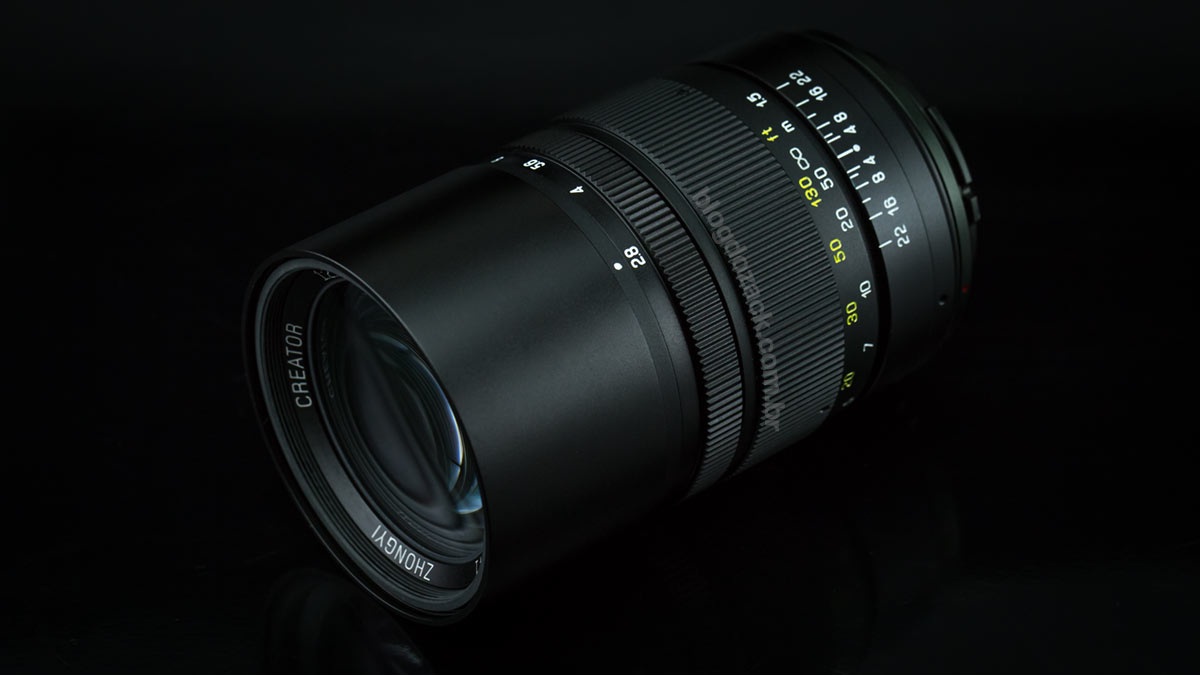 At 10.5 x 6.7cm of 700g, I don't have to mention the CREATOR 135mm f/2.8 stands out for its weight, absurd under any lens standard, premium, low cost, zoom or prime… It's super heavy with a solid metal tube around the optics, and it looks well made, if it wasn't for a detail: it broke when I was using it! That's right, for the first time in 12 years in the business, a lens broke down when I was using it, putting this review in jeopardy. A minuscule screw got loose on the manual focusing ring, and it just stopped working. When I tried to fix it during the trip, the whole internal barrel separated from the mount, making it harder to focus. I could only make it work back at home, after tightening some screws; easy to fix, but impossible to imagine on a work environment.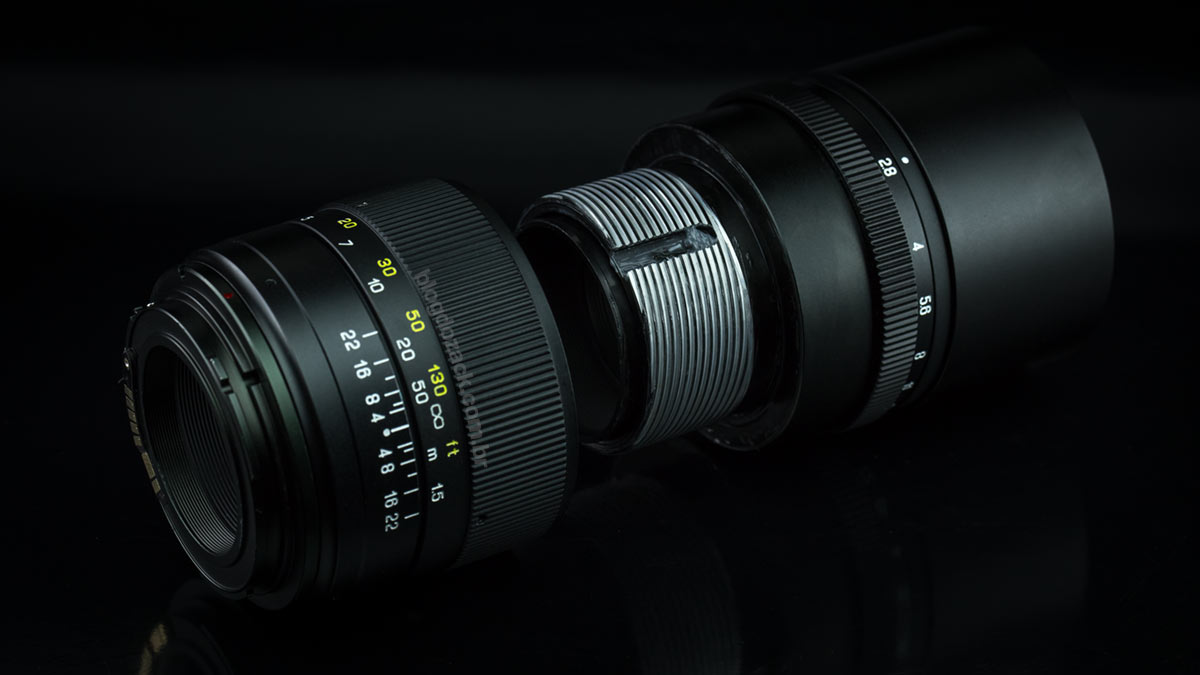 That says a lot about the quality standards of chinese low cost brands, and serves as a warning for those wishing to save on equipment. These third parties are not extensively tested as Canon's and Nikon's, and expect issues to happen. After it got fixed and I saw how it was built, I could actually say it's well made. With an all metal internal barrel, nothing wobbles out and it feels solid, although fragile at the same time: under impact, the forces don't have anywhere to dissipate, causing misalignments. But it works as well as some older primes, with a premium touch I wasn't expecting from US$199. There's even a built-in metal lens hood like some Leica's, that also served as inspiration for the engraved-and-painted markings, harder to erase over time.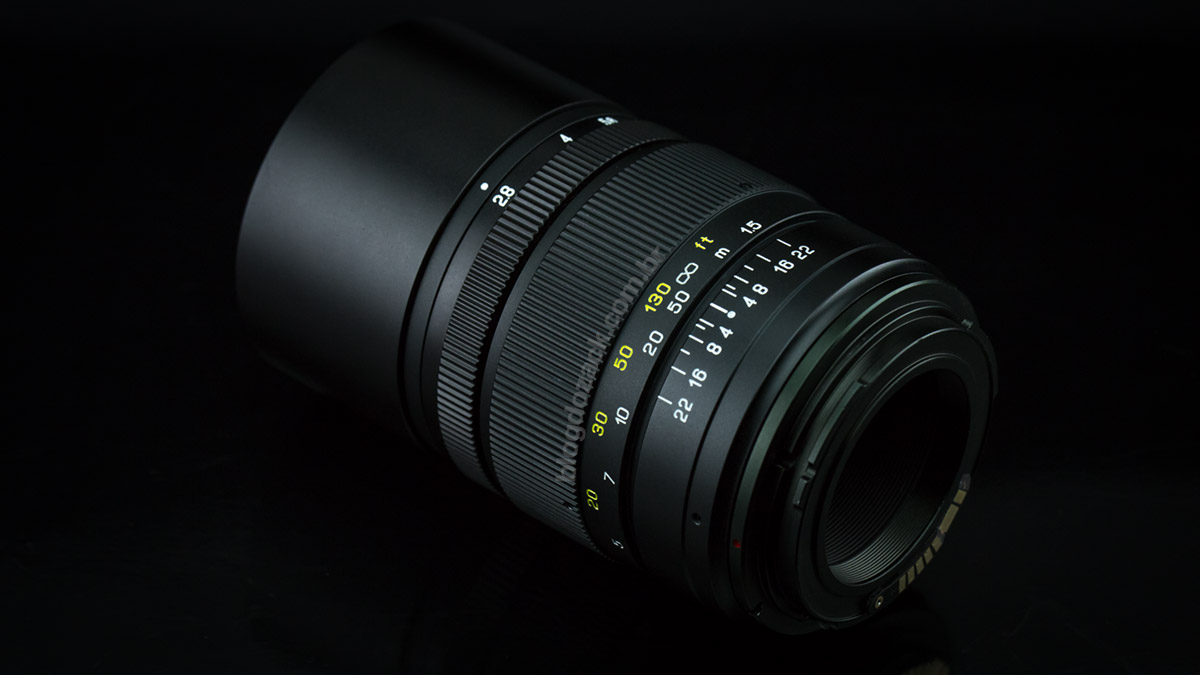 Focusing and aperture control are both manual, via rotating rings. The focusing ring is all-metal, not rubberised, thus a bit slippery when your hands sweat. It's at the rear, near the camera, within fingers reach, and has an absurd 350º rotation angle from minimum focusing distance (1.5m) to infinity, taking forever from end to end, also requiring excessive pressure. It's totally unsuited for shooting action, even if the subject is far: it's 50º from infinity to 10m, 60º from 10m to 5m, 70º from just 5m to 3m; another 80º from 3m to 2m (!), and finally 90º from 2m to 1.5m. So even if your subjects moves a bit, it will take a while to refocus. At least it's very precise: for sure the distance you need is in the 350º rotation angle, and precision is a must for sharp telephoto files.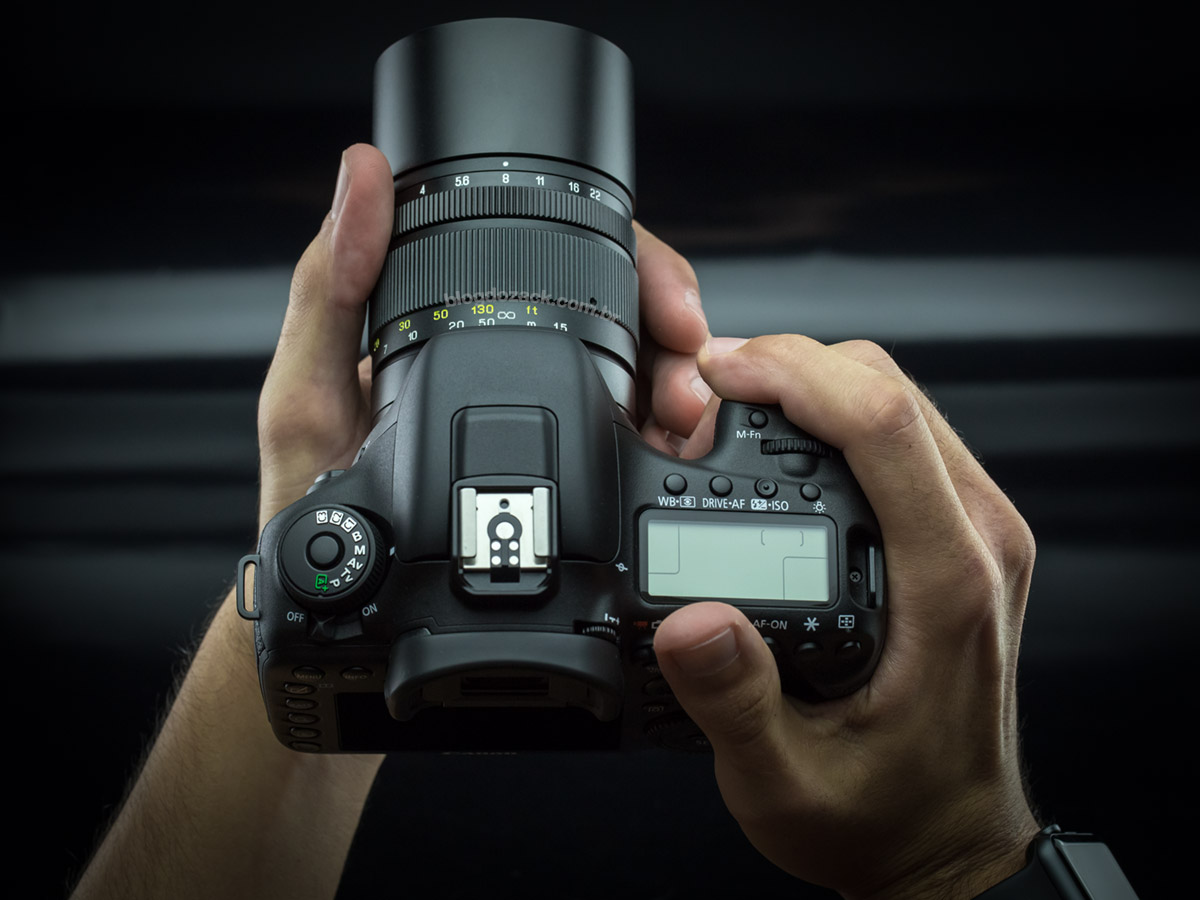 At the front the aperture ring seems misplaced, but it's a requirement from the double-Gauss formula, with within groups diaphragm. It's much thinner than the focusing ring, but easier to rotate. It has full f/stop clicks from f/2.8 to f/22; it's not stepless like some "cine" lenses, but it's easy to use and smooth, although not loose enough to be changed by accident. Inside there's a nine-straight-blades aperture that generates beautiful 18 point stars, like we saw on the 85mm f/2, from f/4 to f/16. On urban long exposures, you can see stars on highlight points. But at f/2.8 the opposite happens: the blades interfere with the light, scattering its path inside the lens, generating bands.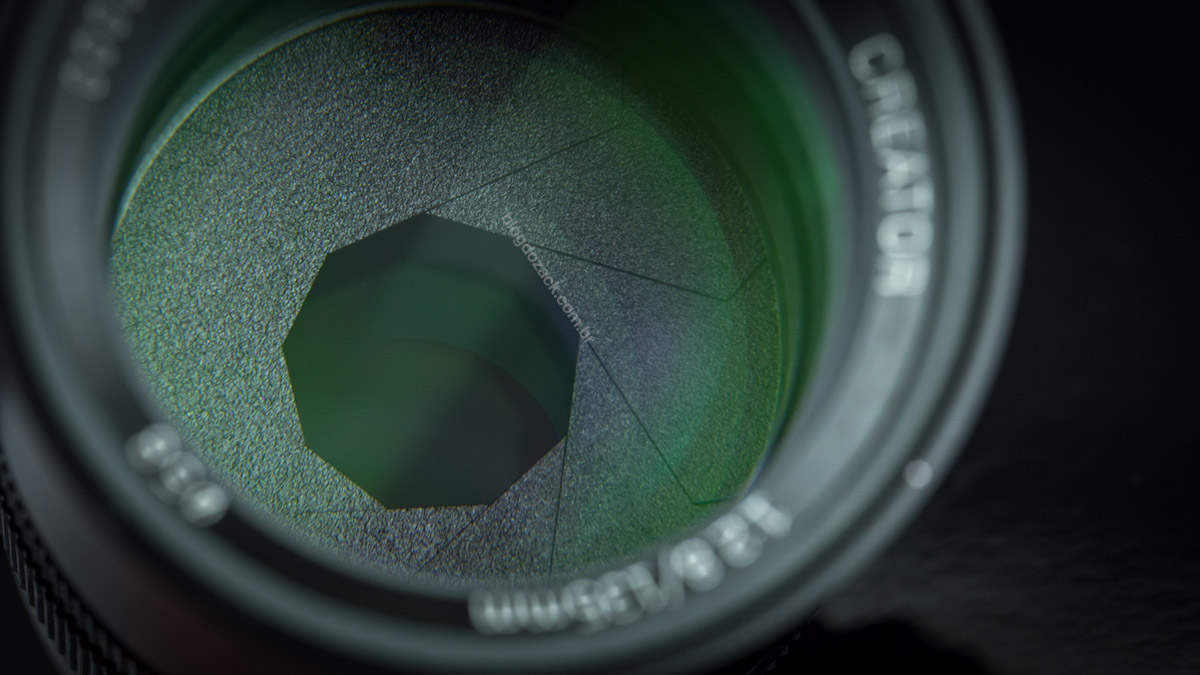 At the back, a curious addition is the lens mount electronic contact, between camera and lens. It's used solely to tell the EXIF a "135mm f/2.8" data, once the Mitakon lacks any motor or brush to detect focusing position or aperture setting. For example, if you set the lens to f/8, it shows f/2.8 on the camera; they don't communicate. And that can mess up the camera meter, that gives a camera priority. For instance, if you set f/8 on the lens and f/8 on the camera, the exposure is completely dark, including in manual mode. The Zhong-Yi instructions manual (thanks, Google Translate) recommend leaving the camera always at f/2.8 and adjust only the lens.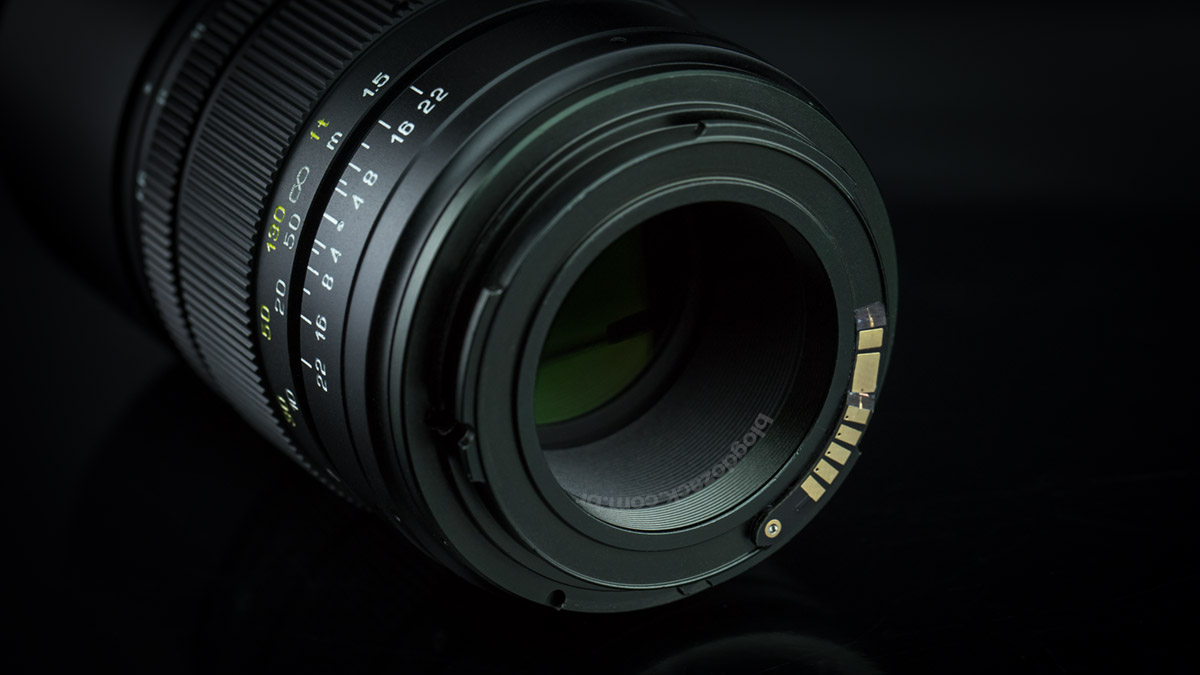 Finally the metal mount complete the CREATOR 135mm solid built, and has larger screws to keep it in place; it won't get loose like the focusing ring. There's evidently no weather sealing and I don't even know which metal it is used; if it's not aluminium, it can get rust; avoid water at all costs. The rear element is deep inside the barrel, making it compatible with the EF Extender 2X, for a 270mm f/5.6; or 432mm APS-C equiv. And at the front the ø58mm filter thread is larger than the 85mm f/2 (ø55mm), making both incompatible. They fit inside the built-in lens hood, that slides in place like the Canon EF 300mm f/4L or 400mm f/5.6. It's an interesting lens for the all-metal built, smooth operation and reasonably large aperture, plus the ultra low US$199 price tag. If they charged me US$999 I wouldn't feel ripped off, and I can recommend it for those interested in all-manual lenses.
IMAGE QUALITY
With 5 elements in 4 groups, one low dispersion, the Mitakon CREATOR 135mm f/2.8 is the simplest lens I've ever used. I'd never seen a project with less than six glass pieces, and just Canon's Close-Up 250D has fewer glasses (2 lenses), but it can focus images by its own. And impressively, the Mitakon performance is among the very best. Yes, I know it's bizarre to read: the 135mm f/2.8 is one of the best lenses I've ever used, and for just US$199. The resolution is incredible no matter the aperture, the overall contrast is perfect under any light situation, and there's no chromatic aberration to tell a story, not lateral, not axial. Geometric distortion? It's zero. Wide open vignetting? Some. Photos with the EOS M, except when marked with EOS 6D, no aperture data (but some I do remember).
Even at f/2.8 the resolution is intact from corner to corner, hard to see on everyday photographs. As most subjects are tridimensional, they're never completely inside the focal plane area; thus not sharp on both sides, specially on the telephoto short depth of field. But whatever falls inside the image plane is sharp wide open. It's an example of how easy it is to design a telephoto lens, that's nothing more than a long tube with two opposite positive/negative groups; simple as that. The only visible aberration wide open comes from the aperture blades, that scatter bright lights sources generating bands. But it's not an optical defect, rather a project one.
"SP" with the EOS 6D at f/2.8 and at f/4, 2" e 3.2" ISO100; notice the vignette correction one step down.
100% crop, the light scattering wide open, when it bounces from the shinny metal aperture blades, and the light stars as soon as f/4.
Stopping down to f/4 solve all the light scattering issues. The files are clear, a big step from 18-135mm kit zooms. On any brand, these variable aperture lenses are f/5.6 at 135m, with poor resolution and contrast. The Mitakon prime is much sharper and with a 1 stop advantage, the main reason to have it on your kit. And it stays like that at f/5.6, f/8, until your camera's diffraction limit. Those shooting detailed landscapes can see the CREATOR as yet another tool. Prime is prime no matter the price point: the optical performance surpasses zoom lenses.
Another advantage fall in the chromatic aberration category; invisible in my tests. While the Canon EF 135mm f/2L USM "exploded" with purple bubbles wide open, the Mitakon doesn't show anything. It's the same old "modest aperture" story: as it begins at f/2.8, the smaller glass pieces have way less difficulty in focusing light. So, again, it's a surprise for it's price and simple formula, that never fail to deliver impressive results. Sometimes I wish major brands would sell f/2.8 primes, as I've used these lenses and know the optical advantages over large aperture ones.
Finally the colors, the vignette and the bokeh are nothing to write about. The EOS M gave me plenty of flexibility to push colors as I liked; no issues with blue casts or yellowed highlights. Vignetting is well controlled at f/2.8 and gone by f/4. And the out of focus quality is hard to evaluate at telephoto: it's smooth if you shoot close to your subject, with a shallow depth of field. There's nothing wrong nor different, like "oval bokeh balls". It's neutral and works to isolate your subject.
VERDICT
Using low cost lens are always a case for that argument: the equipment doesn't matter. With the EOS M ($299) + CREATOR 135mm f/2.8 (US$199) I shot more salable clicks than with the Sony A6300 + E PZ 16-50 (US$1149) or Fuji X-Pro 2 (US$1699) + XF f/2 (US$399). Due to the longer focal length, it's easier to compose interesting landscape photos; one thing I always take with me on a road trip. If it wasn't the manual focus ring issue, I would judge it as solidly built. It's operation is smooth and easy, and optically it deliver what a modest aperture prime should: high resolution wide open, perfection one stop down (f/4), and zero chromatic aberrations. If you need a telephoto prime, it doesn't get better than this. Provided it doesn't break while you're using it… Nice shooting!