Nikon AF-S Nikkor 20mm f/1.8G
Estimated reading time: 05 minutes.
October/2015 - Introduced in september 2014, the AF-S 20mm f/1.8G is an update to the Nikkor ultra wide angle prime, the first in 20 years since the 1990′s Nikkor AF 20mm f/2.8D. With a brand new ED and Nano Crystal optical formula, the headline is the f/1.8 aperture, 1.3 stop larger than the prior version that followed the same formula from the original 1980′s 20mm. I didn't even know such specification existed and thought that as wide, at least in millimetres, was only the Sigma 18-35mm f/1.8 DC HSM made for the APS-C format. But the 20mm completes the "f/1.8G FX prime" Nikon lineup and I tested it by your suggestion (thanks @norbertwaage). Nice reading!
BUILD QUALITY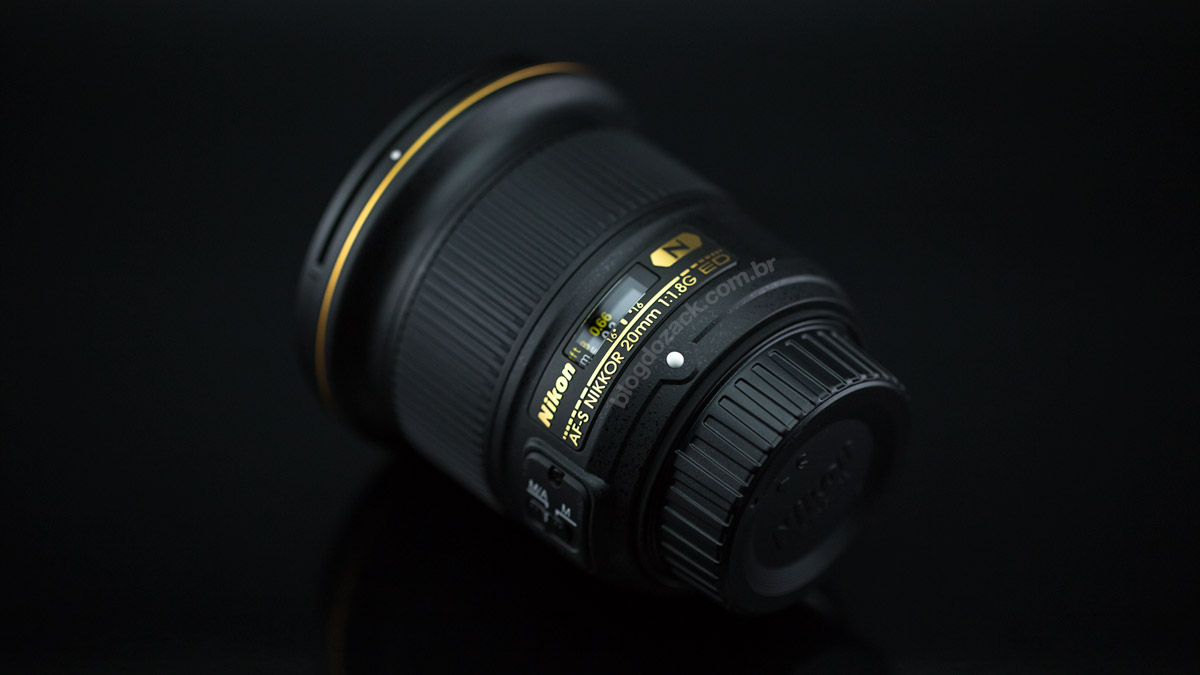 At 357g of 81x78mm, the AF-S 20mm f/1.8G feels as robust and easy to use as most Nikon's, as you always hear it from me. Those long time Nikon shooters might find the all plastic design "el cheapo", a downgrade from the all metal Ai-S 70's and 80's era. But it is not. Inside most design keep the metal threads and nylon bearings, smooth and durable, besides the outer shell being made of plastic, great for impact absorption, scratch proofness and lightness.
It's a classic design with a single outer barrel, manual focusing ring, MA/A left switch, top spec tag and distance window. It grows from the F-mount to the ø77mm frontal filter thread, nice to use with ND and polarisers. The "less is more" moto is what Nikon manages to offer on all its focal lengths, and that's incredible. If you're used to G lenses, just mount it and go shooting.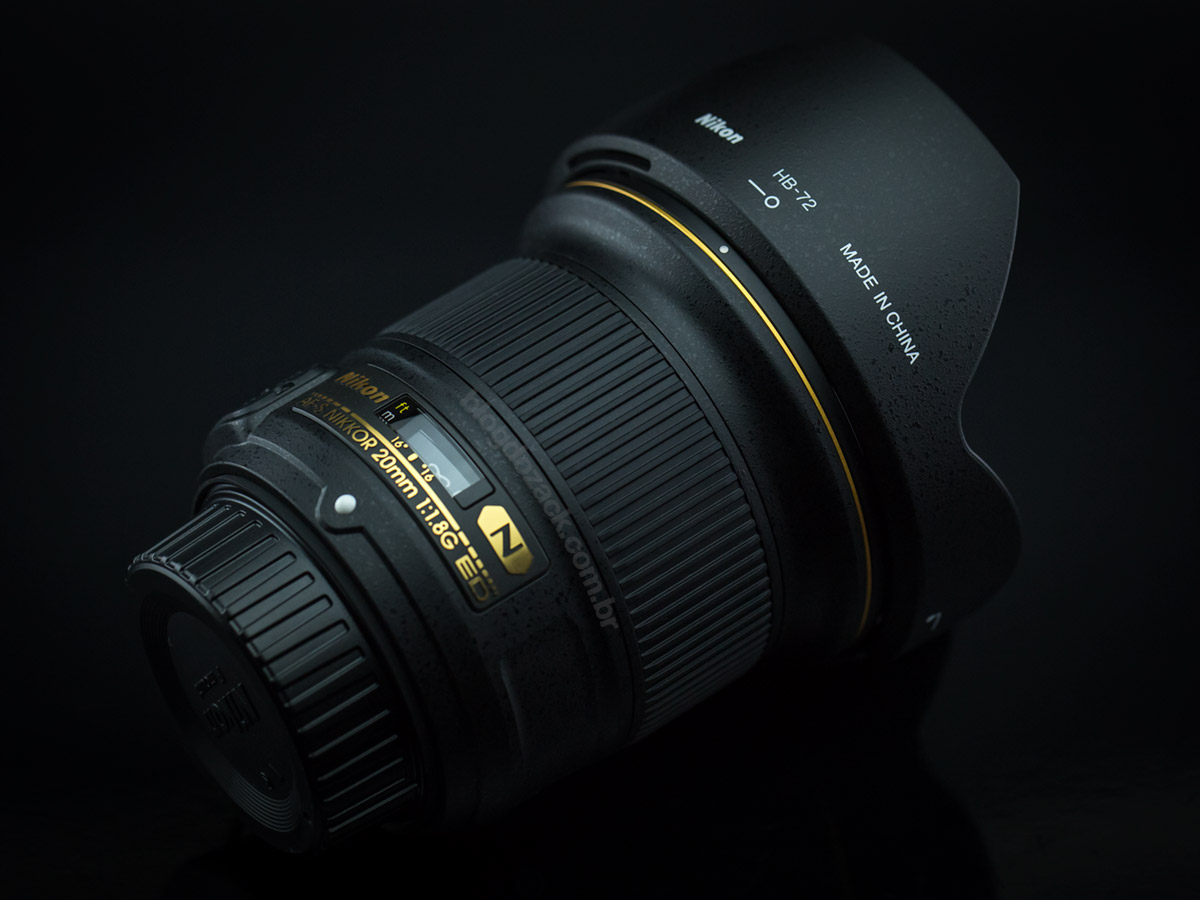 Inside the AF-S features the same SWM from most G lenses, quiet and relatively quick. But unfortunately the focusing ring doesn't get the premium feel from the recently tested AF-S 58mm f/1.4G, and it's plain annoying. There's a noticeable lag between the ring and the inner group movement, making it impossible to finely adjust it. Focusing wide open near the MFD considering the shallow depth of field is a task from hell: left, right, the focus doesn't change, too much left, missed the spot, slight right, nothing happens, too much right… It's comical and tragic. Actually at US$796 it's just tragic. Focus pulling during video recording? Forget about it.
And that's it. With a SWM, all plastic built and frontal filters, there's nothing exotic about the AF-S except for the focal length. The 20mm are way more dramatic than the 24mm and I recommend it to complete a 35mm, 50mm and 85mm set, all f/1.8G. The accessible "f/1.8G" intermediary line (not f/1.4) is exclusive to Nikkor's as no other brand offer something as extensive and clean. It's a flexible prime kit, with a clear proposal, easy to use, under US$1000, modern. Coming from Canon with an ever ageing (1992 85mm f/1.8) or confusing (US$899 35mm f/2 IS USM at launch?) lineup, Nikon feels better put together, definitely more future proof.
IMAGE QUALITY
The 13 elements in 11 groups, 2 ED, 2 aspherical and Nano Crystal coating optical formula is meant for a higher end market and the US$796 price tag, the highest among the FX f/1.8Gs, reveals the AF-S 20mm ambition to cater more than just the prosumer market. The results are spectacular: high performance for everyday f/1.8 shooting, technically perfect files from f/2.8 and up; impeccable contrast no matter the aperture; and unusual aberration control for such a low cost. From all ultra wide angle primes I've ever used, from any brand, this Nikon is the best.
Honestly at f/1.8 I didn't see a significant drop in resolution that left me aware of using it wide open. Yes, Nikon's MTF chart and some websites do report an enhancement from f/2.8 and up, but that doesn't mean wide open it is bad. Around the edges it does suffer from some saggital coma flare, subject in vogue since I reviewed the AF-S 58mm f/1.4G, that limit its usage in astrophotography wide open. But it's just around the edges, less than 1% of the frame, with no real impact on the wide angle look and a good subject/composition.
Stopping down to f/2, f/2.8 and f/4 the main difference is the reduced vignette, that actually makes the frame look brighter. Low light f/1.8 photos have a "voyeur" feel with a centered spotlight, and depending on your art direction, the look is very organic, better than software renderings. But internal light scattering (blooming), improvement in sharpness and resolution, typical of other UWA from f/2 and down (Canon and Sigma 24 f/1.4, I'm talking about you), don't happen on the Nikkor AF-S 20mm stopped down. It's awesome from f/1.8.
Just some lateral chromatic aberrations appear around the edges but any image processor or modern DSLR corrects is perfectly. Even the geometric distortion is a surprise for the almost complete absence of it, besides the wide angle. Architectural lines or the horizon get a slight bent near the edges, but overall it's well handled for a wide angle. Nikon always masters the UWA.
VERDICT
In the end the AF-S 20mm f/1.8G is a surprise to me because 1) I didn't even know such spec existed, 2) it's not that expensive for what it is and 3) it is optically perfect. Today, 16/10/15, Sigma raised the bar announcing the 20mm f/1.4 DG Art HSM, leaving Canon out of the UWA game. But Sigma is an ostentatious design with 15 (!) elements, 949 grams (!) and 1/2 a stop larger at f/1.4, the world's first for a 20mm. On the other hand Nikkor managed a great handling prime considering its size and weight. If you shoot wide, it's one of the best lenses on the market. Nice shooting!