Fujifilm X-A3
Estimated reading time: 22 minutes.
February/2018 – The X-A series is Fujifilm's entry-level mirrorless camera lineup for the X-Mount. The least you can purchase to natively support Fujinon X lenses, the manufacturer tries to balance everything it can put (or remove) from a modern digital camera, not losing ground to smartphones (the most popular cameras today); nor canibalize its higher-end models. So much competition is welcomed and for just US$599 the XC 16-50mm f/3.5-5.6 OIS II kit, on the X-A3 we get virtually the same creative possibilities of larger cameras (Pro 2, T2, T20); on a much simpler and easier to use package. Gone are the tactile jog dials, the metal build and the electronic viewfinders; in are the retro design and largely the same image quality. Already surpassed by the new X-A5 (with 4K video and phase-detection AF points), and more expensive than the ultra-low-cost X-A10 (using an older 16MP imager), from the X-A2 the A3 gets a new touch-sensitive LCD, a better build and 24MP. An excellent entry-level camera for Fuji's X-Mount, is it the right camera for you? Let's find out!
BUILD QUALITY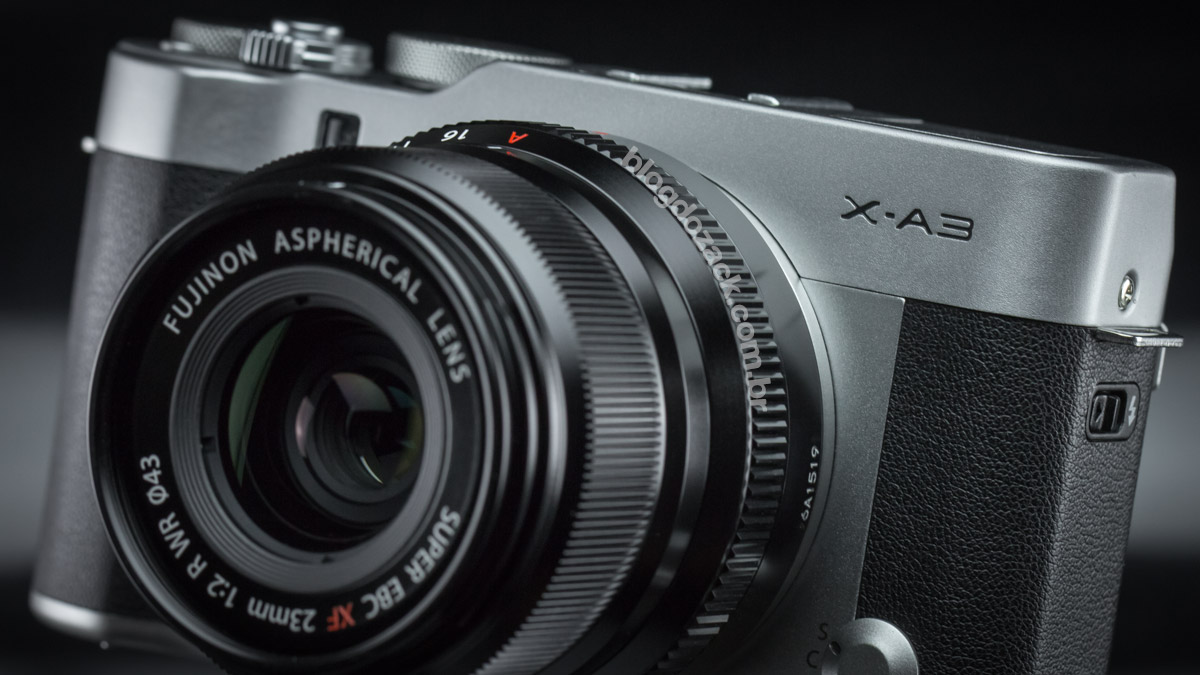 At 116.9 x 40.4mm of 339g (sans lens) of mostly plastics, coming from the X-A2 review the A3 is a giant leap forward; much better built and apparently the same as the newer X-A5. While on the A2 the plastics made sure we felt a lower-end camera, with questionable finishing, the A3 is certainly tougher and better put together. While some plastic edges and screws are still visible from the outside, I guess Fuji nearly duplicated the thickness of each plastic piece, for a much more robust feeling in our hands; not wobbling nor making noises when we move the swivel LCD screen. It's a relief recommending it as true Fuji X-Mount camera, despite the all-plastic build, and great to use with larger lenses; we can simply forget the X-A2 fiasco and opt for either the A3 or the A5.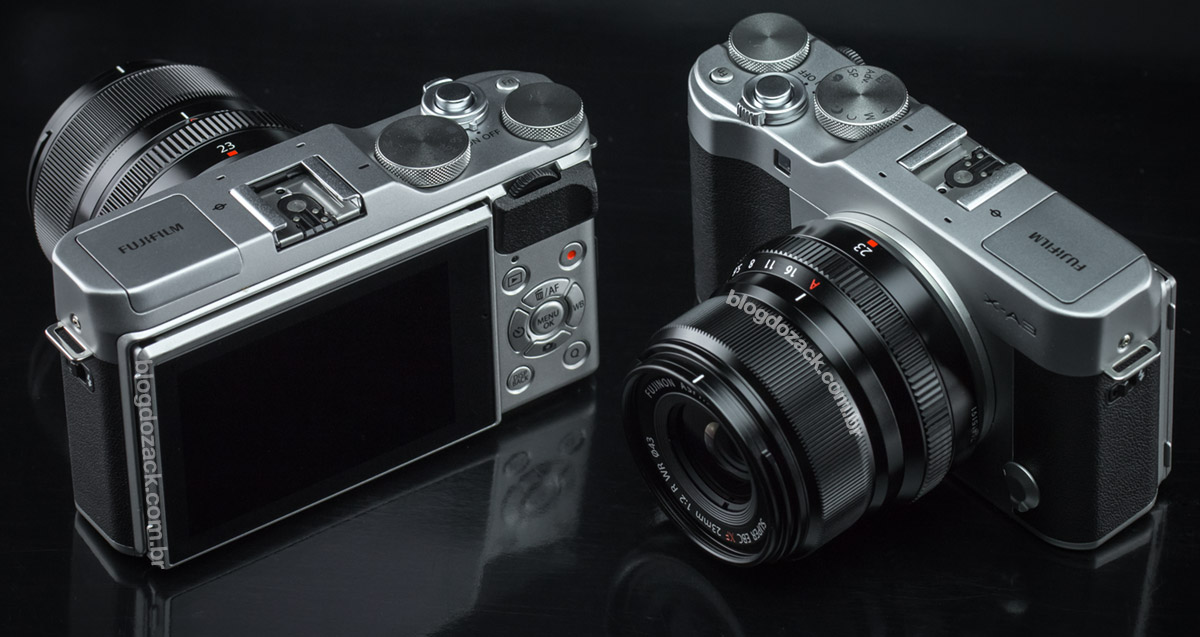 In your hands the X-A3 ergonomics are largely the same as the previous A2 and even the Pro 2; and that's not a compliment. The square-ish design removes the front hand grip used to support your fingers, making all these cameras harder to hold; despite being more portable. At the rear the right-hand presses a now-rubberized grip, that fits the secondary exposure setting dial, just like we saw on the A2, but better built. It works well with portable lenses like newer f/2 R WR XF or ultra-light XC zooms, but it's not ideal for larger zooms like the 18-135mm. On the other hand the shorter camera footprint forces every control to be on the right camera side, making the single hand operation faster and better than even higher-end X models; filled with distant dials.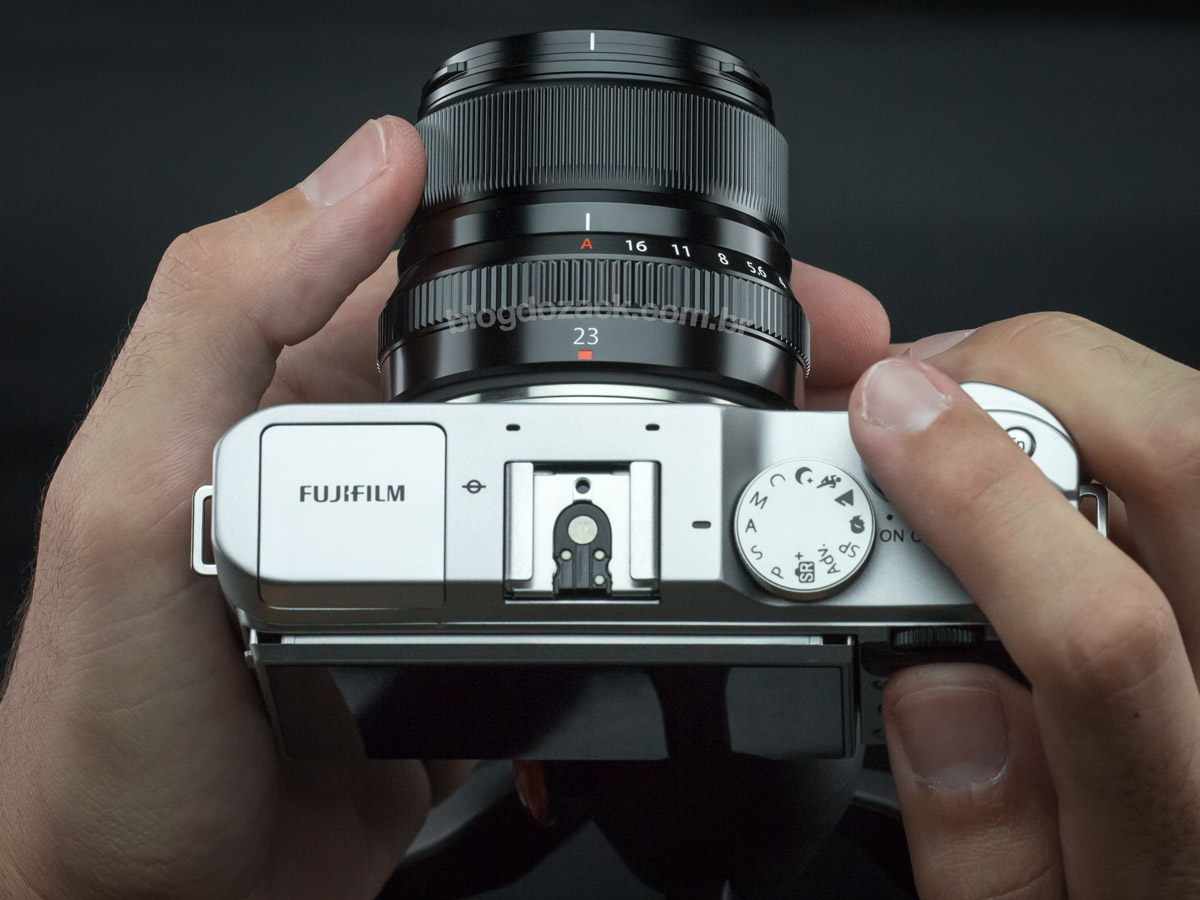 Starting from the top, even before we turn the X-A3 ON we can feel the improvements over the A2. The ON/OFF switch is taller and fatter, much more robust than the older A2. It also lost the chromed finishing that was prone to scratches, and the overall index finger input is firmer; impossible to slip with sweaty hands. The shutter release button sits inside this switch, like virtually all X-Mount camera, featuring two stages despite feeling like three: a fairly looong spring pushes the button way higher than it should be, activating the half-press with a slight click for AF + AE; and a final click for releasing the shutter. It feels more fragile than it actually is, as is higher than it should be; maybe for better ergonomics. Anyway it is nearly impossible to take a photo by accident with the A3.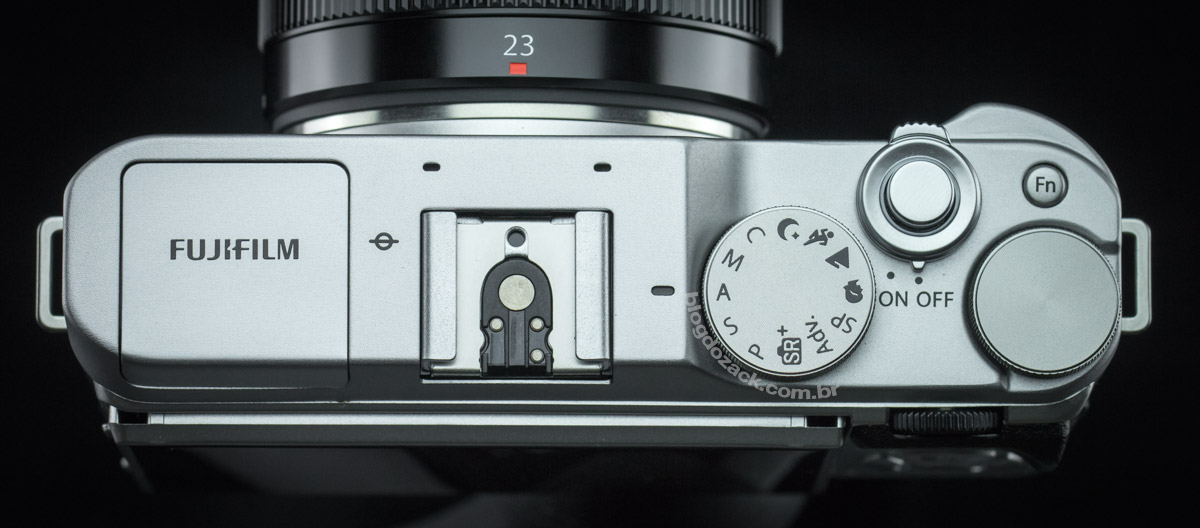 At the top the main exposure mode dial feels alien to Fujifilm's X cameras, as all feature tactile jogs for aperture priority or shutter (even ISO) speeds). On X-A2/A3/A5/A10 this dial fits traditional PASM modes, also with a curiously "pro" oriented C "custom"; and seven automatic modes between scenes and special filters. This dial feels like a metal piece (!) over a sturdy controller, cold to the touch, and makes the A-series more user friendly. To the camera's side, on its shoulder, a free-spinning disc activates the exposure compensation under semi-automatic modes (P/S/A); or to control the shutter speed under manual mode; paired with the rear-thumb dial (more about it later) for faster adjustments. At the front a tiny Fn button is customizable for over 20 functions, showing Fuji's goodwill with the entry-level market: few cameras feature such button at this price point, and it's a great example of the flexibility offered by the A-series; easily becoming a backup camera.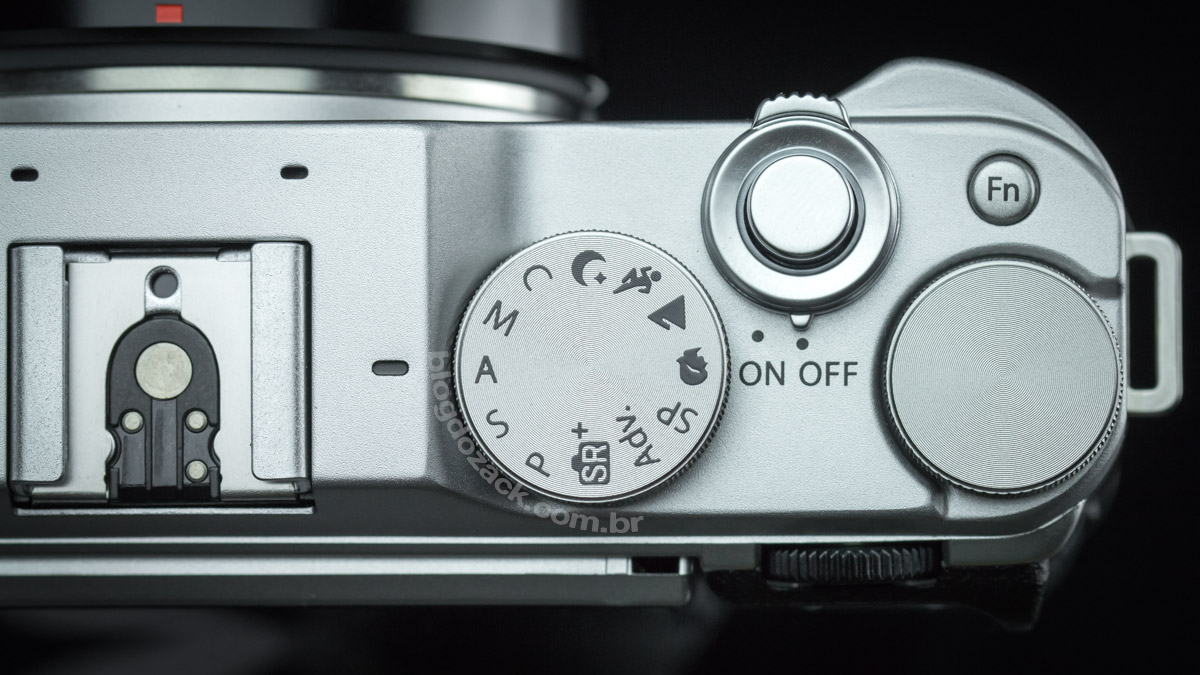 At the rear the X-A3 is dominated by the 3″ 1.04M pixels touch-sensitive LCD screen that can be fully rotated to the top; thus displaying the image to the front of the camera. It's a big highlight over various X-Mount cameras, that can only swivel 90º, making the A3 special for amateur photographers. Its sharpness and brightness is also better than the older A2 (920k dots), similar to the panel used on both T2/T20. And it's engineering is tougher to support a big update: the new touch-sensitive interface. Although it is currently limited to just selecting focusing points and some gestures during playback, the touch controls give better dynamics to the overall usage, specially focused on newer smartphone-generation photographers. You simply select the subject to be focused by touching it on the screen, also with a touch-to-shutter option; virtually without delays. And when it's fully articulated to the top, it can raise over the X-A3 controls and automatically engage the face-detection mode; great for high-quality selfies. It's Fuji's idea to captivate entry-level photographers on the X-Mount, as an always-with-you, better-than-your-smartphone camera.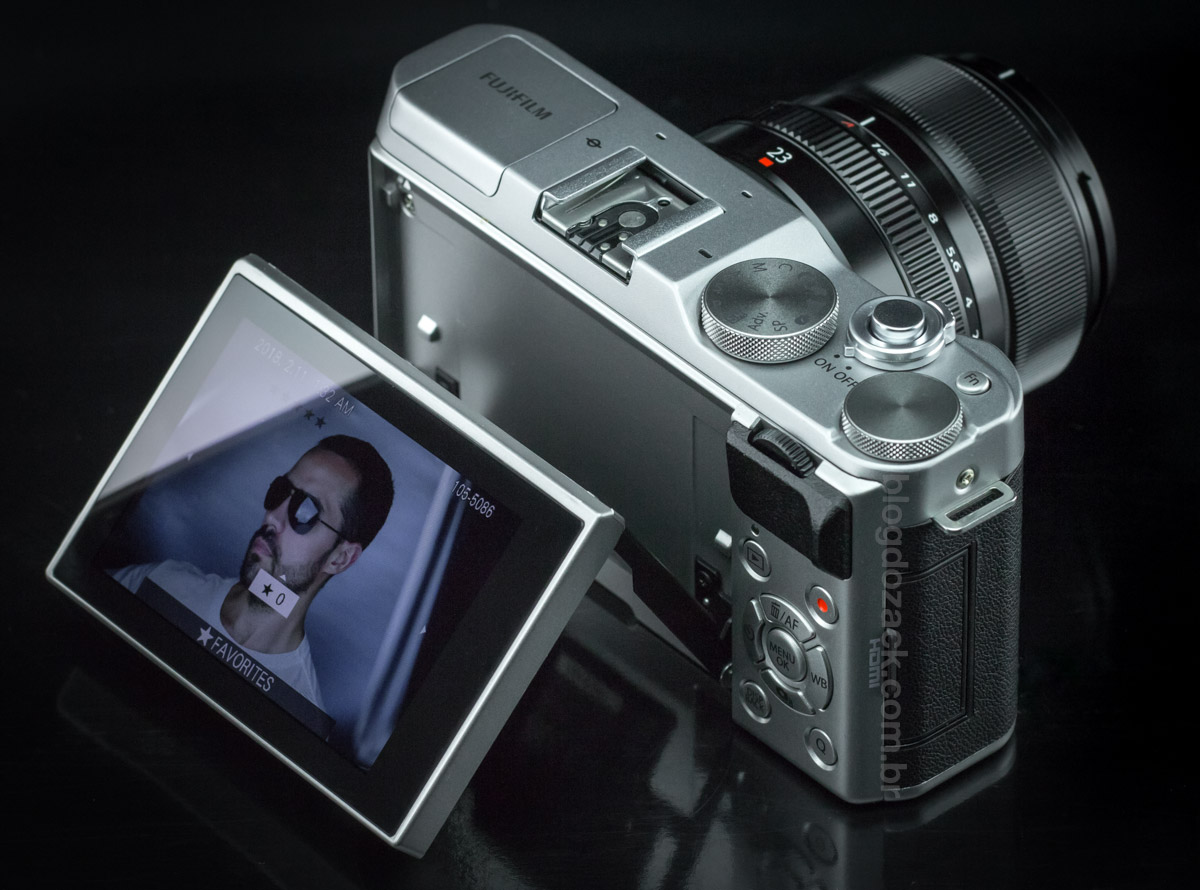 To the right the A3 buttons carry about every command used on any X-Mount camera; another great ergonomic touch to the entry-level camera. The logic is virtually the same from the Pro 2 to the A3, and everything works fast: a center MENU button over directional keys, intuitive as any digital camera; a playback and most importantly a video REC button can immediately start recording footage (much better than larger cameras, with the video mode on the DRIVE dial); self-explanatory DISP/BACK and Q buttons (to cycle the display overlays and to engage a quick menu); and above it sits the built-into-the-grip secondary exposure dial; also with an internal, vertical click. It's possible to control aperture for XC lenses (sans ring), or to bias the exposure on P mode.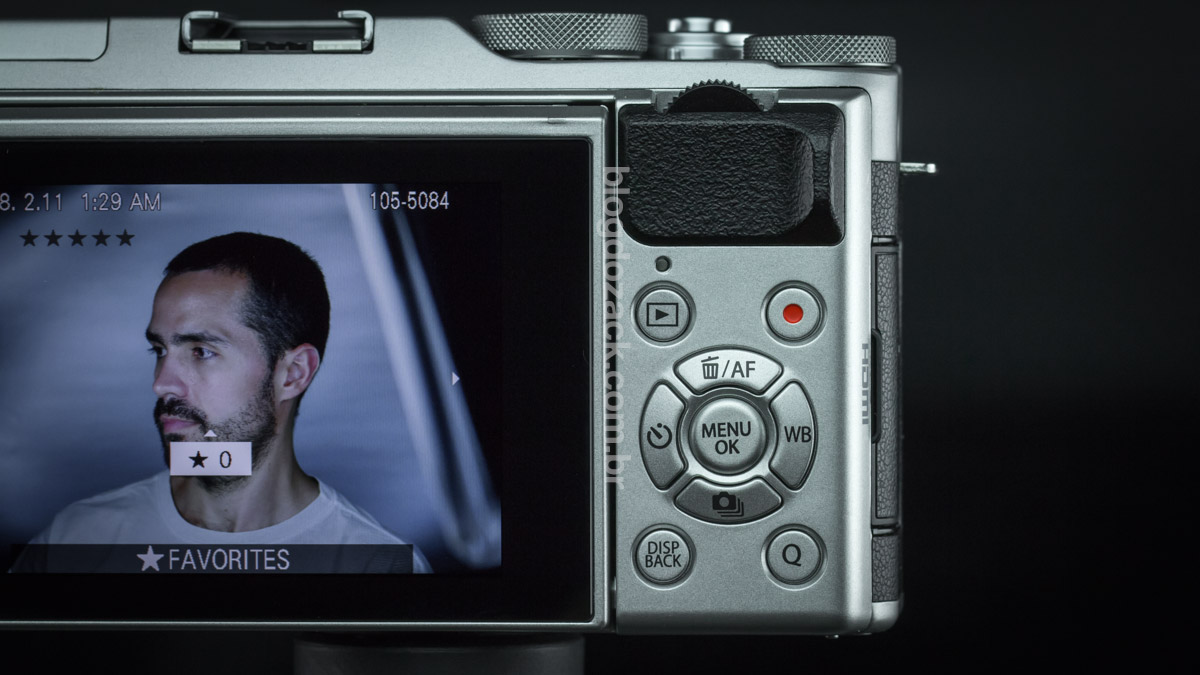 Finally at the front the A3 gets a new focusing selection switch (single, continuous, manual), missing from the A2; another reason to never look back at the older model. As most XF/XC lenses exclude buttons, it's almost mandatory for the camera to have such dial; it otherwise would need to be switched over the complicated Fuji menu. On the other side the lens release button is robust and easy to use, feeling fairly secure; you don't want your expensive XF f/1.4 lens falling from the camera. At its top a LED is used to assist the AF under low-light, doubling as a timer warning, and over its four corners Fuji built-in the A3: a top guide-7 (ISO100) flash, next to the full hot-shoe flash area; both with advanced high-speed sync and second curtain options. To the camera's right, under the hand-grip, both HDMI and USB2.0 fit under a simple plastic door, the later used to charge the battery internally (Fuji doesn't include a wall charger with the A3). And the single UHS-I SD card slot sits next to the NP-W126S battery under the camera, just like the X-T20, over a spring-loaded door.
The US$599 X-A3 feels cheap before-hand coming from Fuji who convinced us that APS-C mirrorless cameras should cost over US$1699 (Pro 2); paired with US$449 f/2 lenses (XF 23mm, 35mm, 50mm R WR). But despite the low price, in your hands the X-A3 proves to be a fairly premium entry-level X camera. The new build quality is a giant leap the A2, much better finished and nicer to use, despite the all-plastic body. While the previous A2 suffered from panel misalignments, the A3 feels closer to the T20 in solidness, borrowed by the new A5; making it hard to ignore Fuji's entry-level cameras. Of course this camera ain't weather sealed like more expensive models nor it sports all-tactile dials. But the overall simplified usability is fast and better to use and, as we'll see, its performance is still great. Is it the best X camera? Maybe so.
HIGHLIGHTS – SPEED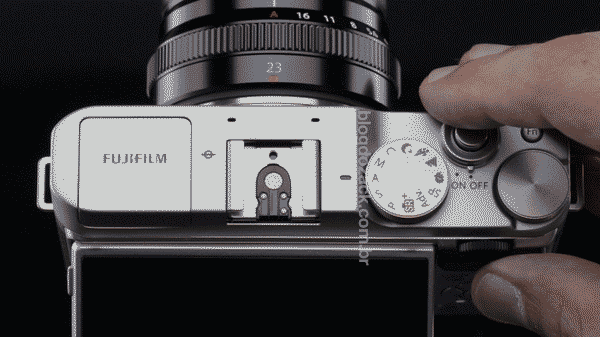 With a lower-end Fujifilm EXR-II processor (over newer Processor Pro chips), the X-A3 is a curious camera from the X lineup; not that far behind in everyday performance over more expensive Pro 2/ T2/ T20. Its booting time, menu loads and even playback speeds are practically the same as other cameras; nice to have on Fuji's entry-level market. Between the ON switch and the camera to display the image preview takes about 1 second, better than even action-oriented Sony's A6300/A6500. The playback speed feels faster than even Fuji's recently tested T20, also without delay between shots. Despite its AF system not being capable of tracking moving subjects (more about it later), the X-A3 offers two different continuous DRIVE speeds; 3 frames per second or a faster 6fps. The internal buffer is also tiny at just 5 raw files, but in trend with this price point. Any faster DSLR would cost at least US$100 more BODY ONLY, but the X-A3 deliver a nice kit.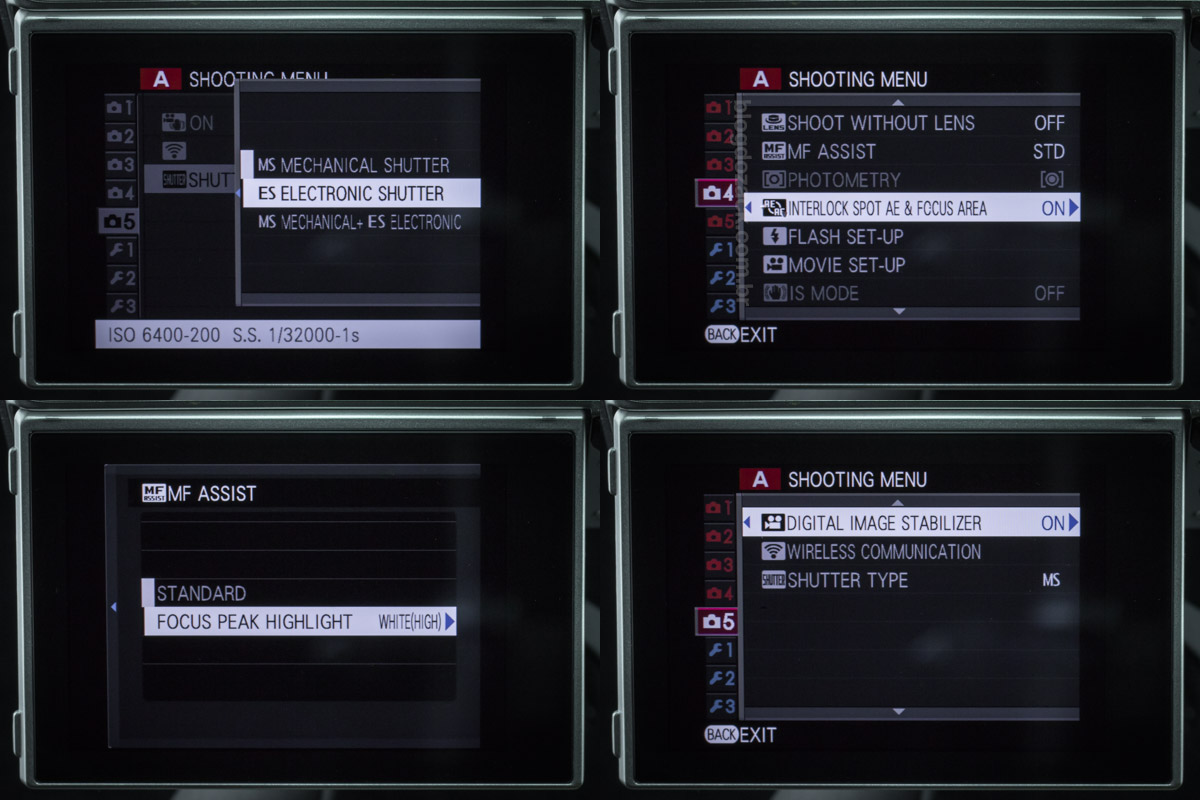 On a daily basis its interesting to see fairly advanced features on the entry-level X-A3. The mechanical or electronic shutter modes (including the maximum 1/32.000 speed); the excellent Fuji Auto-ISO with minimum shutter speed and maximum ISO, with three different memories; the fine white-balance compensation; are all built-in the X-A3′s software. While Canon edits most of its software to exclude options from Rebel cameras, Fuji adds on the A3 sophisticated metering and focusing point links; commander flash from the internal unit; and even and electronically stabilized video mode not seen in any other X camera. It's complete despite the low-cost, and it all works.
THE GOOD AND THE BAD – AUTO FOCUS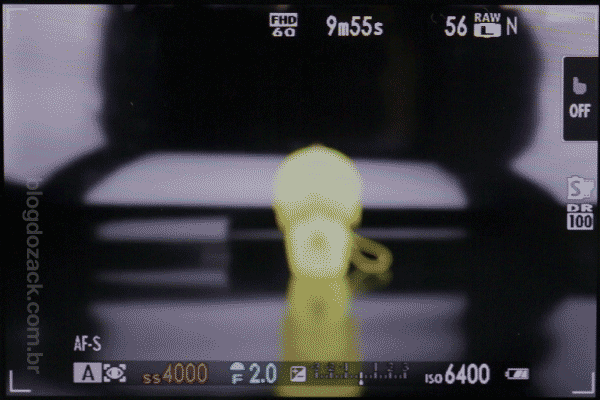 The X-A3 weak-link falls over its contrast-only auto focusing system. While newer and better mirrorless cameras added built-in phase-detection pixels on its image sensors, to speed up focus acquisition without a dedicated under-the-mirror module, the X-A3 focusing mode is similar to the aging X-A2; sometimes imprecise; most times sluggish; impossible to shoot action. Let's be clear: under plenty of light and a still subject, the A3 can easily focus under half a second; yes, much longer than the T2/T20/Pro 2 0.08 focus acquisition; but faster than most smartphones or the A2 (0.8s). It's more than enough to shoot landscapes, product photography, portraits and still life and, depending on how fixed your subject is, it's also very precise. But under low-light, for example around the streets, the performance drops significantly; also being very unreliable. The camera often refuses to focus and it just won't shoot; also missing the picture-perfect moment.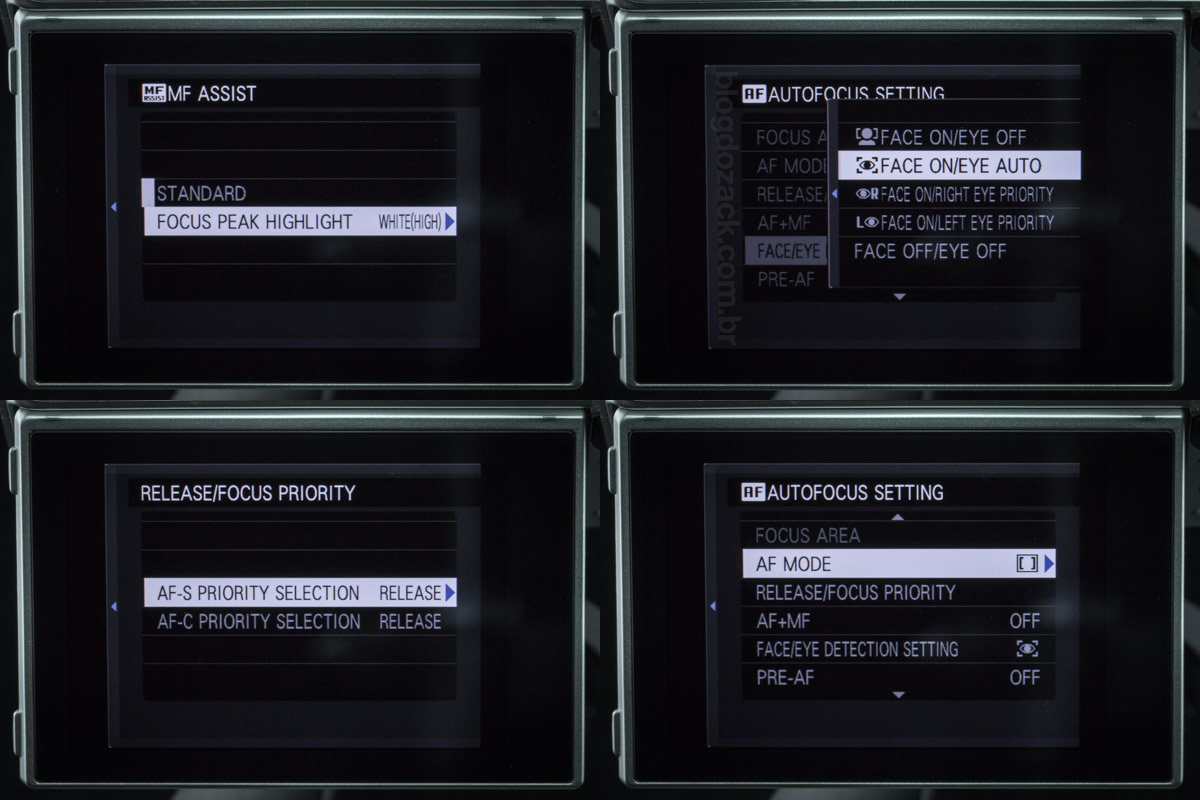 Every single Fuji focusing mode is offered on the X-A3, behaving similarly to the Pro 2/T2/T20. Single modes, zones or face detection; different sizes for singe and area modes; 49 7×7 selectable contrast zones; and advanced features like shooting priority (shutter or focus) or peaking assistance during manual focus; or even the amazing face or eye-detection modes (for tracking either left or right globes); are all built-in the X-A3 software. Yes, yes, it's not perfect: it can barely detect a subject wearing glasses and the camera often fails to limit the contrast seeking area, even using smaller zones; often choosing to focus in whatever was already sharp. But frankly its the most comprehensive AF system on the low-cost market, working great under plenty of light on the X-A3.
What absolutely doesn't work is the low-light AND the continuous focusing on the X-A3. During the night around Tokyo's streets, with the XF 50mm f/2 R WR for example, most of the times the A3 refused to lock focus over the subject, despite it being clear to the naked eye; failing to release the shutter in time, mandatory for good street photography. Even as I tried to overcome the contrast detection limitations pointing the camera at a fairly high-contrast bright-enough spot, the A3 refused to focus; making it harder than usual to use under low-light. The issue follows (no pun-intended) the continuous AF drive to shoot action or moving subjects, that IMHO shouldn't even be offered on this type of camera. The A3 hunts for focus over any subject and fails to lock, impossible to even predict the next focusing distance; for real action photography. So the A3 is limited to simple static subjects, and maybe only the new A5 can solve this problem.
THE QUESTIONABLE – 1080P60 VIDEO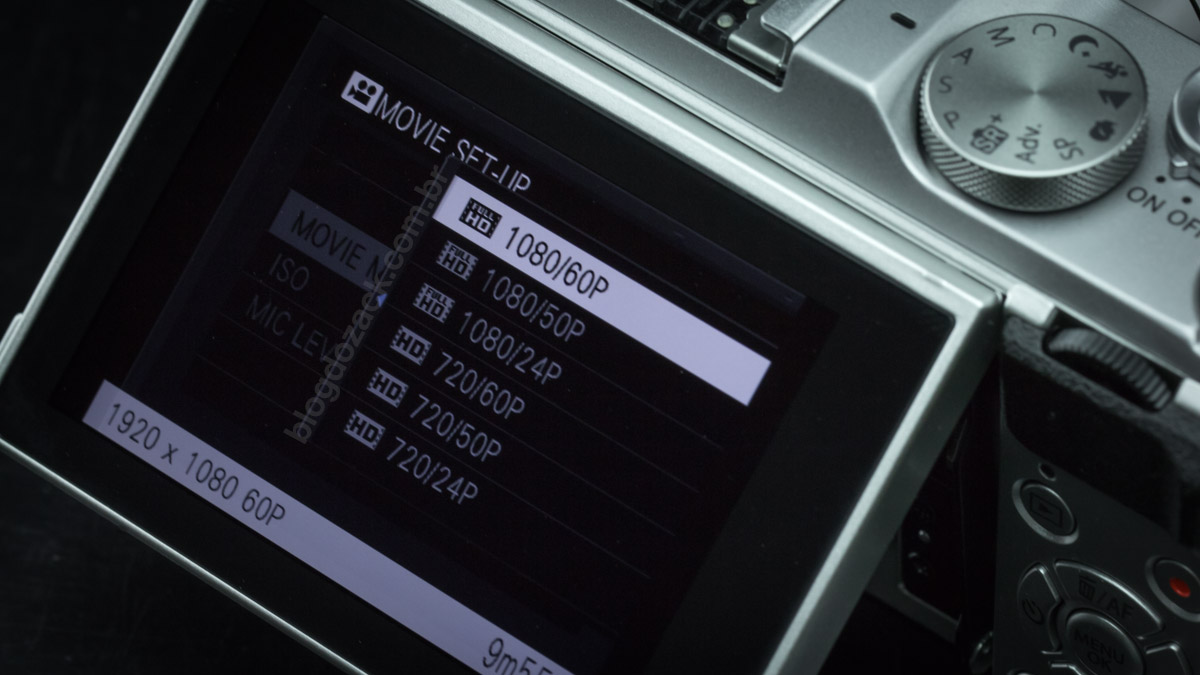 Another fairly basic feature on the Fujifilm X-A3 is the FullHD 1920X1080 video capture, up-to 60 frames per second (over the A2′s 30fps max.); internally recorded to the SD card. Acquired from the APS-C sensor via line-skipping, and compressed at about 40mbps, the image quality is fair at this price-point. Actually considering it is acquired using line-skipping, the performance is great: the recordings are clear without major artifacts like moiré or aliasing, despite the EXR II processor heavy compression; paired to Fuji's mandatory film simulation image profile; high on contrast, and limited on the details. The auto-focus options are also limited, basic compared to what's offered in similar DSLRs (like Canon's Dual Pixel SL2). So the X-A3 video feels questionable: is it worth recommending a poor performance video record; or to use your smartphone?
Not to say the X-A3 video files are useless. The images actually use the large sensor advantage under low-light, with less noise and color shifts than most smartphones; paired to large aperture lenses for creative effects. The video recording is also near instant using any of the exposure modes, and even manual or semi-automatic modes (P/S/Av) can be used; features missing from recent Canon DSLR (it's either fully automatic or fully manual on the T7i, or even the full-frame 6D Mark II). The A3 Auto ISO is also great at compensating the exposure accordingly to the shutter speed and aperture, despite the later not changing as smoothly as a cinema lens; the f/stop clicks are visible over the images. Fuji newly developed electronic stabilization also gives large aperture XF primes new possibilities, working great over the APS-C sensor; just like Canon's new Digital IS. It's curious to see on Fuji-s X-A3, but missing from larger Pro 2, T2 and T20 cameras.
On the other hand Fuji's aggressive film simulation looks pushes the boundaries at what the final image quality looks like; paired with weird auto-focus features. The video files look bad: shadow areas are turned into solid blocks with zero textures, and highlight zones easily clip; there's nothing sophisticated on the EXR II image pipeline. Compared to a five years old iPhone 5, the X-A3 resolution is awful, and that's a problem. And the auto-focus is also surprising: sometimes extremely safe at not changing the subject aimlessly; others hunting for focus and destroying the shot. During creative focus pull sequences the camera seems to ignore the selected subject; nothing compared to Canon's virtually flawless Dual Pixel cameras. Also despite the fast face-detection, the X-A3 takes way too long to actually focus on the subject; and that's useless.. And the touch-sensitive LCD can't be used for touch-to-focus inputs, also making the peaking display disappear once the recording starts; double useless. So the X-A3 video mode is simply far too basic for a 2018 camera, and I can only recommend a better camera if you're really interested in videos.
AN EXTRA – Wi-Fi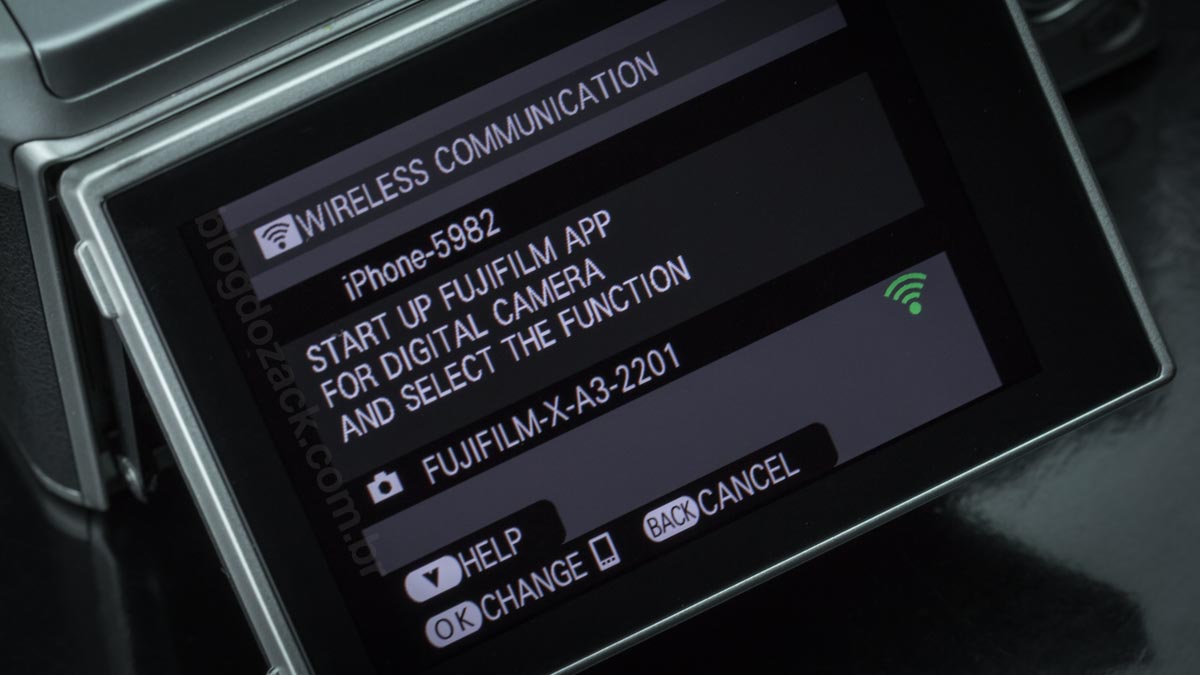 Another enhanced feature on the X-A3 is the wireless connection. Despite both A2 and A3 cameras being compatible with the same Fujifilm CAMERA REMOTE (ALL CAPS) app, for iOS and Android, the older camera couldn't support one of the most interesting features; the fully wireless image preview. A feature practically invented on Canon's 2012 EOS 6D, it's still hard to see on most cameras (at least working well). And while Fuji definitely seems on the right path, its recent cameras (including the X-T20) still comes with fairly annoying issues. Just to set it all up is a chore: the X-A3 features two distinct wireless menus, one called WIRELESS COMMUNICATION (ALSO ALL CAPS) and another CONNECTION SETTINGS. Both are used for different levels of settings, but it's the first that engages the X-A3 antenna to provide a wireless network; weird. The X-A3 also doesn't explain step-by-step what to do next, but in theory we should continue to the smartdevice's Fujifilm app.

Fuji's CAMERA REMOTE is a genuine trip to the past, considering its interface and overall UX. Giant buttons"¦ Different sized texts"¦ Always-in-display corporate logo. A true marketing PowerPoint made to bring some camera functions over the smartphone. The "browse camera" function displays the camera's SD files for fast download and publishing of your images, despite being a bit sluggish: it takes about 10 seconds to generate 9 thumbnails, and to navigate a full afternoon of photos will be a burden. The effective download speed is much faster after we select the images, but for a bad reason: the camera automatically converts full 6000×4000 files to a measly 1776×1183 300kb image, also making due without raw files; forget using your iPad Pro to fully replace a dedicated laptop. But the FullHD videos, on the other hand, are transferred without further compression; thus taking longer to download. They're both compatible with Apple's iOS11, and are all easy to upload. Fairly straight-forward as expected.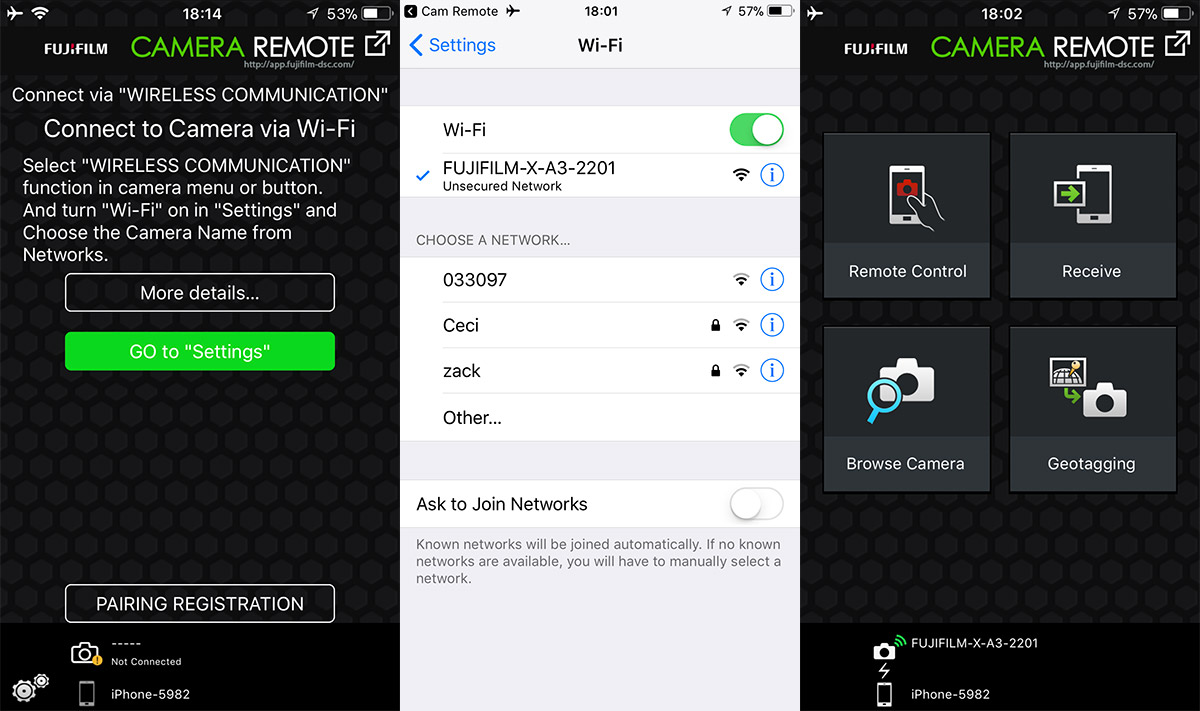 The biggest problem lies on the second CAMERA REMOTE function, always disconnecting from the camera when you go back and forth the "browse camera" function. As soon as you go back to the app's main menu, it suggests a bizarre mandatory "disconnect?", and the camera also turns itself OFF every time; WTF?! Yup, it's sad because it's funny. If you're using both devices to simply shoot a remote image and then post it online, you're probably going to have to setup it all up two times. Another issue: if you lock your smart device for any amount of time, the camera also disconnects AND shuts itself off; impossible to preserve batter life; despite the ON switch on the camera. So it's nearly impossible to use it in the studio"¦ It's limiting from creative uses around the streets"¦ And Fuji MUST review it's software and update both devices; the camera app and the camera firmware.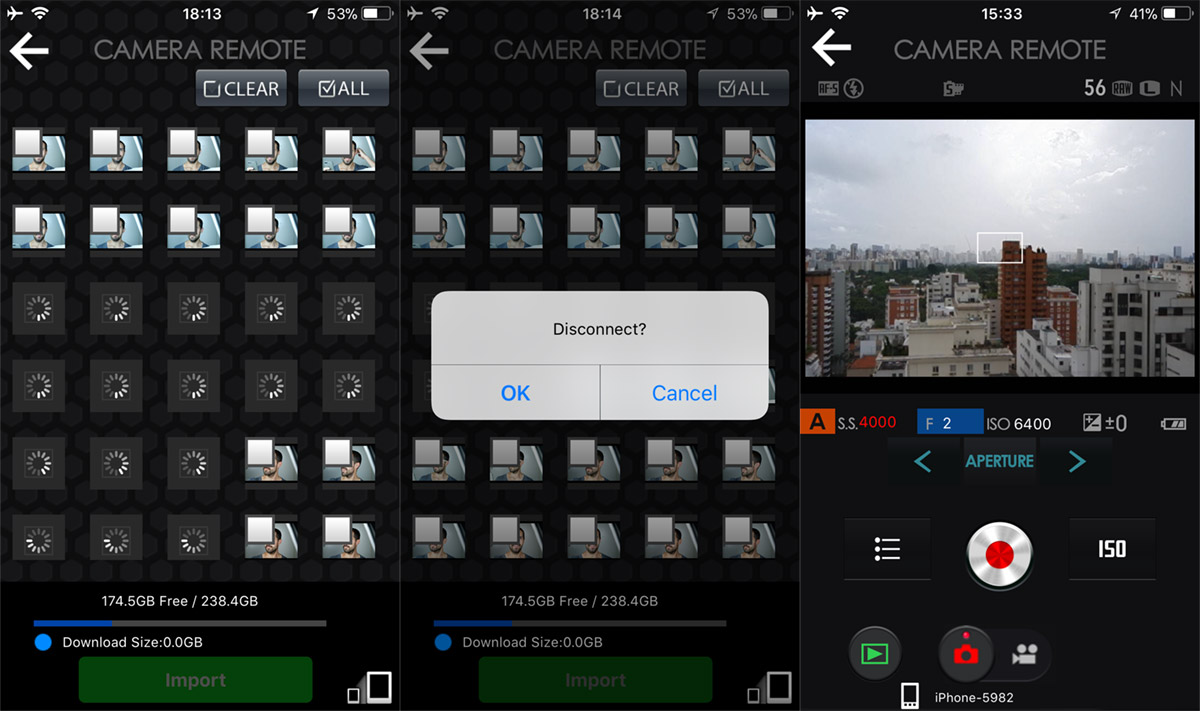 On the other hand the CAMERA REMOTE wireless image preview interface is fair to current Fuji cameras (like the T20), and true to the app's name. The complete X-A3 interface is remotely transmitted to the smart-device to wirelessly adjust exposure, auto-focus, ISO, white balance, flash modes; even film simulations"¦ for a true CAMERA REMOTE experience. It's possible to switch between photos and video modes, also wirelessly checking battery life, SD card space and various exposure adjustments; all with good performance. The image preview is fluid and the selected adjustments are instantly transmitted between both devices, giving a great user experience; it's just like the camera but on your smartphone's screen. Also a very important "playback" button can access previous shots WITHOUT DISCONNECTING the camera between functions, made it easy to review some shots. Overall it's a simplified app for basic wireless operation.
IMAGE QUALITY
With a new CMOS 24MP APS-C format image sensor outputting 6000×4000 pixel raw files, the biggest headline from Fuji's X-A3 is by far the lack of the novelty X-Trans III color array (explained in detail on the Pro 2 review). Using a different color filter, Fuji says the X-Trans makes possible its saturated colors and faithful film simulation, unique to the X cameras, gathering the attention of newcomers looking for a distinct look for their images; but also leaving much of the market on-the-fence. Some say the X-Trans pattern can actually reduce (instead of enhance) the sensor's resolving power, and many landscape and product photography shooters see a visible loss in sharpness, compared to Bayer imagers; some love it, some hate it. But on the X-A3, the traditional Bayer imager comes with many, many advantages; probably the best APS-C ever tested on blog do zack (better than Nikon's D500)! It's pretty simple: pair the X-Pro 2/T2/T20 great overall performance with a regular color system, and you get a fairly advanced image performance; despite the entry-level camera. The X-A3 raw flexibility is leader on the APS-C format; the maximum ISO6400 is excellent (despite much lower than X-Trans III's top ISO51.200); and we even get most film simulations on the A3 model. So what's up with Fuji: is it the best or the worse X-mount camera?
The X-A3 standard Bayer CMOS imager resolving power is absolutely insane: by far the market's leader ahead of any Sony A6300/A6500; and every Canon APS-C since the T6i (T7i, 80D, M5, SL2). Yes, all these cameras deliver 6000×4000 pixel raw files, so what's the difference? The absolute lack of light leaks over each pixel from Fuji, making for a pixel-sharp micro-contrast that we can't see from other brands; given it's base-ISO200 value. In reality it's Fuji cheating over other cameras; while most of the market offers base-ISO100 settings, Fuji starts at ISO200 making for a mandatory interpolation of the signal; thus enhancing its sharpness. It's hard to explain but easy to see: at ISO200 Fuji has a 1-stop advantage to effectively render twice the numeric values at each sensor read so details feels rich in nuances and colors; for an overall distinct look. It's an eye-opener for those seeking raw resolution: this basic X-A3 is far ahead the APS-C market, and works great.
The amount of data packed in each X-A3 raw file is insane; again much better than its APS-C peers. While Sony's current A6300/A6500 fail to flawlessly recover under-exposed shadows at ISO100 and +3EV, showing visible banding of most files, once again Fuji's base-ISO200 is to "blame" for its better-than-usual raw performance; IMHO better than even current X-Trans III cameras. On all Pro 2/T2/T20 files we can clearly see a colored pattern over +100 shadows and +100 black Adobe's Camera Raw processing, paired to a heavy-handed +2.00 exposure adjustment; where the X-A3 remains flawless. These same settings are practically noiseless with plenty of details on shadows, even under higher ISO640-1250 files, perfect to work with high quality low-light scenes. On the other hand its highlight recovery latitude feels limited compared to its peers, and simple -2EV adjustments can barely recover highlights from over-exposed areas. The X-A3 metering is actually programmed not to let the highlights clip; it's difficult to recover it. So while overall its performance is excellent for the shadows, rivaling current 135-format full frame cameras, it's not perfect.
"Telhado II" with the XC 16-50mm f/3.5-5.6 OIS II at f/5.6 1/400 ISO200 @ 31mm.
"Telhado III" with the XC 16-50mm f/3.5-5.6 OIS II at f/5.6 1/600 ISO200 @ 31mm.
"Telhado IV" with the XC 16-50mm f/3.5-5.6 OIS II at f/8 1/1000 ISO200 @ 50mm.
"Rua" with the XF 50mm f/2 R WR at f/4 1/250 ISO200.
The high-ISO performance is also impressive, despite coming with a big "but". The noise footprint is visible only after ISO3200, for absolutely clear captures under fairly high ISO640, 1250, 2500 captures; bizarre to see on this generation's 1) entry-level cameras over the 2) most used ISOs 3) useful to work with practically any lens. Using the XC 16-50mm f/3.5-5.6 OIS IS for most shots, it's easy to work with the camera kit under closed venues, or even under no-light at all; only balancing the lens OIS to the camera's ISO. But Fuji limits the X-A3 to a paltry ISO6400; there are no further expansions. While both Pro 2/T2/T20 cameras reach up-to ISO51.200, the A3 is limited 3-stops down. And, frankly, it was a good decision from Fuji. Over ISO4000, 5000 and the top 6400 we notice some color shift from both raw and JPEG files, so an extra ISO12800 would probably do the X-A3 no good. So it's a "healthy" limitation on the entry-leve camera, despite a warning for those shooting ultra-low-light shots; the A3 can only expose up-to ISO6400.
Also interesting is the X-A3 metering system; worse than other X cameras. The trustworthy metering has actually a highlight from the X-T20 review: absolutely every shot taken with that camera came perfectly exposed. A balanced metering is mandatory to speed-up the camera's operation, making is faster to shoot ready-to-publish images. But that doesn't happen with the X-A3, being one of the most "photo-phobic" cameras ever tested. Even during the day the X-A3 isn't shy at under-exposing its shots, mandatory to deal with the sensor's less-than-usual highlight latitude. During the night the camera is specially difficult to use, because any backlit sign or light post will make the exposure darker; borderline annoying. Those shooting JPEG only files will get a good amount of totally dark frames if a car's headlights, signs or even the camera's flash bounce from the subject, demanding 1) heavy exposure compensations (+2EV and up), or 2) heavy raw file post-processing. Than the great shadow recovery is welcomed; without it, some X-A3 images would simply be lost due to the poor metering pipeline. I'd recommend always shooting raw with this camera.
"gift for u" with the XC 16-50mm f/3.5-5.6 OIS II at f/6.4 1/350 ISO200 @ 16mm; camera file vs. processed raw.
"Tokyo II" with the XF 50mm f/2 R WR at f/2 1/125 ISO400; camera file vs. processed raw.
"Kimono II" with the XF 50mm f/2 R WR at f/2 1/125 ISO800; camera file vs. processed raw.
The straight-out-of-camera darker images have the mandatory film simulation image profiles to blame; one of the most aggressive from any Fujifilm X camera. The EXR II processor isn't as sophisticated as Fuji's X Processor Pro used on current, more expensive models, and "blocks" of shadows and highlights usually lack any detail; it all feels very electronic. The X-A3 itself feels confusing over different settings for custom profiles over shadows, highlights and Fuji's "dynamic range"; also with inverted values for most adjustments (+2 shadows actually make the image darker). Also Fuji's excellent X-Trans based "grain effect" and some film simulations (like ACROS) are missing from the Bayer X-A3, again making sense to recommend a raw-only workflow.
Crop 100%, straight-out-of-camera JPEG vs. processed raw; notice the EXR II aggressive rendering.
Crop 100%, straight-out-of-camera JPEG vs. processed raw; a lack of detail from these JPEGs.
Crop 100%, straight-out-of-camera JPEG vs. processed raw; a dark block over what should be textures.
Crop 100%, straight-out-of-camera JPEG vs. processed raw; recovered details from the raw file.
Last but not least the Fujifilm X-A3 colors should be interesting to evaluate: how a standard-Bayer Fuji camera compares to its X-Trans peers? Pretty great, thanks for asking! Yellow, orange, red, pink, green, blue, cyan and purple tones are subtle compared to X-Trans III over-the-top saturation; most times "too real", feeling almost like a different brand. Some commentaries were comical on my Instagram: comparing Fuji to Sony to Canon, most people preferred the later for yellow tones. Fuji tends to be too orange; Sony tends to be green-ish; and Canon is the only brand delivering a proper green and red (thus yellow) mix. But Fuji's X-A3 does exactly that. Everyday images feel mundane from any CMOS imager, far from that "Lightroom preset" look. Pink flowers are saturated but filled with details, not clipping the red signal. And only some skin tones demand double-attention: sometime opaque, lifeless, with darker shadows; just like Sony's first generation EXMOR.
VERDICT
The Fujifilm X-A3 is, as usual, a curious review on blog do zack. (almost) The entry-level camera on current X-Mount system, paired with the X-A5 (they're both in stock), Fuji managed to built-in almost everything into this tiny camera: a new all-plastic but-robust build, much better than the previous generation X-A2; yes, no tactile jog-dials as the ones found on both Pro 2/T2/T20 but, considering its price point, no other mirrorless camera delivers such a fast exposure adjustment with two main dials; and every sophisticated feature like an electronic shutter mode, wireless flash, fine white-balance adjustment, AF points linked to the metering; eye-detection AF"¦ Anyway, new ideas not found even on modern DSLRs. No, it is not good enough to shoot action and I recommend double-checking focus after most shots. But that's what the A5 is for; we can't have it all on the A3.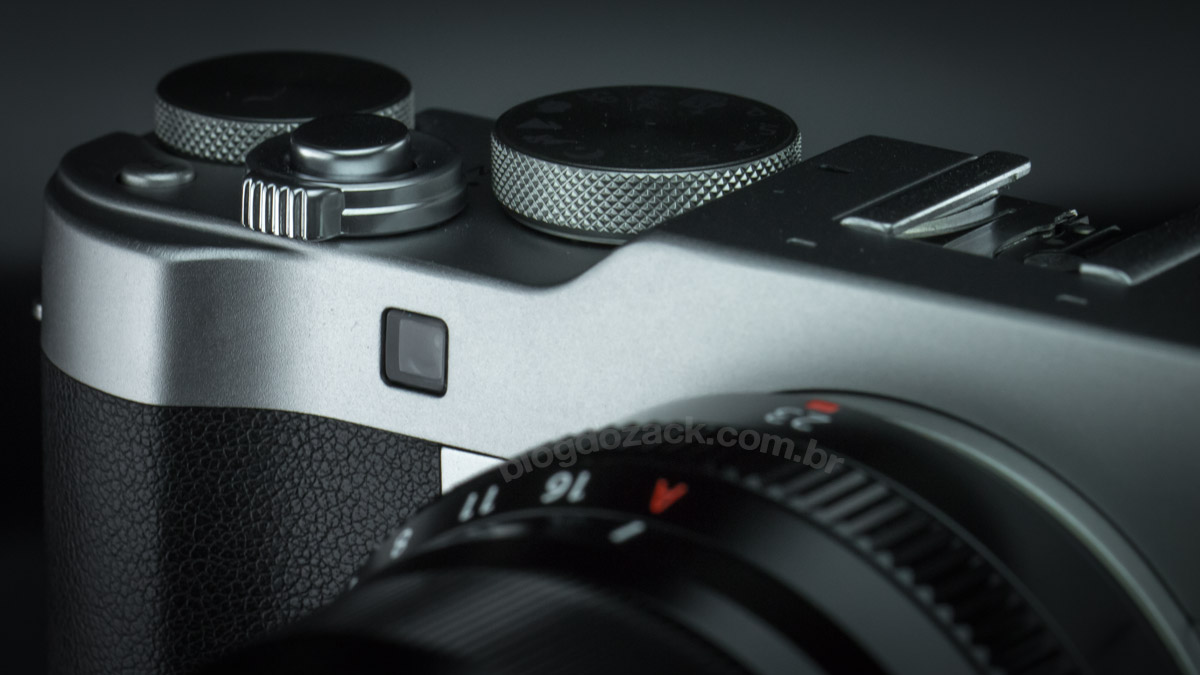 But what really set the X-A3 apart from even Fuji's X-mount lineup, is the lack of the novelty X-Trans III color-array; opting for a standard Bayer imager. The base-ISO200 guarantees better details for raw files and the dynamic range is absolutely the best seen on an APS-C format; yes, better than both Sony A6300/A6500 and Nikon's D500 (Canon's Dual Pixel can't compete). No, its colors are not as funny looking as X-Trans III's, but for those avoiding Fuji over it, the X-A3 standard-Bayer is a great alternative; impressive for the format. And no, although its straight-out-of-camera JPEGs doesn't look the best with high-contrast renderings and lack of details, also without Fuji's loved film simulation modes; those shooting landscapes, products and portraits and looking for an entrance for Fujinon's excellent lens lineup, the X-A3 is perfect for the X-Mount system. It's worth everyday pictures and as a backup for more expensive Fuji cameras. And thinking about its lenses, this is indeed the best entry-level camera ever. Take good care of focusing and nice shooting!