Fujifilm XF 50mm f/2 R WR
Estimated reading time: 10 minutes.
February/2018 – The 50mm f/2 R WR is the third "f/2R WR" lens introduced by Fuji for its X-Mount. Practically a clone of the 35mm f/2 R WR introduced together with the Fuji X-Pro 2 back in 2016, it's a giant leap forward the first "f/2 R" lenses (no WR) like the XF 18mm. The idea is to offer an alternative lineup to the more expensive f/1.2 and f/1.4 primes, but keeping the same top-of-the-line qualities we're used on Fujinon's lenses. Distinct from the XC entry-level lineup, theses XF comes with technologies like the R ("ring"), indicating a physical aperture control on the lens's barrel; but making due without he LM ("linear motor"), for fast and silent auto focus; and the OIS (optical stabilizer); thus getting lighter and easier to use products. But for about US$449 on a f/2 lens, is this XF 50mm R a must-have piece on your kit? Let's find out! Nice reading.
BUILD QUALITY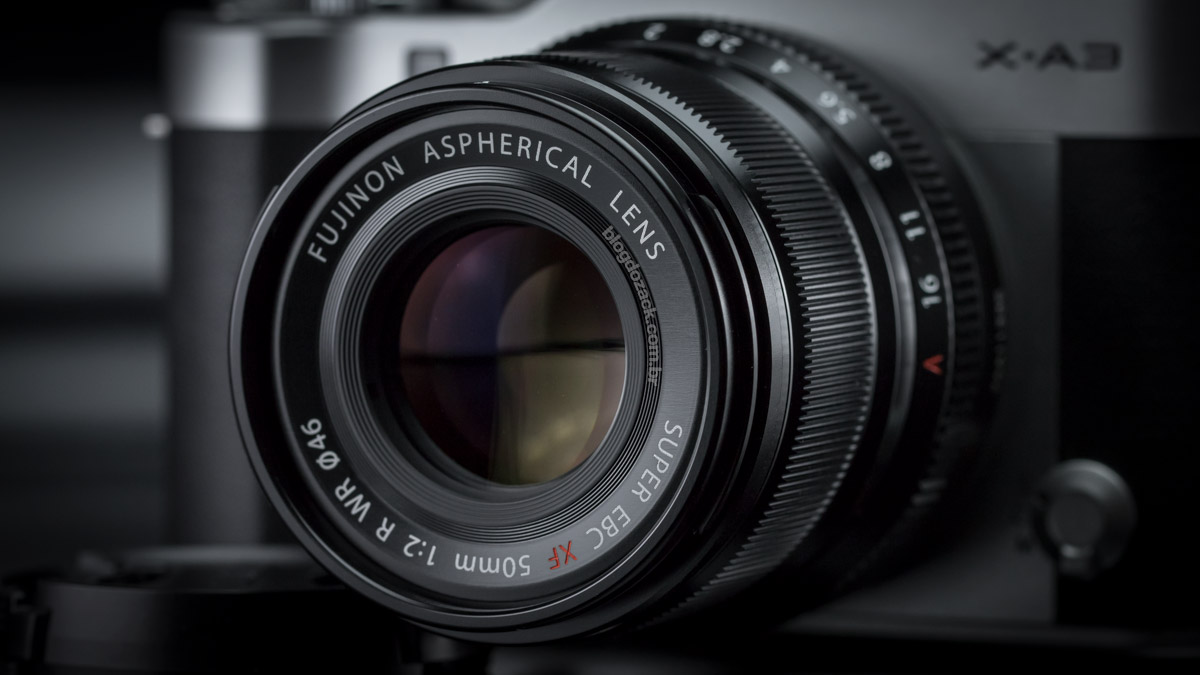 For those owning the XF 35mm f/2 R WR, this article is practically redundant; this 50mm and the soon the be reviewed 23mm are practically the same, with changes only in focal length; and minor mechanical adaptions for the longer (or shorter) optical formula. At 6 x 5.5cm without caps, of 200g (!) of mostly metals and glass, the XF50F2RWR is almost "the largest" 50mm under the f/1.8 aperture we've seen here (and here and here); and also one of the longest. Only the spectacular Sony FE55F18ZA manages to be longer, but that's a 135-format full-frame lens; while this Fujinon is APS-C only. Long and heavy, the 50mm f/2R fits X-Mount cameras well (Pro 2, T2, T20, A2/A3), despite being at the verge of not being portable; not for mirrorless standards. So it won't fit your shirt's pocket like a smartphone, but it's much smaller than a full frame lens, or either a DSLR.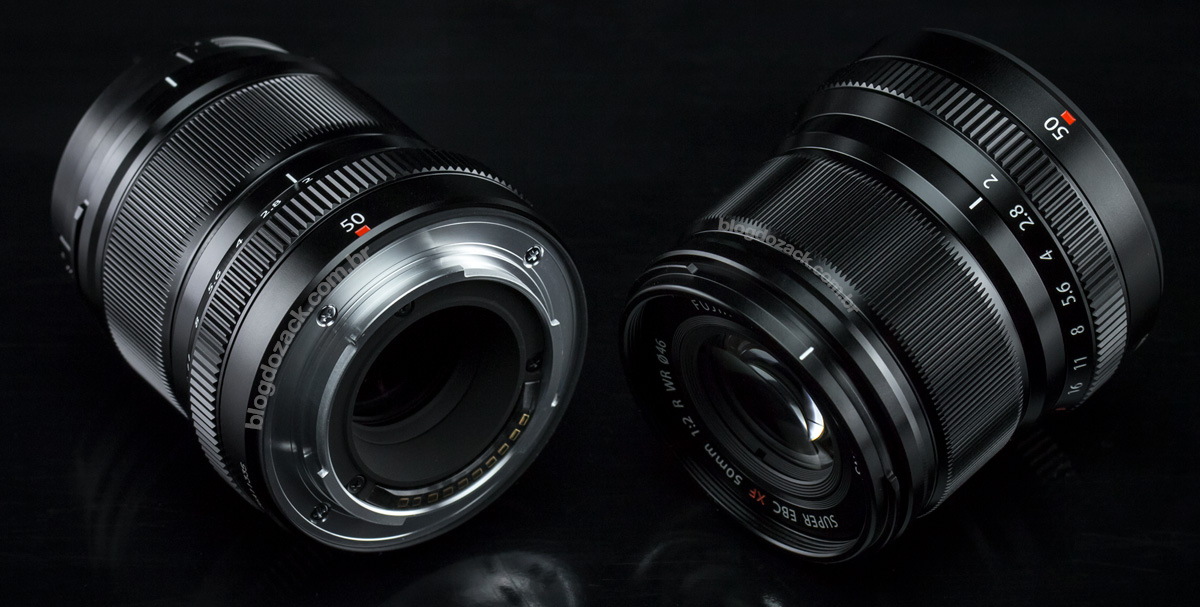 The build quality is always a highlight on Fujifilm's X lenses, and the XF50F2RWR keeps that tradition. The internal barrel is robust, made of resilient and light polycarbonate, covered by an anodized aluminum sleeve, here shown in black. Every adjustment ring is also metallic and cold to the touch, also with the rear metal and front filter threads both finished in metal. Another highlight goes to the WR weather resistance, with a rubber gasket sealing the mount between camera and lens; and gaskets inside each adjustment ring; even feeling rubberized at their well damped movements; all made to protect the lens from the elements. Also the first and last glass pieces are fixed, further enhancing its resistance to dust; it's a benchmark for the rest of the APS-C market. We've seen much more expensive lenses that aren't as nicely put together as any of Fujinon's XFf/2RWR, and it's a clear verdict: the X-Mount sits at the top of the mirrorless APS-C market.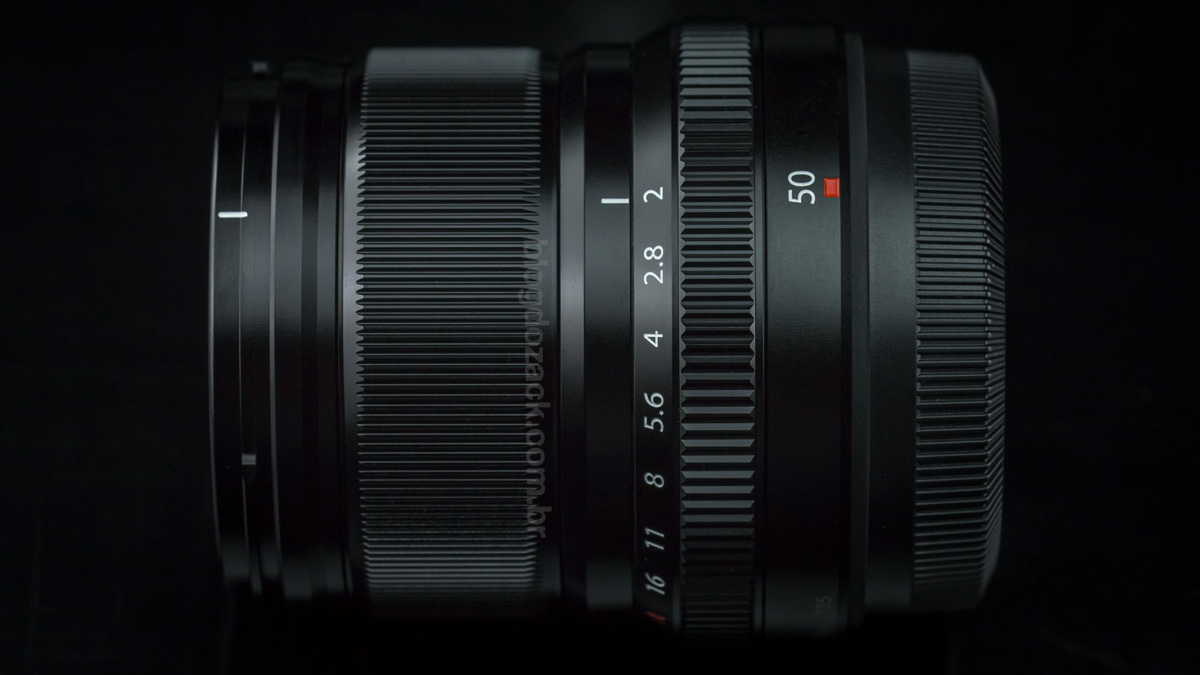 In your hands the usability is largely the same as other XF primes, just longer. The manual focusing ring is generous and easy to use, incredibly grippy despite not being rubberized. On the other hand it's mechanism is completely electronic, not mechanically coupled to the internal focusing group, that can somewhat be imprecise. Here tested on the Fujifilm X-A3, we notice a clear delay between the ring's movement and the lens response, that can ruin some street photography moments; prefer using its AF. And at the rear the aperture ring activates the "aperture priority" mode directly on the lens, with harder clicks at the full stops (f/2, f/2.8), and softer at thirds (f/2.2, f/2.5). This tactile feedback is clever at this "all-electronic moment" in the photography history, giving an extra depth to the camera, despite far from perfect: the A (auto) mode, for example, sits far from the wide-open f/2 value; making it slower to force shallower depth-of-field effects around the streets. It would be better if Fuji added two A modes, one on each side, or offered the 18-135mm A/R switch.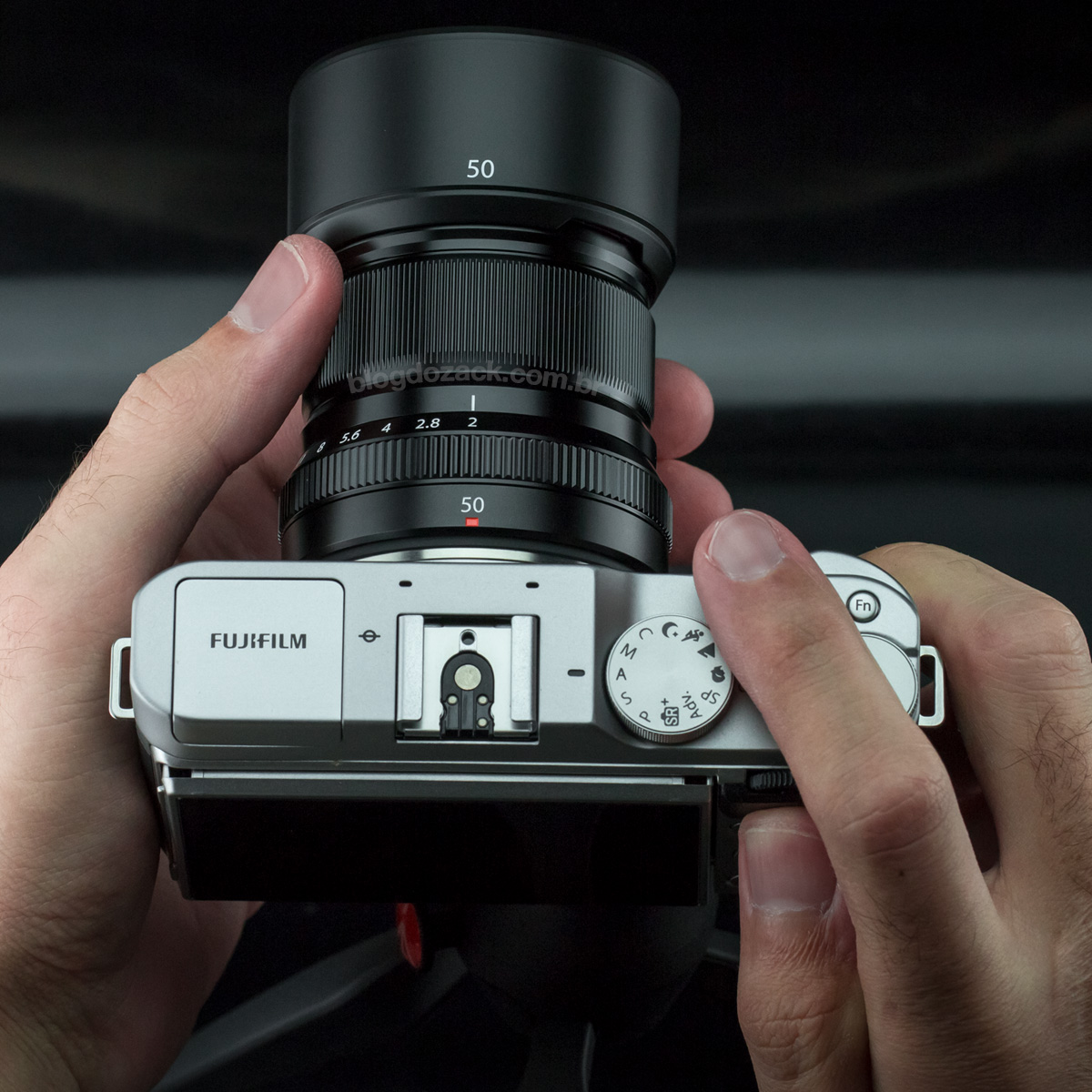 Inside Fuji offers just the AF motor, not a built-in stabilizer, and declares a stepping system like Canon's STM. On the XF 18-135mm, the LM moniker means "linear motor", largely responsible for its speed and silence; but the XF50F2RWR uses a cheaper part. Tested with the X-T20 and its 49 phase-detection points, the focusing speed is exemplary: it's clearly at 0.08s as declared by Fuji, and that's very fast. Be it under low-light or under plenty of light, simply press the camera's button and it locks in place. And during the continuous AF-C, it feels just as safe: despite varying with your technique and the subjects position, I could get action sequences effortlessly in focus.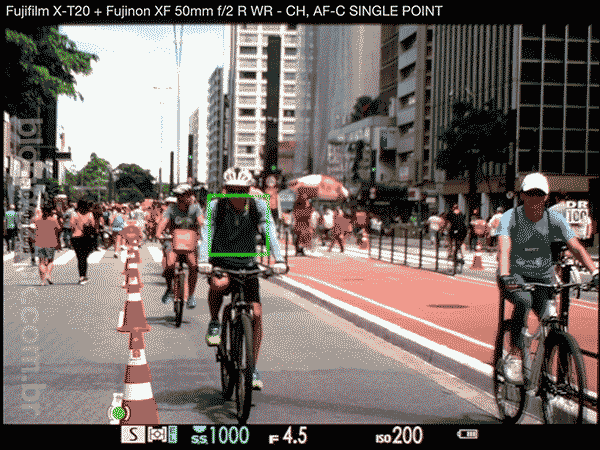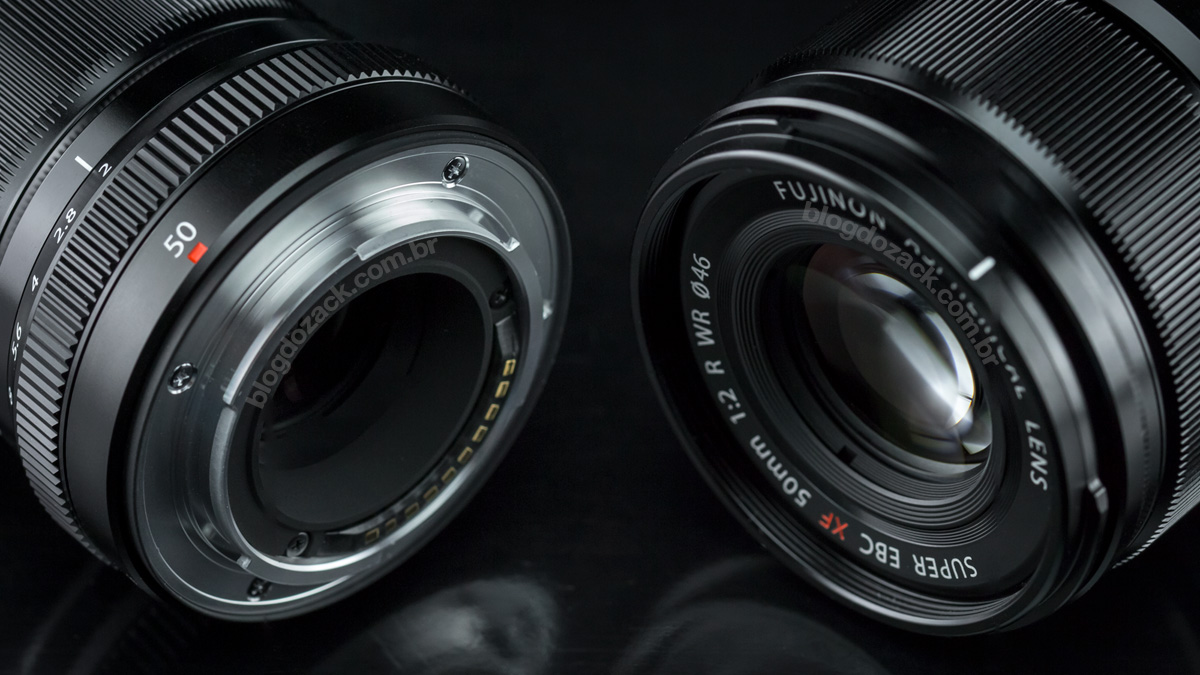 Finally at the front the XF50F2RWR accepts ø46mm filters that are larger than the ø43mm used on both 23/35mm (thus incompatible); fixed on an anodized-aluminum thread, over the first glass element. The included-in-the-box "50″ lens hood is plastic (18/35mm are aluminum) and fixed on its own thread, making the lens 9.6cm in length. While no image shown in this review used the hood, it can be useful on some cross-light light schemes. The XF 50mm f/2 R WR is key on Fujinon's APS-C lineup, once again filling all the requisites of the premium APS-C mirrorless market: it's portable, easy to use, 100% electronic. But with Fuji's almost exclusive TLC: high-end quality control, build, performance and a fair price. It might feel expensive for a simple "50mm f/2″, but it's definitely not your plastic-fantastic fifty. It's as premium as it gets, and the images proves this.
IMAGE QUALITY
With an incredible 9 elements in 7 groups optical formula, including one aspherical low-dispersion pice (ED) and Fuji's EBC "super electron beam coating"; the XF 50mm f/2 R WR performance is, just as its price, on the premium side of the scale. Absolutely impeccable like the US$999 Sony FE55ZA, both aren't your everyday "nifty-fifties". Equivalent to a medium-telephoto lens on the APS-C format, this 50mm will be well explored by portrait photographers that require maximum performance from the high-precision glass, well ahead of simpler Canon and Nikon "double-Gauss" formulas at f/1.8. The Fuji resolution is intact from f/2, with minimum aberrations, that are difficult to be seen even under high-contrast scenes, and its out-of-focus qualities gather out attention; showcasing Fujinon's premisse with the X-Mount: the best on the APS-C, all for a reasonable price.

Even wide open the Fujinon XF 50mm f/2 R WR resolution is scary; virtually the same as top-of-the-line 85mm lenses on full frame cameras (like this Sigma); and leaps ahead any low-cost "nifty f/1.8 fifty", that uses strictly spherical glass. Looking at the optical formula above, it's easy to understand: the Fujinon lens features more elements, and an aspherical glass precisely renders the image upon the sensor, guaranteeing resolution across the frame; while the simplified f/1.8 lens showcase obvious geometry distortions, with corners not as sharp as the center image. Pair it to the technological EBC anti-reflection treatment and its colors, contrast and details are as sharp as it can get, like no other medium-telephoto lens; not at this price point. It's a pleasure to shoot at f/2, no matter the subject: low-light urban landscapes look clinical with perfect details no matter the highlights; and shallow depth-of-field portraits far surpasses this generation's APS-C 24MP Fuji sensors. It's "big boy's" performance in a portable system, and the reason for the X-Mount to exist.
Stopping down offers little improvement to the optical performance, only fixing some minor axial aberrations. As soon as f/2.8 and f/4 we're peaking the resolution: every detail on leafs, fabric and everyday materials are rendered on the image sensor, curious coming from the X-A3. This camera used on this review is Fuji's cheapest X-Mount offering (and already discontinued), but its 6000 x 4000 files are identical to the more expensive Pro 2, T2 and T20; minus the X-Trans color scheme. So it's possible to have the same image quality for large format printing on a portable kit, thanks to Fujinon's great optics. Finally the f/2 R WR lineup showcases what it's all about, ahead of even the f/1.2-f/1.4 offerings: smaller lenses, lighter, cheaper and easier to use; despite the greater performance; plus new features like a great weather resistance absent from first-generation's lenses. I'll repeat: it's plenty of performance for such a small package, only on Fuji's X-Mount.
Although the XF50F2RWR formula isn't free of aberrations, they rarely happen. The most noticeable are the green and purple halos surrounding 1) high-contrast 2) out-of-focus bits, mandatory for both parameters. If one or the other is absent, the images look as clear as possible; but not clinical like Sony's FE55ZA. Actually the smaller APS-C and mundane f/2 aperture are responsible, not demanding large format glass, smaller than even 50mm f/1.8s on the 135-format. Notice the Fuji formula is double-Gauss based: two back-to-back Gauss lenses. So there're no chances for lateral chromatic aberrations, identical to most 50mm f/1.8. But its balance between spherical distortion (for pleasing bokeh), a flat image plane (for edge-to-edge resolution) and extra glass pieces (9 in total against just 6 on nifty-fifties) make the perfect image quality from Fuji.
This lens headliner is probably the EBC coating, suppressing nearly every internal reflections; something Sigma fails to deliver on its pseudo-top-of-the-line Art series. Canon and Nikon are experts in coatings: they charge more for larger N nano-crystal coating lenses, or to update already perfect lenses with the novelty Air-Sphere optical treatments. And this Fujinon logic is also clear (no pun-intended): an expensive and high-performance coating is applied to smaller than usual glass, rendering perfect contrast under any light situations. The ED glass clarity also keeps the resolution intact, thus offering a medium-telephoto 50mm that's virtually perfect. Even the vignetting is discrete given the smaller APS-C format, with perfectly rendered exposures from edge-to-edge.
Curiously the out-of-focus quality (bokeh) is excellent, smooth as butter despite the complex aspherical formula. I honestly don't have the information to explain it: the fore and backgrounds don't show strong edge lines on high contrast elements that, except for some axial aberrations, are as colorful and blurred as ever. Repetitive lines from the complex formula? They're not here. Strong highlight rings from the aspherical lens? Not here. Fujifilm was really clever in keeping the exotic glass pieces at a minimum (Sony uses three aspherical glass on its FE55ZA), thus rendering a smooth bokeh. The results? Nearly the same optical look from large-format primes (maybe only Canon's 85mm f/1.2 showcases some advantages), but on a portable APS-C package.
Finally the colors seals Fujifilm's deal; most times warm; sometimes absurd; but nevertheless interesting. NO, it's not the same precision and balance we're used to Canon EOS color science lenses since de 70′s. Pure red tones are harder to get from Fuji'x X-A3 camera, despite it not having the novelty X-Tran color-array from the Pro2/T2/T20. The same can be said about its pink, orange and yellows that together blend for pleasing skin tones; nothing happens here and it can either be too pink or too brown. However the greens and blues are subtle making the X color science "just work". So it's worth having some heavy handed post-processing with these raw files. This look have been capturing the recent "Instagram generation" attention, in-love with Lightroom presets and creative styles, and it's a color quality much stronger than any smartphone.
VERDICT
I wan't expecting it, but the Fujinon XF 50mm f/2 R RW is key on Fujifilm's X-Mount lineup. Nice to handle and easy to use, with absolutely impeccable optical results; not so overpriced if it can set your photos apart on the APS-C market, not opting for the more expensive f/1.4-f/1.2. The f/2 R WR lineup is almost equivalent to Nikkor's f/1.8G: smaller aperture lenses for a better price, with newly developed designs meant for digital cameras, with virtually the same performance as top-of-the-line lenses. It's a breath of fresh air on today's crowded market, and easy to recommend. Just choose a focal length and you're done, no matter the budget. Nice shooting!