Sigma 85mm f/1.4 Art DG HSM
Estimated reading time: 13 minutes.
June/2017 – The 85mm f/1.4 DG HSM is probably the most anticipated lens on Sigma's Global Vision Art lineup. A line that wowed us with high performance projects like the 24mm f/1.4, 35mm f/1.4 and 50mm f/1.4, all optically unmatched for their prices, and introduced new materials (the TSC, thermally stable composite), and auto-focus motors (the thinner and higher torque, second generation HSM, used for the first time on the 50-100mm f/1.8 DC), it's in the short-telephoto market Sigma left the best for last, substituting the 2010 85mm f/1.4 EX DG HSM, and even introducing an exotic 135mm f/1.8 DG Art HSM; both large aperture primes thought out to photograph people. The Canon EF 85mm f/1.2L II USM (US$1999) and the Nikon AF-S 85mm f/1.4G (US$1596) are essential tools for portraits, but asks a premium price. So does the US$1199 Sigma delivers an equivalent product? Or the low-cost hide a flaw? Let's find out! Nice reading.
BUILD QUALITY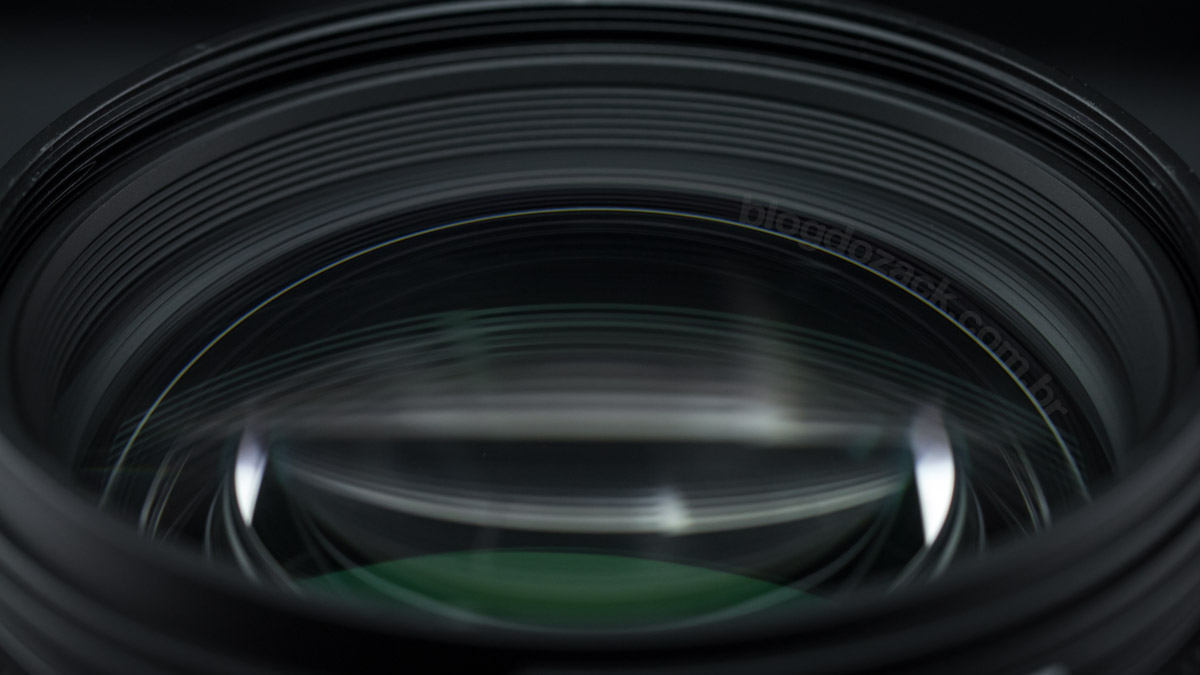 At 9.4 x 12.6cm of 1.130g of metal, plastics, rubbers and lots of glass, the first and foremost important thing about the 85mm f/1.4 DG Art HSM is its size; G-I-G-A-N-T-I-C for the 85mm focal length! Yes, it's the most important info on this review because it justifies 1) every design decision, 2) the high performance, be it optical or mechanical and 3) it's ergonomics. It is big to support the over-the-top optical formula, and it depends on both Sigma's tech (TSC and HSM) to be a practical product: robust and easy to use, but not too expensive. Nothing wobbles out of place and the precision puts to shame even top-of-the-line lenses from Canon and Nikon, and the photos used on this review can't really show how big it is; and that's important: it's big to be optically perfect, and the whole usability matches its humongous size.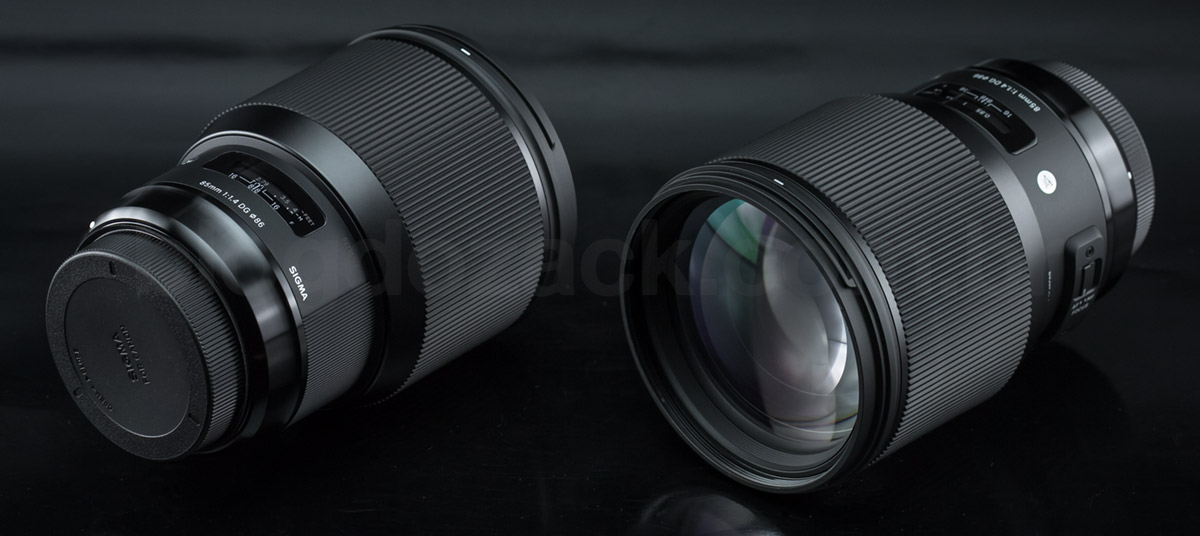 In your hands what Sigma made big on the 85mm f/1.4 HSM, it made uncomfortable and questionable ergonomic-wise; despite the identical design to other Art lenses. We start with a brass metal mount covered by a metallic barrel, that leads to a very short rubberized tube, that supports both the distance window and the control panel; finishing on the largest manual focusing ring I've ever seen on a 85mm lens. At 6.6cm total with 5cm of rubberized area, this ring is tall (0.5cm) and pronounced, part easy to use given its size, precision (it's 150º of turn) and smoothness; part counter-ergonomic, as it dominates about 70% of the lens barrel. It's simply too easy to accidentally turn it and get the photo out of focus, making it hard to decide how to hold the lens: using the camera's right-hand grip, forcing the mount due to the overall weight; or by touching the focusing ring, potentially changing the focusing distance while composing the shot? Sigma didn't really have to make such a large ring (it certainly didn't do it on the 50mm Art), so we're left with a warning: test it in store prior to purchasing, as it is too big and might not be worth the trouble.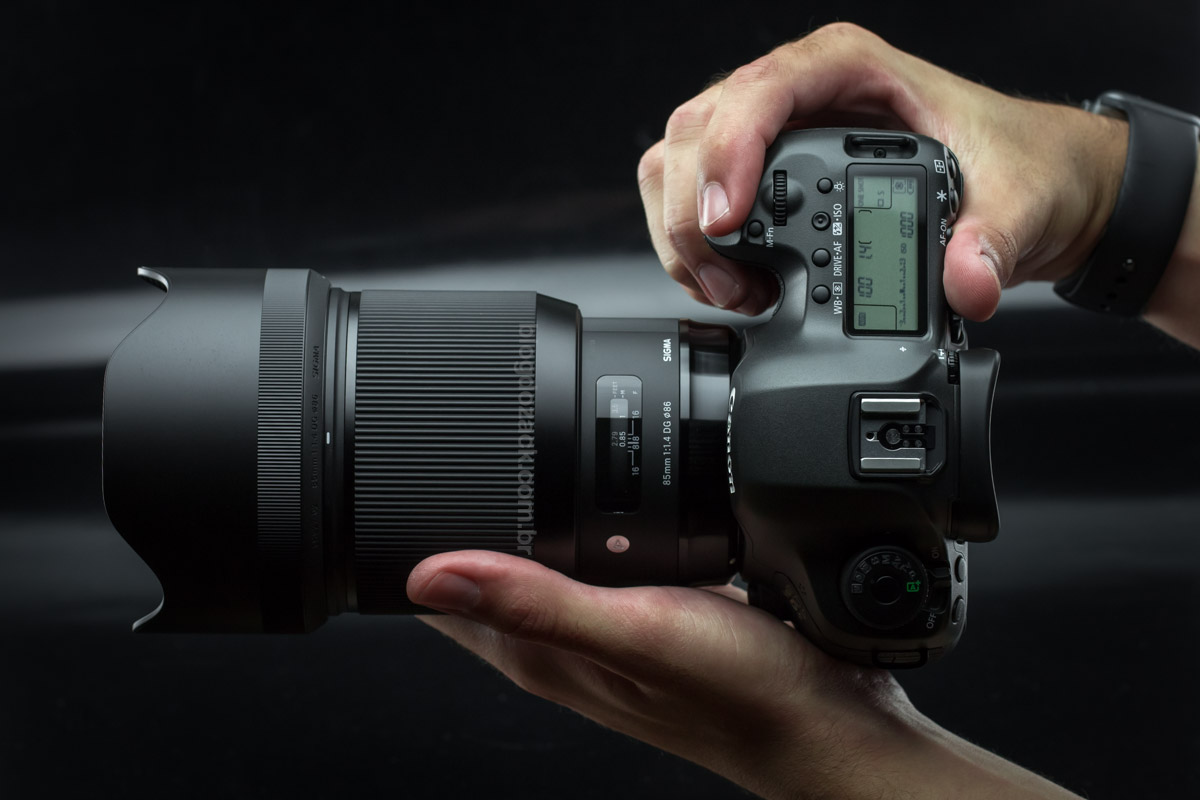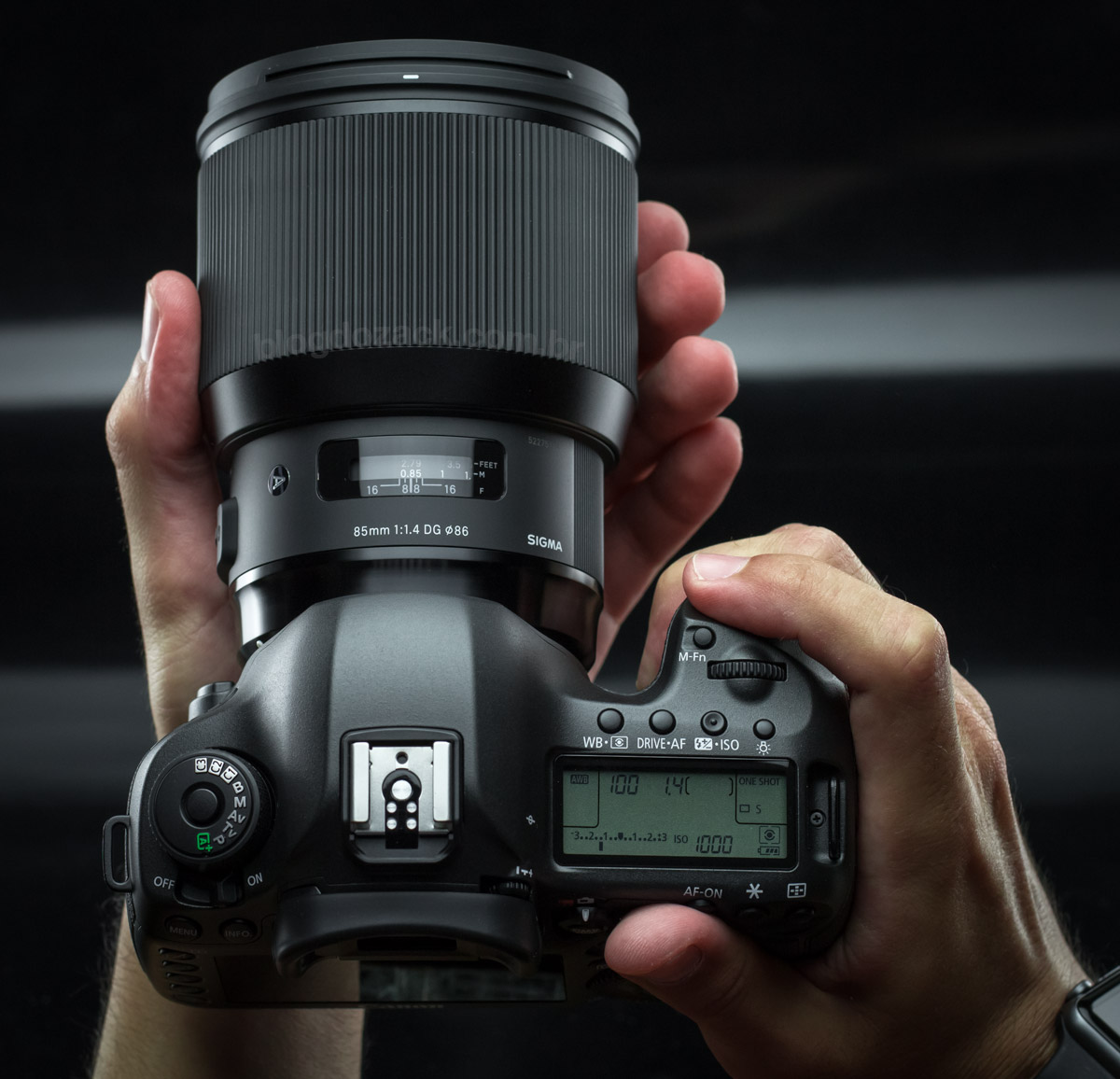 On the other hand (no pun intended), what Sigma did on the 85mm f/1.4 DG Art HSM engineering is simply brilliant; unimaginable a few years ago. Thanks to the extensive use of the novelty TSC (thermally stable composite), a light plastic close in properties to aluminium, it was possible to design the oversized optical formula – less susceptible to aberrations – never seen on an 85mm before. This formula also makes due without exotic focusing movements, like Canon employs on the EF 85mm f/1.2 L II USM, that sports smaller glass pieces and asks for a floating focus design, with independent focusing groups; mandatory to compensate for spherical aberrations in closer focusing distances. The results? The focusing ring is "fly-by-wire" on the Canon, disconnected from the internal focusing group, and the auto-focus is relatively slow. But that doesn't happen on this Sigma. Also using a next generation's HSM motor, thinner despite the higher torque (first used on the also-large 50-100mm f/1.8 DC HSM), Sigma solves on the Art lens all the problems (or characteristics?) of the Canon L II: the optical formula is larger, but the AF  is much faster.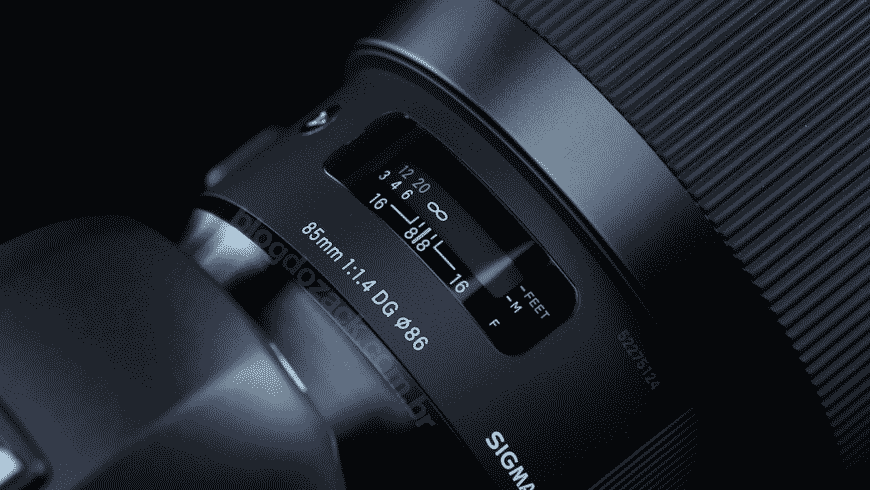 Here tested with Canon's top-of-the-line EOS 5DS, the single focus ratio was absolutely 100%, and always instantaneous. Yes, you read that right about Sigma's auto-focusing capabilities: 100% and always instantaneous! Even under short depth of field situations, like close-ups in portraits, wide open, only with the subject's eyes in focus, absolutely no picture in single focus mode came out of focus with the 85mm f/1.4 Art; impressive for a large aperture lens. Remember that technique of using the DSLR "Live View" in order to ensure sharp focus, given the slow, contrast detection AF used for shallow depth of field lenses? It's totally unnecessary with this 85mm Art, even giving a new breath to DSLRs (that are loosing ground to mirrorless cameras, with hybrid focusing). And as the focus is near instant all the time, it's possible to shoot sports with Canon's SERVO mode, dropping to about 60% of focusing ratio; just good enough for any Sigma lens.
From infinity to the 0.85cm minimum focusing distance (MFD), the Sigma 85mm f/1.4 Art drives the full 150º focusing turn in about 0.8s. But the Canon EF 85mm f/1.2 L II USM completes a longer 0.95cm MFD with a much longer 230º in about 1.8s. Both focusing systems are essentially different because just from 1m to 2m, the Sigma lens sports just 8º, whereas the Canon sports 170º (yes, it's 170º just to go from 1m to 2m on the Canon EF L II USM). Due to its floating design, the Canon lens keeps the optical performance high under most focusing distances, required by the f/1.2 spec. But Sigma thinks differently and the optical performance comes from its oversized glasses, despite the smaller f/1.4 spec. In practice it makes all the difference to shoot action, as there're fewer chances for the Sigma to miss the shot, while the Canon takes longer to focus. Those shooting indoor sports can see the Sigma as the best option for a large aperture, short-telephoto, affordable lens.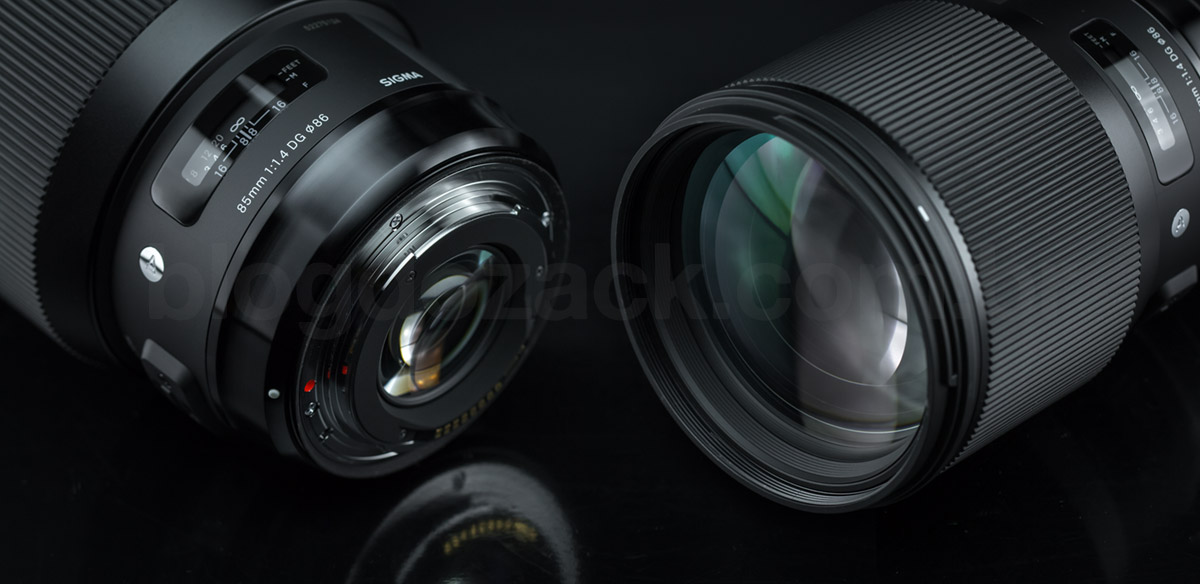 Finally at the front the 85mm f/1.4 Art accepts bizarre ø86mm filters; never seen before on my kit. The Canon EF 85mm f/1.2 L II USM uses modest ø72mm filters, and I found excessive the ø82mm thread found on both the EF 16-35mm f/2.8 L II USM or the EF 24-70mm f/2.8L II USM; but ø86mm like this Art lens, is the first time I see. They fix on the same plastic thread as every other Sigma Art, that itself fits inside the lens hood (included in the box) thread, that gets the 85mm f/1.4 even bigger. And at the rear, surrounding the metal mount, a rubber gasket protects it against water and dust; although no full weather-resistance is declared by the manufacturer. What Sigma did on the 85mm f/1.4 Art DG HSM is the pinnacle of what's possible with the novelty TSC and the second-generation HSM AF, both supporting the oversized optical formula despite the mundane "85mm f/1.4" spec. Canon had to severely limit (AF speed and price) the 85mm f/1.2 L with its large aperture, and Nikon produces a very standard 85mm f/1.4G, despite the high price. But Sigma set itself apart from the crowd with the large optics, just unthinkable for its price.
IMAGE QUALITY
With a 14 elements in 12 groups design, two low-dispersion pieces, one aspherical lens and integrated coating in all glasses, the Sigma 85mm f/1.4 Art also set itself apart on the optical formula. While Nikon stays faithful to a classic double-Gauss formula on the 85mm f/1.4G (with CRC – close range correction – and Nano Crystal coating), and Canon simply enlarges a double-Gauss formula on the EF 85mm f/1.2 L II USM (based on the legendary EF 50mm f/1 L USM), Sigma bets on a genuine short-telephoto formula, basically developing a miniature 300mm f/2.8 EX APO DG HSM (US$3399). Missing are the high-end FLD elements (that Sigma promises the same performance of fluorite glass), and in practice we get an accessible (compared to the 300mm) high performance telephoto lens (great resolution, fewer aberrations); but that generates a distinct look (no spherical distortion and boring bokeh) from the rest of the 85mm market. And that's the final purchasing decision: you either need the "flat" short-telephoto images from this Sigma Art, or you need the spherical aberrations from other 85's from Canon EF and Nikon.
Looking at the optical formulas above, it's easy to understand what the Sigma 85mm f/1.4 DG Art HSM is up to. With larger glass elements and smaller curvature, the flattened image guarantees great corner resolution, also free of chromatic aberrations. It's the same performance offered by even longer formulas (like Sigma's own 300mm f/2.8 EX APO DG HSM), but miniaturized on this 85mm. That would be great to photograph landscapes and products, with straight lines and neutral bokeh elements, without any spherical distortion or large out-of-focus highlights. But for portraiture work, the overall image look is affected: as the light doesn't really pass through an sphere (notice Canon's third element), the highlights and the forth and backgrounds look dull on the 85mm Art. While I do understand the resolution gains, there's simply no strong image characteristics on the new Sigma, as we find on most Canon EF's and Nikkor's lenses.
Wide open the Sigma 85mm f/1.4 Art resolution is de facto the highest I've ever seen. With an absolutely precise focusing system and here tested on the 50MP Canon EOS 5DS, it's bizarre to see so many details from such large aperture, thanks to the fully flattened image plane. Such performance is great to shoot landscapes under low light and with lower ISOs, when we can also notice how the 85mm Art suffers from low astigmatism and sagittal coma flare (that one the Nikkor 58mm f/1.4G corrects for); despite the strong vignetting, at about -1EV around the edges. Given the short depth of field, we can also see some axial chromatic aberrations (front and background filled with green and purple blobs), and primary aberrations (contrast zones with purple edges), that's is not as clean as the 50mm f/1.4 Art. The new Sigma is a dream to shoot faraway landscapes, but not as perfect to shoot portraits; Canon's floating elements certainly make a difference at the MFD.
The chromatic aberrations are another surprise, actually not as good the "clinical" 50mm f/1.4 Art. From high contrast zones to out of focus highlights, it's easy to see fine colored lines surrounding strong edges, better handled by telephotos lenses using fluorite elements; the kind Sigma left out of the 85mm Art (there're no FLD pieces). So while lateral chromatic aberrations are invisible on this 85mm (or any 50mm low cost prime, for that matter), I definitely see no real reason to update my Canon EF 85mm f/1.2 L II USM, known for its aberrations. The CA is less visible on the Sigma, but it still happens on chromed items like jewelry, demanding the same level of post processing. It's just under minimum contrast the 85mm Art doesn't show any CA, but if it's supposed to happen, it will happen. You're better of stopping it down, or buying an optically perfect Zeiss OTUS.
Stopping down offers little improvement for the resolution, and further showcases the Sigma 85mm Art telephoto formula. As it's physically long, the depth of field doesn't really change when we stop it down. So even at f/4, f/5.6, f/6.3 – the 50MP 5DS's diffraction limit – there's more "loss" of details due to the short depth of field (as the image isn't in focus) than for optical defects; something to carefully considering when shooting products, street photography and landscapes. What does go away is the heavy vignetting as soon as f/2, and some of the chromatic aberrations, gone by f/4. Again, it's interesting to shoot some faraway landscapes, but not the best use of this lens; any low-cost prime or zoom lens delivers the same level of resolution when stopped down, so prefer this Sigma for what it does best: perfect low-light shots wide open, at f/1.4.
"Bridge" at f/1.4 1/250 ISO100; wide open vignetting, software compensated.
Chemical optical treatments (coatings) are another expertise yet to be delivered by Sigma. With large glass elements, the lenses must be chemically protected, in order to avoid reflections; like Nikon's expensive Nano Crystal, or Canon's novelty Air Sphere. While Sigma doesn't explain the technology used on the 85mm Art, it is quite resistant to flaring even when backlit, rendering few light "blobs" and rainbows when the light source is framed in the shot. But there's a visible loss of contrast when used without the supplied lens hood, due to the excessive 14 elements formula. Once again, we can visibly understand the genuinely telephoto optical formula, rendering stretched reflections near strong light sources, very different from the rounded specular highlights from various double-Gauss 85's. It's a good landscape performance from this Sigma, but not necessarily the best for high-impact portraiture, especially if you get creative with the light.
"Jizo" at f/1.4 1/160 ISO400; software contrast boost and flaring resistance.
"Placa" at f/1.4 1/80 ISO160; software contrast boost and flaring resistance.
Geometrical and spherical distortions are nearly absent as well, given the perfect focal plane, thanks to the low-curvature giant glass elements, directly affecting the bokeh; a bit poor on this Sigma. For the third time, I repeat: it's a typical short-telephoto performance and works well for landscapes. With perfectly straight lines, the horizon looks centered, interesting to play with earth-sky proportions. But so much perfection goes against portraits: with so many straight lines, the front and background doesn't completely isolate the subject, nor gives the "swirly bokeh effect" (when the specular highlight revolves around a circle); nor strong "cat eyes" near the frame edges (spherical distortion). The 9 blade aperture do keep a smooth background on all f/stops, but the larger-than-life glass elements repeat most high contrast lines. The results: the bokeh lacks character as every other telephoto lens.
Finally the colors are Sigma's 85mm f/1.4 Art DG HSM last shortcoming. Its photo album is clearly "muted" compared to other 85mm's on the market, despite the heavy "saturation" and "vibrance" compensation on Adobe's software. It's impressive how the files refuse to "pop" on screen, with dull reds and yellows, years behind Canon's EF lenses; on this Sigma, the blues and green prevail, making the shadows look cooler. Even under plenty of sunlight, near, at, or after the sunset, Sigma's files are bluish, bad on the computer screen, bad on prints. Sigma did flirt with warm colors on the Art 24mm f/1.4 DG HSM, but overall the color balance wildly varies on the Global Vision lineup; sometimes saturated, sometimes muted. Who's to blame? The excessive 14-elements prime design, with badly treated chemistry and no high-tech coatings. That's the final difference between a high-end Canon or Nikon lens, and the reason behind their prices: specialty glass coatings, unmatched by Sigma's low-cost designs.
"Taxi II" at f/1.4 1/30 ISO100; before and after some +25 vibrance and +25 saturation on Adobe's Camera Raw.
VERDICT
The Sigma 85mm f/1.4 DG Art HSM biggest surprise is hidden by reviews praising its high resolution and fast auto-focus: a genuine short-telephoto optical formula that mutes colors, and lacks contrast; typical of low-cost lenses. What Sigma brilliantly built was a robust all-TSC lens, elevating the Global Vision lineup promise: new levels of quality control and usability, not seen even on more expensive lenses. But it can be a nightmare for it's size and weight, comical in today's light-and-portable mirrorless market. It all justifies the unique short-telephoto design offering prime resolution and aberration controls, as soon as f/1.4; but that's it! It impresses me no review comments on the dull colors and contrast, but praises it just for the higher resolution.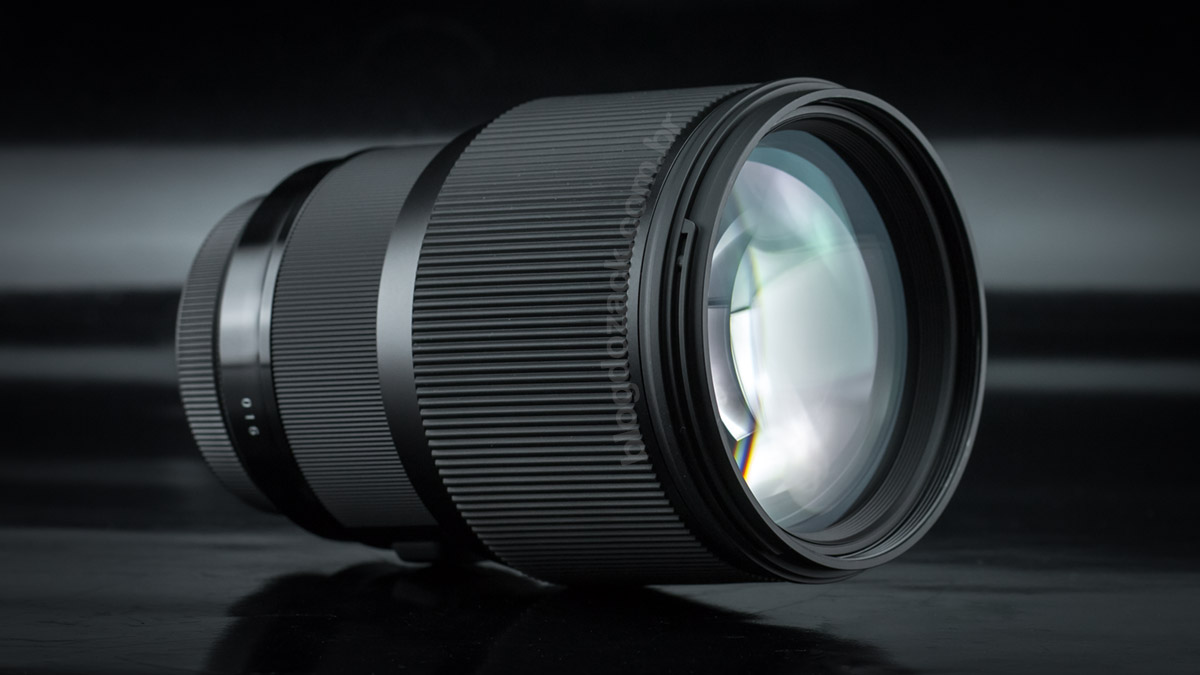 But the question is: who's the Sigma 85mm f/1.4 Art DG HSM for? Considering the whole 85mm market, it works well for those shooting action and in need of the f/1.4 aperture, in order to raise the shutter speed; or in need of a high-resolution lens, compatible with newer 45MP+ cameras. While it will perfectly shoot portraits, it's hard to recommend it in place of a Nikon AF-S Nikkor 85mm f/1.4G, way lighter and easier to use, despite the same AF and high-res performance; and we just can't compare it to the Canon EF 85mm f/1.2L II USM. The Canon lens offers 50% more light at f/1.2, and much more personality to your photos; with interesting out-of-focus spherical aberration; much shorter depth of field due to the double-Gauss design; and Canon's leading color science. This Sigma 85mm Art is an interesting f/1.4 low-cost alternative, but it just won't find a place on my kit. My advice is to carefully evaluate your need for just more resolution, and nice shooting!