Tokina AT-X PRO 11-20mm f/2.8 DX
Estimated reading time: 09 minutes.
November/2016 - The Tokina AT-X PRO 11-20mm f/2.8 DX is practically a clone of the 11-16mm f/2.8 DX II that I tested earlier in 2016. Both wide angle zooms made for the APS-C format, its headline is the large f/2.8 aperture (for zoom standards), not offered by other brands. Equivalent to 16-35mm f/2.8 full frames, the Tokinas carry the responsibility to cater the "f/2.8 wide angle crop" market, improving uppon such idea in each iteration: the first 11-16DX had flaring issues; the second 11-16DXII got better coatings and reduced flaring; and now the third 11-20DX comes with a brand new optical formula, attempting to fix flaring for good. All with fairly the same usability, that's not a good thing, their launch prices are also the same: US$599, a bargain to see so wide with such a large aperture. Is third time a charm for Tokina? Let's find out! Nice reading.
BUILD QUALITY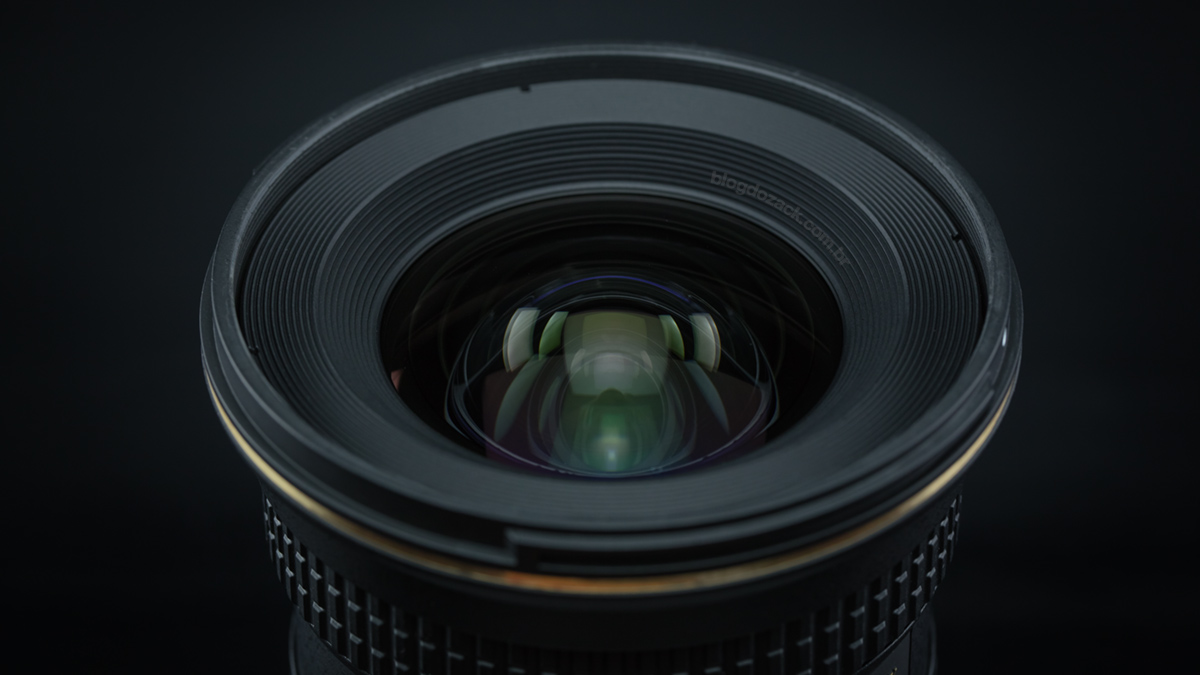 At 89 x 92mm of 560g of plastic, metals and rubber, I could practically copy and paste the 11-16mm f/2.8 DX II review I did earlier in 2016. Both very large and heavy for APS-C lenses, the 11-20mm is actually a little bit longer at 89mm (was 85mm on the 11-16), as the extra 4mm reach need room inside the casing, besides not feeling that much different in your hands. What is really worth from Tokina is its build quality, using metal barrels inside a scratch-proof outer shell, with professionals in mind, a step ahead what Canon and Nikon offer for APS-C cameras. While the EF-S 10-18/10-22 are mostly plastic, light but fragile, appreciated by amateurs who don't want to carry a heavier kit, the Tokina 11-20DX feels robust, one of those workhorses to throw in your backpack and go to work. If you're an everyday EOS 7D Mark II or Nikon D500 shooter, and don't trust the EF-S/AF-S DX, the Tokina is a real pro lens, just as the moniker says on the box.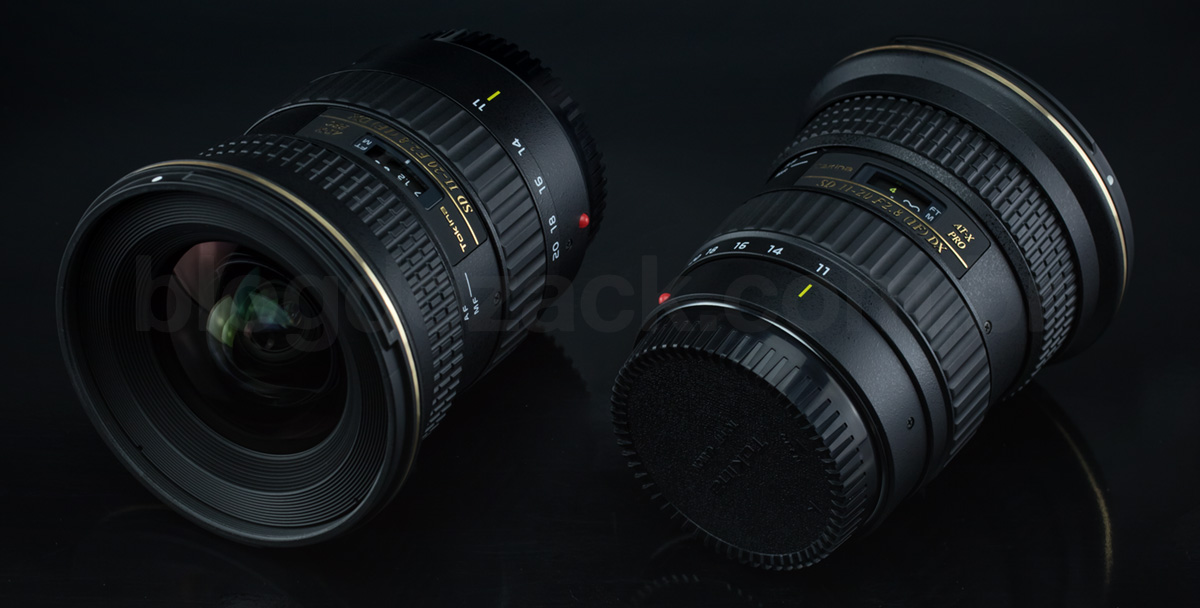 In your hands the ergonomics are still bad as the 11-16mm, because the zoom ring is at the wrong position, considering the lens size; with Tokina's mandatory frontal "One Touch Clutch Focus" to blame (more on it later). The idea is that you change the zoom viewing the lens from the top (not with the camera at eye level), like a "variable prime"; after all there's not that much difference from 11mm to 20mm. But the problem is the zoom ring is too "heavy" and too close to the camera, asking for a cumbersome maneuver, with your hands on top of the barrel (not really supporting the lens). It's bizarre for those used to ergonomic-centered brands (like Canon), and makes the Tokina feel cheap, no matter how well build it is. It's only harder to use, all to justify the damn "One Touch Clutch Focus" ring, the worst part of every Tokina lens.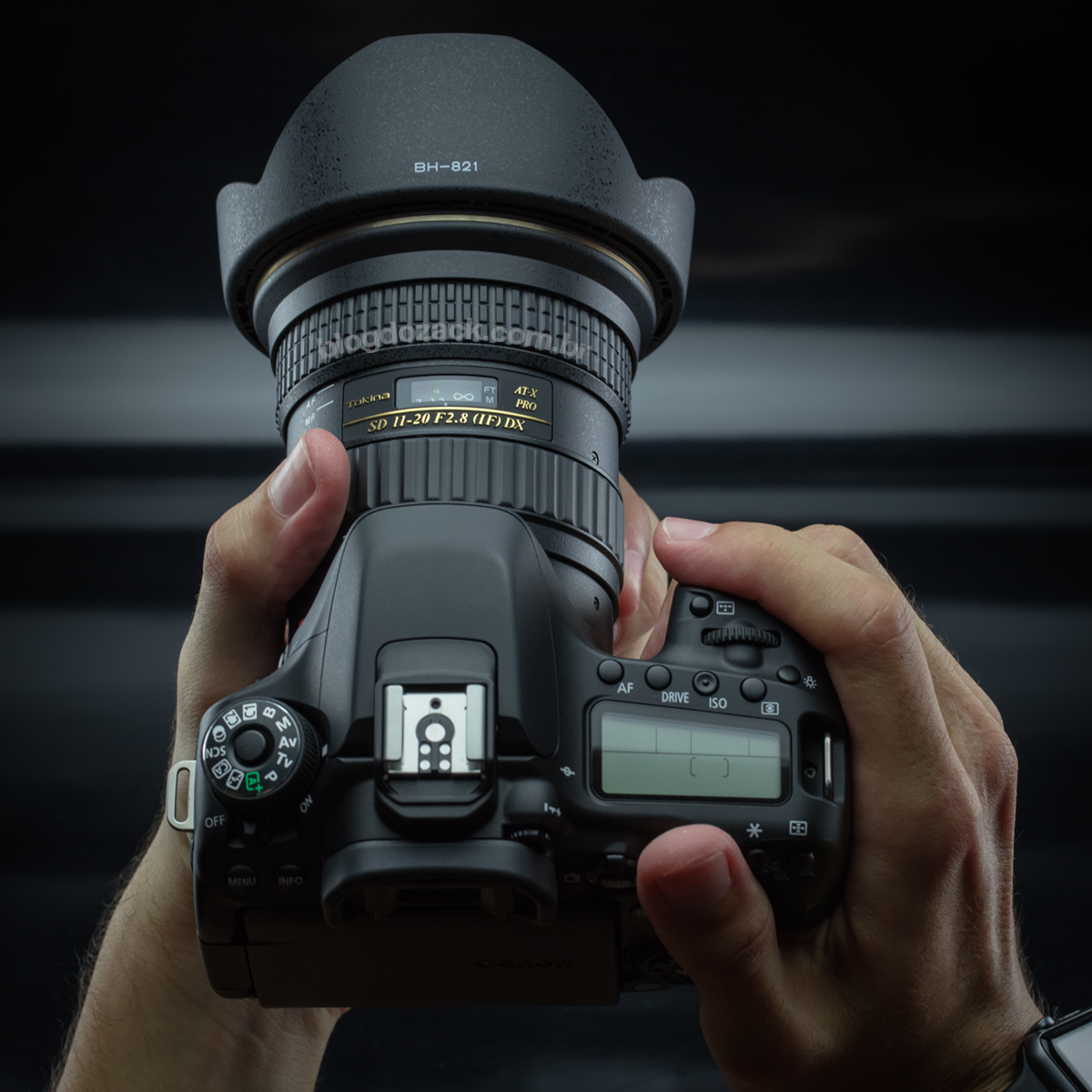 On the "One Touch Clutch Focus" system, the manual focusing ring has the double function to 1) be the manual focusing ring and 2) be the ON/OFF motor switch. It's a fairly smart idea to put both controls together, eliminating the need for a dedicated switch. But here's the thing: Tokina's implementation is as bad as it can get, with numb points where you can really engage/disengage the motor from the ring, putting the whole system at jeopardy, prone to lockups and excessive pressure. The ring itself wobbles from AF to MF, that changes the previously set focusing distance; requiring for a complete new trial to achieve focus. Also not supporting "full time manual" operation, it puts a unnecessary pressure on the motor, certainly reducing its life. Once at "MF", though, the ring is quite good to use with direct control over the internal focusing group, with fluid movements and even hard stops (at infinity and minimum focusing distance). But it's a bad implementation, my main issue with the 11-16mm DX, and the same on the 11-20mm.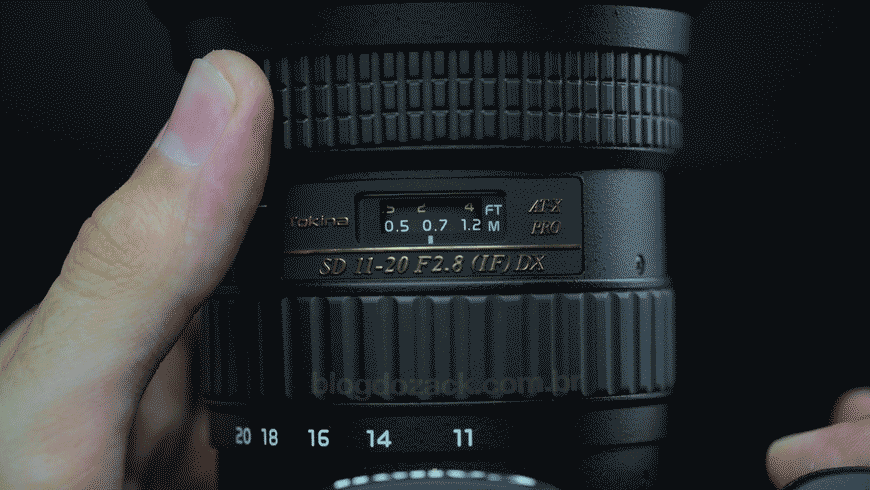 Inside Tokina's focusing motor is also questionable. Apparently using a micro-DC motor, given the noise, the 11-20mm is reasonably slow to focus; I'm not going to recommend it for shooting action sports. At least all happens internally, without extending the lens barrel nor moving the front element. And it's quite precise: here tested with the EOS M (Hybrid CMOS AF), it pinpointed focus 100% of the time. The wide angle distance is not that hard to focus, once the wide point of view generally feels "all in focus". The minimum focusing distance is at 0.28cm, short enough for creative effects, and it goes all to way to infinity at about 90º, with plenty of precision. It's just not as fast or silent as Canon's USM/STM, but it works. (the following gif uses the Canon EOS 80D)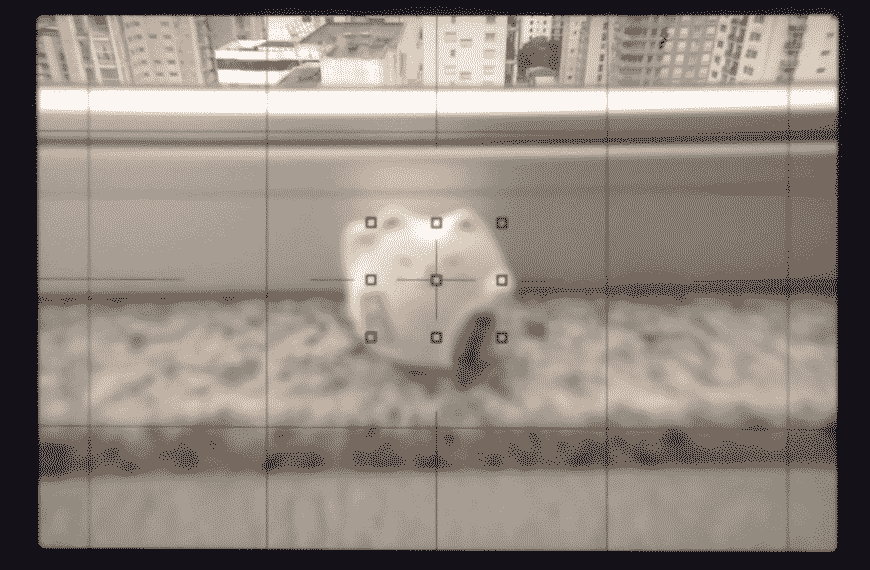 Finally at the front the ø82mm filters are huge and expensive, but quite popular nowadays. They go on a deep plastic thread, although I don't recommend using thick filters: the internal barrel moves while zooming (shorter at 11mm), so beware not to hit the glasses. The BH-821 lens hood comes included in the box, masking lateral light reaching the lenses, but it doesn't make much of a difference in most compositions. At the rear the metal mount comes in Canon's EF (this review) or Nikon's G (lever operated aperture, no aperture ring), both with internal focus. There's a rubber gasket around the mount, to prevent water and dust coming inside the lens, but Tokina doesn't declare any form of weather sealing on the rest of the lens body.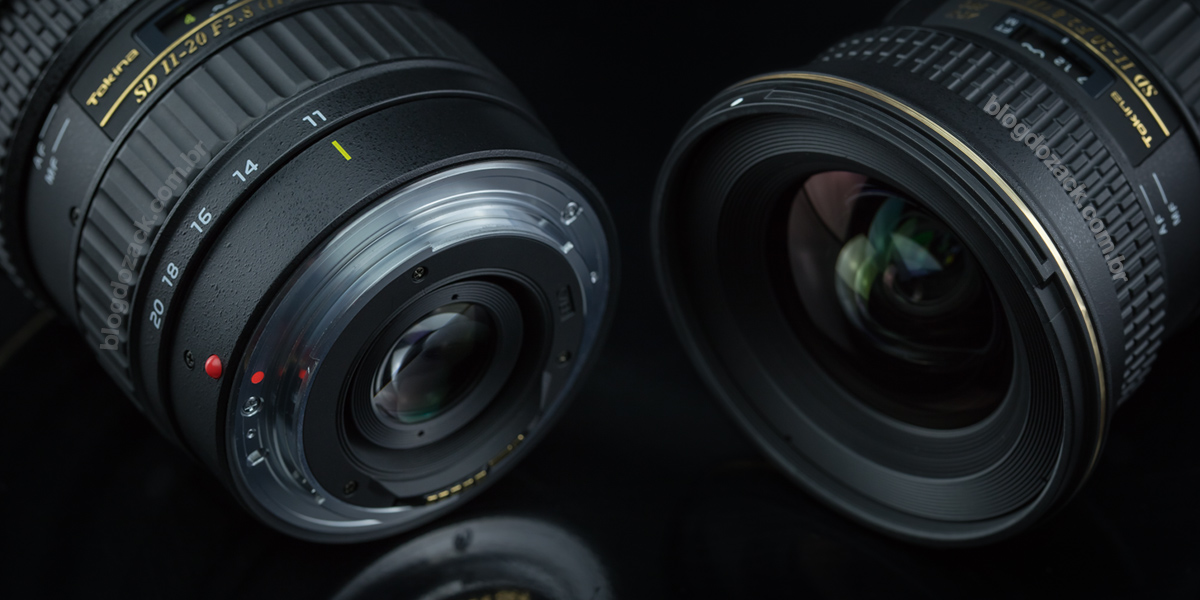 The Tokina AT-X PRO 11-20mm f/2.8 DX is practically the same lens I tested on the 11-16mm, and that raises questions about the brand's willingness to improve such product. Mechanically they're both identical, with the same excellent cost-to-quality ratio, that other brands don't offer on the APS-C format. You can't tell from internet photos, but the AT-X PRO lineup is "pro" indeed, with metal tubes and robust build, that balances well with its weight, made for professionals. Although Tokina insists on the awful One Touch Clutch Focus, honestly it wasn't that bad as I mostly use autofocus; that works fine on the 11-20mm. The reality is it's the only wide angle lens truly made for pros working with "crop" sensors, and as we'll see on the its photos, the best option as well.
IMAGE QUALITY
With a 14 elements in 12 groups optical formula, 3 aspherical pieces (2 glass and 1 plastic (!) molded), 3 low dispersion and improved coatings, Tokina didn't spare the AT-X 11-20mm f/2.8 DX from its latests technologies. If in one hand there wasn't much to be improved on the 11-16mm, the resolution is still intact from edge to edge, harder to achieve due to wide angle compositions, begging for interesting lines heading to a vanishing point, than for optical flaws. Chromatic aberrations, that are generally an issue on wider lenses, are practically invisible on the 11-20mm; appearing only when we over-saturate the files in post. But mostly the flaring, that plagued both 11-16DX, are much better handled on the 11-20mm, showing only when the photographer needs it. Overall, the 11-20mm sets a new benchmark for APS-C wide angle lenses.
Shooting wide angle f/2.8 exposures are uncommon as most compositions demand a longer depth of field, using higher f/stops. But when necessary, shot wide open, the Tokina renders good resolution at f/2.8, easily surpassing older full frame primes, with a slight resolution drop around the edges, giving the details a blurred look. Actually, the lack of details has more to do with the rectilinear projection than low quality glasses. It's an unique "ultra-wide-angle" characteristic, visible from 14mm or lower, that tries to compress a greater viewpoint of the world on a tiny image area (sensor). That's why these lenses are so expensive (hello, Canon 11-24mm f/4L USM), but Tokina does it for a fraction of the cost, with an 1 stop advantage, only for APS-C cameras.
Stopping down barely influences the optical performance, something we're getting used to on modern lenses. Extra corner resolution? Nope. Less aberrations? Nada. Corrected vignetting? Not at all. Even at f/2.8 vignetting isn't a problem for the 11-20mm, with a big advantage over low cost wide lenses, especially on mirrorless cameras. Usually when I'm testing "18mm" or "16-50mm" mirrorless lenses, they practically lack the coverage on APS-C sensors, requiring mandatory electronic profiles, with less details around the edges. But the Tokina 11-20 is on a level of its own, closer to top of the line Nikon AF-S 14-24mm f/2.8G or even Canon's newest EF 16-35mm f/2.8L III USM. If Canon needed three generations to get the f/2.8 wide angle zoom right, so can Tokina.
Lateral chromatic aberrations are well controlled, another example of Tokina's wide angle skills. While some recent zoom lenses are also free of colored lines in contrast areas around the edges, they do that in much more conservative apertures, from f/4 and above; easier to fix color fringes due to the smaller glass pieces. But Tokina does it at f/2.8, using large, hybrid aspherical pieces. However the 11-20mm main headline is its ability to finally deal with lens flaring, that plagued both 11-16DX. Maybe explained by the longer focal length, that works as a built-in lens hood, or due to Tokina's improved coatings, the reality is the 11-20 is almost flaring-free, not showing the double rainbow effect when the light enters the lenses; the photographer really needs to try for that to happen. It's the only raison d'être of such lens, and one must decide whether its a worthy upgrade.
Finally the colors are balanced with other wide angle lenses tested on Canon's EF mount, a bit on the saturated side. Natural landscapes appear vibrant without software enhancement, with distinct leafs (depending on the season), skies (depending on timing) or light (natural or electronic), great to put your creativity to work with filters. With a large ø82mm filter thread, it's easy to use polarizers to enhance deep blue skies, something much harder to do on a Nikon AF-S 14-24mm, for example. It's interesting to see how colorful this review album looks compared to others lenses, besides being tested on the same locations. The 11-20mm is warm like Canon's famous wide angle, the EF 24mm f/1.4L II USM, known for its unique, high contrast, saturated look.
VERDICT
The Tokina 11-20mm f/2.8 is a new comer to the AT-X PRO DX family, raising the bar to the 11-16mm optical performance, but not really offering something new. Its usability is still questionable with a large, heavy lens with weird control rings, with a very tough zoom in the wrong position, and a manual focus dubbing as AF/MF switch, putting the motor under unnecessary stress. While on the 11-16mm DX review I praised Tokina's for not "gourmetizing" the AT-X PRO lineup with a Global Vision (Sigma) or SP (Tamron) re-design, their lenses should get better attention to ergonomics, lagging behind in usability. They look and feel cheap, no matter how well built they are. But its optical performance seal the deal, among the best wide angle lenses on the market, with high resolution, contrast and aberration control, that finally eliminates flaring. So that's the purchasing decision: if you had flaring issues with the 11-16, the 11-20 solves that. But that's it. Nice shooting!